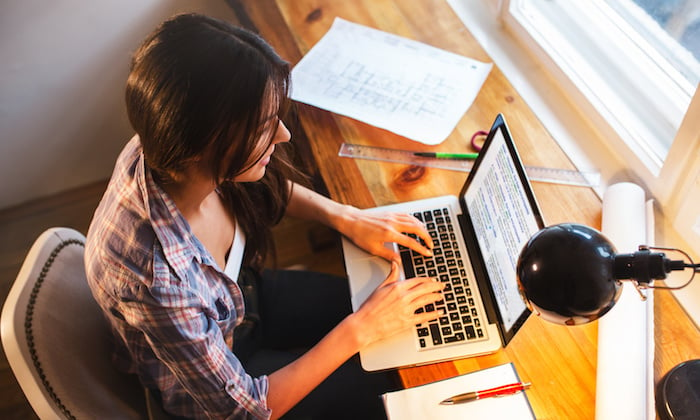 Blogging started picking up steam in the early 2000s. But only recently have businesses realized its immense potential and started leveraging content marketing for generating business leads.
The most effective B2B marketers now spend 40% of their marketing budget on content marketing as of 2018.
Now, the content creation space has become so crowded that businesses pay social media platforms for increasing their content's reach and getting more readers.
Mark Schaefer has even coined the term content shock for the incredible rise in publishing and the huge surge in content marketing as a top business priority. 
But, is creating high-quality content really that difficult?
Content Marketing Institute's B2B report found that producing engaging content is the number one challenge organizations are facing.
Finding/training skilled content marketing professionals was also found as the sixth major challenge with 21% of the people asked saying so.
So, is it impossible to find prolific content marketing pros that create compelling content consistently?
Nope. Definitely not.
There are many skilled journalists, like Mridu Khullar, that have successfully transitioned their careers from writing for media houses to content marketing. Now, she commands upwards of $300 an hour.
The problem is that high rates don't guarantee that you'll get your hands on a competent content marketing specialist. Beyond content mills, content marketing consultants charge as much as they want.
While the field is still relatively new, there are a certain set of skills present in the most successful content marketers.
In this article, I want to make your search for a proficient and powerful content marketing professional easier. These four skills are sufficient, but you should personalize the requirements to your marketing team and campaign. 
1. The ability to produce grammatically sound and intriguing copy
Nothing new here. A content marketing pro should know the nuts and bolts of writing.
But, with additional skills thrown into the mix, (keyword research, plotting graphs in excel sheets, and running a bunch of software), many businesses miss out on the obvious.
To put it into perspective, 26% of college graduates have deficient writing skills.
Tweeting, texting, and other forms of online communication have taken a toll on how well people write and spell, fueling the demand for content marketing specialists who can spin a nifty sentence. 

Obama's billion-dollar campaign was criticized for making a basic language mistake in their banner ad. Instead of "We've come a long way…", the ad read "We've come along way". 
Ouch.
If you want your business (and your marketing strategy) to be taken seriously, you've got to get the language basics right. Bad spelling and grammar hurts your brand's reputation.
In its poll of 1,029 UK adults,

Global Lingo

found that 74% of consumers paid attention to the quality of grammar and spelling on a brand's website. 59% said that they wouldn't deal with a company that had an obvious grammar or spelling mistake on their website.

In another

survey by Standing Dog Interactive

, only 3% of the polled audience said that they didn't mind copy errors at all.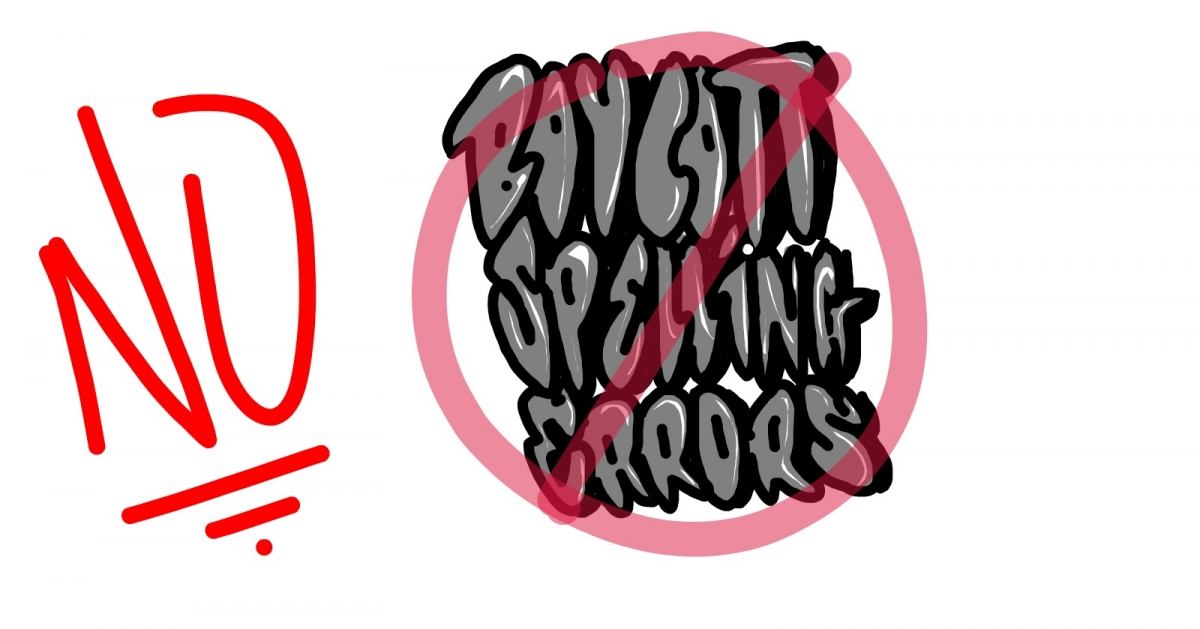 Here are

poll results, from Tech Republic

 where recruiters were asked about the importance of good grammar in job candidates. As you can see, most recruiters will not hire a candidate with poor grammar.

So, how do you check a content marketing specialist's grammar and sentence formation?
Quickly scan the candidate's previously published work, their application/cover letter, and their resume.
If there are obvious mistakes (like incorrect usage of "they're", "there", and "their"), then you shouldn't take the evaluation forward. You can upload the writing in Grammarly or the Hemingway App for a quick grammar check.
You can cut some slack for grammar mistakes like split infinitives and ending sentences with a preposition. They might be purposefully used by the writer for setting a rhythm and maintaining flow, or to sound more conversational.
Is flawless grammar the final parameter of a writing skill analysis?
I'm afraid not. If your writing is devoid of emotion, stories, and personality, it won't make an engaging read. Content marketing specialists can charge a lot of money because they're creative they know how to emotionally engage with readers.
The writer's word choices, tone, and understanding of their target audience play a vital role in crafting persuasive copy.
Even a single word change can result in a 139% increase in conversions.

It's a long-term skill, though, that comes as you keep writing more and more.
Here are the 3 essential features that you can use to separate the wheat from the chaff.
Compelling headline, subheadings, and CTA

– A proficient copywriter knows that

8 out of 10 readers won't go beyond the title

. So, he or she puts extra effort in crafting an attractive one. Also, a persuasive CTA is essential to get the audience to perform the desired action.

Talk to the reader directly in their language –

The words 'you' and 'your' are probably the most powerful in the English language. To gain the attention and trust of your readers, you've got to write conversationally (in first or second person) and use the exact words they use in describing their challenges.

Picking the right subject to write about – While you can come up with a dozen different writing ideas for your content strategy, it's important to find new and interesting angles. Otherwise, people aren't going to spare their time to read them. A prolific content marketing specialist understands keyword research, uses research for content creation, and

generates ideas that are proven to get traction

.
While the above writing tenets ensure great copy, there's an additional writing ability that will tremendously help you…
Cranking out high-quality content fast and without burning out.
It's a useful asset for you to find in a content marketing candidate as fast writers will be ready to occasionally take on additional workload and meet deadlines.
2. Pro journalistic-level research skills
Remember I told you that journalists are a great value addition to your marketing team?
The primary reason is that they have incredible research skills and verify every claim in their articles for authenticity (from credible sources).
BuzzFeed is associated with casual entertainment. But back in 2011, they hired Ben Smith from Politico as their chief editor. Ever since, BuzzFeed has expanded its investigative research team. The reason is that BuzzFeed wants to infuse journalistic credibility in its brand.   
Even Business Insider has invested a substantial amount of resources into creating premium content. An example is this 22,000 word Marissa Mayer biography that received over 1.5 million views.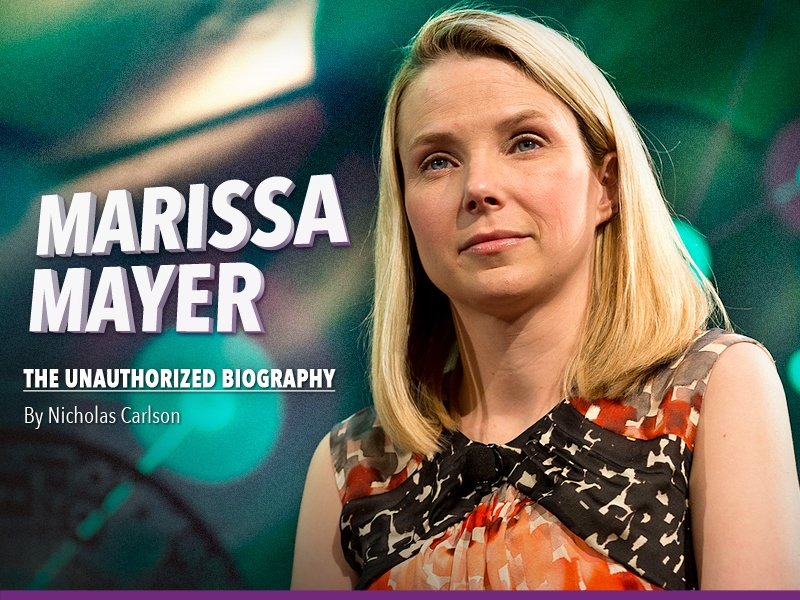 Isn't it obvious that the ability for a content marketing specialist to research is highly underrated?
And yet it's a cornerstone to any kind of marketing.
You need to research your customer's interests, pain points, and their demographic for crafting relevant and engaging copy.

You need to identify your competitors, their brand positioning, and the content gaps that they have left for you to fulfill.

You need to learn about your company's products, understand how they are unique, and align your content development with it.
A skilled content marketing specialist will remain in research mode until she finds the necessary answers, always working on her larger content market strategy through useful, authoritative content.
Remember that there is no single correct way of gathering all of your research. You might need to interview your customers, correctly use Google search operators, or scout niche forums.
Or, you might even perform the tedious job of reading the comments on your or your competitor's websites.
And, you might play with tools, like Ubersuggest and BuzzSumo, to understand your audience and their likes.
Research isn't limited to your content strategy. It's indispensable to make your overall content marketing strategy effective.
A solid content marketing strategist knows this well. 
3. Knowing how to have fun with numbers
Content writers aren't expected to be mathemiticians.
But for successful content marketing specialists, crunching data is as important as weaving stories with their words.
First, writing data-driven posts inspires trust and garners more shares on social media. You can conduct personal experiments and roll them into an interesting, as well as insightful, piece of content.
I regularly analyze my writing efforts and craft blog posts about my results. A great content marketing specialist will likely do the same.
And, they receive a good response on social media.
They also earn backlinks without me actively planning link building campaigns.
In the future, you can expect tools that will allow an average writer to scrape information and conduct an analysis. Even now, though, exceptional content marketers try to link their statements with authoritative data sources.
Second, if you want to drive a great ROI from your content marketing efforts, then it's important to create the kind of posts that resonate the most with your audience. A good content marketing specialist will always keep an eye on your audience to stay on top of what they want.
An analytical content guy crunches data and compares the published content's performance against pre-defined key performance indicators (KPIs).
In most cases, such an analysis reveals that 20% of your posts will drive 80% of your traffic. Pulling a basic report from Google Analytics> Behavior > Site Content > All Page will reveal these numbers.
Once you find the critical 20% of your posts, you can step back from content creation and invest more time in promoting your content. (Consummate content marketing specialists know that marketing strategy is the second critical part of the content marketing game and are great at social media to boot.)
Again, all promotion tactics aren't equal. You might need to analyze your content promotion activities in an excel sheet to find the ones that give you the most bang for your time.
As you can understand, conducting a smart analysis will require an ROI focused mindset and comfort with plugging/pulling numbers inside analytics software.
So, ensure that your content marketing consultant or contenting marketing manager knows their way around Ubersuggest, Google Analytics, Excel, A/B testing tools, and the like.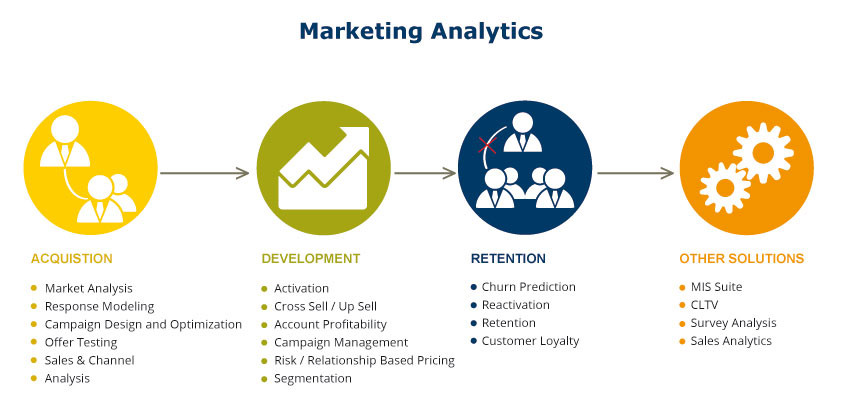 4. Managing a consistent publishing schedule with their project management skills
Documenting your content marketing strategy will help increase your chances of success. But, you cannot expect to see the results, unless you carefully execute your plan.
Professional content marketers take due diligence in sticking to deadlines because they understand that missing just one can tremendously hurt their business. They plan a year's worth of blog posts in advance and follow a strict publishing schedule.
They may use tools like Trello to stay organized and keep all team members on the same page.
Furthermore, successful project management also means that you clearly define and reach your goals with their marketing team.
So, content marketing specialists should pick parameters from the SMART framework to define their process, stay motivated and choose their timely deliverables.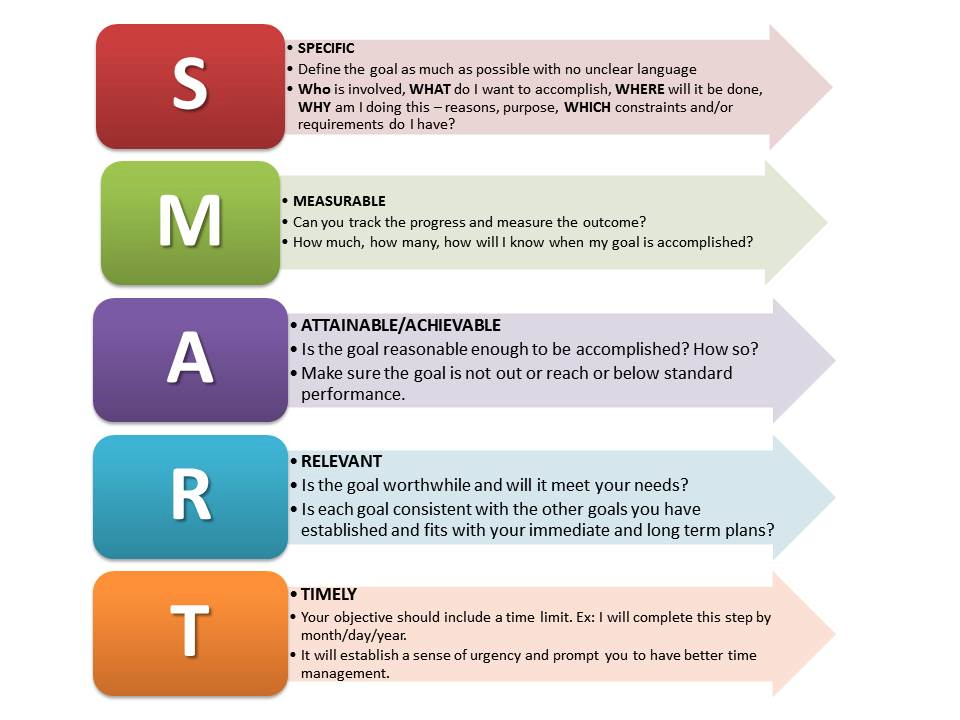 You can read how to apply SMART to your content marketing here. Test a content marketer by requesting that he or she design a SMART content plan for your company.
Bonus: Comfortable in dabbling with code and design
Purely textual content alone can only do so much. It's important to either curate relevant graphics or, if need be, design images from scratch.
Blog Pros. in its analysis of the 100 most popular blog posts found that they have one graphic for every 350 words, on average. I shoot for one image for every 200 words.
If you've got a professional designer on your team, it's a piece of cake for them to design custom photos for your blog.
Occasionally, your content marketer might need to play with a tool like Canva and create his or her own graphic content (like the image below).
Similarly, coding is seriously intimidating for most marketers (let alone writers). But, a basic knowledge of CSS, HTML5, and Javascript can be helpful when it comes to changing the formatting of your content.
For instance, you can go to the page source and edit the image width to fix a picture.
Also, if you expect to publish posts on complex subjects like technical SEO, then the writer needs to understand technical lingo.
What if your content marketing candidate has the four essential skills I listed above but doesn't know how to code or design?
Don't abandon such candidates if they're killer writers.
You can request that they take free classes on Udemy, Codecademy, or even browse through tutorials on YouTube.
From there, create a short assessment of these skills. This will also help you understand how your candidates synthesize their knowledge.
Conclusion
Content marketing costs 62% less than traditional marketing and generates about 3 times as many leads. That's why it has taken center stage and dethroned lesser effective traditional marketing techniques.
Check out this fascinating Google Trends graph (as of December, 2019) comparing content marketing to traditional advertising mediums: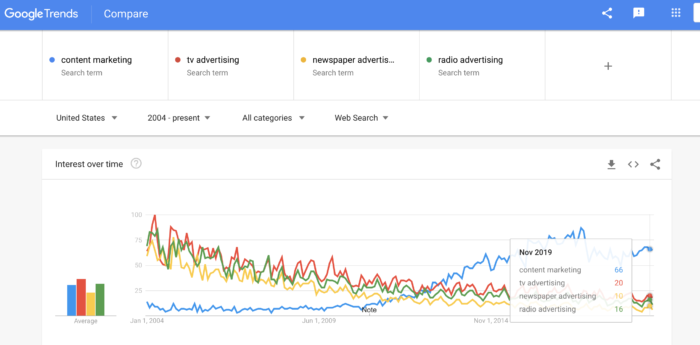 But, proficient content marketing specialists are rare commodities. They have to wear so many hats to lay a strong foundation for your inbound marketing campaigns.
Although a great content marketing manager or specialist doesn't come cheap, you won't attract the right kind of candidates solely by throwing more dollars around.
I recommend that you mix the 4 skills I listed in this article along with your company's personal requirements. You might just find the perfect content marketing whiz for your company. 
It's your turn now. Have you ever hired a content marketing consultant for your company, and, if you did, how did you close on the final candidate? Also, did I forget to mention any critical content marketing skills in the article? Let me know in the comments below.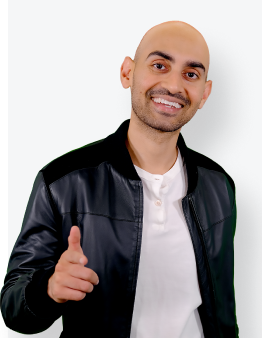 See How My Agency Can Drive Massive Amounts of Traffic to Your Website
SEO - unlock massive amounts of SEO traffic. See real results.
Content Marketing - our team creates epic content that will get shared, get links, and attract traffic.
Paid Media - effective paid strategies with clear ROI.