It's survival of the best search features when it comes to Google and social media.
We've been saying for a few years now that social networks are the new search engines.
They've already changed the search landscape so much that many skip Google and head right to social media websites.
Google SVP Prabhakar Raghavan suggests that younger generations are causing this shift with their demand for visual content.
Based on their studies, nearly 40% of young people (age 18 to 24) use TikTok or Instagram first when searching for things like a place to go for lunch.
Over time, this trend will likely transform Google's core search and discovery features. In fact, it already is (during your next search, notice the featured links that pop up).
As the connection between search and social media grows, you'll want to stand out in both the SERPs and on social networks.
After reviewing data on the top social media websites, I want to let you in on how to integrate keywords to optimize your content's visibility. Let's get you outperforming your competition with large keyword shares in the SERPs.
Can Building Your Social Media Websites Support Your SEO?
No huge surprise here: I say yes.
I don't say yes simply because of my success fusing the magic of social media and SEO. It's because of what it's done for many others.
Now I understand this topic has split views, but hear me out.
There are social media websites for every interest and purpose. So, searching within the social network itself can be quicker and yield ideal results.
Not to mention, branded keywords show up front and center alongside social media activity in quick Google searches of a brand.
Here you can see how just NYFW, the initials for "New York Fashion Week," is trending on Twitter as well as leading pages surrounding the calendar events: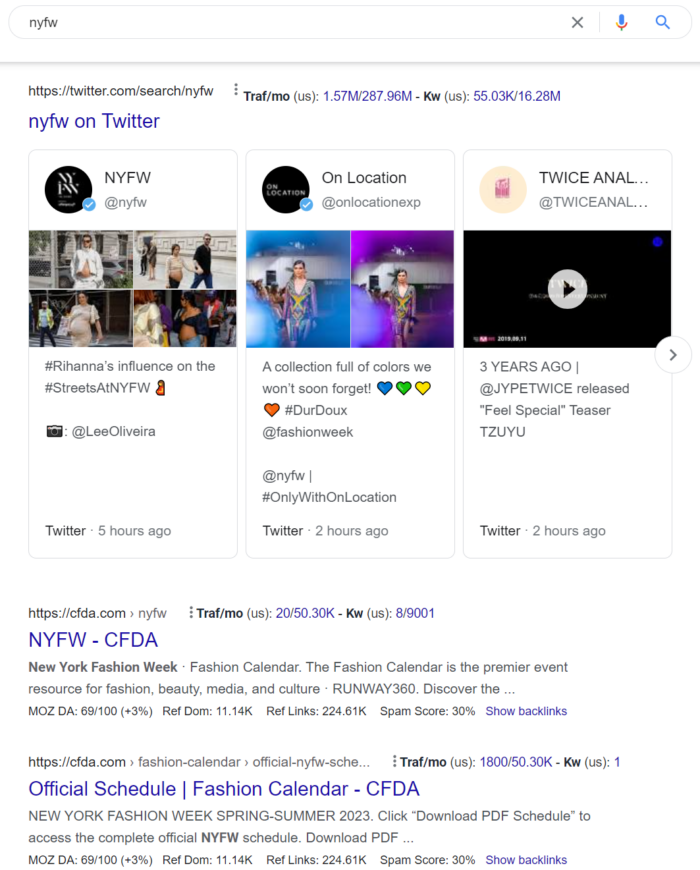 That's how SEO and social media correlate—through social signals. The two channels can work in your brand's favor.
Social media posts draw users in to influence more of their searches and keep them in touch in real time. As user search intent continues to move toward visual content, this could mean a higher SERP ranking for you.
Google notices these social signals and can index them. This means your social media strategy can affect your brand's ranking in the SERPs.
It's all eyes on your content when the keywords lead the users to you. Keywords used in social posts are becoming more and more popular among consumers thanks to mobile apps and site configurations.
So, be present on Google and social media. Your audience wants to see you in action.
How are you interacting with them? Are you simply responding or taking steps to grow a community?
As simple as it seems, it all ties to your brand's reputation.
Think about it.
Just like SEO, social media draws in potential customers and lets you tell them who you are and why they should be loyal to your brand.
It's all about quality (and quality links, for sure). Create quality content that informs your audience and you'll stand out on social.
You can gain so much from spreading your content across various social media websites. Your audience is more inclined to share your posts with their friends and followers if you offer high-quality, helpful content.
But which social networks will help you stand out from your competitors? It all depends on what you're trying to accomplish.
What Social Media Performs Best In Google?
Knowing which social networks perform best in Google will help you maximize your social media goals.
Good news: You don't have to be on all the social media websites. My team and I researched the social media channels users search on Google and which ones perform best.
The results we got back made it evident that these social networks hold a lot of value.
Google and other search engines use these social networks in their search results. We focused on how social networks appear in Google search engine results and how much of the SERPs they dominate.
But we didn't stop there.
We also looked at what kinds of keywords they are owning and how brands like yours can outrank the competition.
To gauge the impact of social media networks on search, we measured these sites by:
U.S. traffic
Keyword types (informational, navigational, commercial, and transactional)
Total keyword universe
Page 1 keywords
Position #1-3 keywords
Total unique keywords
Total featured snippets
Here is our analysis of each site:
Facebook and its Relationship With Google
Facebook's U.S. traffic is strong, second only to YouTube. In terms of total keyword universe, Facebook held around an estimated 85.6 million. Most of their keywords were informational, but most of their traffic came from navigational types. This means they pull in more traffic from users looking to find a specific site or page—which makes sense since the site is set up to help users find social profiles of similar interests.
Instagram: How Does it Interact With Google?
Instagram also has a good overall amount of U.S. traffic (439.6 million). They hold a current total of 1.5 million in their keyword universe. Most of their keywords and traffic from those keywords were also informational. What does that mean? Most of their rankings result from users searching for educational or informative topics.
Twitter: What Does its Keyword Universe Look Like?
Of the social media websites, after YouTube, Twitter's Image Pack links have 4.1 million total featured snippets. If you look back to my NYFW example from earlier, you'll see how impactful landing in this position on Google can be. Many of Twitter's keywords are informational as well. Over the years, Twitter became popular as an alternative customer support medium for many brands. Twitter shines as a customer support tool because it's a great way to show you care about customer satisfaction and your reputation. It makes sense that the keyword traffic brings in 114.8 million on average for this reason.
YouTube: The Leading Social Network
YouTube was the leading social network in all categories from our investigation. Most of their keywords and traffic were derived from informational queries, suggested that people most commonly come to the platform to learn about things. We calculated nearly 80 million videos that the domain ranks for and 4.4 million "People Also Ask …" , showing search intent matters.
TikTok: Why Is it Behind The Rest?
Out of all the social networks, TikTok was behind the pack in most SEO metrics. Like the others, most of their keywords and traffic from those keywords were informational types. As visual content continues to change search properties, we could see a change in these numbers.
Most traffic for the social networking sites analyzed stems from informational keyword types. This means that search engines deem the keywords social networking sites are ranking for as highly educational and informative.
What does this mean?
People are looking to find answers to a specific query rather than to convert.
Insights on Google and Social Media
On average, each site received the most rankings in keywords and traffic from informational types.
Smaller brands can beat these large sites by analyzing and prioritizing commercial-tailored keyword types, which are bottom-of-funnel keywords that generally yield conversions.
Despite the high competition for rich snippets such as videos or reviews, there is an opportunity to steal position for the featured snippets these social networks are least competitive in, such as top stories, FAQs (frequently asked questions), and local packs on Google.
Below are averages for two SEO metrics we investigated (most and least) that businesses can use to their advantage:
When it comes to social media market share in Google, focusing on commercial keyword types is a quicker way for your content to compete—largely due to less competition.
That said, you can still target informational keywords if that's core to your SEO strategy.
Think of it like a two-pronged attack. Your website, your final conversion point, should be the key area where you center your commercial intent keywords. At the same time, social media is key for educating and building brand awareness.
Because social networks dominate informational intent keywords, you need to adjust your keyword strategy accordingly. Set up your educational content on these platforms, then link back to your site so users can learn more or purchase.

Finding the Right Social Media Networks for Your Business
With so many social media networks, figuring out where your business belongs can be overwhelming.
For your business, you're looking for websites that will help you appear in searches and rank high on SERPs. This is important, especially if customers look to social channels in search of what other buyers or influencers are saying about you.
So, you need to be where your specific audience is hanging out online.
A search on social media, like a search on Google, shows brands that optimize posts and their profiles with keywords. This helps users find their content and enables brands to connect with their prospective audience.
But it's not all about what everyone else is doing. Think about your goals. They factor into which social channels you should target. This is especially true if your aim is to gain more exposure and build up your community.
Different social networks have different advantages. If your goal is to expand into social e-commerce, turning to Instagram to capture social spending would be best.
Furthermore, different social channels target different audiences. For example, Instagram's user demographic is primarily made up of 18-34 year olds. Determine where your target audience is hanging out and create content there.
A social media presence takes time and effort, so make sure you have social experts executing your online marketing campaigns.
It's easier if you already have content ideas or can repurpose content on your site. Get creative and also lean on user-generated content from your audience to check off your goal of building community online.
Remember that visual content is trending, so the more videos and images you can use, the better you can capture attention.
This reminds me of how J.Crew's blog gains valuable links funneling traffic from social media directly to their site. They promote the "J.Crew lifestyle" through their Pinterest while upping traffic to their blog.
By consistently making pin-worthy posts, J.Crew offers style guides of their latest collections while driving users to their blog that's all about fostering a creative community.
This is what I'm talking about when I ask what your goals are for being on social media websites.
Your customers will notice your "why." If you gain their loyalty, they'll use you as their trusted resource.
It's not just about being online. It's how you strategize as well.
Frequently Asked Questions
How do I get my social media to show up first in Google searches?
Use keywords to your advantage. The search demand from social media will likely filter through the majority of searches on Google. However, because informational queries are the most popular for this platform, you want to focus your keyword strategy around those. Try long-tail keywords driven by SEO tactics to rank high in the SERPs, especially through featured snippets.
How do I get my social media profile to pop up in Google for a keyword target?
Be specific in your research by social channel. For example, on Twitter, track trending topics and shape your content around them to expand your reach. You can determine this by gauging your market interest to discover relevant points of engagement.
Behaviors differ from platform to platform, but use the unique social space with SEO as the starting point to how you target your audience. From here, you will notice from high traffic and engagement if you're on track to pop up in Google for a keyword target.
Which social network appears the most in search?
From the data we pulled, YouTube was the social network that appeared the most in search. Most of their keywords and traffic stemmed from informational keyword types. This shows just how valuable visual content—especially video—is for users.
Which social media website should I create a business profile for first?
I suggest Facebook. It's the most widely used of all social networks. Think of your industry as you decide which platforms to expand to next. There are so many social media websites, but everyone—no matter their generation or interests—will look for you on Facebook.
Conclusion
Google is still striving to grasp what switching to visual search results will look like.
If you're on the fence about joining more social channels, the data we collected shows that usage will keep growing.
You must first find out where your audience hangs out online to attract them. However, understanding which social media sites are popular with your target audience is only half the battle.
Social media primarily works by increasing the visibility of your brand and content, which in turn increases traffic.
Additionally, your YouTube videos and social media profiles appear in standard search results in the app or on Google. Therefore, making them search engine-friendly will undoubtedly improve your overall SEO success.
Whether it's a search on social media or a search on Google, keep in mind that both channels can work in your favor when complemented by your SEO tactics.
Did I give you a new perspective on social media's impact on SEO with this data? Let me know in the comments.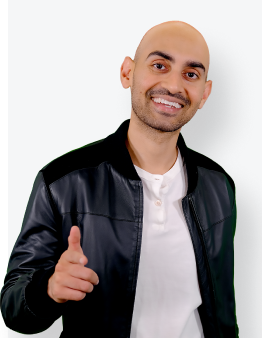 See How My Agency Can Drive More Traffic to Your Website
SEO - unlock more SEO traffic. See real results.
Content Marketing - our team creates epic content that will get shared, get links, and attract traffic.
Paid Media - effective paid strategies with clear ROI.
Are You Using Google Ads? Try Our FREE Ads Grader!
Stop wasting money and unlock the hidden potential of your advertising.
Discover the power of intentional advertising.
Reach your ideal target audience.
Maximize ad spend efficiency.