If you're looking to outsource your online marketing, you need to be careful.
While outsourcing is a great strategy for a lot of non-essential parts of your company, like HR or tax preparation, outsourcing something like your marketing efforts is challenging.
Not only is it more vital to your company's success, it's a more expensive and complex endeavor by itself.
Choosing the right place to outsource this vital part of your business is important, and you need to look out for a few specific things before you get started.
That said, there can be a huge benefit to outsourcing this work.
According to IgniteSpot, in-sourcing will require a number of resources and expenses.

If you're strapped for cash, have a small marketing budget, or you're a new startup, a new in-house team might not be the best route to go.
You'll be investing tons of money into something you could have a remote team handle for you.
About one-third of companies outsource some part of sales and marketing, so it's not a new concept. But it is one you'll need to keep a close eye on.

Here are the 23 things you need to look out for when outsourcing any online marketing work.
Before you begin any project, make sure it does these things for your company.
1. Increases business efficiency
No matter what type of outsourcing you're doing, you need to ensure that it increases the efficiency of your business.
There's nothing worse than starting a large outsourcing project only to realize it's actually dragging the process out longer and taking up more valuable employee time.
According to Qarea, the efficiency of a business is due to the competitive advantages it has through cost-cutting and access to new technology.
When you invest in outsourcing, you'll be able to acquire these without the expense necessary for research, development, and staff.
Before you start an outsourcing campaign, make sure it provides increased efficiency for your company as a whole.
2. Provides availability when you need it
The truth is that much of the outsourcing you're probably thinking of involves a team overseas.
It's true that a remote team in India or the Philippines is usually your best bet for inexpensive labor, but it doesn't always have to be a team outside your home country doing the work.

In fact, sometimes you'll see a huge benefit in working with a team that's based in your country. The availability of outsourcing firms internationally can be frustrating.
Yes, it's exciting to wake up and have a day's worth of work done for you. But the 6 a.m. video chats, 12-hour email delays, and constant back-and-forth may grow tiring.
3. Guarantees English proficiency
According to Fronetics, about 18% of content is being outsourced by marketers. This is one of the more common uses for outsourcing, and it's typically one of the easiest.

You can hire a freelance writer or designer quickly and easily, and it will save you time and valuable hours down the road.
But you need to make sure that any content work you choose to outsource comes with a guarantee of English proficiency.
Signing a contract — only to find out later that your blog posts need massive editing before publication — will be a constant delay in your marketing processes.
4. Produces high-quality work
It goes without saying that you need to outsource without losing quality. But how do you ensure you find a firm that can provide the kind of quality you're looking for?
The simple truth is that you'll have to rely a bit on the process. Most established outsourcing companies already have a process in place based on their work with dozens of clients.

When you handle this in-house, your quality can also suffer if you don't have the resources to manage it properly.
I recommend checking the quality on a regular basis once you start outsourcing, and correcting any small changes before they become ingrained in the process.
In a minute, I'll also give some tips for ways to preview work the firm has done for other clients to ensure you'll get top-notch professionalism in the work they do for you.
5. Engages your current employees
There's a surprising downside to outsourcing that you might not have considered. If you export too many of your tasks, you might alienate your biggest supporters: your employees.
Don't outsource everything and lose the engagement of your current workforce.
According to Media Components, this employee social advocacy can be a great way to gain new target audiences and build a larger community.
Look to incorporate outsourcing in a small way at first, rather than start replacing employees with remote workers as soon as you get the opportunity.
6. Offers case studies and work samples
Whoever you work with should be happy to provide a variety of case studies and work samples for you to preview before you make the agreement final.
Why?
To guarantee that it's a good match, both for you and the outsourcing firm. Even if their quality is top-notch, it might not be the style or tone you're looking for.
If that's the case, you'll both grow frustrated with the partnership.
According to Transcosmos, 89% of clients are satisfied with their outsourcing contracts. This is a massive success rate.
To ensure you reap the same rewards, test the work quality and make sure it's a good fit before you start.
7. Provides references you can contact
Whoever you decide to work with needs to give you more that just their own curated case studies and work samples.
Yes, they're helpful. But ultimately, you need to talk to someone who has experienced their work firsthand and can give you the precise details on how they operate.
According to Suyati, marketing is still a small part of the total jobs outsourced, and it's somewhat of a niche in the outsourcing market.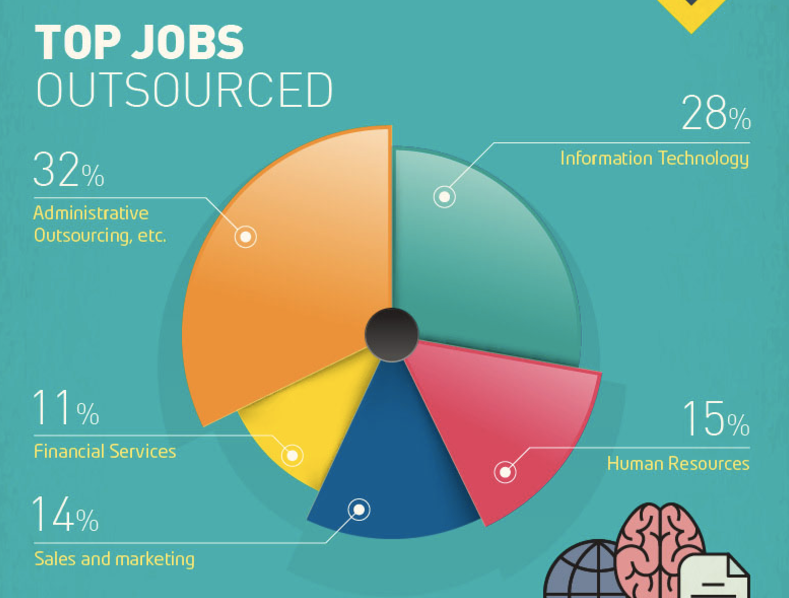 Get a few references from the firm you'd like to work with, and talk about the details with them before you sign a contract.
Understand the firm's strengths and weaknesses from someone who has dealt with them before. Only then should you make your final decision.
8. Shows continual growth
If the outsourcing company seems to have made cutbacks or downsized in the last few years, that's a warning sign that you should probably move on.
Since the recession of 2008-2009, outsourcing has grown tremendously, with 57% of businesses increasing their outsourcing and only 9% terminating an agreement.
In short, there's plenty of work to go around. If your firm is having a hard time keeping clients, there's probably a reason.
Do your research and be willing to move on if you don't like what you find.
9. Charges a price that isn't too low
While it's tempting to think of outsourcing as a form of cheap labor, that shouldn't be your primary concern.
In fact, most outsourcing relationships based purely on cost have a tendency to fail. That's a bad sign.

Instead, look to a company that charges a fair wage. This is a sign that they're professionals and they're willing to produce quality work.
In addition, the price of many marketing activities has gone up in recent years. More clients are spending $10,000 more now on a website than they were two years ago.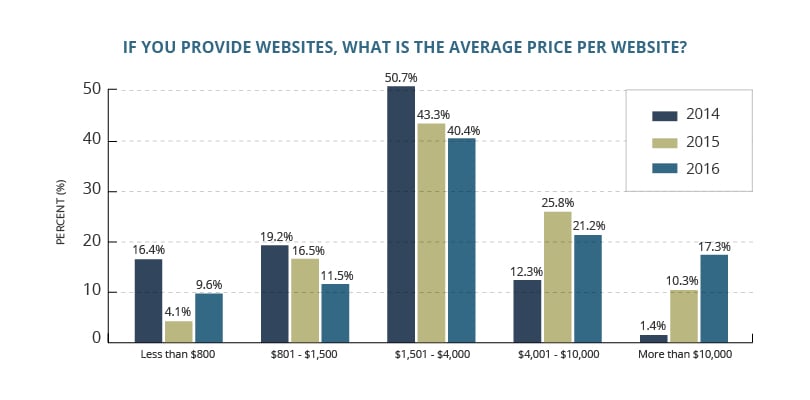 Look for a price that indicates quality, not a price that's as cheap as humanly possible.
10. Charges a price that isn't too high
But wait. Didn't I just say to look for a company that charges a price that isn't too low?
Yes, but there's more to the story than just that.
You need to ensure you're working with a firm that has your financial interests in mind.
If you're running a startup, you probably don't have the capital for a huge investment in outsourcing. What should you do instead?
Simple. Look for a company that charges a fair wage, but one that's within your budget.
Don't go for the lowest bidder, but don't presume that outrageous prices will indicate jaw-dropping quality.
Instead, find an affordable and high-quality service provider.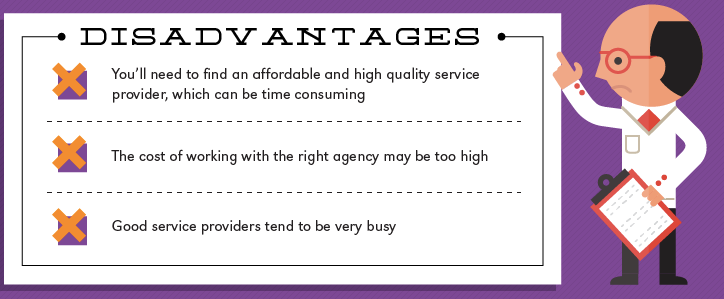 The time it will take is one of the disadvantages of outsourcing.
But overall, the time you spend upfront on cost will be well worth it over the course of your relationship with the firm.
11. Resides in a country you can trust
Let's face it: there are some countries where you don't want to hire an outsourcing team.
The labor cost in a county in political upheaval or instability may be cheap, but you'll more than pay for the cost in unreliability.
Instead, look to one of the top offshoring destinations for your outsourcing work.
Countries with burgeoning economies, like India, Indonesia, and China are great examples of stable locations where you can expect consistent, quality work.
Look to find a country that serves your needs and also provides you with the guarantee of success you're looking for.
12. Solves a capacity issue
If you're not strapped for capacity, you probably shouldn't be looking to expand your operations through outsourcing.
According to CallBox, which published information from a Deloitte outsourcing survey, 45% of executives claimed outsourcing is solving capacity issues.
You need to ensure your projects will help to create more space at your company and allow you to function better and more efficiently.
An outsourcing venture that drags you down will only create frustration.
13. Sets forth a clear contract
When you first start working with an outsourcing firm, it can be easy to disregard the formalities.
After all, you're here to work. And the sooner you can get started on the work, the better. Right?
Not so fast. The truth is that getting legal items like a contract in place are hugely important to making sure the work is done at a standard that meets your expectations.

Contracts help prevent confusion and relieve tension.
You should only do work with an outsourcing team that wants to provide you with a contract before they start working on your online marketing tasks.
14. Follows industry trends
If you're not careful, you can make some huge mistakes in the areas you decide to outsource.
Look to the industry trends to make sure you're spending your time, energy, and money where you will get the most benefit.
According to HubShout, businesses have reduced their content marketing and website development outsourcing in recent years, while increasing SEO and PPC outsourcing.
Being aware of trends like these and the reasons behind the shifts is critical to understanding what will work best for your company.
15. Handles only what needs to be outsourced
When it comes to online marketing, there tends to be a lot of work that really shouldn't be outsourced.
Yes, you could hire someone else to write company updates. But once you've fully explained the complexity behind the issues, it's probably just faster to do it in-house.
So, what's the solution?
The answer is to outsource only part of the tasks that need to be outsourced, while saving the rest for your in-house team.
When it comes to video marketing content creation, this is a great place to split up the tasks.Research indicates that 70% of marketers use a combination of outsourced and in-house resources to accomplish the task.
Research indicates that 70% of marketers use a combination of outsourced and in-house resources to accomplish the task.
Outsourcing only part of your content marketing is a great strategy to monetize a blog, without spending countless hours preparing new content.
16. Employs a trained workforce
Whoever you hire for outsourcing should be trained and ready to deliver top-notch work from the start.
That's one of the disadvantages of doing the work on your own, in-house. You'll need to train staff.
When looking for a firm to hire, make sure they have the education necessary to do a great job at the tasks you assign to them.

Since it's unreasonable to train a small, in-house team on a small or peripheral project, looking for a highly qualified outsourcing team can be a lifesaver.
You'll prevent countless hours of frustration and unproductive education.
17. Links directly to your bottom line
No matter why you think you need to outsource your online marketing work, you should be sure it will actually help your company grow before you take the plunge.
The truth is that marketing is critical to your company's success, and outsourcing something that close to the heart of your organization can be risky business.
Make sure it will only boost sales and benefit the company before you engage in outsourcing of any type.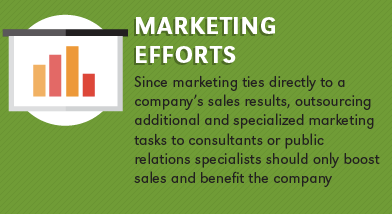 This will guarantee that you continue to reach your objectives and make huge progress on your goals without losing track of what got you started in the first place.
18. Handles the most common tasks
If you're not sure what to start outsourcing, you'll need to find a firm that can handle the most basic tasks you might need down the road.
Currently, the most outsourced marketing activities are writing and design.
You need to ensure the team you're working with can handle both of these elements, since you're most likely going to need these services before anything else.
By using a team that can develop your content, you can create additional time to work on other critical processes that help your company run.
Outsourcing using this method is one of the ways to make content marketing work for you.
19. Ensures consistent work
When you're comparing the differences between an outsourcing firm and an in-house team, you may find that the consistency of the team in your company is unreliable.
This is because the constant challenges of your team are shifting every day, and the needs of a growing company may demand that your marketing team change their focus often.
As a result, the consistency of your efforts will suffer. This is especially true with social media marketing, where regular posting and engagement are critical.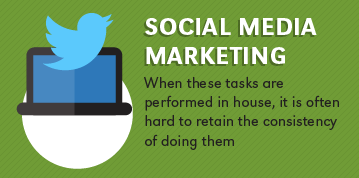 Instead, you can look to hire an outsourcing team that can guarantee a level of consistency you won't find with the employees at your startup right now.
20. Cuts the cost of labor
Ultimately, the reason for outsourcing comes down to the cost of employees.
You will save expenses on employee management, training, and hiring by outsourcing. So before you embark on an outsourcing project, make sure it helps you cut the cost of labor.
One of the biggest disadvantages of in-house work is that you won't have a team with the skill levels or expertise necessary.

Since outsourcing allows you to acquire a team with the skills necessary to do the job right, you'll reduce the cost of your workforce before you begin.
By doing a few simple calculations on the expense required before you get started with the project, you'll guarantee a savings in labor cost.
21. Specializes in core work
As the internet makes remote work a reality for more and more roles, you may find that you want to outsource the core work that you once suspected you could only do in-house.
If that's the case, you need to look for an outsourcing firm that can specialize in core work.
These are tasks, like sales or product development, that are necessary for your company to function.
As you expand your marketing operations, you may find the lines blurring between marketing and this core work, and you need to be prepared.
In fact, 53% of executives indicated they outsource activities they consider to be core.
When looking for an outsourcing firm, have expansion in mind. It will save you a lot of hassle to be prepared for more collaboration in the future.
22. Helps you expand
I say over and over again that growth is important. It's the key to the success of any new business.
You must keep growing or you're going to fail. And this philosophy needs to apply to your outsourcing as well.
The outsourcing you do should help your company grow faster than ever before. One-third of businesses said that outsourcing would help them expand into new geographies.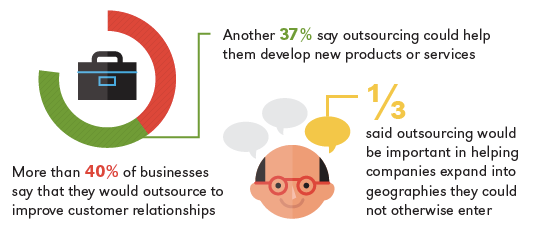 If your outsourcing work won't help you expand, you need to look elsewhere. There are plenty of teams who will work to grow your company.
You don't need to waste your time with a firm that has different priorities than you do.
23. Works with similar industries and campaigns
Finally, you need to make sure the outsourcing team you hire has worked in similar industries on similar projects and campaigns.
No matter how attractive their resume, work history, or client references, that information could quickly become irrelevant if they don't have the skills to launch a specific project.
This is the big advantage of an outsourcing team. They can do what your in-house employees won't be able to do.

When you're outsourcing your online marketing, you need to find a firm that has the resources to get started as quickly as you want them to.
Conclusion
So, you're ready to get started with a new marketing plan by outsourcing the work to another team. But there are specific guidelines you need to look out for when you do this.
First, you need to make sure you're working with a team that has proven credentials and can get the job done correctly the first time.
You'll also need to make sure that team has a solid track record. Look for case studies, client references, and previous experience in the kind of work you'll be doing.
Look for the staples of a good outsourcing firm as well. Find a lower, but still fair rate. Get a solid contract in place before you start, and ensure it cuts your labor cost.
Before you invest the hundreds or thousands of dollars you'll need to spend, make sure the projects you're working on are aligned with current industry trends and standards.
Finally, and most importantly, only use outsourcing if it helps you achieve your goals.
While it sounds fun and exciting to say you're "outsourcing all that work," it will only make a difference if it saves you time or earns you money.
In short, look carefully at your goals, the track record of the outsourcing firm, and the quality of their work.
Paying attention to the details will help you save time and reap huge rewards.
What strategies will you use to outsource your online marketing work?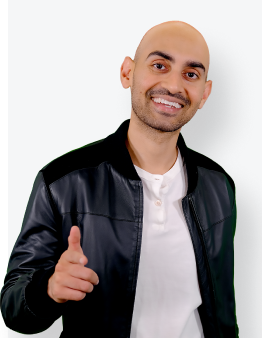 See How My Agency Can Drive More Traffic to Your Website
SEO - unlock more SEO traffic. See real results.
Content Marketing - our team creates epic content that will get shared, get links, and attract traffic.
Paid Media - effective paid strategies with clear ROI.
Are You Using Google Ads? Try Our FREE Ads Grader!
Stop wasting money and unlock the hidden potential of your advertising.
Discover the power of intentional advertising.
Reach your ideal target audience.
Maximize ad spend efficiency.