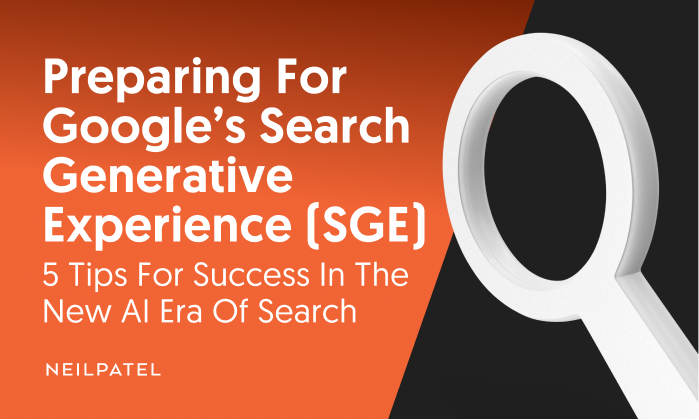 This post was written bv Nikki Lam, Senior Director of SEO at NP Digital.
SGE will be one of the most significant shifts in Google's search results in its 25-year history. There are a lot of unknowns on the horizon, but one thing is sure: This AI-powered search experience brings a new wave of complexity to capturing visibility and traffic.
And it's not just SGE we must think about. SEO has been incredibly volatile. Google has hit us with its helpful content updates, spam updates, and never-ending core algorithm updates. In the recent words of one of my favorite SEOs, Lily Ray, "I am tired."
With all these algorithm updates and Google's new AI-driven approach to search, there's one crucial thing to understand: To be successful in this new environment, you first must be successful in your current environment.
Yes, SGE will be one of the most significant shifts in search we will experience in our careers, but we are not unfamiliar with clicks becoming harder to get. There's been a rise in zero-click searches for a long time. SERPs have become more complex, diverse, and personalized. We are no strangers to constant changes in the SERP affecting our ability to capture shelf space.
You can apply some of the tactics used in search today to help you plan for what's to come with SGE. After all, some industry studies show that if you're ranking in position 1 or 2 now, Google's SGE AI snapshot is more likely to refer you.
But the bar keeps rising. With the growing adoption of AI in marketing, your future success will align with how well you can create content beyond what anyone can spin up with a ChatGPT or Claude prompt.
The good news is the fundamentals of search are still relevant. The recipe might be changing a bit, but the ingredients should all be familiar to you.
Get Mentioned Across the Web
Create Content Featuring E-E-A-T
Cover Your Topics Thoroughly
Integrate Content Formats AI Hasn't Nailed Yet
Optimize Your Conversion Rates and User Experience
1. Get Mentioned Across the Web

Note: this image above was generated using Google SGE's cool new SERP image generator. If you're enrolled in Search Labs SGE, try it out by saying, "Draw me [insert specific description of what you want Google to create]…."
My first tip is to work toward building your online reputation by getting trustworthy sources across the web to mention or link to your website. Google's documentation on SGE shares that a critical part of how it works is corroborating its AI responses with "reliable sources." So, getting mentions or links from reputable and trustworthy sites will continue to be one of the ways Google judges your ability to provide helpful information.
Now, I know there's been a lot of news and chatter lately about people overestimating the value of links. But direct quotes from Google's Gary Illyes state that links ARE essential, even if they aren't a top three factor: "Links are important, but not as important as people think."
Links are valuable and highly used signals for Google. It's just a matter of approach. Buying spammy links has never been the way. It's all about earning your right for that popularity signal.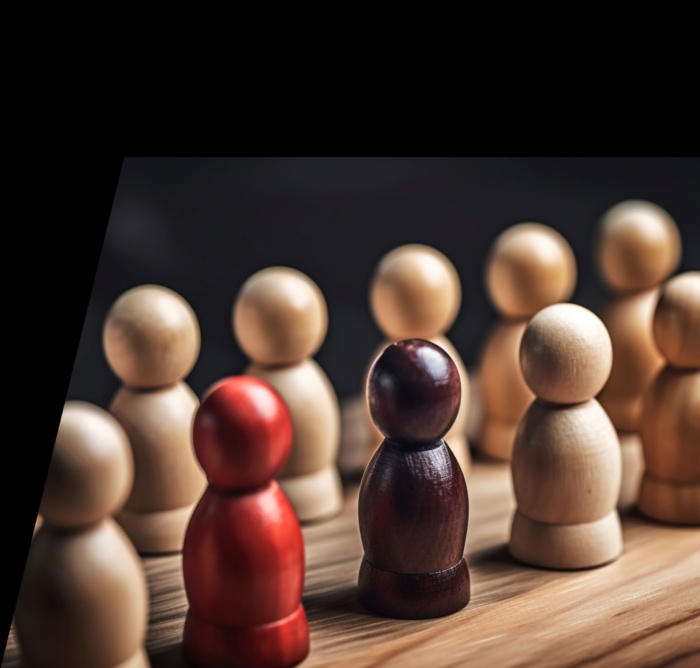 But one mistake I see content marketers make all too often is trying to create the same content their competitors or the leaders in the space have already created. They then sit back and expect reputable, authoritative publications to start referencing them. All they've done is copy something that already exists.
Stop approaching your content marketing that way and start thinking about what's genuinely helpful and engaging for your audience. There's a good chance you might need to scale back your content volume to prioritize quality over quantity—to create something better and different than what already exists. Think robust multi-chapter comprehensive guides with rich media such as gifs, custom imagery, quizzes, and playable videos.
Or think about leveraging an asset you have that no one else has: your proprietary data. For example, maybe you run a high-end clothing boutique and see your largest category growth in gender-neutral clothing this year. That trend might be interesting to people.
Perhaps you're a reputable jewelry reseller who buys and sells high-end watches and see that, as the economy bounces back, your website inquiries for people looking to buy once again surpass those for people looking to sell. This could be interesting and timely.
Those are just a couple of examples to get your wheels turning. Hopefully, you see where I'm going with how key your unique data sets can be to set your content apart.
Here are four different ways we leverage data to set our content apart at NP Digital:
Data studies: You can use data studies to leverage your internal data or even analyze and re-present public data sets to create newsworthy data-driven assets.
Regional data rankings: A regional data ranking piece is like a data study, but it aims to generate buzz at the city, state, or regional level.
Contests and sweepstakes: Sweepstakes and contests offer value to the public to generate buzz and interest.
Surveys: Leverage a surveying tool like Pollfish to collect answers to your questions of choice, creating a unique data set that can help set your content apart.
2. Create Content Featuring E-E-A-T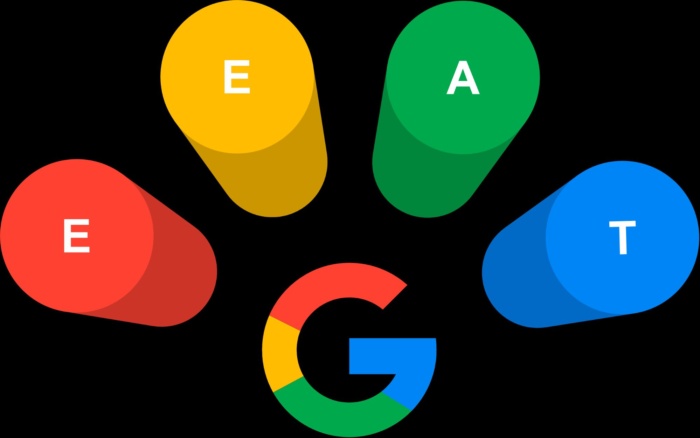 Google's SGE documentation states, "We hold SGE to an even higher standard when it comes to generating responses about certain queries where information quality is critically important." This, and the fact that Google recently added the newest "E" for "Experience," shows us that E-E-A-T will continue to be a critical framework for content creation.
So, let's talk the basics: author bios. Adobe, a brand I've seen dominating in SGE, goes beyond author bios. Check out this page here, where they've included the food photographer's name in the page title, URL, and subheading. They also weave in video interviews with Alex, where he discusses his approach to food photography, his style and preferences, and more. Lastly, they weave in inspirational quotes from him throughout the page.
This is an example of taking user-generated content (UGC) to a new level. It's helpful, inspirational, and incredibly user-centric. They even have downloadable photo editing presets that Alex created. This is the perfect example of a brand partnering with an expert to develop authentic, high-value content for their audience. If you're a food photographer, you don't just get inspired by Alex's story—you get an editing preset he created to help speed up your food photo editing. It's genius.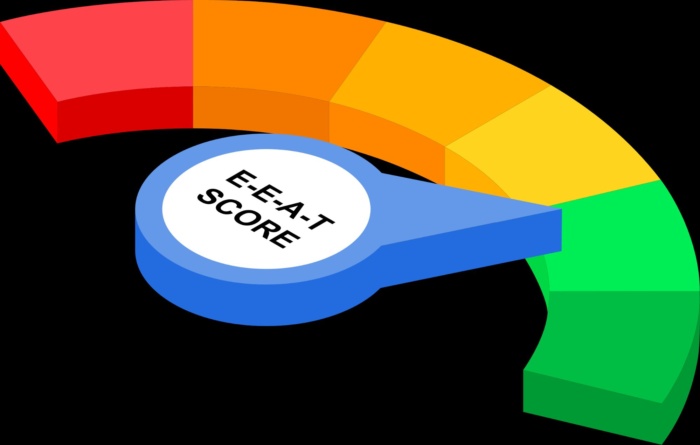 Now, if you aren't sure how you stack up against competitors regarding E-E-A-T factors, or you know you need to improve but aren't sure where to start, you're not alone. E-E-A-T is easy to talk about, but since it's vast and subjective, it can be confusing to strategize on and challenging to measure.
This is why I recommend leveraging a grading rubric where you look at things like the inclusion of author bios, onsite reviews, and all other factors you know play into E-E-A-T. Then, grade yourself against top-ranking competitors and use your gaps to roadmap the key areas where your strategy falls short. That way, you know what you need to accomplish—and that makes improving your E-E-A-T tangible.
3. Cover Your Topics Thoroughly
If you want to be the authority on specific topics, ensure you cover them exhaustively. You must answer all the questions people have about that topic to prove to your users that you're an expert in your field.
Think about interviewing a general contractor to renovate your house. If they can answer your questions about paint and flooring but stare blankly at you when you ask about drywall and cabinets, you will have concerns. You'll likely turn to someone you're confident can handle all aspects of your remodel. Apply the same approach to your content strategy.
And don't discount the importance of long-tail keywords. As people get used to searching more conversationally (an essential aspect of Google's SGE) and Google continues to improve at providing valuable information for these conversational queries, long-tail keywords will increase in search volume, and become even more critical. We'll see head terms continue to decrease in volume and relevancy. to decrease in volume and relevancy.
So don't be like some of the marketers I've seen who discount queries just because they have fewer searches than they deem worthy. You don't want to lose an opportunity to get in front of people who are probably further down the funnel and more qualified website visitors. Moreover, you can't cover your topics thoroughly if you're discounting long-tail keywords.
Let's look at a specific example together. In September, my husband and I took our 8-month-old son on his first international trip. Google was my best friend leading up to travel. The pros and cons of renting vs. traveling with a car seat was one of a million different things Google helped me figure out.
I noticed Google referencing a site I'd never heard of, Trips with Tykes, for many different queries—and even ranking multiple times within the same AI snapshot for specific terms. So, I started assessing why that might be. Here's what I saw:
The author is a mom with two kids, and they have done a ton of traveling and adventuring. She's most certainly got the E's in E-E-A-T covered.
She also covers the topic of traveling with kids thoroughly. Her blog about car seats on airplanes was part 1 of a multi-part series. She has the scoop on whatever you need, and she's also got airline-by-airline level details in her content.
She had such great content that met my needs as a nervous first-time mom traveling across the world. She answered questions in her content that I didn't even know to ask, to be honest.
So, Trips with Tykes has stuck with me because it shows you that you don't have to be a giant like Adobe to get E-E-A-T right and have Google reward you.
You also don't need to rely solely on creating new content, either. Leverage the below framework to get more out of the content you've already invested in creating. It's an excellent framework for taking content from good to great. It's also a helpful framework for finding useless, low-quality content that's diluting your domain and pruning or redirecting it. So, as you're thinking about new content creation, make sure you're taking a hard look at your existing content, too.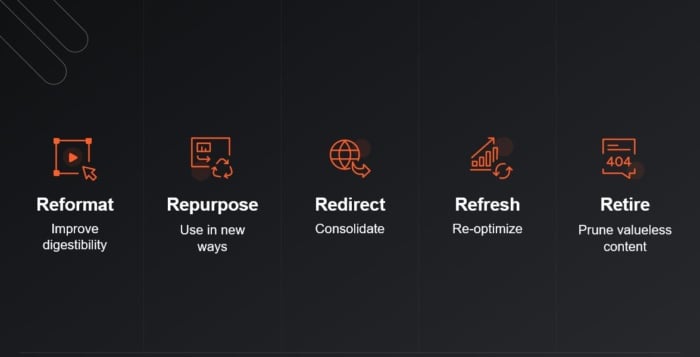 Reformat: Improve digestibility, structure, and readability. Consider whether a new format altogether, such as video, might be an opportunity to better engage or reach new users.
Refresh: Refresh content to better target keyword rankings your content has picked up and align with user intent for those keywords.
Repurpose: Use this content in new ways, such as across other channels.
Redirect: If your content is competing for visibility and diluting your keyword targeting strategy, combine it with its competing content and leverage a redirect.
Retire: No conversions, links, traffic, value, and use across other channels? Retire the content.
4. Leverage Content Formats AI Hasn't Nailed Yet
Leveraging engaging rich media formats can help set your content apart. Quizzes, infographics, and custom imagery are all helpful—but video is a big one. We all know YouTube is one of the most significant search engines in the world. And SGE's AI snapshots include playable videos. So, leveraging video is an excellent opportunity to drive engagement with your audience. It's also an opportunity to tap into a content format that people can't yet easily spin up with an AI tool.
Creating video content is also an opportunity to capture more traffic volume. There are queries like "how to teach my kid to ride bike," for example, where the YouTube search volume is 80 times the Google search volume. Use tools like AnswerThePublic or vidIQ to identify these opportunistic queries and leverage video to help supplement and enrich your text-based content strategy.
5. Optimize Your Conversion Rates and User Experience (UX)
Without SGE data in Google Search Console or third-party tools, monitoring, measuring, and strategizing around what's happening is a little tricky. So, I highly recommend spending some of your time and budget on something in your control: what happens once a user lands on your website.
Optimize your conversion rates and invest in your UX now because once SGE fully rolls out, it will almost certainly cause a dip in traffic for many websites. With the rise in SGE and increase in long-tail, your website traffic may become more qualified over time. But if your traffic volume is substantially lower, you must do everything possible to offer an excellent onsite experience and drive people to convert at the highest rate possible.
When Mozilla increased their page speed by 2.2 seconds, Firefox download figures rose by 15.4%—that's 10 million per year.
And Walmart saw a 2 percent increase in conversion rates for every 1-second improvement in page load times. You don't have to do $80 billion a year in online sales like Walmart for these improvements to help your revenue and conversions drastically. And it's not just page speed. My recommendation is to adopt a framework for continuously testing, tweaking, and improving your site's overall experience and conversion path. 
Our NP Digital UX and conversion rate optimization (CRO) teams leverage tools like Crazy Egg and VWO to help our clients, small and enterprise, improve their conversion rates anywhere from 25% to 230%. So, if you're not already investing in ways to better convert your traffic, and you have no tools or staff to do so, I highly recommend you start getting organized now before SGE risks your traffic volume.
Google SGE FAQs: 13 of your SGE Questions Answered
1. What is Google's SGE?
Google's Search Generative Experience (SGE) is what Google refers to as an "early step" in leveraging generative AI to transform search as we know it. Yes, you read that right. It's only an early step toward what's to come. So, if you think things will settle down soon, think again. SGE is just part of what's to come with Google's Project Magi, and Magi will continue to bring more complexities to how we use and think about optimizing for Google.
2. When is SGE fully rolling out?
Google has not provided a timeline for a full public launch yet. There's speculation around a January 2024 launch since the Search Labs landing page states the SGE beta ends in December 2023.
3. Who has access to Google's SGE?
Google SGE is available to those who are eligible and signed up via Google Search Labs. Things are changing frequently, but at this moment:
4. Does Google have official documentation about SGE?
Yes! Google does have official SGE documentation that is super helpful in understanding more about how it works.
5. Are clickable website cards here to stay within the AI snapshots?
Based on updates from Google where they've noted, "We've learned that people find it easier and more understandable when access to these links is presented within the overview itself" (duh), it's assumed that Google will continue to offer links and citations to corroborate their AI snapshot answers.
6. What percentage of queries trigger SGE AI snapshot results?
There's no definitive data, but recent industry studies show sample sets of keywords returning about 40% auto-generated snapshots and more than 25% snapshots that can be generated with the click of a button.
7. What factors contribute to which sites Google chooses to link from within the SGE AI snapshot?
There's no definitive data, but recent industry studies show ranking in organic positions 1 and 2 strongly correlates to appearing in the snapshot. In addition to content relevancy and demonstrating experience, expertise, authority, and trust (E-E-A-T), Google's SGE documentation corroborates its AI responses with "reliable sources." Assessing brand authority, trust, and backlink signals is likely part of their process.
8. Are the products shown in the new SGE "vertical experience" from paid ads?
No, they are organic listings summarizing helpful product information from reviews and potentially other sources across the web.
9. What are the different features of SGE?
Search results: SGE offers three new types of AI-powered search results.
AI snapshots: I'm referring to this as the new and improved featured snippet or quick answer. Google's new AI snapshots provide a brief overview of a topic or answer to a question, just like a featured snippet. But it's aggregated from multiple sources across the web and includes links to many different resources a user can leverage to investigate the future.
Vertical experiences: For shopping-related searches, SGE creates a snapshot of factors to consider and a selection of product options with product descriptions, reviews and ratings, prices, and imagery.
Ask a follow up (formerly referred to as "conversation mode"): Within SGE AI snapshots, you can "ask a follow up" to refine what you're looking for or explore a new direction, all without having to restate context from previous searches. You can also tap suggested questions from Google, which generates a new AI snapshot.
Image generation: On October 12, 2023, Google launched image creation via SGE. You can type "draw me…" and, in many cases, Google will generate a unique image to view, edit, and use.
Content drafting: On Oct 12, 2023, Google launched written content drafts in SGE. You can type "draft me…" and, in many cases (but not all), Google will generate a content draft you can edit in the SERP. You can then copy and paste or simply export to Google Docs or Gmail. 
SGE while browsing: Browse web pages with AI-powered summaries that enable you to find key points quickly. See questions answered on the web page and jump to the relevant section to learn more.
10. When will performance metrics be available to measure/monitor SGE?
Google has not announced plans to offer SGE-specific data within Google Search Console. Since they never offered specific segmentation for things like featured snippets, there's a chance GSC will have no detailed data available.
Additionally, recent industry studies predict third-party tools (e.g., Ubersuggest, Semrush, BrightEdge, etc.) will have increased costs to scrape data from SGE AI snapshots. AI snapshots are rendered client vs. server side, increasing the time it'll take platforms like Amazon Web Services (AWS), Google Cloud, and Microsoft Azure (which power many SaaS SEO tools) to collect data, which drives up costs. This is a scary reality for the SEO industry, which takes pride in backing recommendations with data.
11. Are any industries more negatively impacted by SGE than others?
There's no definitive data, but recent industry studies show that AI snapshots for the non-governmental organization (NGO), software, auto, banking, and retail industries take the shortest amount of time to load. Some believe this increases the likelihood that users will leverage the snapshots over traditional ranked websites.
12. Does ranking well on the traditional SERP help improve your chances of ranking in the AI snapshot?
There's no definitive data, but recent industry studies show that ranking in positions 1 or 2 increases the odds of appearing in the AI snapshot. Position 9 on the traditional SERP also indicates a higher correlation with ranking within the AI snapshot.
13. How many of the top 10 traditional ranking sites get used for composing the AI snapshots?
There's no definitive data, but recent industry studies show that the AI snapshot typically uses six of the top 10 traditional results to compose its answer to user queries.
Conclusion
Google's introduction of SGE leaves us with a lot of uncertainty, a healthy amount of skepticism, and a decent dose of fear. But leveraging my tips above will help you both in today's environment (as volatile as it is) and in the AI era of search that's coming in hot whether we like it or not.
Focus on creating unique and exhaustive E-E-A-T content in your niche to become an authority across related topics and provide helpful resources for your users. This enables you to earn valuable mentions and links from across the web, which, for better or worse, will continue to be a factor for SEO success.
Weave in formats such as video to help your content stand apart from the massive saturation of AI-generated content that will only continue to increase. And don't forget to carve out resources and budget to control what's in your control—your website experience.
What other plans do you have to prepare for the rollout of Google's SGE?
About the Author: Nikki Lam is a seasoned SEO expert who has spent over a decade elevating the online presence of global brands like Adobe, Lenovo, Samsung, Under Armour, Levi's, T-Mobile, Office Depot, American Airlines, Western Union & more.
As Senior Director of SEO at NP Digital U.S., she oversees the Organic Search offering, leads a growing team of over 25 passionate search strategists, and assists in pitching and formulating award-winning SEO campaigns for NP's growing roster of enterprise and Fortune 1000 clients.
Nikki's impact extends across the globe, as she collaborates with NP Digital's growing global Earned Media teams to ensure consistency, foster innovation, nurture collaboration, and uphold operational excellence.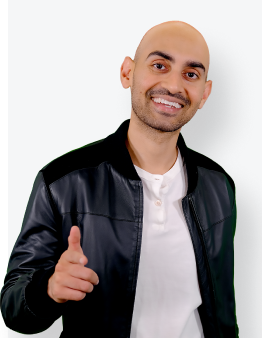 See How My Agency Can Drive More Traffic to Your Website
SEO - unlock more SEO traffic. See real results.
Content Marketing - our team creates epic content that will get shared, get links, and attract traffic.
Paid Media - effective paid strategies with clear ROI.
Are You Using Google Ads? Try Our FREE Ads Grader!
Stop wasting money and unlock the hidden potential of your advertising.
Discover the power of intentional advertising.
Reach your ideal target audience.
Maximize ad spend efficiency.