Have you ever pulled up a landing page that made you want to gag?
Probably more than once, right?
When it comes to designing landing pages, most people seem to believe ugly converts better. If it doesn't have a gigantic red headline, lots of yellow highlights, and a blinking "BUY NOW!" button, then it can't possibly be converting anyone, right?
Actually, no.
If you look around the web, you'll actually find quite a few large companies who have meticulously designed landing pages that are beautiful and (one would assume) convert well.
No, they don't place design over function, but they do use solid design fundamentals to draw your eyes to all the right places.
Let's take a look:
1. Mint
Mint begins with the main benefit front and center: "When you're on top of your money, life is good."
That right there is reason enough to learn more because most people are concerned about those two very things: money and happiness.
If Mint can help you manage one to achieve the other, well… you've got yourself a winner.
The call to action is also well designed. Had the "SIGN UP FREE" button been a more washed out color like the other areas of the site, it's very likely that it would simply be overlooked by first-time visitors.
The vivid orange makes it stand out.
And by including the word "Free" in the CTA, it also restates the selling point.
Mint could have used a more generic "Create an account," but at least a portion of visitors would've wondered if it costs anything.
2. Apple
Apple is well-known for its clean, simple user interface design, and the sales page for the iPhone XS is no exception.
The copy focuses on exactly what you want to do: buy a new iPhone. Chances are, you already know what the iPhone is, so Apple doesn't waste time trying to "sell" the phone.
And it's refreshing. Their focus is on the best feature of the iPhone XS—large screen size.
Of course, they link to other pages with all the details for customers interested in learning more.
But the main landing page is stripped down to its essentials—product photography, the biggest highlights, and a buy button.
Long copy has its place. But if you're designing a landing page where customers are already excited and knowledgeable about the purchase, just help them do what they came to do.
3. Airbnb
Airbnb is an amazing alternative to finding accommodation as a traveler. But more than that, it's a great option to use your free space at home to bring in some extra income.
If you have an extra room, you can add it as a rental on Airbnb. The landing page above is very clear how a host will benefit with the main heading that reads: "Earn money as an Airbnb host."
If that isn't enticing enough, it even shows you what you could earn by renting it out to a couple. And $1,177 per month isn't a bad way to use your empty room.
The page is clean, simple, and gets straight to the point. There are two very clear CTAs that will get you started.
Notice how they are both next to the dollar value that you could be taking in per month? Not a bad touch!
4. Muzzle
Muzzle is a simple app with a simple function: blocking notifications while screensharing on a Mac.
So, how can you make such a relatively boring feature suddenly sound interesting? Simple—by showing just what those notifications might be.
The Muzzle landing page does just this, with dozens of randomly-generated embarrassing notifications flashing across the screen. It's not everyday a humorous landing page works, but if there is one it's Muzzle.
Plus, it's just a well-designed page. The call to action is simply "Download" without anything fancy. The page is simple, on point, and directs users to start using the software immediately.
5. Ahrefs
Finally, we'll wrap up with the pricing page from SEO software company Ahrefs.
You see how the Standard option is a different color than the rest?
It's a subtle tactic, but it works. It gently gets your attention and hints that it's "superior" to the others. Combined with the "Most Popular Plan" label, it's also hard to ignore.
Plus, Ahrefs has crafted a clever call to action. Instead of the standard "start free trial" most SaaS companies use, Ahrefs uses a "Start 7-Day Trial for $7" offer.
This ensures trial users are willing to pay, while still offering a discounted price for first-time users.
Now, no pricing page will win awards as a visual knockout. It's not there to be pretty, but to sell. And in that realm, Ahrefs wins big time.
Conclusion
The one thing that ties all of these landing pages together is they are attractive and designed to convert.
Some copywriters and designers would have you believe that's impossible, but it's not. You can use these landing pages as inspiration.
What landing pages have you found that combine attractive design and great conversion?
About the Author: Sherice Jacob helps businesses improve web design, performance, and conversions at iElectrify.com.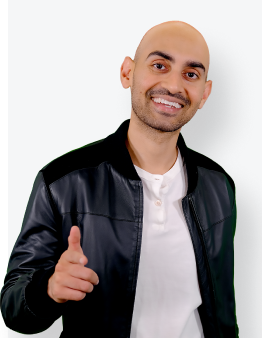 See How My Agency Can Drive More Traffic to Your Website
SEO - unlock more SEO traffic. See real results.
Content Marketing - our team creates epic content that will get shared, get links, and attract traffic.
Paid Media - effective paid strategies with clear ROI.