Amazon. Trip Advisor. Google. Angie's List. Glassdoor. Facebook, Twitter, and nearly every other social media platform out there.
I'm talking about the fact that we live in a culture that's practically run on online reviews, with a new review site popping up before we've scored a spot on Yelp's Elite Squad.
From posting a positive review of a local business to publicly shaming a business owner, online reviews have become a democratic process that determines where we spend our money–and if we'll break out our wallet again.
Indeed, 90% of customers say that their buying decisions are influenced by online reviews. 
In other words? Your ability to generate online reviews can make or break or your business.
Whether you're a business owner with years of experience, a social media marketer breaking into freelancing, or an online business hoping to amplify your search engine rankings, generating online reviews is central to your success.
In this article, we're going to take a look at what you can do to encourage consumers to write positive reviews, how to generate an online review in general, and how to handle a negative customer review. 
Let's begin.
Have places where you can be reviewed
If you want to generate online reviews, it goes without saying that there needs to be a place for customers to post them.
For example, if you want to garner a lot of positive reviews on Yelp (arguably the most popular review site out there), you need to make sure that you've set up a profile. 
This is especially important for a review site like Yelp, because 'claiming' your business will allow for online reviews to be shown in search engines.
This concept applies to most 3rd party review sites.
Plus, in most cases, even if you don't need to have a profile to collect online reviews, you'll still want to make sure that you have one anyway so that you can respond to negative feedback.
Once you've identified where you want your reviews to be left, make sure that you collect a link to that location.
You'll then be able to provide that link when requesting a customer review – reducing the amount of effort your customer needs to go through, and making them more inclined to post their feedback.
Request more reviews
If you want to generate more online reviews, asking for reviews in the first place is key.
There's more than one business owner and/or small, local business who doesn't have an automated way to collect online reviews. Obviously, this tends to lead to less online reviews – and diminishes your visibility.
For most online businesses, setting up an automated online review process is fairly easy.
All you need to do is to send your customers an email requesting a review.
Here's an example of an email that asks for a review.

Hopefully, you are already sending your customer a sequence of emails after they have bought something from you.
As a result, just make sure you input an email into the sequence that asks people to leave an online review.
How quickly you send this email will depend on your business and what kind of offering you provide.
In most cases, it's a good idea to ask for a review 3-5 days after the transaction has taken place.
This will give them the chance to engage with your offering and come up with an honest opinion, in terms of how good it is and if they'd feel comfortable recommending it to other people.
Yelp, for example, is the most widely known review site because it encourages candid, authentic reviews.
In order for other customers to trust the online reviews you've been given, you'll want your reviews to come from a place of honesty. Engaging with your customer right away ensures that their experience with you is fresh in their mind.
When you are sending an email soliciting an online review, it's important that you make it clear where people should be leaving their reviews, by providing a link.
The easier you make it for people to leave a customer review, the more likely they are to leave one – a no-brainer, but something we'll discuss more a bit later.
If you want to optimize your online review process, split test the emails that you are sending to customers.
Small changes in wording can have a big impact on how people respond to your emails.
You might also want to experiment with reaching out to some customers who've had great results with your offering, to see if they'd be willing to create a case study.
In some cases, a case study can be much more powerful than just a simple online review. Just take a look at the case studies section on Hubspot, to see how influential they can be.
With a case study, you're able to provide multiple, influential elements at the same time.
First, there's a chance that the customer your case study is based on possesses the characteristics and traits that match the buyer personas of your ideal customer.
This is important, as it shows prospective customers who match your buyer persona that your offering can work for 'people like them.'
In addition, a case study goes into a lot of detail, in terms of what the situation was and how your offering came and saved the day.
Similar to above, prospective customers will be able to identify with the problem as something that they themselves are currently struggling with.
If your case study shows that the issue was solved, using your offering, they'll be more inclined to check out what you have.
Finally, a case study is often made up of pictures and videos. These pictures and videos can be used to show that the content of your case study is actually based on real people.
That is something that's hard to duplicate if you're just asking people to leave basic reviews.
Getting more people to review your business – and the rules you need to follow
Even if you've set up a location where online reviews can be left and you've solicited a customer review, there's still a chance that the majority of your customers will choose not to.
In a situation like this, you might think that providing an incentive for people to leave an online review is the way to go.
However, that's not necessarily a good idea – especially if you're incentivizing your customers to leave feedback on a 3rd party review site.
That's because many 3rd party sites are very strict when it comes to how businesses can ask for reviews.
Should it be discovered that you have been actively incentivising reviews, there's a good chance that you might lose all of the organic reviews that you have built up over time.
You might even get fined, if you decide to offer incentives for reviews.
Something like that could obviously do a lot more harm than good in the long term.
So…make sure that you check the rules of a 3rd party review site before you do anything.
And, maybe even stay away from incentivising in exchange for reviews.
Keeping all of that in mind – what should you be doing instead to encourage people to leave a positive review?
One tactic is to just provide an incentive or discount that leads to increased sales of your product. (In this case, you're incentivising product sales – not reviews.)
Then, when you have increased sales, more people will see the review email you send them (it's very neutral and simply lets people know that an online review can be left HERE).
Note: Make sure that customers disclose that they received a discount when they're leaving an online review.
Because more people are seeing this email, there's a good chance that your number of online reviews will increase.
You don't ask for a review, you just simply let them know where a customer review can be left.
This might sound like a 'roundabout' way of gettting online reviews, but it can often be the most sustainable way – and it won't damage your ability to collect reviews.
If you're worried about losing money as a result of providing a discounted product, it's worth remembering that social proof can drive sales.
If prospective customers see that a lot of people before them had a positive experience with your offering, then there's a good chance they'll feel more comfortable in engaging with your company and becoming a customer themselves.
Short term losses, in most cases, will be made up for by long term gains achieved as a result of the positive reviews you might garner.
Dealing with negative reviews
The flip side of asking people to provide an online review? The possibility of receiving negative feedback. 
In most cases, you should expect negative reviews, as you simply can't please everyone.
Don't be afraid of them. Consider them an opportunity to improve.
However, when a negative review does come in, there are a few important steps that you'll want to take.
So, what needs to be done?
First, you need to pay attention to what is being said in the customer review.
Examine the review objectively – put aside your feelings, for the moment, and see if there is anything within the online review that is actually truthful.
This, of course, can be a hard thing to do, but it is something that you must do if you want long term success as a business owner.
A negative review might highlight some issues that you need to address within your offering or business.
Should you fail to acknowledge what is being mentioned in the negative review, there's a chance that you could end up racking up a bunch of negative reviews that are all saying the same thing.
Ouch.
And so, your efforts to collect more online reviews will simply result in you collecting more negative reviews.
Which can be detrimental for business, especially if your target audience frequently visits a 3rd party review site before making a decision.
Second, you'll want to let the person who left the negative review know that you've acknowledged their comments and that you're doing something about it.
When doing this, make sure not to argue with your customer, even if you disagree with their comments.
This may only fuel the fire, and could lead to an embarrassment that gets out of your hands. (Social media, anyone?)
67% of people say a customer service interaction is bad because the person they were dealing with was unpleasant. Aim for professionalism and objectivity. 
It's often a good idea to leave the comment where the online review was actually left as opposed to sending a private email. This shows potential customers that you're proactive and eager to rectify negative experiences with your consumers. 
When responding to a negative review, here's a framework that can be helpful.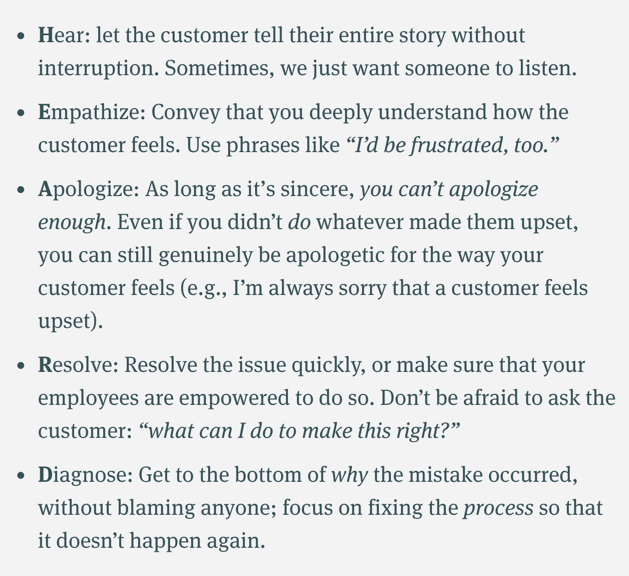 The fact that you have taken the time to leave a response that mentions that you're taking action on the comments left by the reviewer lets future customers know that you take customer service seriously.
If you can show that you offer excellent customer service, more people will trust you – that will lead to more sales, too.
The chart below exemplifies this.
Third, you need to make sure that your responses to negative online reviews are prompt.
In the fast paced world of today, people generally expect responses from companies very quickly – especially from the customer service department.
Because of this, you need to monitor your online reviews on a daily basis, maybe even multiple times a day, to make sure that you can leave timely responses to any reviews that have been posted.
Again, by posting prompt responses, you're signaling to others that you take customer service seriously and you're willing to do what is needed in order to improve your offering.
In some instances, people might not leave reviews of your business on review websites, but on their blog or a social media platform.
To catch mentions of your company on a blog on social media, forums, and more, it can be a good idea to set up a Google Alert, based on your business and product name.
This will let you know whenever there has been a mention of your business, making it easier for you to respond quickly.
In terms of social media, there's a good chance that whenever people mention your business, they'll either tag or post directly on your social media profile.
Because of this, you'll also want to keep a close eye on your social media profiles, so that you can act on the tips we've already mentioned above.
Make sure that you respond to positive reviews on social media too – here's an example from GrooveHq.
Remember – accept that negative reviews will happen. Don't shy away from them.
What matters most is that you pay attention to what is being said and you make it obvious to everyone that you're handling it quickly and gracefully.
Conclusion
In today's world, the importance of positive reviews cannot be understated. Social media, forums, review sites–online reviews can be the first thing a potential customer goes to before doing anything else.
As a business owner, proprietor of a local business, freelancer–you name it–building and managing your online reputation is essential for your success.
And a big part of that success rests in collecting online reviews that showcase why people should choose your offering.
True, getting people to provide an online review of your business may be challenging.
However, by following the steps outlined in this post, you should have a better idea of how to score more online reviews–and positive reviews, at that.
We've explored how you can get more people to review your business. We've taken a look at how you can automate the process and also how you can make it easier for people to leave an online review in the first place.
We touched on what you can do when negative reviews emerge and on the importance of being prompt and objective in your response. 
If you take action now, it will take a couple of months before you begin to reap the results.
Make no mistake about it, though – if you can increase the number of positive reviews for your business, revenue will rise.
How have you tried to increase the number of your online reviews? Which review site do you trust most, or do you head over to social media to see feedback from your contacts? Have you ever received an online review that led to an important change in your company's structure? Let me know in the comments below!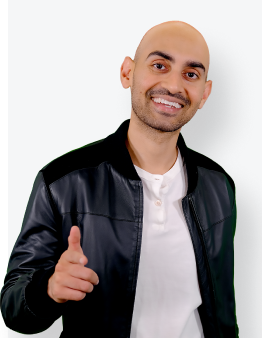 See How My Agency Can Drive More Traffic to Your Website
SEO - unlock more SEO traffic. See real results.
Content Marketing - our team creates epic content that will get shared, get links, and attract traffic.
Paid Media - effective paid strategies with clear ROI.
Are You Using Google Ads? Try Our FREE Ads Grader!
Stop wasting money and unlock the hidden potential of your advertising.
Discover the power of intentional advertising.
Reach your ideal target audience.
Maximize ad spend efficiency.