Just like many of the other social media marketing platforms out there, LinkedIn plays very well with Content Marketing.
If you're looking for B2B lead generation with the help of content marketing, you may not know exactly how LinkedIn can be used as part of the process.
What's surprising is that there are actually some simple steps that you can take to combine the power of content marketing and lead generation with LinkedIn.
In this blog post, we're going to examine the steps that are required of you, if you want to combine the two.
We'll go through what causes inbound marketing campaigns to thrive on the platform and what causes them to fail.
By the end of this blog post, you'll feel sure about what needs to be done to get the best results, when combining content marketing with LinkedIn.
Know who you're creating content for
Keep in mind that the principles that we're going to discuss apply to all forms of content marketing. However, when it comes to B2B content marketing, these principles carry even more weight.
Now, let's look at what these principles are.
First… if you want to create superb content, you first need to know who you're going to be creating content for.
You can't be broad in your approach.
When it comes to B2B lead generation and content marketing on LinkedIn, specifically, knowing on a granular level who you're creating content for can help big time.
That's because by using the advanced features provided by LinkedIn (something we'll touch on later), you can reach specific demographics of people who are using the platform.
And, because of LinkedIn's ability to get your content in front of the right people, not knowing who your exact prospect is would amount to wasted time and opportunity.
So, get super clear, ahead of time, about exactly who you're creating content for.
For example, say you're a company that sells IT services.
Are you looking to create content that is designed to educate the IT Director of a company (the person who often controls the budget) or are you creating content that is designed to educate IT technicians?
There might be overlap, in terms of what content the two demographics consume – but you'll get the best ROI on your content if it caters to just one demographic.
This is because people like to consume content that's relevant to them. But, it's also because different 'levels' within a company consume different types of content.
Even though it relates to using Sponsored Updates, the graphic below, signals exactly how your content approach changes, depending on the job title that you're targeting.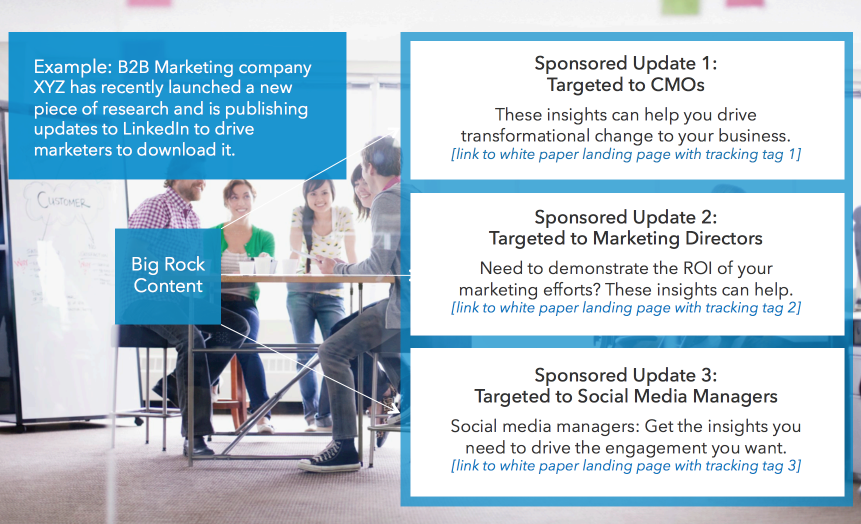 Essentially, you can have content covering the same topic, but repackage it to influence difference individuals at different levels in the company.
As you can see, the graphic signals changes in approach, because potential customer and audience goals vary –
People on lower levels are generally after tactical information.
Those in the middle are looking for data that can influence those above them, in order to validate their actions and decisions.
Chiefs at the top are searching for ways that they can take the business to the next level.
The above is also somewhat reflected by the data that was collected by Buzzsumo.
There is a distribution, in terms of 'how to' content, 'why' content' and 'what' content.
There's a good chance that this distribution is driven by the reasons that we touched upon above – in the sense that each form of content aims to please a different level within a company hierarchy, creating a variety of demand.
You only know how you should craft and package your content, when you know who and at what level you're targeting.
Understand what you want your content to do for you
The next thing that you need to decide on is what you want your content to do for you.
Note: Before we go into detail on this, there is something important that we need to talk about first, in terms of the type of content that does well on LinkedIn.
Posts that are about mindset/life/personal development tend to achieve a lot more, in terms of social media marketing shares on the platform.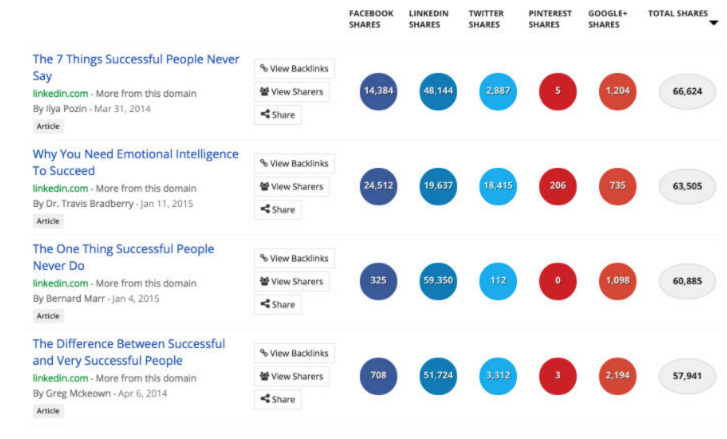 On the other hand, tactical content that's related to strategy and trends, tends to achieve fewer social media marketing shares.
What's worth mentioning here, however, is that the latter content type is more likely to generate leads for you. Even though it achieves less social media marketing shares, such content can demonstrate skill and ability far better than the initial forms of content.
Therefore, if you're looking to generate leads, tactical and detailed content is best.
I'll cover this in more detail now.
Taking into account the points mentioned above, in basic terms, there is 'thought leadership content' (sometimes known as brand awareness) and there is content designed to generate leads.
With thought leadership content, you're looking to publish content on a regular basis.  And, the content that you publish isn't necessarily aimed at driving immediate lead generation/sales.
Though this content does have the capacity to generate leads, it is often designed to make people aware of your brand. This is so that they're more trusting of you, when the time comes to get in touch.
Additionally, your distribution method is going to vary, when you're creating thought leadership content, as opposed to content that is designed to generate leads.
For thought leadership-style content, you'll be better off using Company Updates or 'Long-Form publishing.'
The metrics that you measure also vary.  For thought leadership content, you're looking to monitor typical engagement stats – such as social media marketing shares/comments/likes and maybe even company 'follows.'
When it comes to the actual content, thought leadership content can be as follows –
Content that covers and explains industry developments – and provides original opinions
Content that explains how your product/approach/system has lead to a dramatic change in business results – you're defining new best practices (Note: There is a thin line, but this type of content, perhaps in the form of a white paper or case study, may also do well for a lead generation campaign).
Content that shows what your company culture represents. See Buffer's content for an example.
Lead generation content, however, is different.
For starters, it doesn't need to be published as often.
Distribution methods also tend to vary.
If you're aiming to generate leads, then paid distribution is often better – mainly because of the precision that you're afforded and the typically high transaction values that B2B deals represent.
The metrics measured are also different, because you're now monitoring sign ups/phone calls/sales, as opposed to engagement.
Lead generation content mostly consists of 'tactical' and 'actionable' content. It therefore tends to come in the following forms –
Guides, reports, how-to blogs, webinars
Past customer case studies
This content is designed to get people in your inbound marketing funnel and to ensure that potential customers are reaching out.
Note: If you want to, you can use actionable, how-to content to build brand awareness, especially if you have innovative ways of doing things.
Now, thought leadership content is something that can easily be put on the back-burner, for the sake of immediate revenues.
However, if you maintain a level of patience, when it comes to thought leadership content, your lead generation content will be much more fruitful in the long run, as more people will already know and trust your brand.
74% of prospects choose the first company that helped them during their buyer's journey. If you want to be that first company, thought leadership content is essential.
In fact, here's a great quote that explains the importance of thought leadership content.
Therefore, if you're in this for the long haul, make sure that you account for both approaches.
Creating content that resonates
Once you understand the above, your next step is to figure out how you're going to create content that is 'great.'
To get a head start, you can do some research to find out what content your potential customers and target audience is already connecting with.
You can then create better forms of that content and distribute it on LinkedIn.
Now, it's worth mentioning that it's not easy do this for all types of content – say for thought leadership content.
If you want to do this for thought leadership content, you'll need to be quite a bit more creative.
But, if you're looking to create 'how-to' content or content that helps generate leads, then you can use a tool, like Buzzsumo, to help you figure out what content you should create.
Let's go with the example of IT directors from above.
Something that is a big issue for IT directors is how to maintain 'cybersecurity.'
Therefore, there's a good chance that creating how-to content around this issue will be well received.
Note: Of course, the better I know my industry, the easier it is for me to come up with 'seed' ideas that I can input into Buzzsumo.
In any case, I can use Buzzsumo to find well-received content related to 'cybersecurity tips for IT directors.'
An IT director is often known as a CIO.  So, when searching Buzzsumo, I might type in 'cybersecurity CIO.'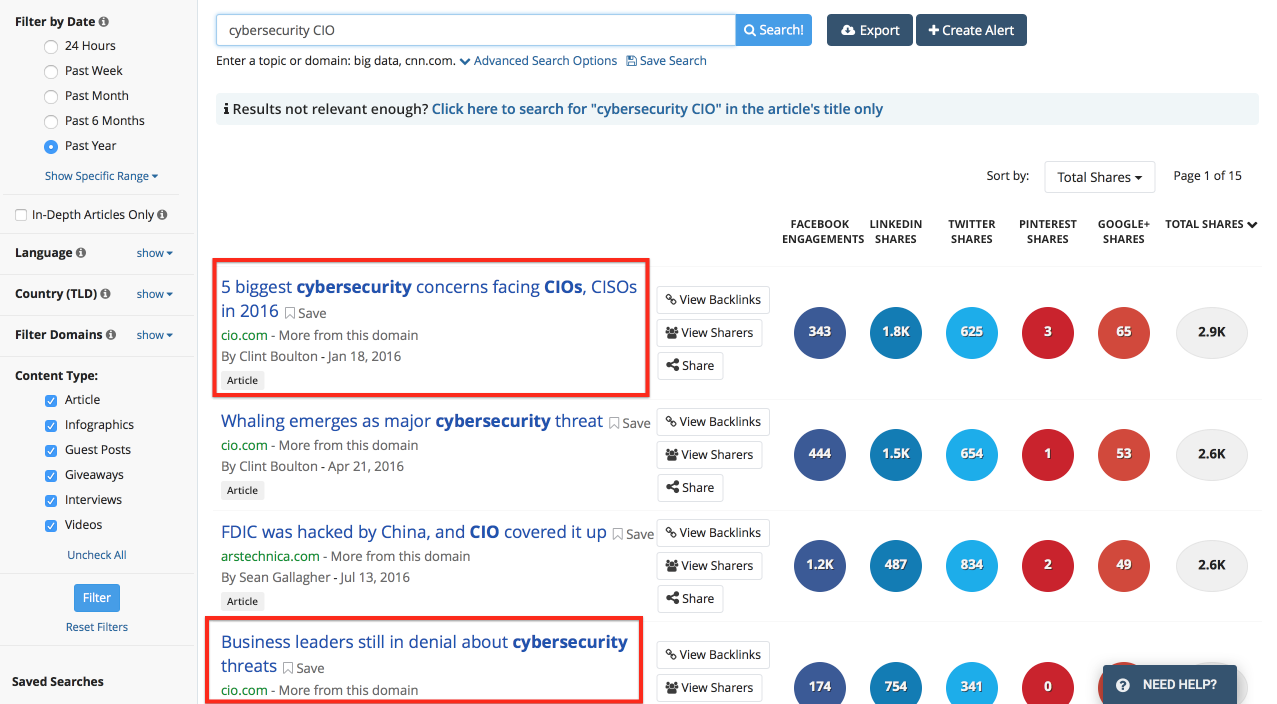 Following this, you can see that there are some good content ideas that I can work with and use for inspiration.
If I keep scrolling, there are even more helpful ideas to work with.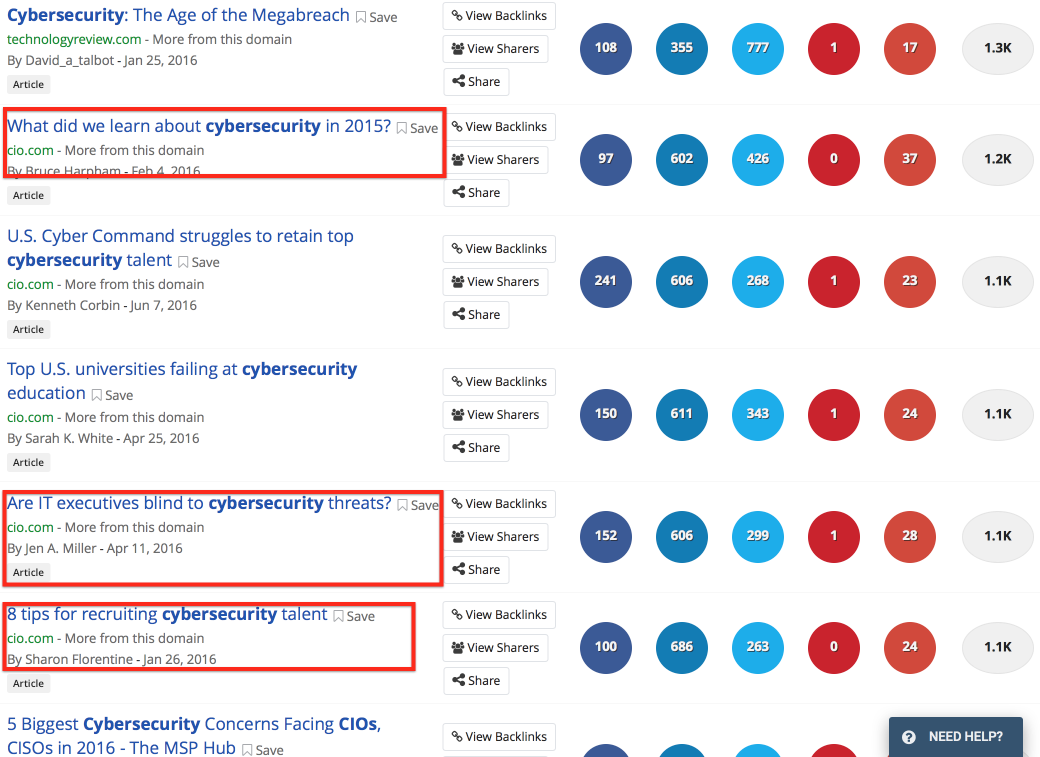 I can also search the LinkedIn site, using Buzzsumo, to find content that is resonating well with my potential customers and target audience.
If I want to find CIO related content that has done well, I can just search "'linkedin.com 'cio.'"
Now I can see content that has performed well on the LinkedIn platform and is also related to CIO's.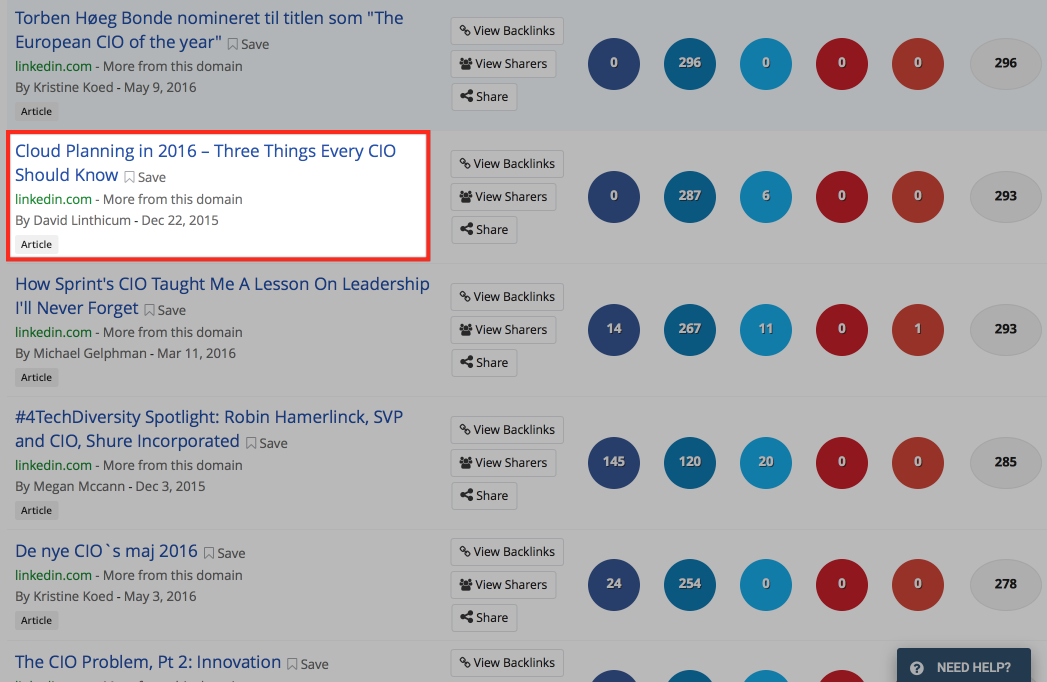 Note: This method would work even better, if I know the topics that CIO's are interested in and not just their job titles.
For example, above, you can see that there is a piece of content that's related to 'Cloud Planning.' More often than not, this is something that only CIOs will be reading about.
I can search LinkedIn for 'Cloud Planning' content or topics related to 'Cloud Planning,' to find content ideas that will resonate with my target CIO audience.
For example, if I search 'linkedin.com cloud infrastructure' I can see content that CIOs will find helpful, in relation to this topic.
Whatever topic I pick, I just need to take the content, work on improving it and then implement it into my content marketing strategy.
Making content better is something that I could explain for a long time.  But, doing so would stop this post being about inbound marketing and LinkedIn.
Here's a blog post that I wrote about how to make content better.
It's worth noting that long form content tends to do well on the platform (which is good, because part of making content better is making it more in-depth).
Buzzsumo found that content of 2000-3000 words generated more social media marketing shares than content that was shorter.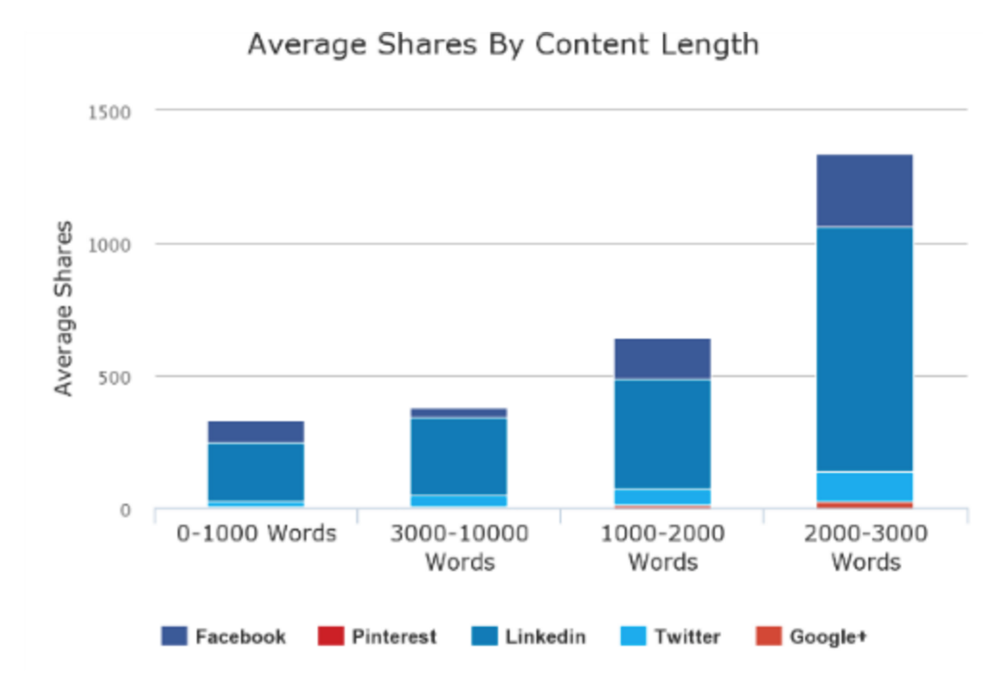 So, if you're looking to use Buzzsumo to conduct your research, consider the following approach –
Figure out who your potential customer and audience is – Job title and responsibilities
Search Buzzsumo using 'Topic job title.'
Research LinkedIn content, by searching Buzzsumo with the string 'linkedin.com Relevant Job title here.'
Collect examples of relevant content that has done well in the past
Create better versions.
When it comes to creating thought leadership content, you have other options.
For a start, you can use Google Alerts to help keep you up to date with what is going on in your industry.
By setting up a Google Alert that's based on your industry, you'll get updates whenever something significant happens.
All you have to do then, is take this industry news and discuss how it applies to your potential customer base and target audience, as well as how they can use this news to impact their business.
Thought leadership content also relates to original content, in terms of your business, specifically.
Therefore, consider doing some write ups on any insights that your business has discovered. Perhaps share some stats that you have collated, as a result of doing business for the past year.
If you've run some experiments or done any kind of original research, publishing your content as a thought leadership piece can also be a good idea.
Distributing your content
So, now that we've covered how you can create your content, we now need to talk about how you can get it into the hands of people who will want to read it, relating specifically to LinkedIn.
There are two options here.
One involves posting to your Company Page and the other requires the use of Sponsored Updates.
Note: While there is the option to publish long form content within LinkedIn – only individuals can do so, at the moment, not companies or brands.
As a result, if you want to publish content as a business, you'll have to do so as an update on your Company Page.
When you publish content to your Company Page, your followers will be notified of your content and others will then see it in their 'feed.'
If you want to post content to your Company Page, then this is the approach that you should take.
Note: LinkedIn is rolling out updates to this process. What follows is, at this time, the latest iteration of their update.
Go to your company page and click on 'View admin pages.'

Then, click on the 'Updates' tab.
Then, use the 'box' at the top to enter the details of your latest content.
You can also decide who sees your content, by clicking on the 'All followers' tab.
Here, you can segment the people who will be shown the new content. This can be helpful, if you're trying to keep your Company Updates as relevant as possible for your followers.
After you've posted a Company Update, you can then review its metrics, by clicking on the 'View more' tab.
Then, underneath it, you'll see data that relates to your update.
You can use this data to judge the effectiveness of your content.
Note: As mentioned above, you can't post 'long form content,' if you're a company.
However, you might want to consider experimenting with this concept, by posting your content as someone who is a Brand Representative of your company.
This is because 'long-form' content' on LinkedIn can get a great distribution boost, especially if it is high quality .
Here is some insight, from LinkedIn, about how your content can be distributed on the platform.
As you can see, I've highlighted some particular areas of interest that signify the potential associated with publishing 'long-form posts.'
If you want to publish a long-form piece of content, go to your LinkedIn profile or the page that you see when you log in.  Then, click on 'Write an article.'
You can then go about writing and publishing your content.
You can also distribute your content, by using the Sponsored Updates feature that's provided by LinkedIn.
This feature is exceptional, in it's ability to deliver your content straight to those who will benefit from it the most.
While this feature can cost a lot of money, the return on your investment is likely going to be worth the effort – especially since you're working with a B2B market.
The key here, of course, is knowing who your audience is and targeting them with accuracy.
This is so that you can get the best return on your investment, by reducing the odds of people seeing your content who won't be able to take action on it.
You can learn more about creating Sponsored Updates, by reading this blog post.
You'll definitely want to give Sponsored Updates a go, at some point or another. Using them, Hubspot managed to drive 400% more leads, within their potential customer base and target audience.
Above, you can see some examples of their Sponsored Updates.
Conclusion
LinkedIn can be one of the best ways to supercharge your B2B content marketing efforts.
If you want to get the best results from your inbound marketing, you must first ensure that you're aware of who you're creating content for and how you should create great content for them.
It's also essential that you decide how you're going to distribute your content.
If you go about things the right way, you should start to see a return, pretty quickly. What counts most is that you get started or else you won't have any results to see.
Good luck!
Do you have any tips, when it comes to combining content marketing and LinkedIn? Please share in the comments in the below.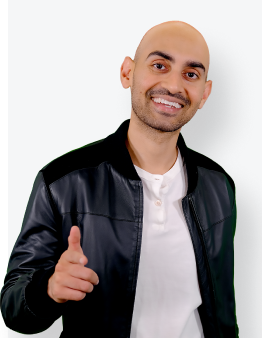 See How My Agency Can Drive More Traffic to Your Website
SEO - unlock more SEO traffic. See real results.
Content Marketing - our team creates epic content that will get shared, get links, and attract traffic.
Paid Media - effective paid strategies with clear ROI.
Are You Using Google Ads? Try Our FREE Ads Grader!
Stop wasting money and unlock the hidden potential of your advertising.
Discover the power of intentional advertising.
Reach your ideal target audience.
Maximize ad spend efficiency.