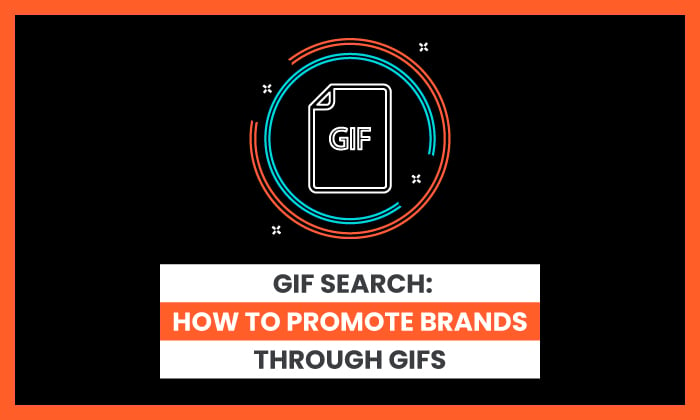 In a Tenor survey, two-thirds of millennials said gifs did a better job conveying emotions than text. It's true. With gifs, brands can entertain and engage their target audiences in a way plain text or static images just can't.
Just look at this gif: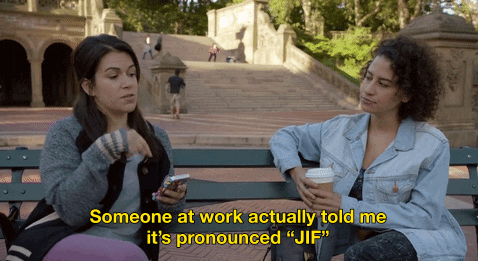 In a few frames, it describes the gif/jif debate perfectly—this could take paragraphs in text.
How ow does this relate to marketing? How can you harness the power of gifs to boost your marketing strategy?
In this article, I'll show you how you can find and use gifs throughout your marketing plan to increase engagement, make your brand relatable, and entertain your audience.
Find Gifs Through a Gif Search Engine
A gif search engine is a repository of gifs you can search by category, popularity, name, gif artist, and several other search parameters, much like an image site.
Typically, you type in a word, short phrase, or quote, and results appear from most to least popular.
This is where gif search engines may most greatly diverge from traditional ones: long-tail keywords may significantly limit your results.
Let's say I want a celebratory gif, so I search for "celebrate." This is what comes up:
Giphy—the example site above—is arguably the most popular gif search engine. In fact, Giphy is the second-largest search engine online.
(However, it's not the only option. Other places to find gifs include Tenor, Tumblr, Reddit, and Imgur).
On Giphy, brands can create channels for their gifs, much like YouTube. Even the National Archives has a Giphy channel: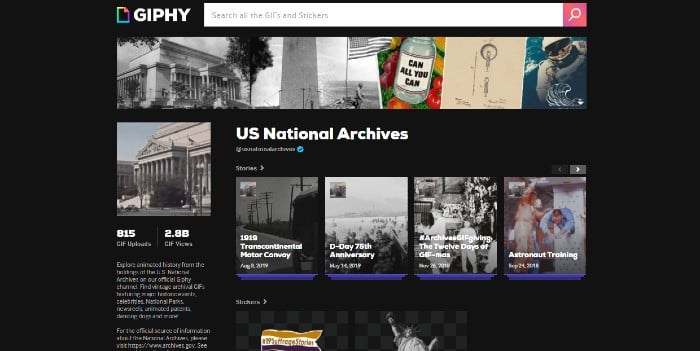 What Do People Use Gifs For?
Gifs are now used in place of emojis and text in everyday online conversations. Marketers can jump on this train to get our audience's attention in their endless Twitter, Facebook, and Tumblr feeds and engage with users across all of our marketing platforms.
Gifs have been around since 1987, long before internet use was widespread. It was a simple image of a commercial jet flying through a cloudy sky.
In the early days of the commercial internet, gifs were all over websites — spinning icons, under construction signs, flashing CTA buttons—and it was busy.
Then, gifs evolved into dancing everything—the peanut-butter-jelly banana, and, of course, the dancing baby; probably the first gif to attain pop-culture status.
Gifs can be so much more than a tool for humor, though. Marketers can harness their popularity to promote their brands in new ways. Gifs can be used in email marketing, social posts, and blogs—some blogs even create entire articles out of gifs!
Tips for Gif Engine Search Optimization (GEO)
Like other search engines, to use gifs most effectively, you need to learn about gif engine search optimization (GEO).
If you don't have one already, consider creating an account on a site like Giphy, especially if you're thinking of creating your own gifs. It's another way to give your brand visibility using gifs users can share through their social channels.
Remember, it's not enough to upload your content—you have to optimize it. Here are some tips for optimizing your gifs.
Be Mindful of the Purpose of Your Message and Your Audience When You Use Gifs
Before you share or create a gif, ask yourself what you're trying to accomplish. What do you want your audience to do with your gif? Some common goals for gifs include:
Gaining likes and shares
Sparking conversation to increase engagement
Raising awareness about a product or service
Increasing click-through rates
Now think about the kinds of gifs that are appropriate for your platform and your audience. What will they respond to? If you're using a pop-culture reference, will they recognize it?
Additionally, make sure your gif truly speaks to your audience and not at them. It's very easy to choose a gif for its humor or popularity, but it's also very easy to come off as tone-deaf.
During the 2020 elections, for example, Gap created a gif of blue and red sweatshirts melding together with the message, "The one thing we know is that, together, we can move forward."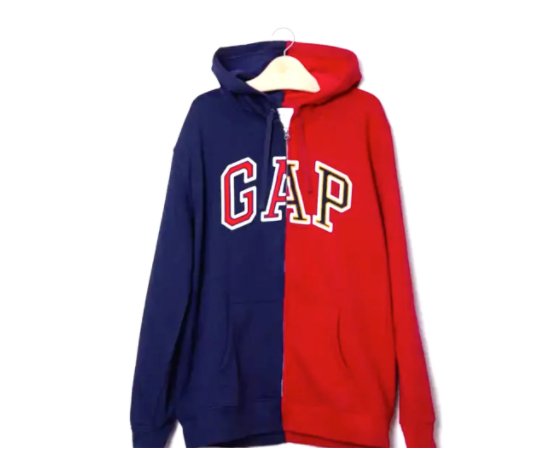 The gif was posted while votes were still being counted, which struck many as poorly-timed and, given how contentious things were, out-of-touch. It was subsequently deleted, but, as we know, anything posted online is out there forever.
You should consider more than not just the statements your gifs make—it's the things people or characters in your chosen gifs have done.
If you're using celebrities or politicians in your gifs, make sure you do your due diligence on their recent escapades. Have they done anything controversial? If you're using a fictional character, is there anything about that character that could turn viewers away?
Keep Up With Gif Trends
Staying on trend with gifs can keep your brand relevant and help you show up in searches through trending keywords.
Some gifs create trends—think the dancing baby or the "guy in the crowd" birthday.
Many gifs riff off popular movies, TV shows, events, or celebrities.
One way to keep your gifs and, by extension, your content relevant is by creating an original gif that speaks directly to an event.
Another way to stay on trend is to create a gif using a popular show, movie, or person of interest. That could be a celebrity, politician, or just someone in the news enjoying (or not) their 15 minutes of fame.
For instance, remember Justine Masters from RuPaul's Drag Race?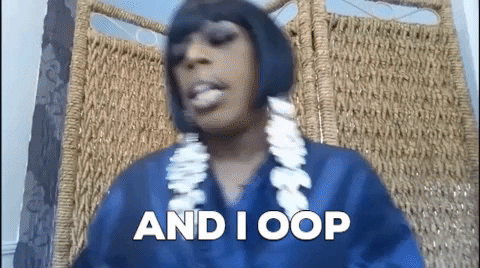 This gif had more than 419 million views in 2019, and using something like this could show consumers you're hip to the latest fads.
Keep an Eye on Gif File Size
When it comes to gifs, smaller is generally better. Giphy lists the following recommendations for uploading gifs to their site:
Files 8MB or below are best.
Resolution at or below 480 is most effective.
Gifs are not like still images, where high resolution is essential. It's more about the message than the appearance, especially since most gifs will be viewed on mobile.
Add Tags to Your Gifs
Once you've uploaded your gif, don't forget to add tags, as users search by them. Make sure you include all relevant tags. For instance, if you're using the Jasmine Masters gif above, you may want to include "Jasmine Masters," "RuPaul's Drag Race," and "And I oop."
Keep Gifs Short and Sweet
Gifs are not videos, and Giphy recommends keeping gifs below six seconds and 100 frames if possible, though longer is allowed.
Six Ways to Use Gifs to Promote Your Brand
Gifs have become their own language. You can use them to react, show emotion, give support, say the things that are hard to say in writing—just about anything can be told through gifs.
That includes telling your audience why they should choose your brand.
Here are some tips about how to use gifs to promote your brand to your target audience.
Use Gifs to Entertain Your Audience
This is probably the most common use of gifs. Brands use gifs purely to entertain their audience by sharing popular gifs related to their brand or by creating their own.
Here's one from fast food restaurant Chick-fil-a, created with their signature cow mascot.
Whether you're using pop culture icons or creating something of your own, keeping things entertaining can draw your audience in.
Use Gifs in Blog Posts
The undeniable king of the gif-laden listicle is Buzzfeed. They've created an entire genre of articles based solely on gifs.
Giphy has also gotten into the game, creating blog posts about current events and trending topics that feature gifs in their search engine.
Keep in mind that you don't have to create entire stories out of gifs. Simply using a few well-placed gifs in a blog post could illustrate or emphasize a point better than a still image.
Pro Tip: If your blog post covers a serious topic, consider leaving gifs out.
Use Gifs in Email Marketing
Using gifs in email marketing can be a little tricky, but it could be beneficial if done well.
Ask yourself how your target audience would respond to gifs in your emails. For some, opening an email to a barrage of moving images is a turnoff.
This is where some research could come in handy—for instance, look at how your community is interacting with your brand on social media to see if they appreciate a good gif.
No matter who your audience is, you should use gifs sparingly in your emails. This is for two reasons:
Too many gifs make your emails look busy and confusing. Your audience may lose your message among all the flashing colors and moving pictures.
Gifs can be big files, and they could create lag time when your audience tries to open them.
Finally, if your emails take on a more serious or professional tone, don't use gifs at all. Gifs give a content piece a lighter tone that may not jive with your message.
Use Gifs to Show Off Your Products
Gifs don't have to be solely for entertainment. You can use them to highlight product features in a few frames.
This is particularly helpful for social media ads. For example, Subway regularly creates fun, colorful gifs to show off their sandwiches and salads.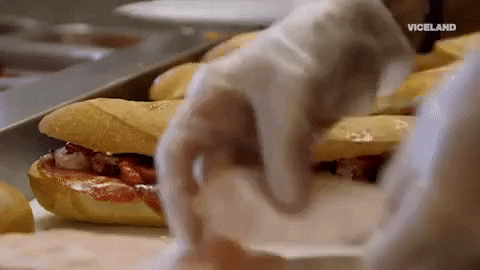 Use Gifs to Boost Engagement
Engagement with gifs can go way beyond likes and shares. Here are two ways you can use gifs to boost engagement.
Reaction Gifs
Reaction gifs are a great way to respond to followers' comments on your social feeds. Since most social media platforms have integrated gifs, it's easy to upload one.
Let's say someone paid your brand a nice compliment. Instead of merely writing "thank you," which can come across as a bit impersonal or robotic, you could includ a gif like this to show how much you appreciate their feedback: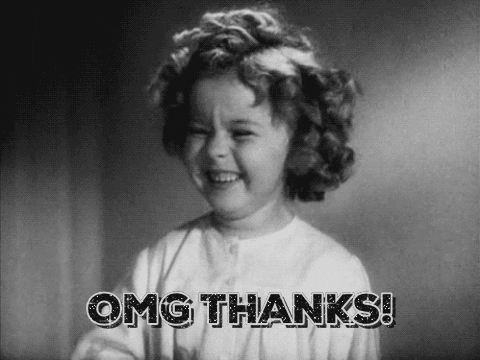 If you wanted to inject a little more humor into your response, you could try something like this: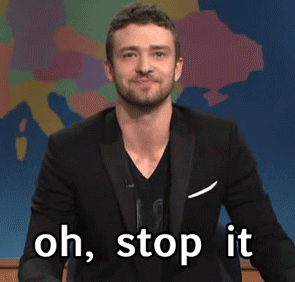 Basically, gifs allow you to customize your responses to your brand's voice and the message you want to convey.
Live Giffing
In 2012, Tumblr introduced the world to live giffing during the presidential debates. Think live tweeting but with gifs.
You can use live giffing during a major TV event, like the season premiere of a popular show, an awards show, or a sports event.
Anything you can relate to your brand may benefit from live giffing. This can be done on any social media site.
Conclusion
Gifs may have started as spinning icons and funny animations, but they've evolved into a powerful tool for marketers.
When everyone is using gifs to communicate, it's a no-brainer that brands should get in on the conversation to increase engagement and promote their products and services.
Look at your marketing strategy and decide when and how you can use gifs to best convey ideas to your audience. Find gifs on search engines or create your own—whatever works best for your brand.
If you need help implementing this and other content marketing techniques, we're here to help!
How could you use gifs in your marketing strategy?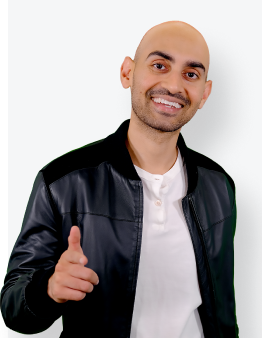 See How My Agency Can Drive More Traffic to Your Website
SEO - unlock more SEO traffic. See real results.
Content Marketing - our team creates epic content that will get shared, get links, and attract traffic.
Paid Media - effective paid strategies with clear ROI.
Are You Using Google Ads? Try Our FREE Ads Grader!
Stop wasting money and unlock the hidden potential of your advertising.
Discover the power of intentional advertising.
Reach your ideal target audience.
Maximize ad spend efficiency.