Content promotion isn't as easy as it sounds.
You've just spent an entire week writing your latest blog post to perfection.
Next, you share it on Twitter, Facebook, and LinkedIn to get some extra traffic.
You reshare that same content next week to give it a little boost.
But then you check your analytics the next day and your blog post still has no traffic.
People aren't flocking to that new content you worked so hard on.
And that's a problem. You need that social traffic.
You need a social media presence and a content promotion plan that drives new site visits and gets your content in front of the right eyes.
But without the right tools, it's virtually impossible to drive traffic on social media.
Merely posting your new piece of content won't bring in thousands of visitors, unless you already have an established following.
You need to use strategic tools for specific actions to get great results.
Incorporating tools into your content promotion workflow is the best way to skyrocket blog traffic.
You can automate content curation, evergreen content promotion, and more.
You just have to know what tools to use.
Here are nine content promotion tools to skyrocket blog traffic today.
1. Quuu Promote for traffic and engagement
Quuu Promote is a unique and effective content promotion tool that should be a go-to for your content promotion strategy.
It works by sharing your content marketing pieces on Facebook, Twitter, LinkedIn, and Google+ with Quuu Promote users.
You load your content into the tool, and Quuu will share it with real people in your niche.
For example, if you want to share your content with an SEO focus, the tool will share your content on real user accounts based in the SEO industry.
Quuu Promote is an awesome way to eliminate the need to advertise your content on Twitter and Facebook.
Instead of boosting a post, you can pay a few bucks for hundreds of organic, real, active users to share your content to a targeted follower base.
To get started with Quuu Promote, head to the homepage and you can try it for free for 14 days.

Once you create an account, you can enjoy the benefits of quick promotion.
If you have a great new content marketing post, you can easily share it.
Do you have a new blog post or a new lead magnet? You can share just about anything.
Click "Promote a Post" to begin: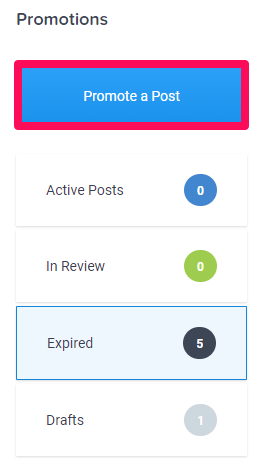 Now you need to grab the link to your latest blog post or content marketing piece.
Drop that link into the bar and hit the blue checkmark: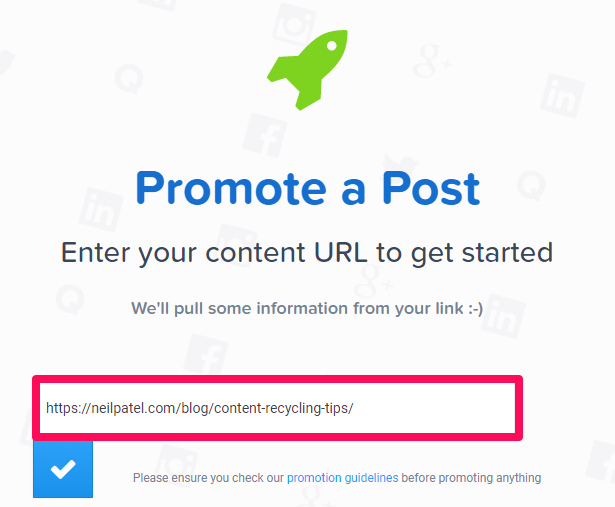 Quuu Promote will then take your link and import the data from your post into a perfectly-crafted tweet and post for Facebook, LinkedIn, and Google+: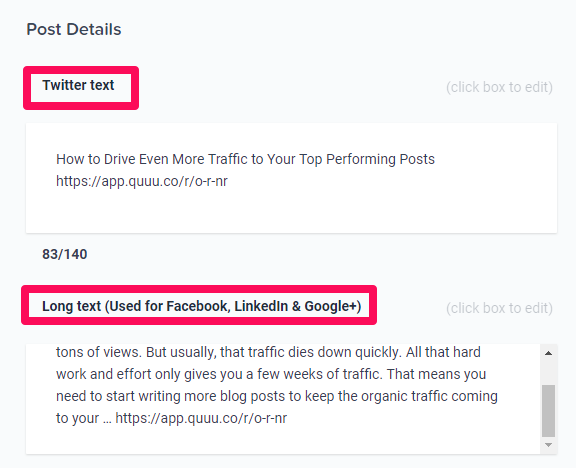 This tool virtually automates your content promotion strategy.
All you have to do is enter your URL, edit any text, and start promoting it.
Next, you can choose a content promotion targeting category:
These options will help you share content in the right category for your business.
Depending on which category you choose, specific accounts will share your content.
So, be sure to select the right category for your content.
For example, I would share my post in the "Content Marketing" category:

Next, Quuu Promote will show you previews of your posts to make sure they meet your approval:
If you don't like the preview, you can add new images or replace the text in seconds.
Once you're ready, hit submit and watch your traffic and engagement levels rise.
Here's an example of what your post can look like after just a few days of promotion:
And once it's finished, you can even re-promote the same post to save time and continually drive traffic to it:

Pretty awesome, right? That's an extra 331 link clicks in just a few days.
This is a great content marketing tool that can help you skyrocket blog traffic and engagement on your latest content.
2. Bitly for link tracking
Bitly is the best tool when it comes to shortening your links for social media while also providing diverse tracking and analytics.
The tool allows you to quickly shorten links to include more text in social media posts.
You can also track each individual link to gather intelligence on your audience, site traffic, and campaign performance.
And the best part of all is that it's free!
You can get started with a free account by clicking "Sign Up For Free" on the homepage.
When you're ready to shorten a new link for your content promotion and start tracking better data, click "Create Bitlink" from the dashboard:
Next, copy your latest blog post link and enter it into the URL box where it says "Paste Long URL:"
Now, Bitly will capture the data from that link to give it a title and any relevant tags. It should auto-generate a title, too.
If Bitly doesn't automatically add tags, you can manually enter a few to help you easily sort your content later.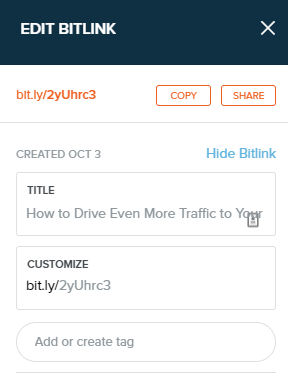 Now, just hit "save," and your link is ready to use and share on social media. Once your social post starts gaining traction, you can come back to the dashboard.
Check back in a few hours and you can immediately see some great analytical data:
Instead of typical social analytics like link clicks and likes, you can see referral traffic data, location-based engagements, and more.
Twitter and Facebook analytics aren't that great.
They mostly show vanity-style metrics, such as link clicks and likes.
This tool helps you see where those link clicks and likes came from and why.
You can see what sources referred the traffic in the first place.
Plus, it's one of the easiest tools to use. It only takes 10 seconds to create a new Bitly link to share on social media.
There is almost no reason not to use it for the added link-tracking data.
Bitly should definitely be a part of your content promotion strategy if you want to track your links better and organize your performance with great analytics.
3. BuzzSumo for idea generation
Researching your competition should always be a part of any good marketing strategy.
Whether it's PPC competitor research, SEO, or social, you should always spy on your competitors.
And BuzzSumo is one of the best ways to do it.
This tool allows you to scout out the content that performs best based on social shares and engagement.
That means that you can easily see what content gets the most traffic and why.
You can search by industry-based topics and keywords or even type in your competitor's domain or latest blog post.
It's a great tool for generating new ideas for content to share on social media. It can help you analyze what content is doing well and what simply won't gain traction with your audience.
To get started, simply type a blog post into the URL bar:
You can see detailed results on the social sharing history of this post:
It will tell you everything from social shares to the actual people who are sharing the content too.
If you want to search by keyword, just type an industry keyword into the search bar and hit enter: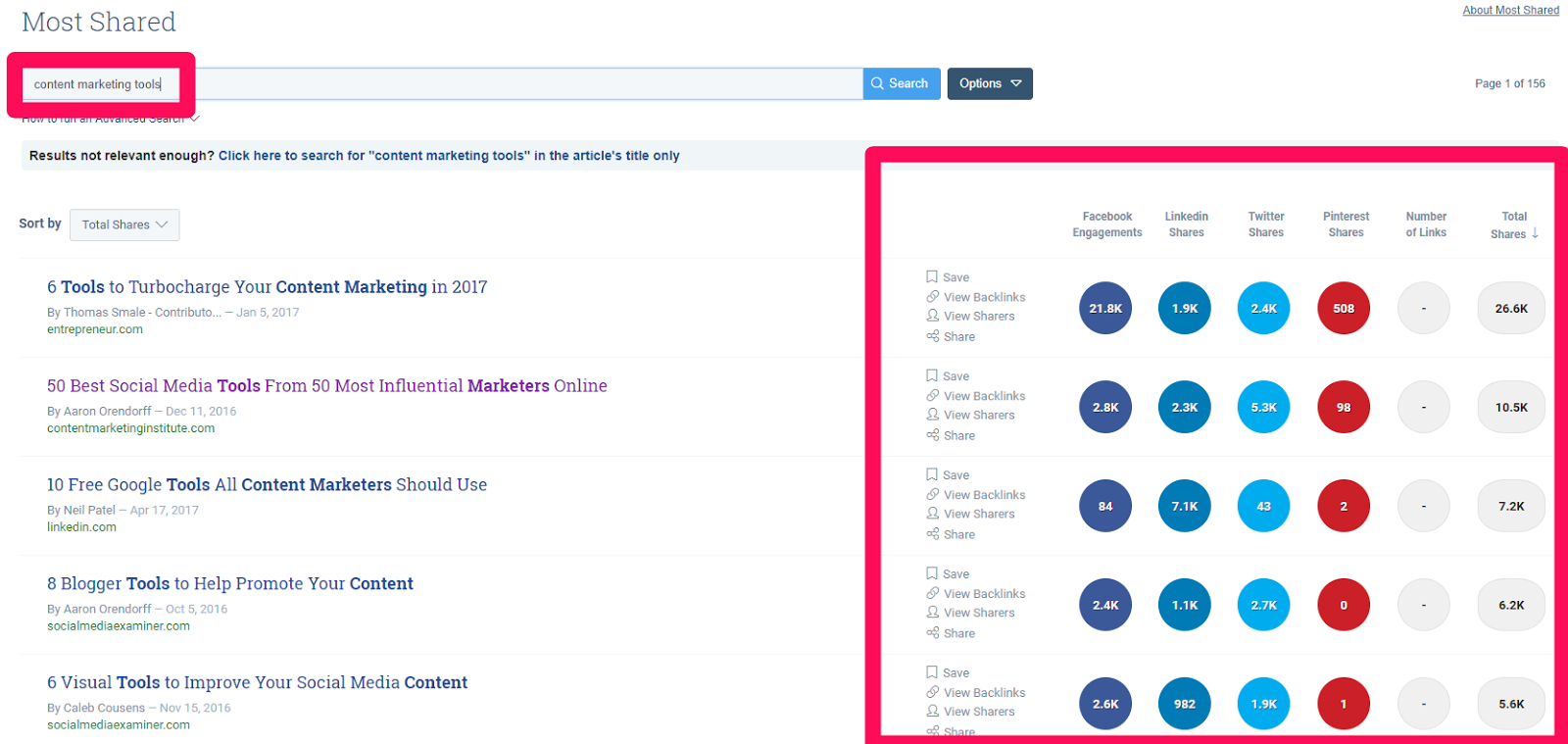 This will turn up the most popular, shared content for that keyword.
These results are the top social media shared content pieces on that given topic.
Use this data to see who is sharing the content and giving backlinks.
BuzzSumo also works as an idea generator.
You can see "Trending Now" articles on any topic:
This can give you a good idea about viral topics before they get hot!
BuzzSumo is an awesome tool for scouting the best content in the game. Use it to generate new ideas and tap into viral posts.
4. Buffer for content scheduling
Buffer should be one of your best friends when it comes to content promotion.
It's by far the easiest way to share content and schedule it in advance.
You can share content simultaneously on every social media platform directly from the Buffer dashboard.
That means that you don't have to go to each social media platform to share the same post.
You can schedule content in advance, see what times generated the most engagement, and see a calendar of upcoming content.
And on top of that, it's free!
Once you make an account, you can quickly connect and authorize your social media accounts.
Currently, Buffer supports Twitter, Facebook, LinkedIn, Google+, Pinterest, and Instagram Reminders:
To start scheduling your posts, navigate to the Content tab under Queue:

Now all you have to do is enter your latest blog post URL in the box and it will automatically generate content for you:
Just hit "Add To Queue," and Buffer will add this social post to your schedule.
To change your schedule, head to your Settings and select dates and times to add: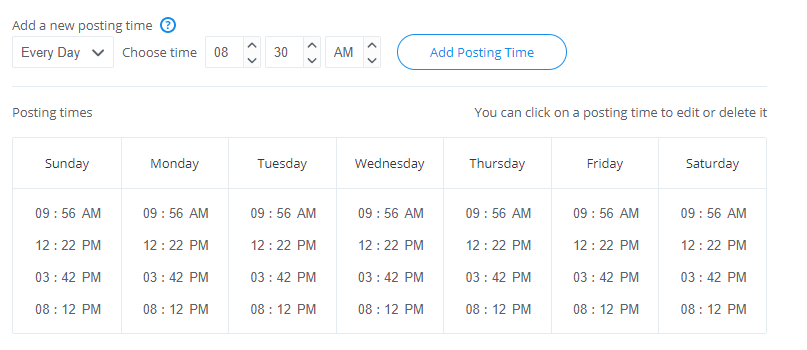 If you start sharing enough content, Buffer will automatically detect the best times to share according to social engagement.
Buffer is one of the best, free social media tools on the market.
Start using it today to schedule your content in advance and save hours each week on content promotion.
5. Zapier for automation and integration

Zapier is one of my favorite automation tools on the market right now.
You can virtually connect every tool you have in your marketing portfolio to another.
You can do almost anything with Zapier, from automating Facebook Lead Ads to importing data directly to your CRM.
You can then automate that CRM data to automatically send email campaigns in MailChimp…
…And then automate those MailChimp responses to a remarketing campaign.
You get the point: The options with Zapier are almost limitless!
Personally, I use it to automate several parts of my social strategy: content curation, posting on social media, and my Buffer postings.
Here's one of my favorite Zaps: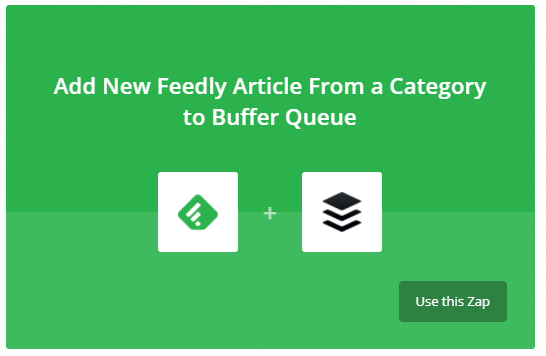 Essentially, this Zap will take your newly curated content from specific Feedly categories and import those posts directly into your Buffer queue.
Your content curation strategy is now automated. You don't have to spend hours reading and sharing relevant content anymore.
Zapier does it for you.
The great thing about Zapier is its ease of use. You click "Use This Zap," and it will use a pre-set automation template for you.

You just follow the steps by entering your login details and Zapier takes care of the rest.
In that picture above, Feedly is the "Trigger" and Buffer is the "Action."
That simply means that when your Feedly gets new curated content, it will trigger a Buffer post.
Pretty awesome, right?
The integrations are diverse, so almost any marketing SaaS tool you use will work with Zapier:
To get some ideas for content promotion automation, you can select any of the applications to generate workflow ideas.
For example, if you choose WordPress as your application, you can set up automation for your social promotion in just a minute or two: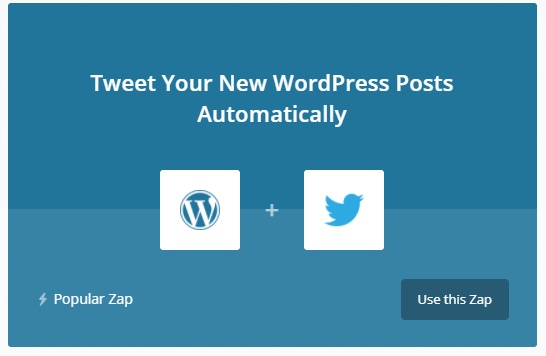 Use this Zap to automate your content promotion and drive more traffic without lifting a finger.
Instead of rushing to promote your new post, let Zapier do it for you.
Or you can share your new post on your favorite Slack channel for other marketers to check out: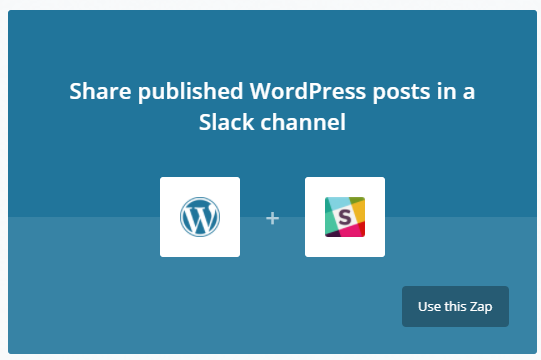 The integrations give you lots of different options for content promotion.
Give it a shot today if you want to do less work and get a bigger return.
6. Sprout Social for an all-in-one platform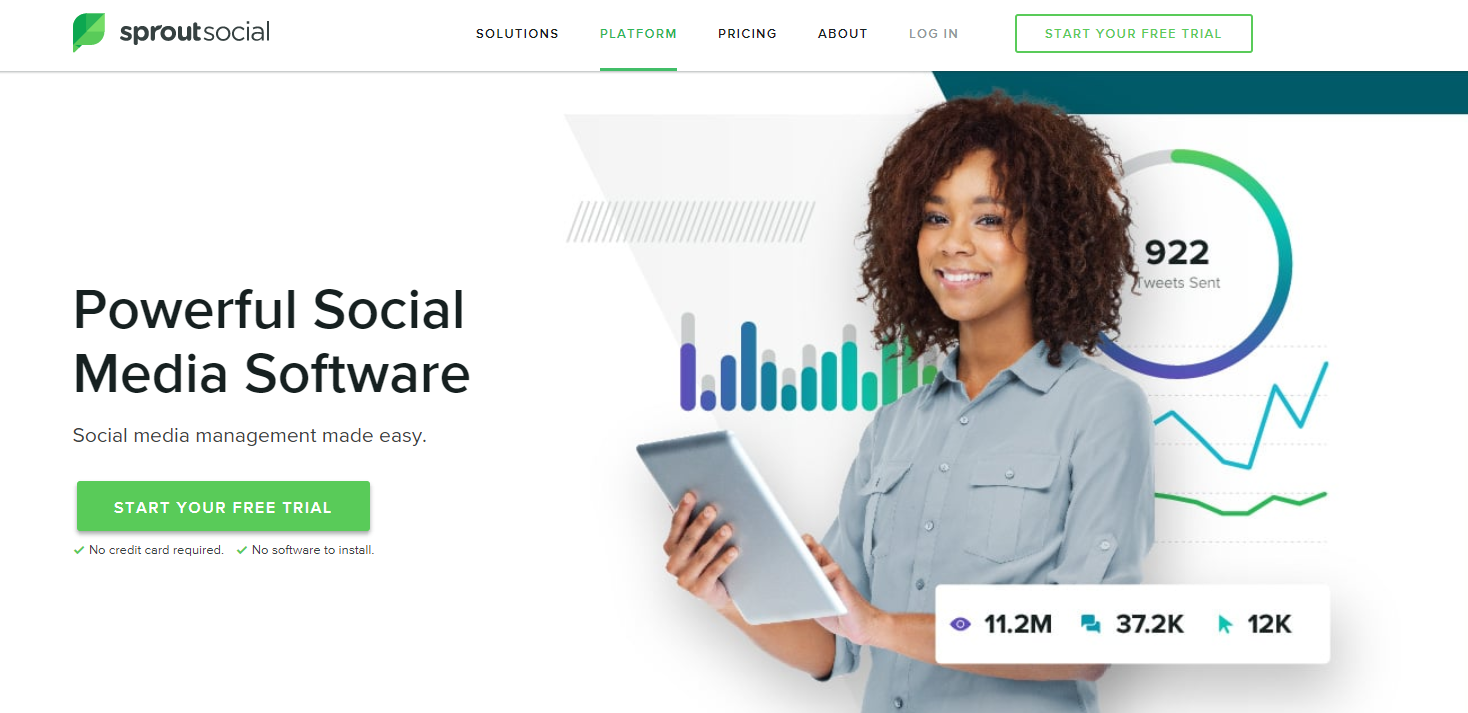 Sprout Social is one of the coolest products on the market today when it comes to content promotion and social media assets.
It combines social scheduling, content publishing, diverse analytics, and direct social engagement.
It's pretty much a one-stop-shop, all-in-one social media management tool.
Think of it as a CRM tool merged with a social media management tool.
You can do almost anything with this tool. You can even target specific audiences and manage evergreen content.
One of the strongest selling points of Sprout Social is its analytics and reporting data.
You can build reports on almost anything for your content promotion:
You can craft custom reports with the Reporting Suite from Twitter to Instagram and Facebook to LinkedIn.
You can even create "listening" reports to track specific keywords: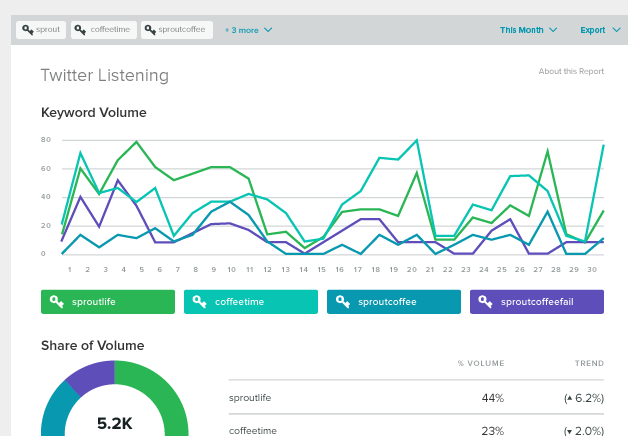 Or, you can create a custom report on topics and hashtags to keep track of your best subjects:
On top of diverse, custom-reporting options like you'd find in Google Analytics, you can also use Sprout Social to schedule your posts:
You can even access their asset library to use tons of stock photos for your social posts: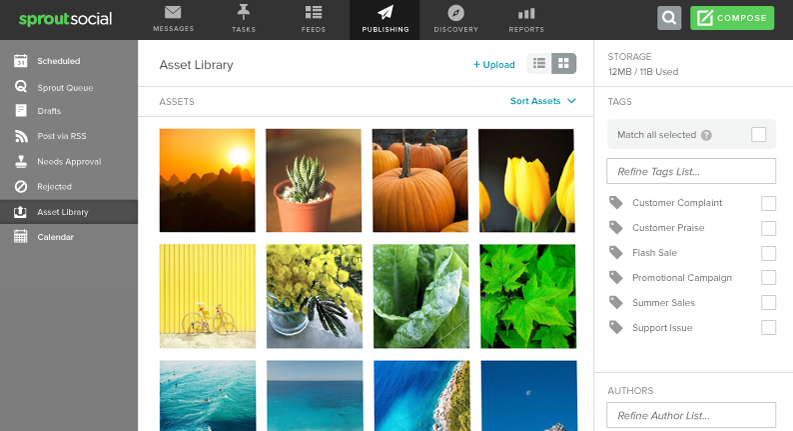 But, one of the best parts of Sprout Social is the audience targeting.
You can target organic social posts like you would for Facebook Ads: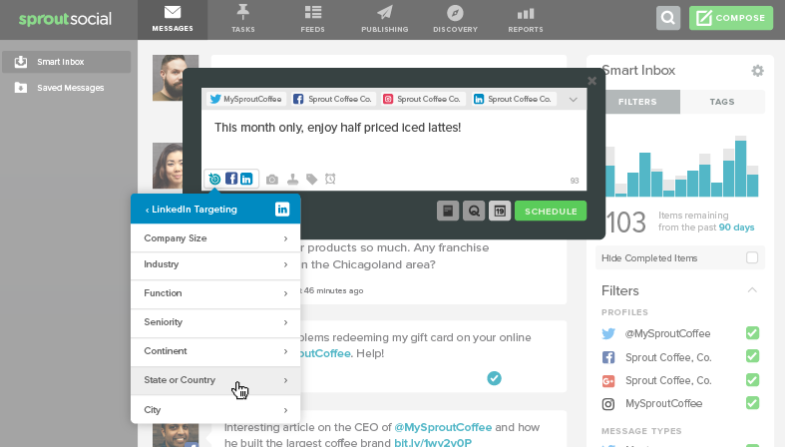 With LinkedIn's and Facebook's diverse targeting options, you can create custom, audience-based posts that you direct to specific groups.
This feature will allow you to segment your organic social posts to the right audience rather than sending out a blast to all users.
This ensures that your content will receive the maximum amount of engagement.
To get started with Sprout Social, you can create a free trial account (with no credit card required):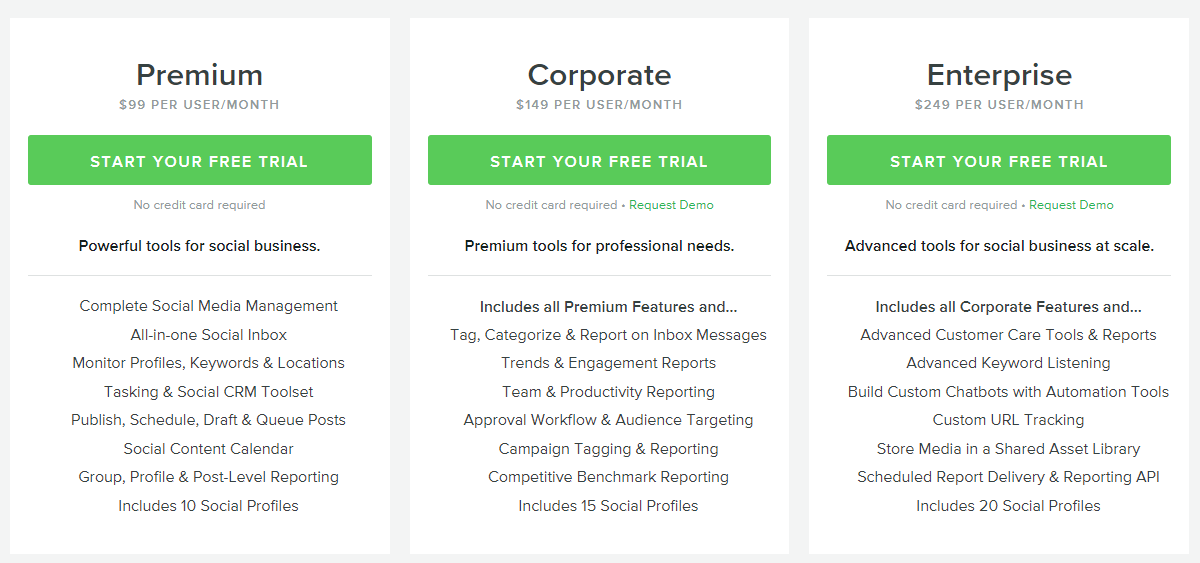 Start by selecting the plan that you want to try based on your company's size or budget.
Sprout Social may not be the cheapest content promotion tool on the market, but that's because its features combine into one what you'd find in 5-10 different tools.
So if you are serious about content promotion and making social media work for your business, Sprout Social might be right for you.
Once you select a plan, start linking your social accounts:
After you connect your Twitter profile, you can connect tons of different platforms too:

You can even add multiple accounts if you manage social media for other clients.
Next, navigate to your dashboard. From there, you can schedule content, answer messages from any social account, or even discover new content ideas:
Head to the Reports section. Once you're there, you can create new, custom reports from any of the suggested reporting templates that Sprout Social offers: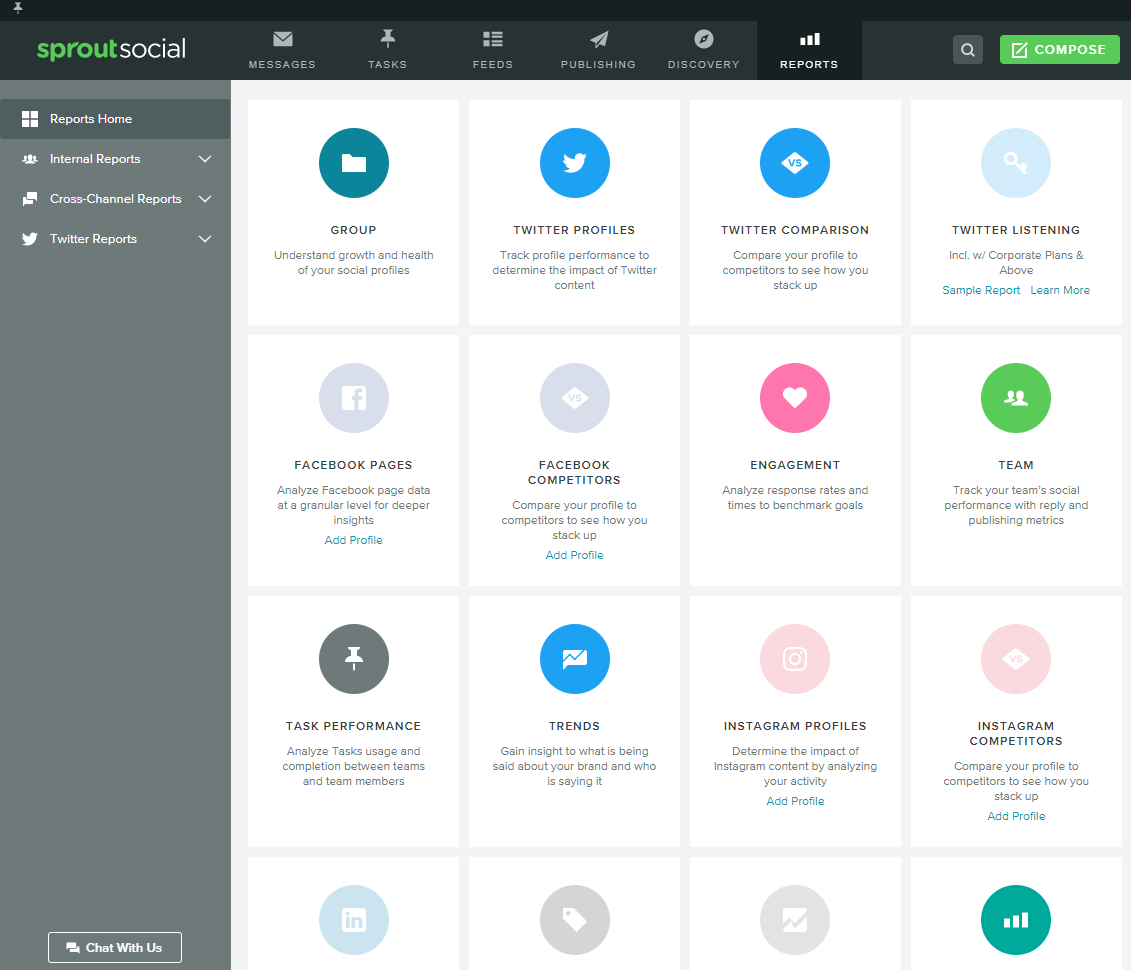 This is one of the most diverse, all-inclusive tools you can get.
7. IFTTT for content automation
IFTTT is similar to Zapier in the sense that it connects the best and most popular applications on the market.
IFTTT is a free, powerful automation tool that can help you automate your content promotion strategy.
It works just like Zapier does, too. You can set various triggers and actions for almost any tool you use.
If you want to automate new blog posts to share directly on your social platforms, it will only take you a few minutes.
You can even repurpose content from Instagram and share it automatically on Facebook and Twitter.
The options are diverse, and the application integration possibilities are almost as endless as Zapier.
To get started with IFTTT, create a free account by connecting with Facebook, Gmail, or your email address:
Next, head to the search section of your dashboard to find new integrations and automations to try: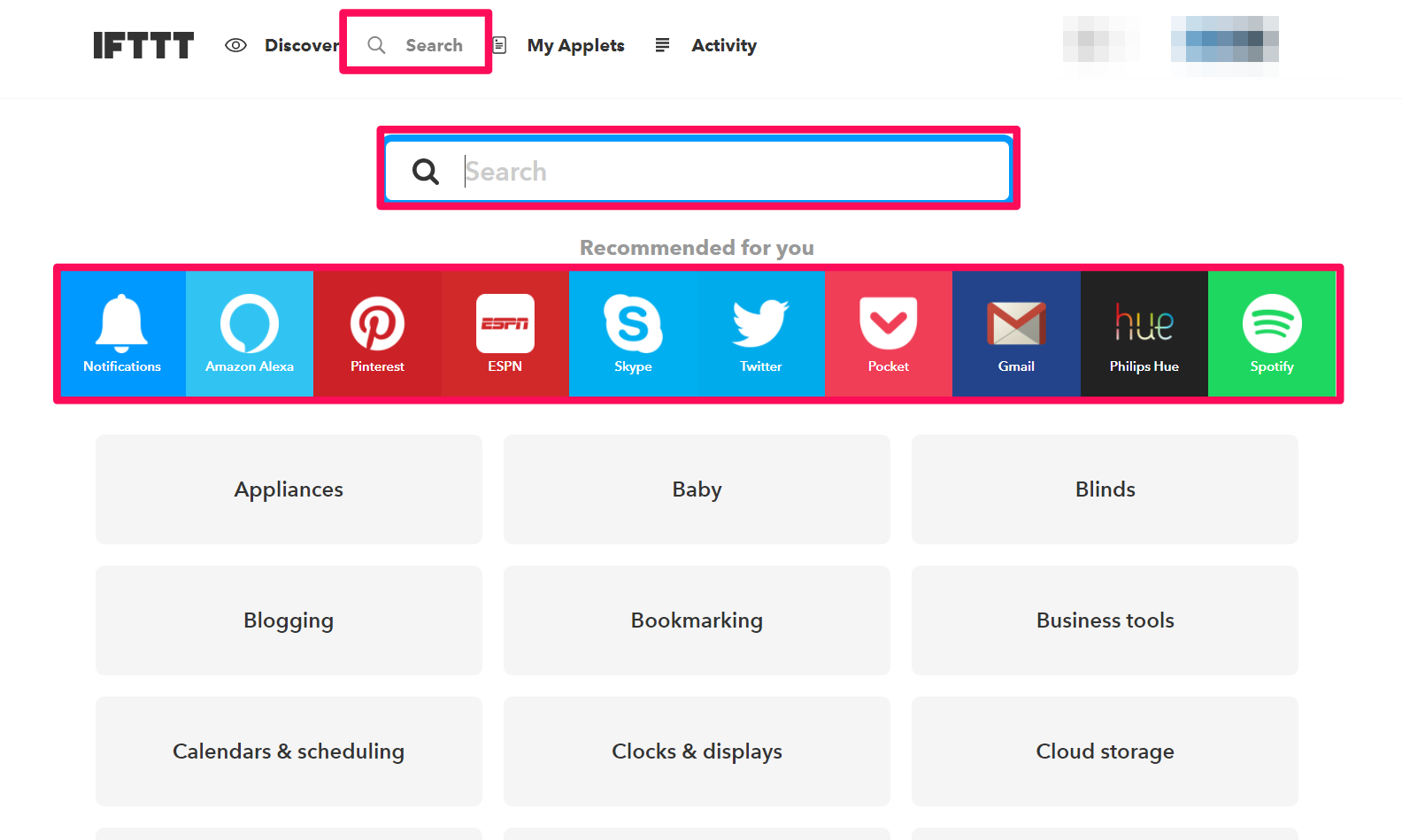 You can select from recommended applications or you can search for integrations.
You can connect every social media profile and platform, emails, and even things like Alexa and Spotify.
IFTTT has great integrations when it comes to content promotion: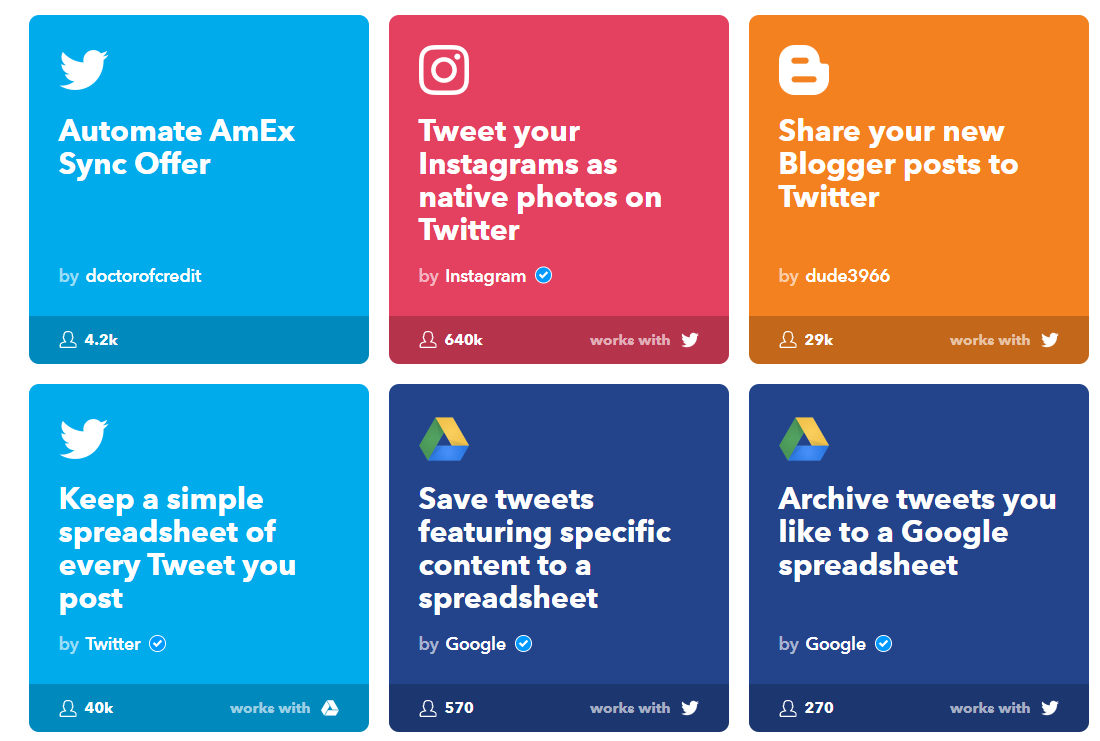 You can even sort the results by social networks to get more specific integrations: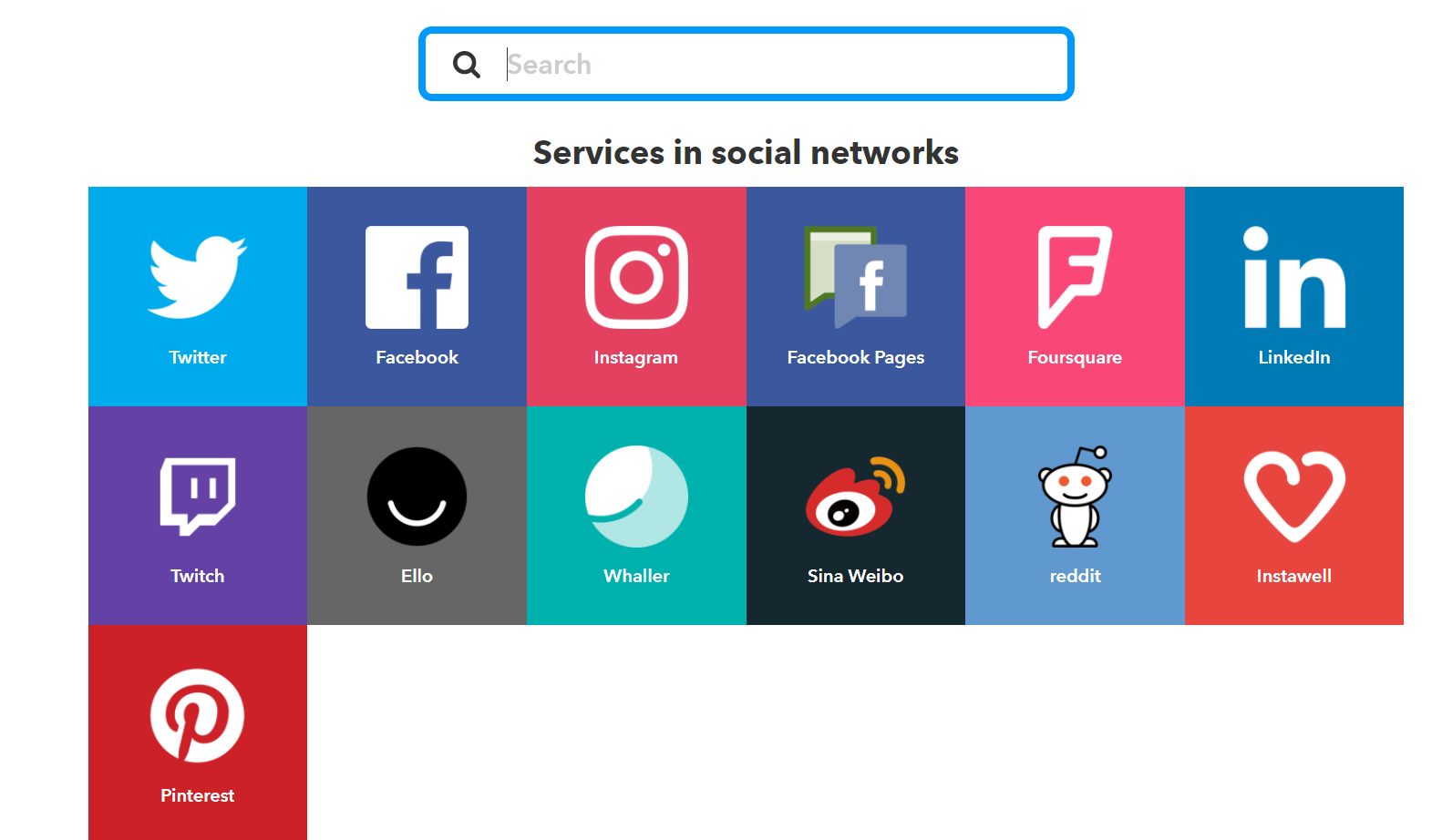 One of my all-time favorite integrations that IFTTT offers is the WordPress to Facebook posting automation: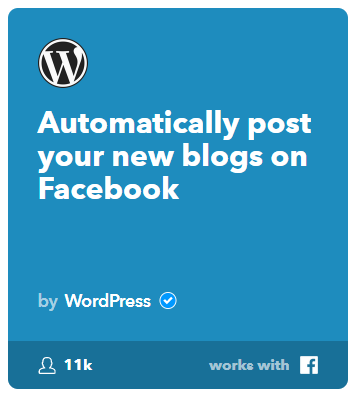 If you are like me and hate wasting time on social media, then IFTTT is the right application for you.
I try to spend as little time on content promotion as I can.
By using the integrations, I can save hours every week and schedule content without even touching my social profiles.
8. Later for Instagram publishing

If Instagram is a top priority in your marketing strategy and content promotion, you need to be using Later.
It's a completely free tool that can help you plan and schedule Instagram content from your desktop.
That means you don't have to use a mobile device to post your content anymore!
Instagram is one of the best places to share visual content for your brand.
If you want more blog traffic, you should be using Instagram to drive engagement and interest.
Once you create a free account with Later, you'll be able to upload and schedule out new posts: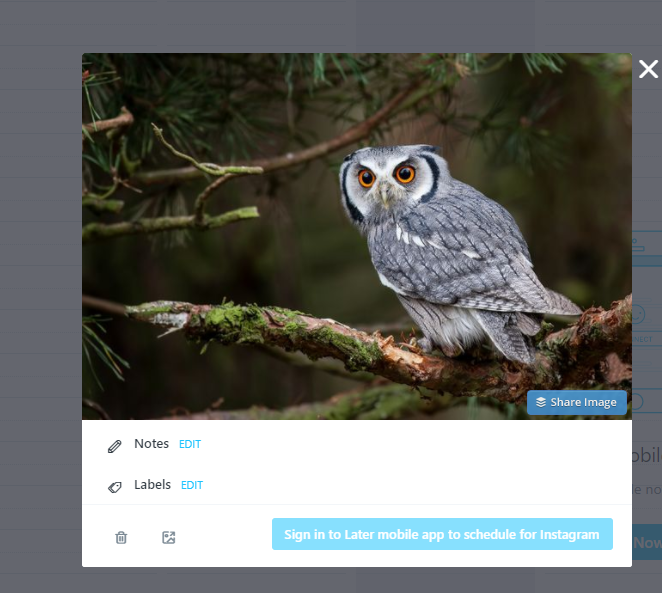 The calendar feature can help you stay organized and see what posts are going live on specific dates:

You can also build up your media library before scheduling content:
Connect your Dropbox or Google Drive to upload tons of images to your content library.
Then, you can use these images to schedule content or even save for later publishing.
The analytics features on Later are also pretty great for a free tool: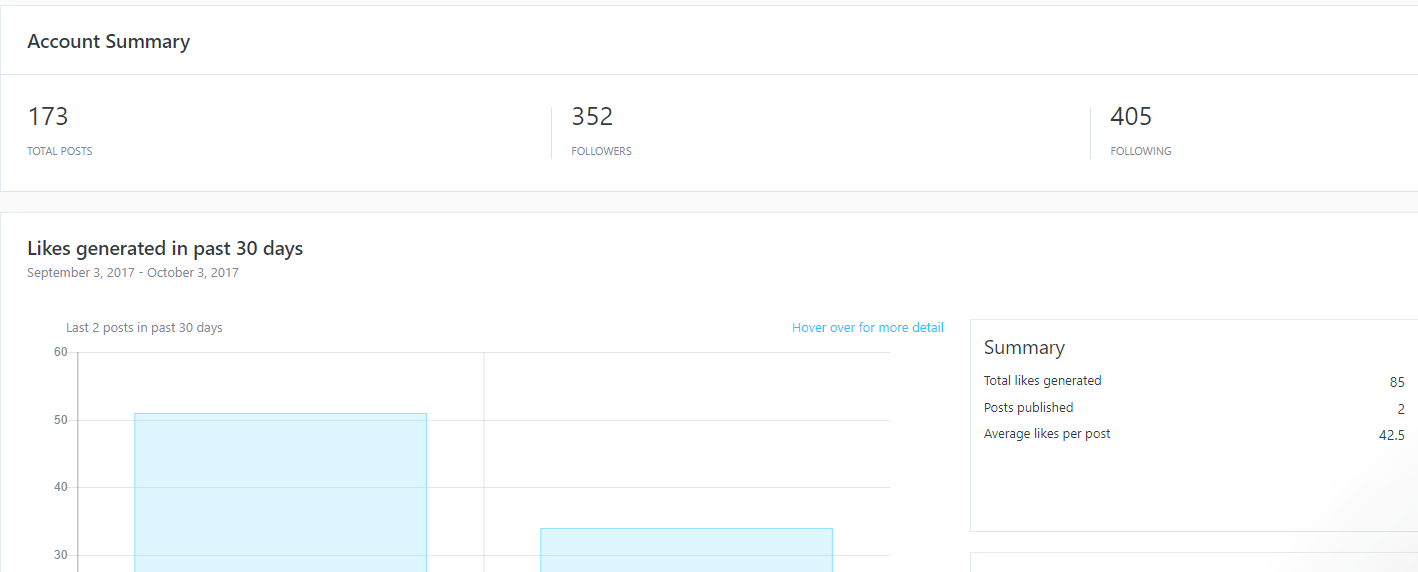 Later is hands-down the best free tool for Instagram content promotion.
9. Meet Edgar for evergreen automation

Have you ever wanted to constantly share posts that perform their best? Meet Edgar is the tool for you.
For example, let's say you shared a few posts on Facebook and LinkedIn last month and found that they drove more traffic than any other post.
What do you do now? You most likely copy that same message and reshare it, continually producing results.
But that's tedious and time-consuming. You don't have hours to spend on resharing posts.
And that's where Meet Edgar can help you. It reshares the best content on your social media.
It repeatedly fills your publishing queue so that you never have to load in new content again.
Instead of spending hours a week scheduling blog posts, you can use Meet Edgar to recycle your best content.
Create a free trial account with Edgar (no credit card required) and connect your social profiles: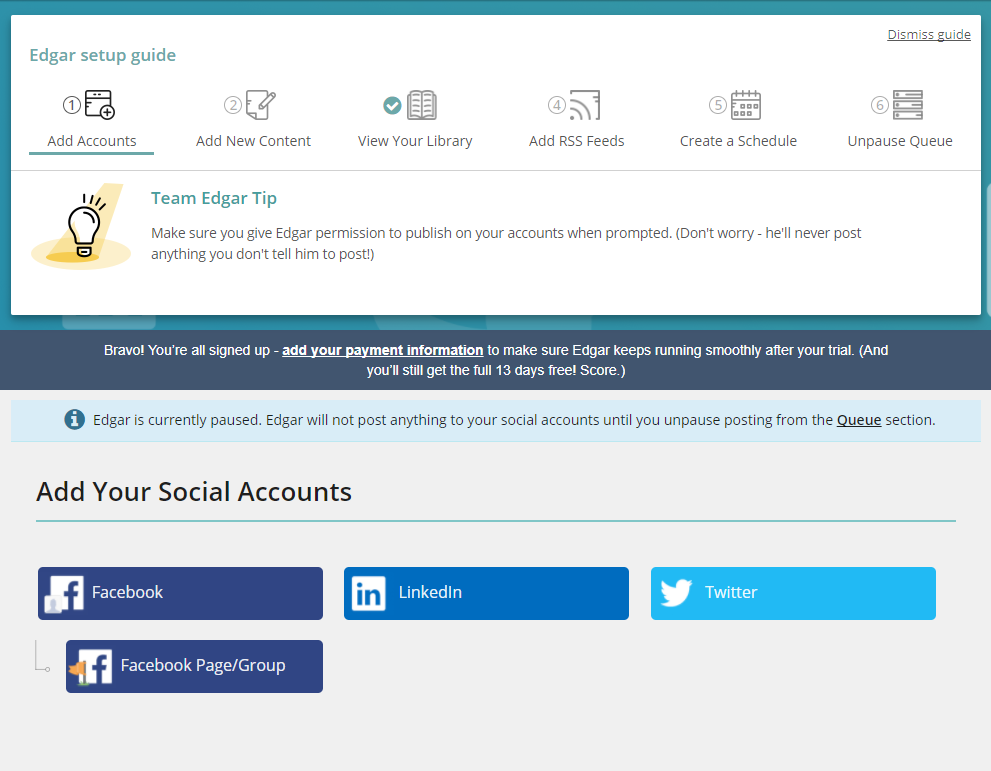 You can connect Facebook, Twitter, and LinkedIn at the moment.
Publishing is easier than ever on Meet Edgar, too. You simply load your latest content into the calendar, and it will start posting it at the best times: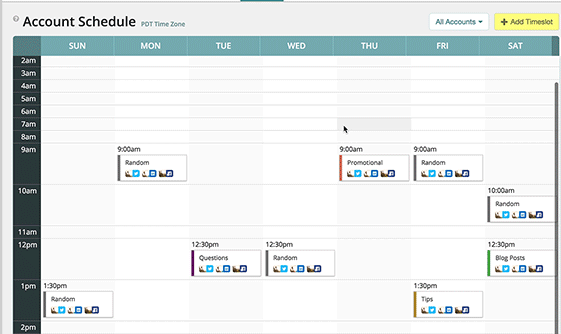 Next, Edgar will also take your best-performing content and keep adding it to your queue. You never have to come back and schedule any old content.
You let Edgar take care of the grunt work for you so that you only need to schedule new posts.
Edgar will create multiple variations of those posts and keep republishing your evergreen content.
Remember: social media shouldn't be a process that takes up hours of your time each week.
It should be a short and simple tool that you can use to leverage an audience for blog traffic.
And if your tool is automatically posting evergreen blog posts on your social profiles, you can bet that traffic will start to roll in.
If you are serious about better content promotion and want evergreen posts to stay evergreen, you should be using Meet Edgar.
Conclusion
Content promotion of blog posts isn't as easy as it sounds.
You can't simply post a new piece on Twitter and expect 1,000 new site visits.
It just doesn't work that way.
After spending hours, if not days or even weeks, to create content, you need a content promotion strategy that works.
If you are sharing it on social media but not gaining traffic, you may be lacking the best tools in the game to grow your social engagement.
Tools can help you promote content faster and more often. It can even identify your top performers for further promotion.
Start by using Quuu Promote. It's a great tool that can help you get easy, automated promotion of your new blog content that is guaranteed to drive traffic.
Bitly will be a great resource for shortening your links and tracking more diverse analytics on your social posts.
Try using BuzzSumo to see what content is getting the best shares on social media. This information should inform your own content strategy.
Buffer is a great, free tool that can help you schedule your content far in advance.
Then Zapier can help you automate your social strategy and eliminate the need for other tools.
Instead of rushing to promote content, let Zapier automatically post on your social channels when a new blog post goes live.
But if you want a one-stop-shop, try using Sprout Social. It's basically the best content promotion and social management tools on the market combined into a powerhouse application.
To save tons of time, you can use IFTTT to promote your content automatically with triggers and actions.
And if Instagram is your bread and butter, use Later to automate your posting schedule and get diverse analytics.
Lastly, try Meet Edgar to share evergreen content over and over again.
Use these nine content promotion tools to drive unparalleled traffic to your blog today.
What are your favorite content promotion tools you use to skyrocket your blog traffic?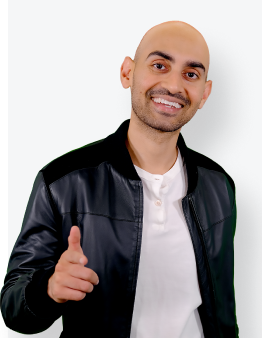 See How My Agency Can Drive More Traffic to Your Website
SEO - unlock more SEO traffic. See real results.
Content Marketing - our team creates epic content that will get shared, get links, and attract traffic.
Paid Media - effective paid strategies with clear ROI.
Are You Using Google Ads? Try Our FREE Ads Grader!
Stop wasting money and unlock the hidden potential of your advertising.
Discover the power of intentional advertising.
Reach your ideal target audience.
Maximize ad spend efficiency.