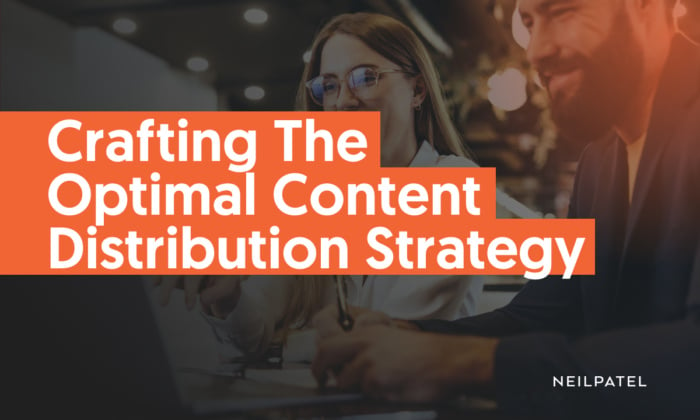 If you've been reading my content for a while, you know I'm always emphasizing the importance of creating exceptional content. You've got to go the extra mile, cover a topic in more detail, and create something that's really worth your reader's time.
But that's only half the battle.
You could spend a week creating the greatest blog post in the world. But it won't be worth much if you don't have an equally good content distribution strategy in place. In fact, I'd go as far as saying content distribution is more important than content creation.
In this post, I'll teach you the fundamentals of business content distribution, present a step-by-step plan you can follow to get your content out there, and share my secret tips and tools to effectively distribute content.
What Is Content Distribution?
Content distribution is a way to get as many eyeballs on your content as possible. Content distribution includes the processes of publishing, sharing, and promoting your content across various channels.
Effective content distribution is vital if you want people to read your content. The truth is there's so much new content created every day that it's hard to stand out. These statistics don't make for good reading:
A content distribution strategy can tilt the odds in your favor. By disseminating it across multiple channels, you can get your content in front of the right readers at the right time. And more eyeballs should mean more sales.
The Content Distribution Channels You Need to Know
There are three major content distribution channels you can use to share your content: owned, paid, and earned.
Owned
These are the channels and properties your company owns. It includes your website, your social media channels, your newsletter, and anything else you have control over.
Here's an example of me using my X (Twitter) account to promote a blog post. As you can see it's generated over 10,000 views so far.
Paid
Paid channels are any which your company pays to distribute your content. Think PPC or social media ads, for instance. Influencers and other forms of sponsored content can also be paid content distribution channels.
Here's an example of the sales software company Gong using Google Ads to promote their latest industry report.
Earned
Earned channels are any third-party platform that promotes or shares your content for free. They like your content and you've "earned" the right to have it spread—usually by mentioning it on social media or linking to it on their blog or newsletter. Customers, bloggers, and other social media users are some of the most common types of earned distribution.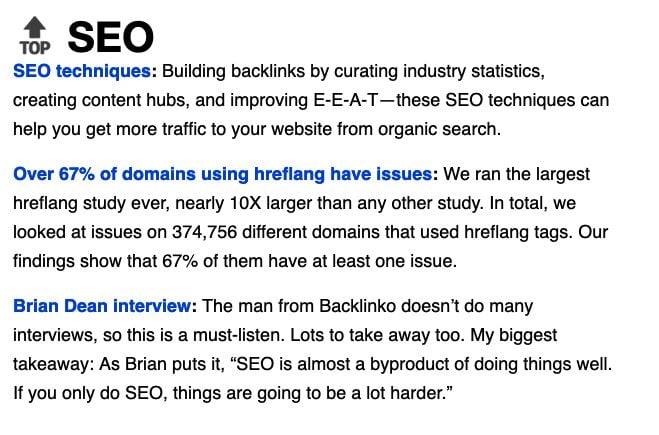 Here's an example from Ahrefs' newsletter. Every week they provide earned distribution to the best SEO articles they read.
Organic and earned distribution channels are the most cost-effective; they are completely free. But it can take time for your content to get traction. Paid channels can generate results quickly, but it comes at a price and the distribution ends as soon as you stop paying for ads.
Content Distribution: Step-By-Step
Follow my advice below to create a comprehensive content distribution strategy.
1. Research Your Audience
Knowing who your audience is and where they hang out online is the most important part of any content distribution strategy. It's not about getting just anyone to see your content, after all. It's about getting potential customers to see it.
You should also research what kind of content your audience reacts best to. You can use a tool like Buzzsumo to measure the performance of your previous content or check out the social profiles of your competitors to see which content garners the most likes and shares.
2. Create a Content Calendar
If you don't already have a content calendar as part of your content marketing strategy, create one now. Outline what content will be published where and when—and what format that content will take.
Make sure all distribution channels are listed in your content calendar—and that administrative information (things like logins and passwords) is accessible.
3. Plan and Tailor Copy to Each Platform
You should be creating content distribution copy in advance, ideally during the content creation process. This means your publication team isn't scrambling to create a tweet in the heat of the moment.
Messaging should also be tailored to each distribution platform. Obviously, your ads should look different to social media posts, but each ad should also be different depending on the platform. A Google Ad should look different from an X (Twitter) ad, which should look different from an Outbrain ad.
The same goes for owned channels. Don't post an entire webinar to X (Twitter) or a post with loads of copy to Instagram. The better the design and copy of your post reflects the distribution channel, the more effective it will be.
Check out this example from my own LinkedIn page: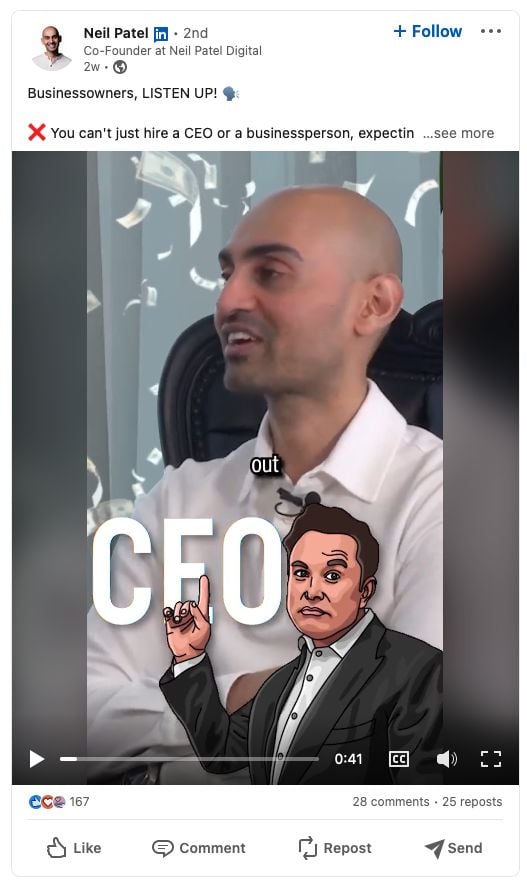 Long-form videos don't cut it here, that's why I'm only showing a 40-second clip. Notice the emojis and the captivating first-line that help to hook the reader in.
4. Measure and Optimize
Your digital content distribution strategy shouldn't stop when you hit publish. Tracking your success is vital to understanding whether your strategy is working and how to improve it moving forward.
I'd recommend measuring some of the following KPIs:
Impressions
Shares
Likes
Traffic by each channel
Conversions
Conversion rate
Make sure you analyze data and actually apply the insights. In other words, don't keep plugging ahead with a platform that isn't generating views—even if it is one of the major social platforms.
Best Practices for Content Distribution
Want to take your content distribution strategy to the next level? Implement these three best practices.
Automate Where Possible
There's a lot of work that goes into creating an effective content distribution strategy. But your team doesn't have to do all of the work themselves. They should be using automation tools as much as possible.
Social media tools like Hootsuite and Buffer are particularly powerful when it comes to content distribution.
You can schedule your social media posts in bulk in advance, significantly reducing your administrative burden. Many of these tools now have AI writers that can help you create posts, too
Experiment With Every Distribution Channel
You probably aren't going to find the right mix of distribution channels immediately. That's why it's important to experiment with new channels as often as possible.
While you shouldn't spread yourself too thin, you absolutely should be throwing a new channel into the mix every time you hit publish.
In particular, experiment with ad platforms. These are often neglected by content marketers, but they can be incredibly powerful when it comes to rapidly increasing the amount of eyeballs your content gets. Just make sure you are tracking relevant KPIs so you can gauge ROI.
Recycle Old Content
It's not only new content that deserves to be distributed. If you have an excellent piece of old content, add it to your distribution schedule.
You can also make old content new again by turning it into a different format. An old blog post can become a podcast episode or infographic, for instance.
Tools and Platforms for Content Distribution
While there is a lot of manual work if you want to distribute content in a comprehensive manner, there are quite a few tools that can help you automate processes and measure your results. Here are five of my favorite digital content distribution tools:
1. HubSpot
HubSpot's marketing hub is one of the most useful and practical content distribution tools on the market. It's not cheap, but you can use it to schedule, post, and monitor content across a range of owned channels, including social media and email.
If you're looking to use one tool to simplify your content distribution efforts, this is probably it.
2. HARO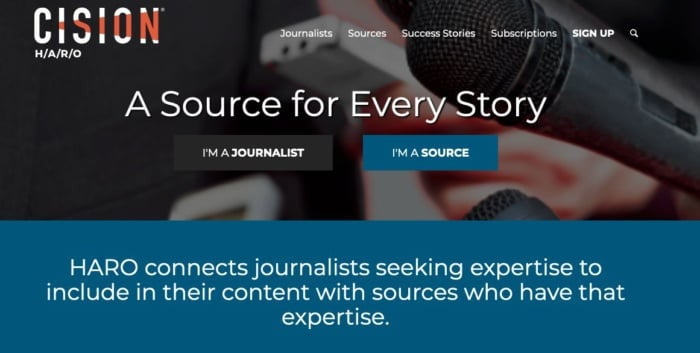 HARO (Help a Reporter Out) is an online platform that connects journalists with subject matter experts. When you sign up to Haro as a source, you'll be sent daily emails with journalist requests. Reply to them and you stand a chance of getting featured in an article.
This tool doesn't help you distribute specific pieces of content, but it does help drive journalistic engagement and generate press mentions and backlinks.
3. Outbrain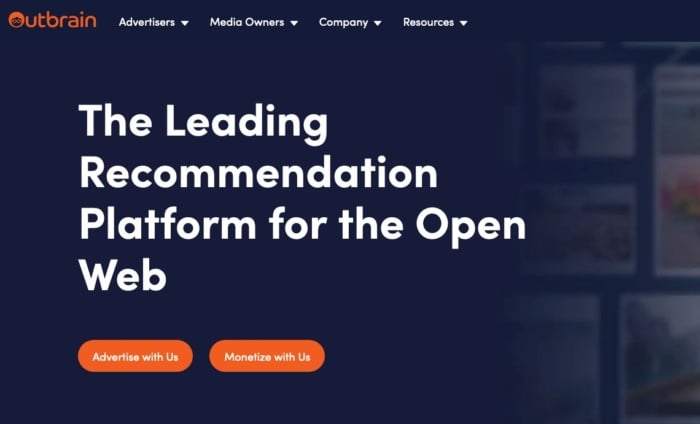 Outbrain is a paid media tool that promotes your content at the bottom of other articles. You've probably seen this feature in action when you last read an article that contained paid ads.
Outbrain is a great way to get your content featured on highly relevant and authoritative sites. You can target specific URLs and networks with some pretty impressive websites like the New York Times.
4. Medium
Medium is a content platform that lets individuals and businesses publish and promote content to a huge audience of readers. It's free to use, although you can pay to boost the reach of your content.
I recommend using Medium in addition to your blog to give your content extra reach. Just make sure that you tweak every article that you publish here so you aren't creating any duplicate content issues.
5. Google Analytics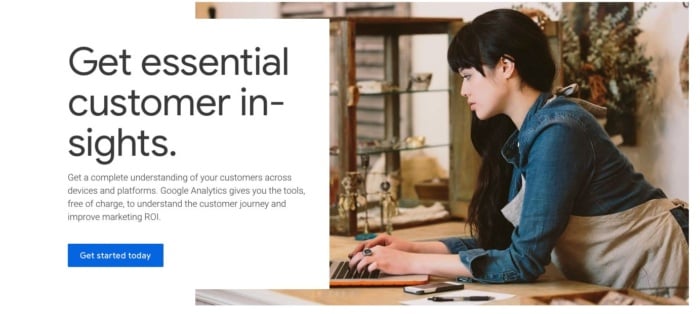 There's no better platform than Google Analytics if you want to track the impact of your content distribution efforts.
GA4 will show you exactly how much traffic you receive from each source and how each of those users interacts on your site.
FAQs
What is content distribution and why is it important for my business?
Content distribution is the act of sharing and promoting your content across various owned, earned, and paid channels. So much content is created each day that if you don't invest time and money into distributing the content you create, then there is a high chance that no one will read it.
How can I effectively distribute my content to reach my target audience?
Knowing who your audience is and where they hang out online is the first step to effectively promoting your content. You should then use multiple channels to reach that audience and engage them as much as possible. Finally, repurpose content on different platforms and in different formats.
What are some popular content distribution platforms and channels?
Social media platforms like Facebook and X (Twitter), paid advertising channels like Google Ads, and email newsletter tools like Mailchimp and ConvertKit are some of the most popular content distribution platforms.
How do I measure the success of my content distribution strategy?
You can measure your success using a variety of metrics. These can include the number of likes and shares you get on social media platforms, the number of site visits your content receives, and conversion-focused metrics like sales and subscriber growth.
What are some best practices for digital content distribution?
My single best practice for content distribution is to make it a core part of your content marketing strategy. Don't treat it like an afterthought. Instead require writers to create social media snippets for every article they write and schedule time in your content calendar to promote your content.
How can I optimize my content for different distribution channels?
Tailor the layout and format of your content to match each distribution channel. Turn a blog post into a thread on X, for instance, or an image for Instagram. Then use platform-specific features to encourage users to comment and share in the most appropriate manner.
What are some common mistakes to avoid when distributing content?
Overpromoting your content is perhaps the biggest content distribution mistake to avoid. The more you bombard your audience, the less likely it is they'll engage in the future. Failing to target the right channels can also be criminal. If you aren't distributing your content across channels your target audience uses, they probably aren't going to read your content.
What role does social media play in content distribution?
Social media plays a pivotal role in content distribution. It is one of the easiest ways to publish and promote your content and earn shares and backlinks. The viral nature of social media also means your content distribution strategy can be incredibly successful.
Conclusion
Don't let your efforts go unread. Content distribution can be the difference between no one appreciating your work and your content going viral.
So get to know where your audience hangs out, create a schedule that ensures you target every relevant channel and don't be afraid to pay to give your content a boost.
If you're serious about getting more readers and more traffic, then follow-up this article by learning how you can create a content hub that will make content distribution even easier.
Let me know which channel you love promoting your content on in the comments below!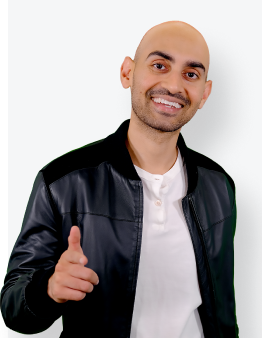 See How My Agency Can Drive More Traffic to Your Website
SEO - unlock more SEO traffic. See real results.
Content Marketing - our team creates epic content that will get shared, get links, and attract traffic.
Paid Media - effective paid strategies with clear ROI.
Are You Using Google Ads? Try Our FREE Ads Grader!
Stop wasting money and unlock the hidden potential of your advertising.
Discover the power of intentional advertising.
Reach your ideal target audience.
Maximize ad spend efficiency.