Disclosure: This content is reader-supported, which means if you click on some of our links that we may earn a commission.
Creating a digital environment where people can really learn is challenging, even in ideal circumstances. Having the right learning management system (LMS) software in place makes this task much more manageable for everyone involved.
Administrators have a clear view of what's happening, instructors have the freedom to create courses that matter, and learners get a relevant, unique experience that meets them where they are.
LMS software will not replace the hard work and perseverance that goes into creating lessons and educating people. The right one, however, will let everyone focus on their work instead of fighting with a frustrating system.
#1 – Schoology Review — The Best for K-12 Blended Learning
Schoology has proven itself to be one of the most nimble LMS providers in a time where adapting to new learning environments really matters.
The platform connects everyone involved: students, teachers, parents, coaches, and administrators. It can accommodate virtually any type of learning environment, from in-person, to blended, to fully remote.
With Schoology, instructors can continue to "use what they know" because it has direct integrations with more than 200 popular tools, like Turnitin and Khan Academy, as well as compliance with SCORM, LTI, QTI and Common Cartridge.
Whether the schools are open or closed, teachers can use the lessons they trust without having to reinvent the wheel. They can manage everything from assessments to attendance within a single dashboard, and share all of their content with students on their class homepage.
Students can find the information they need quickly and a space to reach out if they need help. It has the feel of a social media platform, in terms of user-friendliness and student approachability.
Within this simple framework, instructors have a ton of freedom to create unique content for their students, design meaningful assessments, and a rich set of tools for tracking progress.
They can figure out what's working quickly, and have the ability to personalize content for individualized instruction.
This is really important in blended learning environments where students don't necessarily have equal access to technology. Schoology makes it easier for teachers to create different types of assessments that let students go at their own pace or access resources offline, even on the mobile app.
That's the beauty of Schoology. It doesn't change what teachers teach, it just gives them the tools to do it in any setting, with features like:
Course & lesson designers
Grading tools
Commenting and video feedback
Student tracking
Online discussions
On the administrator side, Schoology syncs with student information systems, which cuts down on busy work and keeps information consistent.
It will work especially well for districts that are already using Powerschool as their student information system, as Schoology is now part of the same company.
Students, instructors, parents and advisors can create a free Schoology account, but institutions will have to get in touch with Schoology for pricing.
The strength of the product for K-12 schools is that it integrates with tools that teachers already use, in a format that's comfortable for students.
#2 – D2L Brightspace Review — The Best for Higher Education
D2L, which stands for Desire 2 Learn, makes LMS software for higher education that is used by some of the biggest universities in the country. It's become a lifesaver for many institutions that are trying to adjust to remote learning.
For as powerful and customizable as it is, D2L's Brightspace for Higher Education feels extremely light. It's easy to navigate for students, giving them the ability to monitor grades, assignments, classes, and announcements from a single dashboard.
The truth is that each professor only needs a fraction of the capabilities available to create and manage their courses. D2L can be customized to meet the needs of different departments and pedagogical approaches.
In Brightspace, the interface is easy for professors to use, no matter how they want to build their course and track assessment. They're not having to shoehorn their lectures into a mold or trying to develop work arounds to include the content they want.
On the student side, the experience remains minimalist, regardless of which features their professors using. One class may use a ton of collaborative and social tools, like discussion boards. Another might be all videos and interactive labs.
Either way, the student gets a single, clean, cohesive experience since D2L's mobile app is responsive and works well on any screen size.
In short, students have one place for all their academic needs and can access the platform from wherever they are.
Whether students are going to be on campus, engaging in remote learning, or some mix of the two, D2L Brightspace comes with everything an institution needs to continue operating, including:
Virtual classrooms
Video assignments
Student/Class progress dashboards
Single sign-on (SSO)
Disaster recovery
All of these features come with Brightspace Core. Additional reporting and tracking features are available with Performance Plus, which can be helpful for identifying at-risk students before problems become unsolvable.
Engagement Plus, another Brightspace add-on, comes with additional features to further enhance digital learning environments. Instructors will be able to deliver fully-searchable video content, which is great for lectures, and enable gamification in their courses.
You'll have to get in touch with D2L for pricing. Call them today and see why so many public and private institutions are choosing to go with Brightspace over the competition.
#3 – Tovuti Review — The Best for Selling Online Courses
Tovuti is a super-flexible LMS software option. I like it best for individuals and institutions that are looking to sell courses online, though it could be a favorable option as a lightweight corporate LMS.
Tovuti provides a strong blend of ecommerce LMS functionality with course management features that help instructors make sure that learners are getting the most bang for their buck.
Unlike other similar platforms, course authoring tools are included. Within the platform you can create more than 40 different types of content, like interactive videos, quizzes, and memory games.
Once you've built your courses, Tovuti makes it easy to manage, track, and grow your enrollment. There's a built-in content management system, blog, and web designer, as well as plenty of features to help you create an experience that aligns with your brand.
Create extended learning paths with multiple courses or deliver your content in a microlearning format where learners are free to choose from individual PDFs and videos in your content library.
By enabling feedback (which is optional), you can let learners rate and review your courses. This puts them on the radar of learners with similar goals.
All the marketing, ecommerce, and content creation capabilities an instructor needs are centralized in one intuitive platform.
Some of the other highlights include:
Virtual classroom
Personalized learner portals
Mobile learning
Single sign-on (SSO)
SCORM compliance
PowerPoint importer
Gamification
To use Tovuti as an ecommerce LMS, you'll need to get the Pro plan. This is going to be more expensive than the Core plan, but that doesn't let you charge for courses.
The upside is that the Pro plan comes with a ton of features that are all exceptionally deep. For example, their virtual classroom allows for breakout rooms. Smaller groups can split up, talk about the discussion and rejoin the larger meeting seamlessly.
Get in touch with Tovuti today and supercharge your e-learning business for tomorrow.
#4 – Looop Review — The Best for SMB Employee Training and Development
Looop helps small businesses bring new hires up to speed quickly and keep top talent engaged. At the heart of Looop's strategy for delivering a meaningful LMS is their understanding of how employees actually learn.
Most people's instinct is to use search engines to find the information they need rather than in-house resources. But you can't ensure the information they get from Google has the context, depth, and relevance to be applied properly to your company.
Looop lets you turn company content into the on-demand resource employees crave. Quickly build engaging training modules and other resources, or integrate existing SCORM and xAPI content into your platform.
One of the standout features of Looop is that administrators can use automated campaigns to deliver content directly to the inboxes or Slack channels of employees who need it. Similar to marketing automation, these campaigns can be personalized to meet the needs of the learner.
Admins can then track which messages have been opened, which trainings have been completed, and automatically send the next training module when they're ready.
Plus, it's all mobile-responsive, so employees can access these resources whenever and wherever they need them.
There are also built-in survey tools that allow learners to provide feedback and dashboards for instructors and admins to keep tabs on overall progress. Continually optimize content based on how learners are responding.
Some of the other standout features that come with Loop include:
Instructor-led training
Unlimited content creation
Video and screencast uploads
Flexible roles and permissions
Pre-created content libraries
Automatic content backups
Companies of any size can benefit from Looop's transparent, predictable pricing. There are four tiers, which are based on the number of users:
Small Businesses: $299/month, up to 50 users
Mid Size Businesses: $699/month, up to 250 users
Enterprise: $1,199/month, up to 500 users
Enterprise Plus: Contact sales for more than 500 users
Keeping the price down is not hard with Looop. You can archive users, which means you can keep their record without their seat counting toward your limit.
And if your user size falls somewhere between the tiers, they're happy to work with you to find a fitting price.
I like it for SMBs because it's something they can stick with as they grow and it's not nearly as expensive as other corporate LMS software.
For small and midmarket organizations that are focused on training employees, Looop is a solid choice. Learners get the resources they need at their fingertips, and administrators can monitor progress with very little legwork.
You can try Looop free for seven days, which comes with a live demo to get you started on the right foot. The demo is only about 20-30 minutes long, which gives you an idea of how easy it is to use.
#5 – Docebo Review — The Best LMS software for Enterprise Learning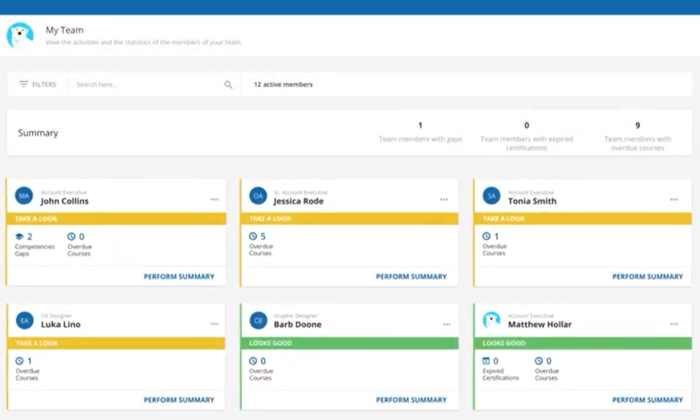 Docebo is a corporate LMS built from the ground up to serve medium to large enterprises. Learning and development administrators will love how easy the platform is to use, manage, and evolve as new challenges emerge.
First things first, Docebo is pronounced doh-chay-bo. It's Latin for "I will teach." Even their name is educational.
It's best for companies that need to train 300 or more people each month. These could be courses for employees, customers, and partners.
High-growth companies—especially if they are on the verge of outgrowing their existing LMS—will find that Docebo provides the tools they need to scale their learning programs.
Easy content creation, flexible teaching environments, and excellent reporting features allow companies to upskill everyone inside and outside the company. The most common use cases include:
Compliance training
Customer training
Employee development
Employee onboarding
Partner training
Sales enablement
It's built to ensure that admins and instructors can securely share the information learners need and keep track of their ongoing education. Managers can quickly see how each member of their team is progressing and who may need a little extra help.
In Docebo, managers and admins get the freedom not just to create content, but to customize the user experience for their learners. With the Pages feature, managers can quickly create a unique space for learners that matches the needs of their specific audience and organizes all the relevant resources.
Using the simple drag-and-drop interface, managers can add widgets like calendars, activity feeds, reports, and other features to keep everyone on the same page.
Some of the other features that make Docebo such a good out-of-the-box solution for an enterprise LMS include:
Unlimited cloud storage
SSO & integration with IdPs
40+ languages supported
ROI dashboards
Ecommerce LMS functionality
Compliance with SCORM, AICC, and xAPI
For those who need it, being able to manage multiple languages on the platform will be critical. Docebo comes with a localization tool that helps you ensure that translations capture your intended meaning.
You'll have to get in touch with Docebo for pricing, but it's most certainly geared towards the needs of larger organizations that are growing quickly.
If you need a one-and-done onboarding course, Docebo will be overkill. It works well for extended or ongoing learning programs.
There are no pricing tiers for less than 300 learners a month, so it can be difficult for an SMB to justify the cost of Docebo, regardless of how good it is.
It's also not intended for K-12 or higher education. The company states this clearly on their website.
If you need corporate LMS software that is going to work at scale, Docebo is the best choice available. Companies like Bose, Amazon Web Services, and WalMart have made it their LMS for a reason.
Get in touch with Docebo today and impress the sales team with your Latin pronunciation.
#6 – Sensei Review — The Best LMS Plugin for WordPress
Sensei is a premium plugin made by WooCommerce that lets people design and sell courses within their WordPress site.
It takes just a few clicks to ingrate Sensei. Now, instead of a blog, you have a classroom with lessons, quizzes, grading, and learner management features.
If you are just interested in sharing your knowledge within an LMS rather than a blog, Sensei has you covered.
Should you want to monetize that venture, just add the WooCommerce Paid Course extension. A few more clicks and now your teaching has become a source of income.
Piano teachers, tutors, professors, even humble bloggers such as myself can build out courses within the WordPress platform as if they're making a new page or post.
It's as easy as you think it is. Why? Because Sensei is made by Automattic, the same people who power WordPress, WooCommerce, and other sites that continuously deliver best-in-breed products to their users.
Like their other products, Sensei is an intuitive balance of power and simplicity. There's a lot you can do in terms of customizing courses, but it's not overwhelming.
The ease-of-use is passed on to the students, who enjoy a welcoming interface and clear roadmap of what they need to get done. Choosing courses is as easy as shopping on WooCommerce and navigating your site is as easy as clicking around your blog.
The features are not as deep as they are with some of the more robust corporate LMS software, but it has everything an individual needs to get started selling courses, including:
Lesson, course, and quiz builder
Image and video uploads
Integration with WordPress themes
Grading
Learner management and analytics
Private messaging
Looking at all-in pricing to use Sensei, it breaks down like this:
SenseiLMS: Free
WooCommerce Paid Courses: $129/year
WordPress hosting: starting at $2.95/month with Bluehost
The price of WordPress hosting is going to vary. I recommend going with Bluehost, because it's affordable and dependable.
All in, the total price is still well below many other LMS software options, most of which would take a lot more effort to set up. And, if you are already paying for WordPress hosting, you simply need to make more than $11 bucks off courses each month to turn a profit.
And if you don't want to make money sharing your knowledge, you can just use Sensei for free.
Whether you want to make money with what you know or not, Sensei will help you turn your blog into an educational environment. We all love the comment section, but what kind of commitment from your readers will you build by offering interactive courses?
Sensei can help you find out, and may turn into a source of passive income if you can find an audience.
What I Looked at to Find the Best LMS Software
There are hundreds of vendors who make LMS software. To make your search easier, let's focus on the people LMS software serves:
Learners
Instructors
Administrators
What do they want? What do they need? Really think about how each LMS is going to perform for each role.
In the end, how these different types of users feel about the product is going to determine whether it sinks or sets sail.
Let's go in depth on considerations for each role. This is going to help you think through your specific situation and zero in on the product that checks all your boxes.
We'll close this section with a look at some of the technical considerations that really matter when picking LMS software
Learner Experience
Much of the learner experience will depend on the type of LMS software you choose. Some platforms are going to be aimed at students, others at adult employees.
At the same time, many of the essential considerations are going to be the same regardless of the type you choose. Likely, you are going to want support for one or more of the following types of learning environments:
Distance learning: Using online teaching to reach learners who are separated by great physical distance.
Remote learning: Using online teaching to reach learners during situations where people cannot meet in a physical classroom.
Blended learning: Using a mix of in-person and remote learning.
Mobile learning: Letting learners interact with phones and tablets, and on-the-go.
Social learning: Allowing learners to interact and teach each other.
Virtual classroom: An online space where learners and instructors can interact in real time, talking, sharing materials, and working in groups.
These environments are interrelated. Instructors leading a training session may make use of both mobile learning and a virtual classroom, for example.
What's important to your search is selecting a platform that supports the learning environments necessary for all of the students, teams, or departments who use it.
Additionally, you'll want to consider the learning styles supported. Depending on your organization, you may want to have some or all of these options for learning available:
Synchronous: Learners and instructors are in the same place at the same time, even if it's a digital "place." Everyone goes through the learning path together.
Asynchronous: Learners can complete their work at different times and may progress through the course at their own pace. It is sometimes called "self-paced" learning.
On-Demand: Learners have anytime access to courses and learning resources. In some cases, learners can select their own courses of study.
Accessible: Learners with special circumstances are supported by features like closed-captions, text-to-speech, and translation.
Instructor Freedom
There's no lesson that's going to work for every learner every time. Instructors need the ability to experiment, to blend the tried-and-true methods with new tactics.
If a platform doesn't have the features or functions an instructor needs, they're going to be spending time finding workarounds.
Find something that centralizes all the tools instructors need to accomplish their goals, and lets them build exactly what they need. This is going to be different for each department or branch of a business.
Pay particular attention to course management features and how they are going to help your instructors create an effective learning experience. These include:
Quizzes and graded assignments
Learner profiles and rosters
Learner reports and analytics
Discussion boards and chats
Content library
Multimedia uploads
With the exception of brand-new instructors, most will be approaching the new LMS with existing resources they'd like to continue using. I'm thinking of content from past courses as well as services like plagiarism detectors.
It shouldn't be impossible for them to transfer their current course content (from paper or a previous LMS) to the new platform. Scanning with handwriting/optical character recognition will allow them to upload and use any type of document can be really helpful.
Here, it's important to consider the platform's ease-of-use. Not every instructor is going to want to become an expert in the intricacies of LMS software. Many want something that gets out of the way and just lets them teach, so to speak.
It's about making enough online learning resources available without overwhelming instructors. If it's annoying or constricting to use certain features, they won't.
Administrator Control
A lot of the best LMS software is cloud-based, which means organizations aren't responsible for maintaining the backend IT infrastructure.
Even so, administrators play a leading role in the success or failure of any platform. What you are looking for is something that gives these all-important users the visibility and control they need.
An LMS that integrates and syncs with your student information system or identity provider is going to make this task a lot easier.
Additionally, admins need to be able to pull reports quickly. This could be for an individual student, class, or entire school district, depending on your use case. How hard is it going to be for administrators to get big picture and granular insight?
Technical Considerations
The LMS you choose has to fit into your environment. It's going to be one of a number of tools that people are using throughout their day, and if it doesn't play nice with others, there's trouble ahead.
This is true of any software, but with an LMS, you have to be extra careful to consider every aspect of this issue before signing on to a particular platform.
Integrations are going to be important. Will it work with your identity provider, student information system, plagiarism detector, or cloud storage services?
Look for direct integrations, as those will be the easiest to use. With LMS software, however, you should also be aware that many come with APIs that can be used to build custom solutions. These can work well, but you want to make sure these methods aren't going to break at scale.
The other thing to pay attention to is content compliance. This includes standards like SCORM, LTI, AICC, and others. If a platform is SCORM compliant, for example, that means instructors will be able to import any content that meets those standards.
Unless you want to build everything instructors are using from scratch, it will be really helpful to find a platform that is compliant with the content you already depend on.
Summary
Teaching is hard. Instructors, coaches, mentors and business leaders will all admit that with pride.
How long is a new hire's honeymoon period where they're really willing to learn? Or a student, for that matter? How long do you want to wait for that manager to get trained up?
Creating the conditions for learning is always going to be a challenge, but using the right LMS software is going to take a ton of the legwork out. Here is a complete list of my recommendations:
With the right product, everyone can focus on their work instead of fighting with a frustrating system.
K-12 teachers have enough on their plate without having to reinvent the way they instruct. Using Schoology LMS, teachers can stick with what they know and utilize the best-in-class platform to deliver their lessons.
For higher education, D2L Brightspace is going to make student, faculty, and administrator lives much easier. Professors have the flexibility to design the exact online learning experience their courses need without overwhelming students. Administrators get the visibility and control they need to manage a constantly changing environment.
Looking at the corporate LMS software, Looop should be the choice for small business and Docebo for enterprise.
Looop is lighter but still very powerful, and it comes in at a reasonable price point for SMBs who don't need to train hundreds of people each month.
Docebo, on the other hand, is built to scale with enterprise growth. Learners inside and outside the company are well supported by the platform.
In terms of selling online courses, Tovuti is the complete package. People monetize and deliver engaging content, and the platform is packed with marketing features designed to grow their audience.
For people who are using WordPress to grow their business (something I endorse wholeheartedly), SenseiLMS will let them turn their blog into a classroom. A couple clicks, a little planning, and now their WordPress site is paying for itself.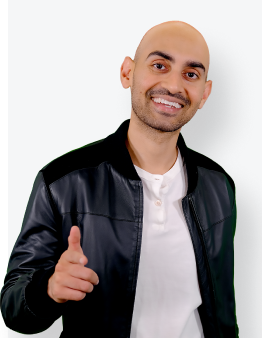 See How My Agency Can Drive More Traffic to Your Website
SEO - unlock more SEO traffic. See real results.
Content Marketing - our team creates epic content that will get shared, get links, and attract traffic.
Paid Media - effective paid strategies with clear ROI.
Are You Using Google Ads? Try Our FREE Ads Grader!
Stop wasting money and unlock the hidden potential of your advertising.
Discover the power of intentional advertising.
Reach your ideal target audience.
Maximize ad spend efficiency.