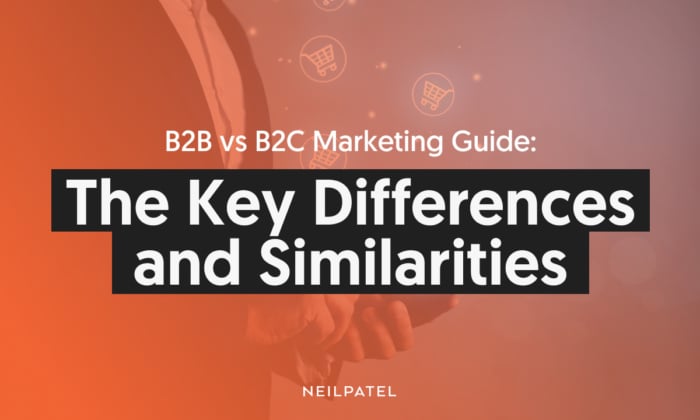 B2B vs B2C marketing can seem like very different categories. After all, they are targeting two completely different audiences.
The thing is, they are a lot more similar than you may think.
Trust me. I've been a B2B marketer and I've been a B2C marketer. So I'm better placed than most to explain the difference between B2B and B2C marketing. And the truth is that both strategies share a lot of the same methods, goals, and tools.
That's why I've created this article to help clear up the confusion in the battle of B2B vs B2C marketing strategies. I'll help you understand what each term means, explain the key similarities and differences between the two approaches, and show you the best practices I recommend you follow, whether you are a B2B or B2C marketer.
Understanding B2B Marketing
B2B stands for business-to-business. B2B marketing refers to all of the marketing strategies, tactics, and channels that businesses use to sell products and services to other businesses. My digital marketing agency is an example of a business that engages in B2B marketing. So is a company like Salesforce.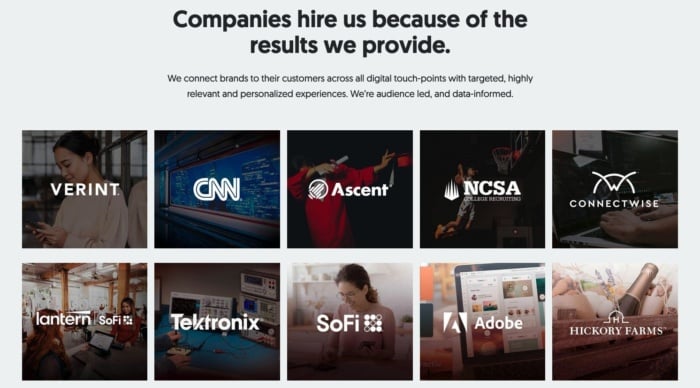 Understanding B2C Marketing
B2C stands for business-to-consumer. B2C marketing refers to all of the marketing strategies, tactics, and channels that companies use to sell directly to individual consumers. Amazon is the quintessential example of a B2C company. So is a brand like Nike.
Key Differences Between B2B and B2C Marketing
So what is the difference between B2B and B2C? There are a couple that I think it's important to point out.
The first is that the B2B sales cycle tends to be longer and more complex than in B2C marketing. That's not to say that individual consumers only buy products on impulse without any research or comparison shopping. Far from it.
But the level of investment and the hierarchy within businesses often means that several people are involved and sign-off is needed from several departments. In fact, research shows the typical B2B purchase involves between 6-10 decision-makers. Seventy-seven percent of B2B buyers said their last purchase was very complex or difficult.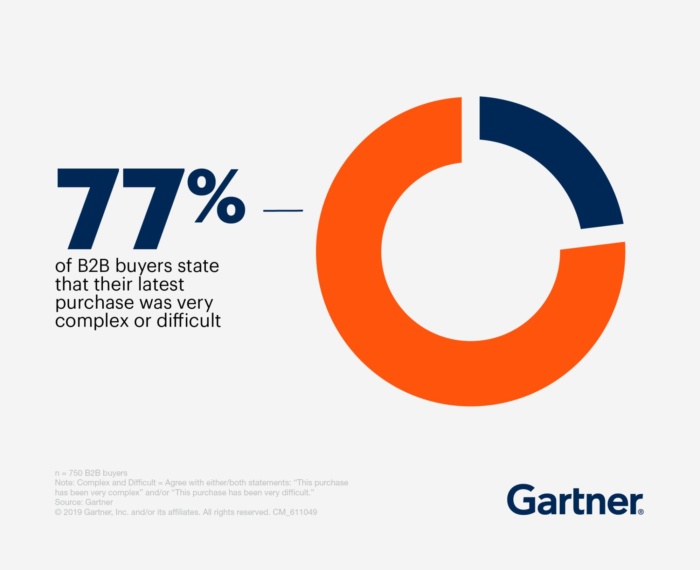 The target audiences of B2B and B2C brands tend to differ. B2C brands usually target the masses (or at least a specific audience that contains thousands of people). Think runners in the case of Nike or new parents in the case of BabyBjörn. B2B businesses target smaller audiences who usually share a common pain point or goal. Think HR teams at fully distributed companies in the case of Remote or companies that run a subscription-based business model in the case of Recurly.
That doesn't mean the B2B market is smaller than the B2C market, however. In fact, the B2B e-commerce market is over five times larger than the B2C e-commerce market. The average purchase size tends to be significantly bigger, too.
Similarities Between B2B and B2C Marketing
I might surprise you in this section, but B2B and B2C marketing are a lot more similar than you might think.
Both B2B and B2C marketing ultimately target individual consumers. After all, businesses are made up of individual employees. And those employees expect the same level of service and personalization as their B2C counterparts.
Let me repeat that: B2B buyers don't have lower expectations. They know the kind of customer experience that B2C companies like Amazon can deliver in their personal lives, and they expect B2B brands to do the same in the professional world.
This is why personalization is important in both B2B and B2C marketing. A whopping 71 percent of consumers expect personalized experiences, and 66 percent get frustrated when they don't occur.
B2C and B2B marketing will often use exactly the same marketing channels — albeit in slightly different ways. SEO, PPC ads, social media, affiliate marketing, email marketing, and content marketing can all be used by brands that sell to businesses and consumers. Trust me, I've tried them.
The marketing tools B2B and B2C marketers use are likely to be almost exactly the same, too. B2B marketers may use a CRM more than their B2C counterparts. But when it comes to things like B2B keyword research tools, social media monitoring platforms, or even market research tools, they're often exactly the same.
Best Practices for B2B Marketing
Looking for some specific B2B vs B2C marketing e-commerce strategies? I'm happy to oblige.
If you've read any of my previous blog posts, you probably have a pretty good understanding of the most common B2B marketing best practices. So I'm not going to rehash common wisdom here, like creating a B2B content strategy. Instead, I'll cover some B2B marketing best practices that take a page out of the B2C marketer's playbook.
The first is to build a brand identity as strong as any B2C brand. Just because you are targeting other businesses doesn't mean you can't have a strong (even fun) brand identity. Take Basecamp, for example. They position themselves as a project management platform designed for small teams that are fed up with bureaucracy—and their new brand marketing campaign shows it.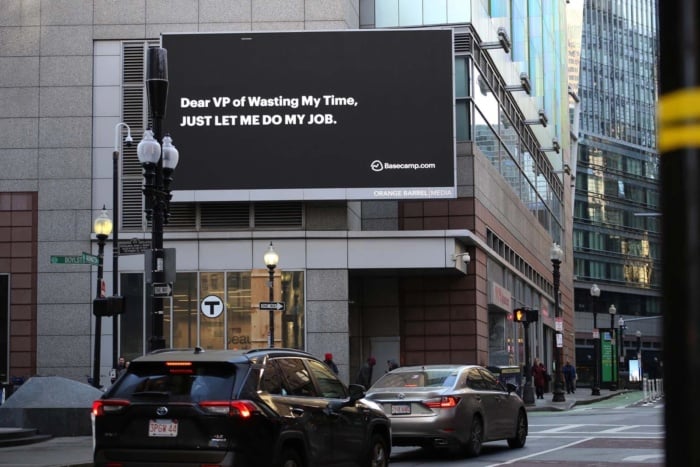 Second, pay as much attention to customer reviews as your B2C counterparts. Platforms like G2 and Capterra make it almost mandatory to solicit customer feedback, especially when 70% of the buyer's journey is complete before prospects reach out to sales teams.
Don't ignore social media, either. Yes, LinkedIn is a given. But B2B brands can see success on several other social media platforms. When it comes to B2B vs B2C paid social, for example, Twitter can be a great choice.
Having a strong purpose — a reason for operating beyond making money — can also make a difference. Research shows 78% of people remember brands with a strong purpose, and 72% are more likely to be loyal to the company and forgive it for making a mistake. Your brand purpose could be anything from building "the best products in the world that enrich people's lives" (Apple) to bringing "inspiration and innovation to every athlete in the world" (Nike). The most powerful purposes and the ones that resonate with the most people tend to be environmental or social-focused.
Finally, try personalizing your customer's digital experience as much as B2C brands do. I don't just mean adding customer names to emails, mind you. I mean personalizing your entire website. Change hero images based on previous browsing experience, personalize CTAs to your prospect's need, and offer target lead magnets.
Best Practices for B2C Marketing
The same goes here as before. I won't bore you with bog-standard B2C marketing best practices. Instead, let me show you a few best practices that will help your B2C brand stand apart from the competition.
A B2C content strategy is often undervalued by consumer-facing brands compared to their B2B counterparts. But that's changing. Seventy percent of B2C marketers say content marketing has become more important in the last year. Yet only 37% say they have a documented content marketing strategy. Take a leaf out of Manta Sleep's playbook and start a blog today.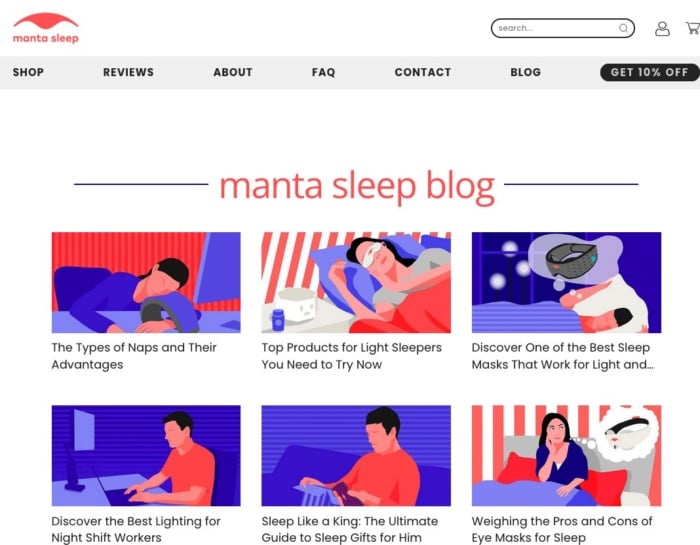 Short-form video marketing doesn't look like it's going to slow down any time soon. They also generated the largest ROI of any video format by a long way. So if you haven't jumped on TikTok yet, get started today.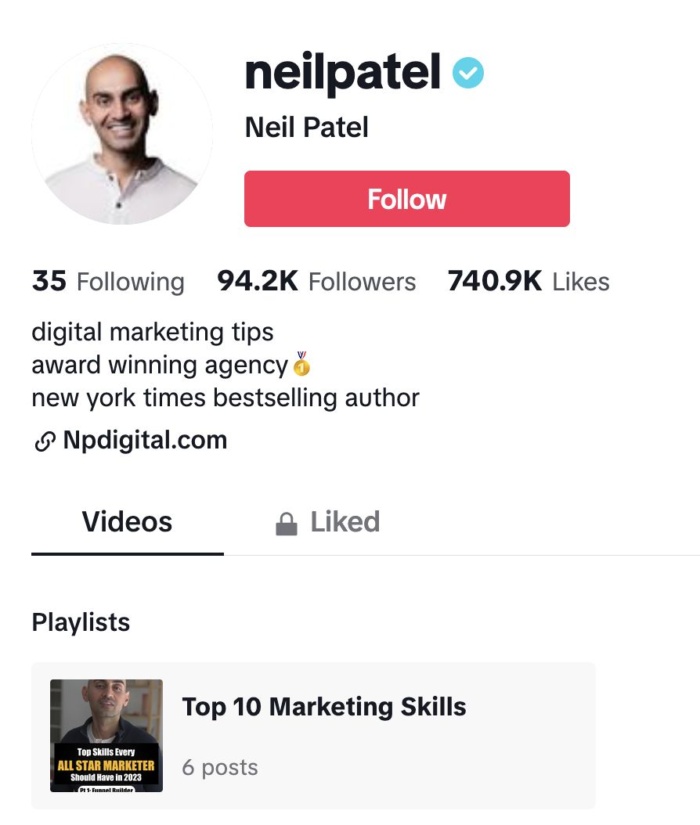 Brand values and social responsibility are equally as important for B2C brands as they are for their B2B counterparts. After all, 82% of shoppers want a brand's values to align with their own. Create brand values if you don't have them already. If you do, make sure everyone knows about them, just like Patagonia does.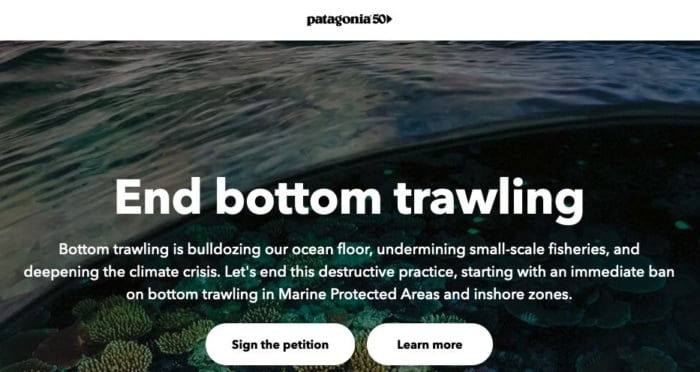 I also recommend making mobile a priority when creating marketing campaigns. Over 58% of website traffic now comes from smartphones, so it makes sense for B2C brands to implement mobile-first marketing campaigns across the funnel.
Finally, make the most of upsells and cross-sells when creating your B2C marketing strategy. Short sales cycles mean relevant upsells and cross-sells can be highly effective. Amazon allegedly attributes over one-third of its revenue to cross-sales.
B2B vs B2C Marketing Examples
I find the best way to explain a concept is to show rather than tell. So let me end this article by showing you some of my favorite B2B vs B2C marketing examples.
The Startups.com B2B Podcast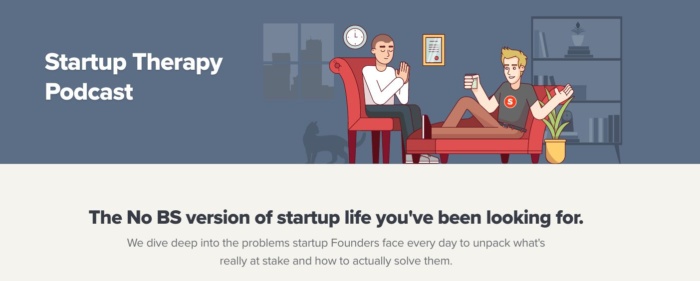 Startups.com's podcast shows B2B companies how they can create a content marketing strategy that doesn't revolve around blog posts. The show has over 200 episodes that discuss the problems founders (the company's target audience) face every day.
Wistia's Instagram Account
Wistia is a great example of how B2B businesses can use a social media platform other than LinkedIn. The company has over 10,000 followers on Instagram and uses the site to promote its product and content marketing efforts.
Salesforce's Sustainability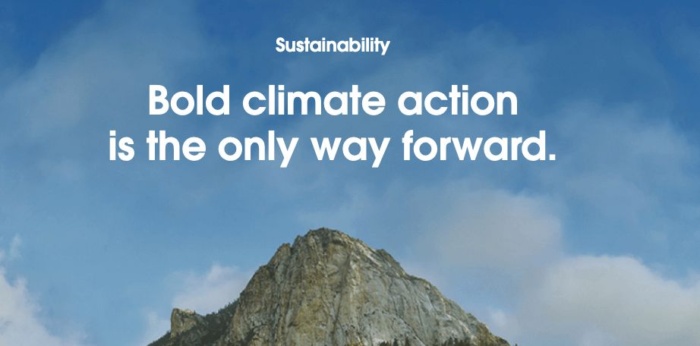 Salesforce has a lofty sustainability goal: to accelerate the transition of the world's largest businesses to net zero, sequester 200 gigatons of carbon, and energize the ecopreneur revolution. The company itself has net zero residual emissions, uses 100% renewable energy, and is a founding partner of 1t.org, a global reforestation initiative.
They have a series of priorities to help them achieve this goal, but the company is far from all talk. In fact, they show exactly how well they are doing on the Sustainability section of their website.
Lowe's B2C Content Marketing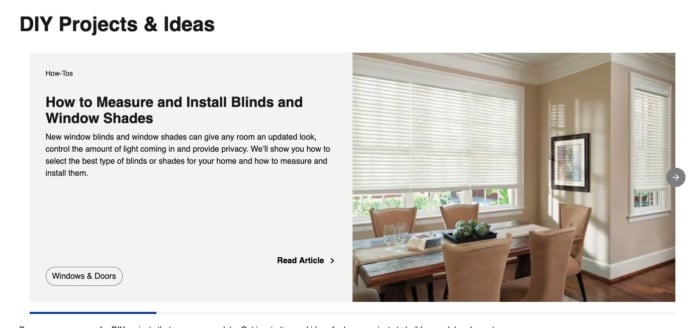 Lowe's is a great example of how a B2C brand can create a powerful B2C content marketing strategy. The DIY Projects & Ideas section of the company's website offers a wealth of information to DIYers and helps the company rank organically for thousands of keywords.
Spikeball's TikTok
Spikeball is one B2C brand that has nailed TikTok. The company posts regular, entertaining videos of consumers using their product and has over 1.3 million followers as a result.
Lululemon's Ambassadors
Lululemon takes influencer marketing to a new level. Rather than relying on short-term partnerships with online influencers, the company builds long-term relationships with fitness instructors across the world. In turn, those ambassadors help to foster and grow strong local communities.
FAQs
What is a B2B company?
A B2B company, short for business-to-business, is one that sells products and services to other businesses rather than individual customers. B2B companies usually have a longer sales cycle and a higher order value than their B2C counterparts.
What is a B2C company?
A B2C company, or business-to-consumer company, is one that sells products or services to individual consumers. The marketing of B2C companies focuses on appealing to a broad range of end-users. Sales cycles are usually smaller than those of B2B companies and order sizes are smaller, too. 
What is B2C marketing?
B2C marketing refers to the strategies and tactics used by consumer-facing businesses to sell products and services directly to individual customers. B2C marketing uses a range of channels, including SEO, social media, paid advertising, and offline channels to create emotional appeal and build brand awareness. 
What is B2B marketing?
B2B marketing refers to the strategies and tactics businesses use to sell products and services to other businesses. B2B marketing is usually much more highly focused than B2C efforts, and focuses on building strong relationships between the buyer and seller. 
Conclusion
As you can see, marketing for B2B and B2C companies doesn't actually have to be hugely different. You're always marketing to humans, after all.
So bear in mind the best practices I've discussed above — maybe think about changing your target audience or channel depending on your goals — but don't get bogged down in the difference between B2B versus B2C.
Think about marketing from a human-to-human approach and you'll do way better in the long run.
What do you think are the key differences between B2B and B2C marketing?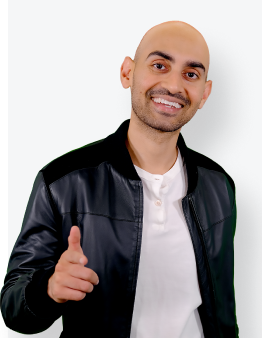 See How My Agency Can Drive More Traffic to Your Website
SEO - unlock more SEO traffic. See real results.
Content Marketing - our team creates epic content that will get shared, get links, and attract traffic.
Paid Media - effective paid strategies with clear ROI.
Are You Using Google Ads? Try Our FREE Ads Grader!
Stop wasting money and unlock the hidden potential of your advertising.
Discover the power of intentional advertising.
Reach your ideal target audience.
Maximize ad spend efficiency.