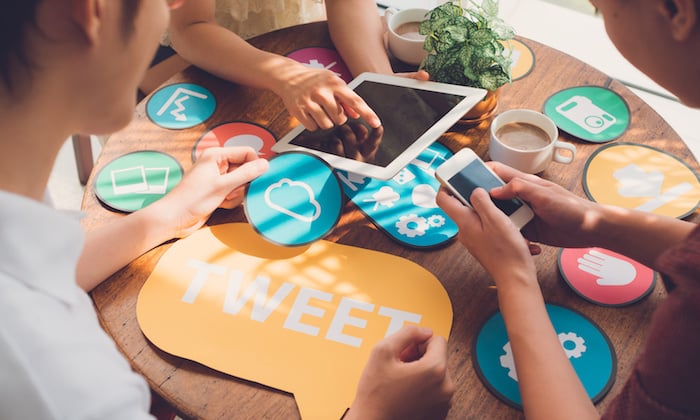 Is social media a big part of your marketing strategy?
The impressive growth of social media is nothing to ignore. Today in 2019, there are a mind-blowing 3.5 billion active social media users throughout the world.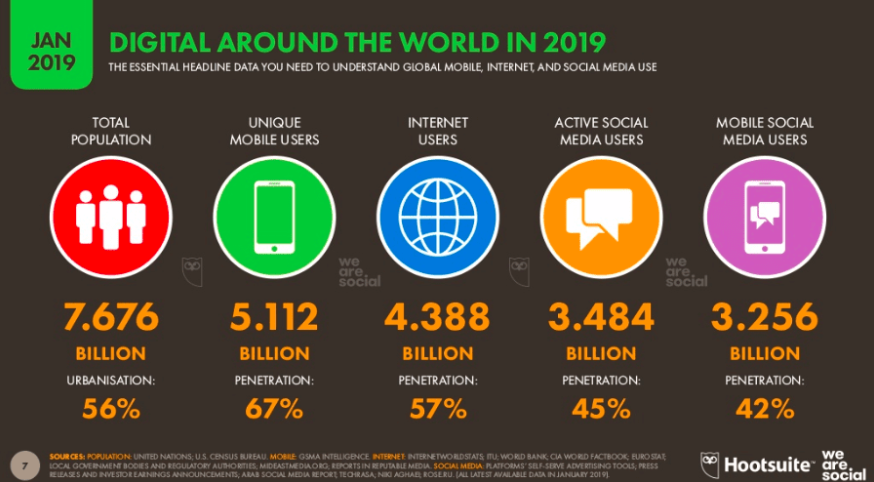 Although you may be shifting your marketing strategy and budget to social networks, it doesn't guarantee success. There are ways to win big with social media. There are also techniques that will leave you floundering and searching for answers on the social media platform.
As your competition continues to implement a sound social media strategy, it's important for your brand to do the same. You can't afford to miss out on the opportunity to interact with customers and prospects on social media.
Let's take a look at some social media statistics:
As of January 2019, 69 percent of online adults were using social networking sites. (

Hootsuite

)

66 percent of B2B marketers name LinkedIn as the most effective social platform, followed by Twitter at 55 percent and Facebook at 30 percent. (

Content Marketing Institute

)
The numbers don't lie. They prove that there is plenty of opportunities to connect with a massive audience.
It is my hope that you're already using social media marketing, in some form. But even more so, I hope you have a defined plan that generates positive results.
So, what can you change in 2019 and beyond to take social media traffic to the next level?
There is no need to worry, as I've compiled a list of seven on-site changes you can make to double your social media traffic.
If you have the urge to generate more social website traffic, build your brand, and use these benefits to boost sales, keep reading. 
1. Use Images
It's important to understand the value of high-quality, unique, and actionable content.
But, don't let this cast a cloud over your media marketing posting strategy. You should also make it a habit to implement images within your posts.
Did you know that the use of images has been proven to increase your social media reach?
I wrote about how simple it is to add high-quality images to your blog posts. There are a variety of tools for doing so, including Canva and Pablo.
But, don't mistake this for meaning that you should only include images when posting on social sites. The same theory holds true for your blog post. Doing so has many benefits, such as:
Increased engagement.

Keeps readers on your website for a longer period of time.

Helps drive your point home.
In a post I wrote about content marketing, I added more than 10 images in order to strengthen the advice I was giving.
Here is the first image:
Not only does it fit in perfectly with the subject matter, but it also provides additional value. This is the best of both worlds when choosing images for a social media platform.
In the past, I have tested posts with and without images. Trust me, it's better, on many fronts, to add relevant images to your posts.
2. Create the Right Type of Content
It's one thing to create content for your blog post. It's another thing entirely to create the right type of content.
Before we go any further, here is something to remember about search engines: longer is usually better.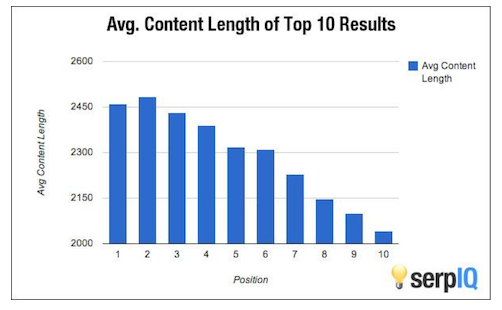 This chart shows that content in excess of 2,400 words has the greatest chance of reaching the top position in the search engines.
While content length is essential to your success, both in terms of search engine rankings and for social media shares, don't stop there.
If you want your audience to share your content, here are three points of advice:
Opt for quality over quantity with website traffic. It's easy to believe that more content increases the opportunity for social shares, but this is only true if you stick to your guns, regarding quality. One super-high-quality blog post is better than three subpar pieces of content.

See what people are most interested in. By reviewing analytics data, you can see what type of content is attracting the most eyes. With this information, you can create content in the future that more closely aligns with the needs of your audience.

Know what your readers have shared in the past. If you want your audience to share your content on their social network, take cues from the past. Answer this question: What is the subject matter of your three most shared blog posts? This will tell you what people are looking for.
You can't expect readers to share your content on social media unless it provides value. After all, they don't want to attach their name to content that is so-so.
When you create the right type of content, everything else will fall into place.
3. Implement Social Media Tracking Tools
Piggybacking off of point #2, you need to understand how your website is performing, in terms of social media traffic. You want to answer questions, such as:
How much social media traffic is your website receiving?

Which platforms are sending the most website traffic?

What type of content is performing best on social media?
By implementing a social media tracking tool, it's easier to answer these questions accurately.
I am a big fan of automation, even on a social media platform.  That's why I suggest that you use as many tools as you can find. A business dashboard, such as Dasheroo, can help you from a social media point of view.
This is an example of the type of data you can use to your advantage. It shows that Facebook is the number one social source of traffic, followed closely behind by Twitter and then LinkedIn.
But, how do you use this data to increase social media traffic? Easy:
Learn where most of your traffic is coming from.  Then, put more effort into those streams.

Pinpoint the types of content that are receiving the most shares.

Understand the types of social media posts that drive the most traffic to your website.
I have found that my readers are more interested than ever in any type of guide or course associated with a particular marketing strategy. These types of posts are generating a lot of traffic, while also being shared regularly on social media (1k + shares per post is the norm).
With this data, it only makes sense for me to push more of these posts in the months to come for my social media marketing strategy. I know my readers will enjoy the content. I also know they will share it on social media. It's a win-win situation.
4. Install a Social Media Sharing Plugin
Let me be direct: If you make it difficult for your audience to share your content, they are less likely to do so.
If you make it simple, such as a couple of clicks of the mouse, they are more likely to share with their social media audiences.
Here is an example from my other blog:
There is nothing complicated about this social media tool. As the reader scrolls down through each post, these two buttons follow them on the left sidebar.
At any point, the reader can click either button and share the content with their audience. Click on the Twitter button, and this is what you see:
This makes it possible for any reader to share the post within a matter of seconds.
If your website doesn't have this functionality, the process is more complex. It's still doable, but you are asking your readers to copy the link, create their own content, open up their social media profile, and then share.
Here is a comprehensive list of some of the best social media sharing plugins of 2019. Surely you can find one from this list that suits your budget and blog to help your efforts on social networks.
Will you make life easy or difficult for your readers?
5. Add a Click to Tweet Link
With more than 320 million monthly active users and one billion unique visits monthly to sites with embedded Tweets, there is no time to sleep on the power of Twitter.
Its numbers may not be as robust as those of Facebook, but there is still plenty of opportunities to drive serious traffic.
Above, we talked about the benefits of using a social media sharing plugin. This is along the same lines, however, you are relying more on Twitter's functionality.
HubSpot is the king of using a "click to Tweet" button to increase social shares. This post has more than 100 of these buttons. For each statistic, the writer added the appropriate click to Tweet button.

And, just the same as a social media sharing plugin, this button gives readers a push in the right direction. When somebody clicks on the button, here is what they see:

Once again, you are only asking a person to do two things:
Click on the click to Tweet button.

Click on the actual Tweet button.
While they have the option to customize the post, they don't have to. Everything is there for them, including the link and hashtags. It's a great tool to aid engagement on this social media platform.
If you have the desire to drive a ton of free traffic via Twitter, a solid on-page strategy is a good starting point.
Professional tip: use ClickToTweet to not only create the link, but to also track the activity around each one.
6. Post Less Often
Conventional wisdom says that you should publish fresh content as often as possible. A search engine rewards freshness.
This is a sound strategy, but only if you are able to meet the highest of quality standards. If your quality slips, so will the number of social shares.
Here is where things get tricky. You can post to your blog as often as you want, but you may not want to push each piece of content through your social channels.
A study by HubSpot shows that posting more to a social media platform does not necessarily mean a higher level of engagement.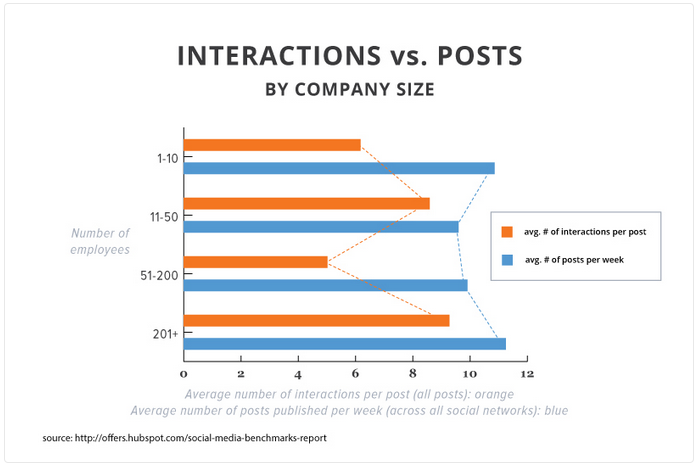 Here is an excerpt that explains this in greater depth:
"Instead, as the average number of posts published per week decreases from the 1-10 company size group to the 11-50 group, the average number of interactions per post increases. And, when posts per week increase slightly from the 11-50 group to the 51-200 group, interactions per post decrease significantly."
Does this mean that fewer posts will absolutely result in more engagement? Probably not. But, what the study does show is that posting frequently doesn't necessarily result in more engagement on social networks on your blog post.
Your job is to pull all of this together by answering questions such as:
Will you share every new piece of content socially?

How will you pick and choose which content you push the hardest?

What is the correlation, as far as your brand is concerned, between the average number of posts per week and the average number of interactions?
To a certain degree, this is trial and error.
For this blog, I used to post every single day but now I am in the habit of posting once per week.
So far, this new schedule is working out well, as traffic and social media engagement are growing.
But, this doesn't mean you will experience the same results.
Maybe a decrease in the number of posts per week could result in an increase in social media traffic. Don't be afraid to experiment with multiple strategies before making a final determination.
7. Just Ask!
The key to more social media traffic is simple: get more people to share your content via their social media platform and outlets.
But, the question we all have to answer is, "what's the best way to entice readers to share our content?"
This post is all about on-site changes that can increase your social media traffic. Until now, I have provided actionable tips on giving your strategy a boost.
Now, let's talk about something that is more direct. What's wrong with asking your audience to share your content on social media?
Here are some ways to ask your readers for help (the first one is an on-site adjustment):
At the end of a blog post, say something like "If you enjoyed this advice, feel free to share it on Twitter or Facebook." You could even sneak in a Click to Tweet button to help your cause.

Email key influencers in your space, to ask if they will share. As long as you are short, direct and have something of value to share, you may be pleasantly surprised by the results.

Take to social media to start the conversation. Don't wait for others to take action, when you can blaze your own path. Maybe you use Twitter to share a recent blog post with influencers that you mentioned. Or, maybe you use LinkedIn to get in touch with a more professional audience. You can use any social outlet to share your content and ask others to do the same.
Don't be shy about asking others to share your content on social media. If done in a tasteful manner (and not overdone), it's a tactic that can generate results.
Conclusion
It's easy to believe that your social media strategy is working. This is particularly true if you have been happy with your results to date.
But, once you make a few key changes to your website, you may soon realize you have only touched the tip of the iceberg.
I've included seven actionable on-site changes to help increase your social media traffic. I hope you implement one or more in the near future.
What do you think about these changes? Have you experimented with them in the past? Will you in the future?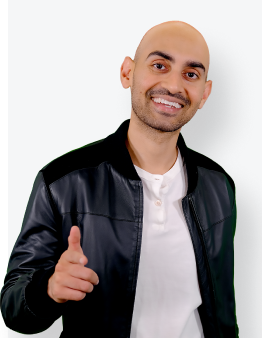 See How My Agency Can Drive More Traffic to Your Website
SEO - unlock more SEO traffic. See real results.
Content Marketing - our team creates epic content that will get shared, get links, and attract traffic.
Paid Media - effective paid strategies with clear ROI.
Are You Using Google Ads? Try Our FREE Ads Grader!
Stop wasting money and unlock the hidden potential of your advertising.
Discover the power of intentional advertising.
Reach your ideal target audience.
Maximize ad spend efficiency.