Email is a proven method for reaching prospects and cultivating long-term relationships with customers.
You probably know it has one of the highest ROIs across online marketing channels, especially when used in tandem with social and search. Plus, email provides greater visibility compared with fleeting tweets and the fractured attention spans on Facebook.
The big question is: How can you capitalize on email's best features to grow your audience and generate more leads and sales?
Here are 7 ways to do exactly that:
1. You need to make your opt-in form prominent
Many sites downplay email signups in favor of social media icons. Sure, those fans, followers, and likes are valuable, but not more valuable than your email list.
Besides, how do those buttons grow the one list you actually own? Facebook decides when your fans see your content. Twitter is a constant stream, where your messages easily can get lost in the flood. (Or worse, if you run a burger joint.)
But you own your email list, so put those sign-up forms where visitors will see them and be compelled to use them.
Example:
SocialTriggers.com positions its email opt-in forms all around the primary content window: across the top in the header, in the right-hand sidebar, and below every blog post.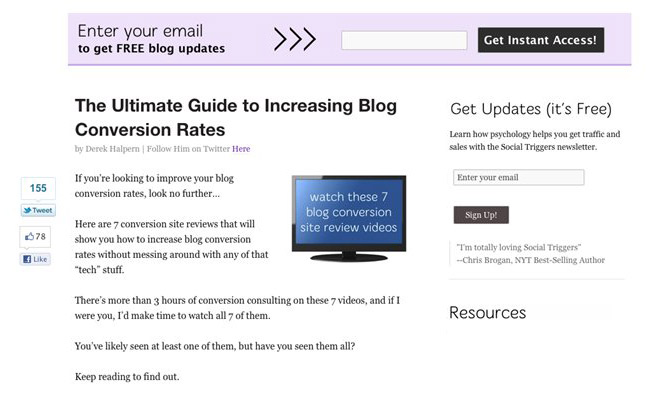 Some marketers might think that's overkill. Tell that to Derek Halpern, the site's owner, who credits the abundance of options as a key factor in tripling his email list in a matter of months.
2. Better yet, make the opt-in form impossible to miss
Let's talk about popovers and popups. Lightboxes, really.
Every time I present, I ask who hates popovers, and 2/3 of the crowd nods and groans. The other 1/3? They're usually okay with popovers because they're getting good results from them!
Results are why I strongly encourage marketers to at least test a lightbox opt-in form, usually with a delay of between 15-45 seconds, and set to appear only once per session. Let's look at how those have performed on some very prominent sites:
SocialMediaExaminer.com
Results: Between January 2011 and January 2013, the site's email list grew 375% to over 190,000 readers. And while high-quality content is the true driver of those growth rates, Mike Stelzner attributes nearly 70% of signups to the site's popover opt-in form.
ChristopherSPenn.com
Results: Looking at popovers in the opposite context, when renowned blogger and author Chris Penn took his popover down, his subscriptions "fell off a cliff." Within weeks, he replaced it and started running a new series of popover timing and display tests.
3. Make the "What's in it for me?" crystal clear
Speaking of impossible to miss, the value proposition of your email should hit visitors over the head almost immediately. Show them the answers to "What's in it for me?" and they're much more likely to sign up.
There are a few ways to do this, but making sure your blog posts deliver awesome content regularly is a big factor. That's like a free sample of the email content. If the posts are average, why should blog visitors come back, much less give up their email?
Along these same lines, playing up social proof and third-party credibility indicators also give you an edge with those initial impressions. If 30,000 people subscribe to your email, chances are you're doing something right. Many visitors will want to sign up and find out what it is themselves.
Don't have a five-figure list yet? Don't sweat it. There are other ways to use the same principle.
For example, test a long-copy form and pepper in positive feedback from real subscribers and customers. That gives your visitors social proof and clear "What's in it for me?" at the same time.
Results: Last year when we tested it, we got a 321% increase in signups. So we're big proponents of testing that format.
4. Create and offer a high-value white paper
Look at building your email list as an exchange. Your customer, or prospect, gives you their email address and you deliver value to them in return. While this value can take a seemingly infinite number of forms, a favorite among marketers is the white paper.
A white paper, using Wikipedia's definition, "is an authoritative report or guide helping readers to understand an issue, solve a problem, or make a decision." White papers are particularly effective in B2B marketing where decision makers have a specific business problem to solve.
To prepare your white paper, you could start by looking at your analytics, especially your most popular pages, using pageviews as a metric. Let's say you run an online marketing blog and your most popular posts are on keyword research. Your white paper then might be entitled "5 Secrets to Finding Profitable Long Tail Keywords." And your content, of course, would present techniques to find long tail keywords.
After you outline, write, and graphically design your white paper, or hire someone to do so, upload it to an email marketing software provider, like AWeber.
When you upload it, you can transmit the information in either a single email or several segments over time using an autoresponder. The advantage of sending a single email is that you deliver the information when your prospect is most eager for it. On the other hand, sending your white paper in installments over a few days allows you to engage your reader across multiple touch points, helping you create a deeper relationship.
Below is an example of a white paper Salesforce.com offered, entitled "Six Advantages of a Cloud-Based IT Help Desk."
While there are aspects of this page I'd change, such as the image and benefits listed, it can serve as a model for your white paper marketing page: central image relating to the guide, text on what the reader will learn/discover after download, a form used to help you create a 1-to-1 relationship with the reader (including email capture), and a call to action button (in this case, "Download now").
Quality white paper preparation takes a lot of skill and practice. But they really can help you attract new readers and build your list. For example, 93% of IT buyers share up to 50% of the white papers they receive. (Information Week 2009 Tech Marketing Series "White Papers" p. 15)
5. Run a contest that engages your readers
Contests, when well constructed, create a fun and engaging experience for your readers. While there are many forms a contest can take – trivia, content submission, user voting – the key is to ask entrants to register for participation with their email address.
As with a white paper, you need to offer value to your reader in exchange for their email address. With contests, this value often takes one of two forms. If it's a content contest where users submit a photo or article, the value is recognition or the opportunity to share their creation with a community.
But the more common value exchange comes in the form of a prize. While prizes can take infinite forms, try to choose one that your community will value. If you have a technology community, for instance, an iPad is usually a safe prize.
An example of a contest that built email into its DNA was 37signals's Basecamp Tell a Friend Contest. Basecamp is a popular online project management software solution. What it did was ask users to sign up for an account at Basecamp and then share a referral code via email or social with friends.
Friends received a $10 discount on Basecamp, and entrants earned the chance to win an iPad and MacBook Air as well as a grand prize of $5,000. Why the contest worked? The hardware prizes appealed to one of Basecamp's core demos, online project managers, and the prizes were tied to sharing, as, according to Basecamp, "Every person you sign up counts as a chance to win one of our prizes."
A final note on using contests to build your list – try to relate the contest to your product or industry. For example, if you are marketing accounting software, you might ask users to submit tips on taxes. That way, the majority of the people who give you their email address most likely will have at least some interest in your product and content.
(If you'd like to learn more about contests, see How to Use Contests and Giveaways to Get User-Generated Content).
6. Publish a newsletter with niche-specific information
Newsletters are the workhorses of email marketing as they allow you to deliver value to your readers on an ongoing basis.
There's a lot involved in creating well-read newsletters. In fact, many companies have full-time staff completely dedicated to their creation. However, even if you have limited resources, there are a variety of strategies you can employ to produce a high-value newsletter.
Begin your content newsletter with your readers' needs in mind. Offer useful information, not just veiled sales material. For example, over the past year, with the Shoeboxed newsletter, we found that subject lines that offered new features, free products, and ways to save money had a 500% higher click-to-open rate than the average.
In addition, offer at least three to four stories in your newsletter across varied, relevant industry topics. Essentially, cast a wide net so that you can interest as much of your audience as possible. If you are running a tax blog, for example, you might include pieces on tax write-offs, choosing an accountant, business expenses, and tax software.
7. Monitor the right metrics – and put them to the test
Perhaps the most important aspect of your newsletter, and for that matter, all of your email efforts, is your analytics panel. While there are a seemingly infinite number of items you can monitor, pay close attention to your delivery, open, click-to-open, share/forward, spam complaint, and unsubscribe rates.
Once you baseline these rates, start testing! Try different subject lines, article content ideas, and images. You might even test HTML vs. text emails. The end goal is to create a system of consistent and persistent improvement in order to build 1-to-1 relationships with your customers.
So there you have it: 7 proven ways to make your email marketing a lot more effective.
Compared with all of the hype around social media and SEO, email might not seem like the sexiest digital channel these days. But think about the digital real estate that you own – your email list – and why it consistently ranks among the highest ROI channels. It's clear that, unless you're growing your list and testing regularly, you're leaving a ton of money on the table. And there's nothing sexy about that, right?
Want more tips? Check them out in this video:
About the Authors:
Hunter Boyle leads business development for email powerhouse AWeber. A veteran content marketer and optimization strategist, he has helped organizations improve their digital ROI since the dot-com days. Connect with Hunter on Twitter, Google+, or LinkedIn.
Corey Post is the VP of Marketing for Shoeboxed.com, the industry leader in online receipt scanning and organization. With over a decade of experience, he has helped startups and public companies increase revenue through content marketing and media buys. Connect with Corey on Twitter, and LinkedIn.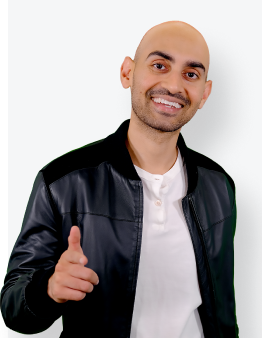 See How My Agency Can Drive More Traffic to Your Website
SEO - unlock more SEO traffic. See real results.
Content Marketing - our team creates epic content that will get shared, get links, and attract traffic.
Paid Media - effective paid strategies with clear ROI.