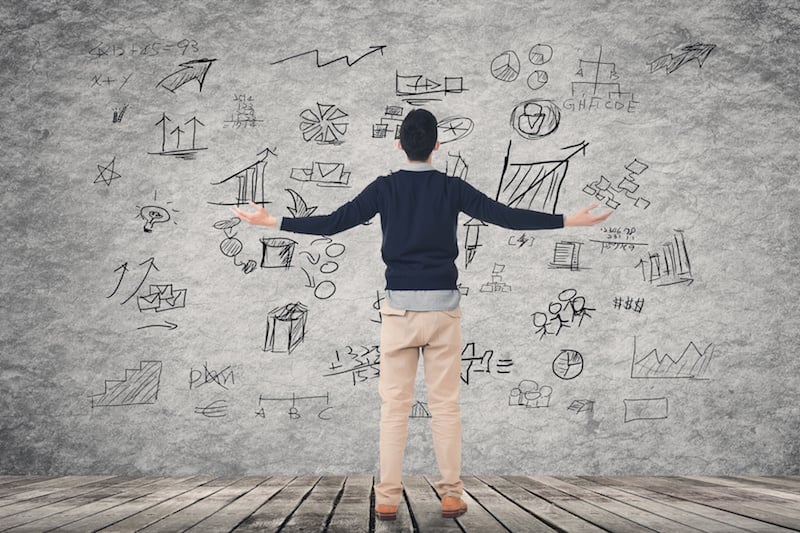 Imagine that you could have instant access to the right tools and information on online marketing and how to drive more targeted traffic. How much would you pay for it?
Well, today, you'll pay nothing. In this article, I'm going to show you 21 resources that will help you master online marketing, so that you can grow your sales the right way.
To start, all you need are the right tools – tools that have helped other businesses improve their ROI.
Whether you're running a PPC campaign or focusing on content to drive organic search visitors, you'll benefit from these resources.
Online Marketing Tools
We'll start by listing some of the tools and essential guides that can kick your marketing skills up a notch.
1. The Periodic Table of SEO Success Factors
If you want to understand Google's ranking factors, you need to read the Periodic Table of SEO Success Factors.
The chart below provides an overview of the factors that affect search engine rankings, but there's a lot more to the Table. It explains the reasoning behind specific factors. You can learn a lot from studying it.
This is not necessarily a book or software, but a high-quality guide that shows you the architecture of SEO and what is currently working. You can download the PDF version or print it out.
The chart focuses on the core Google ranking factors and how to ensure that nothing catches you off-guard, even when Google rolls out another update.
When you understand that search engines reward web pages that combine ranking signals, you're better equipped to manage those signals and see your pages gradually climb to the top of Google SERPs.
2. Ubersuggest
Ubersuggest is a tool for competitor research (and a lot more). It shows you the organic keywords that your competitors are ranking for, along with their corresponding search engine position.

If you want to cut through the noise, stand out, and speak directly to your customers, without losing them to other sites and blogs, you've got to conduct a competitive audit.
How do you use Ubersuggest? Just follow these simple steps:
Step #1: Go to Ubersuggest. Plug your competitor's site URL (e.g., searchengineland.com) in the search box. Click the "search" button.
Step #2: Click "keywords" in the left sidebar and analyze the results.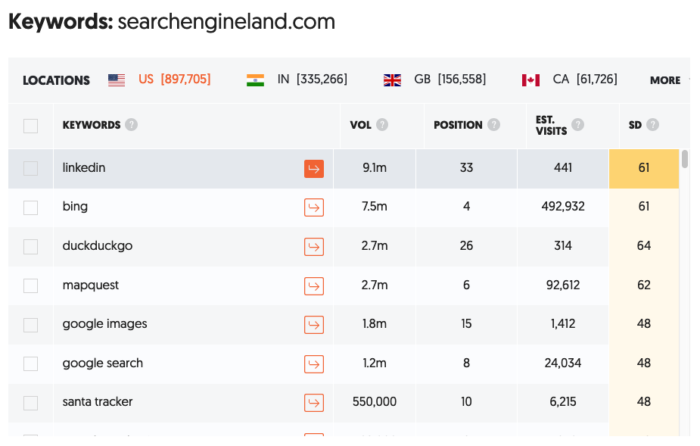 The first thing to take notice of is the number of keywords the site ranks for. In this case, 897,705.
From there, move onto the keyword list, which starts with "LinkedIn." For each keyword, you're given four pieces of data:
The average monthly number of Google searches
The current position of the website for the keyword
The number of monthly estimated visits to the site for the keyword
SEO difficulty, which measures how difficult it is to rank for the keyword (1 is the lowest difficulty, 100 is the highest)
There's no more guessing as to how your competitors are performing, the terms they rank for, and the amount of traffic their keywords generate. It's all laid out for you in a simple to digest manner.
3. Open Site Explorer
Moz's Link Explorer is another SEO and SEM tool that'll help you explore any site. You can use it to find link building opportunities and to find out where you're being mentioned on the web.
Just plug in the URL for the site that you want to explore. Click the "search" button:
If you're not sure about the anchor text used to link to your site, you can simply click the anchor tab in the top left corner. Your objective is to get more brand anchor texts and fewer exact keyword anchor texts.
4. Quick Sprout
Quick Sprout is an SEM tool that's designed to help both B2B and B2C marketers improve their search and social media traffic.
Quick Sprout gives you insights into how you can get the best results from your marketing efforts. The tool also tells you your load time, page size, number of requests and speed score.
To use it, just plug your site URL into the search box and click the button:
Next, analyze your metrics.
Note: You can also use Quick Sprout to conduct social media, search engine and competitor analysis for specific URLs.
5. Ahrefs:
Ahrefs is a search engine optimization and marketing tool. It's great if you want to know how to get more Google search traffic.
Google is your #1 source of organic traffic.
Ahrefs provides a range of information that tells you virtually everything that you need to know about your site, what you're doing correctly and how to improve. Knowing exactly how your web pages are performing in the search engine is crucial if you want to reach your target customers.
With the Ahrefs site explorer you can:
Explore all of your links, when you enter your domain name in the box
Explore content, by inputting any keyword into the box
Effective online marketing requires gathering data about users, your site, keywords, competitors and the latest search engine developments. Without all of that data, it'd be difficult to improve your search rankings.
How can you use Ahrefs to learn more about your site and users?
Step #1: You can use Ahrefs to conduct three searches without registering. But, if you want to have more flexibility, you need to sign up. You'll find the "REGISTER FREE ACCOUNT" link at the top right.
Next, follow the simple instructions. Fill in your personal details and you're ready to use the tool.
Step #2: Explore your links: Once you verify your account and log in, Ahrefs helps you to explore the links pointing to your domain, how many links you've gained over a period of time, which anchor texts are used and the authority of the referring sites.
6. Remove'em Ratios
Remove'em Ratios is a unique online marketing tool that predicts how many low-quality links and over-optimized anchor texts that you should remove if you're experiencing issues with your ranking. For example, Felix saw a drop in organic traffic after Penguin 2.1 was rolled out – here's the screenshot:

From the site:
This tool enables you to identify your anchor text diversity and highlight the areas where you might have anchor text over-optimization. If you notice that you are over-optimized for specific search terms or keywords, you should consider modifying the anchor text of specific links, to focus more on your brand or remove links that are using that specific anchor text.
If you've experienced negative SEO, you can get your site back, by leveraging the insights from Remove'em.
With this tool, you can pinpoint the anchor texts and links that triggered a penalty. As soon as you get rid of them, you should see a boost in organic search traffic. With Remove'em, it's easy to identify low-quality and harmful links and request changes from the webmasters.
This was exactly how Felix recovered from Penguin 3.0. And, his search traffic and rankings soared.

Here's how to use it: On the Remove'em homepage, type in your site URL and click the "submit" button.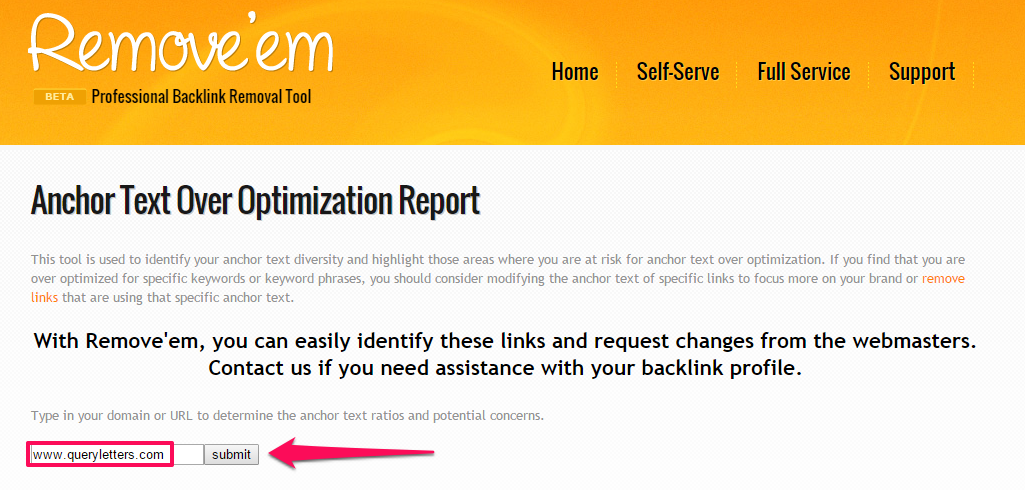 Next, analyze your link diversity:

Note: For effective and safe anchor text optimization, use brand keywords. For example, 33% of the anchor texts have "no anchor" text at all, which is really not a good practice. On the other hand, 17% are brand (i.e., queryletters.com).
From the screenshot above, I need to remove some of the inbound links that have no specific anchor and remove or replace them. Also, I need to earn more quality links, using my brand domain name instead of the main keyword for the site.
7. Pagespeed
Pagespeed tests your site for speed-related issues and tells you how to improve.
It can help you make your site insanely fast. This is crucial because 47% of your customers will leave if a web page doesn't load in 2 seconds or less.

To use the tool, just plug your site URL into the box and click "Go."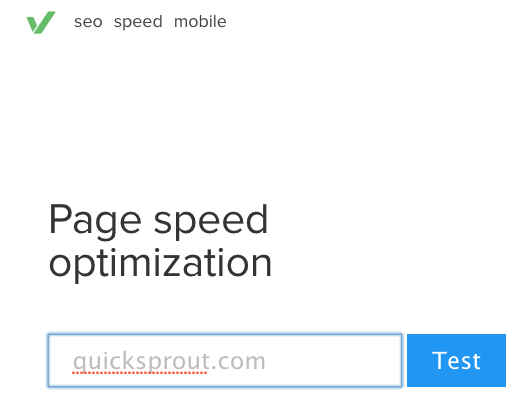 Next, analyze the issues related to your page or site: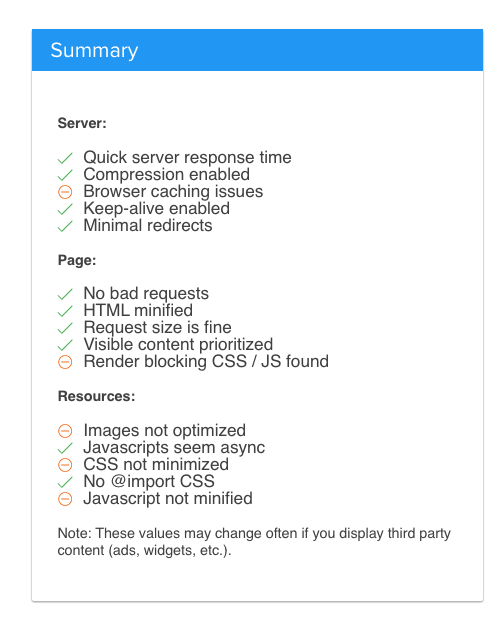 From the above screenshot, you'll better understand the changes you can make to boost site speed.
The tool also provides suggestions on how to fix some of these issues.
Site speed definitely has an impact on how well your web pages perform in the search engines. When you know what's making your web pages load slowly, you'll be able to fix them and, in the process, improve your search rankings.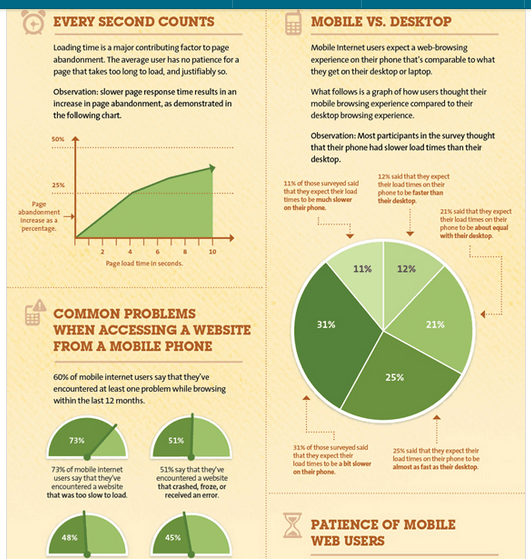 Online Marketing Books
There are lots of helpful books out there to help you implement SEO and SEM best practices. So, let's explore some of the best titles on the subject of SEO and SEM:
8. The Art of SEO
The Art of SEO contains tons of accurate and reliable data that will help you understand the full spectrum of search engine optimization.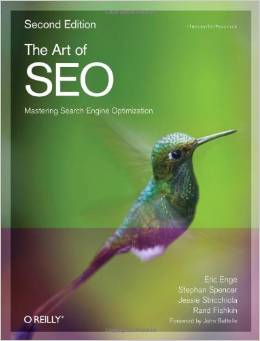 The author, Eric Enge, is a top SEO practitioner who believes in clarity of purpose. In his book, he lays out the ingredients needed to achieve top search rankings, not by manipulation, but through education and strategy.
The book has been endorsed by Seth Godin, Danny Sullivan and Tony Hsieh (founder of Zappos), among others. If you're relatively new to SEO, The Art of SEO is a must-read.
9. The Ultimate Guide to Google Adwords
Expanded Ramblings found that 1.17 billion searchers use Google every month and conduct over 11.944 billion monthly searches.
The fact that so many people use Google makes it a powerful advertising medium your business can't afford to ignore.
The Ultimate Guide to Google AdWords by Perry Marshall and Bryan Todd, with AdWords and Analytics expert Mike Rhodes, walks you through successful techniques for picking the right keywords to target.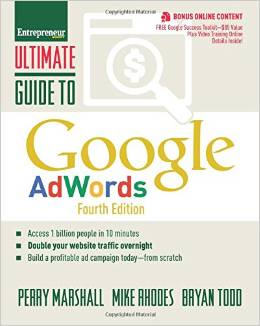 Local targeting and social media marketing together will help you to reach your SEO and SEM goals. LocalVox found that 70% of small business owners are leveraging social media to improve their search engine performance.
Ultimate Guide To Google AdWords can teach you how to chisel your way into tough markets, pick inexpensive yet profitable keywords and write killer ad copy that will captivate your prospects.
10. Advanced Web Metrics with Google Analytics
Brian Clifton's SEO and SEM success all boils down to focusing on actionable metrics and using them to improve the overall performance of his web pages.
Advanced Web Metrics with Google Analytics isn't for beginners, but rather for seasoned pros who want to do a deep-dive into each GA metric.
Note: This book is geared towards Google's classic Analytics users, not those who use the newer Universal Analytics.
Clifton discusses all aspects of Analytics, including social media analytics and tips to improve performance, starting with a thorough look at filters, which can be applied to both internal and social traffic.
Clifton also includes case studies to demonstrate how you can optimize your PPC campaigns for maximum ROI.
It clocks in at about 600 pages and covers everything that you need to know about Google Analytics and integration with social media.
11. LinkedIn Learning
Formerly known as Lynda, LinkedIn Learning is the place to be if you want to learn anything (and everything) about online marketing.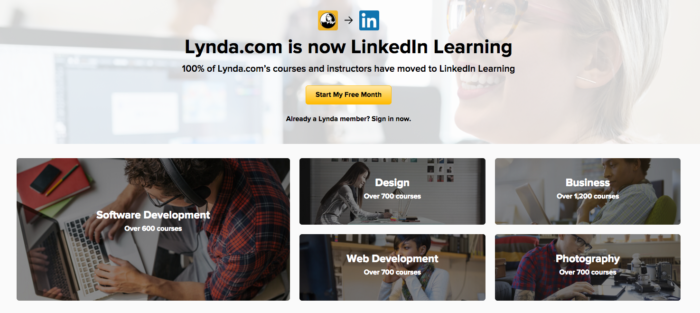 There used to be a day when the only way to learn was in a traditional classroom. Now, however, the online marketing world is at your fingertips. From business to design to software development, LinkedIn Learning makes it easy to expand your knowledge base.
12. SEO King: How I Built My Blogging Empire
In this Kindle book, Jason Blair shares how he turned one blog with little traffic into a powerhouse that generates over 250,000 monthly visitors.
One of the things that Blair focuses on is his belief that you should be creating blogs that interest you. Becoming passionate about your blog is the only way to sustain your efforts until you start making money.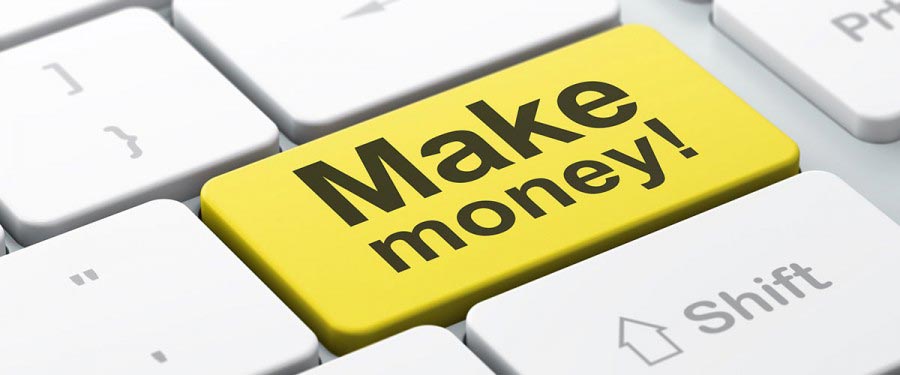 Personally, I have to agree that passion is essential. I'm the co-founder of 5 multi-million dollar SaaS companies because I love marketing and writing.
This one won't take much of your time, at just 21 pages.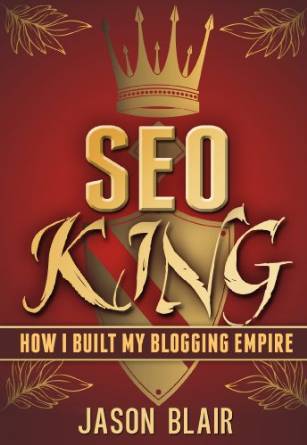 Now, the book has also received some negative reviews on Amazon. Do your own research before buying. Here are some of the reviews: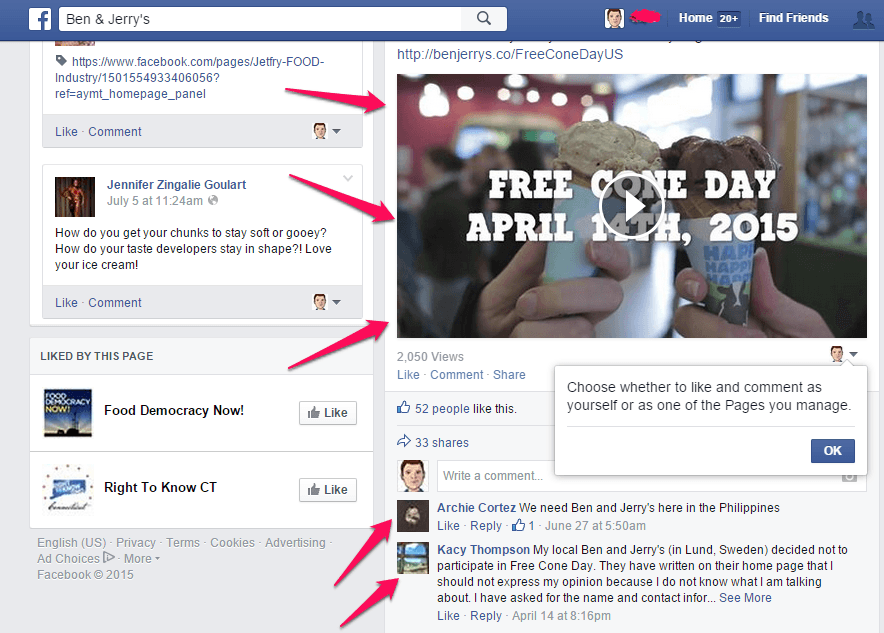 That being said, I decided to include it, because I've gained a tip or two from it. Even if that's all you get from a 21-page ebook that costs about $1, I think it's worth it.
So, if you want to get reacquainted with SEO basics, this book may just be a good choice.
13. SEO Hack: How to Double Your Search Traffic in 45 Days
In SEO Hack: How to Double Your Search Traffic in 45 Days, the author, Michael Chibuzor, introduces you to the world of long-tail keywords and how to integrate them into your blog posts in a way that Google will reward you for.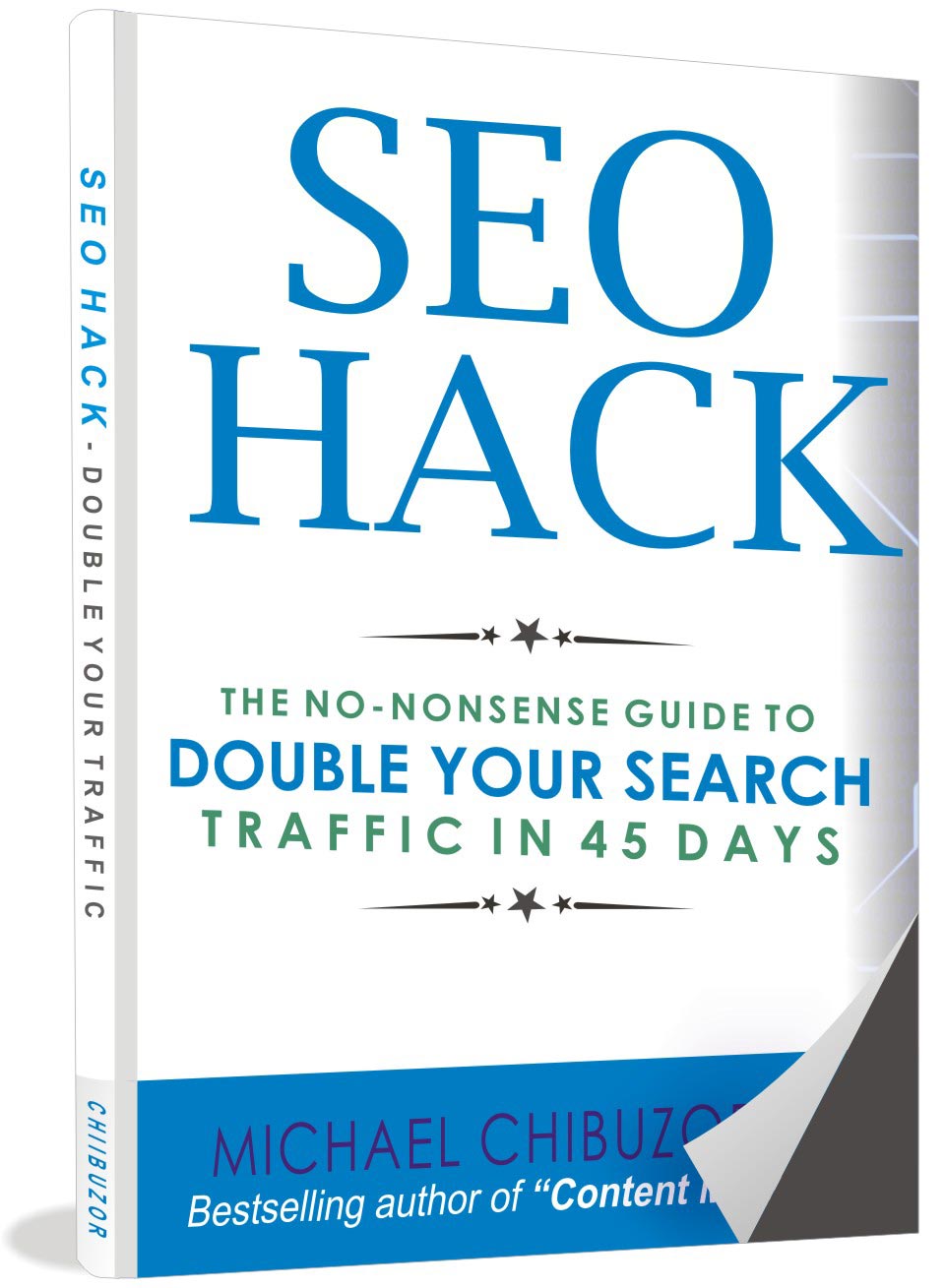 Chibuzor also covers guest blogging – how it works, which blogs to target and what to do when your rankings aren't improving, even after you've targeted the right keywords.
He also covers user optimization.
After Google Panda, low-quality content got pushed down in the SERPs. Then, when Google Hummingbird was rolled out, the focus shifted from keyword targeting to user optimization. And, that's exactly what SEO copywriting is all about.
These days, it's all about the user.
14. Search Engine Marketing, Inc
There are few books available that address SEO for company blogs. Did you know that 49.7% of companies that consistently blog increase sales within 7 months? Yet, the fundamentals of SEO for company websites and blogs aren't discussed much.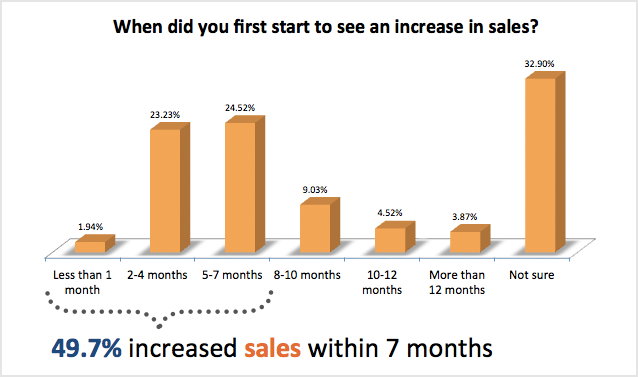 This has been a problem for B2B marketers because they can't really figure out how to improve their results.
Search Engine Marketing, Inc. contains a lot of valuable information on how you can increase traffic to your company website.
This 528-page book contains comprehensive and actionable tips. It should do nicely as an SEO/SEM resource for you.
One lesson you'll learn from the book is to focus on the target audience. Of course, you can write about your products. But, let it be in the interest of your users and how the product can improve their lives.
Best Content on Online Marketing
There's a lot of content out there – enough to lead to information overload and leave an audience feeling helpless.
More content is being produced these days because content drives leads and increases sales, but also because content marketing costs 62% less than traditional marketing and actually generates 3x as many leads.
Of course, you still have to nurture your audience and get them to trust you. But, it's a lot easier to build trust with content marketing – especially considering some new and improved tools.
Virtually every marketing-related blog offers content about SEO, link building, keyword research and so on.
So, let's cut through the noise and look at some of the best SEO and SEM guides out there:
15. SEO: The Free Beginner's Guide From Moz
If you're new to SEO and want to get started right away, the free Beginner's Guide to SEO is what you need.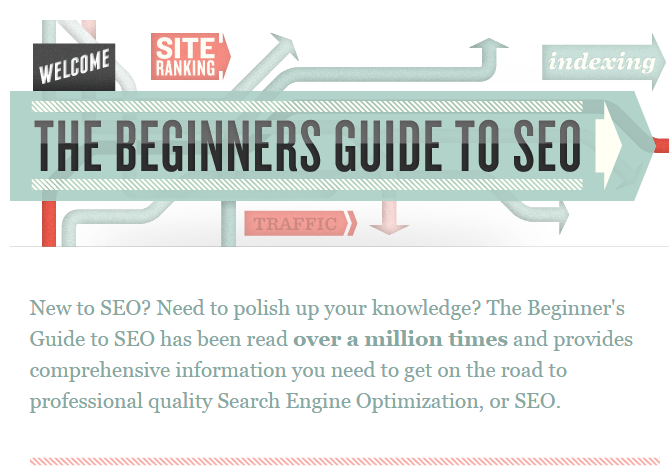 This beginner's guide to SEO has been read over a million times because it's incredibly valuable and thorough. It contains easy-to-understand information on SEO practices that will improve your search traffic.
The beauty of this guide is that it's organized in chapters. You start by learning how search engines work and move all the way through measuring and tracking your success. It's a complete SEO resource and I encourage you to read it and bookmark it.
16. Search Engine Marketing: Streamline Your Search Marketing Efforts
If you've been trying to understand how a particular company has succeeded, reading and analyzing its content is your best bet.
You need to learn how to develop custom content. By studying this guide, you'll find it a lot easier to create content that attracts readers and customers.
WordStream's resource helps you streamline your efforts, in order to improve your productivity and achieve more in less time. It also demonstrates how WordStream software provides relevant metrics that can improve your Google AdWords campaigns.
Of course, you need to integrate both SEO and content strategy into your content, if you want to maximize its reach and improve your ROI.
Wordstream's software helps you research long-tail keywords that have little or no significant competition in the Google Display Networks and Google search engine.
17. The Advanced Guide to SEO
I've been blogging full time since 2007. But, I'm especially proud of my advanced guides. This one teaches SEO and what works. When it comes to online marketing, a thorough grasp of content marketing and copywriting will be helpful.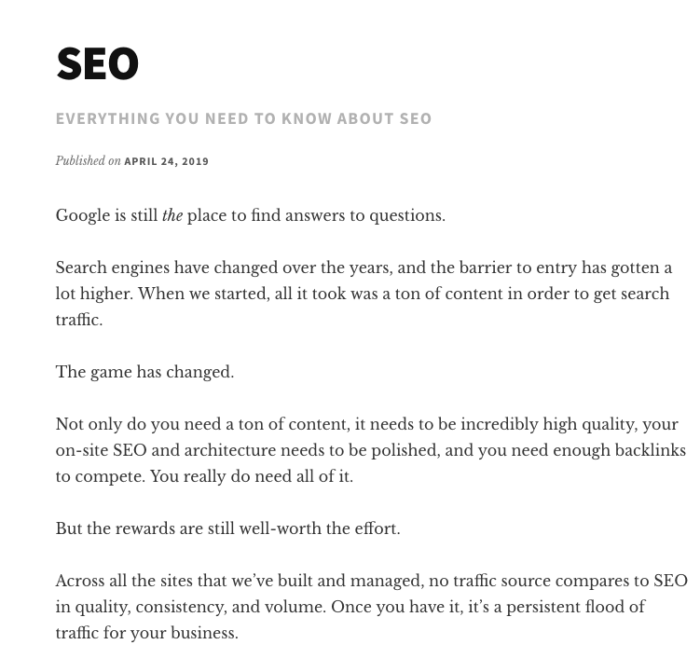 When you're reaching out to people, the ultimate goal is to get them interested in your content, so you can then lead them through your funnel and establish a healthy relationship with them.
With great content, buyers get to know, like and trust you, even as they remain in control of the decisions that they make. If your content is helpful enough, they'll be more likely to become loyal customers.
18. 24 Expert SEO Tips & Advice to Boost Your Traffic in 2019
In this guide, OptinMonster provides tips and advice on how to boost your traffic in 2019 (and beyond).
It shares tips from the top marketers in the SEO world, such as this one:
Things are always changing in regards to SEO, but for 2019 this is one of the best guides to rely on.
19. 5 Search Engine Marketing Tips to Compete With the Big Guys
The competition is getting tougher out there. Many beginners feel as if there's little or no hope to increase their traffic and personal branding. If you've ever felt that way, you're not alone.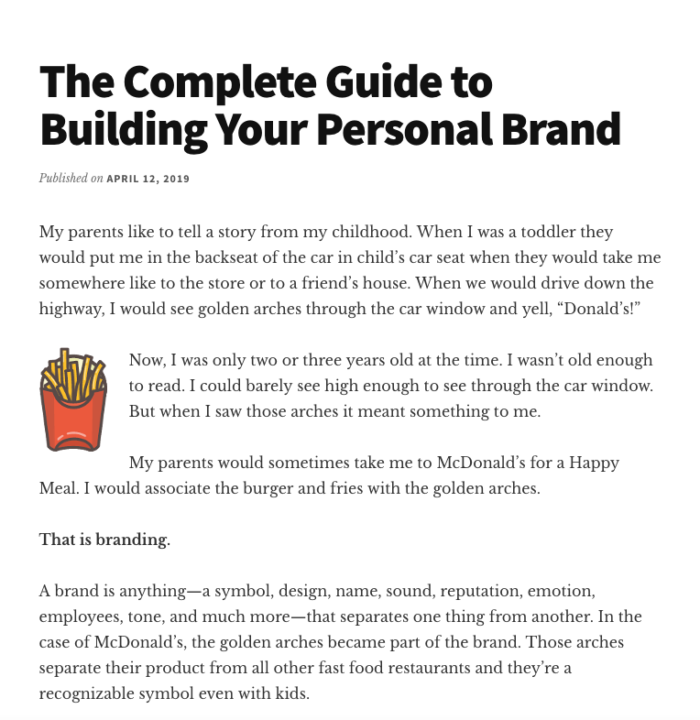 But this resource guide is more than just a blog post. It shows you exactly what you need to know and do, in order to compete with the big guys in your industry.
You can still adapt and grow your own business, by targeting customers based on their geographic location:
As a beginner, you can also stand out and drive more traffic by using the Ad Extension, which gives you the ability to include additional information in your ad.
You'll also learn the importance of writing enticing ad copy, because your competitors with those huge advertising budgets may not really be doing it well. Great copy gives you a great shot at outpacing them.
20. SEO Guide To Google Webmaster Recommendations for Pagination
Irving Weiss, the SEO director of Vitals, did a great job with this article. He reveals some staggering statistics on over one million health professionals in the United States.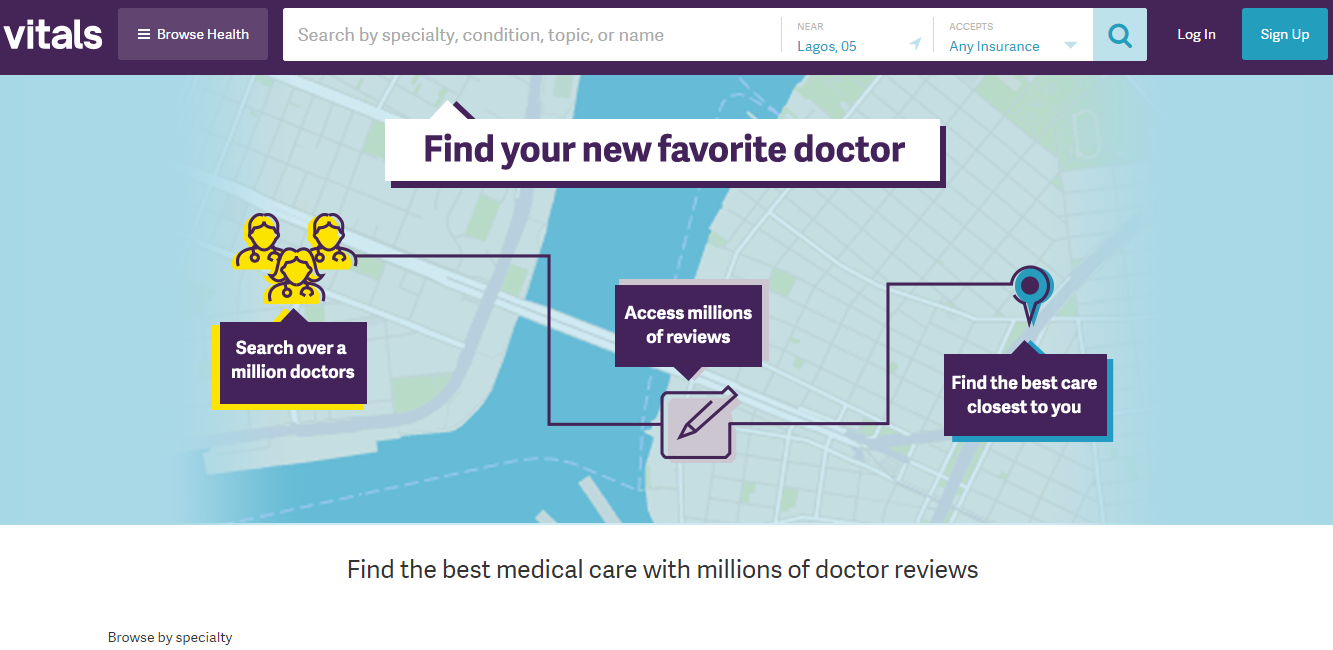 Vital manages all of these health professional data points, so you can imagine the level of categorization and pagination.
Take time to read this post. It may not be as obviously relevant to your efforts, or as interesting as the typical web design or link building article, but you can pick up tips that will help you greatly improve your SEO skills, as well as user experience.
In summary, the author advises you to do "what's right for the user." This is excellent advice because the site exists solely for the user.
If your site isn't easy to navigate, it's going to be hard to increase conversions, no matter how useful your content is.
This post will also help you understand the common problems of pagination, such as crawl hog, page juice dilution, thin content, and duplication.
Once you're familiar with those concepts, you can expand your knowledge, by extracting data from Google Search Console and using it to improve your own pagination and user experience.
21. The Definitive Guide to Ecommerce Search Engine Optimization
Online retail sales are predicted to grow exponentially in the next few years. According to Sleeknote, there are almost two billion digital buyers across the globe.
If you're an ecommerce entrepreneur, you have to understand how to do SEO for your product pages, homepage and checkout pages (optional), as well as the best ways to make your customer reviews unique for the search engine.
The reason why I created the Definitive Guide to Ecommerce Search Engine Optimization was that, at the time, I couldn't find any detailed and current information that would help my customers, some of whom had just launched online stores.
With this guide, you'll learn how to attract more qualified leads to your online store, services page or landing page. Interestingly, some of the tips could be useful, even if you're a personal blogger, or a B2B or B2C content marketer.
Conclusion
The average B2B marketer uses 12 different content marketing tactics to improve their lead generation and sales.
Online marketing isn't just about Google AdWords or SEO. It requires a deeper understanding of the user and what drives their decision making.
This is why you have to continually invest in learning about your user. I know that these 21 resources will help you and your team do just that.
What other online marketing resources would you recommend for content marketers?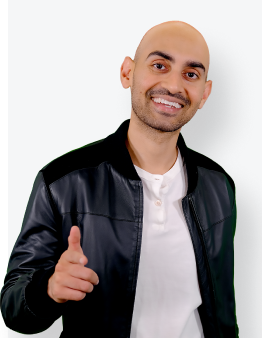 See How My Agency Can Drive More Traffic to Your Website
SEO - unlock more SEO traffic. See real results.
Content Marketing - our team creates epic content that will get shared, get links, and attract traffic.
Paid Media - effective paid strategies with clear ROI.
Are You Using Google Ads? Try Our FREE Ads Grader!
Stop wasting money and unlock the hidden potential of your advertising.
Discover the power of intentional advertising.
Reach your ideal target audience.
Maximize ad spend efficiency.