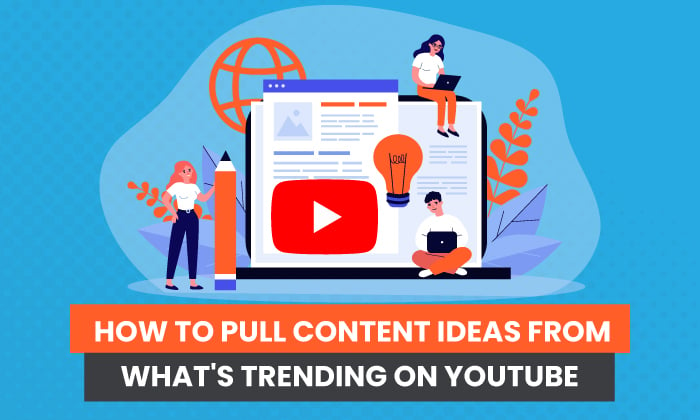 Are you short on content topics? Not sure where your next idea is coming from? Then, this is the post for you.
I've got a secret well of inspiration that is so deep I never run out of things to write about. Today, I'm going to share it with you.
It's called YouTube. Specifically, I'm talking about the videos that are trending on YouTube right now. These are hot topics that thousands of people are interested in and there's no shortage of ways for you to explore them.
Best of all, this technique works whether you're creating videos, blog posts, or any other piece of content. If you never want to run out of ideas again, here's everything you need to know.
Why Should You Use Trending Topics for Content Ideas?
Trending topics make fantastic content ideas.
First and foremost, you know that your audience is going to be interested in the topic if it's trending on YouTube. That means you don't have to worry about checking the term's search volume or any other metrics before creating an article.
Better still, because trending topics tend to be new and fresh, they are much easier to rank for on Google. Think about it; everyone is trying to rank for that evergreen keyword that gets 10,000 searches per month. However, only a handful of your competitors will even think to rank for a trending topic that has barely any historical search volume.
That means you'll get way more views and engagement with your content, too. When there are a dozen articles on the topic, readers will likely skim all of them. When you're only one of a handful of articles, readers will be forced to engage deeply with your piece.
You typically don't have to worry about copying someone else's work when using trending YouTube videos for inspiration, either. It's very rare that a trending video will cover a topic from every conceivable angle, so there's bound to be something you can add to the conversation.
Even if a video is comprehensive, there probably won't be a decent written version of the topic. Maybe there's a transcript, tops. Even so, it will be very easy for you to create something much better that your users will love to read. Not everyone wants to watch a video, after all.
8 Ways to Find Content Ideas From What's Trending on YouTube
There's no shortage of ways to find trending YouTube videos. From the platform's Trending page to comments, tags, and tools, every way I use to find fresh, popular videos is listed below.
1. Use YouTube's Trending Page
The easiest way to find trending topics for your next blog post is to use YouTube's Trending tab. This is a separate section of YouTube that displays a wide range of videos that are currently trending in your country ranked by popularity. When YouTube says trending, they really mean it. The section is updated every 15 minutes, meaning you're guaranteed to find the very latest hits.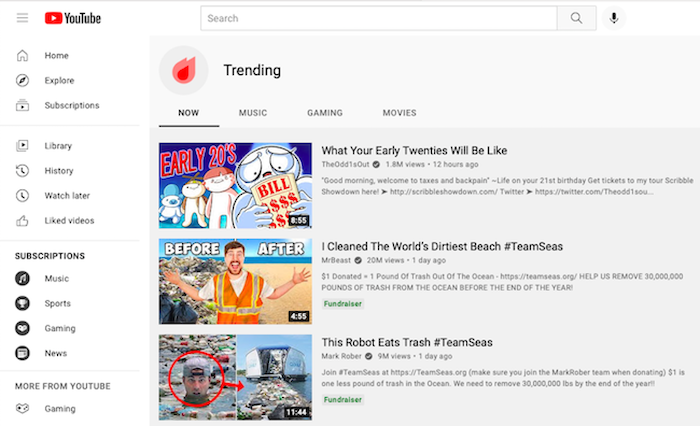 How does YouTube decide what's trending and what isn't? According to its help page, trending aims to find videos that:
are appealing to a wide range of viewers
are not misleading, clickbaity or sensational
capture the breadth of what's happening on YouTube and in the world
showcase a diversity of creators
ideally, are surprising or novel
To do this, YouTube considers metrics like the number of views videos are getting, where those views are coming from, how old the video is, and how the video compares to similar recently uploaded videos.
That means that the most popular video on YouTube on a given day won't necessarily rank number one:
"This means that the video with the highest view count on a given day may not be #1 on YouTube Trending, and videos with more views may be shown below videos with fewer views. Even if your video meets all the above criteria, it may not appear on YouTube Trending, as many other videos may also meet those criteria."
Trending isn't perfect. This section isn't personalized to users and shows the same videos to all users in the same country. That means the content tends to be very broad, which won't make it ideal for a lot of bloggers. It can, however, give you an idea of trends or ways to approach topics that are popular right now that you can apply to your content whatever your blog is about.
2. Check the Tags
Hashtags are the clickable words or phrases listed under every video that show viewers at a glance what the video is about. Thanks to a recent change YouTube made to the way hashtags work, they are also a great way to find related videos that cover trending topics from a different angle. Previously, clicking on a hashtag would show a selection of videos that used the hashtag as well as videos YouTube thought were related. Now, YouTube only displays videos that list the hashtag and the videos are sorted so the best are at the top.
Not only are these videos guaranteed to be related to the topic you're interested in, but YouTube has also done the hard work for you organizing the videos from best to worst. That means you can see the specific angles and headlines that are most popular and use them in your own content.
If you want to go even further, you can use one of the many YouTube hashtag generators to find even more hashtags to search. These include:
3. Be Inspired By Your Competitors
Do you have a lot of competitors on YouTube? Great! They'll have done a lot of the hard work for you. It's incredibly likely the content their audience likes will resonate with your own audience, which means any of their popular recent videos will make killer blog posts.
Go through each of your competitors' YouTube channels one by one and check out their most recent videos. Look at the viewing figures and likes to see which are most popular then watch the videos. Parse out a particular topic your audience will be interested in or expand on the entire video in your own post.
You can also look through your competitors' all-time most popular videos to make sure there aren't any topics you've missed.
4. Go Niche
You don't have to use all of a trending video as inspiration for your content. Going niche and only focusing on one specific aspect of a video, the angle your audience will find most appealing, can be a great way to differentiate yourself and create something truly unique.
It will also help you to make sure your content remains focused on your specific audience. When you use trending videos, there's always a danger of creating something too broad or ever so slightly off-topic that your audience won't engage with, but that's not the case with this strategy.
5. Read the Comments
Another way for you to find interesting angles on trending videos is to read the comments. YouTube comments can be a little toxic sometimes, but they can also be an idea goldmine. Viewers will ask questions or suggest related topics for the content creator to cover. Cherry-pick the ones most relevant to you and start creating content that answers their questions.
This works just as well for your own videos as it does for your competitors. Make sure to search their most popular recent videos and scour the comments for anything you can do better.
6. Use Google Trends
Google Trends isn't just great for web searches; it can also be used to find popular YouTube topics.
Before I go any further, let me clear one thing up: Google Trends doesn't show search volume for each query. If you want to find that out, you'll need a tool like Ubersuggest. Instead, Google Trends shows the relative popularity of each term.
As Google explains:
"Trends adjusts search data to make comparisons between terms easier. Each data point is divided by the total searches of the geography and time range it represents, to compare relative popularity."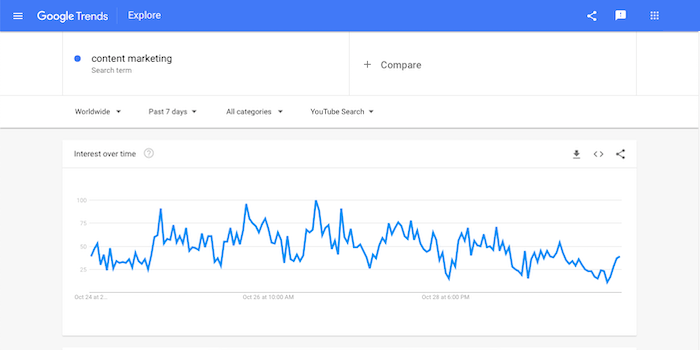 Rather than search the whole of the web, you can use Google Trends to see what's trending on YouTube specifically. Head on over to the Trends section of Google and search for the top trending queries and topics. Next, change "Web Search" to "YouTube Search" and then select your relevant category. Google will then serve up a list of the top trending topics and queries.
7. Use Predictive Search
YouTube isn't just a video storage and sharing platform, it's also the world's second-biggest search engine. As a result, it has an awesome predictive search feature that makes it easy to find relevant trending topics.
All you need to do is enter a seed keyword into the search box and YouTube will suggest a dozen or so topics. Not all of them will be relevant, but bear in mind Google will serve up suggestions based on popularity. If it recommends a relevant topic, then you can bet your audience is probably already searching for it.
8. Use Tools
There are a couple of YouTube-focused tools that make it easy to discover trending topics on YouTube. Two of my favorites are TubeBuddy and vidIQ.
TubeBuddy is a certified extension that has a lot of awesome features. The one we're most interested in is its Keyword Explore tool, which helps you find topic ideas, discover trending tags and create long-tail search terms.
vidIQ is a set of YouTube growth tools that gives creators everything they need to build their channels. It also has an awesome keyword research tool that helps you find relevant and trending tags to get your creative juices flowing.
Frequently Asked Questions About Finding Content Ideas Using YouTube
What is YouTube Trending?
YouTube Trending is an area where YouTube collates and ranks the most popular videos from your country.
Can you use YouTube to find blog ideas?
Absolutely. YouTube is a fantastic source of fresh blog topics. By choosing popular and trending videos as your inspiration, you can be sure your content will engage your audience.
Is it worth reading YouTube comments?
YouTube comments get a bad rep but they can be a goldmine of invaluable feedback and ideas that audiences want to hear more about.
Are there tools I can use to find YouTube topics?
Two of the most popular tools for finding YouTube topic ideas are TubeBuddy and VidIQ.
Finding Content Ideas Using YouTube Trends: Conclusion
YouTube is awesome. It's a great way to share video content and grow your audience, but it's also a great way to find topics for your next blog post. By finding relevant, trending topics, you can stay ahead of your competitors and make sure you are creating fresh content your audience cares about.
Plus, with so many ways of finding trending topics on YouTube, you'll never run out of ideas again. Once you have a big list of topics, make sure your content strategy and article optimization process are both on point so you create the best content possible.
What's a trending topic you've just discovered on YouTube?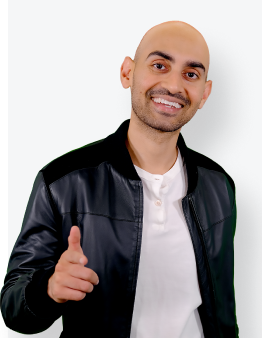 See How My Agency Can Drive More Traffic to Your Website
SEO - unlock more SEO traffic. See real results.
Content Marketing - our team creates epic content that will get shared, get links, and attract traffic.
Paid Media - effective paid strategies with clear ROI.
Are You Using Google Ads? Try Our FREE Ads Grader!
Stop wasting money and unlock the hidden potential of your advertising.
Discover the power of intentional advertising.
Reach your ideal target audience.
Maximize ad spend efficiency.