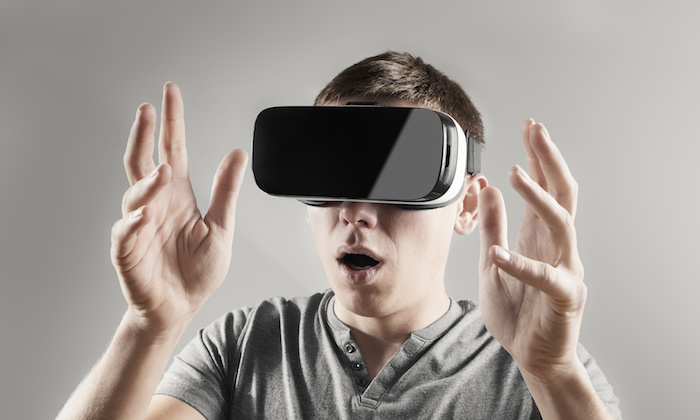 In the past 5 years, technology has revolutionized how marketers interact with their customers. Now, you've got access to advanced software and customer data for more relevant, targeted and engaging marketing.
No wonder that 50 to 65% of executives expect to spend more on marketing technology in the coming year.
But, what if I told you that we're only at the beginning?
In the next 5 years, marketing is going to make a huge pivot- probably almost unrecognizable from its current form.
You probably won't perform search engine optimization. Instead, you'll create an exotic virtual experience for your customers. You won't craft content. Instead, you'll work on high-level business tasks.
Traces of this future already swirl around us. A great example is artificial intelligence-powered voice assistants on your smartphones, for performing simple tasks. Sure, they lack context and aren't functional for complex tasks. But, we'll get there soon.
To give you an overview, here are the 5 emerging technologies that Forrester expects to change the world, in the next 5 years.
We already have some info on how these technologies are going to affect the customer-business relationship. So, in this article, let's imagine what the future might look like. Here's the first major change that you can expect.
1. Search engines step aside. Let virtual assistants support the customer experience
Search engines (specifically, Google) were the centerpiece for discovering content. Then, smartphones and social media platforms changed consumer habits. Now, we're already past the mobile tipping point.
Sure, search engines continue to play a pivotal role for discovering content, with Google alone handling 2 trillion searches per year.
But, wouldn't you prefer a product that rewards you with more relevant results in real-time?
Hence, chatbots can be expected to take over consumer's lives.
For example, suppose you're heading to California and you want to try out an awesome burger there. You'll either call up a friend who knows their way around California and ask their opinion or perhaps ask your friends on social media.
And, if you're really motivated, you'll perform a Google search on 'the most popular burger in California.' You'll get search results like the ones below.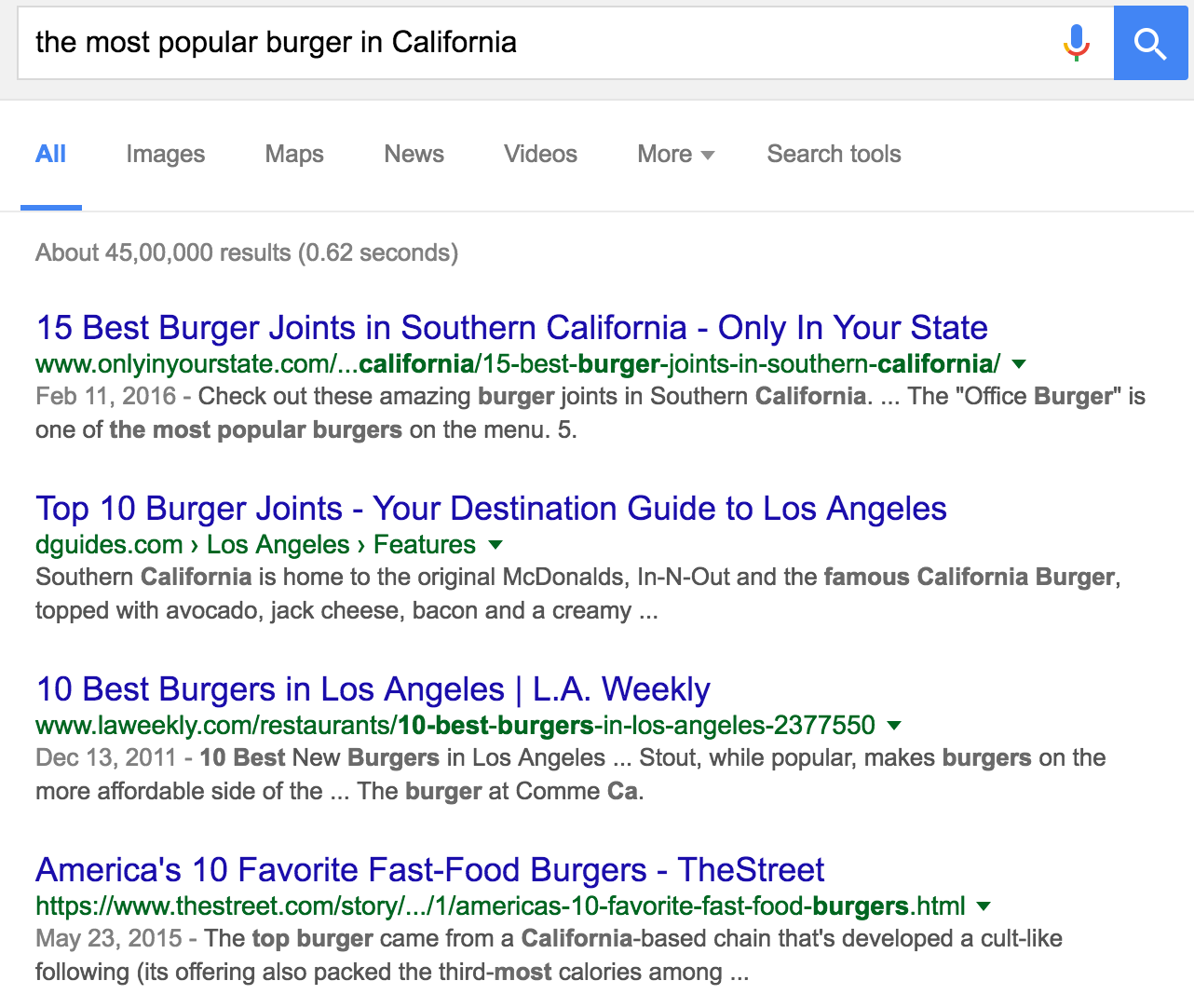 I don't know about you, but I am not willing to look at 'top 10 burger joints' or '15 best' ones, when I'm hungry. I'll only overwhelm myself with choices and waste time.
so, here's how this task can be performed by Facebook M – the text-based virtual assistant by the social giant.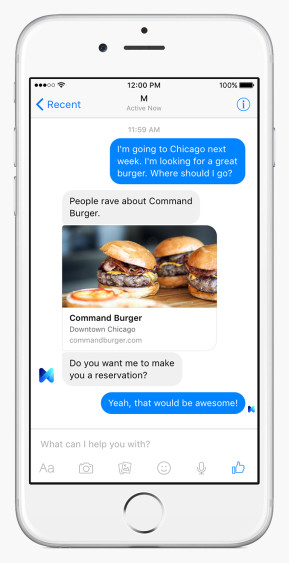 Easy peasy.
You had a real-time conversation with a smart bot and it even made the restaurant reservation for you.
The assistants are still in their infancy. But, just imagine the convenience that they'll offer you, once they are in full shape. No need to open a new tab, place a call or go down the street.
Here's another example conversation that Nick Statt had with Facebook M, to order his breakfast burrito.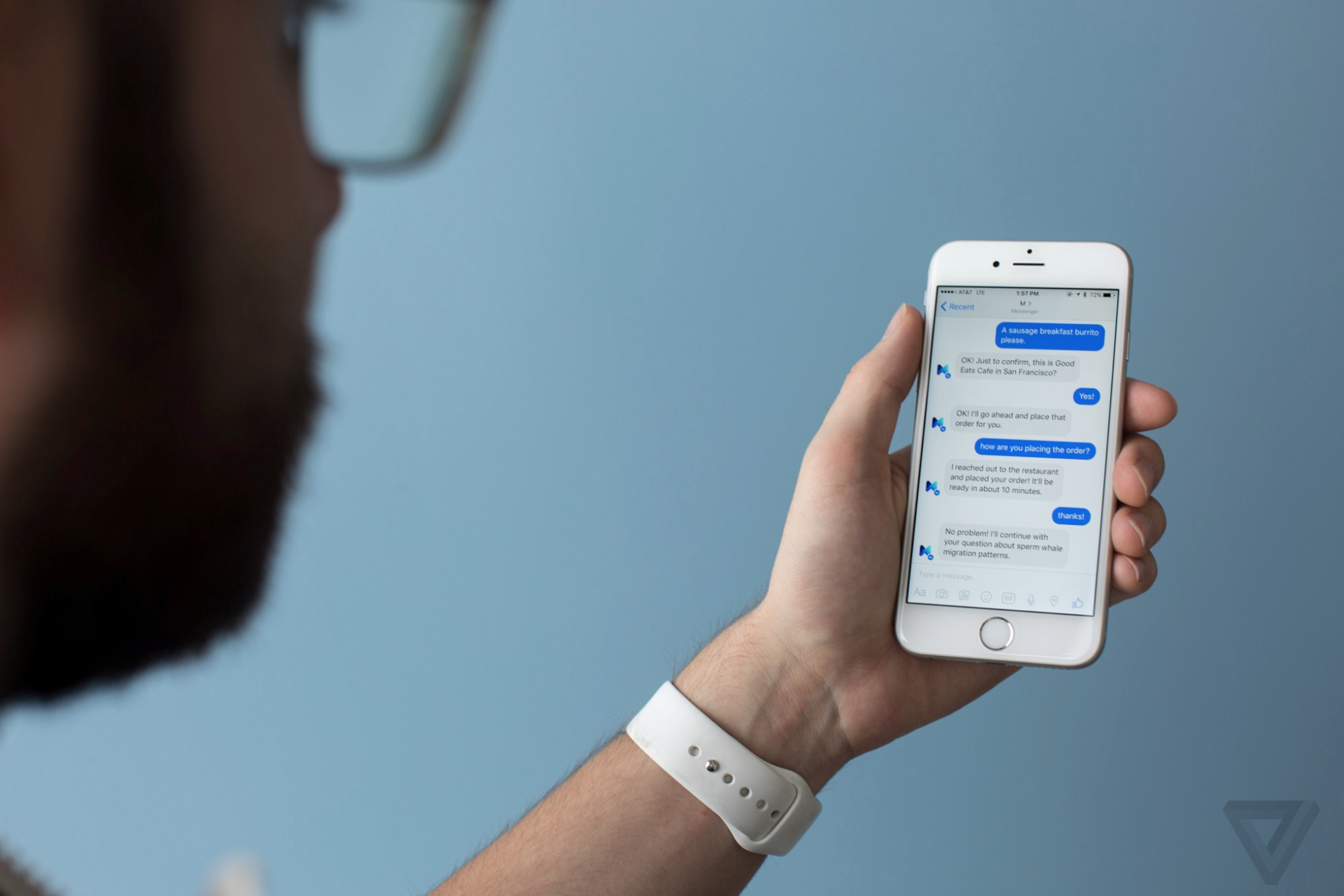 Currently, humans are monitoring the conversations end-to-end. And, M requires you to enter your genre, food, as well as other preferences. Even its recommendations are based off Yelp ratings and public directory listings.
But, it's just the beta version that was available to a handful of users.
Soon enough after training:
The assistant will become smarter at gauging your intent and understand your likes/dislikes, as well as your overall behavior.
It might play songs based on your mood, manage your calendar and manage much of your life. We can expect to see human qualities in such AI powered chatbots, once the service generates more data for Facebook. And, once the conversations flow well, we can expect the consumers to get emotionally connected with their assistants.
By 2018, customer assistants are expected to recognize individuals by their faces and voices across multiple channels.
Facebook isn't the only one to build a virtual assistant. Google, Amazon and Apple have all joined the bandwagon. I've previously written about how search engine queries will become more direct and how you can perform voice SEO.
For forward-thinking marketers like you, this calls for tailoring your marketing efforts to satisfy the consumers in real-time. You've got direct access to the consumers' pockets.
If you're up for it, then build your own chatbot, to elevate your customer experience with a service, like Motion.ai. Otherwise, learn your way around Siri, Google Now, Facebook M, Cortana and Echo. Use their functionalities for improving your customer experience. Facebook has already rolled out Facebook Messenger Chat for Businesses.
2. Machines will aid content creation
I know. I know.
I love writing and content marketing. All of my businesses are built on it.
But, as much as I resist it, certain types of writing can be generated by machines. As an entrepreneur, you need to automate repetitive tasks to improve your efficiency. Producing content is no different.
As per Gartner, 20% of business content will be authored by robo-writers by 2018.
Specifically, content based on data and analytical information will be processed in a natural language by writing tools. This content can include press releases, white papers, reports, legal documents and more.
What's astounding is that a robot journalist can pump out 2,000 cohesive, data-backed articles every second.
Now, you might have seen a lot of spun and rewritten garbage. Indeed, I ran one paragraph from this article through the bot at free-article-spinner.com.
And, look at the sophisticated word substitution that resulted in nonsensical content.
Robot written content in the future will be cohesive and readable by humans.
Indeed, Associated Press (AP) and other publishers already push out content without human bylines. Here's an example article about Apple topping Q1 forecasts in 2015.
AP, in particular, automated 3,000 financial reports every quarter.
You can start generating automated natural language content for your business today, by using a service like Automated Insights. If you're wondering how the tool works, then here's an explanation of Wordsmith. You plug in data, create a template, preview your article and publish.
Wordsmith claims to create personalized content that speaks to every reader, while taking care of the SEO at scale.
Guess what?
It will only cost you $250 to create 1000 data-driven stories.
So, what does the AI-driven content mean, for marketers like you and me?
While quality is incredibly important, you've got to increase your content frequency.
I already showed you that sites, including Huff Po and Business Insider, publish thousands of blog posts in a day.
Look at the increase in the number of published posts on WordPress, from October 2006 to July 2016. In July 2016 alone, 70 million posts were published.
In the span of 7 years, the number of indexed pages on Google has also increased, from 1 trillion to 30 trillion. That's a huge jump!
If you've followed me for a while, then you'll know that I LOVE writing. BuzzSumo analyzed my articles and found that my high volume publishing strategy puts me in competition with other major internet marketing publishers.

So for upping your content frequency, automated content tools can be a great option. The Washington Post recently experimented with automated storytelling, during the Olympics. Basically, an in-house bot (Heliograf) took data from Stats.com and whipped it into short narratives. Here are example updates from the 2012 Olympics data that the Washington Post posted.
Note that other human writers and editors were present to edit the content and publish more in-depth pieces. The Washington Post is also going to rely on automated stories during the presidential elections.
Second, the AI bots are coming after written content, as of now. So, it won't remain as valuable in future. But, what about video, audio, interactive and other forms of content? Adopting trending content formats will give you the edge.
3. You can expect to see artificial intelligence-designed websites
How can designing websites be left to humans when robots plan to take over content creation?
Look at the last 5 years:
Do you realize how designing websites has become so much easier?
There are platforms, like WordPress and Wix, that are beginner-friendly. You can easily drag and drop elements to build fully functional websites. Indeed, many developers offer themes and plugins to customize your website.
The problem with such pre-made template websites is that they can become extremely common and convert poorly. That's why businesses rely on the expertise of proficient website designers and coders to optimize their website. Choosing fonts, colors, layout and other aspects is such a hassle.
In the future, though, an ordinary webmaster will probably not need design talent.
An artificially intelligent powered assistant (of course) will ask you a few questions about your business and the type of website that you want to create.
And, BOOM!
You'll have a fully functional website, without coding or organizing elements.
There are platforms, like The Grid, that have algorithms and rules in place for designing websites. And, they are powered by artificial intelligence.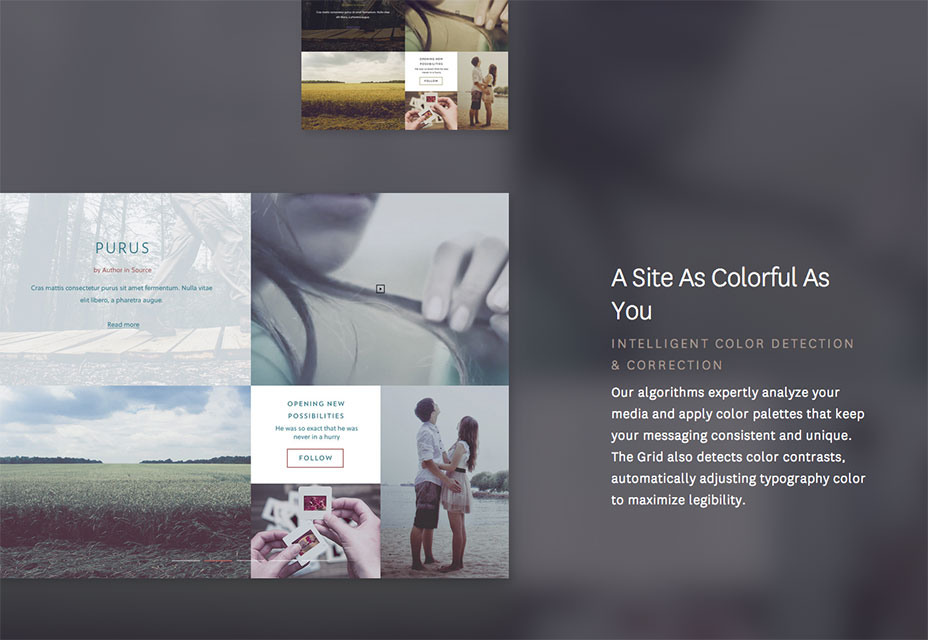 But, design is an art. It's about breaking the rules and making bold decisions. So, The Grid has received flak for its custom solutions, since it lacks human intelligence.
Startups, like Wix, have also taken up the challenge. They are mining tons of their 85 million users' data, to train algorithms and extract exciting design possibilities. Since AI relies heavily on data, we'll probably see more intelligent and creative designs, once more as businesses join the Artificial Design Intelligence (ADI) bandwagon.
Here's an example website that was created by bots, to show you what you can expect.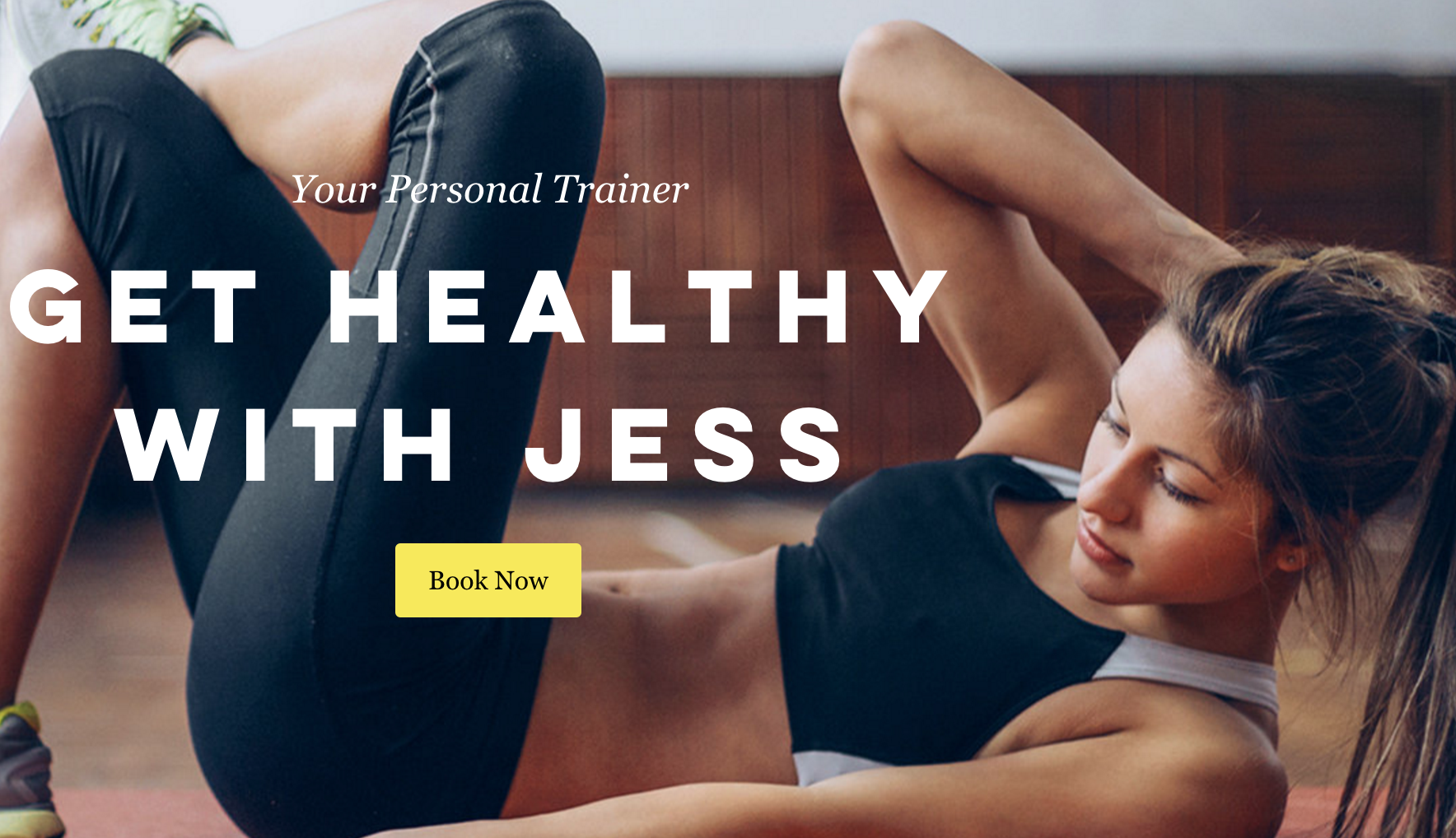 4. The internet of things presents a great opportunity to personalize your marketing
More devices are going online and communicating with each other every day. Besides Smartphones and Smartwatches, we've also got devices like Fitbit and Nest Thermostat.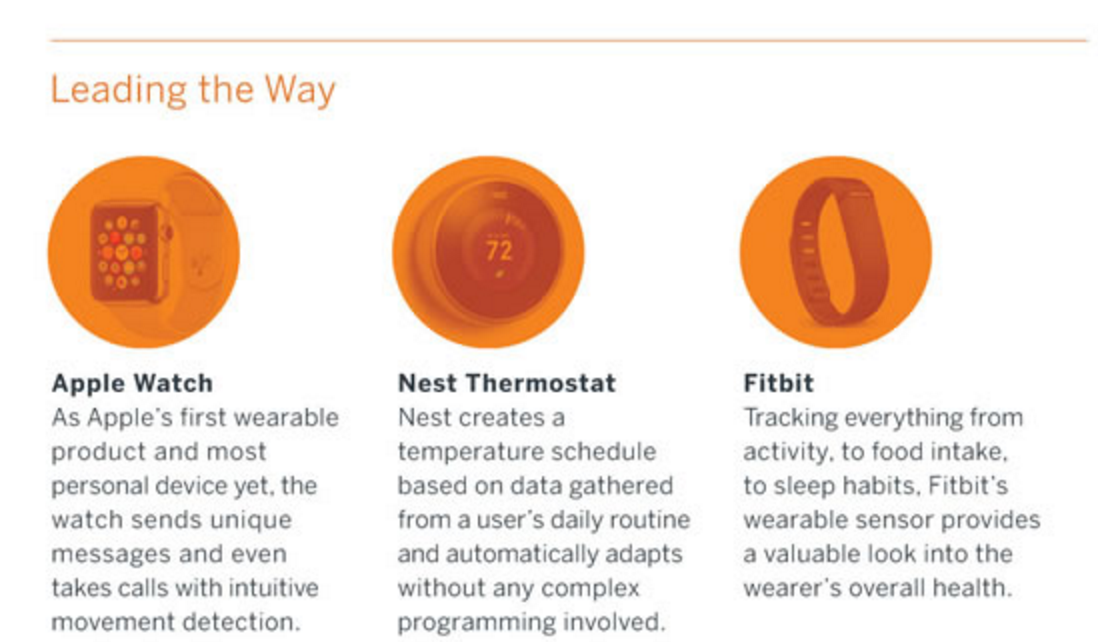 As everyday objects get internet connectivity, you'll have a wealth of consumer data. You can hyper-personalize your marketing, when you've got insights on your customer behaviors in such detail. With more relevant messaging catching your customers at the right moments, you'll see higher engagement and close more sales.
Marketo suggests that marketers will use the IoT in several ways.
With access to specific problems and data about your customers, you can expect marketing to reach a more personal, deeper level. And, you'll be able to offer solutions to the everyday problems of each consumer.
If you want more insights on how the IoT will revolutionize online marketing, then I recommend that you read this article that I wrote for Forbes.
5. Businesses will creatively use augmented and virtual reality
Meet artificial intelligence's graphically enhanced friend, augmented reality. Facebook has heavily invested in the technology and Zuckerberg pointed out that
Virtual reality has the potential to become the most social platform.
Augmented reality is playful, exciting, social and personal. And, you can use it to integrate virtual content in the real physical world.
Businesses are currently using it to create compelling customer experiences around their products. Let me quickly show you a few examples.
Northern Lightning is marketing its complete furniture collection in 3D augmented reality. Not only are customers more engaged when using their augmented product catalog, but it's also reduced the company's need for huge numbers of physical samples and the costs associated with their production and shipping.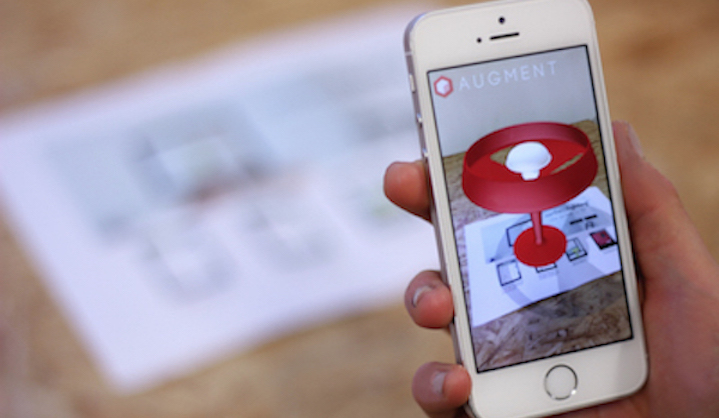 Turnstangen.de is using it to improve the online shopping experience of its customers, too. They sell gymnastic bars and sandboxes for kids. The augmented experience helps customers to get familiar with the shape, size and appearance of the products.
Ray Ban uses virtual mirror to show you an augmented experience of how different sunglasses suit your face.
AR will only get more affordable and easier to use as adoption increases.
But, instead of jumping on the AR trend and creating an app:
First, focus on understanding your customers and how you'll integrate the experience in the customer's journey.
Ana Javornik offers compelling advice on augmented reality for marketers in this article.
Conclusion
AI and AR are already here. They are changing how businesses communicate with customers. I would recommend that you start thinking about how these technologies are going to affect your marketing and business overall. I shared 5 talking points in this article and showed you practical examples, to give you a head start.
I am sure that you might have other ideas on how these technologies will change marketing. Share them with me in the comments below.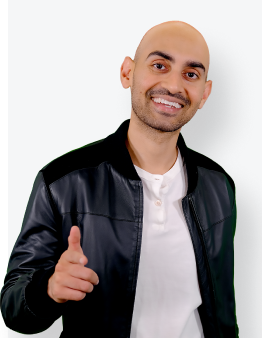 See How My Agency Can Drive More Traffic to Your Website
SEO - unlock more SEO traffic. See real results.
Content Marketing - our team creates epic content that will get shared, get links, and attract traffic.
Paid Media - effective paid strategies with clear ROI.
Are You Using Google Ads? Try Our FREE Ads Grader!
Stop wasting money and unlock the hidden potential of your advertising.
Discover the power of intentional advertising.
Reach your ideal target audience.
Maximize ad spend efficiency.