Want to know something that would drive massive amounts of traffic to your website almost without fail?
Picture this scenario. You've written an article, let's say about content marketing on a limited budget.
Someone searches for "how to do content marketing" on Google.
And they see this: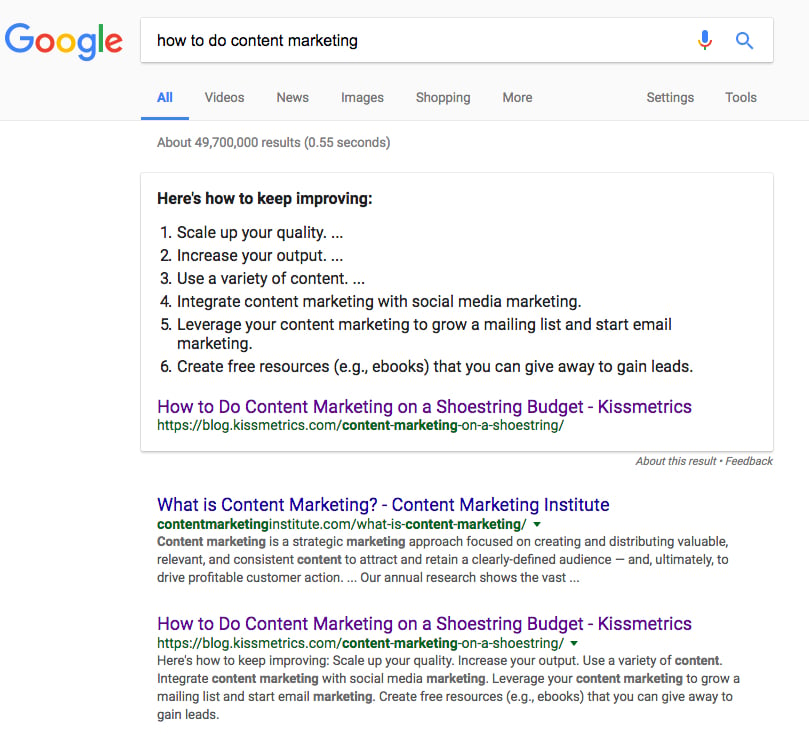 You've probably seen this little box before. It's called a featured snippet.
I wrote an article on content marketing, way back in 2014, before featured snippets were much of a thing.
Today, if you search for "how to do content marketing," you'll get that little list of tips extracted from my article.
Most SEOs want to get their site into position #1 (the first organic search result) on page 1. That's the best possible position for a site to be in, right?
Well, if you get a featured snippet, you come before the first ranking. You're in Position #0!
The advantages of a featured snippet are obvious:  more clicks, more visibility and a higher conversion rate. It's an SEO's dream!
Here's what Google has to say about featured snippets: "When we recognize that a query asks a question, we programmatically detect pages that answer the user's question and display a top result as a featured snippet in the search results."
How do you get a featured snippet? Well, the fact is, there's no guaranteed method of getting your page into a featured snippet.
Google says that you can't mark your page as a featured snippet. So, you might as well cross your fingers and hope for the best, right?
Not at all. While Google doesn't have an official process for applying for featured snippets, there's a lot you can do to get your page in that spot.
Before we start, I should say that this is not a surefire method of getting a snippet. Unfortunately, the best you can do is to optimize your pages.
But, think about it. You do a little extra work and your chances of being featured go way up.
Google purposefully created the featured snippet to help people. So, if you excel at helping people, you could get in the snippet.
If your page gets a featured snippet, it will be the first result on the first page for your keyword(s). Only paid ads (if applicable) will be featured above it.
Search Engine Land analyzed one site featured in the snippet and the results are astounding. The site had a 516 percent increase in sessions and the conversion rate skyrocketed from 2 percent to 8 percent!
I don't know about you, but that sounds enticing to me.
So, if you're interested, let's talk about optimizing your content for the featured snippet.
Learn how I grew my traffic to 195,013 visitors a month by combining this Google's SERP's Featured Snippet strategy with 4 other SEO tactics.
First, answering questions is really important
Before we dive into the techniques of optimization, let's talk about answering questions.
If your content doesn't answer questions, it won't get into the featured snippet. That's all there is to it.
That's because featured snippets are programmed to answer questions.
In short, Google's algorithms find the page that seems to best answer the user's question. That page is then displayed in the snippet to make the user's life easier.
Let's say you want to write an informational article about blog revenue. That will probably never make it into the featured snippet.
If you Google "blog revenue," here's what comes up: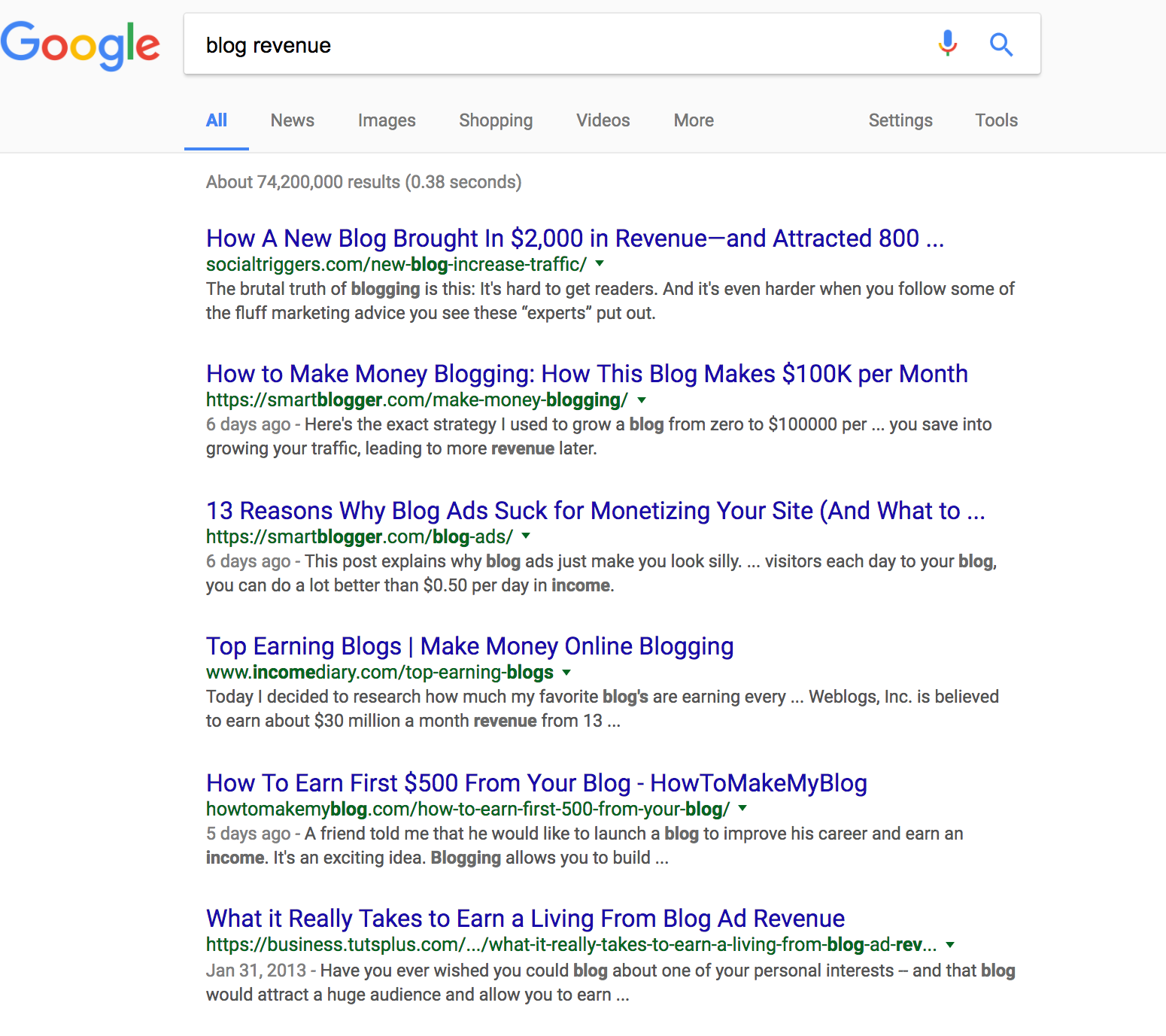 There's no featured snippet because there's no possible way that the term could be construed as a question.
However, if we make one little change, the snippet pops up. Let's try "increase blog revenue" instead:
The snippet pops up because the search term is implicitly asking how to increase blog revenue. One little word makes all the difference.
That's why you have to understand what questions your target audience is asking.
Second, you want to find the right questions to answer
There are two ingredients to find the questions your readers are asking.
First, you'll need a bit of knowledge about search queries. Stone Temple found that 19% of question-based search terms have their own featured snippets.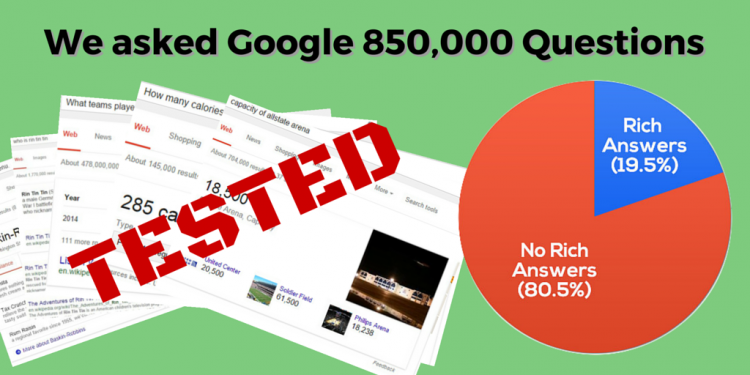 In other words, people are literally typing questions into Google. And, answering questions is the whole point of the featured snippet.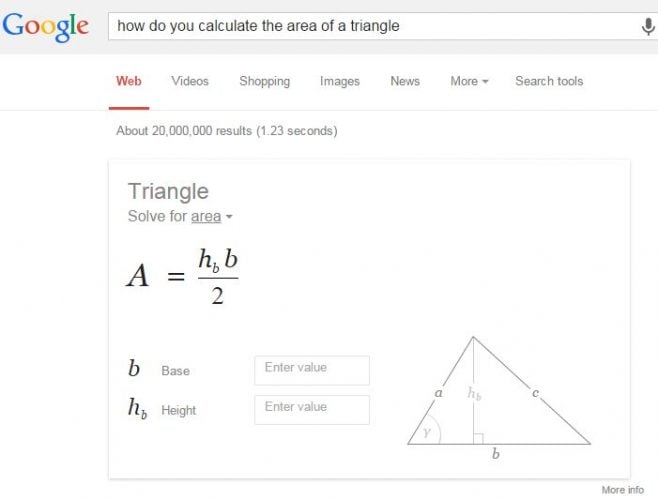 Usually, that means that those search terms will include one of the following phrases:
How to

What is

How do

How does
These are the terms Hubspot used, when it conducted its own analysis of featured snippets.
Think about these terms when researching your keywords (which we'll get to in a minute). These are some of the most popular question terms, but don't feel limited to these.
Some other terms you might consider:
These are just starting points. If you can think of a way to phrase a search query, then you can put it on your list.
Second, you'll need a keyword research tool. Google's Keyword Planner, SEMrush and WordStream are all excellent choices.
At its core, question research is basically keyword research with these terms added onto the beginning.
So, instead of researching "blog revenue," you're researching "how to increase blog revenue."
Let's use SEMrush with the question, "how to increase traffic to my blog." Head over to SEMrush.com and type the key phrase into the search bar:
Click Search, and you'll see something like this:
One of my favorite parts of SEMrush is the Organic Search Results section. These results are different from what you'll see on Google, because they don't include advertised links like these:
The Organic Search Results section will give you a great idea of your competition for any organic keyword. You can then check out the sites and break down their keyword performance in-depth.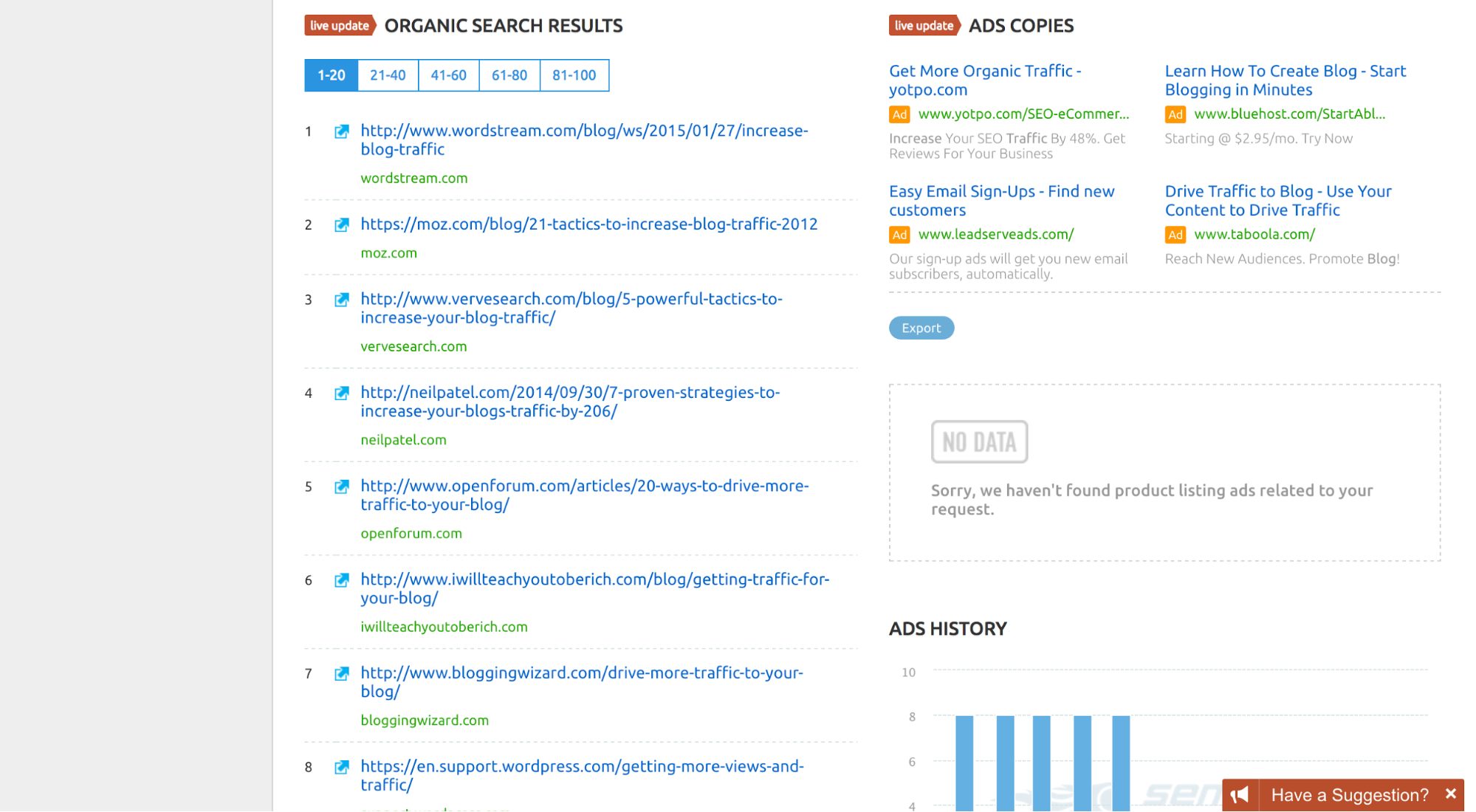 SEMrush also shows you related keywords. Notice that all of the organic related keywords for our question-based keyword are also question-based keywords:

Use these sections to find out what other people may be Googling. You'll get updated insights on the kinds of questions your readers are asking.
Do you need to worry about ranking?
Google's official support page on featured snippets states that they take "a top result" for the question keyword and display it.
So, it sounds like you need to rank fairly high to have a chance at getting a snippet.
Most snippets seem to confirm this. For example, if you take our keyword from earlier, "how to increase blog revenue," and look at the SERP, you'll see that the page featured in the snippet also ranks at #2: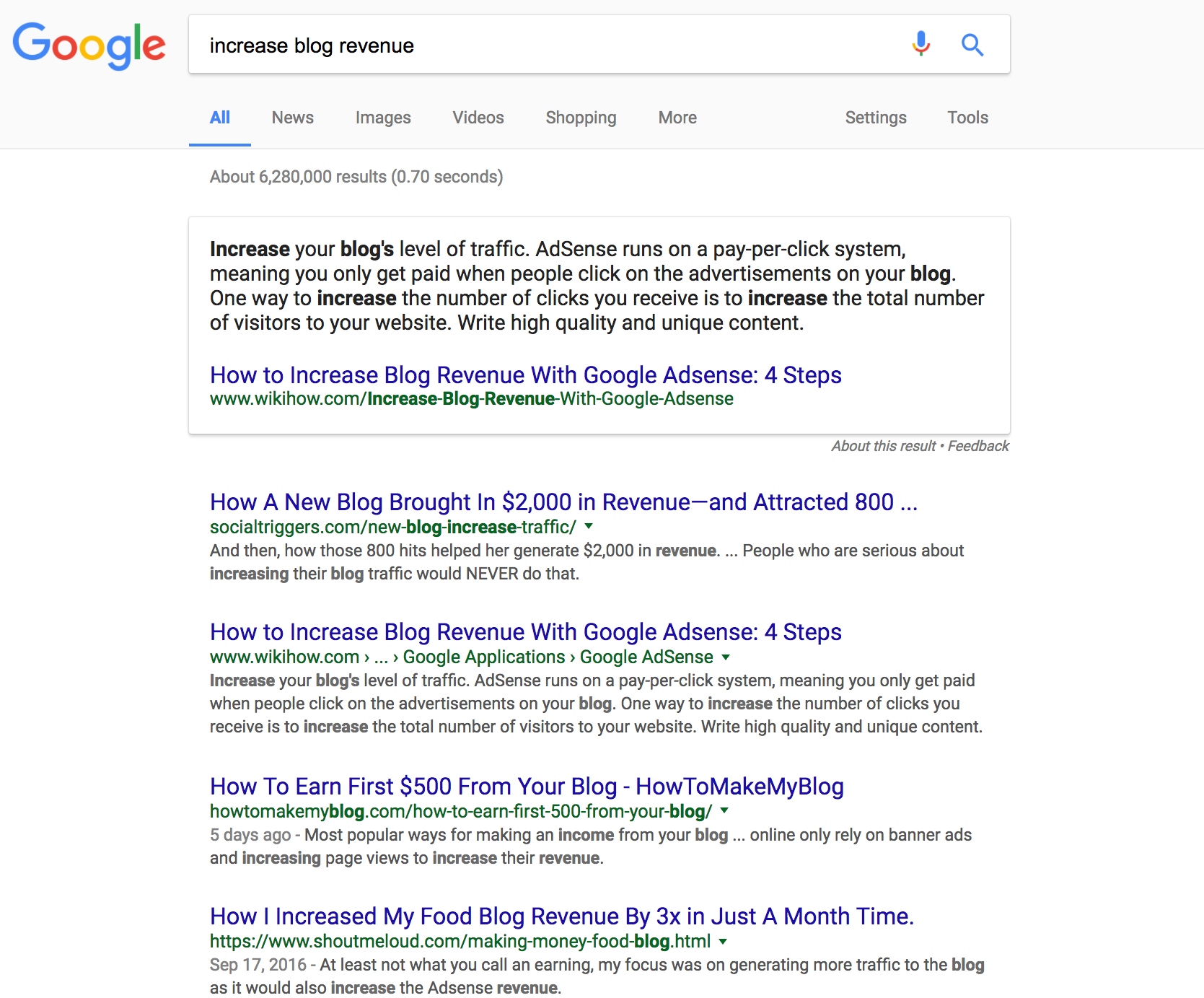 Let's try another random query: "what is marketing automation." Now, the page in the snippet ranks at #1 among the organic search results: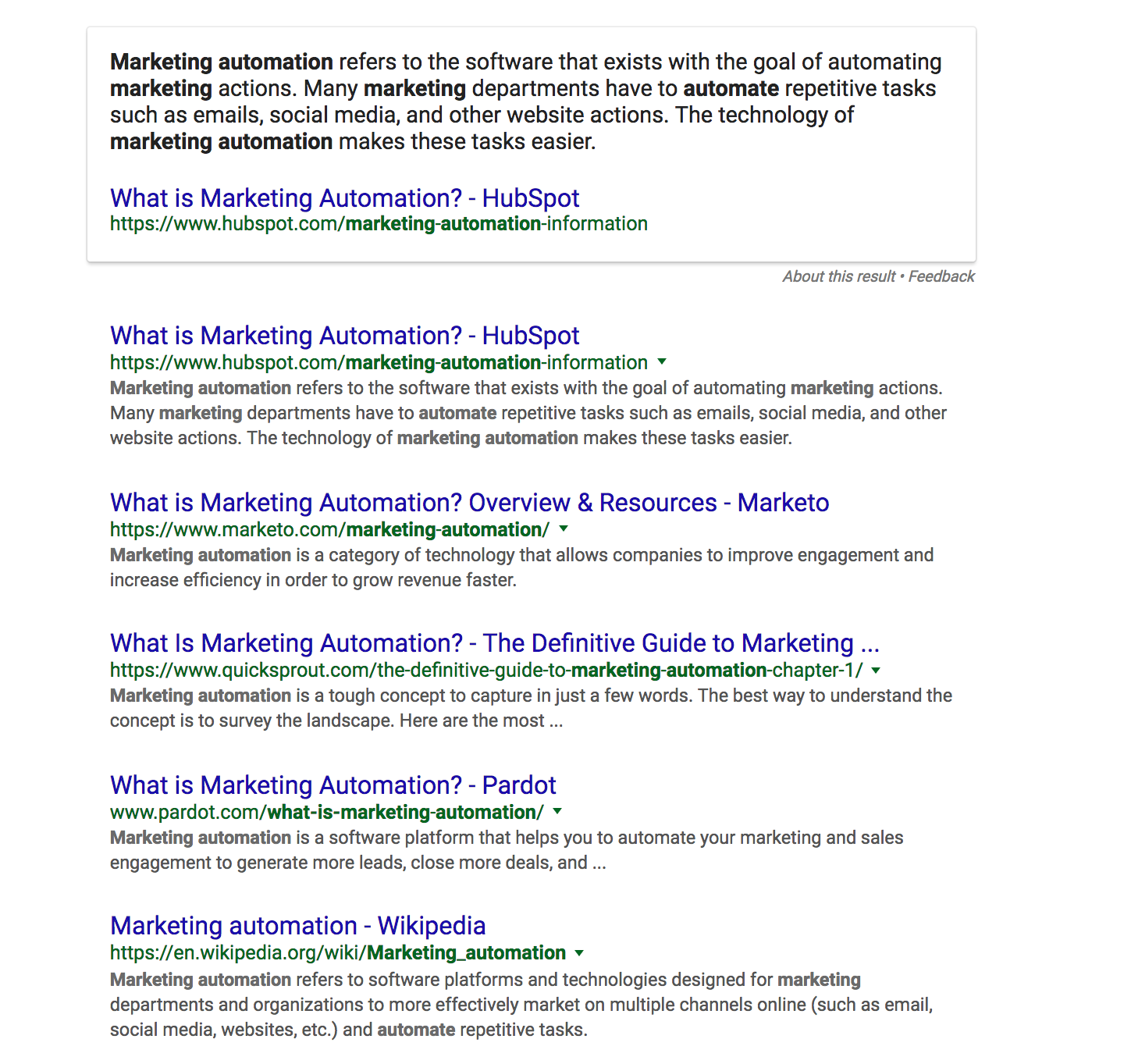 However, that's not always the case. Moz analyzed 981 snippets and noted their rankings. Most of the results were no surprise––70 of the snippets were pulled from positions #1 through #3.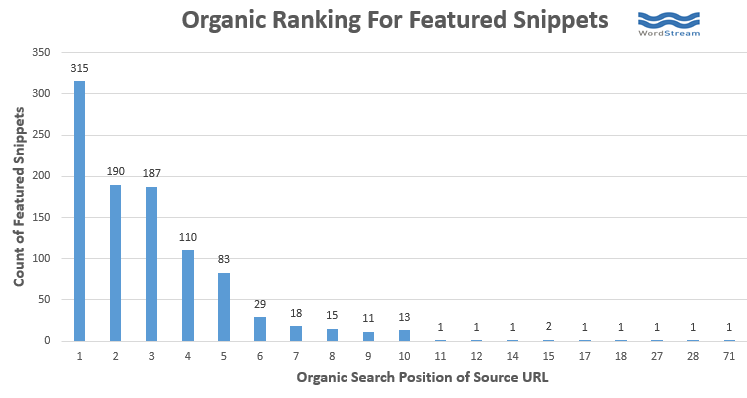 But, 30 percent of the snippets came from position #4 to #71! Even a site that's well past the first page can be featured in a snippet.
So, do you need to worry about ranking? Not any more than usual.
Of course, you should definitely aim to get on page 1 and always improve your keyword performance. But, even if you're not on page 1, you could still get a snippet.
The moral of the story:  If you're not ranking highly for a keyword, focus on answering questions as best as you can. It's possible you could still get that snippet in the coveted position of #0.
Be the best at answering questions
You know that to get featured in the SERP snippet, you have to answer questions well.
So, is that the end of the story? Not quite. It's not as simple as answering the question and using keywords.
There are a few things that you need to keep in mind.
First, make sure you answer questions thoroughly and with detail.
Let's use our keyword "how to increase blog revenue" and look at the featured snippet.
The featured article is a wikiHow post that takes the reader step-by-step through the process of using Google Analytics to help increase blog revenue.
There's a high level of detail in this article. While it's not long, it does thoroughly explain the process.
Whether your article is short or long, it needs to have this level of detail.
Here are some ways to make sure you're going into detail:
Break down every step into its smallest parts

Use lots of media (e.g., infographics, screenshots, videos, etc.)

Ask yourself, "Would a beginner to my niche understand this whole article?"
You need to make your content the best that it can be, to give it a chance at being featured.
Second, consider including a Q&A or how-to section on your site.
SEMrush Data Scientist Qi Zhao analyzed over 10 million keywords and 1 million domains to find out what makes featured snippets tick.
A Q&A section is one of Zhao's tips to increase your chances of getting featured.
You can create a typical FAQ page or you can create a topical Q&A page, like KidsHealth did: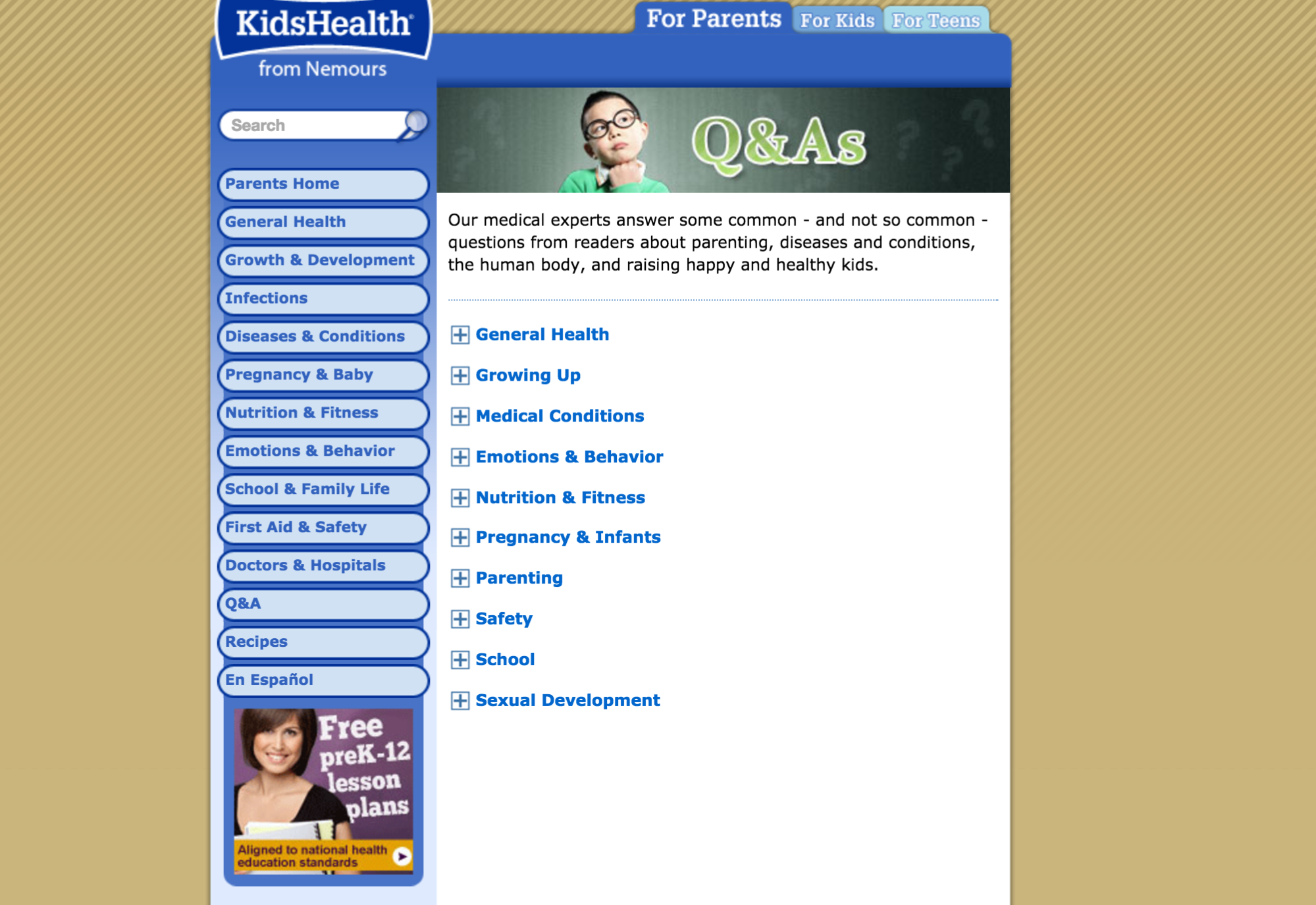 Zhao says, "When you have more than one target question, you may consider creating a Q&A section on your site. All related questions can be put together on the same page with well-formatted questions and answers."
The resulting page will have many questions on the same page, giving it an even better chance of getting a featured snippet.
If a Q&A or how-to page would be out-of-place for your niche, there are good alternatives. Duct Tape Marketing showed how even "nutrition facts" sections can count:
In short, if you can build a page that answers some sort of question, it has a chance at getting a snippet.
Third, outperform your competition.
Even if your competition has a featured snippet for a keyword, don't lose hope.
Instead, improve upon their answer. I like to use Brian Dean's Skyscraper Technique for this.
There's always room for improvement and the current answer in the snippet is probably missing a few things.
Can you improve upon the design? Go into more detail? If you can one-up the current answer (or high-ranking articles), do it!
If you create the new authority answer and drive traffic to it, you could replace your competition in the featured snippet.
Why do people say that the snippet steals traffic?
I couldn't write a conclusive article on the featured snippet without mentioning this point.
Not everyone loves the featured snippet. Some people argue that getting in the featured snippet can actually cause your site to lose traffic.
This is where user intent matters. If someone is just looking for an answer, they might not want to read an entire article on the topic in question.
Let's say someone heard the term "conversion rate" and isn't sure what it means. So, they Google "what is a conversion rate" and see this: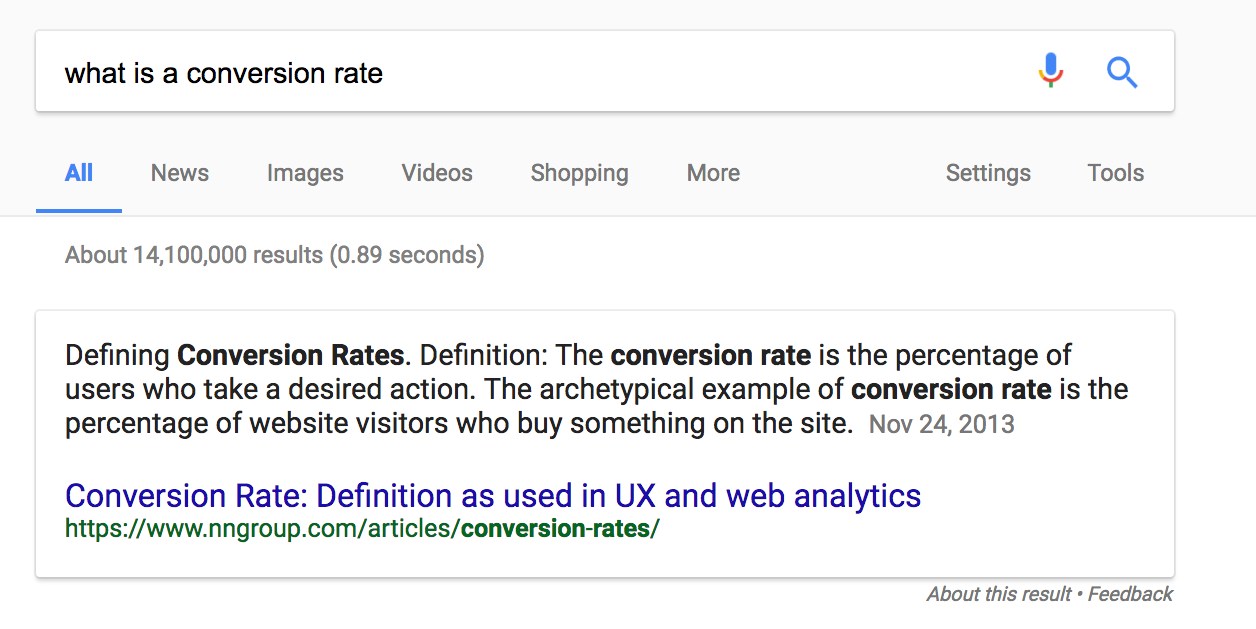 The snippet gives them a sufficient answer, which can be problematic. When this happens, some users might not actually visit the page in the snippet.
They've gotten all of the information that they need and they have no need to visit your page to read more.
This is a legitimate concern.  If you're aiming to get in the featured snippet, you need to know how to deal with this issue.
There are two methods of fighting traffic loss due to the snippet.
Method #1: Make your definition helpful but general.
Take a look at the snippet for the query "What is YouTube marketing."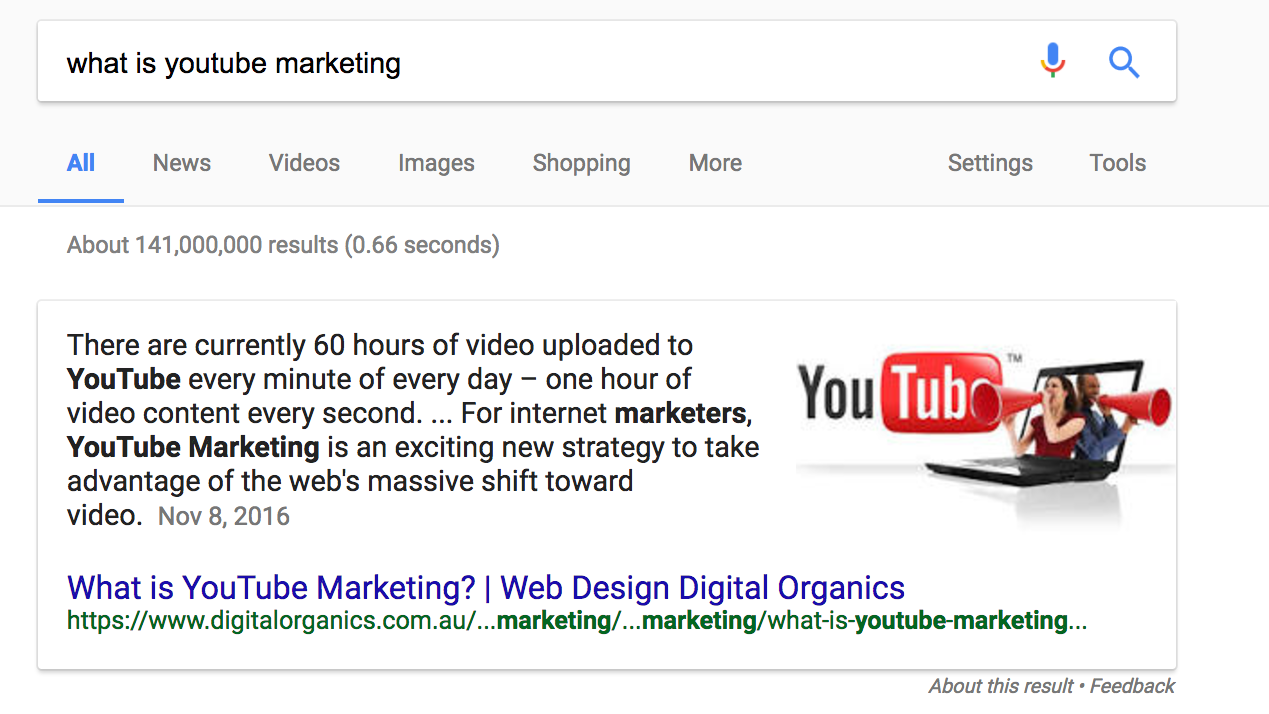 This acts as a sort of teaser for the article itself. It also gives the user a general idea of what YouTube marketing is about, but they'd probably want to click on the link to learn more.
Method #2: Aim for question-based keywords that require research and can't be answered in a single sentence.
If you Google "What are LSI keywords," you'll see this: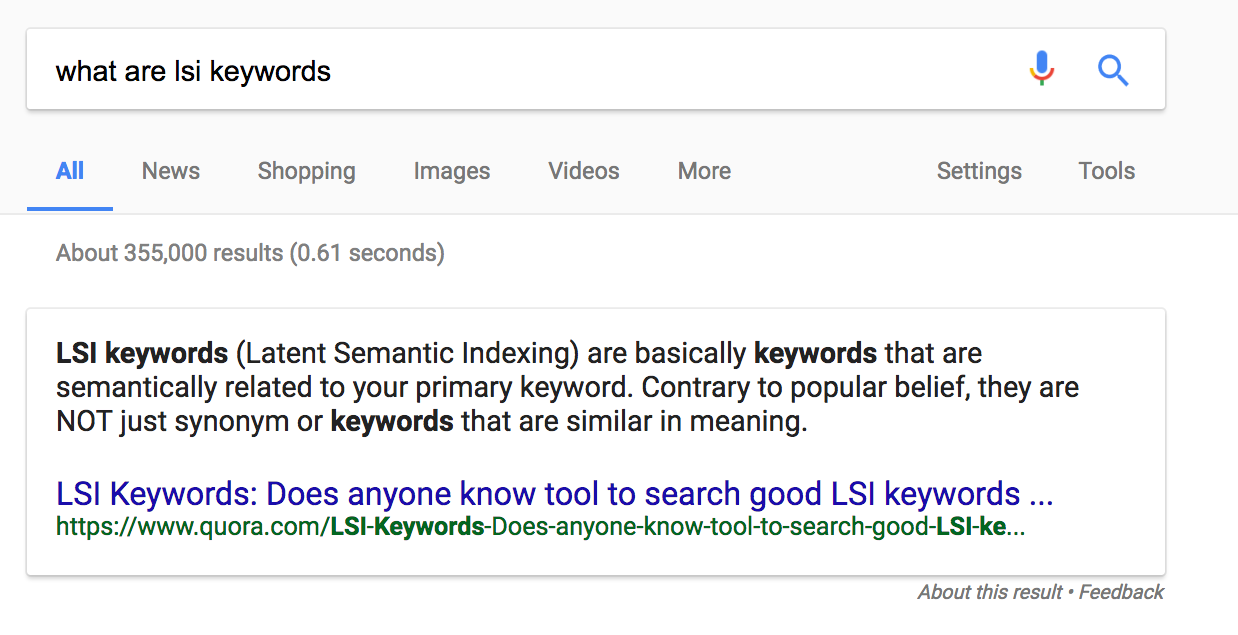 That's a good answer, but it only scrapes the surface of what LSI keywords can do. Users searching for information on LSI will likely want to read a lot on the subject.
The more intricate a topic is, the better chance it has of getting a ton of traffic in the snippet. Even so, proceed with caution. These solutions aren't one hundred percent.
At the same time, don't get scared off from pursuing the snippet. If you have the right keyword, an involved topic and a great article or page, the snippet can work wonders.
Conclusion
Landing the featured snippet position is possible.
Google designed the snippet to provide the best answer to a question. If you have that answer, you get in the featured snippet.
Right now, you have all of the tools to create comprehensive, detailed answers to questions in your niche.
But remember, like many things in marketing and SEO, this isn't a surefire method. You can optimize your content, but you can't guarantee yourself a spot in the snippet.
If you do optimize your content, you'll be ahead of most of your competition. It doesn't hurt!
Make this optimization process a regular part of your content marketing strategy and you just might see one of your pages sitting in the featured snippet box sooner than you think.
Are you going to aim for the featured snippet?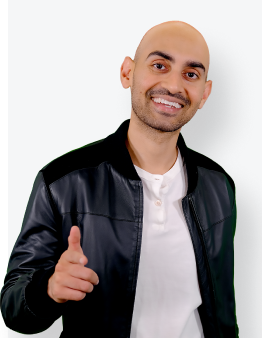 See How My Agency Can Drive More Traffic to Your Website
SEO - unlock more SEO traffic. See real results.
Content Marketing - our team creates epic content that will get shared, get links, and attract traffic.
Paid Media - effective paid strategies with clear ROI.
Are You Using Google Ads? Try Our FREE Ads Grader!
Stop wasting money and unlock the hidden potential of your advertising.
Discover the power of intentional advertising.
Reach your ideal target audience.
Maximize ad spend efficiency.