These terms are two of the most important in the digital landscape, but what makes them different?
As you may have guessed, the "SE" portion in SEO and SEM are the same.
Everything pertaining to search engines (SE), such as traffic quality and quantity, falls into that SE category.
Since there are 3.5 billion Google searches made daily worldwide, I think it's best I explain it this way:
Google search results contain both paid search results and organic search results. Search Engine Optimization (SEO) attracts traffic organically, while Search Engine Marketing (SEM) attracts traffic with various paid search ads.
The back and forth between SEO vs. SEM in the world of digital marketing can be confusing, but you'll have everything down by the time I'm done.
I'll even explain how both can work together.
Let's start with the basics.
What Is SEO?
Optimization puts the O in SEO.
SEO, or search engine optimization, is the process designed to improve the ranking of a website or online content for high search results on Google.
The key difference between SEO vs. SEM is online content will need optimizing to rank higher on Google organically.
Take a look at it like this: if someone's search query was 'glazed donuts,' they're likely looking for a donuts shop, ingredients, or a recipe.
If I was a restaurant or food blogger, I'd make sure my website or content was optimized to meet the user's search intent. Strategizing like this will help you rank above other websites organically without paying for ads.
There are also 3 ways to break down SEO to gain more traffic:
It's essential first to understand how search engines function before you can start to get your content to rank higher. This is how you build the foundation of a proper long-term SEO strategy.
My main goal is to give you the ins and outs of how to optimize your content to rank higher on Google and attract more eyes to your blogs and pages.
On-Page, Off-Page, and Technical SEO
The core elements of SEO consist of these 3 main paths:
Building content for on-page SEO works to raise your ranking. This comes down to including keywords in your on-page content, producing high-quality content frequently, making sure that your metadata is written effectively and incorporates rich keywords.
Off-page SEO optimizes spaces outside of your site, such as building backlinks. Building relationships and producing content that others want to share requires this aspect of the SEO formula. Even though it requires a lot of labor, your SEO success depends on it.
As the name suggests, technical SEO is the process of improving aspects of a website that don't involve content. To name a few examples, this would entail the structured data, crawlability, site speed, and mobile-friendliness of your site.
Now that we answered "What is SEO?," let's look at what SEM means.
What Is SEM?
Marketing puts the M in SEM.
To keep it simple, SEM is the paid version of SEO.
SEM refers to a number of different paid search advertising models.
When you use paid search strategies like pay-per-click (PPC) to gain increased visibility in the SERPs, the budget that pays for the ad needs to relate to a user's search query.
Well, what is PPC? It's in the name: you, as the advertiser, pay a fee each time someone clicks on your ad. You're essentially trying to attract users that are searching for your brand as a solution through products, services, or information. From the PPC paid search method, you'll generate leads, increase your sales, and spread brand awareness.
This is the kind of thing that appears as a Google advertisement and is frequently at the top of a list of pages. It typically has to do with how you place and use your keywords, making it that much more important that you have a concrete plan and strategy in place.
Regardless of the budget size, SEM is effective. Then, in the form of an ad, these keywords are shown next to the searcher's results.
These ads are available in a variety of formats, including:
• Text-based ads
• Visual ads, such as shopping ads or product listing ads (PDLs)
The primary benefit of SEM is that it allows you to promote your offerings to potential customers looking for you to fulfill their needs.
SEO vs. SEM
Let's remember to keep it basic: SEO links to organic search and SEM links to paid search.
SEO optimization on your site or web pages lets Google know your content is the best destination for a user's query. Once your site is SEO-friendly, you have a better chance of getting high-quality traffic and increased conversions.
SEM vs. SEO is a paid strategy to gain this visibility on search engines. PPC ads help reach your target audience to increase conversions and repeat users. If you want to start driving clicks and conversions quickly, SEM is the route for you. Once you test your paid ad, you can make revisions and make sure you're getting the desired traffic flow.
These terms are not interchangeable.
However, they can work together to target audiences via search engines like Bing or Google.
How Do SEO and SEM Complement Each Other?
They may sound like they function the same, but the two are actually different approaches to gaining visibility on the SERPs.
When we talk about how SEO and SEM complement each other, increased visibility of content is an equal goal for both. Increased and improved visibility on your site will get you shown in the SERPs by optimizing for keywords targeting your audience and niche. Both terms can be tested to see which direction to take to speak to your target audience.
Both SEO and SEM are all about driving relevant traffic to your site. The flow that comes through both strategies can work organically or from paid tactics.
With these methods, you'll gain better insights into your audience with data feedback. To be a success at SEM or SEO, you'll need a solid understanding of your target audience to have an effective strategy.
In order to find and target keywords with SEO and SEM, conduct keyword research. Let's look at keyword research in action using Ubersuggest to show how helpful it can be to your search engine marketing techniques.
This tool can support you if you need more keyword ideas by supplying hundreds of suggestions. You'll also see results on volume, the competition, and even seasonal trends for each keyword. And to make things a bit easier, it's all based on what people are typing into Google.
By not only knowing your audience, but your competition's strategies, it's easier for you to keep up.
By combining the forces of SEO and SEM, you can take over the SERPs and make sure you're seen in both paid ads and organic rankings.
When Should You Use SEO vs. SEM?
Knowing when to focus on SEO vs. SEM in your digital marketing efforts will come with knowing what's best for your search marketing campaign.
If you have a limited budget, SEO will make more sense. You won't see the results you want in SEM if you can only keep your ad up for a week. You'll be wasting your money, in fact, when you can be building a strategy with longevity.
If you can wait, SEO will kick in.
If you're publishing high-quality content, your keywords need to match the quality. This is a key part of ranking on Google. If you get serious about ranking, you can branch off into link-building strategies.
This is how you get SEO to work for you and gain strong page authority.
When Should You Use SEM vs. SEO?
A deep dive into SEM will show you that launching and testing pages will reveal which strategy performs best.
Once you get started, you'll see why it takes practice and testing.
A monthly budget will keep you organized so you can figure out what works and what doesn't.
Factors like ad copy, combinations of keywords, and landing pages will have your results varied. Process all the data so you can get the most out of your ad investments.
Since SEM works faster than SEO, it can truly be effective if you have these aspects in order. This way, the paid advantages of SEM can help you with outperforming or outbidding for ads that will convert to potential customers.
Either way, SEO and SEM are not going to work with a set-it-and-forget-it technique.
For each approach to be successful, they need to be regularly examined, tested, and improved.
FAQs
Is SEO or SEM better?
I know you want to hear something definitive, but it really relies on your goals.

If you're having a sale in a couple of weeks, SEO may be too slow of a game for you to convert your audience in time. In this case, SEM vs. SEO would be the better choice. SEO would be more beneficial for long-term growth.

If your performance in SERPs visibility is low, SEM could be a great way to boost the SEO optimizations you've put in place already. Together, these powerful marketing channels create many possibilities for driving growth from an audience looking for companies like yours.
What is the difference between SEO and SEM?
The difference between SEO and SEM is SEO relies on free, organic search techniques and SEM charges for paid advertising. SEM takes effect sooner since it's a paid effort, whereas SEO takes time but is a strong, long-haul strategy. 

This long-haul strategy continues to add value over time. On the other hand, investing in SEM means your visibility stops when you turn your ads off. This is why it's important to understand the use cases of both and potentially gain a competitive advantage by fusing their powers to drive success. 
Conclusion
Now that you know the difference between SEO vs. SEM, which one will you choose to grow?
Your website's value over time will definitely depend on SEO. However, if you want to raise your ranks in the SERPs and gain quick traffic improvement, SEM is the better route.
But don't forget, you can use both to your advantage. SEO will be a part of your non-paid tactics within your search marketing strategy, and SEM, including PPC, will be the paid tactics.
Don't miss out on the benefits of using them both rather than having an SEO vs. SEM mindset.
While they individually have advantages and disadvantages, when combined, they can provide you with a strong competitive edge.
What do you think is the most important factor of SEO? What do you think is the most important factor of SEM? How do you plan to use them together to your advantage?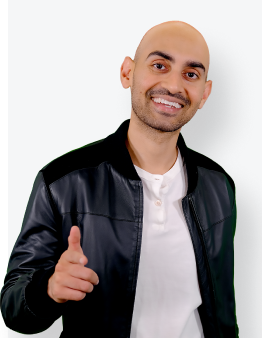 See How My Agency Can Drive More Traffic to Your Website
SEO - unlock more SEO traffic. See real results.
Content Marketing - our team creates epic content that will get shared, get links, and attract traffic.
Paid Media - effective paid strategies with clear ROI.
Are You Using Google Ads? Try Our FREE Ads Grader!
Stop wasting money and unlock the hidden potential of your advertising.
Discover the power of intentional advertising.
Reach your ideal target audience.
Maximize ad spend efficiency.