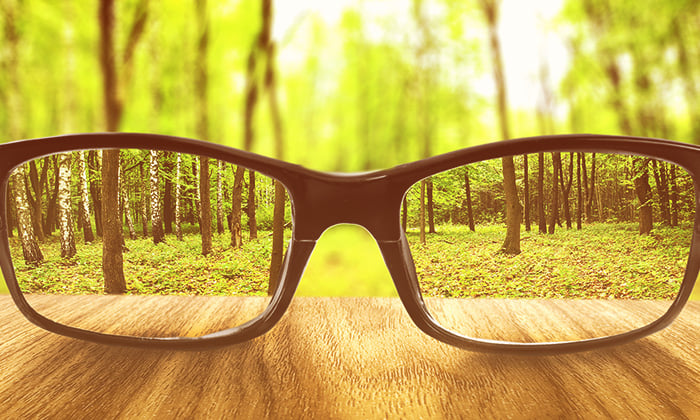 Ranking first on Google has become a lifelong pursuit for many marketers.
It's become the gold standard of search engine optimization. It's the marketing dream.
If only you could show your buddies or boss that you're ranking first, you'd feel like a success.
You want to rank #1 for your most desired, high-volume keyword.
You want to capture thousands upon thousands of visitors from a single search every month.
Ranking first for a new term that's popular in your industry could take your business to new heights.
But it could also destroy your return on investment in the process.
Getting the first spot on a given Google SERP isn't an overnight event.
In fact, it takes copious hours, weeks, months, and often years of time and money to get.
That's especially true when you're competing for highly desired keywords with sites that have been around for decades.
With growing competition and more blog posts than ever, it's nearly impossible.
Most people end up chasing this pipe dream, driving their business into the ground in the process.
Getting top-ranking spots on Google is great, but it's often not worth the cost.
Here's why ranking #1 on Google is bad for your ROI and what you should be focusing on instead.
Impossible-to-reach ranking factors
To understand why ranking #1 on Google is bad for your ROI, you first need to understand what it takes to rank #1.
In 2016, Google released a Q&A video featuring a search quality senior strategist who shared with us a major revelation for SEO:
Links and content are the two most important ranking factors when it comes to getting a #1 position on Google.
Why? It's because you need amazing content that users want to read and you need links that show how authoritative your site is.
Multiple studies that we've seen in recent years have backed up this tip from Google.
For example, HubSpot's blogging benchmark data found that the more you blog, the more traffic you get: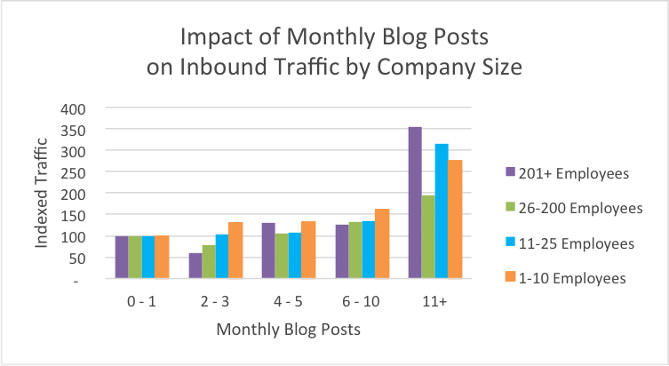 On top of that, the more you blog, the more leads you get:
Why? More blog posts give you more chances to rank higher on Google.
They give you more indexed pages and more ways to acquire new users.
But that's not often doable for most companies. Writing dozens of blog posts a month isn't an option when you've got clients breathing down your neck.
Similarly, Backlinko has found impressive data on which ranking factors are correlated.
When it comes to links, you need hundreds of referring domains linking to your post. That means that you have to get hundreds of unique websites to give you links.
On top of that, you need links from high-quality sites with high domain authority.
Those are industry-level sites like HubSpot, Kissmetrics, and hundreds more.
But that's not all. The top-ranking sites have unbelievable amounts of total external backlinks:
To sum it up, you need all of this to rank #1:
Thousands of total external backlinks,
All from high-quality websites with high domain authority,
And from hundreds of diverse sites.
The odds are stacked against us, unfortunately.
But that's not all that goes into rankings.
Search Engine Land has created an entire periodic table of SEO success factors for ranking high: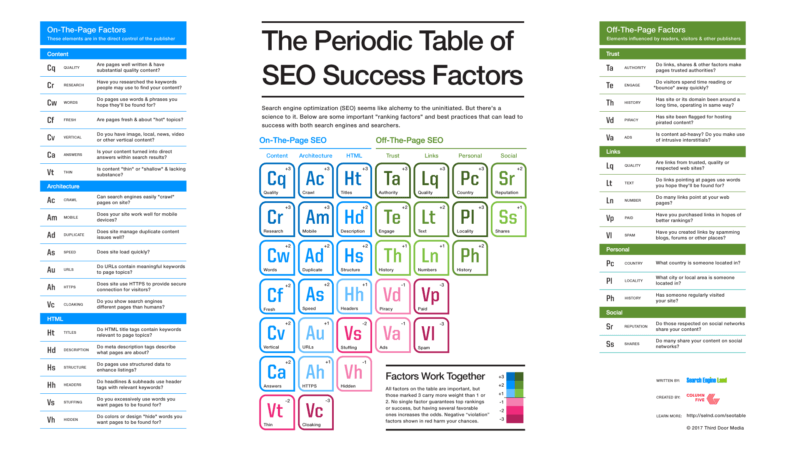 Just looking at the number of factors that go into ranking your content gives you an idea of how unprofitable it is.
The effort that it takes to rank #1 is discouraging, to say the least.
I've been uploading tons of blog posts to try and compete, but it's still tough.
Top-ranking content takes time and money to get
Compounding on that last section, this all takes up a diminishing factor that we can't manufacture more of:
Time.
And guess what? Time equals money.
When it comes to labor, even if you run your own business, your time is your money.
You're on the clock.
You don't have the money to spend five years ranking for "content marketing."
You can't afford it when the difficulty is this high:
It has a difficulty of 96. That's simply not going to happen.
You can't compete when these big players are crowding the search engine results: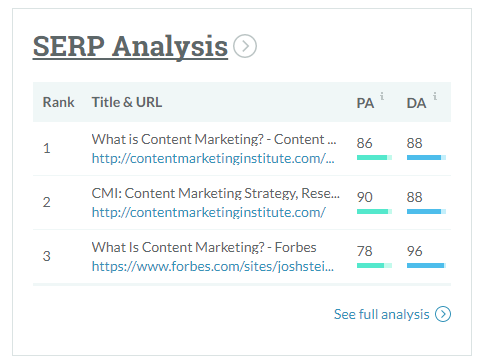 Do you have a domain authority higher than 70? If not, you've already narrowed your chances down to almost zero.
Do you have thousands of links pointing to that post that you want to rank for this term? If not, you have no chance.
It's the tough reality that most of us face.
Even with a high domain authority site like mine, I still struggle to rank for big terms like this.
For example, look at how many links the first post has for the search term "content marketing":

There are over 13,000 links to that single post.
That's more than most sites will earn in their entire time on the Internet.
Even second-ranking posts tend to have high links:
More than likely, the site with the top-ranking content for a given search term published it years ago and is constantly updating it.
They've had years upon years to build up their backlinks and are still refreshing it with new data to keep it relevant.
It's virtually impossible to catch up with them at this point.
It's futile. It will cost you so much money and time that it will, in fact, destroy your bottom line.
The main question you have to ask yourself is, "Will this impact my ROI?"
Is getting 5,000 more visits a month going to make you more money than it costs to get the #1 spot?
It most likely won't. You might have to spend years of work to get that traffic, potentially costing you thousands of dollars in labor and outreach.
Fewer people are clicking on search results
Top-ranking content requires time, effort, and money.
It also requires marketers to hit nearly unachievable goals in a saturated market.
But that's not all. There's more bad news for us.
Fewer and fewer people are clicking on search results now.
Don't believe me? Check out the keyword information for this popular search term:

It has 24% organic CTR. What does this mean?
Essentially, this number is an estimate of the percentage of clicks available to traditional, organic links on a given SERP.
It takes into account other SERP features like ads, verticals, and more.
Put simply, only 24% of the people searching for this term will click an organic result.
That's terrible. That means that if, by some miracle, you ranked #1 for this keyword and got 100% of the organic click traffic, you'd only land 2,232 extra visits per month to your site.
In reality, you wouldn't come close to getting 100% of the organic search clicks, meaning your real traffic levels are going to be much lower.
Even long-tail keyword searches are starting to show a trend of lower click-through rates: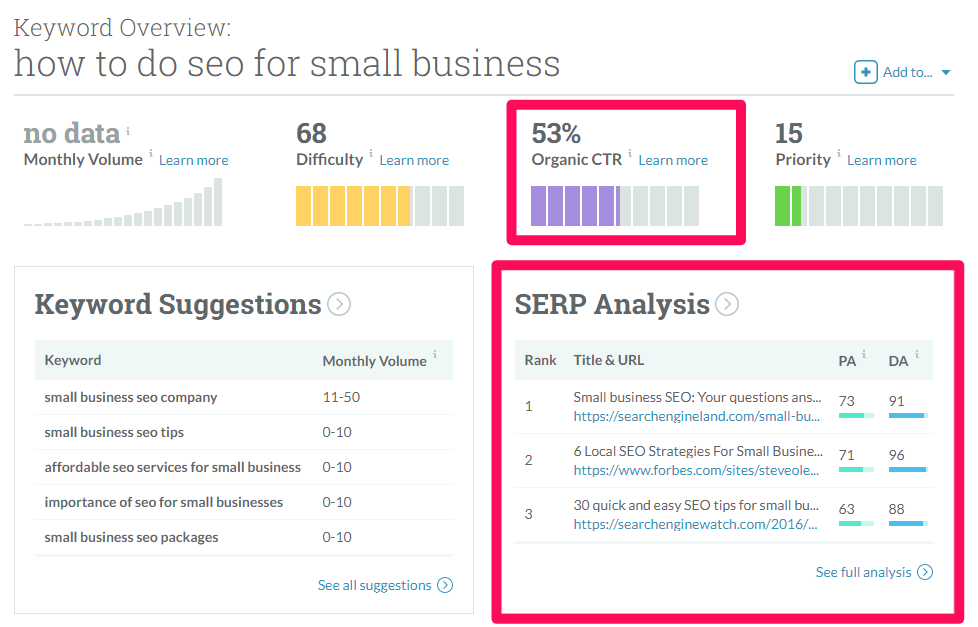 That keyword has almost no searches per month, and big sites still dominate the SERP analysis.
Plus, the organic CTR is still low.
To corroborate this data, Moz recently found that, on average, only 66% of searches result in a click.
That leaves 34% of searches ending in no clicks. This number is on the rise, and that's not good for SEOs.
So, why is this happening? It's easy to understand when you conduct a basic Google search.
For example, look at the SERP when you search for "content marketing:"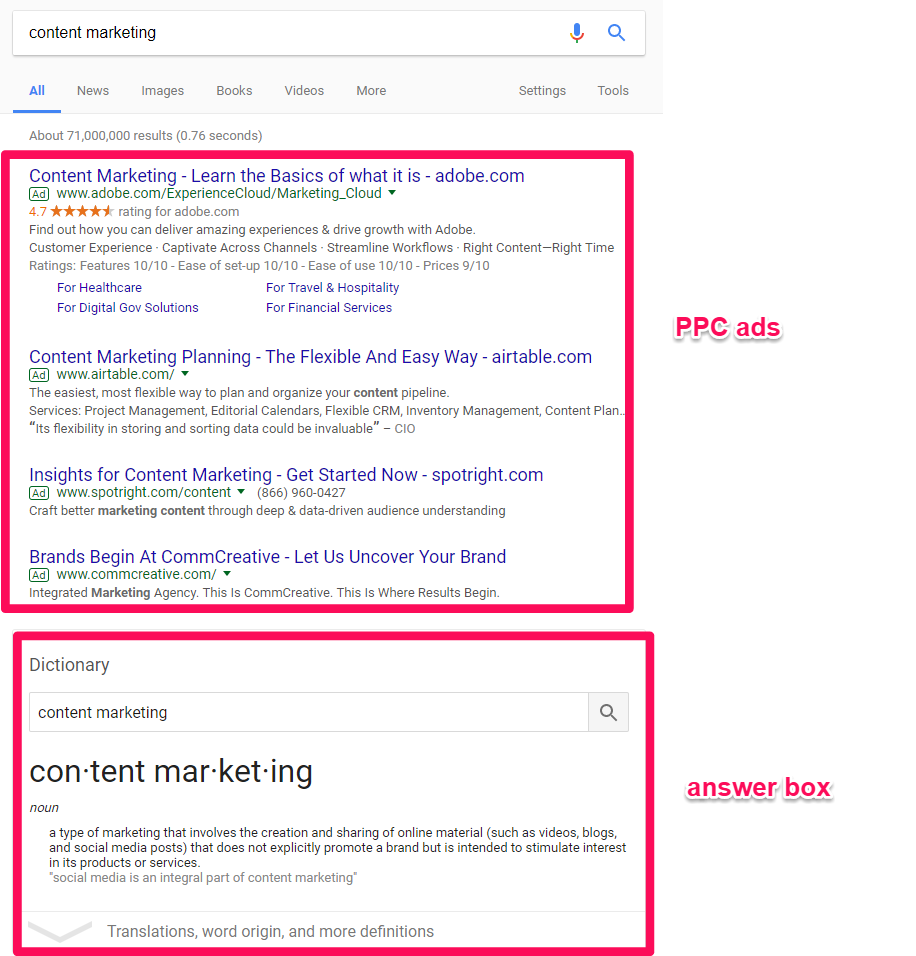 The first section of the results has four PPC search network ads and Google's rich answer box.
But that's not all. When you scroll down, here's what else you see before any organic results: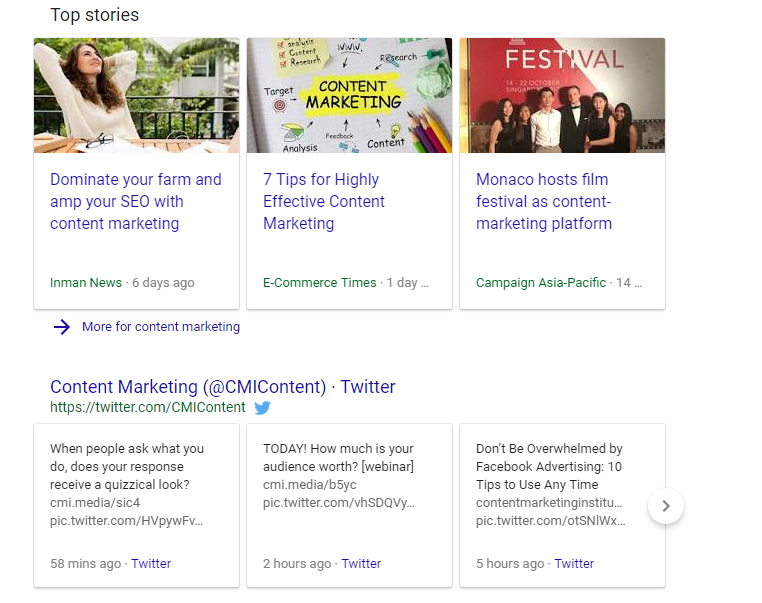 You see Google News and social integrations. Scroll down even further, and you finally land on some organic listings.
But at the end, you see more PPC ads:
The moral of the story is:
Google's SERPs are crowded, providing fewer opportunities for organic clicks and a heavier focus on diverse elements like news, social, answer boxes, and PPC.
It's no wonder that this term has a mere 24% organic CTR!
Fewer and fewer people are clicking on typical organic results simply because Google is providing them with instant answers, removing the need to click.
Google changes constantly
Every year, Google updates their algorithm 500-600 times. That's more than once a day.
Some sources even say that they update it 2-3 times per day.
In just the past few years, we've already seen major changes on Google, including things like RankBrain and the Knowledge Graph.
One of my favorite posts showing this rapidly-changing history comes from Search Engine Watch:
This infographic shows how significantly Google has changed in the last decade.
And if history tells us anything, Google will only continue to change their algorithm and increase their update frequency to meet the needs of a changing market.
So, what on earth does this have to do with ranking #1?
It shows us that spending years to rank for a top keyword is futile.
What happens when you dump $100,000 into link building and promotion when Google decides to change how ranking factors work?
What if links become obsolete in the next five years?
That's potentially business-ending money that you've spent on a tactic that could fade away.
With an algorithm that's constantly changing and a marketplace that's growing rapidly, no marketer can risk spending money to expect returns in five or ten years.
With that in mind, what can you do other than striving to rank first? Here's what you should focus on instead.
Focus on leads
When I sign in to my Google Analytics account to check up on my latest marketing KPIs, I often navigate directly to traffic:

It's a pitfall that I often fall into. Traffic is great if you're running a business based on ads.
In that case, the more traffic you can get, the better.
But that's not always the case when it comes to B2B marketing.
Traffic doesn't always correlate to leads.
For example, what if you drove 10,000 visits from a fake news post on Reddit?
That traffic would probably bounce fast, right?
That means that your conversion rate is going to be almost nothing. That traffic wasn't worth it.
The same is true for trying to rank high on Google.
Your focus shouldn't be on rankings and traffic. Rather, it should be on leads, conversions, and sales.

Focus on your bottom line and nurture your current customers.
It's much easier to drive sales with existing customers than to acquire new ones.
Try upselling current customers to create higher lifetime values rather than looking to achieve new rankings for more traffic.
On top of that, you can even try running Facebook Lead Ads that are often cheap.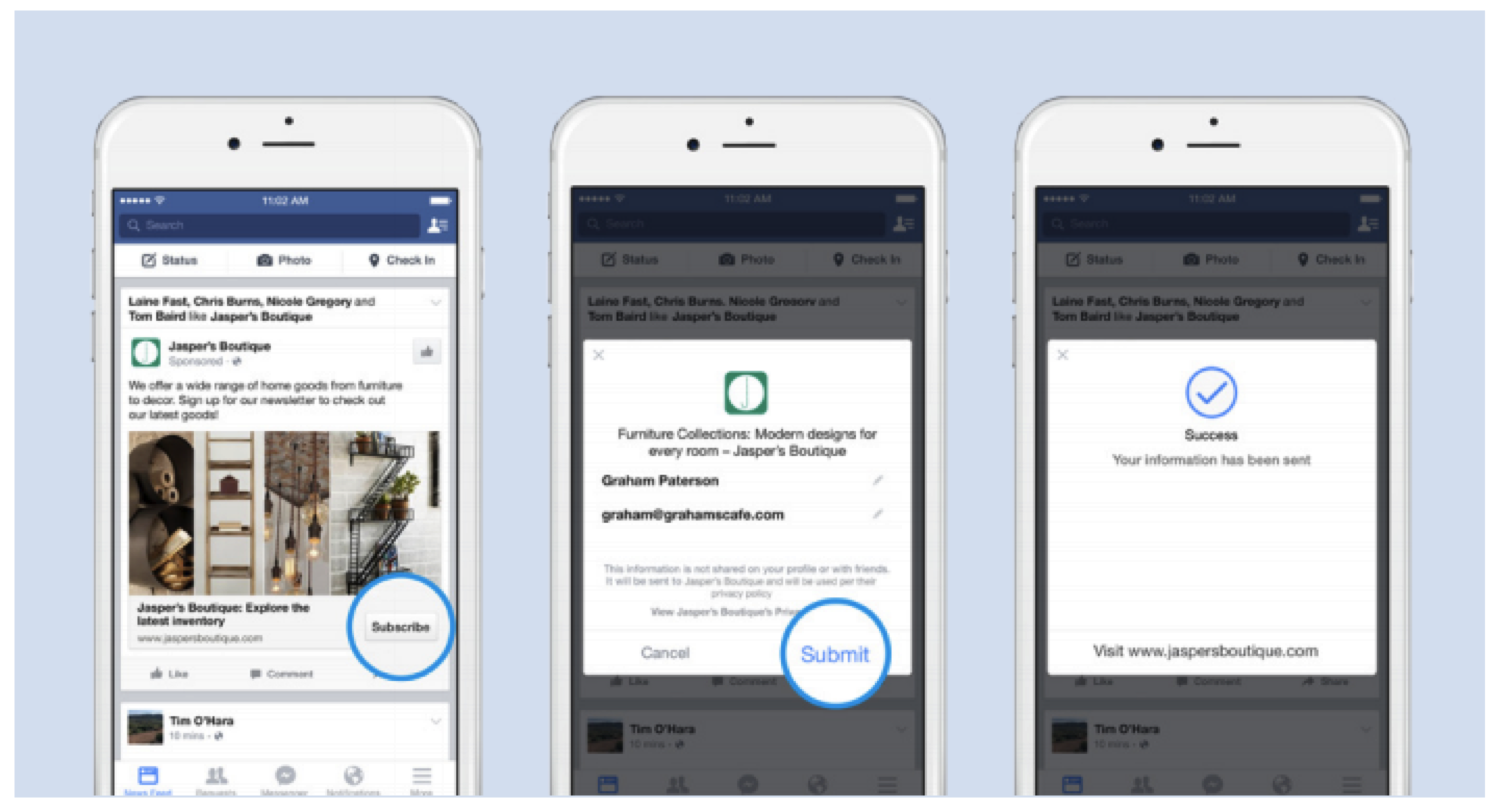 This is one of my favorite strategies for getting new, highly-targeted leads.
Facebook has diverse custom audience options that allow you to target your ideal customers.
If your customer value is high, running Facebook Lead Ads will be much more profitable to gain new leads than investing $50,000 in link-building efforts.
To get started with Lead Ads, head to your Facebook Ads Manager and create a new ad.
Select "Lead generation" from the marketing objective list:
You can start to create awesome lead magnet ads right on the Facebook news feed:
Try offering lead magnets like e-books, whitepapers, and checklists to collect more leads for your sales funnel, even on a low budget.
Remember: Leads should be your top priority — not traffic from a #1 ranking spot.
Focus on improving your organic CTR
If you're already ranking high on Google, you still don't need to focus as much on linking efforts.
Instead, try focusing on your organic click-through rate.
Google uses artificial intelligence technology and machine learning to understand how search behavior works.
Think about it this way:
If someone searches Google for "seo guide" and clicks the second result, Google notices: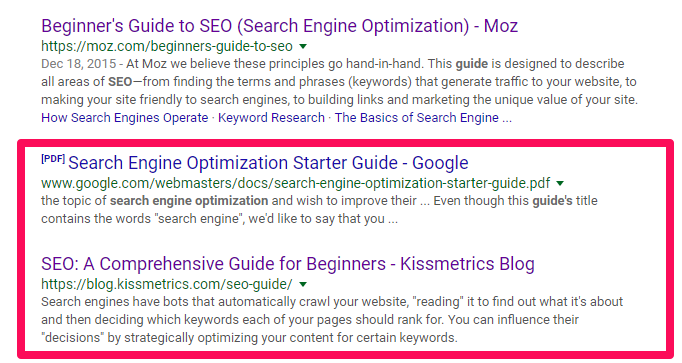 If this starts to happen often, Google will likely move that second post up to the first.
Why? Google knows that it's becoming more popular.
It's getting more clicks, which shows Google that the content is better at solving the user's problem.
Focusing on optimizing for CTR can give big benefits for your leads and rankings without spending any money on links.
So, how do you do it? Start with your title tag and meta description: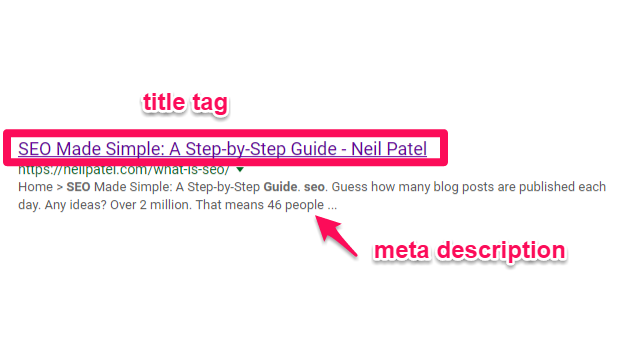 These don't have any direct power for SEO rankings anymore, but they have the power to form a better first impression.
They can drive someone to click on your post over your competitor's.
When it comes to dominating the SERPs without ranking first, you need to bait people into clicking on your content.
To do this, be sure to use some of the most popular headlines from content sites that dominate the headline game.
As embarrassing as it is to admit, I love to get ideas from BuzzFeed. They are the masters of getting people to click by using a simple, short headline:
That headline uses a couple of tactics that work well:
It uses a listicle ("XX tips").
It creates intrigue by referring to "Weirdly Useful" products.
Headlines should grab the user's attention in a sea of content. They need to stand out if you have any hope of increasing your CTR.
To get more ideas, try exploring top content from popular sites on BuzzSumo:
Type in your website URL or a competitor's URL to see what content is the most shared on their site.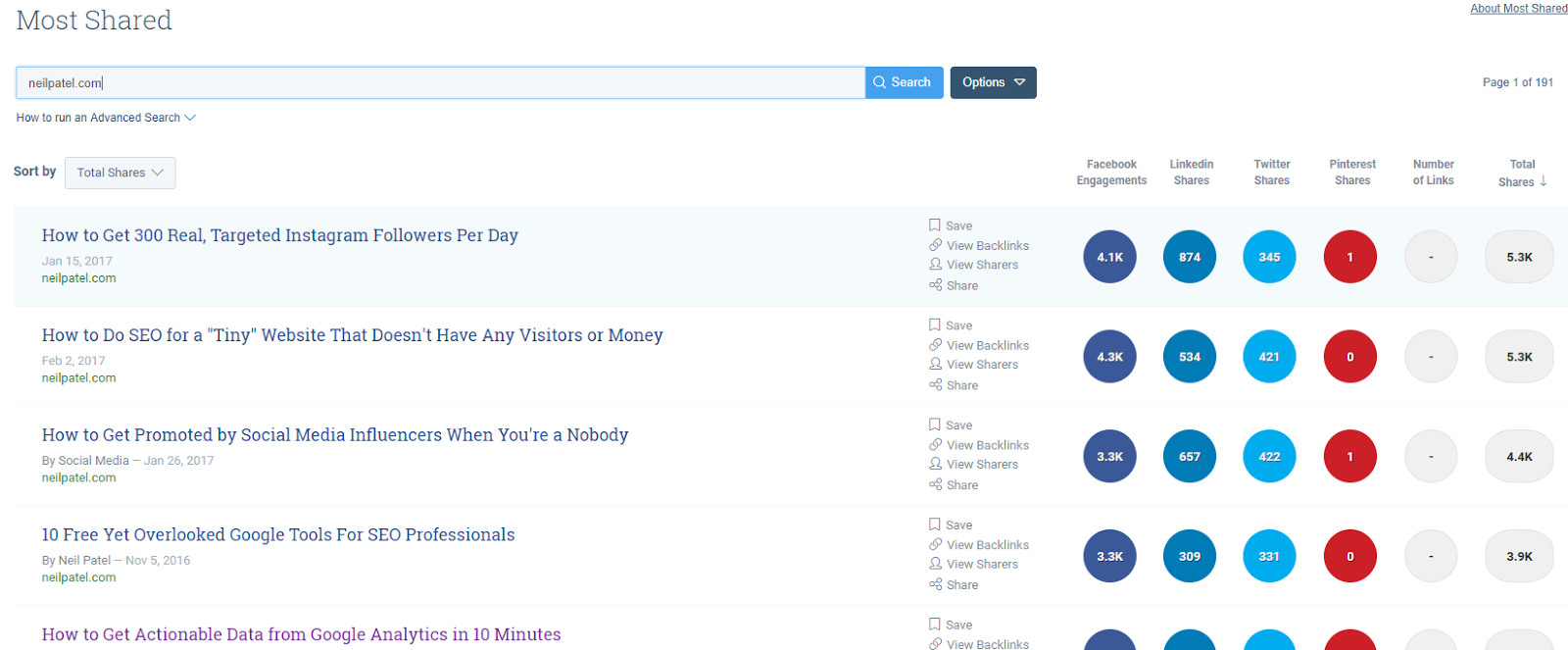 Next, look for trends. Do you notice anything about the top results on my site?
Here's what I noticed: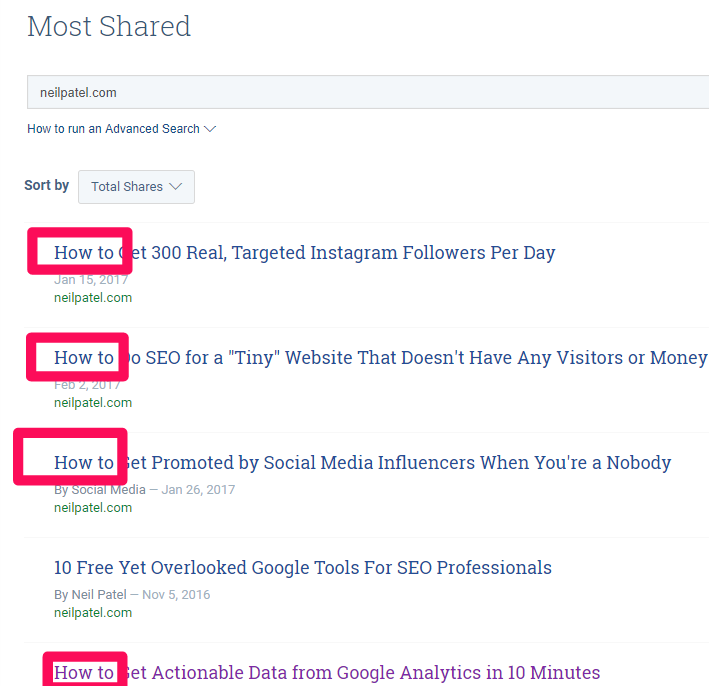 Four of my five most popular posts were "how-to" style posts, along with one listicle.
This tells me that people love my "how-to" posts more than other content.
That means I should continually pump out this content to get better shares and higher click-through rates.
Use BuzzSumo to analyze your top content and start using those strategies more often.
Conclusion
Ranking on Google is a dream for most marketers.
Everyone wants to rank on Google and get thousands more visitors to their site every month.
Ranking number one could take your business to new heights when it comes to getting traffic and leads.
But it's not that simple.
With millions of blog posts published every single day and thousands of new sites popping up, it's nearly impossible to rank for high-volume keywords.
Spending time and money on this strategy might only bankrupt you.
When thousands of sites are competing for the same position, it can quickly become a drain on your resources.
Current ranking factors for Google focus on content and links as the top two. But the problem is that most established sites have more links than you can acquire in a lifetime.
The odds are stacked against you.
To achieve the top spot, you'd need to spend hundreds of thousands of dollars on link-building campaigns and content production.
On top of that, fewer and fewer people are clicking on organic results.
With new additions to the SERPs, people have less incentive to click on traditional organic listings.
Google is always updating their algorithm and the way that their search engine functions.
Putting an investment into links now could be worthless in five years if they make major algorithm changes.
Instead, focus on getting leads.
Focus on improving your click-through rate and trying to capture the most relevant traffic you can get.
What are you currently focusing on to improve the ROI for your business?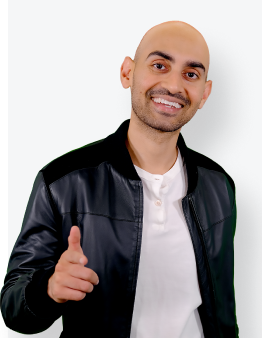 See How My Agency Can Drive More Traffic to Your Website
SEO - unlock more SEO traffic. See real results.
Content Marketing - our team creates epic content that will get shared, get links, and attract traffic.
Paid Media - effective paid strategies with clear ROI.