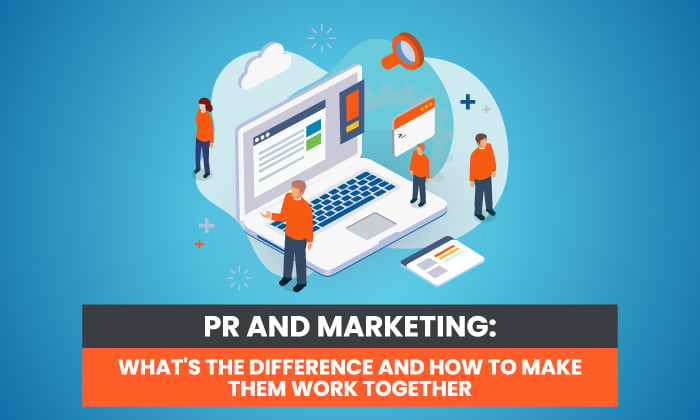 Are you struggling to increase your company or brand's exposure, no matter how many blog posts you publish?
You might have a PR problem, rather than a content marketing one.
If that's the case, you're not alone. 49 percent of bloggers say their one of their biggest challenges is getting traffic for their posts.
While the rise of social media and blogging has given companies new ways to gain attention, working with a PR professional can help you access to press coverage in more prominent publications, build relationships faster, and get even more traffic for your posts.
Do traditional PR methods still work in the digital age, though?
The short answer is yes. In fact, a recent survey found that over 43 percent of people rank press releases as the most trustworthy type of content.
PR still connects you with media gatekeepers who issue content like press releases, but it also uses different approaches from when traditional advertising was the norm.
Below, we'll cover how you can align and modernize your PR and marketing strategies to reach your short-term and long-term business goals.
What's the Difference Between PR and Marketing?
Digital marketing now accounts for 58 percent of marketing budgets.
But companies still spend money on PR too.
In fact, 45 percent of companies increased their PR spending in 2021, and 50 percent of companies kept their PR budget the same. Only 5 percent of companies decreased their PR budget in 2021.
In today's digital landscape, the lines between PR and marketing are blurred. However, the main difference between marketing and PR is this:
Marketing strategies are focused on driving sales. Marketing's main function is to promote products or services to the right people at the right time.
Public relations focuses on brand sentiment. Its main function is to maintain a positive brand reputation and increase brand awareness.
PR and marketing also measure success differently.
In marketing, a successful campaign often means an increase in sales and achieving short-term goals. In PR, a successful campaign means positive media exposure, many people responding to the brand's messaging, and helping the company reach long-term goals.
A good example of these two functions working together is Apple's 2015 #ShotOniPhone campaign. When negative sentiment about the iPhone's camera abilities started making the rounds online, Apple launched an offense strategy.
The brand created a UGC campaign to highlight everyday users' visuals and regain user trust.
The results?
The campaign had 6.5 billion media impressions and 95 percent positive brand mentions. In 2015, Apple sold over 231 million iPhones, an increase of 62 million from 2014.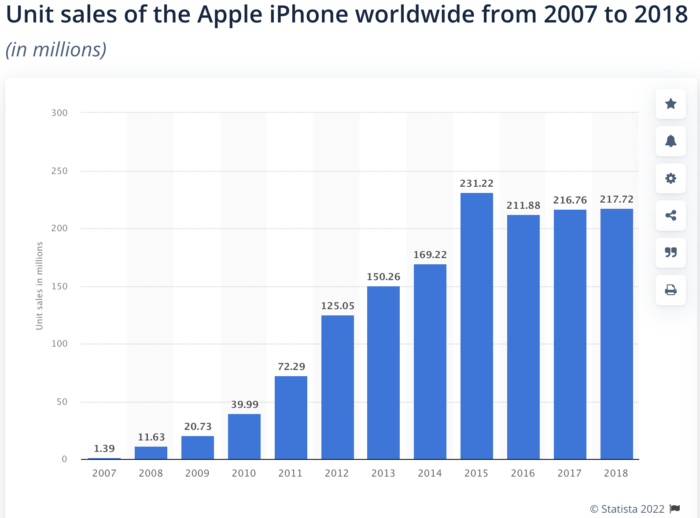 Were those extra sales a direct result of the campaign? It's hard to say, but it clearly impacted brand sentiment (PR) and sales (marketing).
In fact, it went so well that Apple relaunched the campaign in 2022.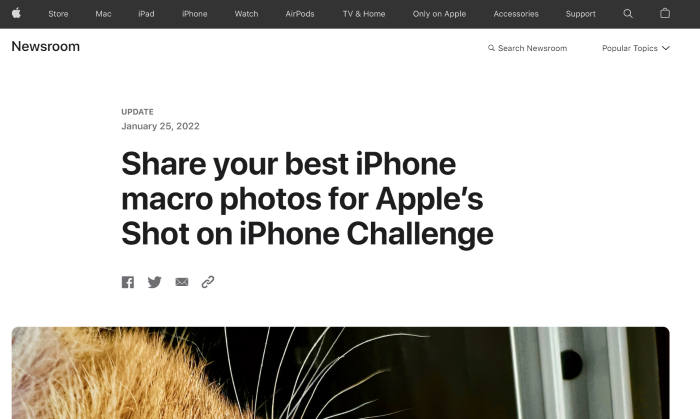 Why the Difference Between PR and Marketing Matters
In 2020, the average human created 1.7MB of data—per second. In 2020 alone, we created a total of 2.5 quintillion data bytes a day.
If we're all content creators these days, what's the point of PR? Actually, this makes PR more important than ever.
Think about it this way.
Whether it's content marketing or PR, good marketing is about making your brand visible. It's about getting your brand in front of the right people.
The ways we communicate have changed, but people, at a fundamental level, haven't changed. We all still have 24 hours in a day and a limited amount of attention.
With so much content being created online, it's even harder to stand out. That's why content marketing needs PR behind it to thrive—because if potential customers don't see your content, it may as well not exist.
How can you stand out? There are two key ways: get major publishers to publish your content or get influencers to link to your content.
Mint became one of the most popular personal finance apps by creating an awesome blog with consistently great content.
This content helped them to become the number one blog in personal finance. Yet, they needed media coverage so that their content got the attention it deserved.
As Nicholas McGill explains:
"I believe Mint owes much of its fame to Gawker Media, the owners of world-famous blogs such as Lifehacker and Gizmodo. They have a large audience of power-users and evangelists who generate all the traffic to other social media tools, bookmarking it on Reddit, StumbleUpon, and talking about it on Twitter, etc. The bump and exposure from Gawker gave them so many users it crashed their servers repeatedly."
Tips to Merge Your PR and Marketing Strategies
A recent study found 50 percent of PR professionals believed PR and marketing would be aligned by the year 2022.
Although there are clear differences between PR and marketing, the survey respondents were right: PR and marketing's success relies on a symbiotic relationship.
PR's strong points are relationship building, brand awareness, and crafting a compelling brand story. Marketing's strengths are measurement, analysis, and sales.
When you implement a strategy that leverages the strengths of both, you'll create more compelling content that drives engagement, increases sales, and gives you data to prove it's working.
Ready to merge your PR and marketing into one cohesive strategy? Let's dive in.
1. Start Guest Posting
In a recent survey, 60 percent of respondents said they write at least 1-5 guest posts per month.
Blogging is the reason I have such a successful business. By sharing my insights and running tutorials on digital marketing, I've established myself as the go-to thought leader in the industry.
If your business has a blog, there's a good chance you want the same success. However, I didn't achieve it solely through a consistent editorial calendar.
I leveraged the power of guest blogging.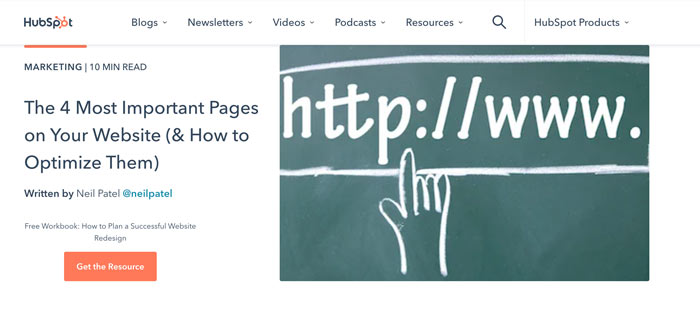 By pitching high-quality content to sites like Forbes and HubSpot, I spread the word about my business to a whole new audience while demonstrating my expertise.
That's a PR gold mine.
On the marketing side, guest posts link back to your website, boosting your SEO efforts and brand awareness. With more authoritative sites linking to you, Google will start boosting your native blog posts more, helping you reach the top of SERPs, improve click-throughs, and get more people into your sales funnel.
Focus on guest posting on blogs that meet the following criteria:
blogs that publish content in your industry/content related to your niche
blogs that have an audience that will be interested in your brand
blogs with high engagement
blogs with owners who are active on social media
In order to find applicable blogs, start by Googling terms like "[insert your industry keywords] guest post opportunities".
For example, if you want to write a guest post about digital marketing, you would search "digital marketing guest post opportunities". You can also Google prolific writers in your industry followed by the term "guest post." (Example: "Neil Patel guest posts").
You can also use social media or audit competitor backlinks to find additional guest posting opportunities.
Next, do background research on the blog you're targeting. For example, become familiar with the blog's content, look into what other guest writers have posted about, using analytics and social media to research what their most successful guests posts have been.
After you're prepared, write a pitch that includes your proposed guest post and a personalized email.
Check out our post about guest blogging for more tips on finding and landing guest post opportunities.
Following on from guest blogging, let's jump into the different types of links you can use in this strategy.
2. Leverage Guest Post Backlinks to Drive Traffic to Your Landing Pages
Most of the time, the site hosting your content will let you include a backlink back to your site.
Backlinks are important. An Ahrefs study found clear evidence that "the more backlinks a page has, the more organic traffic it gets from Google."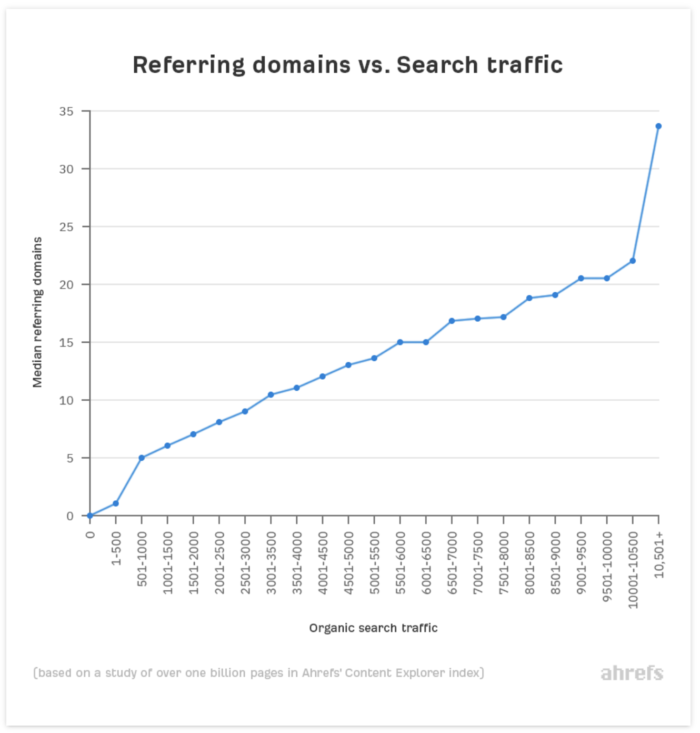 You're giving the guest blog quality top-tier content, and in exchange, you get to boost your domain authority and visibility.
However, nobody said you had to link to your homepage.
Use the exposure you're getting from PR backlinks to send leads to your gated content so you can get them into your sales funnel.
You should add these links in the body of your content too since those will help generate 387 percent more referral traffic than only including links in the "author bio" section.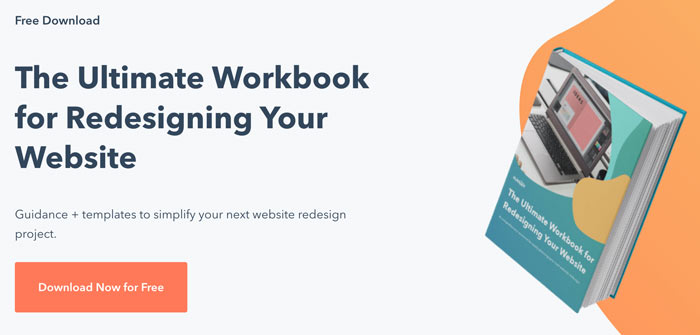 Send visitors to a form where they need to enter their information to access your free ebook, cheat sheet, or course. This is a much better way to drive leads than relying on people to navigate through your website unaided.
3. Optimize Your Email Marketing Strategy
Email is not dead.
In fact, it's one of the most lucrative marketing channels. For every $1 spent, you can expect a $36 return on investment.
With most people experiencing inbox overload, people who give you their email address aren't cold leads. These are people who are more likely to buy from you and trust you with their most valuable resource—time.
How does PR fit in with email marketing?
The first way is relationship building which is the heart of public relations.
Relationship building starts as early as your welcome email.
This email helps you forge an early connection with your subscribers by introducing yourself, explaining how you can help them solve a problem, and fostering positive brand sentiment. Welcome emails can be bolstered by including links to press releases that tout your brand's success.
The more a lead engages with your email communications starting with your welcome email, the warmer they become. When it comes time to ask for a sale later in your funnel, they are more likely to say yes and swipe their credit cards.
4. Take Advantage of Influencer Marketing
The influencer marketing industry is expected to reach $16.4 billion in 2022.
Back in the day, PR agencies would seek out journalists to gain brand coverage in popular magazines or newspapers.
While journalists still play an important part in PR, influencers are a lucrative amplification channel. These social media personalities have a close relationship with their audience who trust their recommendations. As a result, they can offer a better ROI than traditional media.
By connecting with the right influencers in your niche, you can increase positive brand sentiment, boost brand awareness, and increase the number of high-quality leads to your business.
The best way to find influencers is through social media. Make connections with influencers by engaging with their content and following the same hashtags and topics they interact with regularly.
It's better to focus your resources on influencers who talk about topics that are closely related to your brand instead of just going for big names. This will let you maximize your budget while making sure you get higher quality leads.
5. Optimize Your Press Releases for SEO
Content marketing and SEO go hand-in-hand. If your blog posts and landing pages aren't optimized for search engines, your organic reach is non-existent.
What does that mean for your business?
Zero leads and no sales.
If SEO is so fundamental for content, why are press releases neglected?
By optimizing your press releases for search and integrating links to landing pages from high domain authority websites, you can strengthen your SEO strategy and help your brand rank higher in search.
For press releases, this means:
Include keywords in your press release. Use a tool like Ubersuggest to find long-tail keywords to include. After all, 91.8 percent of all queries are long-tail.
Add visuals when possible. According to the results of an Orbit Media survey, bloggers who use 10 or more images in a post have the best results.
Use a strategic CTA. Press releases aren't aiming for direct sales, but that doesn't mean you shouldn't include a CTA. Ask users to visit your social media pages, check out a new study, or read a new blog post. The average CTR from a CTA is 4.23 percent.
Cohesive PR and Marketing Campaigns Case Study
What does a successful PR and marketing campaign look like?
Let's take a deep dive into Sigma's campaign to build brand awareness and generate leads.
The brand ran a mystery-shopper test in the U.K. at venues related to leisure and tourism to determine how accessible it is for people with various types of disabilities.
Using video content with supporting commentary from external spokespeople, the research from the test was featured on BBC Radio, The Guardian, The Independent, and Yahoo.
All great wins for PR, but what about marketing?
Let's take a look at their results:
49 new links to the brand's website
43/100 average domain authority of links generated
10 percent increase in organic traffic and 198 increase in website goal completions
Sigma's campaign is an excellent example of how to use PR and marketing together accomplish your overall goals.
PR and Marketing Frequently Asked Questions
Can I launch a PR and marketing campaign without an agency?
Yes, you can launch a PR and marketing campaign without an agency as long as you have a strategy planned out.
How much does it cost to form a cohesive PR and marketing strategy?
If you put together a PR and marketing strategy, all it will cost is your time. However, if you want an agency to create one for you, it can cost anywhere from $1,000 to $3,000.
Is PR a form of marketing?
PR works alongside marketing, but they are different strategies. When done correctly, PR supports all areas of your business.
Why are PR and marketing important?
Marketing focuses on driving sales by promoting your product and services. PR focuses on maintaining a positive brand reputation and increasing brand awareness. Both work together to help your business grow.
Conclusion: PR and Marketing
What's the easiest way to combine a PR approach with your marketing to create the greatest possible media buzz?
Hire a professional. They'll give you instant access that can take months or years to cultivate yourself.
However, if you do want to do it yourself, there's a simple PR strategy for beginners you can follow.
First, use social media to research and discover influencers in your industry. Study the content they share, what's important to them, and what they like to talk about.
Then, when the time is right, touch base. Offer them the help they need, such as angles or story suggestions, and create content that they can link to or quote.
Once you've helped them, you've established a firm relationship of trust. When you need their help, you'll be able to lean on them.
Merging your content marketing and PR strategies can help you get the attention and sales you need to grow your business over the long term.
What's your biggest challenge with managing PR and marketing in your business?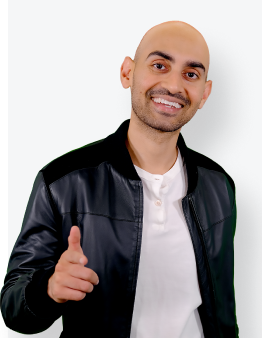 See How My Agency Can Drive More Traffic to Your Website
SEO - unlock more SEO traffic. See real results.
Content Marketing - our team creates epic content that will get shared, get links, and attract traffic.
Paid Media - effective paid strategies with clear ROI.
Are You Using Google Ads? Try Our FREE Ads Grader!
Stop wasting money and unlock the hidden potential of your advertising.
Discover the power of intentional advertising.
Reach your ideal target audience.
Maximize ad spend efficiency.