Have you joined the podcast trend yet? If you have, you're far from alone. Stats show that 42 percent of Americans listen to podcasts every month.
Perhaps you've even decided to take things further and launch a show. In that case, you'll want the best podcast publishing tools.
However, with so many podcast software options, it can feel overwhelming.
Some podcast tools are best for beginners, while others are for the more advanced.
Then there are the basic, free podcast tools and the more expensive equipment, with a steep learning curve. There are also multi-functional tools, while others only offer podcast recording software without the bells and whistles.
There is so much choice. Which one do you buy?
No worries. The confusion stops here.
Before you hit record and start carving out a slice of the podcast pie for your brand, you need somewhere to record, edit, and publish your episodes.
In this post, I list some of the best podcast recording software and highlight the pros and cons.
13 Best Podcast Software Tools
Not all podcasting tools are equal.
Some only solve one specific task, while other software for podcasts give you a full suite of features to help you record, edit, and publish your podcast to the world.
Here's what you can expect from each option to help you decide whether it's a good fit for your experience level and needs.
Tool #1: Audacity – Great Free Podcast Software for Beginners
Audacity is a free, open-source digital audio workstation (DAW). While it doesn't come with all the bells and whistles as some of the other paid options on this list, it still packs a punch.
The free podcast software tool has all the features and basic editing options a first-time podcaster needs to create, produce, and publish a professional podcast.
You can record live audio or digitalize audio files from other media types. Cut, splice, and edit everything in one place, and export your podcast into different file formats (including MP3, WAV, and AIF).
Audacity has had two recent updates, which have added real-time effects support and enables uses to upload and share audio on Audacity's sister platform, audio.com. The podcast tool has also added a shelf filter and realtime capability to some of the built-in effects.
Pros of Audacity
Free to use
Compatible with Windows, Linux, and Mac
Full recording and editing options
Supports most audio file formats
Supports 16-bit, 24-bit, and 32-bit audio quality
Powerful features like Silence Finder, Truncate Silence, Sync-Lock, and saveable EQ
No audio editing experience necessary.
Cons of Audacity
No multitrack recording
Can't upload directly to a podcast hosting platform
No advanced editing features
No mobile app
Audacity Pricing
Audacity is a free podcast tool.
Tool #2: Auphonic – The Personal Audio Engineer on a Budget
Auphonic is an AI post-production software tool that can clean up your audio files with just a few clicks to give your podcast a professional, polished sound.
This podcast software is great for podcasters who use an interview format, Auphonic's easy-to-use interface automatically levels your audio volume and make you sound like a pro, all at a very reasonable price.
All you need to do is upload your audio, and the AI algorithm identifies different voices and music. Then, it processes and optimizes the sounds separately to fine-tune the audio quality of your podcast.
Auphonic comes with multiple integrations, including Dropbox, Google Drive, OneDrive, Amazon S3, and SFTP servers.
Pros of Auphonic
Automatically balances levels between speakers, music, and speech
Transcribes audio to over 80 languages
Automatic content deployment to YouTube, SoundCloud, Google Drive, Podlove, and more
Automatic noise and hum reduction
Mobile apps available: Android Audio Editor and iOS Recorder
Works on Mac and Windows
Cons of Auphonic
Not a good option for podcasters who want a high level of control over their audio files
No options to manually trim or edit audio
No recording capabilities
Auphonic Pricing
Auphonic is one of the most affordable podcast software options. You can get two hours of free audio per month, and paid subscription plans start at $10 per month, or $11 for a one-time credit.
Tool #3: Alitu – The Easiest Way to Edit a Solo Podcast
Alitu is one of the most useful podcasting tools for people who want the editing and production process to be as simple as possible. This web-based tool helps you automate the production of your podcast by assisting with leveling, compression, conversions, and noise reduction.
You can also use Alitu to edit out mistakes and trim recordings, and you can even build out your episodes by adding music, ad breaks, and transitions with its drag and drop interface.
One thing to remember: Alitu's web-based recording shouldn't be used for snippets longer than five minutes. The browser tech isn't the most reliable, and you risk losing your audio. Instead, use the recording feature for intros, outros, or ad slots.
Additionally, you can use Alitu as a podcast publisher tool to upload your shows to Apple podcasts, Spotify, and Google podcasts.
If you're hosting a solo podcast that has uncomplicated edits and doesn't need a ton of creative production, Alitu is pretty much all you need.
Pros of Alitu
Made for podcasters
Audio clean up, editing, and transcription
Fully web-based; no software downloads required
Automates converting and cleaning up audio files
Drag and drop episode builder
Free theme music and effects
Easy to remove any mistakes or add music and fades
Option to add ID3 tags and publish directly to your podcast host
Teaser template
No learning curve
Cons of Alitu
Limited editing tools compared to a DAW
Limited control over audio quality and file formats
Web-based recording not reliable for full episodes
Alitu Pricing
Alitu is $38 per month, including AI-generated transcripts and a royalty-free music library. If you want to test the podcast software before you commit, they also offer a free seven-day trial.
Tool #4: Hindenburg Journalist – Comprehensive Podcast Software to Record, Edit, and Publish on the Go
Hindenburg Journalist is a multitrack audio editor and publisher for the podcaster on the move.
With no external hardware or high-end computer needed, you can record, edit, and publish your episodes from a cafe in Paris or the train ride home.
If you're looking for a comprehensive option and don't mind paying for it, you can't go wrong with Hindenburg.
It offers a suite of podcast tools for organizing and editing your audio files and publishing your episodes, and it includes powerful features like the noise-reduction effect.
Pros of Hindenburg Journalist
Compatible with Windows and Mac
Lets you record anywhere with the Hindenburg Field Recorder app
Supports all types of audio files
Extracts the best audio quality and automatically sets audio levels
One-click podcast upload to Soundcloud, Libsyn, and Loudness
Voice profiler sets EQ on voices
Clipboard feature to store clips for later use
Cons of Hindenburg Journalist
More expensive than other options
Has a learning curve for beginner podcasters
Multitrack recording only available in the Pro version
Noise reduction feature not included with the basic version
Hindenburg Journalist Pricing
Subscriptions for Hindenburg Pro for businesses start at $22.61 for the basic package, rising to $51.17 for their premium package which comes with 100 hours of transcription per month. Not sure which is best for your needs? Try both options with a free 30-day trial.
Tool #5: Adobe Audition – The Ultimate Professional Podcast Software
For professional podcasters with skin in the game, Adobe Audition is among the best software for podcasting.
If you want to edit, remix, record, and restore your audio to a professional standard, this might be one of your top choices.
The DAW gives you complete control over recording, editing, and exporting your episodes straight to your audience.
Audition lets you combine audio files, and batch edit to produce podcasts faster.
The podcasting recording software comes with advanced features like:
Background noise reduction
Compression
EQ
Multitrack recording
Custom recording templates and hotkeys
It's important to note that while veteran podcasters can appreciate these impressive capabilities, beginners might not use enough advanced features to justify the high price tag.
Pros of Adobe Audition
Part of the Adobe Creative Suite
Fully-fledged pro-DAW with tons of advanced features
Podcast-specific settings
Android Audition Toolkit app to record, edit, and convert audio files
Royalty-free sound effects library
Essential Sound Panel to remove unwanted noises and achieve smooth sound
Available on Mac and Windows
Access to tutorials, fonts, and templates
100 GB cloud storage
Cons of Adobe Audition
Pricy monthly subscription
Not the best option for beginners, but there are tutorials available online.
Adobe Audition Pricing
Get Adobe Audition for $20.99/month, or you can access it for free with a subscription to the full Adobe Creative Cloud Suite, which costs $54.99 monthly.
If you want to give it a test run, try the free seven-day trial.
Tool #6: Buzzsprout – A Simple Way to Host Your Podcast
After you record and edit your episodes, your podcast needs somewhere to live.
Enter Buzzsprout. It's one of the easiest ways to host, distribute, share, and track your podcast, and it offers a range of powerful podcast publishing tools. The platform streamlines features, favoring simplicity to get your episodes into the world as quickly as possible.
Buzzsprout's feeds are compatible with the top podcast directories in the world, helping you reach millions of potential listeners on Apple Podcasts, Spotify, and more.
Once your podcast starts growing and you get closer to 10,000 downloads, you can use the platform's analytics dashboard to learn more about your listeners.
Additionally, you can earn from Buzzsprout's ads and make money from subscriber-only premium content.
Pros of Buzzsprout
Immediate publishing or episode scheduling
Magic Mastering feature optimizes your files automatically
Lets you add episode transcriptions
Automatic podcast optimization
Option to add a podcast player to your website
Podcast analytics
Easy to use
Accept payments and receive money from Buzzspout ads
Cons of Buzzsprout
Buzzsprout Pricing
Buzzsprout lets you upload two hours each month for free and Buzzsprout hosts episodes for 90 days. Paid plans start at $12 for three hours of audio per month.
If you exceed your time limit, Buzzsprout makes additional content uploads available for between $2 and $4 per hour, depending on your subscription plan.
Tool #7: Logic Pro X – A DAW for macOS Users
Logic Pro X is a full-featured audio editing and music production program for Apple users. You can use the DAW on your Mac, iPhone, and iPad, making editing your audio files on the couch or at the beach easy.
While the podcast software does come with solid audio mixing tools and robust features to help you create a professional show, the software is mainly for music producers.
Unless you know your way around a mixing board, you might choose to find something more straightforward to use.
Pros of Logic Pro X
You can record and edit audio files with your iPhone or iPad with the Logic Remote app
Professional-quality mixing and mastering
Works with a variety of plugins
Offers post-production effects
Multiple automation features
Cons of Logic Pro X
Only available on Mac, iPad, and iPhone
Most features are for music production
May be too complicated or expensive for simple podcasts
Logic Pro X Pricing
Sign up for this podcast software with a free 90-day trial before purchasing Logic Pro X for a one-time cost of $199.99.
Tool #8: Reaper – An Affordable Digital Audio Workstation for Podcasts
Reaper is an affordable and powerful DAW that can run on Windows, macOS, and Linux.
It's the perfect choice for podcasters using older computers or those wanting a piece of podcast software that won't hog memory and computer resources. Reaper is incredibly lightweight (it can run from a USB drive) and is faster than other podcast publishing tools, with minimal crashes.
Beyond that, its price point makes Reaper one of the best software for podcasts. For less than $100, you'll get access to full multitrack audio and MIDI recording, mixing, processing, editing, and mastering tools.
Pros of Reaper
Compatible with Windows, Mac, and Linux
Excellent value for money
Fast load and operating times
UI/UX customization
Cons of Reaper
Complex plugin integration
No mobile app
Not many online tutorials, but there is a growing number of video tutorials on the site.
Reaper Pricing
Download Reaper and activate the free 60-day trial. After that, you can pay $60 for a discounted license or $225 for a commercial license.
Tool #9: SquadCast – Record Studio Quality Podcasts From Anywhere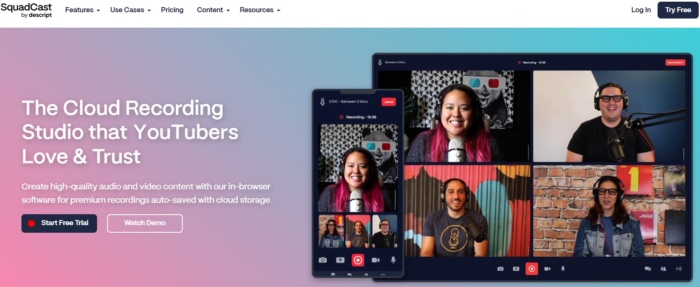 SquadCast is an all-in-one remote podcast recording software that aims to simplify post-production and collaboration.
With SquadCast, you can say goodbye to audio sync issues, lost recordings, and confusing software for guests.
Wondering how it works? To get started, the host makes an account and sends an invite link to a maximum of three guests. While you record the episode, SquadCast records an audio file and uploads it in real time to the cloud and your local drive. When you stop recording, SquadCast gives you access to each person's separate audio track, which you can drop into a DAW for editing.
Pros of SquadCast
Video capability to see your guests while you record
Guests don't need an account
Podcasts backed up on the cloud
Multitrack recording
Eliminates audio drift and simplifies editing
Cons of SquadCast
Not the cheapest recording option
No automatic editing on tracks
Can't record the video for YouTube podcasts
Three guest limit
SquadCast Pricing
You can get started with SquadCast for free, allowing you to record a one hour long show per month. Subscriptions start at $12 monthly for ten hours of audio recording and $24 for thirty hours. Custom packages are also available.
Tool #10: Zencastr – Affordable Long Distance Recording Software With HD Video
Does your podcast software feature call-in guests or a co-host who lives halfway around the world?
If so, a podcasting tool like Zencastr can make remotely recording your podcast so much easier.
Similar to SquadCast, the web-based podcast tool comes with multitrack recording and records each side of the conversation separately. At the end of the episode, the podcast software stores the files locally and in the cloud. Zencastr then syncs them together to produce a high-quality recording.
Pros of Zencastr
Easy-to-use platform
Free and paid options
Records HD video so you can upload your podcasts onto YouTube
Records separate lossless WAV tracks locally and in the cloud
Soundboard for live editing
Automatic post-production
Built-in VoIP
Unlimited guests
Up to three hours of recording time per session
Guests only need a link to join
Cons of Zencastr
No hosting or publishing tools
Limited features with the free version
Zencastr Pricing
Zencastr has a free version with two hours of recordings and a maximum of twelve participants.
If you want access to some of the more advanced features, you can opt-in for the $18 per month pro version. It has a 14-day free trial and boasts unlimited recordings, unlimited live editing soundboard, 10 hours of post-production edits, and more.
Tool #11: Spotify for Podcasters – Simple Podcast Recording Software
Spotify for Podcasters allows users to manage and optimize the podcast content from Spotify's streaming site.
You can use the podcast software for hosting, creating, editing, and distributing your podcast, and it's all free.
It also provides video podcasts and has loads of resources, like the community, which has masterclasses and industry events. There are plenty of useful links if you want to learn how to advertise your podcast, too.
Pros of Spotify for Podcasters
Record audio from phone, tablet, or computer
Free to use
Unlimited hosting
Audio enhancements, including noise cancellation and voice optimization
Detailed analytics
Cons of Spotify for Podcasters
To provide its free service, Spotify takes a percentage of ad revenue
Spotify can use, edit, modify, transmit, reproduce, and create derivative works from your content
Sub-par recording tools compared to other platforms (you can't add fades, shorten pauses, or adjust the volume, for example)
Spotify for Podcasters Pricing
It's a free podcast tool, but you lose a cut of ad revenue.
Tool #12: Garageband – Simple, Free Podcast Recording for Apple Users
Another one from Apple, Garageband, is for Mac users. Aside from using the platform to make and record music, GarageBand is also a great podcast tool. The podcast software is easy to use and aims to make recording your podcast and editing intuitive, even for new users.
Choose the "podcast" template when you create a new project to get started.
Once you've recorded your podcast, Garageband allows you to edit your recording, add music and sound effects, and use mixing tools to create a high quality audio stream. Once you're happy with your episode, you can save your file in a variety of different formats.
Pros of Garageband
User friendly
Straight forward editing and recording features for a professional finish
Cons of Garageband
Only available for Apple devices
Lack of advanced features
Garageband Pricing
GarageBand is free, and it acts as an introduction to the Logic Pro software.
Tool #13: Podbean – Podcast Hosting and Recording
Podbean is a podcast hosting platform offering a variety of monetization tools. It's suitable for beginners and advanced users due to its user-friendly platform.
The podcast software gives users a good mix of features, including recording, distribution, and monetization. Its high-quality sound makes Podbean perfect for live streaming, and you can have up to seven co-hosts worldwide.
It makes sharing and promoting your podcast easy to share on social media, Amazon, Alexa, and the Podbean app. You can also embed your podcast onto your website and use email integration for further promotion.
Pros of Podbean
Comprehensive podcast analytics
Monetization options through dynamic ads, podcast advertising, and Patron for podcasters. These are all great options if you don't have any podcast sponsors yet.
Live streaming is available, and you can also sell virtual tickets for added income.
Cons of Podbean
You need a paid subscription to access more advanced features
Users can only upload to Spotify if they have a paid subscription
Podbean Pricing
The basic plan is free. Paid subscriptions range between $9-$99 monthly.
FAQs
What is podcast software, and why do I need it?
Podcasting software, or a podcasting tool, helps you record, edit, and distribute your podcast.
What are the key features to look for in podcast software?
You'll want crisp, clear audio, adequate storage options, analytics, editing tools, and easy scheduling. Also, look for software that's easy to use, with good security/back up, and monetization options. 
Ensure you have a quality microphone, webcam, and headset, too.
Is free podcast software as good as paid options?
Free podcast software usually has limited options, but they should be enough to get you started. Audacity is one of the favorite free podcast tools available.
Which podcast hosting platform is the best for beginners?
Audacity seems to be the reviewers' favorite for beginners. GarageBand, Podbean, and Audition all get mentions, but some have a steeper learning curve.
Is free podcast software as good as paid options?
It depends on what you're looking for. Free podcast software usually has limited options, but they should be enough to get you started. Audacity is one of the favorite free podcast tools available.
Conclusion
Whether you're starting a podcast or figuring out how to get more podcast listeners, the whole journey can feel overwhelming.
Whichever stage you're at, don't overthink it.
Use this post to help narrow down the best podcast recording software to suit your needs.
Don't think you need to rush your decision, either. My setup for the Marketing School Podcast looks different today than when we first started, and that's OK. Your podcast will likely evolve over time, and that's the way it should be.
Take the time to experiment with the different podcasting tools and find the best fit for your show. Many options listed here offer a free trial, so there's nothing to lose.
Once you've nailed down your recording, production, and exporting process, focus on things like your podcast's SEO to grow your audience and reach your download goals.
What are you struggling with the most when choosing podcast software?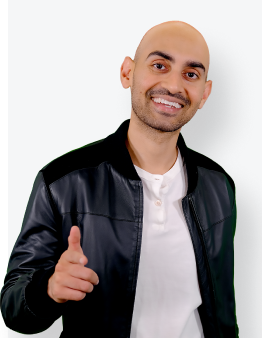 See How My Agency Can Drive More Traffic to Your Website
SEO - unlock more SEO traffic. See real results.
Content Marketing - our team creates epic content that will get shared, get links, and attract traffic.
Paid Media - effective paid strategies with clear ROI.
Are You Using Google Ads? Try Our FREE Ads Grader!
Stop wasting money and unlock the hidden potential of your advertising.
Discover the power of intentional advertising.
Reach your ideal target audience.
Maximize ad spend efficiency.