Everyone's crazy about search engine optimization.
You need to learn it. You have to have it. You have to do it.
The problem is that you really aren't sure where to get started, and you can drive yourself nuts trying to "get it right." Keyword densities, back links, trustrank, neighborhoods, link architecture — who has time to do it all?
You're a marketer, not an SEO specialist. Don't you have better things to do than get it perfect?
Of course, you do. And besides, let's be honest: without dedicating a significant amount of time, money, and energy to it, you probably don't have a prayer of ranking for any keywords with serious traffic.
Want to know a secret, though?
You can get away with minimal SEO – and you can get results from it, too. Potential leads. Possible customers. Interested people.
Yes, SEO does work, despite the odds. If your website is small, you can even be finished in less than an hour.
Here's how:
1. Target People Who Are Looking for You
While you might not be able to rank for a super popular keyword, you can show up at the top of the search results for people who are actively looking for you.
Maybe they heard about your company, and they'd like to contact you. Or maybe they met you at a conference, and they'd like to follow up, but they lost your business card. Or maybe they are thinking about buying one of your products and they want some more information.
In any of those cases, they'll probably do a search in Google, and not for general keywords. They'll be looking for you, your company, or your product — all of which are substantially more unique keywords.
If you're a realtor, for instance, you might not be able to rank for "Charlotte real estate," but you could easily get a first-page ranking for terms like, "Hugh Patterson, Charlotte, NC" "Hugh Patterson Realty, LLC," and so on. They're much more unique.
So, how do you make sure you're not targeting a term with a ton of competition?
It only takes a few seconds to check. Let's talk about how.
2. Do Some Bare-Bones Keyword Research
SEO specialists use powerful and expensive tools for helping them choose and analyze the perfect keywords, but with this strategy, we're not worried about perfection. We're just trying to help people find us.
So, here's what you do. If there is a term you think people might type into Google looking specifically for you, go ahead and type it into Google yourself and see what comes up.
For popular terms like "Charlotte real estate," you'll see listings with "Charlotte real estate" in the title. They're targeting that specific phrase, and because it's so competitive, they probably worked really hard to get to the top of the search results.
But for less competitive phrases, it looks completely different. Type in, "Hugh Patterson Realty, LLC," and none of the listings have those keywords in the title. That means no one is targeting those keywords.
They're ripe for the picking. Chances are, all you have to do to rank for them is make a few simple tweaks to your website.
To get a better understanding of the keywords you are targeting, head over to Ubersuggest where you can dig a little deeper to understand how competitive the keywords are and what your chances are for ranking. It's fast and free. Here's what you need to do.
Step #1: Enter your primary keyword and click "Search"

Step #2: Click "Keyword Ideas" in the left sidebar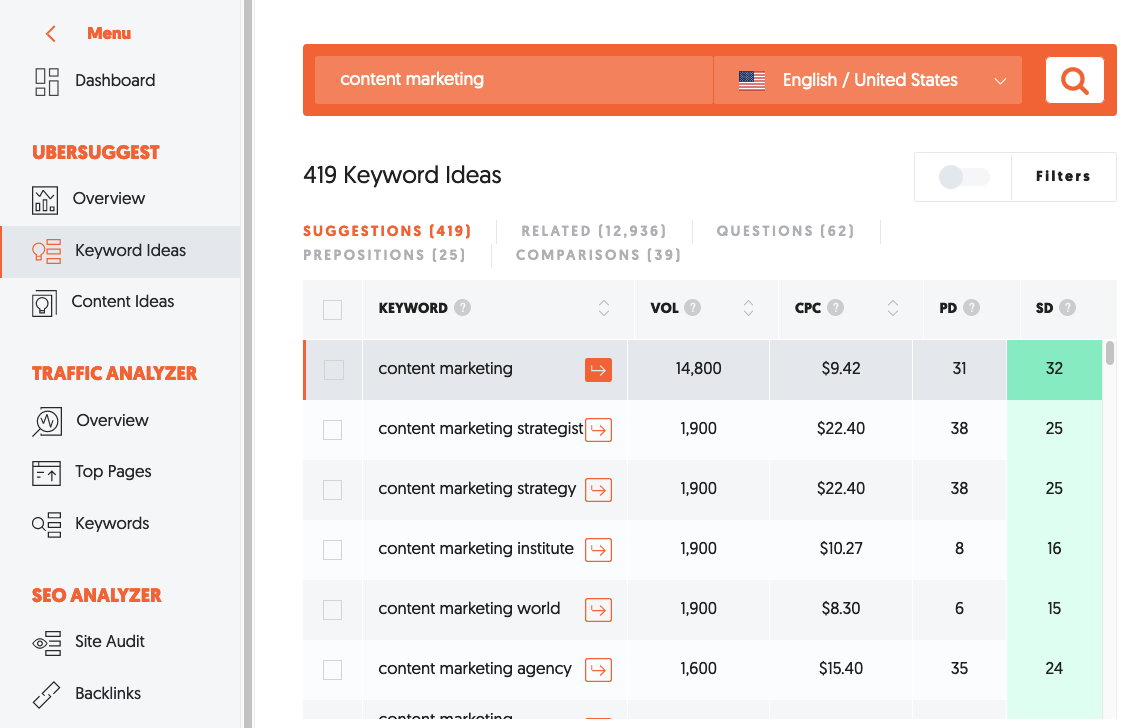 Step #3: Seek out long-tail keywords
In a perfect world, you'd be able to rank in the top spot for the keyword phrase "content marketing." And while that may come with time, you should first focus on long-tail keywords.
There are 419 keywords in this list, with another 12,000+ if you click the "related" tab. That's more than enough to find a handful of long-tail keywords worth targeting.
When doing so, make decisions based on the volume, CPC, and SD. Try to choose keywords with a volume of more than 1,000, a high CPC (these keywords convert best), and a low SD (search difficulty). Doing this improves your chance of ranking on page one and driving targeted visitors to your website.
3. Optimize Your Title Tags
They're the title of the page. You can see them at the very top of your browser, up in the blue area. And while they may seem unimportant, they are actually one of the most important factors for SEO.
The simplest way to handle title tags is to include one keyword and a few descriptive phrases to tell the visitor what the page is about. For example:
For your homepage, you might put, "Hugh Patterson Realty, LLC: Specializing in Serving Buyers in Charlotte, NC"
For your bio, you could use, "Hugh Patterson: Serving Clients in Charlotte, NC for 15 years"
For a listing, you might put, "1234 Sharon Road, Charlotte, NC: Three Bedroom, Two Bath House with Two Car Garage"
Are you going to get a lot of traffic from those keywords?
No, but you have a good chance at showing up for people searching for those specific terms. You might be the only website optimizing for them.
4. Optimize Your File Names
Search engines don't just look at your title tags. They also pay close attention to the file names of your pages and images.
The best to way optimize them is to identify a theme or focus for each particular page. For instance, if you're optimizing for people searching for an employee of your company (say, Hugh Patterson), then you might name the page "hugh-patterson.html" and have a photo named "hugh-patterson.jpg".
Keep it short, though. A file named "hugh-patterson-realty-charlotte-north-carolina-homes.HTML" might be old tri-specific, but it dilutes SEO potential, looks silly to readers, and becomes next to impossible for anyone to remember.
Oh, and about those hyphens? Definitely use them. They're the friendliest of separators for the words in file names, much better than smashing all the words together in one big run-on or using underscores.
5. Optimize Your Content
Now that you've chosen a title tag and file name, add the same words throughout the content of the page.
Don't go crazy, though. Yes, you might capture Google's attention, but you'll lose the interest of real people. They'll be turned off by awkward phrasing and heavy-handed SEO strategies. It's better to work them in as part of the natural language of your page and make sure everything reads well.
Good locations to add keywords include headlines and sub-headers, and you can sprinkle a few more relevant words around the rest of your copy.
And don't forget to use different variations of long-tail keywords in your content as well. That will help you when people search for what you are posting but don't use the exact focus keyword.
6. Add Your Meta Tags
The last step is adding meta tags to your site.
Why does this step come last? Meta tags don't carry much weight with search engines anymore. They're good to have, yes, but they won't get you ranked any higher.
They can have an effect on your traffic though, especially if you craft a compelling meta description. Your meta description is the little blurb of text that appears below your link when people receive the results of their search.
It should be written for people, not search engines, because it's your very first contact with potential visitors. To encourage people to visit your site, this mini-pitch has to be interesting, unique, and all about the reader. Add keywords if you can, but try to write a benefit-rich text that gets people thinking, "Yes! This is exactly what I want!"
You'll be limited as to how much meta description you can write: roughly, 150 characters or so. Work hard to create maximum impact with just a handful of words that perk up interest – even if they have no SEO phrases within them.
And after meta tags, you have to…
Oh, wait. You're done.
Isn't There More to SEO Than This?
Yes. A lot more.
Do a search on Google, and you'll find entire books, classes, and home study courses dedicated to SEO. Between them, there are hundreds of different strategies you can employ to get your site search engine traffic, and if you have the time and money, you should consider looking into them.
But if you're just getting started, and you need to get a website up fast so people can find you, this is where you should start. By completing these six easy steps, you can optimize your site in only about 5 to 15 minutes per page, with no crazy, frustrating SEO learning curve.
No, minimal SEO won't bring you tons of business, but you will help people find you when they're actively looking.
And that's pretty darned important.
About the Author: James Chartrand is the owner of the leading copywriting and web design agency, Men with Pens.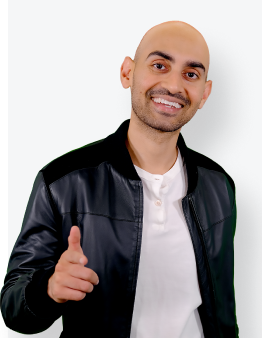 See How My Agency Can Drive More Traffic to Your Website
SEO - unlock more SEO traffic. See real results.
Content Marketing - our team creates epic content that will get shared, get links, and attract traffic.
Paid Media - effective paid strategies with clear ROI.
Are You Using Google Ads? Try Our FREE Ads Grader!
Stop wasting money and unlock the hidden potential of your advertising.
Discover the power of intentional advertising.
Reach your ideal target audience.
Maximize ad spend efficiency.