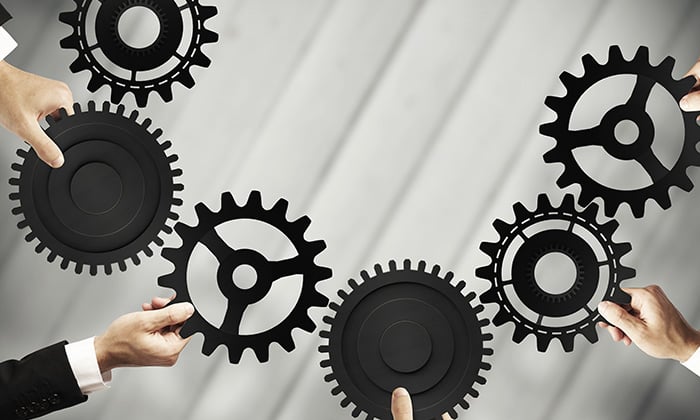 In a perfect world, marketing and sales would be close friends.
In our world, they're not enemies. But they also aren't the best of buds.
At least, that's not the case in most businesses.
In one corner of the room, marketing geniuses are working on the newest and best strategies to generate leads.
In another corner of the room, the sales team is making phone calls and following up with emails, desperately working to turn leads into sales.
And here's where the story gets sad: The two corners of the room rarely talk.
This fact is even more troublesome when you consider that the top challenge for most businesses is generating leads and traffic.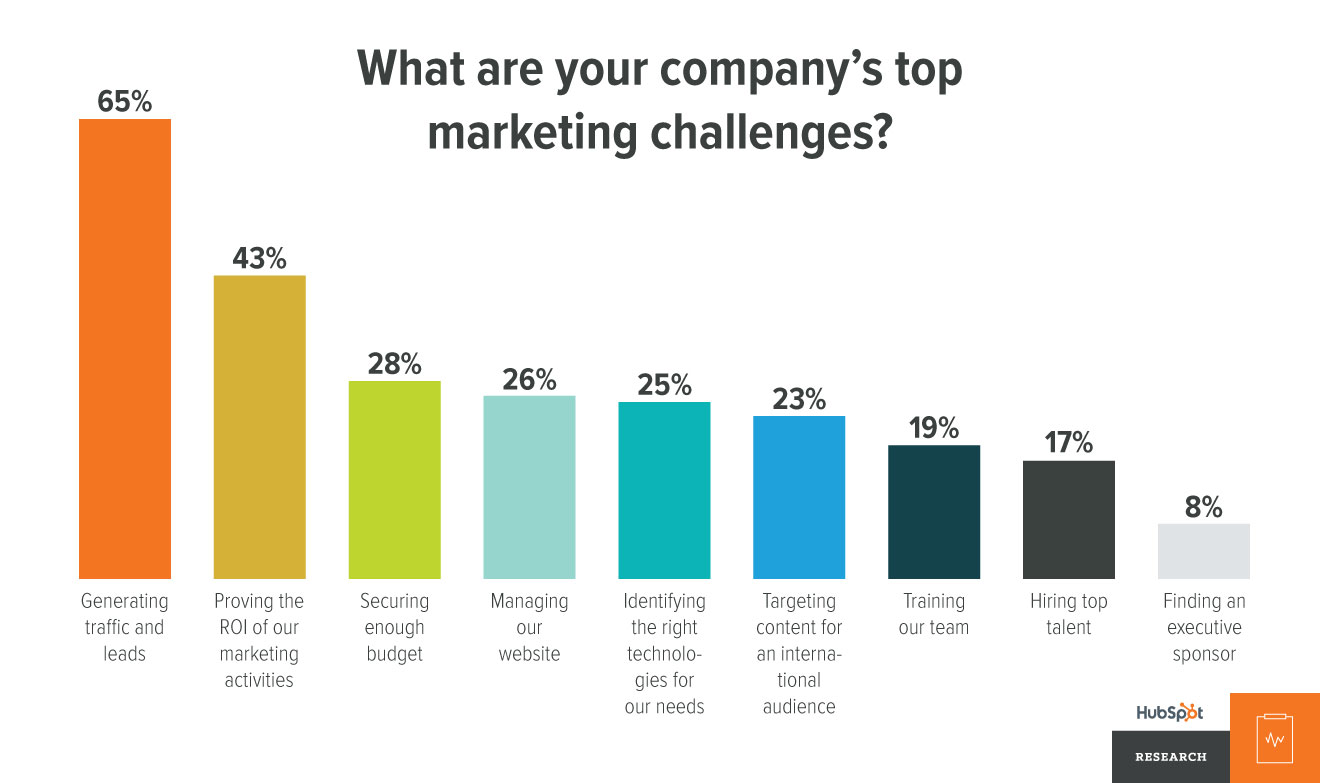 With so much desire for an increase in traffic and leads, and ultimately revenue, the separation between marketing and sales is disastrous.
In fact, the solution isn't for marketing and sales to play alone, but for them to join forces and become revenue-driven funneling buds.
You can't have leads without marketing, you can't have sales without a sales team, and you can't have revenue without both.
If you want a strategy that drives traffic and leads and then turns all of that potential into dollar bills, you need a smooth integration between your marketing sales teams and strategies.
But that's a lot easier said than done.
How do you actually integrate your marketing team with your sales team to drive revenue?
And further, how do you ensure that each team has the space to make their own decisions but also depends on the other?
Here's your guide for pulling it off.
Create a friendly and honest environment
Let's be honest. Most bosses are afraid of their employees becoming too close.
What if they spend all their time chatting by the water cooler instead of working toward business goals?
Well, the likelihood of that happening isn't very high.
But there are benefits to your employees being close that you might not be aware of.
While some bosses think that inner-work friendships will kill productivity, the science says otherwise.
Ironically, people with a best friend at work are seven times more likely to engage fully in their work.

But how does that fact apply to your sales and marketing teams?
Well, the best way to have your sales and marketing teams work together rather than separately is to create an environment where they can mingle and feel like a single team.
I've had a few boring jobs. But when bosses allow people to form relationships, even boring work becomes bearable.
I remember one time in particular when one of my managers told us to arrive earlier than usual for work.
I showed up half an hour early.
As it turned out, they wanted us to arrive early so that all of us could play some games together before the work day started.
The games were silly and, to some people, might seem pointless.
But the activities worked wonders for building relationships between team members.
And, believe it or not, those relationships can pay off. Employees are 50% more satisfied when they have close friendships in their work environment.

And companies with happy employees outperform their competition by 20%.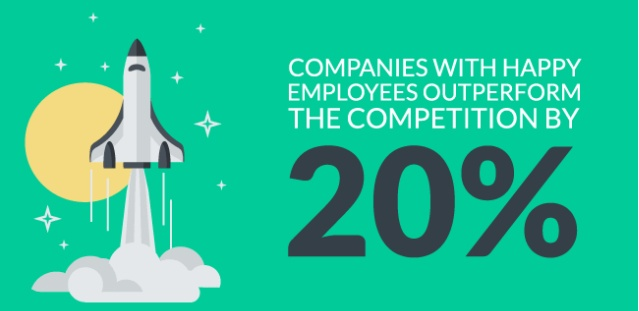 If that's not enough to convince you, consider that happy employees take 10x fewer sick days than employees who are unhappy.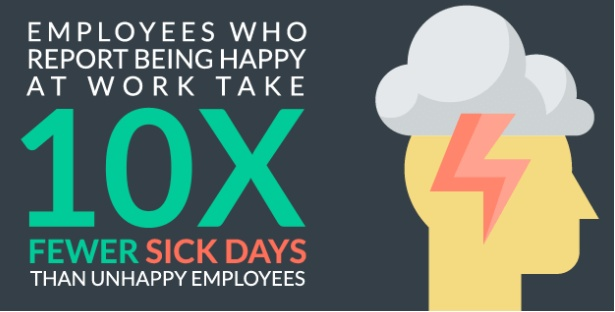 Sadly, many companies aren't trying to make their workers happy.
This leads to 51% of those workers actively seeking out other employment.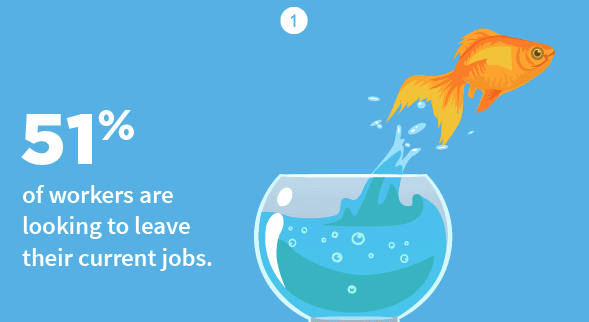 The more work you put into making your marketing and sales people happy, the more successful your business will be.
Science aside, that makes logical sense.
If you treat people like human beings, like they belong and matter, they'll be happy. And when they're happy, they'll work harder.
Shockingly, employees would rather work more in an environment where they're happy than work less and be unhappy.
We've all worked for that boss who didn't seem to care one way or another if we were happy. Did you want to work particularly hard for that boss? You probably didn't.
In fact, I'll bet you worked as little as possible for that person. I'll bet you did the bare minimum required to fulfill your job description since you didn't like your boss.
Conversely, if you've had a boss who was kind and attentive to your needs, I'll bet you worked even harder for them.
This doesn't just happen with everyday employees. It happens with salespeople as well.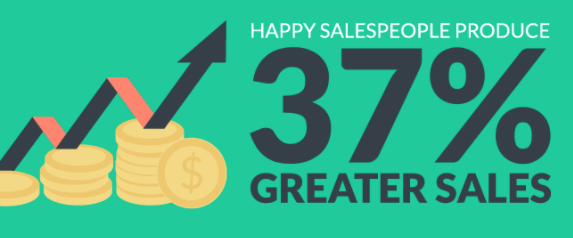 Salespeople who are happy with their jobs produce nearly 40 percent more sales than those who are unhappy.
That's reason enough to make an effort to create a healthy, relationship-focused work environment.
Here's the point of all of this: The first step toward integrating marketing and sales is to integrate the people on each of those teams.
Marketing and sales are both made up of teams of people, and without first making an effort to intermingle these two groups of people, your integration strategy will fail.
So whatever you do, start with the people on each team and organize weekly or quarterly meetings, strategy sessions, hang-out times, and even a private Slack channel.
Make sure that marketing and sales have the space to cooperate or they never will.
Intermingle marketing and sales data
You shouldn't just intermingle the people on each team, though. You should intermingle the data as well.
In other words, don't keep sales data and marketing data separate.
Drive all of that information to a single location where it can be viewed and interpreted in a context that makes sense.
After all, your sales team is nothing without the marketing team, and marketing is nothing without sales.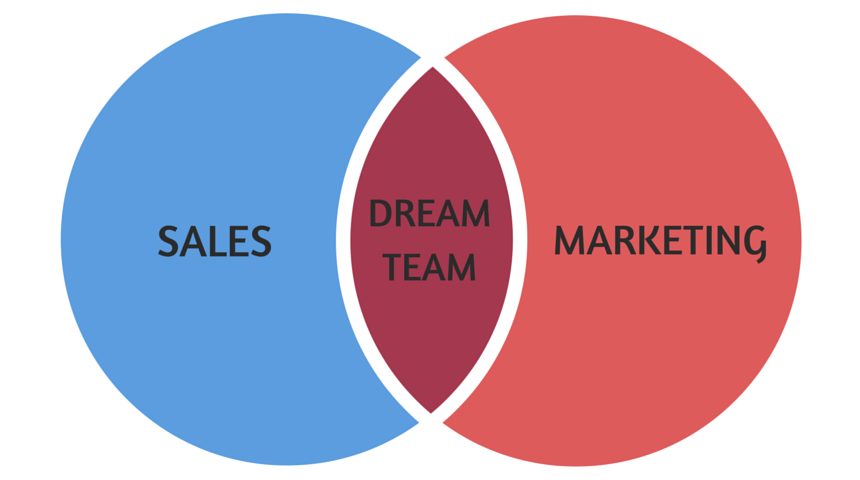 Without combining these data sets, seeing the whole picture of how your strategy is currently working and how you think it will work in the future is difficult, if not impossible.
And that's an important fact.
20% of marketers rated Big Data as the most important marketing technique.
With data at your fingertips that connects the effectiveness of marketing and sales, you'll be better prepared to quickly iterate your strategy, develop solutions for lagging processes, and beat the competition.
Also, consider making all of this data transparent to everyone on the marketing and sales teams.
You never know where a great idea is going to come from, so let everyone see the numbers and trust people to treat that information wisely.

If someone doesn't follow your policy for the release of marketing or sales data, then they probably shouldn't be with your company anyway.
Trust and transparency will go a long way toward driving revenue through a combined marketing and sales effort.
To organize all of that data, choose a CRM that will work for your business and industry.
VentureBeat rated Salesforce, Microsoft Dynamics, and Oracle Sales Cloud as its top 3 picks for a CRM.
Each has its differences.
Salesforce is the ultimate leader of CRMs. The company is worth around $37 billion and carries about 14% of the entire CRM market.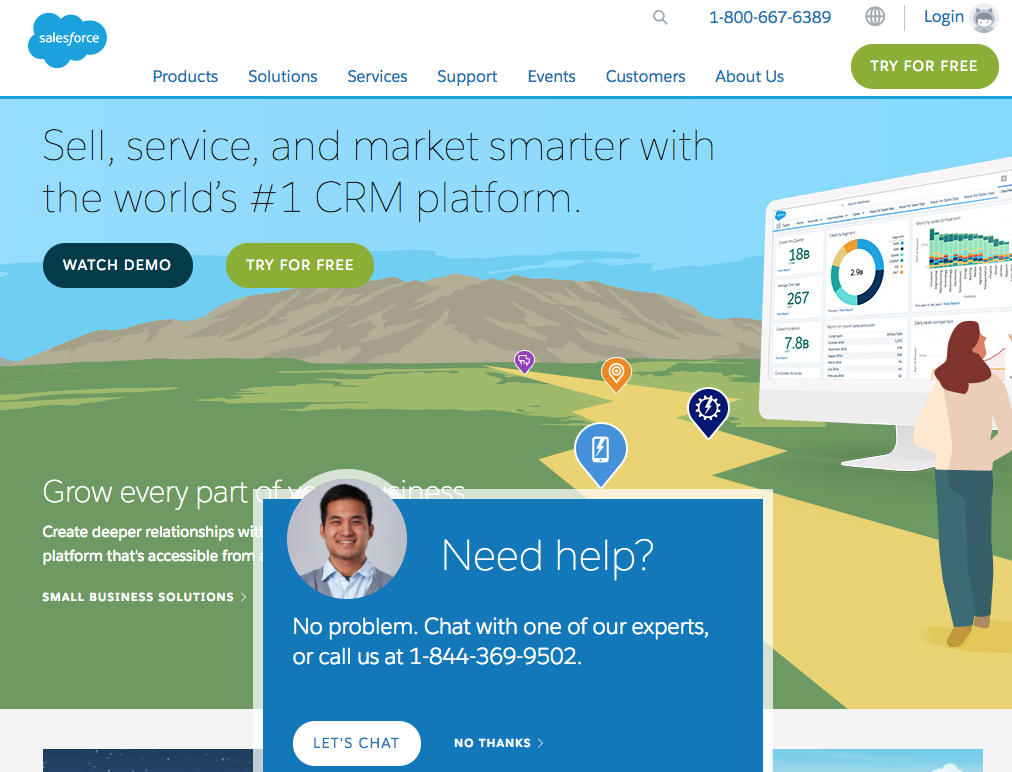 It's great for every business size and is a generally safe option.
Prices range from $25 to $300 per month depending on the size of your team and the depth of your data.
Microsoft Dynamics is right behind Salesforce as a leading CRM, owning over 6% of the sales market.
Probably the most appealing aspect of the Microsoft CRM is that it easily integrates with all other Microsoft software. If you use Microsoft for everything else, this is the way to go.
You can use the Enterprise edition in the cloud for as little as $40 per month per user and up to $210 per month per user, depending on your needs.
Oracle owns about 11% of the CRM market. Its on-demand CRM sports varying reviews, but its sales cloud has been a step in the right direction.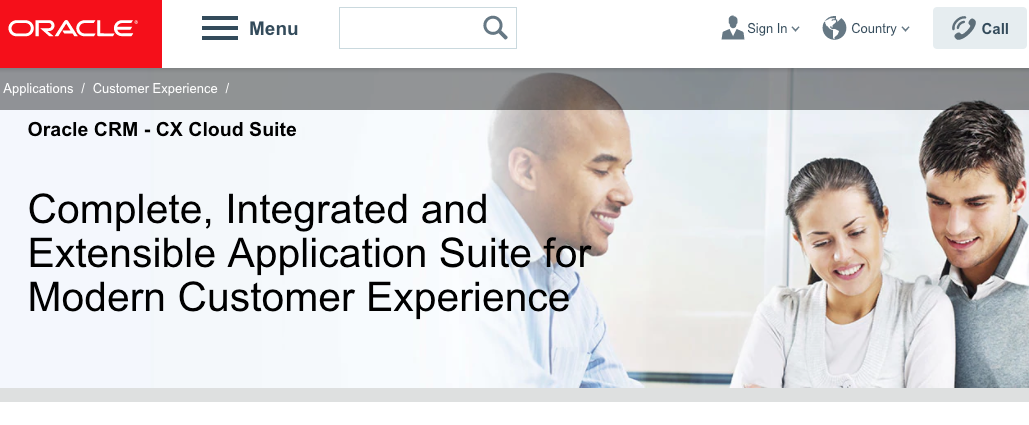 It offers an innovative approach with an intuitive interface.
It can be the priciest of all the options though, with a $65 to $300 cost per month per user.
Whichever you choose, funnel all of your sales and marketing data into one place to contextualize it and allow for the people on each team to draw conclusions and make meaningful suggestions.
Incentivize the sales team with commissions and the marketing team with bonuses based on KPI performance
All over the country, executives are cutting bonuses, raises, and ultimately any incentive that keep their people motivated.
It's unfortunate.
Even the most motivated employee needs a little bit of a push every now and again.
Commissions are the obvious way to do that for your sales team.
With commissions, companies will generally see an increase in motivation to sell. For different salespeople, you'll want to offer different incentives.
Each person will sell a different amount. Some people will sell your product like hot cakes. Others will sell it like candy canes — they're good, but they're not phenomenal.
Here's a graph that represents how you can incentivize your salespeople at different levels.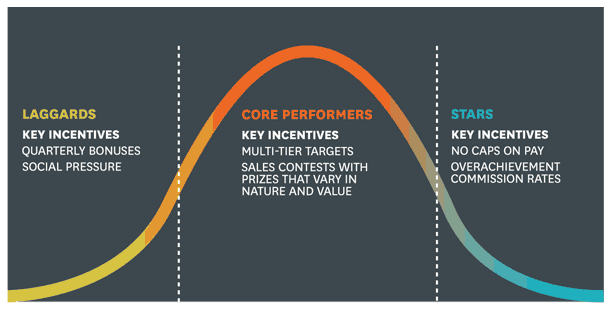 If someone on your sales team is totally crushing it, consider making them a sales leader and having them train other people to do the same thing.
A great salesperson is hard to come by. Once you find one on your team, treat them well so that they'll stick around.
Let's turn to the marketing team, though. How can you incentivize their side of the strategy?
After all, if they don't drive the sales team leads, then the salespeople won't be able to work their magic.
But, at the same time, nailing down the effectiveness of a marketing strategy and figuring out who to attribute that success to is far more difficult than with a sales team.
That's why you need KPIs (key performance indicators) and bonuses.
But which KPIs should you use to measure the effectiveness of your marketers?
Start with traffic.
How much traffic is the marketing team driving to your website?
Set a goal for this and pay out bonuses based on how successful the marketing team is.
Also, have a KPI regarding visibility.
There are lots of different factors related to visibility, such as mentions on publications, inbound links, and organic social media following.
Then move to the level of engagement.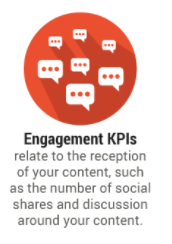 How many shares, "likes," and comments is your content receiving? You should directly attribute these to the marketing team.
Consider social media content, video content, blog content, and everything else that the marketing team is producing.
Lastly, consider subscription frequency for a marketing KPI.
Basically, this is a KPI that involves lead generation. It might be leads on your email list, webinar, or phone calls.
Whatever the case, set goals for lead generation and pay bonuses to your marketing team based on how they perform in comparison to their goals.
With incentives, you'll probably find that your sales and marketing team will not only work harder, but they will also be more united. They'll know that they can accomplish more together than apart.
Use a consistent process for the sales and marketing team to transfer leads
At some point, a lead has to move from the marketing team to the sales team.
Marketing specializes in bringing in leads, but sales specializes in converting and upselling those leads.
That describes exactly why you need both to drive revenue for your business.
But the difficulty isn't so much in knowing that the lead needs to transfer from sales to marketing. The difficulty is in knowing when to transfer it.
At which point in the funnel or buying process should someone move from the marketing funnel to the sales funnel?
That can be a difficult question to answer.
Consider this chart that illustrates the way it used to work.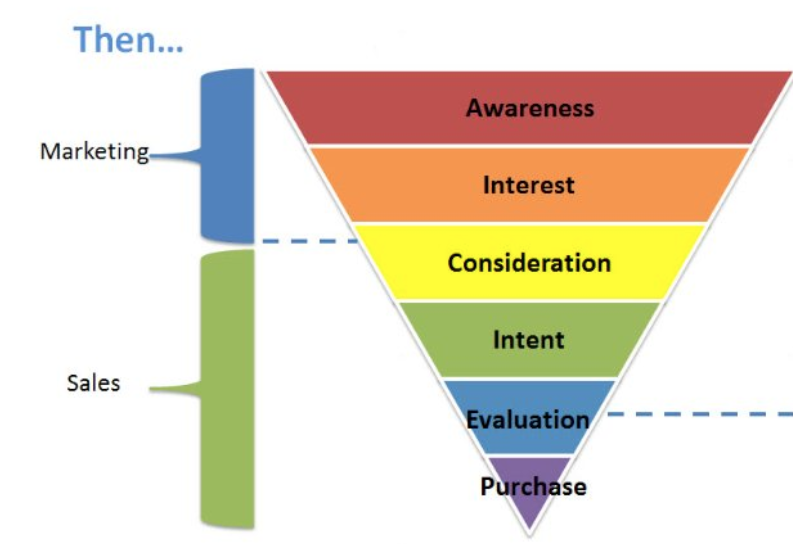 It used to be that the marketing team would handle awareness and interest and then hand off consideration through purchase to the sales team.
Think about it.
Marketing used to primarily include bandit signs, billboards, and car stickers. But once someone was actually interested in purchasing, they would have to make a phone call or interact with someone face to face.
Now, this funnel looks very different.
In today's world, marketing can usually handle everything from awareness to a part of the evaluation.
And sometimes, with sales copy and a website that's set up to convert, marketing alone can make the sale.
So why do you still need the sales team?
Well, marketing won't convince everyone so easily.
That's what the sales team exists for. Here are the instances when the sales team should take a lead from the marketing team.
Someone wants more information than the marketing team can provide.
Someone wants to talk to a physical person before buying.
Someone has a unique situation that the marketing team can't handle.
The marketing team specializes in attracting the masses, but a salesperson specializes in one-on-one interaction.
Move leads in between marketing and sales with that in mind.
Use live chat to inform your marketing and sales strategy
A lot of times, customer support gets left behind in the dust when it comes to a marketing and sales strategy.
I know an amazing customer support guy who sits on his computer all day answering customer and prospect questions through live chat.
He loves his job and he's good at it, so he mostly keeps to himself.
But imagine how well he knows the customer, the lead, and who the ideal client is.
Probably better than anyone else, he understands the target market of the business.
Sadly, he usually gets left to his own devices, but integrating his role into your new team dynamic would be an excellent way to inform your marketing and sales strategy.
Consider using Influx to implement live chat on your website.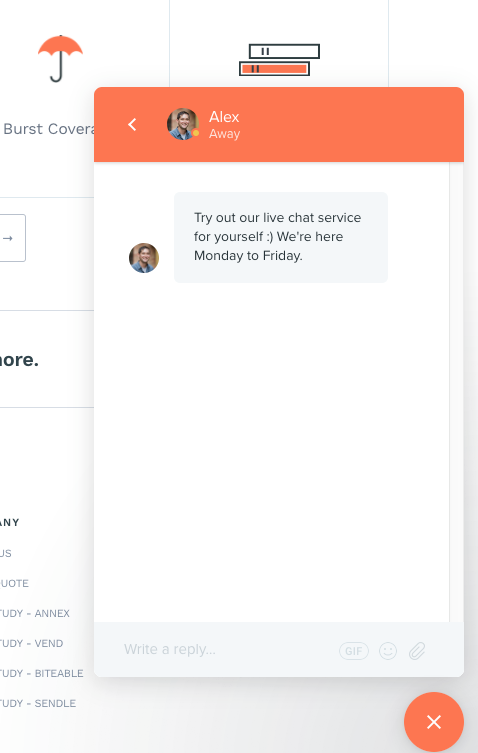 You can get a quote by going to their website to see if it's a fit for you.
If it's not, you can also check out Drift.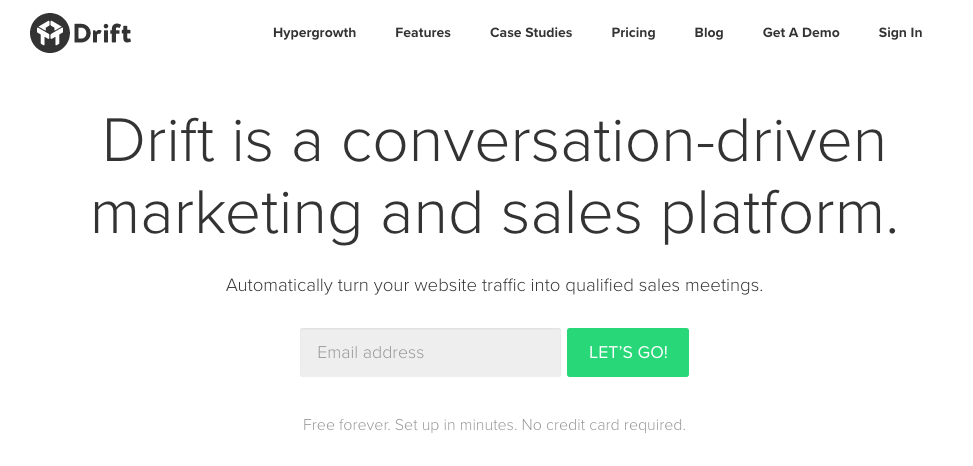 Kayako is another good choice.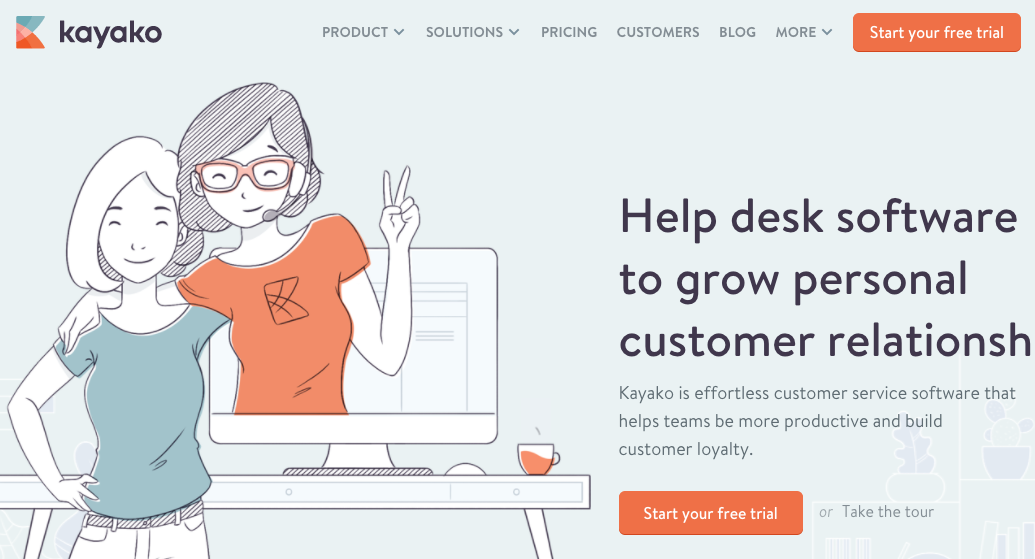 And so is Zendesk.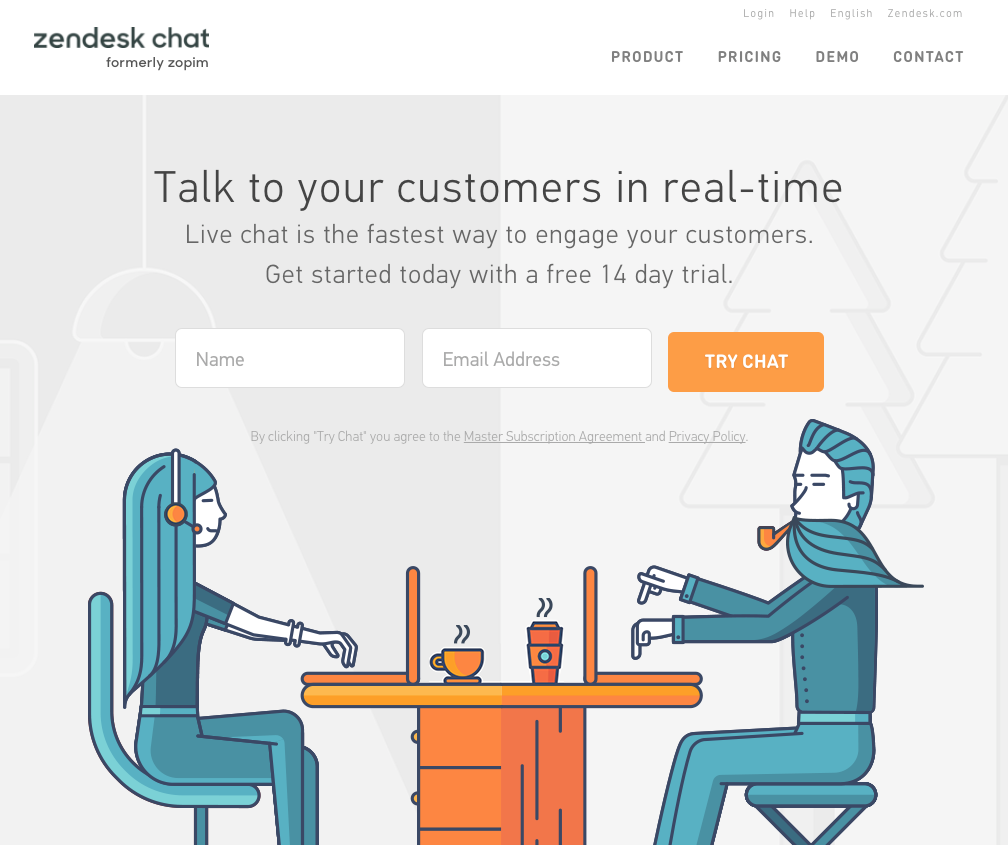 Then, once you've chosen a live-chat service, don't let the person who runs it sit there and collect customer information all on their own.
Create a way for them to share common concerns that customers and leads are experiencing, difficulty in processes, and who they believe your ideal client really is.
The better that your marketing and sales team understand who they're targeting, the more successful they'll be.
So it's absolutely vital that you leverage the information in your live-chat employee's brain.
There's a lot of it, and you don't want that to go to waste.
Conclusion
At a lot of businesses, the marketing and sales teams are separate. They play in their own corners, one trying to generate leads and one trying to convert those leads.
In some ways, this works.
After all, a lot of businesses are surviving on very little communication between marketing and sales.
But here's the key: Very few businesses are thriving with this model.
Keeping marketing and sales separate might work for a while. It might even be capable of bringing your business to the 7-figures-a-year level.
But at some point, your marketing and sales efforts are going to stagnate.
How do I know?
Well, I've seen it happen before.
Business is going along just fine, and then it grows to the point where past strategies no longer work.
The next step in your own marketing strategy might just be to integrate marketing and sales. And, heck, even if it isn't, doing so will never hurt your revenue.
It will only enhance the effectiveness of your marketing dollars and hours.
To integrate the two, create a friendly environment, intermingle marketing and sales data using a CRM, incentivize the sales and marketing team with commissions and bonuses, create a consistent handoff process from marketing to sales, and use live chat to inform your strategy.
It might take some time to build out the processes. But if you do it right, it will definitely pay off in the long run.
What is the easiest way you have found to integrate your marketing and sales efforts?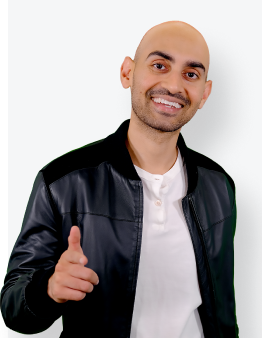 See How My Agency Can Drive More Traffic to Your Website
SEO - unlock more SEO traffic. See real results.
Content Marketing - our team creates epic content that will get shared, get links, and attract traffic.
Paid Media - effective paid strategies with clear ROI.
Are You Using Google Ads? Try Our FREE Ads Grader!
Stop wasting money and unlock the hidden potential of your advertising.
Discover the power of intentional advertising.
Reach your ideal target audience.
Maximize ad spend efficiency.