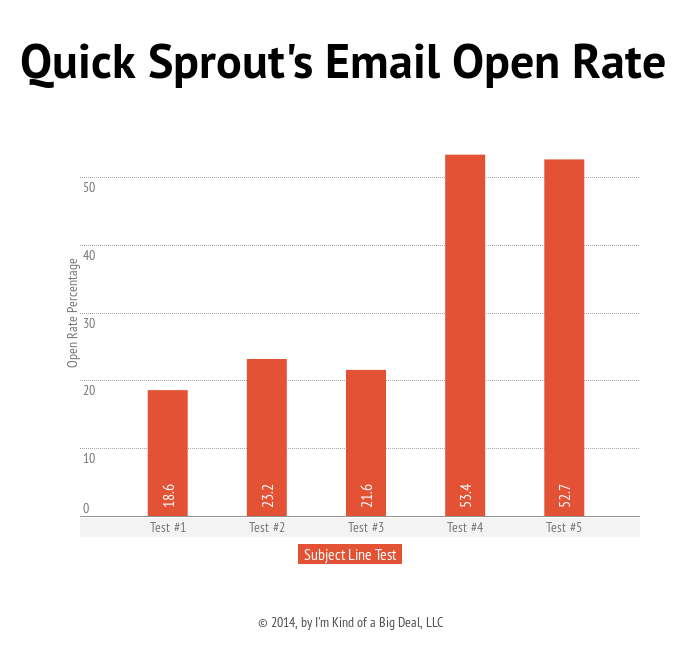 What's the benefit of having thousands of people on your email list if very few of them actually open your emails?
Have you ever sent an important email to your list and wondered why the open rate was poor?
If so, you're not alone. It's an issue that a lot of Internet marketers running an email campaign struggle with.
In 2019, CampaignMonitor revealed across several industries, the average open rate was 17.92% and the average click-through rate was 2.69%.
That means that over 82% of people don't open emails and that about 97% of them don't bother to follow any of the links.
That's a problem if you're trying to get your customers' attention, but there is a solution.
In this post, I'll highlight the factors that affect email open rates and show you the best ways to write email subject lines that will increase your emails open rates by 203% and boost your click-through rate. Here's what I'm going to teach you:
What determines email open rates
Why identifying your target audience is so important
Why you need to nurture your subscribers
Case studies: winning email subject lines
How to write clickable email subject lines
How timing increases email open rates
How to use an email template to expedite your email campaign
An effective email campaign can be a great way to reach your target audience, generate leads and make sales. Furnished with these top tips, you can turn a marketing email into a goldmine.
Ready to learn how to write a killer subject line to hook your email client?
Read on.
What determines email open rates
If you had to explain email open rates to a two-year old, how would you do it?
Don't worry; you don't have to. Echogravity has an excellent graphic that explains it: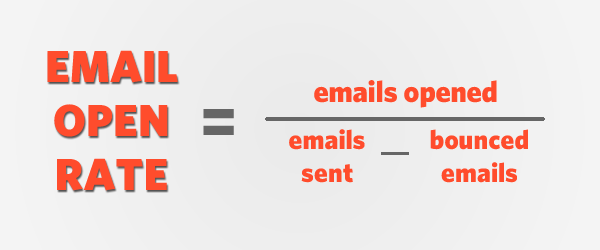 In a nutshell, your email open rate is the number you get when you subtract bounced emails from emails sent and divide the opened emails by that number. It's a great way to track your email campaign is delivering the results you set out to achieve. 
If you're launching an email campaign, you'll need to know this equation. All email marketing providers track email open rates and give you statistics on them, as well as click, bounce and complaint rates.
But, before you start focusing on increasing your open rate and your click-through rate, there are 3 factors that you need to know to make your email campaign smoother.
1. Have a clear business objective: To be successful at anything, you need to know why you are doing it. Most people build an email list for one main reason – to make money. But, there are other possible reasons, too.
Michael Massie outlined five reasons why you should build a list for your business. Two of my favorites from his list are automation (making it easier to follow-up with your contacts) and relationship marketing (something I'll discuss more a little later in this post).
You may also start an email marketing campaign to solve a problem for your customers. If they understand that you care about their problems, they are more likely to open your emails.
Having clear goals will affect your decision-making, your motivation, your actions – and your open rate.
2. Develop a unique selling proposition: To create an effective email campaign and to make your customers want to open your emails, you must have an edge. That's what your unique selling proposition (USP) is all about.
Ask yourself these three questions:
What can you do that other marketers can't do?
What makes your product unique and better than your competitors' products?
How can you present your service to inspire people to want to click, open or buy?
Here's an example from the travel industry.
Let's compare two top hotel comparison sites: Trivago and Agoda. Which one inspires you to click?
Trivago lets you compare hotel prices on 206 booking sites at once, but there's no information on check in/check out dates, available rooms, or length of stay.
What about agoda.com? This site goes beyond price comparisons:
Most people would prefer Agoda because:
You can easily search for a city, hotel, landmark, or destination.
You can set check-in/check-out dates.
You can choose how long you want to stay
In other words, the second site (agoda.com) offers a user-friendly platform and solves a problem for its customers. That is its USP.
Do that with your emails and you will be successful, too.
If you need help with developing your own USP, check out this article from Convince & Convert.
3. Figure out your lead capture system: Your own site isn't the only place that you will capture leads.
Choosing the right places to capture leads will affect whether people see your emails as relevant and how they respond to them and that has an impact on email open rates.
For example, guest blogging on authority sites and relevant blogs will help gather more emails and build relationships that could result in sales.
When you know your business goal, your USP, and how you will capture leads, that is when you need to make the most out of your subscribers.
That's why you need to nurture your email list.
Why you need to nurture your subscribers
Did you know that in 2019, 90.9% of global web users used email?
That means that there's a huge opportunity to connect with people via your email newsletter. The hard part is, you have to figure out what makes people want to open them…
Here's the truth. People you build relationships with are more likely to open and read your emails. I've got the stats to prove it:
HelpScout has found that taking the time to nurture leads resulted in a 21% increase in an open rate for their email marketing campaigns.
That's why relationship marketing is fundamental to a winning email campaign.
To increase your email open rate (and click-through rate), you must be committed to strengthening the rapport between you and your email subscribers. You need to nurture them: connect, share, communicate and relate to them like a true friend. Truly: this is the meat of an effective email campaign.
This can also make you stand out (and be part of your USP).
One of the best ways to nurture your leads is by providing helpful, interesting and actionable content.
A few days ago, I got an email that sparked my interest. Have a look and see why.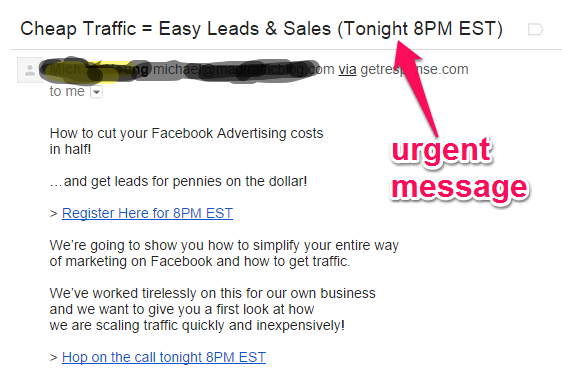 It was the urgency of the event in the message that made it interesting.
If people feel like they have to act immediately, they are more inclined to open your emails.
Case studies: winning email subject lines
Do you know the most important part of your email? It's the subject line.
The email subject line largely determines the open rate, especially the ones with 4 – 15 characters.
That's the reason that people have written thousands of posts and articles on the topic of improving email subject lines.
HelpScout implemented just a few of the tips that I'm sharing with you in this post and achieved an open rate of almost 60% for their email campaigns.
Not everyone can achieve that open rate success, but some have done even better, like Glen Allsopp. Here's what happened when he sent a niche idea to his subscribers.
Subject line: Profitable Niche #2 (cloud niche)

Of the 1,056 recipients, 879 opened the email (83.2%). That's a phenomenal email open rate by any standards.
Here's what you can learn from Glen's example:
Short and descriptive subject lines work better
An element of curiosity can increase your open rate
You can always tweak your subject line and resend the email to subscribers if the first send doesn't deliver great results
Use the K.I.S.S. principle: In other words, don't over-complicate your email subject lines. Get straight to the point and your subscribers will immediately decide what action to take.
Here's another example of how short subject lines and curiosity worked to get emails opened.

Did you know that most of the $690 million President Obama raised online was because of emails sent to subscribers and supporters? In the examples below, notice that these subject lines are short and nudge you to take action: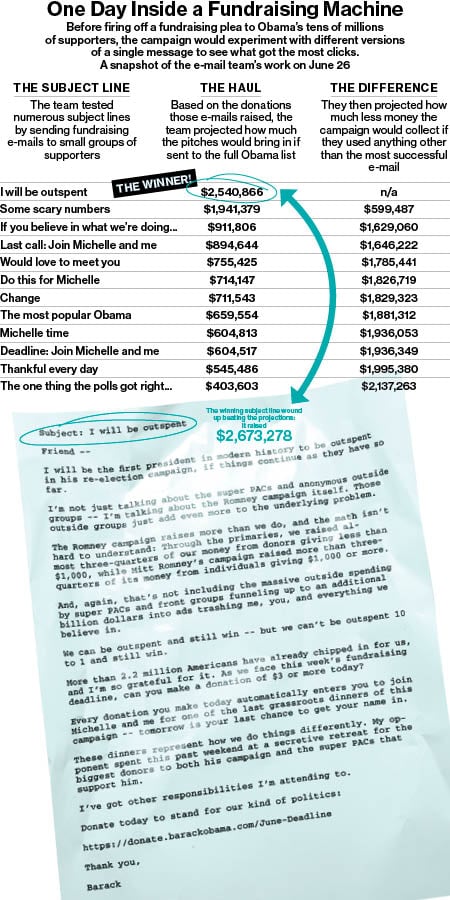 You can use President Obama's subject lines as inspiration for your own email marketing, and there's more good advice in this slide presentation from Hubspot.
When you are crafting your subject line, there are 5 key elements that you need to know about:
C = curiosity
U = urgency
R = relevancy
V = value
E = emotion
Curiosity: wanting to know something. Do you think you have a wonderful message for your subscribers? Then make them think that they're missing out on something essential if they don't click. This email subject line from Buffer generated a huge response.
Urgency: As I mentioned earlier, email marketing will produce better results for your business if you call for immediate action from your subscribers.

Relevancy: this is the #1 reason people subscribe to your list and become an 'email client'. Each time you send an email, make sure that it's relevant to them and your open rate will continue to improve. This example from JetBlue really delivers.

Value: Relevant information must always be valuable and deliver what you promised your recipients. The subject line is the best place to show this, like this example from Quicksprout.

Emotion: This is another great way to create a stunning subject line. Here are a few subject line examples from wordstream.com:
Everyone Is Gay: Social Media As Social Action
Why Your 5-Year-Old Is More Digital Than Most CMOs
Your Marketing Sucks: Why You Need to Think Local
Research from Fuel Design shows that customers' buying decisions are based on emotion 80% of the time. When you buy a car, logic tells you it's to make it easier to get around and emotion makes you feel good about a fancy new possession that you can show off to your friends.
Speak to people's emotions to get them to open your emails.
This chart from Ignition Marketing Group also shows that crafting email subject lines to speak to the emotions of your audience will produce better results: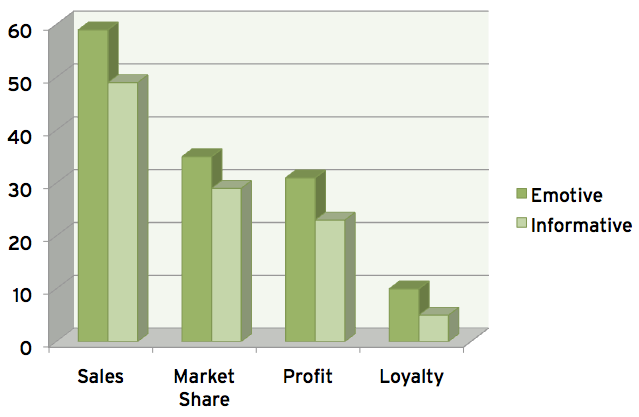 And CoSchedule also supports this: emotional headlines get more social shares.
Here's how you could change some email subject lines so they have more emotional appeal.
Existing headline:
Tips To Help Keep Your Taxes Organized All Year Round
Fresh headline:
5 Smart Tips To Keep Your Taxes Organized Easily
Why is it better?
The new subject line is more concise and appeals to the reader's vanity with the word "smart."  
Existing headline:
How Your Organization Can Improve Conversion Rates
Fresh headline:
How You Will Improve Sales Conversions By 110%
Why is it better?
A specific outcome is more believable and the use of "will," instead of "can," makes the reader believe he/she can take action.  
So, the next time that you write an email subject line, make sure it's on the CURVE.
For more help with crafting subject lines with emotional appeal, read these 30 magical words that you can use, from a  Vertical Response article.
Writing clickable email subject lines
So far, you have learned the importance of using clickable subject lines for your emails. The problem is, most people don't know how to write an effective email – and this must be a cornerstone of your email campaign.
From Mailchimp's extensive research into email marketing, they discovered that personal emails had the highest open rate, followed by affiliation and timely news.
To write an email that people want to open, follow this simple two-step strategy (and make sure that you don't use these 50 SPAM words and phrases).
1. Personalize your emails: Using people's names gets their attention and immediately makes your email seem more useful and relevant.
Mailchimp advises that you avoid the use of "Dear" in the subject line – instead, use their first name, full name or last name for effective personalization.
Personalization settings differ, depending on the email marketing provider that you're using.  But, here's how to use Getresponse to send subscribers an email with their first name in the subject line.
Step #1: Go to getresponse.com and log in. If you're not a member yet, sign up for a 30-day free trial.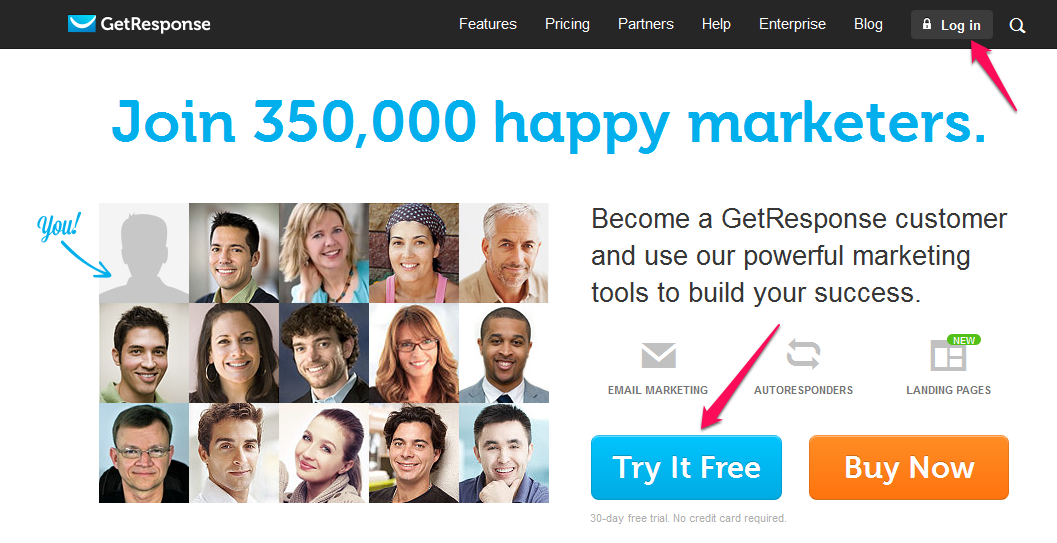 Step #2: Hover on the "Messages" tab. From the drop-down options, click "create newsletter." This is what you will see:
Note: Click the New Email Creator on the left, which is user-friendly and great for personalization.
Once you hover on "Personalize," the next action is to click "[[firstname]] from the drop-down options.
As you click it, it will automatically appear in the subject field:

Note: After clicking [[firstname]], don't forget to use a hyphen (-) or colon (:) to put some space between the recipient's first name and your subject line.
Step #3: Activate automatic social sharing so that you're not just relying on the inbox for traffic.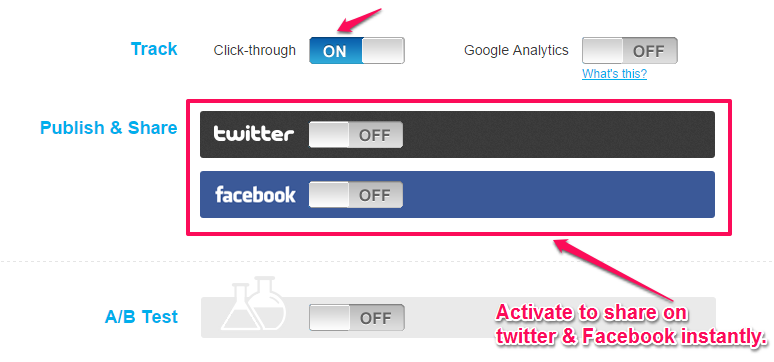 Step #4: Scroll down and click "Next step" to continue writing your email message.
When you're done, your email will have the subscriber's first name in the subject line.
2. Ask the right questions: We learn by asking and answering questions.
Dr. John V. Richardson, UCLA Professor of Information Studies says that there are two forms of questions:
The first is a close-ended question which limits the answers/options the recipient can give to a specific question. The answer is usually a single word or definite phrase. Such as:
Do you enjoy connecting with friends on social media networks?
Possible answers: Yes/No
Is your favorite color red?
Possible answer: Yes or No, my favorite color is……
Have you read Rich Dad, Poor Dad by Robert Kiyosaki?
Possible answer: Yes, I've read it/No, I haven't.
When writing email subject lines, avoid close-ended questions. If people can answer the question, they have no incentive to open your email.
The second type of question is open-ended questions. One of the best ways to connect with loyal subscribers on a personal level and get them to speak their minds is by asking open-ended questions.
Open-ended questions make the recipient think before giving an answer. The answer is usually long and more detailed, compared to answers to close-ended answers.
Here are some examples of open-ended questions:
In what area of Internet marketing do you need urgent help?
What do you want to know about real estate investing?
Can you tell me what you're struggling with in your startup business?
Even though some of these questions are specific to a particular industry, they still encourage recipients to think and respond.
When someone joins your email list and you send them a welcome message, ask questions in this manner:
Tell me what you've been struggling with.
What kind of traffic do you want to drive to your blog?
Tell me everything that you've tried so far to get traffic that worked/failed.
As a rule of thumb, using open-ended email subject lines can really be helpful.
PeoplePulse, a survey software solution, shared some examples of open-ended subject lines and their click-through rates:
Subject Line #1: "FIRSTNAME, November Client Attraction Newsletter out now" – click-through rate of 20.3%
Subject Line 2:"FIRSTNAME, here's a new 7 Marketing Trends report for you" – click-through rate of 28.0%
Subject Line 3: "FIRSTNAME, 7 Marketing Trends I think you should know about" – click-through rate of 45.6%
How timing increases email open rates
There's one more thing that you can do to get more people to open your emails and achieve a 203% increase in open rates: get the timing of your emails right.
A few years ago, Nathan Williams recorded a 60% open rate when he sent an email with a welcome kit to new sign ups within 24 hours.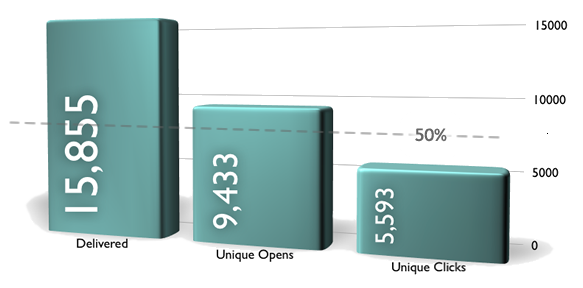 Can you be 100% sure of the right time to send emails? Absolutely not.
Industries differ and individual prospects/subscribers respond to emails at their own pace.
But, there are plenty of insights from industry experts and email marketing companies who manage and track billions of sent emails per day to help get you started:
This KISSmetrics infographic on email marketing timing is a must read.
Rick Stamberger says that the best time of day depends on when your target market is most likely to read emails. He got an open rate of more than 70% when sending emails to restaurateurs after the lunch hour rush.
Kevin Gao, founder of comm100, stated that Mondays are the worst day to send emails. Open rates also typically slip on weekends when people focus more on family time. He says midweek days are the best bet for a healthy email open and click rate.
When it comes to email timing, you are going to have to test it. For example, with my Quick Sprout list, I get the most opens when I send them out on Monday, Wednesday, and Thursday at 8am PST. You can use the articles above as a starting point, but you still need to test.
Conclusion
Implement the tips in this post and you will not only increase your email open rates (and your click-through rate), but you will also earn a more loyal subscriber base, who will anticipate seeing your next winning subject line in their inbox.
You have to keep testing your email subject lines, as they may not go up right away. But, they will eventually increase, as long as you follow the tips above. When I tested email subject lines, the first 3 tests failed. But, I was able to get an increase of 203% with the 4th test.
And don't forget to pay attention to your email content. Writing an effective email may be challenging for some people, but nailing this aspect of your email campaign is a must. Meld your creativity with your sales pitch and chances are you'll be able to create a marketing email that delivers you great results.
What other ways can you increase your email open rates? Have you changed your tactics to appeal specifically to email clients using their mobile device? What's the most winning subject line you've ever crafted?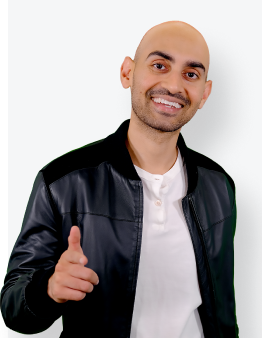 See How My Agency Can Drive More Traffic to Your Website
SEO - unlock more SEO traffic. See real results.
Content Marketing - our team creates epic content that will get shared, get links, and attract traffic.
Paid Media - effective paid strategies with clear ROI.
Are You Using Google Ads? Try Our FREE Ads Grader!
Stop wasting money and unlock the hidden potential of your advertising.
Discover the power of intentional advertising.
Reach your ideal target audience.
Maximize ad spend efficiency.