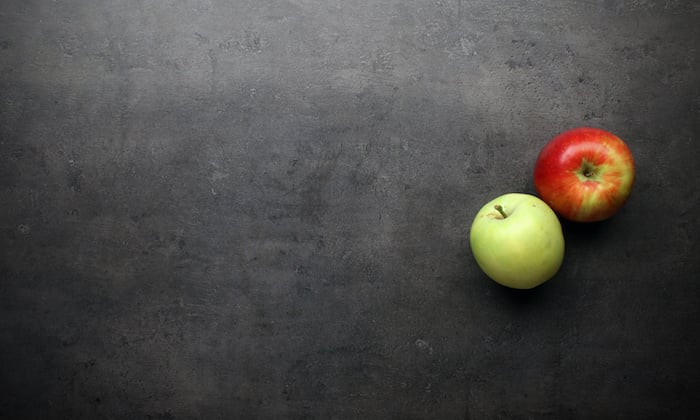 If you've been following internet marketing blogs for a while, I am sure you've come across at least a couple of posts by Brian Dean.
He's a link building nerd and relies mainly on skyscraping content (beating existing content on quality) for generating blog post traffic. Indeed, he does not believe in publishing content regularly.
His motto has been…
Less, but awesome.
That's why he devotes 15+ hours to writing a new post designed for search engine success.
Are you wondering why I'm suddenly praising Brian so much?
Because, besides publishing top notch content, he has developed an expertise in another major blogging strategy that we talk about in today's article…
Republishing/repromoting his old content and earning new traffic to his blog through it.
What?
I know this might be a weird strategy for some of you in finding your target audience.
But, there's no blogging rule that says that you can't republish an old piece of content.
In an Inbound AMA, Brian even shared that re-publishing a page with 75% new content shot his rankings from #7 to #2 overnight (for his target keyword).

And, guess what?
Brian isn't alone.
HubSpot shared that just by optimizing their old content:
They increased their organic traffic by over 100%. And, they also doubled the number of search traffic leads they generated from older posts. They achieved this feat by following a couple of methods that I talk about later in this article.
But, for now, let's try to understand how revamping your content can generate new search traffic.
See, if you write temporal blog posts, then your efforts will generate some traffic within the first week or so, but the traffic will quickly drop off.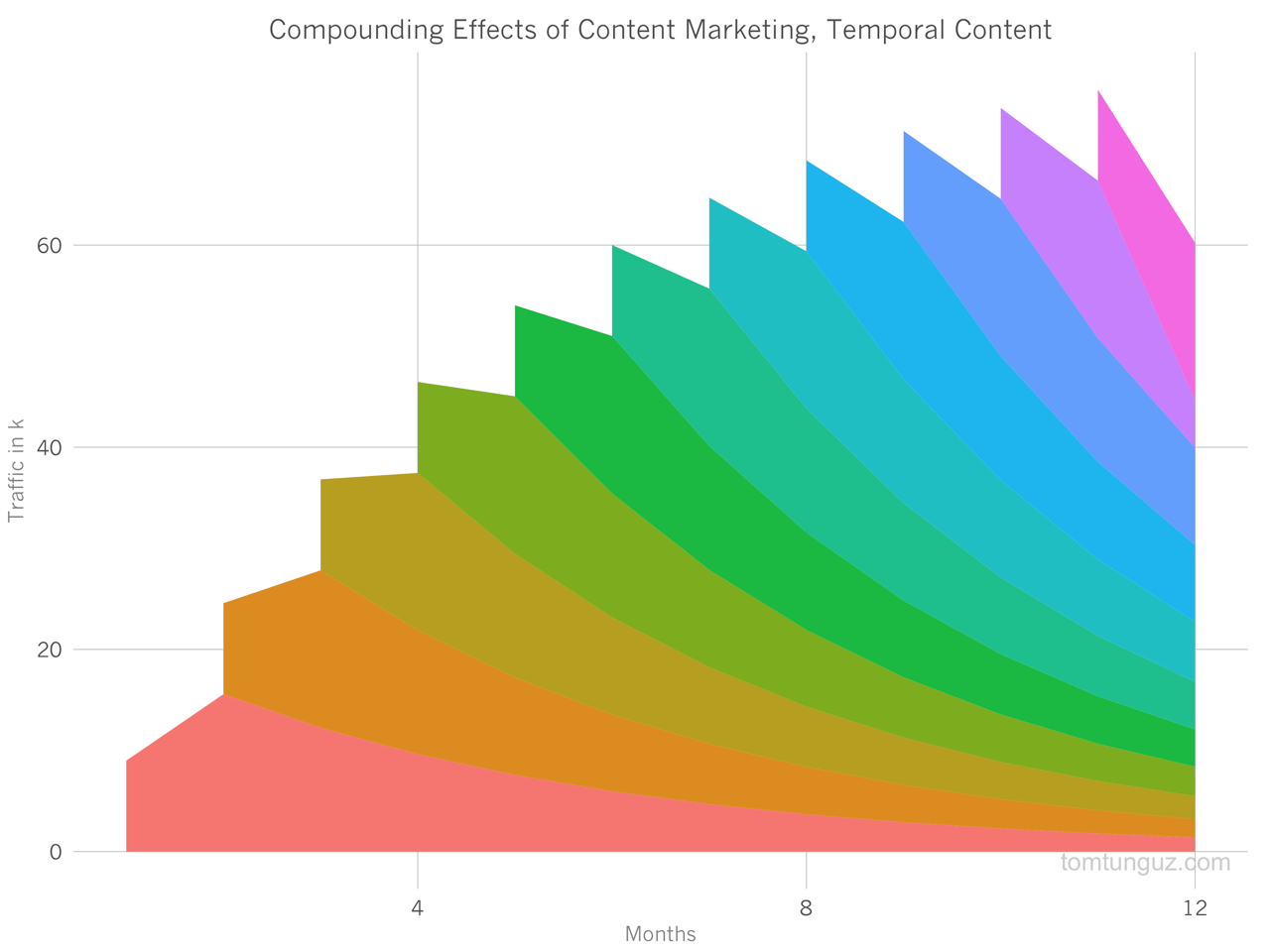 On the other hand, if your blog content is evergreen content, then you reap the benefits of your content marketing over the years. Venture capitalist Tomasz Tunguz believes that the value of such content marketing campaigns compounds search traffic.
Indeed, huge blogs, like HubSpot, get 75% of their traffic from older posts and upwards of 90% of their leads from them. So, older posts are a gold mine for gaining traffic.
Moreover, it makes economic sense for organizations to refurbish their old content, because an estimated 50% of content from enterprises goes completely unused.
See, the search engine demand for content isn't going up – your target audience can only consume so much on any given day.
Yet, the supply has risen to amounts exceeding 2 million posts per day. Most posts obviously end up generating measly links and shares.
The solution is to evaluate your currently successful blog content pieces, polish them and repromote them to ensure they make maximum impact among search engines and social media.
I know it might not sound as sexy as upping your content frequency, but it works.
Jeff Goins has re-launched an old product (he had made $25k with already) and made $2.5 million in 3 years.
I am sure that you can also achieve stellar search traffic by republishing your old posts rather than always adding a new post.
So, how do you find the hidden traffic opportunities from your blog archives?
Log in to your analytics and you'll find them STARING right at you.
That isn't practical advice…
So, please allow me to share 4 actionable content revamping strategies.
1. Write a follow-up to a popular piece on your blog…
A no-brainer, right?
If a particular content piece resonated with your audience, then it's worthwhile to extend the subject (if possible).
For example: If you write a data-backed speculative piece, then it might trigger an industry discussion with social network engagement and shares.
A great example is the content shock article written by Mark Schaefer. He used simple graphs to explain how content marketing isn't a sustainable strategy due to the increased frequency of publishing by brands.
The industry was shaken by his claim. Many bloggers spoke about it while linking to his post. Here's a screenshot of the backlinks it generated.
Mark saw the tremors his post created in the marketing industry.
And, a year later, he wrote a follow-up to the piece, "Content Shock is here. Now what?"
In this article, he presented solutions to survive the shock, along with a 45-minute video discussing its impact on the best content with Steve Rayson from BuzzSumo.
Any guesses which articles rank in the top two spots in Google for the keyword, "content shock."
Another brilliant example of this strategy is the man himself…
Brian Dean.
He coined a term, 'Skyscraper technique' and presented how it raised his search traffic by 110% in merely 14 days.
He saw many people talking about the strategy using the exact keywords.
So, he grabbed the opportunity and created a case study with a Backlinko reader who generated 17,584 visitors, in just one day, on his brand new blog.
And, yep, you guessed it right….
Both of these posts sit at the top two spots in Google for the keyword "skyscraper technique."
If you don't want to write a new follow-up piece, then I've got a short-cut that might work for you….
Google the keyword "being average."
You'll find a high-quality article by popular self-improvement blogger Mark Manson in the top spot.
Now, I don't know if Mark promoted the piece to editors of huge blogs. But, if you scroll down, you'll find that the SAME article is republished at observer.com and appears in spot #9.
Get the drill?
You can get in touch with editors at huge publications (think Huff Po, Forbes, Entrepreneur, Business Insider and the like) to look at your blog post.
If it has gone viral, they are highly likely to republish it on their high-authority blogs and to bring a new audience to your piece. Moreover, due to their inherent authority in the eyes of Google, your articles are highly likely to occupy top spots (just as it happened with Mark).
I don't want to paint a lopsided picture of how mind-blowing this strategy is. So, here are its two limitations.
You'll need an article that went ABSOLUTELY viral to achieve good results. The social share data should scream. You probably shouldn't need to look at your analytics to find these articles – think

thousands of social media shares, at least

.

It isn't always possible to replicate the same level of success because you can't control a social network . For example, the color quiz by Eye Social Eyes exploded on Facebook with 5m shares. But, when they tried to achieve similar success by re-publishing quizzes, they

didn't get anywhere close to their original results

.
Even Mark wrote a follow-up to his content shock article (3 months after publishing the original post). But, it only managed a handful of shares.
2. Retain the audience that comes to read your new content with "Related Posts"
There isn't anything special about this strategy. It's a good practice to show your older relevant pieces of content below every post. Such internal reading options on your blog will increase your circulation traffic, lower your bounce rate and increase your overall website engagement with your target audience.
If you're on WordPress, there are many plugins that you can use to ensure that your readers stick around. WP Beginner share 5 related post plugins in the video tutorial below.
If you're up for experimentation, I'd recommend that you give the inline related posts plugin a try. It's used by established websites, like Entrepreneur and The Wall Street Journal, to display related posts inside the body of your content.
Since the readers are more engaged in these spots, they are more likely to click. The plugin developers claim that in one week of testing the plugin on a low-traffic website, they increased pageviews by 99%.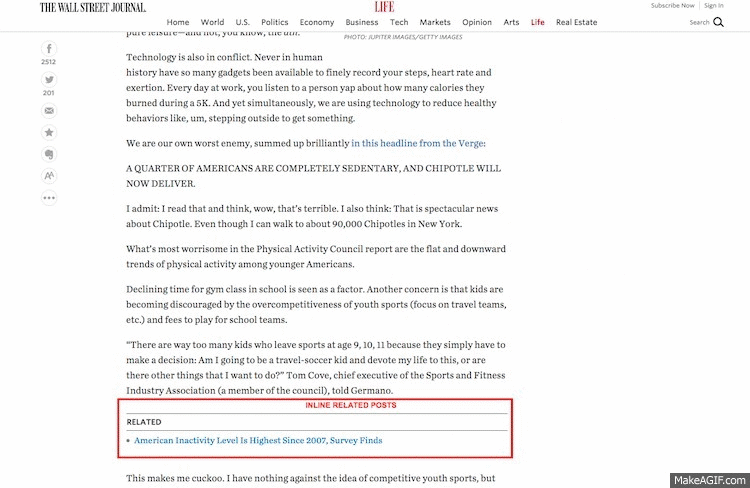 3. Get inside the searcher's head and deliver on their expectations
This was one of the strategies that HubSpot relied on to double their conversions and leads generated. Let me outline the strategy.
When you write a blog post, you might target a low-competition keyword for ranking in Google. If you're on WordPress, you might use a plugin like Yoast to ensure proper on-page SEO.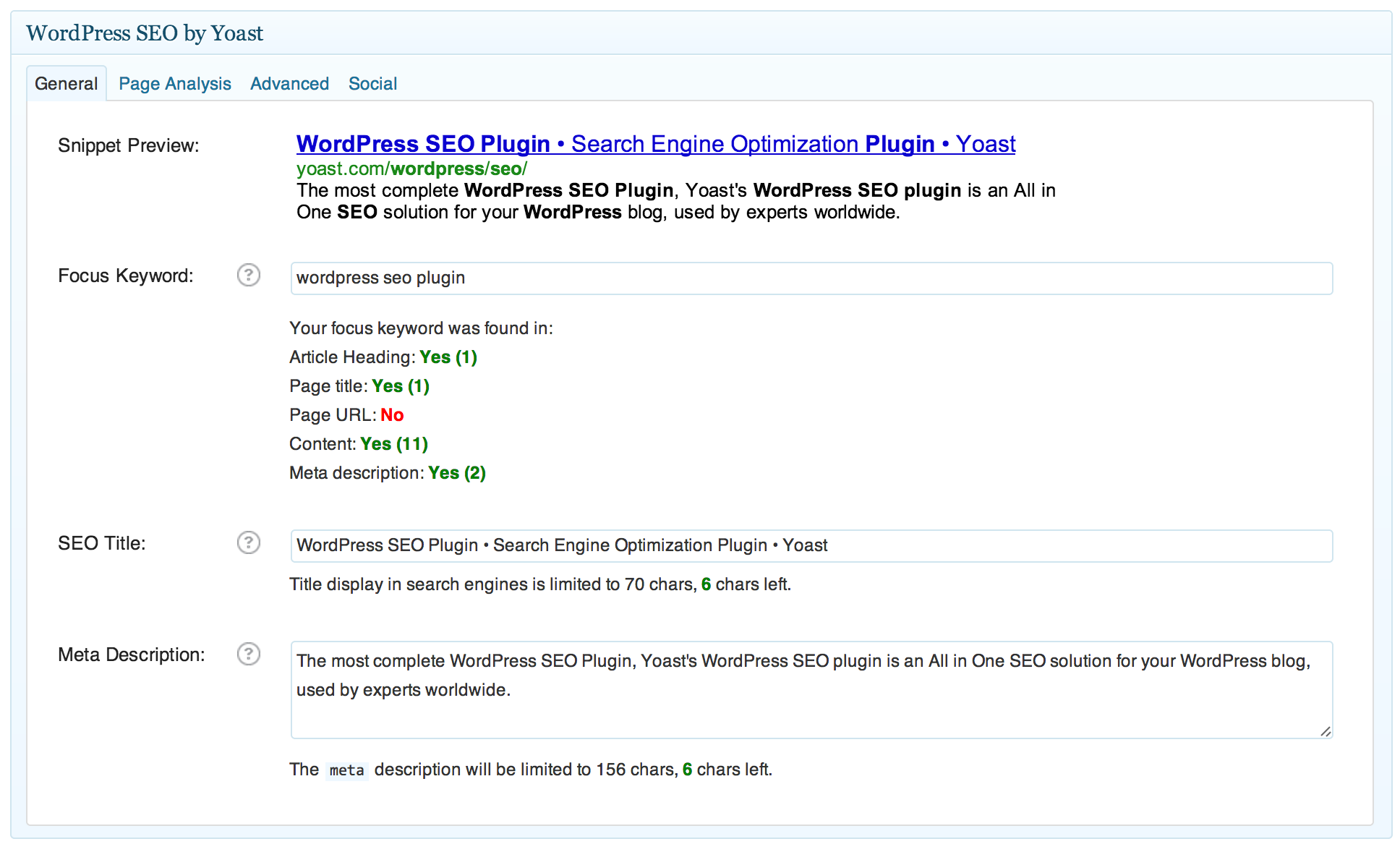 But, do you always end up ranking in the top 10 search results for this targeted keyword and driving traffic to the article through it?
I doubt it.
If you write in-depth content, you naturally start ranking for an ample number of long-tail keywords that you weren't specifically focused on. In the past, I've received as much as 91% of the search traffic at Quick Sprout from long-tail keywords.
So, if you can find the specific keywords that searchers' use to arrive at your blog posts, then you can deliver on their expectations.
How do you find these specific keywords?
Log into your webmasters account. Then, navigate to Search Traffic >> Search Queries.
You'll find a bunch of keywords that you rank for.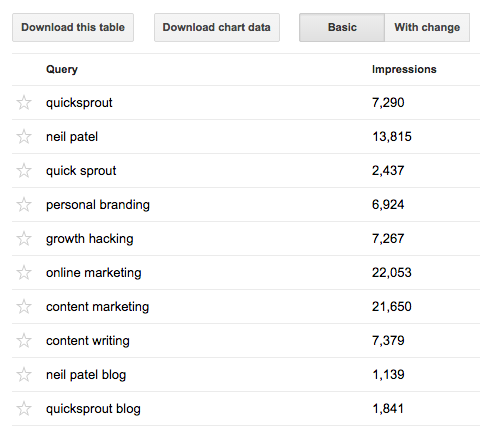 Next, find long-tail keyword variations of these head terms. Either use a professional tool, like Long Tail Pro, or scroll to the bottom under "searches related to" in Google.
You just need to sprinkle these related queries NATURALLY inside your article.
I started implementing this strategy every month at Quick Sprout, starting in January, 2013.
And, I increased my traffic from 120,465 visitors to…
174,496 visitors in December, 2013.
HubSpot used a similar version of this strategy. First, they found the keywords that brought traffic to their older posts. Then, they matched the offer inside the post to satisfy the needs of these visitors.
The result?
On one of their highly trafficked posts, they found that it ranked highly for the keywords, "how to write a press release" and "press release template."
And, after optimizing their offer, they increased conversions by 240%.
They performed similar keyword-based conversion optimization on 12 other high-traffic posts to double the number of leads generated from them. Social network traffic become a byproduct of search engine numbers.
The ROI on the strategy is really huge for the little amount of time you need to spend on it.
4. Update old content with fresh info and republish it with a marketing spin
Back in 2011, Google announced that it would award freshness in its search results. This helps a new post or a refreshed blog post. Meaning that information that changes in the market (like the best DSLR cameras) will need the most updated results.
So, it makes sense for webmasters to update their older posts with fresher info, not necessarily to make a whole new post.
Brian Dean publishes less content, but still ranks for the posts he wrote a couple of years ago. This happens because he keeps on updating them with fresher info.
For instance, he first published his SEO techniques post back in Jan, 2014.
But, he has updated it for 2016 and continues to rank in the #2 spot for the competitive term "SEO techniques."
Note that Brian also re-promotes his post and brings new traffic that's helpful from a SEO perspective in an indirect manner.
Similarly, I wrote a post on Instagram marketing in 2012. At its peak, the post received 121,550 visitors from Google.
But, the post lost its traffic, dropping to 14,952 visitors as its info became outdated. So, I updated the post. That led to more Facebook shares from the readers and, in 90 days, the traffic to the post went up to 62,855 visitors a month via the social network.
HubSpot found traces of Google rewarding freshness on their "how to use LinkedIn" post. After updating the post on 3/31/2014, they saw the post shoot up from the bottom of the second page to the top 5 on the search engine.
They then made updating old content a regular part of their editorial strategy – 2 to 3 post updates per week. And, here's how their organic traffic fared, after updating a few of their posts.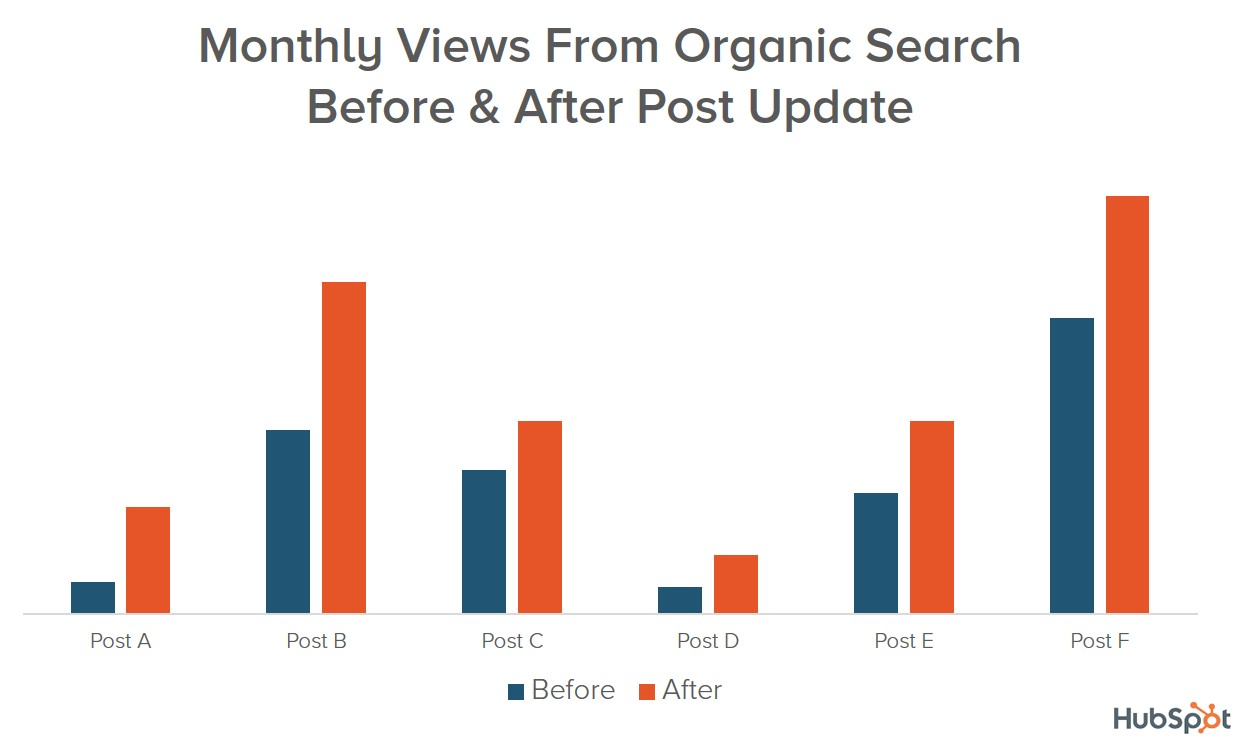 Their organic search views increased by an average of 106% after updating. They also tripled the number of leads generated from the posts they updated and republished.
The strategy works, because you build off of existing search authority. Once you re-promote your content, the new visits lead to more social network shares and new inbound links.
Besides updating your posts with fresh info, I also recommend that you to revisit the titles and meta descriptions of your posts. Optimize them for more clicks. Here's a short tutorial by Brian Dean showing the process.
Conclusion
Writing fresh high-quality content regularly is essential for building a thriving blog. But, once you've built a few solid pieces on your website, you can derive more juice from your popular articles.
I mentioned 4 strategies in this article for revamping your content bank. Additionally, you can also link your popular posts in the right sidebar like I do. It's very popular real estate for blogs and it helps in maintaining your current rankings.
You can also repurpose existing content in other formats and earn more traffic.
Are there any other strategies you've used to revamp your blog posts? I would love to hear about them in the comments below.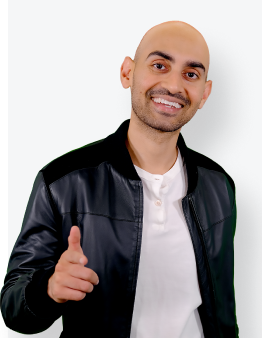 See How My Agency Can Drive More Traffic to Your Website
SEO - unlock more SEO traffic. See real results.
Content Marketing - our team creates epic content that will get shared, get links, and attract traffic.
Paid Media - effective paid strategies with clear ROI.
Are You Using Google Ads? Try Our FREE Ads Grader!
Stop wasting money and unlock the hidden potential of your advertising.
Discover the power of intentional advertising.
Reach your ideal target audience.
Maximize ad spend efficiency.