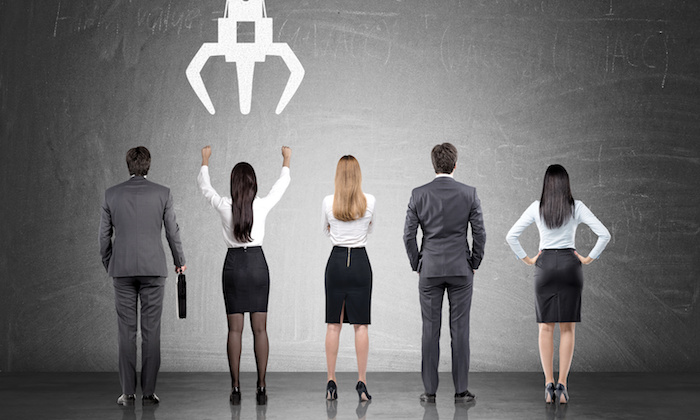 So you've decided to step up your content marketing game and bring in some marketing professionals.
Congrats! This is a big step, and it can end up making a massive difference in both the quality and the quantity of the content you produce.
Which will be great, considering how important content marketing is these days.
One quick look at the graph below from MarketingProfs shows that blogs are anticipated to be one of the biggest content marketing tactics of this year.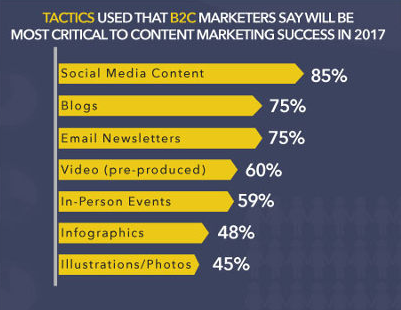 Of course, being the savvy business owner you are, you're aware that this process isn't without its potential hurdles.
Making sure that you hire the right people is hard enough. How do you figure out how to manage those writers once you've brought them onto the team?
Let's just say that things can get messy really quickly.
Fortunately, that's where I come in.
I've put together this checklist to make this is as easy as possible for you.
As usual, you can click on any of the topics below and check out a specific section if it interests you.
But I strongly suggest that you read this particular article all the way through.
The entire point is that you understand how to hire and manage these writers, and I'd hate for you to leave with an incomplete understanding of the topic.
3 steps for the hiring process
1. Intention is everything
Every time I start talking about the importance of establishing goals before you dive into the digital media marketing world, I worry that people aren't taking it seriously.
Let me be clear. I'm not telling you to set goals because it's a convenient first step.
I'm bringing this up because going into this process blind is arguably one of the worst things you could do.
Especially when you're about to hire someone, taking the time to step back from everything and determine exactly what you want can save you a world of hurt in the future.
Your intention won't just determine what type of person you hire. It'll also determine whether or not that person will successfully accomplish the goals you need them to.
In this plan, there are going to be a few key issues you'll want to address.
Why don't we start with the basics?
What kind of content will you be making? Determine whether it's educational, inspirational, entertaining, or some mixture of all three.
It really doesn't matter, as long as you have it well defined long before you interview your first potential candidate.
If you're really struggling, here are some of the most popular tactics used, courtesy of MarketingProfs.

Next, let's look at what their schedule will be. Will they be creating an original piece of content once a week?
Once a day?
Again, take a second to decide what you'd consider being a healthy content output.
But don't stop there!
How much will you be offering as compensation for the writers?
How often do you plan to pay them?
When do you want them handing in work?
These are just some of the questions that you should answer long before you conduct your first interview.
Remember that even if you're planning on working with professionals, your intention for both the role and the person who fills it will dictate just how successful this entire process is.
2. Where to hunt for talent
Okay, so at this point, you've established a series of goals that you expect your writers to crush once you hire them.
So far, so good, right?
This next step is pretty simple, actually. There's one minor hurdle, but we'll get to that in a second.
Now that you're ready to hire someone, it's time to start scouting the talent and figure out who's ready to be on your team.
But before we can get there, we have to go through hundreds, if not thousands, of writers.
Where should you go hunting for talent?
My first suggestion is always to speak with friends, family, and colleagues.
It might sound a bit cliche, but there are plenty of people in your immediate network who know someone who'd be interested.
Beyond that, reach out to other businesses that have featured writers you've enjoyed.
A great example of this? The Huffington Post. Not only do they have plenty of talented writers, but each article also gives you the chance to connect directly with the authors.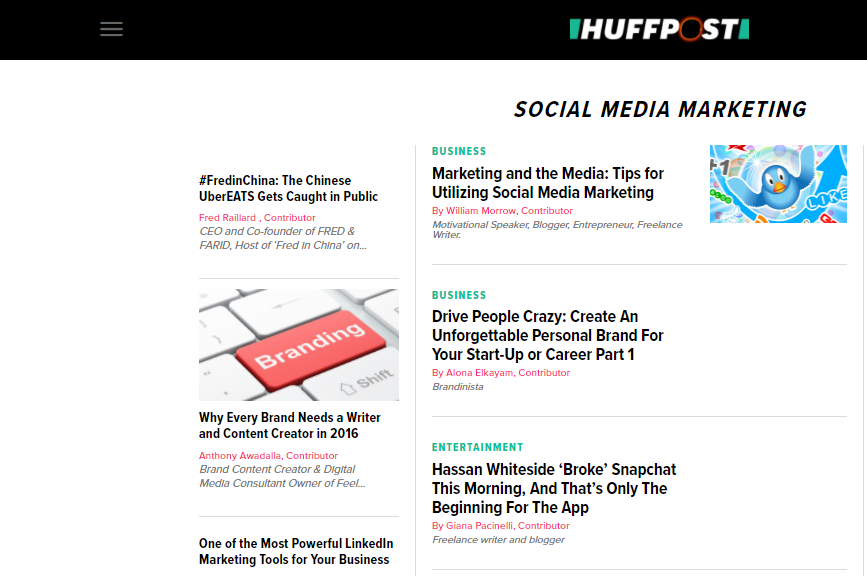 You could also scan your favorite sites and reach out to the writers directly, with Medium being a great example.
It might not seem like much, but you'd be amazed at what kind of people you can find with just a degree of separation.
Of course, you can reach out to companies that exist to provide you with the right tools for the job.
These agencies can do just about anything you need them to.
Maybe you want to start with just a few jobs, just to make sure things are a good fit. You can use a service like Creative Circle.
Services like these are typically used to give people smaller gigs.
But let's say you wanted to skip the process of hiring individuals altogether!
In that case, you can reach out to businesses like BlogMutt for all your business blogging needs.
There are plenty of perks to working with an agency, as long as you pick the right one.
Another great way to find potential writers? LinkedIn! That's where many marketing professionals are likely to be.
If you really want to, you can use Craigslist. Just get ready for a massive amount of applicants where a large portion of them aren't even familiar with your industry.
Which brings me to that hurdle I was talking about earlier.
You're going to get plenty of people to apply for your position. It's not that hard to find people.
You know what is hard? Finding the right people.
3. Preparing for and executing the interview
You've done all your research, you've got yourself a few hundred applicants, and you're getting ready to hire someone.
There are really only two steps left. The first is reducing the size of that applicant pool, and the second is actually hiring the person.
When it comes to reducing the size of the applicant pool, there are a few tools you can use to save yourself a ton of time down the line.
First, check for grammar.
Trust me, you'll thank me later.
Once that's taken care of, consider the writing samples that people have submitted.
Do they have experience in your industry? If so, how many years have they been involved?
Is their tone a good match for the tone you'd like your brand to have?
And finally, the most important aspect: Is their writing actually good?
Determining whether writing is good or bad is going to come down to two simple aspects here.
Did the article offer tangible value (in the form of education or entertainment)?
Was the article enjoyable to read?
Seriously, that's it.
Now that you've narrowed it down, it's time to start interviewing!
But before we get caught in the interview vortex and spend an entire day interviewing people, let's take a moment to think about the interview process itself.
Do you remember the last time you were interviewing for a job?
If I had to take a guess, I'd say that you were a bit nervous but eager to make the best impression possible, right?
Well, guess what? Things haven't changed.
Just typing in the phrase "how to interview well" on Google brings up 271,000,000 results.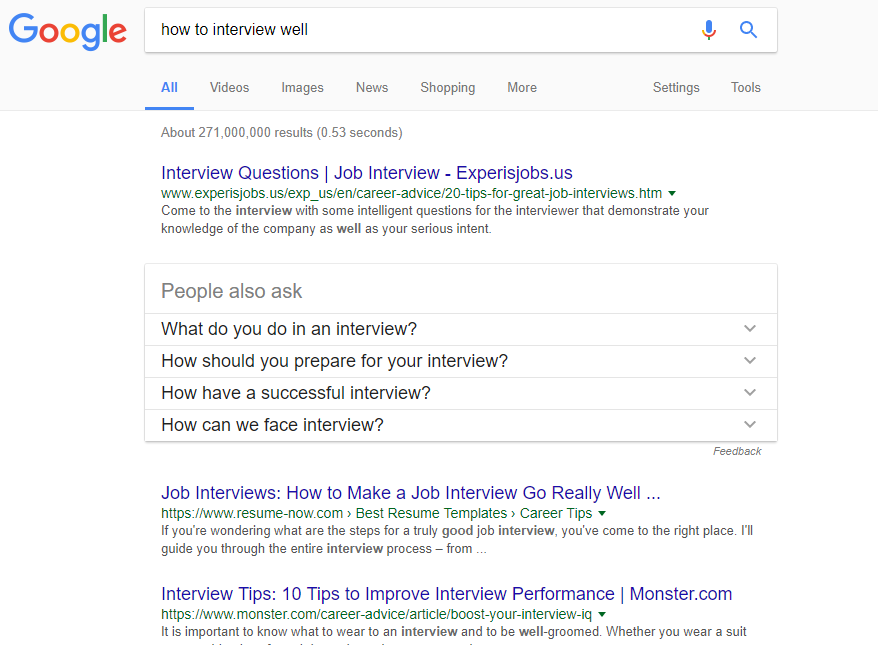 The people you interview will be armed with every trick in the book to make sure they're making a dynamite first impression.
Every person that you Skype call is going to be trying their hardest to earn your attention and your money.
That's not to say they're vain people or anything. They just don't want to make a bad first impression.
But remember that list of goals we made way back in the first section? Well, this is where it's really going to come in handy.
Instead of getting caught up in how much you like a particular person during the interview process, focus on reading the questions you've prepared.
The information you gain through those questions will give you much more to work with than simply a gut feeling you got after chatting for 15 minutes on Skype.
3 steps for the management process
1. Communication determines success
Hey, you just hired your first writer!
And assuming you followed my guidelines, you probably ended up with quite a solid writer on your team.
But I've got some bad news. The hiring part is actually the easiest part of this entire process.
Here's the good news. As long as you follow these next three guidelines, you'll be in good shape.
The first step to managing a team of writers, or any team for that matter, is mastering the art of communication.
Let me be the first to say that responding to emails constantly is a major pain, and my heart goes out to everyone that wakes up to urgent work emails.
That being said, that's typically how these situations begin.
Even if you've armed your writers with a style guide as thorough as the one The Economist uses, there are bound to be situations where they need your guidance.
Believe me, they take no enjoyment in emailing you constantly. It's mostly because they want to be sure you're getting what you want.
Once your writers have been working with you for a while, they'll email you less frequently.
Assuming that you hired someone who's actually a professional, they should be able to pick up the tone that your brand is going for pretty quickly.
Which is great, since it means that you'll be able to worry less about the execution of the content and focus more on which ideas your team of writers should be working on.
Even so, what's important to keep in mind is that you should still try to reply quickly to your writers.
One of the reasons that a tool like Slack is so powerful is that it supports efficient workflow by removing as many communication barriers as possible.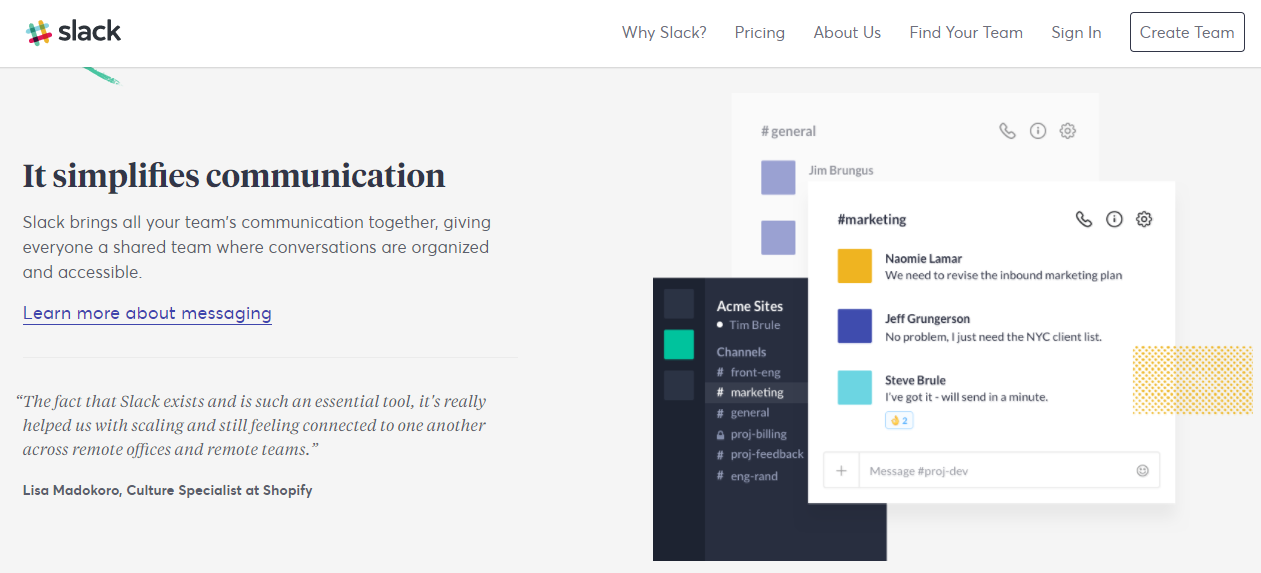 In Slack, you can send out everything from major announcements to minor edits. Plus, you can instantly send files and images to your team.
Not only will this ensure that the content is finished as soon as possible, but it will also guarantee that there are no miscommunications about what the content should look like.
And believe me, there's nothing more frustrating (for both parties) than for the writer to have to start over from scratch because they didn't understand exactly what they should be doing.
But good communication is about more than just speedy replies.
2. Feedback should be consistent
As your writer creates content, you should help them tweak it.
Why?
Simple. It ensures that the piece of content they're working on will be that much better.
Plus, it gives them even deeper insight into the type of content you want to see in the future.
Honestly? Most of the frustration in editorial situations can be summed up in one phrase.
Radio silence.
Radio silence on either side for extended periods of time can be a bit of an issue.
Okay, more than just a bit.
And speaking of consistency, the feedback that you give your writers should be pretty consistent.
I'm not just talking about the timing of it.
If you want to avoid any potential confusion between you and your team of writers, tools like Trello can be incredibly useful.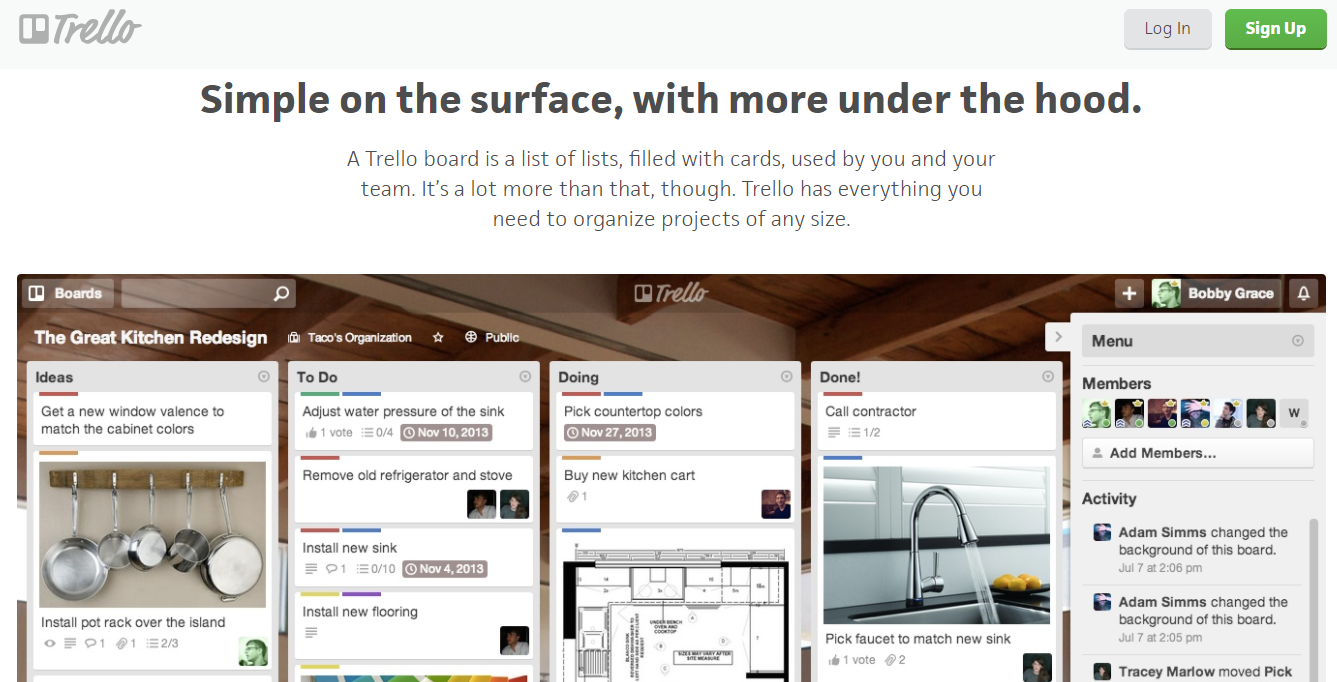 Trello provides two major benefits that can boost productivity with your writing team.
It prevents you from playing phone/email tag all day with different writers.
It helps you clearly organize and label different projects that each writer is in charge of.
And that last part is important because you need to be sure that the feedback you're giving is easy to understand and consistent.
There's no easier way to frustrate your new writer than by telling them to do one thing today and then tomorrow telling them not to do it.
To be clear, there's nothing wrong with evolving as a business and wanting to be sure that it shows in your content.
The issue is when your writer isn't sure about what the brand is supposed to be anymore.
This is exactly why we clearly defined your goals earlier. This ensures the feedback that you give your writers matches up perfectly with the well-established objectives.
Aside from being a frustrating experience, being unclear about what you want will also make it impossible for your writers to deliver satisfactory work.
3. Understand that delegating means letting go
Remember way back in the first section of this article where I said that your intention will dictate the overall success of this entire project?
Well, this is where everything you've done comes together.
If you've done everything correctly, your writer should be just about ready to handle the vast majority of the creative process.
You've made sure to hire people who are a good fit for your business.
You've created a style guide that emphasizes the importance of telling compelling stories.
You even prepared goals that have helped inform the feedback you've given them.
Now you're ready for the final step: embracing the nature of delegation and trusting your writers to execute.
You hired them because of their skill, right? I know it's hard to take a step back and let someone else handle it, but this is part of the practice.
If your writers have questions, they can send you emails. But if you've done your job properly, you shouldn't be getting too many of those.
Conclusion
Putting together a team of writers can seem pretty intimidating at first glance.
There's worry about compatibility, skill level, compensation, and plenty of other issues that can come up.
You'll never be able to anticipate everything. The bigger your team is, the more likely it is that you'll always have a fire to put out.
But you can take steps now to prevent the situation from ever getting too out of hand.
Clearly establish guidelines and goals, and figure out what you want this operation to look like.
Once you've handled that, start scouting for talent and find potential candidates.
Narrow down the applicant pool, and get your questions ready for the interviews.
Once you've hired someone, make sure that speedy communication is the norm.
The feedback you're giving them should also be consistent, both when it comes to timing and when it comes to the message you're delivering.
And finally, you'll need to learn to embrace the nature of delegation and let your team of writers do what they do best.
If you're able to pull all that off, then you and your content marketing efforts are in good shape.
In no time at all, your team of highly-skilled marketing professionals will increase the quality and quantity of your content in a way you've never seen before.
Have you ever added a writer to your team? What's your opinion on delegating content creation?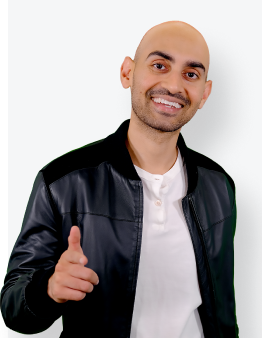 See How My Agency Can Drive More Traffic to Your Website
SEO - unlock more SEO traffic. See real results.
Content Marketing - our team creates epic content that will get shared, get links, and attract traffic.
Paid Media - effective paid strategies with clear ROI.
Are You Using Google Ads? Try Our FREE Ads Grader!
Stop wasting money and unlock the hidden potential of your advertising.
Discover the power of intentional advertising.
Reach your ideal target audience.
Maximize ad spend efficiency.