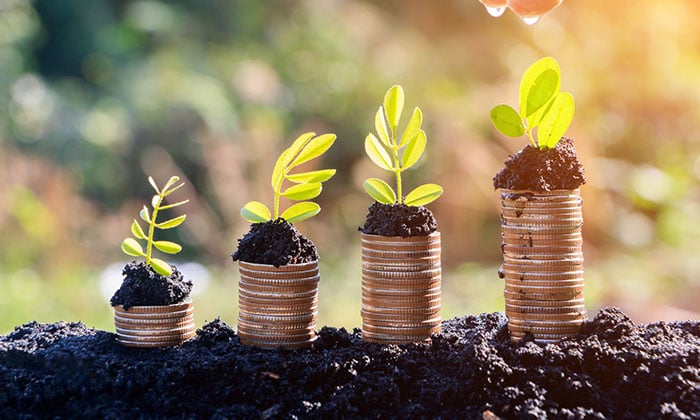 Marketing a brand new startup can feel impossible.
There's fierce competition out there for market share.
It seems like someone is launching a new app every five minutes.
Turns out, they are. There are over 80 new companies born every hour according to business records in the UK alone.
But it doesn't have to be so hopeless.
You just need to be open to creative solutions.
There's no such thing as "build it and they will come" in startup land.
But, building a user base for your product doesn't have to cost a lot of money either.
When we launched Crazy Egg, we managed to get over 100,000 users with only a $10,000 marketing budget.
The trick is to leverage the power of growth hacking to get your startup off the ground and on the road to becoming profitable.
Growth hacking is all about growing your user base quickly.
Think of growth hacking like a sales funnel on steroids.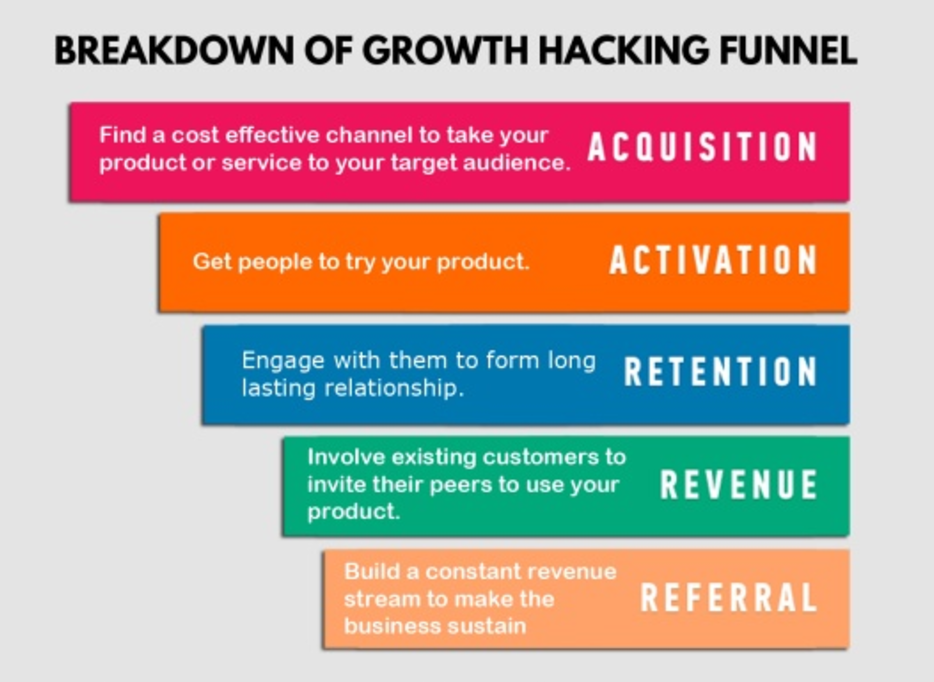 It's more than just marketing.
It involves being 100% focused on getting users to try and/or buy your startup's product.
If your startup is struggling, try these 5 tips to turn that around and get on the right path. 
Traction vs. growth
Before I get into the tips, I want to first clarify the difference between traction and growth.
Traction is the very first stage of your startup journey.
This is when you get your first few users and get to hear what they think of your product.
Are they converting to paid users? Are they liking the product? Do they have suggestions for improving it?
Think of this as like a slowly dripping faucet. Users are coming in, but usually, there are not enough to pay the bills.
Growth is the total opposite.
It's like turning that faucet on full blast and having it splash back in the sink at you.
Growth can only happen when you have some decent traction to start with.
It doesn't mean the tips in this article won't help. You can apply them to start getting traction. Meaning, attracting your first batch of users.
But you need to act on the feedback those users give you before you can go into full growth mode.
The diagram below details the typical lean startup process from ideation to achieving the growth phase.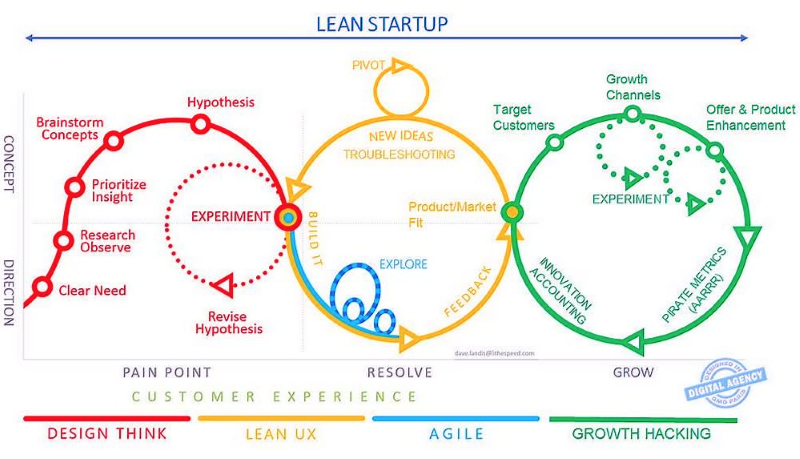 When you start to get traction, you need to make sure your car is ready to go before the wheels really hit the pavement.
You need to be sure your product truly stands out from the competition before turning that faucet all the way on.
Enough metaphors for you?
You get the picture.
Going into growth mode means you've found a few tactics that are working to bring in users already, so you double down on your efforts.
OK, with that definition out of the way, let's move on to the tips!
Start by setting clear goals
Science has proven you're more likely to succeed if you write down your goals.
The top 1% of achievers are people who write down their goals and look at them often.
It's not enough to have a goal of, "making money" or, "growing your user base."
You need to get super specific about what you want to achieve and when.
In many cases, you need to achieve your goals to stay afloat.
That could mean you need to get 100 paid users by the end of the year to keep up with your payroll and expenses.
Or maybe you're already breaking even and now you're growing into the next phase of becoming profitable.
Whatever stage you're at, you need specific short-term and long-term goals.
For example, we set a huge goal with Crazy Egg. We wanted 100,000 users immediately to help us get to our long-term goal of selling the company.
We ended up changing our long-term goal even though we achieved getting that many users.
That's OK. Things change and your long-term strategy can adapt as you go.
But to guide your decisions and actions right now, you need to get specific. Even if that ends up changing later on.
You've probably heard of setting S.M.A.R.T. goals by now.
It stands for Specific, Measurable, Attainable, Relevant, and Time Based.
It applies to every type of goal, from the fitness examples listed below to saving for retirement or, yes, even growing your startup.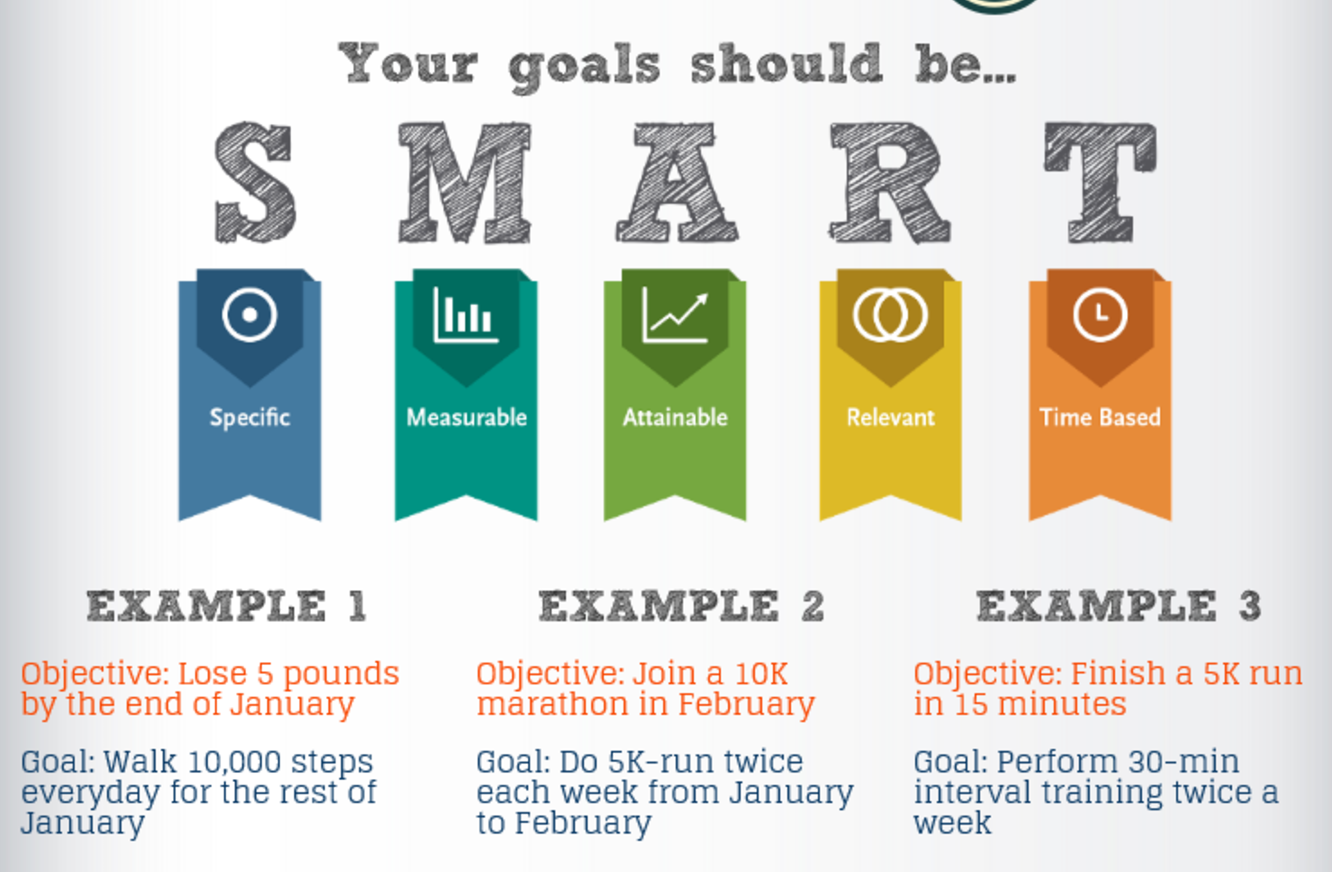 Run your goals through each of the 5 categories above to make sure it fits.
Let's say you want to get your first 100 paid users for your app. That's not enough.
You need to start with a clear objective.
This could be, "Earn $5,000 in recurring monthly revenue by the end of this quarter."
How will you do that?
By getting your first 100 users, assuming each one pays a $50 monthly subscription.
Whatever the math is, this is the basic formula you need for your goals.
Ask yourself what you want to achieve. Is it a revenue number? A certain valuation?
Then, ask yourself how you will accomplish that. What do you need to make that happen?
In most cases, it's paid users.
Finally, set a deadline.
Nothing motivates humans more than having a deadline.
We feel the pressure.
A survey by CareerCast found that 30% of respondents cited deadlines as their main source of stress.
Don't set a deadline that's too ambitious. You'll cause yourself unnecessary stress worrying about it and disappointment when you don't meet it.
Remember the "A" in S.M.A.R.T. goals?
Keep deadlines attainable.
Once you have your goals written down, don't forget to look back on them regularly and measure your progress.
I like to keep my goals in Evernote because it syncs on all my devices. I set a recurring reminder on the card with my goals on it so that I remember to review them.
Create a pre-launch email list
This is a classic growth hacking technique.
You've probably heard the popular saying, "The money is in the list," right?
That's referring to an email subscriber list, and it's one of the most important things you need to build for your startup.
Unlike social media channels like Facebook or YouTube, you own your email subscribers.
If Facebook ever shut down, how would you contact any of the people who liked your Facebook Page?
Facebook is probably here to stay, but you never know.
Remember MySpace, Friendster, or Xanga?
With email subscribers, you own their data.
I don't mean that in an evil mastermind kind of way. I mean that you can export your list from your email marketing software anytime and save it to your computer.
If that email marketing service goes bankrupt, you still have your list.
In the early phases of your startup, you can start to build your list using targeted landing pages.
A landing page is separate from your main website. It's meant to do one thing: convert visitors into subscribers or customers.
This is a really great summary of what makes up a successful landing page design.
It's not enough to just slap up a pretty landing page, though.
You need to test it often to see what results in the highest conversion rate.
Visitors form an opinion about your website in the 0.05 seconds after it loads! The more you test and optimize your landing page, the more successful it will be.
Testing frequently almost triples the chance of your page converting over 5% of users.
I also have a video about my other two favorite ways to build your email list: using content upgrades and exit popups.
Check it out below.
Building your list early means that once your product is ready for release, you already have an interested audience to pitch it to.
Find corporate or affiliate partners
Another effective growth strategy is to partner with other apps or products to get the word out about yours.
A great example of this is Samsung and Dropbox.
In 2013, Dropbox offered Samsung customers who purchased a new phone or camera 50GB of free storage for two years.
The free plan is normally only 5GB.
The strategy here is that those users will get so used to having their 50GB of Dropbox storage that they'll be willing to pay for it once the two free years are up.
Instead of partnering directly with another company, you could also start your own affiliate program.
Starting an affiliate program means that you build a network of individuals or companies who promote your product for you.
When one of their users clicks their link and buys your product, you pay the affiliate a percentage of the sale.
It's like a referral fee.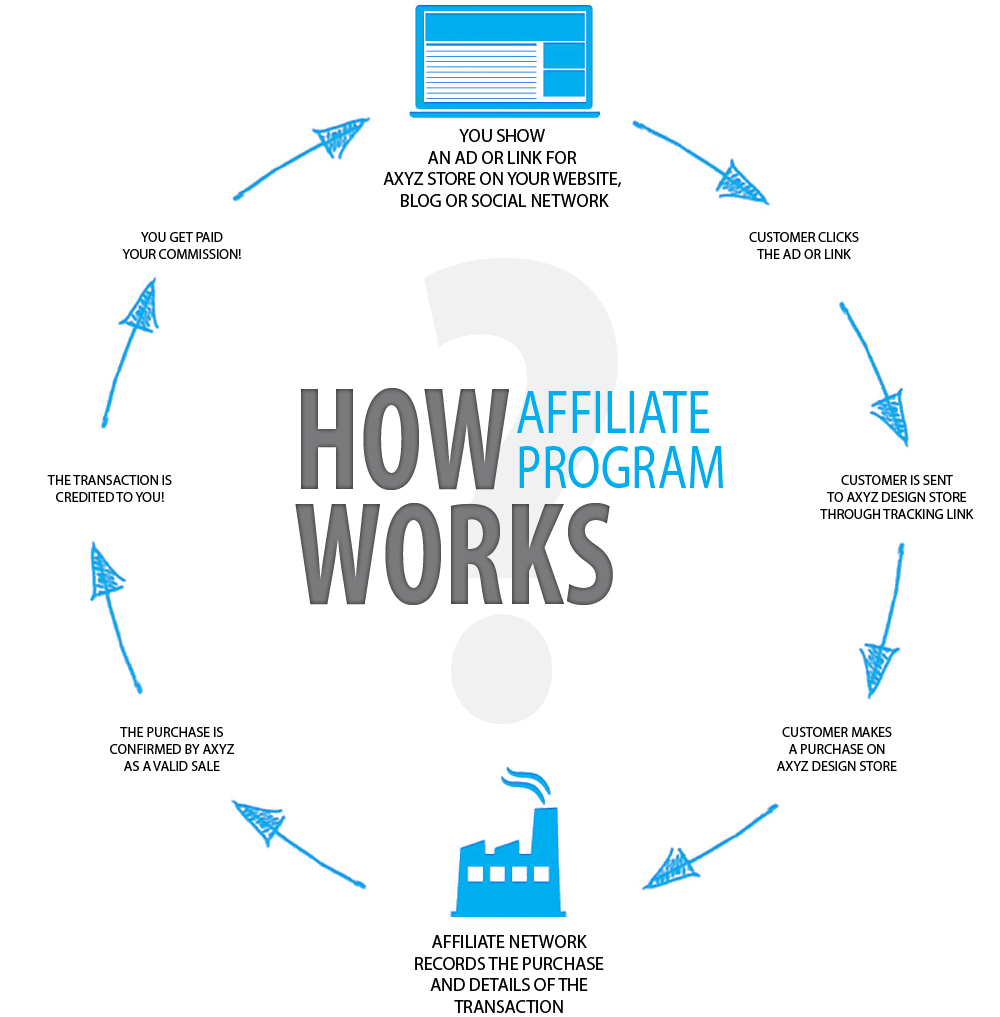 This is a really effective way of getting your product out to a lot of people for no upfront marketing costs.
Bloggers and online influencers will be your biggest assets for a successful affiliate program.
There's a lot of effort involved at first.
You need to find appropriate influencers and make a list.
Then, you need to tell them about your product, convince them to try it, and then sign them up to be your affiliate marketers.
This is time-consuming.
You can outsource the task of putting together a list of influencers to someone else. You could even outsource sending emails to them.
Or, you can go through an influencer marketing agency.
Agencies are faster since you only have one point of contact to reach potentially hundreds of influencers.
However, you will likely have to pay for their time and for being able to access their list of influencers.
Reaching out to an influencer yourself can be as simple as sending an email with a brief pitch on your product and a link to a free trial.
You can include a note that you're looking for affiliates if they like your product and want to promote it.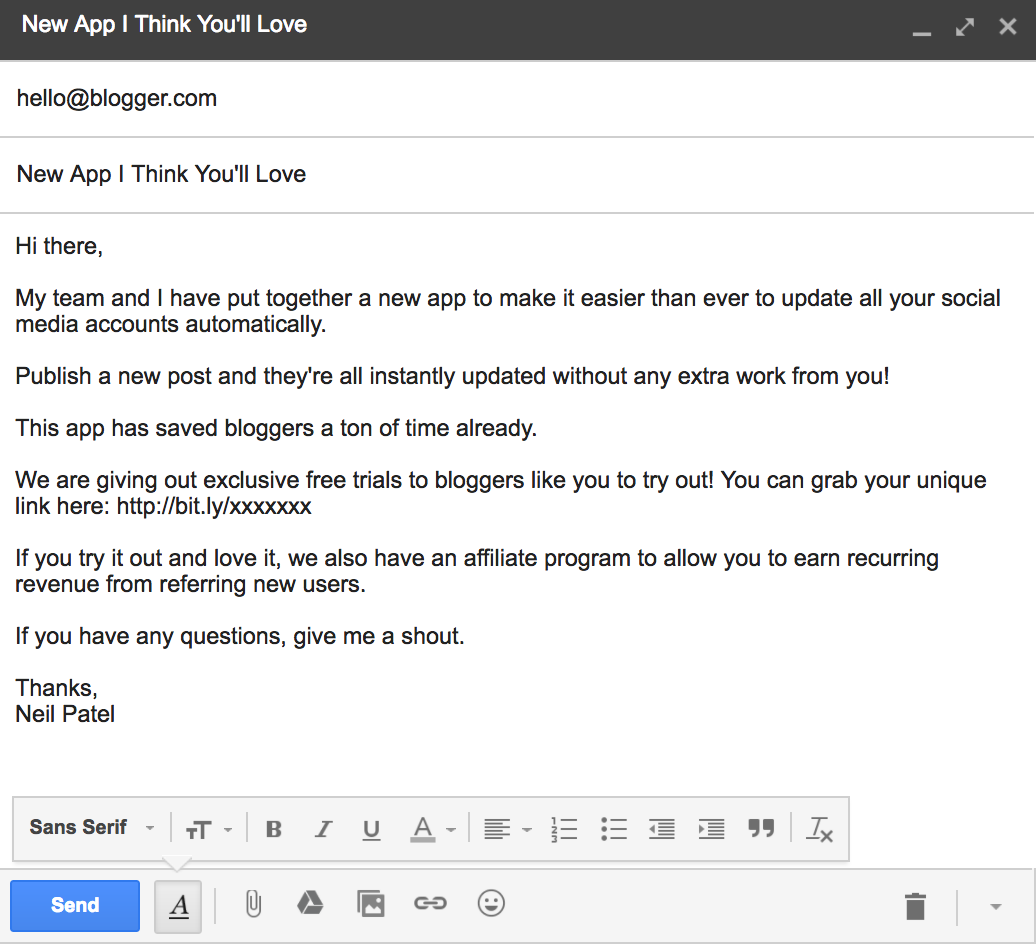 If you reach out to 100 bloggers and 10 of them publish a post about your app, that's great.
That means you get 10 great backlinks and reviews that get your product out to their audiences.
Best of all, it doesn't cost you anything to market your product this way until an affiliate makes a sale.
Make sure your product's price point allows room for you to give an affiliate commission and still make money.
Encourage viral sharing
Affiliates and influencers are great, but you can also tap your existing user network to refer their friends and family.
Again, Dropbox does a fantastic job of this.
They offer more space for various actions, like referring a friend via email or posting about Dropbox on Twitter.
Encouraging users to share your app also boosts your social proof.
Social proof is a psychological effect. You see people using and talking about Dropbox, so you assume it must be pretty cool too.
77% of consumers look at product reviews before buying anything.
Having a bunch of people talk about your app on social media is like getting testimonials by the thousands.
That's a big deal for your marketing.
84% of buyers say they trust online reviews from strangers as much as reviews from their own friends and family!
There are lots of ways to increase sharing of your app.
You could offer incentive bonuses like Dropbox does with extra storage space.
You can also just ask people to share!
It's amazing what a few lines of copy on your landing page or launch email can do.
Or, a few graphics in your game.
Candy Crush allows you to message your Facebook friends with one tap.
The app is so notorious for its Facebook sharing that there are numerous tutorials online to show you how to block your friends from sending you Candy Crush notifications.
Another great strategy for encouraging sharing is to appeal to the human nature. By that I mean vanity.
This works especially well for fitness or achievement-based applications.
Fitocracy is a good example of this in action.
It's an app for fitness enthusiasts to track their workouts and stats, like calories burned and the distance they ran.
The app assigns points to your fitness achievements and ranks you against your friends. It gamifies working out.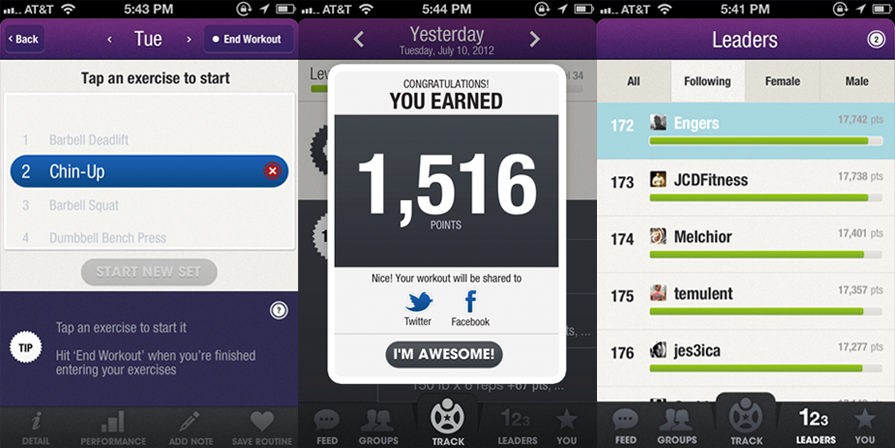 The app also encourages you to share your points score with your Twitter or Facebook friends.
Another big one in the fitness industry is Fitbit.
Their mobile app puts together a perfectly square, Instagram-ready image of your daily stats.
You can click Share to post it to Instagram and brag to all your friends how active you were.
Clearly, I wasn't that active on this day, but you get the idea.
Whether you encourage sharing by giving the user something for it, or just bragging rights, this is a fast and cheap way to grow your startup.
Offer a free version
If there's one big regret I have about Crazy Egg, it's taking away the free version.
Having a free version of your product with limited features, known as the freemium model, can be a super effective way to grow your user base.
This works for all kinds of apps, from games like The Sims to music streaming giant Spotify.
It works so well because it's easy to get users in the door.
It's free, so if they don't like it, they can just delete it.
They have nothing to lose by downloading your app.
Many freemium models work with advertising as a source of additional revenue. Spotify displays ads in the app and after a few songs, plays an audio advertisement as well.
Upgrading to a paid plan removes all advertisements and gives you extra features, like offline listening.
This business model works really well for apps.
Another great example is Slack, the messaging app for businesses.
Slack is a tool that makes it easy for coworkers to chat, set task reminders, and send files in a space that isn't email.
They're all about simplifying communication.
They have a generous free plan which many businesses use without ever needing to upgrade.
As of June 2017, Slack has 5 million free users and 1.5 million paid users.
They reached that milestone fairly quickly, amassing the bulk of those 5 million subscribers in 2015 and 2016 alone.
Slack used their freemium model combined with old-fashioned word of mouth marketing to reach their user base.
They've long been a favorite at startups and tech companies in the US. Their reach has expanded exponentially around the world since 2015.
There's no way you could walk into a tech startup today and not expect a Slack invite to the company's team.
I even use it for my own startups.
Having a free version of your product works well combined along with the other growth hacking strategies in this article.
Got a free version? Make a landing page. Send it out to your email list. Partner with someone. Encourage your existing users to share it with their friends.
The real work lies in converting those free users to paid subscribers once they're already in your app.
Conclusion
Marketing your startup takes a lot of perseverance and creative thinking.
You likely don't have a big budget when you're first starting out. And, you need to attract paying users yesterday.
Growth hacking doesn't need to cost a lot of money.
Blog posts and e-newsletters are some of the most effective forms of content to generate leads. They won't cost you anything to produce except time.
You can use several low-cost tactics like building your email list with content marketing, partnering up with another company, or starting your own affiliate program.
Do whatever it takes to get leads first. Worry about converting them into users afterward.
Offer a free version of your product to get a lot of users and gain market share.
Hone in on what those users value and use that knowledge to create paid plans they can't resist.
You can try all the tactics in the world but if you fail to listen to what your users actually want, you won't succeed. Keep that in mind as you try out these strategies.
What are your favorite growth hacking methods to get users fast?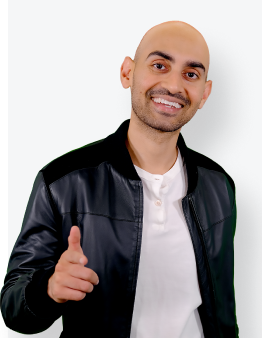 See How My Agency Can Drive More Traffic to Your Website
SEO - unlock more SEO traffic. See real results.
Content Marketing - our team creates epic content that will get shared, get links, and attract traffic.
Paid Media - effective paid strategies with clear ROI.
Are You Using Google Ads? Try Our FREE Ads Grader!
Stop wasting money and unlock the hidden potential of your advertising.
Discover the power of intentional advertising.
Reach your ideal target audience.
Maximize ad spend efficiency.