This article was written by David Shapiro, Senior Vice President of Earned Media at NP Digital.
On May 25, Google opened access to new generative AI capabilities to select users. This was a day the digital marketing community had been waiting for since Google announced its intentions to roll this out earlier in the month.

We'll review these changes and examine how generative AI will impact what drives results for digital marketers looking to get traffic from search engines. The tl;dr version is as follows:
Organic traffic will decrease.
Showing up in the top-ranking results, even if it's not your site, will become more important.
Content should still be a priority.
Investing in other, harder-to-track channels will drive longer-term results.

Search Generative Experiences (SGE) and ChatGPT Usage Will Drive Down Traffic from Organic Search
These changes will inevitably decrease organic search traffic from Google because the SGE feature will siphon off some greater than zero percentage of searches. In other words, people will find enough of what they need in the SGE and not click on organic results.
Particularly for informational searches, Google will aggregate (or flat-out plagiarize) from the search results and give users much of what they're looking for.
Take the example below. It's tough to say how many users will no longer click on Synchrony Bank at No. 1, but the value associated with ranking No. 1 (and below) for these types of queries that surface in SGE will inevitably decrease by some percentage.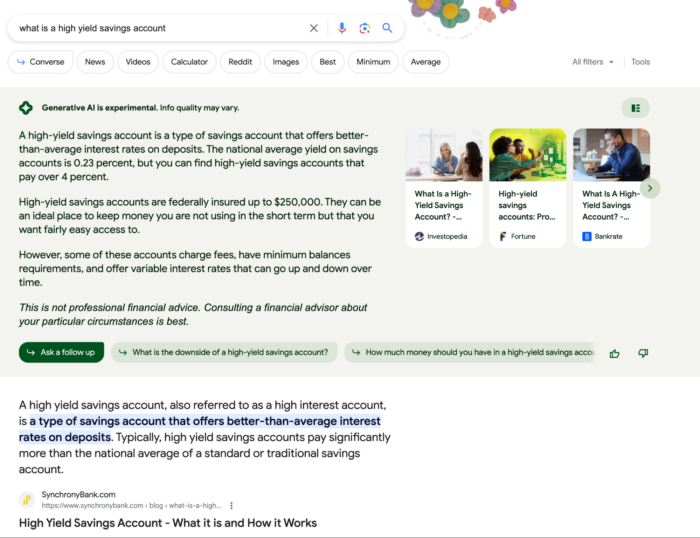 Some broad queries return product pages that seem to be unimpacted by SGE for now, but I'd imagine Google will lean into this feature more, not less, in the future: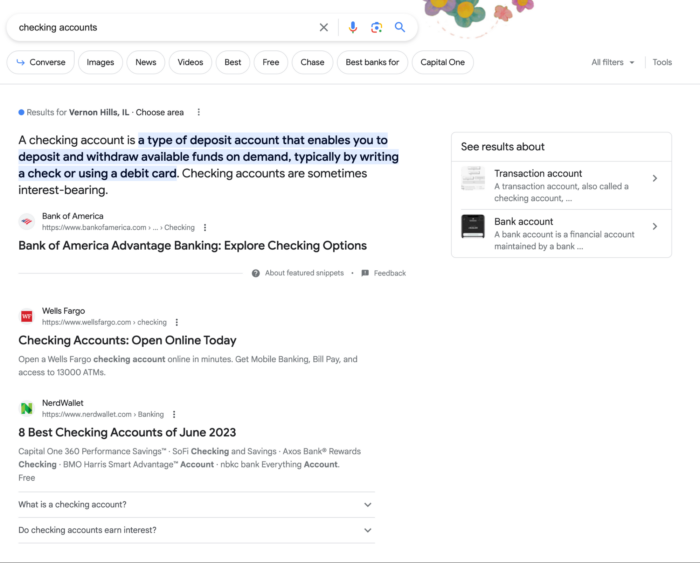 SGE's impact is no doubt substantial, but the perceived impact of SGE will be greater than the real impact. That's because SGE might take the blame for other changes happening in the broader search landscape.
Click-through rate (CTR) for informational queries has been declining over time, although some commercial queries have seen an increase:

"Websites ranked first for informational queries (containing words such as what, when, where, how, etc.) recorded a 2.86 (percent) loss in CTR on desktop, while on mobile, the drop was even higher, equaling 3.53 (percent).

As for commercial queries (those containing words such as price, pay, buy, etc.), the clickthrough rate changes went in the opposite direction. Here, the websites ranked in the first three positions on mobile recorded a combined 4.76 (percent) increase in CTR (1.74 [percent] for those ranked first, 1.82 [percent] for those ranked second, and 1.19 [percent] for those ranked in the third position)."
ChatGPT will likely take some small percentage of searches away from Google.
The launch of "The New Bing," which integrates ChatGPT into Bing search results, helped the search engine surpass the 100 million-user mark. But it didn't materially change its share of the search engine market, which remained essentially unchanged according to the image below from The Information: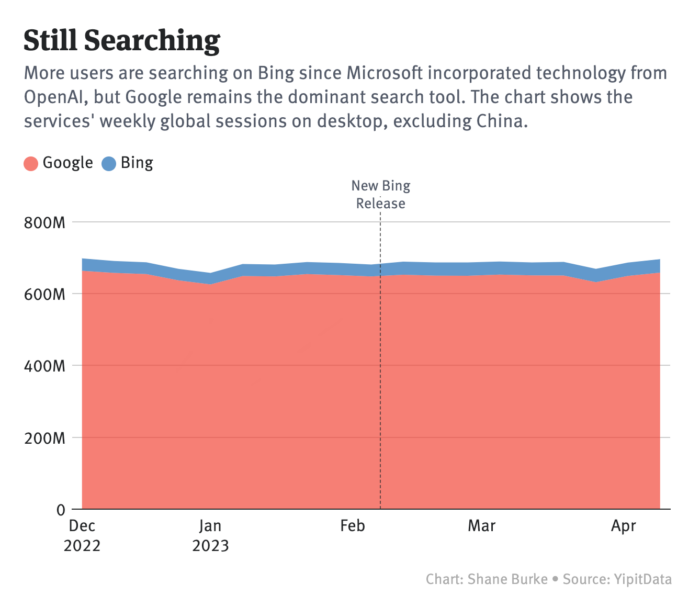 Without additional distribution, Bing will never gain a significant share, although becoming the default search engine for Siri is a start. There is also speculation that Bing may eventually bid to replace Google as the default search engine on Firefox and potentially the iPhone as well.
Fortunately for Bing, it was able to get additional distribution via its investment in and relationship with OpenAI, which, as a stand-alone website, already gets more global traffic than all but Google (excluded from the graph below), Baidu, and Yandex, having surpassed Bing.com and DuckDuckGo.com.
Although Bing still trails when looking at only the United States (again excluding Google), this will likely shift over time: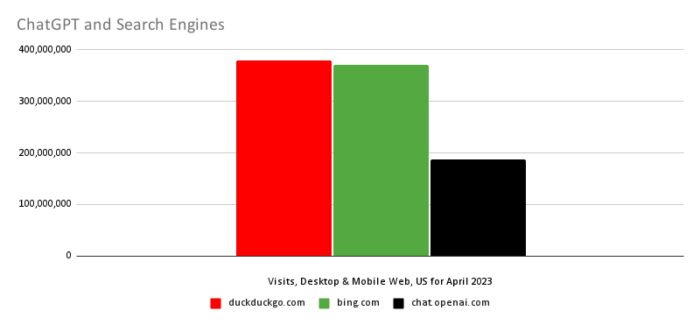 What Should Brands Do About Generative AI's Impact?
While traffic from organic search will inevitably shrink by some to-be-determined percentage, organic search will continue to be a great driver of traffic and leads while also elevating brand awareness.
To account for these shifts in the generative AI search landscape, brands should focus on three areas:
Prioritize efforts around digital PR to be listed in the publications ranking in the top few organic spots.
Maintain focus on creating high-value content for their audience.
Invest in activities that will generate word of mouth.

Focus on Using Digital PR to Show Up in What Shows Up
In 2020, HubSpot coined the term "surround sound SEO," which is a strategy that aims to make your brand more visible on as many top-ranking pages as possible for relevant keywords.
Instead of focusing on getting your own domain to rank at the top, you try to get mentioned and linked on authoritative sites that already rank well. This way, you can create an immersive experience for your potential customers, who will see your brand more frequently when they visit top-ranking search results, regardless of generative AI search results.
Surround sound SEO helps you increase your search coverage, reach more buyers, and stand out from your competitors. This not only has a direct impact on driving additional leads and sales for you, but the links and mentions you get will help you rank other non-brand queries where you're able to compete.

Using vacuum cleaners as an example, notice how when you search for "best vacuum cleaners" in Google that every single ranking URL (and many of the paid listings as well) is a review site:
It's nearly impossible to rank your product page for this search, but you can certainly attempt to work with the editors of those sites and see if your product can be included in future category reviews.

This is why digital PR is important. Establishing relationships with the authors of these pieces can help increase the likelihood of future inclusion despite generative AI encroaching on SERP real estate. These relationships will be assets toward driving future visibility.
Another reason this will be important is because Bing has another distribution mechanism that will surely increase the value of being featured: It's the default search engine for ChatGPT responses, and ChatGPT is becoming a lead-driving source for some businesses:

Since acquiring that first customer, Logikcull has seen a steady stream of new clients coming to it via the chat program, which OpenAI operates. "We're seeing it as a channel that's going to drive $100,000 in subscription revenue a month at the rate that it's going today," said Wilson. "It's a brave new world." In the last 60 days, Wilson estimates, 5% of Logikcull's sales leads have come via answers provided by ChatGPT.

Extending the "best vacuum cleaner" example from earlier, I asked ChatGPT a more refined question: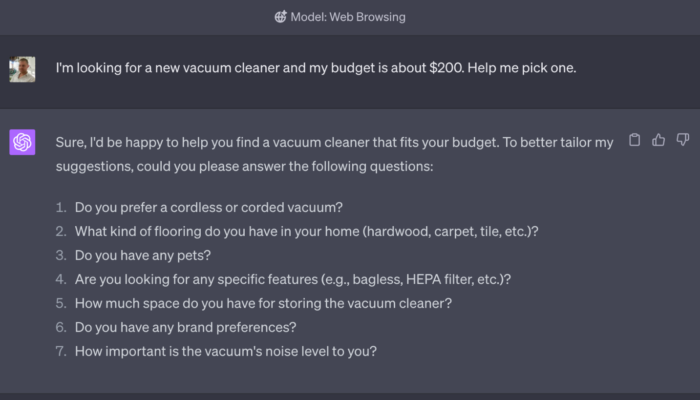 Once I answered its questions, it went to Bing and performed a set of queries to extract relevant information to populate its response: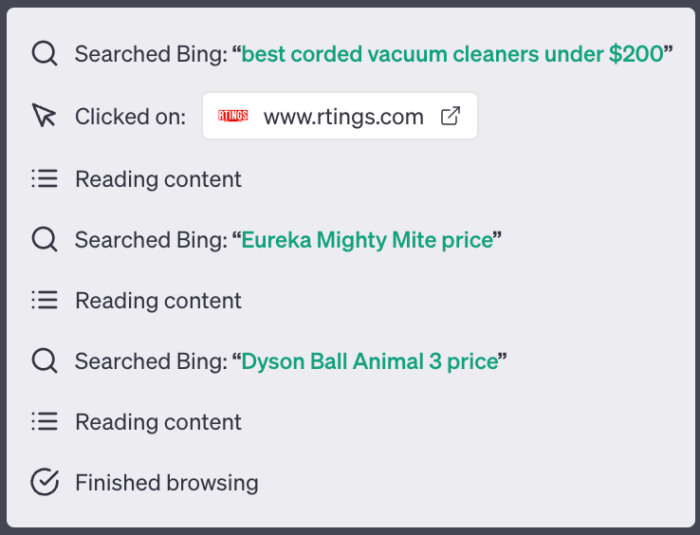 Seems like a normal interaction. However, what is interesting is that rtings.com was not the top-ranked result for the query, so I inquired further about the selection of that result over other top-ranking results. The response was interesting:
This response begs the question: What makes a website reliable and worthy of inclusion according to ChatGPT? Here's what it said:
This is useful information if you sell products or do any sort of reviewing. While this example is specific to vacuum cleaners, it would be useful to understand what ChatGPT thinks is reliable and incorporate that into your content — not only because it can help you be the answer within ChatGPT, but it is likely aligned with what both Google and Bing are looking to reward within their own generative AI search results.
ChatGPT also provided more specifics around how it viewed each of the different websites ranking for that query:
ChatGPT proceeded to do "website credibility" searches for each of the ranking sites: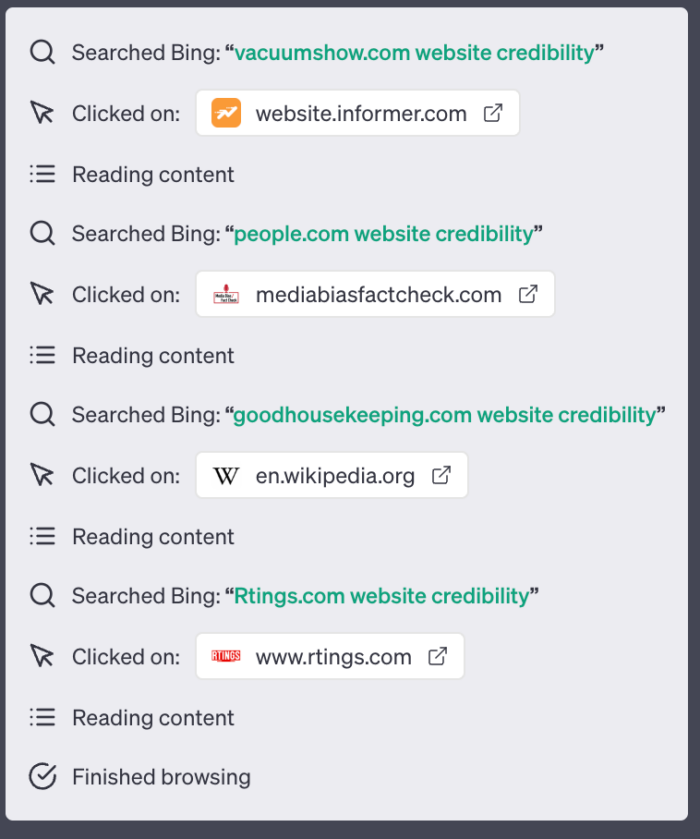 It also provided an overview of how "credible" each of the sites is. A few things stood out:
ChatGPT saw that the top-ranked site had very little traffic and (likely correctly) concluded that the site doesn't have authority or credibility in the space. Side note: A look at the site in Ahrefs showed it was getting no traffic from Google and had a ton of anchor text-rich links. Bing has traditionally struggled with ranking URLs with a high quantity of links (regardless of quality), and it doesn't appear to have gotten much better at filtering out link spam.
It also was able to discern that while People.com had high credibility overall, it didn't have much credibility in the vacuum review space.
While the example above centers on ChatGPT and visibility in the ChatGPT results, the same logic applies to Google. Conducting Google searches to identify which URLs are ranking and working with your digital PR to get placements in those listings is a long-term strategy that drives actual business outcomes for your brand. It'll also strengthen the association between your brand and the topics for which you're trying to rank better and become more visible.
Continue to Create Content Across the Funnel
While Google's Search Generative Experiences will almost certainly result in some queries and articles driving less traffic, it's still worth investing in content that answers questions your potential customers may have to demonstrate topical depth and authority to search engines.

Use your favorite generative AI source (likely ChatGPT or Bard) as a baseline for your content quality. You'll need to deliver value and information over and above what they're able to provide or else nobody will have any incentive to read your content.
These generative AI tools represent what is already known about a certain topic, and you'll need to add new information that your users won't get by entering a basic prompt in a generative AI tool. The concept of information gain is something all marketers should become more familiar with. If your content is not introducing new information to your audience, it is unlikely to perform.

There are many ways to differentiate your content at the top, middle, and bottom of your funnel. Understanding how marketing funnel stages drive value for your audience is vital.

Top of Funnel

Top-of-funnel content should shift to focus more on generating shares, awareness, and email signups. SGE will likely eat up a significant amount of the informational "who is / what is / etc." upper-funnel content that used to drive traffic for brands.
Lean into formats that were previously more time-consuming or expensive to create that are now possible with generative AI tools. Calculators are a great example here. Previously, you likely would've had to work with an internal or external developer to get one created, but now ChatGPT can provide step-by-step instructions to help you get one live on your site.
Use ChatGPT to analyze your unique data or data you have from third-party sources to identify new angles or ways to talk about your data that might interest your audience. OpenAI will soon release Code Interpreter, which will allow you to analyze data and create visuals from the data. New data will help establish the uniqueness of your content, and publishers will be more likely to cover or link to it.
Consider creating a chatbot powered by ChatGPT that is trained on your content. Search Engine Land recently did this, and it's potentially a great way for users to interact with the content you've created in the past.
Prioritize establishing thought leaders who can cultivate their own social followings and be featured on other websites. Whether it's being featured or interviewed on an industry site or getting a guest or sponsored spot in an email newsletter relevant to your audience, additional exposure will lead to brand interest down the line — and that will lead to organic visibility. This can also lead to exposure in the Perspectives section of search results, which promotes content from discussion forums like Reddit, relevant blogs, and short-form video. Thought leaders also drive links and engagement on social media, which can boost organic results through improved brand awareness.
Mid-funnel
Mid-funnel content should focus on aligning your brand as a potential solution to the problem your prospect is having:

Creating comparison content between you and your competitors to answer some of the "alternative to" and "vs." queries is likely to remain a solid strategy. If you're not able to compare your brand to the competition, then providing guides that help users pick the best product or service for them is another potential way to go.
Webinars and e-books have also become slightly less time-consuming to create with generative AI tools, and these are a great way to strengthen the association between your brand and the topics you want to own.
Identify and interact with your audience on the platforms they're using to find solutions to their problems. Your audience is likely looking at Reddit, TikTok, Instagram, Facebook, Pinterest, or some other network to figure out how to solve the problem they're having. Create content or reply to conversations on those platforms. Don't think of content as something you create only for your site.
Bottom of Funnel
Make sure you show up No. 1 for all the keywords related to your brand. Use Google Search Console to see all the different ways people are searching for your brand, sort by "Position," and start to improve visibility for your branded terms that aren't No. 1.
Case studies are a great way to showcase how you were able to help your customers and reduce the risk that other similar brands may have about working with you. Brands want to work with partners that have demonstrated success with other similar companies, so the more you're able to do that, the better.
Testimonials and social proof are great ways to once again decrease the risk associated with working with you. If you've won industry awards, then definitely display them on your website.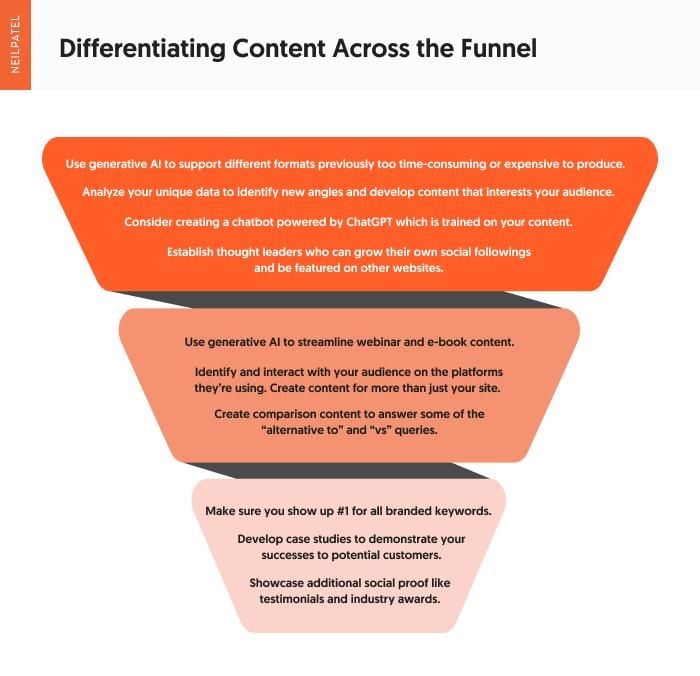 Take the Risk: Invest in Other Channels Your Audience Spends Time in, Even if You Can't Properly Attribute it Just Yet
The best long-term strategies are those that are the hardest to measure. Word-of-mouth marketing and traffic from dark social will drive significant long-term value, but it will be hard to measure, especially if you're using a last-click attribution model.
Your best bet is to figure out which platforms your audience is spending time on and invest in creating content for those platforms. That way, it's more likely that people will see your brand interacting with and providing value to the community.
The idea of zero-click content, popularized by Amanda Natividad at SparkToro (which is also a great tool to understand where your audience spends time online), is a good way to think about how to execute on these channels:
Freely giving away value with no hope of tracking the ROI goes against everything we were taught as marketers. But have a little faith. Dare to be even more generous with your work than you already are. Give your audience your best and succinct information to help save them time and energy. Believe that the progress you can't measure — people you've helped, perspectives you've changed, becoming top of mind — is being made.
That's the funny, counterintuitive nature of Zero-Click content. When you create content so valuable that it doesn't need to be consumed off-platform, it becomes even more likely that your audience will like you, remember you, and trust you enough to eventually smash that CTA.
These interactions with your audience on your non-owned websites will not only provide positive outcomes for your brand but useful information about additional pain points or jobs to be done that your audience is experiencing, which you can then add to your content roadmap.
Generative AI FAQs
What is generative AI?
Generative AI is a subset of artificial intelligence that involves using machine learning algorithms to generate new content that mimics human creativity and decision-making. This technology can produce a wide range of outputs, including text, images, music, and even entire virtual environments. Generative AI systems are trained on large datasets of existing content, which they use to learn patterns and generate new content that is similar in style and structure. This technology continues to advance as researchers continue to develop more sophisticated algorithms and techniques.
How does generative AI work?
Generative AI works by training a deep neural network on a large dataset of examples, such as images, text, or audio. The network then uses this training data to learn patterns and relationships between the different features of the data. Once the network has been trained, it can be used to generate new data that is similar in style or format to the original data. This process is achieved by feeding the network a random input, which is then passed through the network's layers to produce an output that resembles the original data.
Is ChatGPT generative AI?
Yes, ChatGPT is a generative AI model. It uses natural language processing techniques (NLP) to generate human-like responses to user queries. The ChatGPT generative AI model is trained on a large corpus of text data and uses deep learning algorithms to understand the context and meaning of the input text. It then generates a response that is relevant and coherent with the input. To date, ChatGPT has achieved impressive results in various natural language processing tasks, including language translation, summarization, and question-answering.
What are the differences between Generative AI vs AI?
Generative AI and AI are both subsets of artificial intelligence, but they differ in their approach and capabilities. AI refers to systems that are designed to perform specific tasks, such as image recognition or natural language processing. These systems are trained on large datasets and use algorithms to make decisions based on that data.
Generative AI, on the other hand, is designed to create new content or output that is similar to what it has been trained on. This type of AI uses deep learning techniques to generate new content, such as images, music, or text.
Recommendations for Generative AI in Search
Google's launch of SGE will likely lead to a decrease in traffic going to organic search listings.
Utilize digital PR to maximize chances of visibility in top-ranking sites to increase exposure and show up in both Google's SGE results and ChatGPT results.
Continue to create differentiated content across the funnel to help your brand stand out.
Engage with your audience in places where your audience spends time online, but note that ROI will be harder to measure.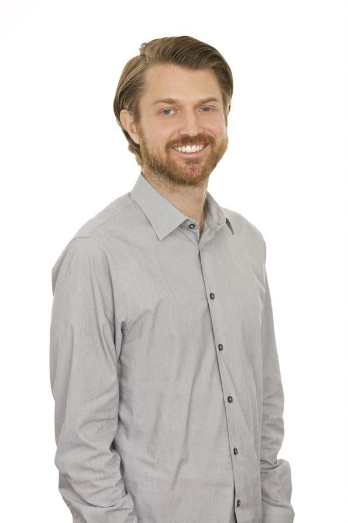 About the Author: As Senior Vice President of Earned Media at NP Digital, David is responsible for guiding the SEO, Content Marketing, and Digital PR service offerings to ensure delivery of best-in-class business outcomes for clients. With experience working both agency and client side, and in organic and paid search, David is a well-rounded digital marketer. David has 15 years of experience building teams and enterprise search programs for some of the world's largest brands, including Microsoft, T-Mobile, Toyota, and Bank of America.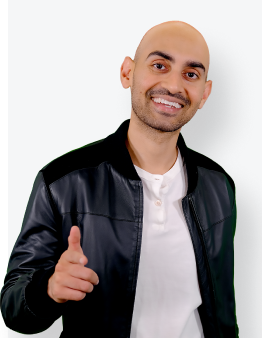 See How My Agency Can Drive More Traffic to Your Website
SEO - unlock more SEO traffic. See real results.
Content Marketing - our team creates epic content that will get shared, get links, and attract traffic.
Paid Media - effective paid strategies with clear ROI.
Are You Using Google Ads? Try Our FREE Ads Grader!
Stop wasting money and unlock the hidden potential of your advertising.
Discover the power of intentional advertising.
Reach your ideal target audience.
Maximize ad spend efficiency.