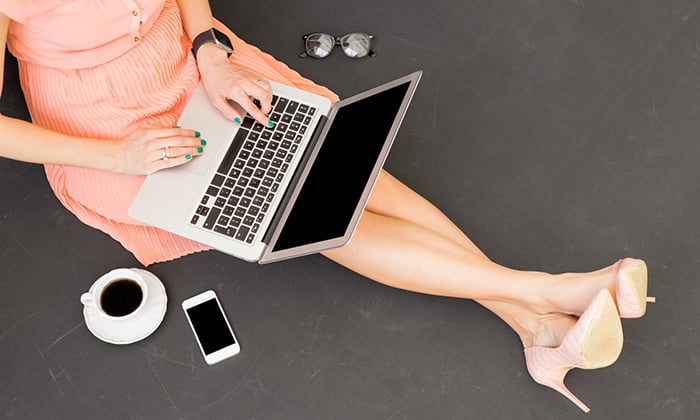 Content marketing is hard.
One of the reasons it's hard for so many people is the fact that they don't know where to start.
If you want to be successful with your content marketing, you'll need a plan. You'll need to have the right strategy and tactics in place.
So you start with the right plan.
What comes next?
A content marketing campaign is far more likely to be profitable when you have a solid plan and the right tools for the job.
But, what are the right tools? And, where do you find them?
Here's a list of 82 content marketing tools that will make your life easier and more productive.
Content discovery and idea generation tools
There are more than 2 million blog posts written every day and more than 80 million posts written each month on WordPress alone.
How are you supposed to come up with fresh ideas that are surprising, helpful, and valuable? It's easy: Just ask your customers what they'd like to learn about.
There are lots of places where customers ask a lot of questions on a wide variety of topics. Here's a list of content marketing idea-generation tools you can use to come up with fresh ideas.
1. EpicBeat is a content discovery and analysis tool that's similar to BuzzSumo.
2. Google Keyword Planner. Google confirms that 15 percent of searches are new and have never been searched before. Your customers have questions they desperately need answers to.
You don't have to figure out what customers want. Just use Google Keyword Planner to find the questions your customers have. Then create content to answer those questions.
3. KeywordTool.io. The free version of Keywordtool.io takes keyword research further, generating as many as 750 additional long-tail keyword suggestions for each and every search term you enter.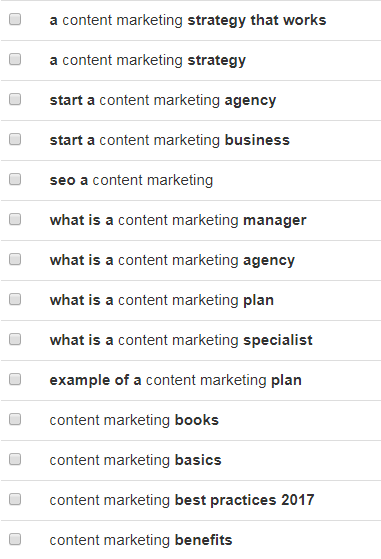 4. Google Trends gives you detailed data on news, searcher trends, and trending stories.
It's a data visualization and storytelling tool that exposes the details behind supply and demand and public interest and perception. It gives you the ability to analyze and track behavior over time.
Content marketers can use Google Trends to create content around trending topics in one of two ways.
Tying relevant and irrelevant topics together with a common theme; or
Creating relevant content around relevant topics and themes
5. Soovle is a search engine for search engines.
Soovle pulls data from Google, YouTube, Bing, Amazon, Wikipedia, Yahoo, and Answers.com.
This keyword data is helpful because it shows you the interest and demand for each platform. So, with Soovle, you're able to gauge the demand for certain topics, products, and services on specific platforms.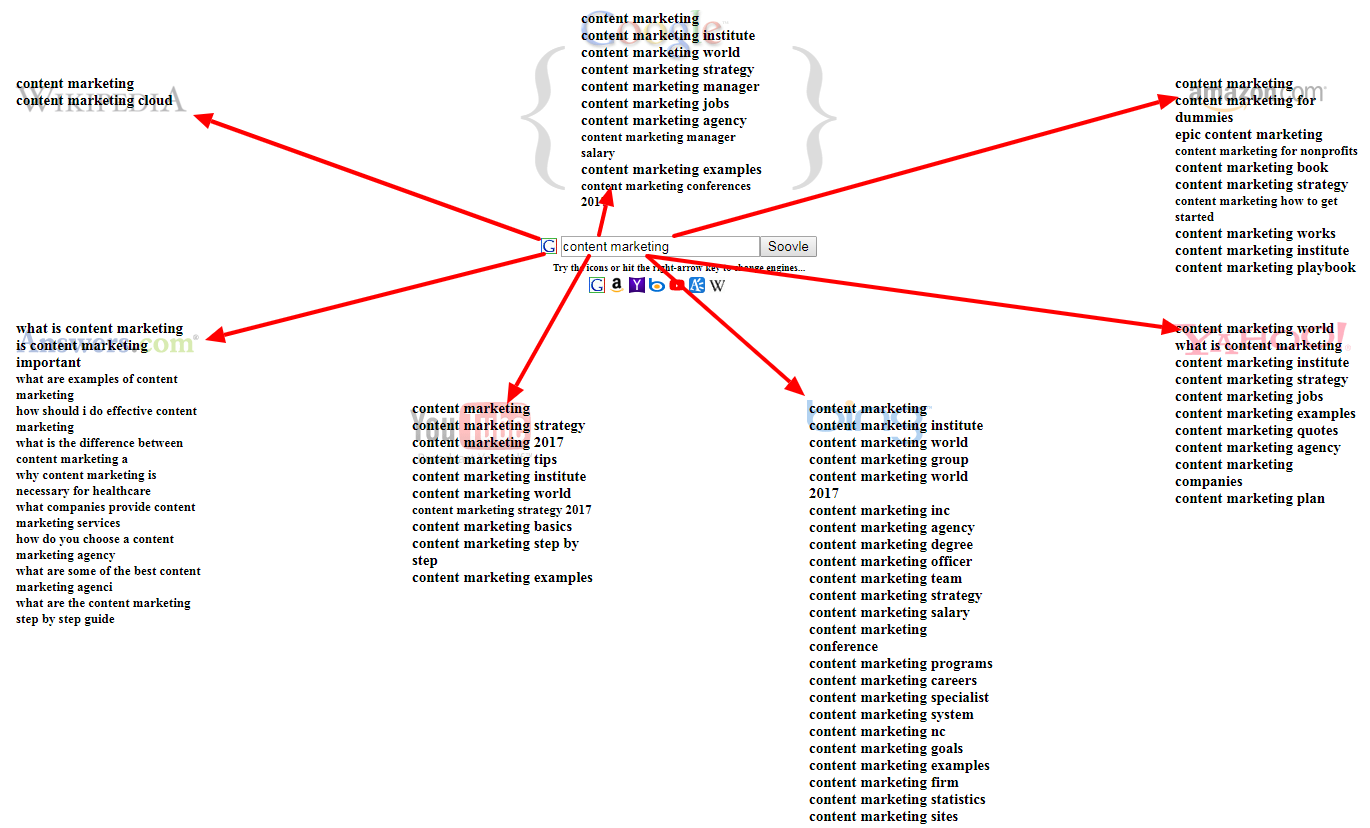 6. Spike claims that their patented technology combs through huge amounts of data to find pre-viral content. Using their tool, you'll be able to find popular content before it's popular.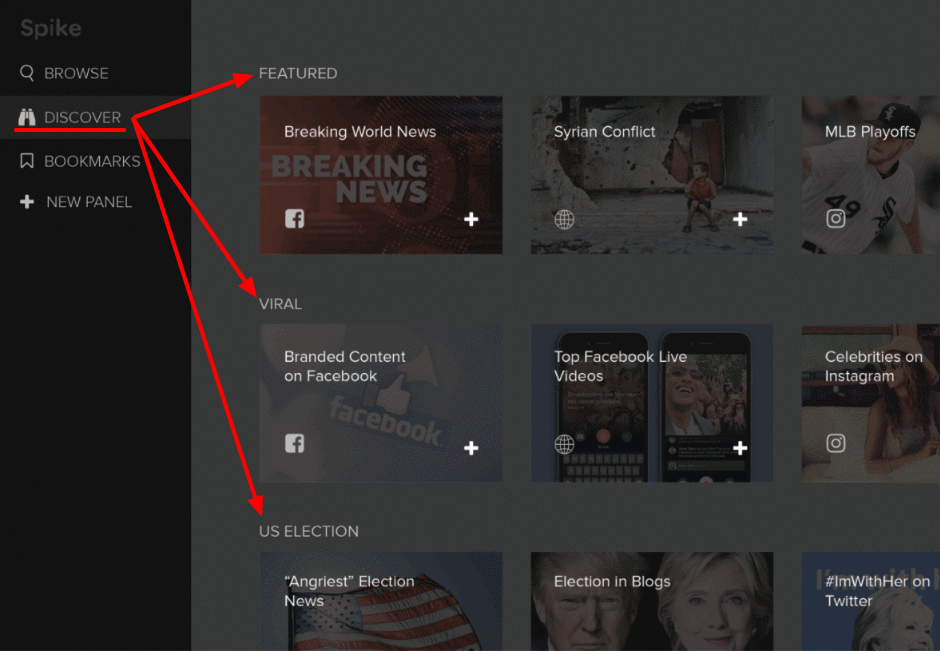 7. BuzzSumo. If you're a regular reader, you know that BuzzSumo is one of my favorite content marketing tools. You can use it to find influencers, analyze top content, and even help with blogger outreach!
But, there's one other thing you can use BuzzSumo for.
Content discovery.
You can use BuzzSumo to find the topics, ideas, and blog posts that are already performing well.Then, using these topics, you can create content that's more in-depth, better designed, complementary, provides more data points – whatever. Lastly, you can reach out to each of the people who shared these articles.
Lastly, you can reach out to each of the people who shared these articles.
7. HubSpot's blog ideas generator. If you're not sure what to write about, just enter a few nouns into HubSpot's blog ideas generator…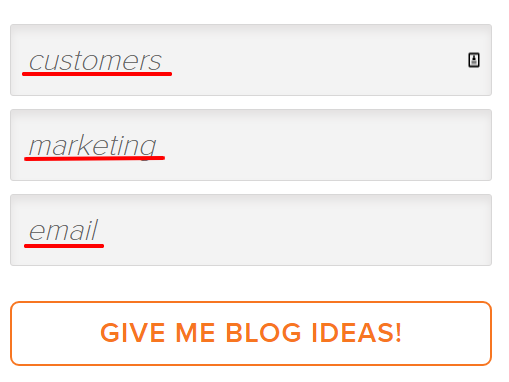 …and, they'll instantly churn out a week's worth of ideas for you.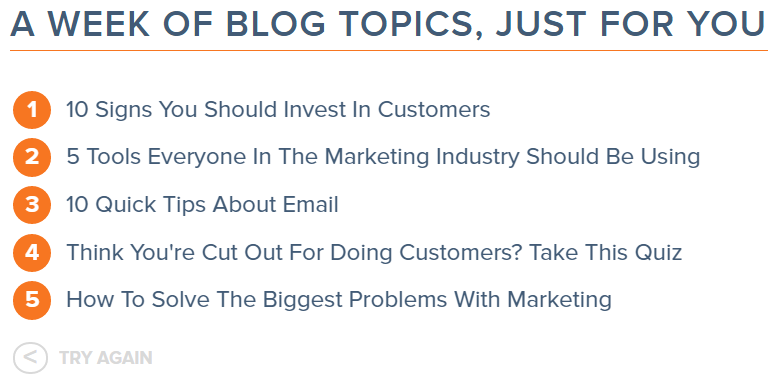 The only downside? HubSpot has a disclaimer: "Our algorithm is good, but it's not perfect. Once you get your titles, you may need to tweak them to be grammatically correct."
Aside from that, it's instant ideas on demand.
8. Alltop is a content aggregator that lists popular headlines and topics from around the web. If you're looking for content ideas, Alltop is a great resource to use, especially if you're looking for content in a specific niche.
9 . YouTube Search and YouTube Trending. If you're creating video content and looking for inspiration, YouTube trending can be a helpful place to start.
YouTube Search is a helpful way to see what sort of content is already on YouTube. It's a quick and easy way to gauge demand, quality, and length.
10. Portent's content idea generator. This is another idea generator that's similar to HubSpot's tool.This tool creates great
This tool creates great ideas but may need a bit of adjusting when it comes to grammar.
11. Content Row linkbait title generator. If you're comfortable with controversy, this is the tool for you. This tool generates a lot of link-bait ideas that will work in the short term, ut backfire horribly if your content fails to deliver. Use these ideas carefully.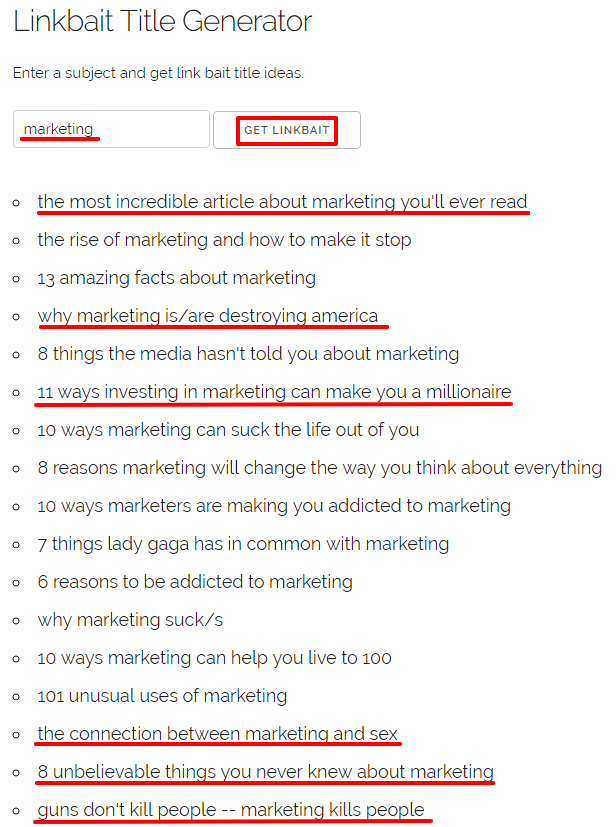 12. Pocket. You can browse through the "best of pocket" to see popular or trending content that's received a lot of attention on their site.
Their discovery service is a byproduct of their bookmarking tool and it shows you what popular, trending, or perennially bookmarked content actually looks like.
This is helpful because it gives you a blueprint you can use to create amazing content as well.
13. Digg isn't as popular as it used to be, but it's still a great news aggregator and content discovery service. If you're looking for great headline examples, look no further than Digg.
14. Reddit is known as the front page of the Internet, with forums and sub-Reddits on almost any topic. If you're looking for content ideas, Reddit is a great place to get ideas from your target audience directly.
15. SmartNews is a mobile news aggregator that automatically curates trending, breaking, and popular news stories.
You can create channels based on your interests and follow stories that appeal to you as they happen. Using newsjacking, you can create content around the stories you find.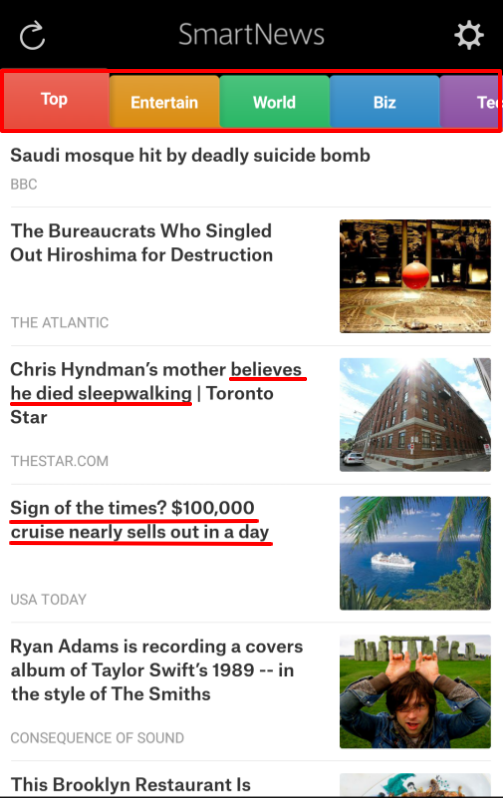 16. Quora is a popular question-and-answer site where elite and expert users offer detailed answers and advice on a wide variety of topics. Quora is one of my favorite sites, but it's the questions that offer a significant amount of value.

The related questions on Quora can be pretty detailed, which is exactly what content marketers need to create lots of amazing, in-depth content.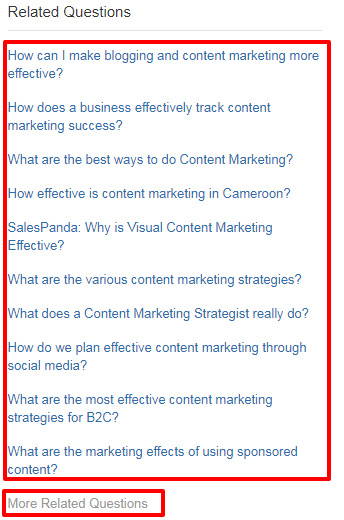 17. Inbound.org is a content marketing aggregator that's built by marketers for marketers. It's a curated list of submitted content marketers can use as inspiration.
18. Growth Hackers is similar to Inbound in the sense that it's an aggregated or curated list of content for marketers.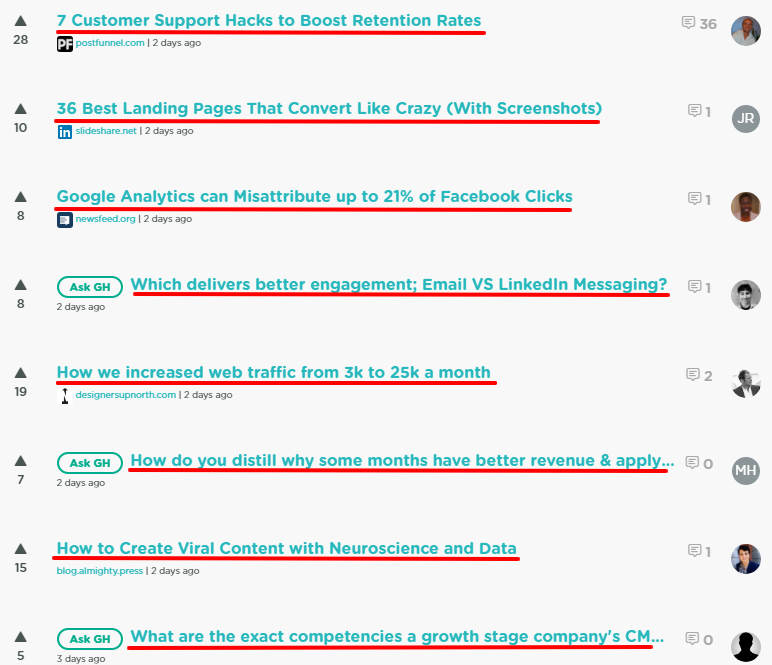 19. Scoop.it is a content curation service that marketers can use to discover, share, and promote helpful content.
20. Nuzzel is a personalized news discovery and newsletter curation service for busy professionals. Using your social networks, Nuzzel curates a list of news and content from people who are already part of your network.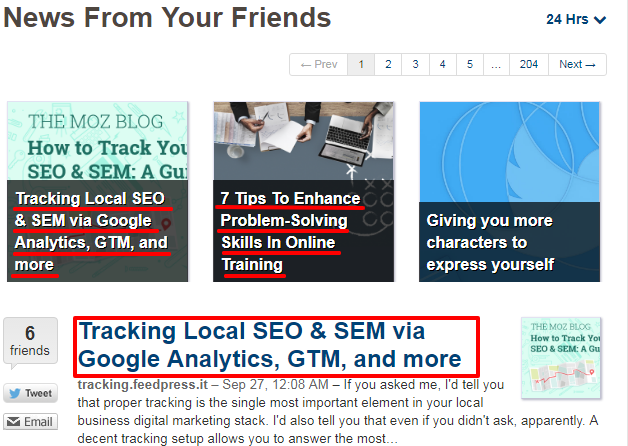 Writing and editing tools
It's one thing to create content, but it's another thing to create what Joe Pulizzi calls epic content marketing. Writing great content requires a lot of hard work.
At first, most people don't read the content they come across — they scan.
They're looking for a reason, any reason, to reject your content and you.
If your content offers generic advice that's loaded with fluff, they're gone. If your content isn't educational, actionable, and entertaining, they won't stick around.
What does this mean for content marketers?
When it comes to creating epic content, content marketers need all the help they can get. Here's a list of writing and editing tools you can use to increase the quality of your content.
21. Google Docs. You probably already know about Google Docs, but it's still worth repeating. Google Docs does just about everything Microsoft Office does, but for free. It's a helpful tool for collaborative writing.
22. Hemingway app is a tool you can use to create and edit your content. What makes Hemingway so useful is the fact that it tracks readability, excessive use of adverbs, use of passive voice, complicated wording, and hard-to read-sentences.
23. Grammarly is a free grammar checker that ensures that your content is clear, effective, and error-free. There's also a paid premium version.
24. Trello is a free project management tool that writers and content marketers can use to manage their workload.
25. Reedsy Book Editor. If you're looking to write a book, Reedsy is a really helpful tool. It automatically formats your book as you write, converting your content to popular e-book formats (as you type).
26. Readable.io measures the readability of your content, using a wide variety of formulas like the Flesch-Kincaid, Gunning-Fog, Coleman-Liau, and SMOG index formulas.
If your content is complicated and messy, Readable.io shows you automatically, providing helpful suggestions that you can use to make your content better.
Readable.io is used by attorneys, authors, teachers, marketers, accountants, copywriters, and doctors.
27. Cliche Finder highlights the clichés in your content, showing you what to cut from your content.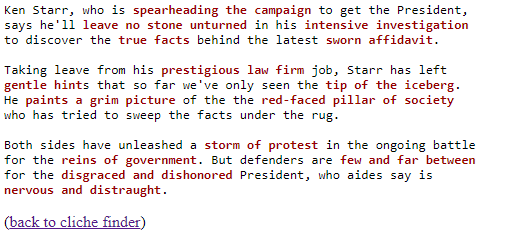 28. Todoist is a free to-do list and task manager. Use it to assign articles and content ideas.
29. Evernote allows you to save anything and everything. MP3 files, PDFs, content, notes, and images can go into your notes.

30. CoSchedule Headline Analyzer shows you which headlines are more likely to drive traffic, leads, and sales.
This headline analyzer looks at word balance, headline length, the 1st and last 3 words of your headline, and the overall sentiment of your headline.
31. Ilys. Teaching you to find the flow in your writing, Ilys shows you content one letter at a time. You can only edit what you've written once you're finished with your session.
32. Scrivener. This writing organizational tool works best for long and difficult writing projects that require a significant amount of time, research, and effort.
33. Mindmeister is a collaborative online mind mapping tool that writers can use to flesh out their ideas.
34. MindMup is an open-source mind map tool that gives users full control over the process of building their mind maps.
35. Freedom is an Internet, website, social media, and app blocker. It's used by 450,000 people to block distracting websites and apps. It blocks everything across all of your devices.
36. Stay Focused is a Chrome browser extension that sets and limits the amount of time you spend on distracting websites.
37. Flowstate. Get in a groove quickly or your writing is deleted if you're brave enough to use this tool.
38. The most dangerous writing app. An app that forces you to keep writing or lose your content, similarly to Flowstate.
39. Grammark. How many errors are allowed? With Grammark, you can set the number of errors you're willing to allow, create writing that meets a specific style (e.g. academic), catch run-on sentences, eggcorns, grammar traps, wordiness, and more.
40. Google Keep is a notetaking service developed by Google. Users can take notes, create to-do lists, and tag, pin, and bookmark documents. Users can also save images, voice notes, and videos.
41. Story wars, helps facilitate collaborative creative writing done with a partner. The two of you choose the direction the story will go in. Use this to create collaborative content with partners and co-authors.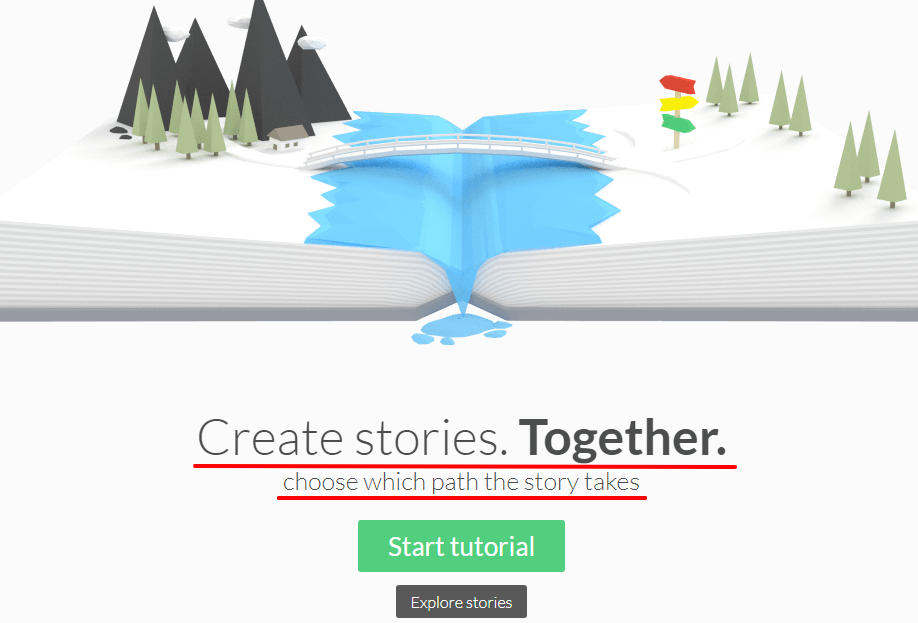 42. 750 words is an analysis of the emotional themes, mindset, and content of your words, along with stats on the Rhymer's block.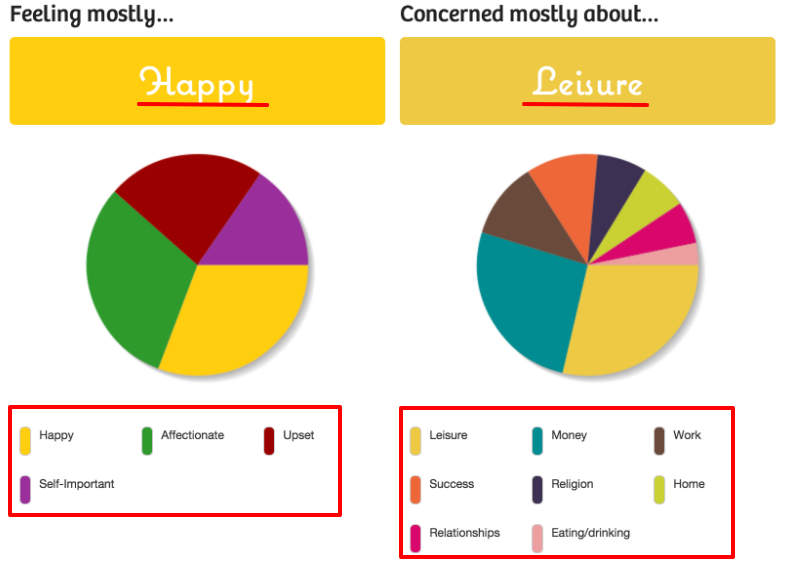 43. Google Ngram viewer measures the frequency of words in books over an extended period of time.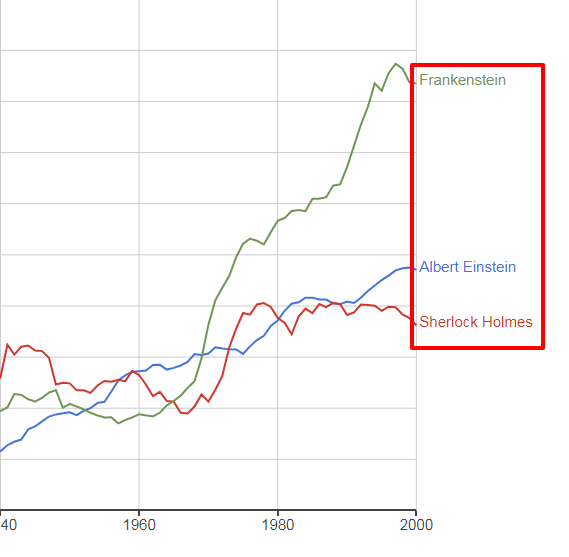 44. Urban Dictionary, the crowdsourced dictionary of slang words and phrases, keeps you on top of the latest linguistic trends. This is especially helpful if you're creating content that speaks to a specific segment of the population.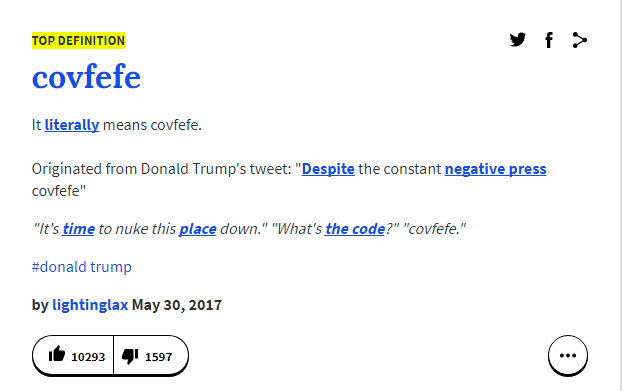 Graphics and image management tools
Large images create slow websites. Poorly selected, low-quality images take away meaning and clarity from your content.
Relevant, high-quality images and graphics amplify meaning. They maks your content appealing and clear. That's incredibly important because clear communication always trumps persuasion.
45. Canva is really simply graphic design software that's made for amateur and novice designers.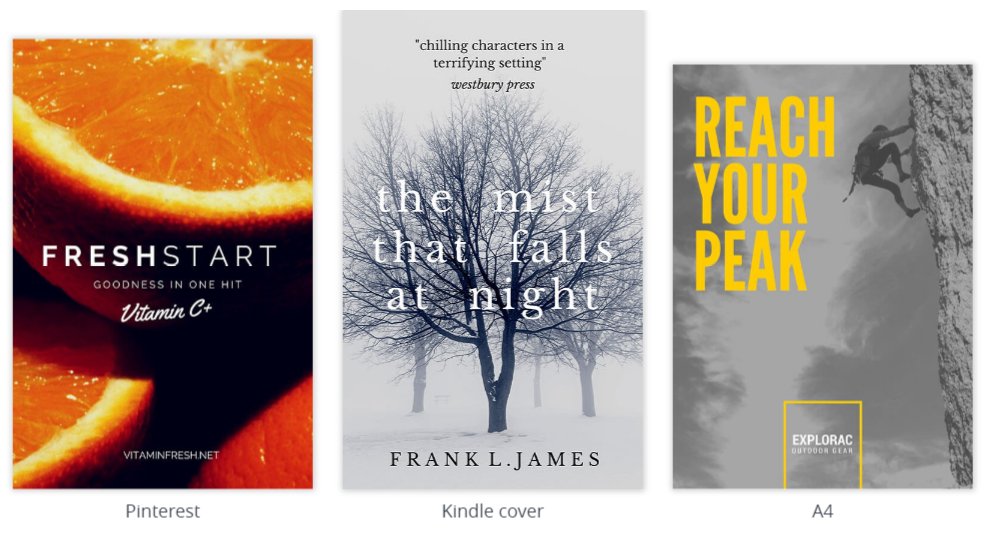 46. Awesome Screenshot is a screenshot and image notation plug-in for Google Chrome and Firefox. Users are able to permanently store and sort images by project, share and collaborate with others, and request specific feedback on images and video.
47. GIMP. A cross-platform, open source alternative to Adobe Photoshop, GIMP is used for image retouching, image editing, and freeform drawing.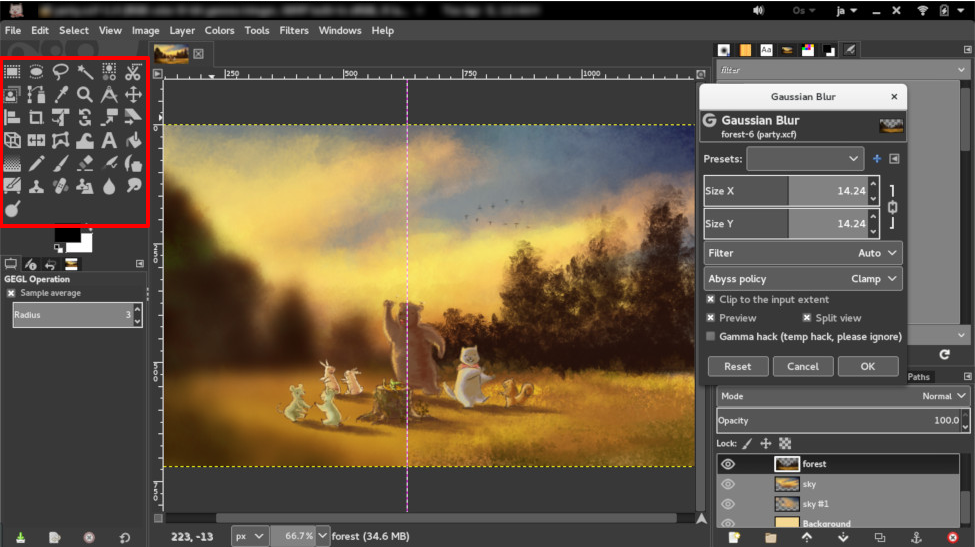 48. Skitch is a screenshot editing and sharing tool created by Evernote that's made exclusively for the Mac.
49. Haiku Deck is a web-based presentation tool that's made for the novice designer.
50. Photovisi is a free online photo collage maker.
51. Infogram is a free online infographic and chart making tool.
52. Venngageis a free infographic maker.
53. Camtasia. This is simple and intuitive video-editing software that works with webcams, images, audio, animations, interactive quizzes, and more.
Relationship building and influencer marketing tools
Customers rely on influencers. In fact, a recent study found that 62 percent of customers are willing to pay more for a product that comes with positive reviews.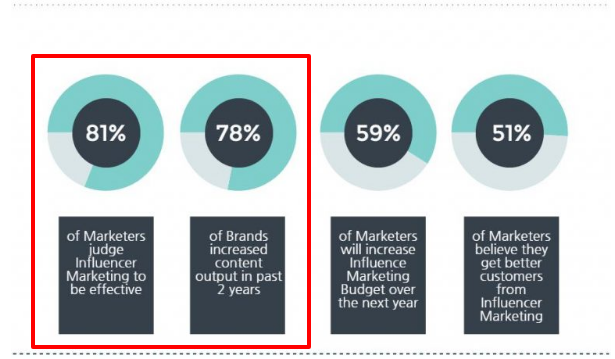 92 percent of people trust personal recommendations over brands and advertising — even if they don't know the person making the recommendation!
Customers expect trustworthy information and they seek it out from influential and trustworthy sources.
Here's a list of relationship building and influencer marketing tools you can use to attract the influencers you're looking for.
54. Klear is an influencer marketing platform that helps content marketers find, analyze, manage, and monitor online influencers.
55. Kred is an influence measurement tool content marketers can use to find and connect with influencers.It's a tool content marketers can use to measure their own influence and reputation, and the influence and reputation of professionals in their industry. With Kred, you can pitch influencers, negotiate partnerships, and connect with other influencers.
It's a tool content marketers can use to measure their own influence and reputation as well as the influence and reputation of professionals in their industry.
With Kred, you can pitch influencers, negotiate partnerships, and connect with other influencers.
56. Buzzstream. This is an influencer, link-building, PR, and content promotion tool that makes it easy to find influencers for your content marketing campaigns.
57. GroupHigh. Their service helps content marketers find bloggers and social media influencers, research and review websites, measure content, and analyze the results of influencer marketing and blogger outreach.
58. MuckRack connects journalists with public relations pros. Content marketers can use MuckRack to find journalists, get press for your store and events, and track industry news.
59. Inkybee's software is focused primarily on blogger outreach.
60. Contactually is a relationship management tool that tells you when to connect with specific people in your professional network, how to reach out to maintain the relationship, and what your message should share.
61. MailShake.com (formerly known as ContentMarketer.io) is a tool for cold email and blogger outreach. It comes with proven templates, bulk email. It also offers bonus functionality like auto follow-ups.
62. FullContact fills in the blanks on customer profiles, providing you with a detailed profile of your customers based on publicly available contact information.
Content marketers can use this data to personalize content and to advertise to customers, attracting more customers with less effort.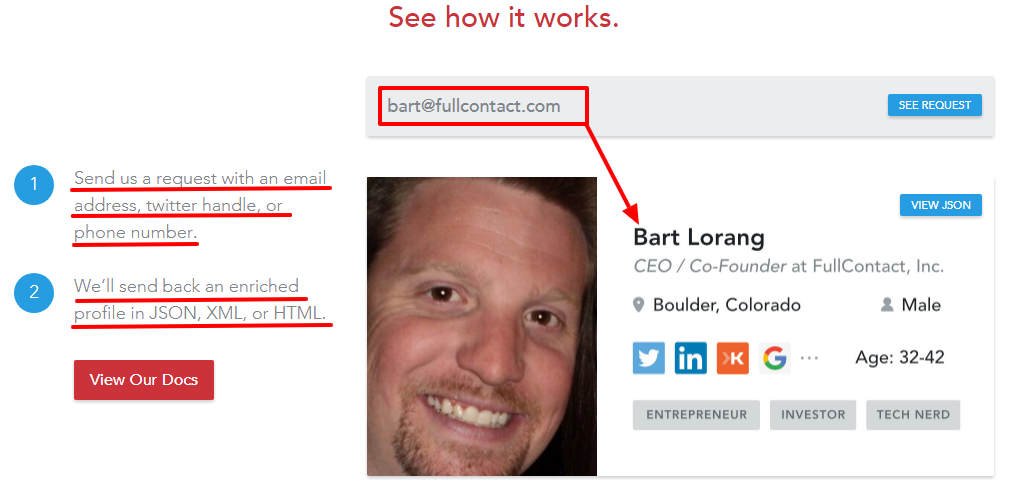 63. Social Crawlytics is a free competitive intelligence tool that enables content marketers to identify key influencers and your competitors' most shared content — information you can use in your content marketing campaigns.
64. Discoverly is a social intelligence tool that enables you to pull data from social networks, getting detailed public information on connections within your extended network.
65. Cision Media Database has a list of 300k influencers and journalists.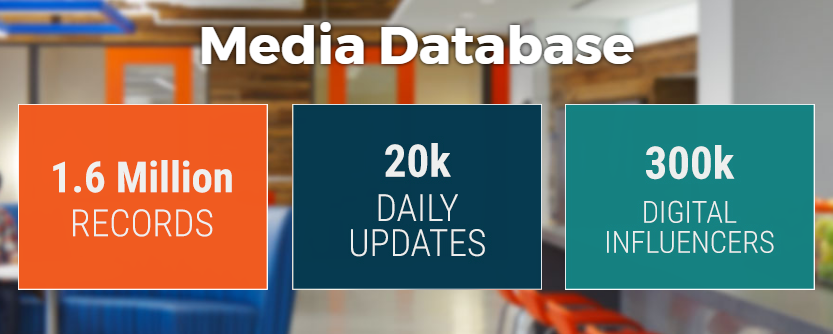 66. Journalisted. Find an influential journalist at well-known publications and see what they're writing about. Pitch them something relevant if it's a fit.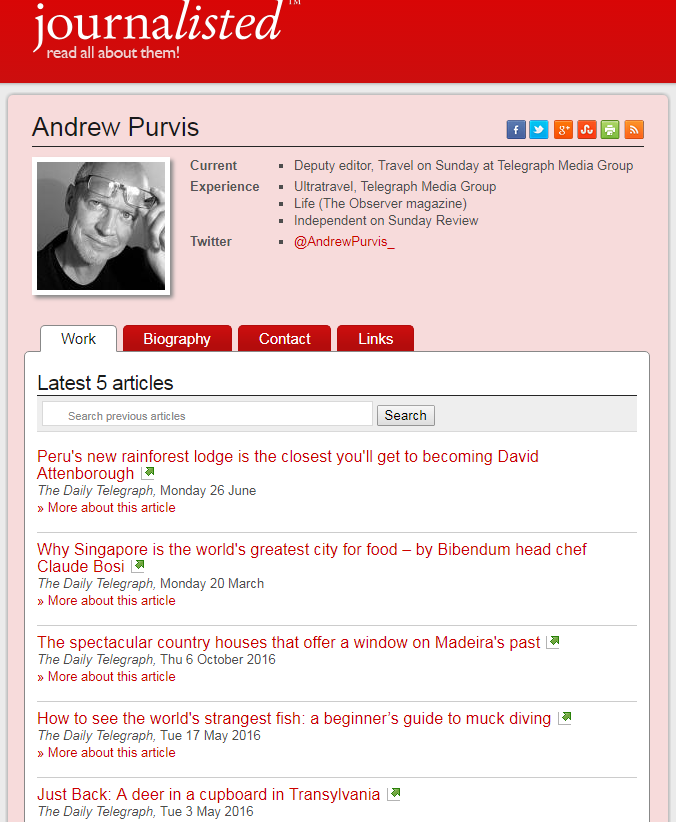 67. Journo Requests is a tool that connects UK PR professionals and journalists. PR pros can connect with and pitch to journalists.
Content promotion and sharing tools
50 percent of blog posts get 8 shares or less.
75 percent get 39 shares or less.
75 percent of these posts receive zero referring domain links.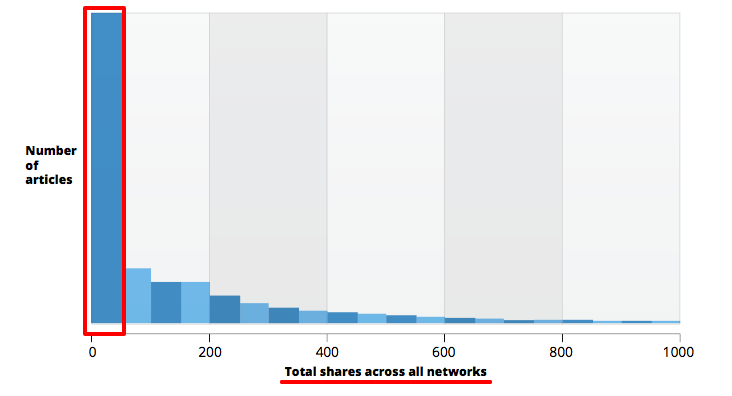 Creating epic content isn't enough. You'll need to get your content in front of the people in your target audience.
With the right content marketing tools, you can extract maximum value from your content over months or years.
Derek Halpern, founder of Social Triggers, spends 20 percent of his time creating amazing content and 80 percent of his time promoting it.
Amazing content isn't helpful if no one knows about it.
68. Hootsuite. You're probably already familiar with it, but it's one of my favorite content promotion tools.
Hootsuite is great because it works well with other existing social networks. With Hootsuite, you can schedule tweets, posts, and status updates. We're already familiar with that, right?
There's another bonus involved with using Hootsuite. You can save searches as a stream.
This gives you the ability to promote your content, create notifications, use searches as opportunities to start a conversation, and more.
69. Audiense is an audience measurement tool you can use to gather data on your target audience, use Twitter insights to shape and guide your content marketing strategy, or find thousands of influencers in your locale.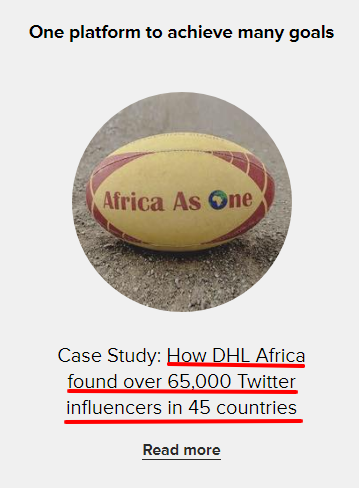 70. Boardreader.com is a forum search engine.  You can use Boardreader to find content marketing opportunities in your specific niche or industry.
If you're focused on content marketing, you can pursue the entrepreneur, marketing, and design spaces.
71. Twitter hashtag search is a great way to find conversations you can join or initiate.
You can use tools like RiteTag to find the hashtags your customers are using. Then, you simply join the conversation.
Use these keywords and hashtags to find customers who need help, then do your best to help them.
72. Facebook groups are an untapped source of traffic for most people.
Joining Facebook groups and helping other people in the group are great ways to generate a lot of website traffic, leads, and sales.
It's not a good idea to join these groups, then start spamming links everywhere. It's a better idea, instead, to do what you can to help people out in each of these groups.
If it makes sense, you can mention your product or service at the end after you've helped them out.
73. LinkedIn. You can share your content on LinkedIn with your connections.
You can also join LinkedIn groups. Then, once you're in, share your content there.
Just make sure it's helpful. If you have an e-book, lead magnet, or content upgrade, you can share it on SlideShare.
Content optimization tools
You'll have to fight for your content to get attention.
There are lots of other people who want their content to outrank yours.
Content optimization gives your content the leg-up it needs to compete in the search results.
With optimization, you're able to improve your content's ability to rank for specific keywords and phrases.  Content optimization uses a variety of mediums to maximize visibility, including:
Text optimization. This typically focuses on on-page optimization factors: title tags, meta descriptions, URLs, and keywords.
Image optimization. Search engines aren't able to extract meaning from an image, so alt tags, image tags, file names, and file sizes are appropriate markers that give people and search engines the context they need.
Video optimization. Video titles, descriptions, keywords, metadata, tags, and captions give people and search engines the information they need to assess the quality and value of your video content.
News optimization. Static URLs, keywords, and attention-grabbing headlines are the important components you'll need to optimize your content for outlets like Google News.
74. Wordstream keyword niche finder. You can use this tool to identify and optimize your content around a particular niche. You'll want to make sure your content is a good fit for the niche you're in. This isn't always as obvious, but it's definitely a good step to take.
75. SEMRush and iSpionage. You can use tools like iSpionage to find your competitor's paid keywords and identify the strategies they're using to convert customers. Next, you create better content, tools, and resources — optimizing your content for SEO and SEM.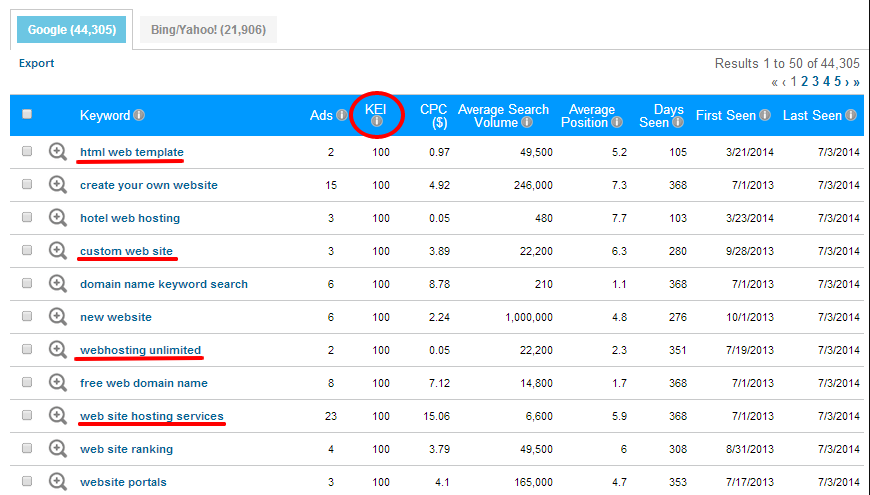 76. Pingdom website speed test. If your website is slow, your readers won't be able to read your content. If you want to optimize your content, you'll need to optimize your website as well.
77. Screaming Frog. You can use Screaming Frog to find your competitor's broken links. Once you've found their broken links, you can use this tool to create content that gives customers what they were looking for.
Then, you can advertise, optimize, and promote that content.
Content analytics tools
You need answers to specific questions. Which content is your most popular? Which content drives the most conversions, whether that's leads, sales, or revenue?
Content analytics gives you the answers to these questions.
That's important because analytics enables you to understand what's working so you can investigate why it works, create more content around the areas that are already working, and avoid content, strategies, and tactics that aren't working.
Using the right analysis tools, you can figure out:
What your customers want
What they think about your content
What they're looking for or expect from your content
What keeps your customers up at night
Content analytics can give you an inside look at what your readers are thinking about and assess content performance.
78. Google analytics. As far as analytics goes, GA is pretty standard. Most people have Google Analytics installed on their sites. The problem is that most people don't have it set up properly.
79. Bitly gives you the ability to track your content's performance, which is really important if you're guest posting for a 3rd party or syndicating your content.
Bitly is a quick and easy way to track the clicks, shares, and saves from each piece of content you create, whether it's on your domain or not.
80. Piwik If you're looking for a way to own and control your data, Piwik is for you. Piwik is open source and the data updates in real time.
81. CrazyEgg is a great way to figure out what's working for you and what's not.
With heat maps, you can see exactly where customers are dropping off. Even better, you can watch recordings of actual visitors using your site.With CrazyEgg, you're able to get detailed information showing you why customers aren't converting.
With CrazyEgg, you're able to get detailed information that shows you why customers aren't converting.
82. Kya tracks your audience — specifically with regard to how engaged they are.
You'll be able to track demographics, see what each of your visitors is doing, and where you're losing visitors specifically.
With audience engagement, you'll get a clearer picture of how visitors interact with your content, which could be a good or bad thing.
Kya, shows you who's reading your content, which topics you should focus more of your attention on, and which content visitors find most engaging.
Conclusion
Content marketing doesn't have to be hard.
With content marketing, strategy and tactics are important. Once you have a plan, you need the right tools for the job.
I've shared 82 different tools, but there are a lot more tools I didn't cover. There are lots of tools you can use to get the results you're looking for.
The tools I've shared are just to get you started.
What if these tools don't work for you? What if you hate the tools I've shared? Don't worry, just find the tools that work best for you.
You don't have to use all of these content marketing tools, but the right tools will make your life easier and your content marketing way more productive.
Once you combine your plan with the right tools for the job, you'll realize content marketing doesn't have to be so hard.
Which content marketing tools do you use to make your life easier?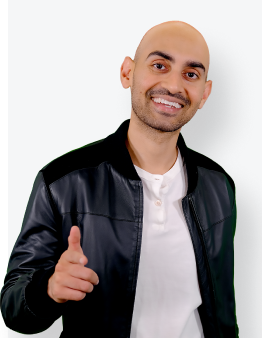 See How My Agency Can Drive More Traffic to Your Website
SEO - unlock more SEO traffic. See real results.
Content Marketing - our team creates epic content that will get shared, get links, and attract traffic.
Paid Media - effective paid strategies with clear ROI.
Are You Using Google Ads? Try Our FREE Ads Grader!
Stop wasting money and unlock the hidden potential of your advertising.
Discover the power of intentional advertising.
Reach your ideal target audience.
Maximize ad spend efficiency.