You've signed a new client—congratulations. Now it's time to start the client onboarding process and welcome the new client into the fold.
This is the point where many companies drop the ball.
After all, you already made the sale. Now you can relax and get to work. Right?
Not so fast.
Client onboarding is the first step to creating a long-term relationship with a new client. Do it right, and you'll have a customer for life. Get it wrong, and you risk losing a sale and leaving a bad impression.
If you want to retain customers, you need the right onboarding system.
Before digging into how to create an onboarding system, let's talk about why the process is crucial to your overall business success.
How Does a Smooth Onboarding System Help Retain Customers?
The onboarding process sets the stage for your entire relationship. When done well, your client will feel confident in your expertise and excited about the future. If the process is complicated or annoying, you could lose that client you worked hard to get.
Customer retention isn't just another vanity metric. It can impact your bottom line. The longer a customer stays with your business, the more revenue they generate. In financial services, a 5 percent increase in retention results in a 25 percent increase in profits.
Why? Because loyal customers increase their purchases over time.
For example, a customer who is satisfied with your email marketing services might also sign on for your SEO services. A client who loves your financial planning advice might also hire you to do their taxes.
Satisfied customers are also more likely to recommend your services or product to others. This is crucial when you consider that, compared to advertising, consumers are much more likely to trust referrals from people they know.
According to Extole, referrals can create a positive feedback loop that drives sales for years. One referral drives another, which drives another, which drives another…all without spending any money to market to those new customers.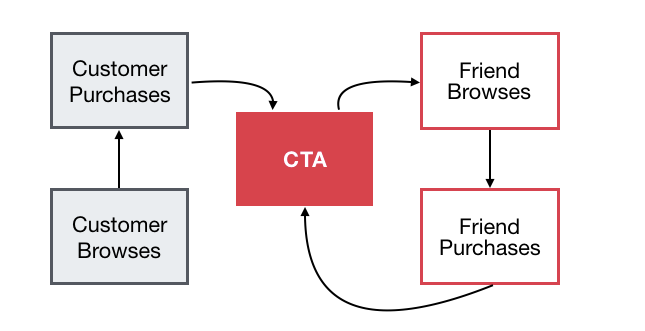 Now that you understand why client onboarding is so important, let's explore how to get it right.
7 Steps for a Better Onboarding Client System That Improves Customer Retainment
Improving your onboarding system isn't just good for business; it also makes everyone's job easier. When both your team and your clients know what to expect, projects tend to go much smoother. Here are seven steps to creating a better onboarding system.
Note that some of the steps below might apply to your business while others may not. Use the ones that make sense for your business, and feel free to add any that will improve your process.
Client Onboarding Step 1: Make Paperwork Easy
Make sure your contracts are ready to go and easy for clients to understand and sign. Use an online storage tool, like Google Docs or Dropbox, so you can house all onboarding documents in one location.
Clearly label each document and create folders, so clients can easily find the information they need. For example, if you signed them for two different products, consider having two different folders. Or create one for their sales team and another for marketing, so it's easy to find what they need.
Use a digital signing tool like DocuSign or eversign to reduce back-and-forth and make it easy for clients to sign and return documents. Many electronic signing tools provide other features that can improve the client onboarding process.
Eversign, for example, also provides real-time contract editing and document management.

Security is also important, so make sure clients know their information is safe with whichever digital signing solution you use.
How Streamlining Paperwork Helps Retain Clients
Getting started should be easy. Streamlining the paperwork process shows new clients you are trustworthy and reliable, and it helps establish clear lines of communication.
Client Onboarding Step 2: Offer Ongoing Services
Offer clients ongoing services or resources, such as ongoing training, quick troubleshooting checklists, or a monthly consultation to review other challenges they face. Make sure to notify clients about these services during the onboarding process.
The benefits of this are twofold: If you can charge for these services, then you've just improved your bottom line.
Simple offers, such as recorded webinars about industry trends, establish your business as a trusted source of information and increase the likelihood that they will keep coming back for more.
How Ongoing Services Improves Client Retention
Many businesses think they only need to win clients over once. The truth is, you need to prove your value to clients over and over again.
Offering ongoing services or resources that make their job easier shows you are a professional and proves your long-term value, encouraging clients to stay on.
Client Onboarding Step 3: Establish Preferred Methods of Communication
Most people have a preferred method of contact. According to an Adobe study, workers in the 18-to 24-year-old crowd are more likely to prefer email over any other channel. However, someone who is overwhelmed by their email inbox might appreciate texting or Slack.
Some clients want to have one call at the beginning of your working relationship and then leave you to do your thing. Others might prefer to touch base once a week.
The point is, you won't know unless you ask.
Have a conversation with new clients to ask how they prefer to be contacted and discuss how often you expect to reach out. This can help nip micromanaging in the bud and help clients feel secure about your relationship. It also shows that you value their business enough to make sure they are comfortable.
How Getting Clear About Communication During Onboarding Can Improve Retention
Misunderstandings and clashing communication styles can cause conflict—which is the last thing you want with a new client. By establishing the best methods and regularity of communication from the start, you start your relationship out on the right foot.
Ensuring the right level of communication can also prevent you from annoying a client who might prefer to check in quarterly.
Client Onboarding Step 4: Determine Client's Desired Level of Involvement
Some clients prefer to work with vendors as a partner, while others want to be hands-off and only hear from you when they've hit specific metrics (and everything in between). Customers who want to be involved might feel sidelined if you fail to include them in the process.
Set expectations for the desired level of involvement from the start. What types of changes need approval, and who needs to approve them? Do they expect to brainstorm solutions, and then you implement them? Clear expectations reduce stress and eliminate confusion.
Keep in mind that your industry could impact the level of involvement. For example, a PPC client might want to speak daily when a new campaign goes live, while a manufacturing client might only want to hear from you when the piece they ordered is ready.
Determine how involved your client wants to be, and then establish regular times to meet and discuss any issues that may arise.
How Establishing an Involvement Level Impacts Customer Retention
When clients invest money and resources, they want to feel secure in that investment. Establishing a check-in schedule helps them feel safe with your brand and ensures they aren't left wondering what they are paying for.
This improves overall satisfaction, which can reduce customer churn.
Client Onboarding Step 5: Have a Kickoff Meeting
The contracts are signed, communication is clear, and you are ready to get started. Now is the time to hold a kickoff meeting to review details and get everyone excited about the new project.
Even if you've discussed the project's details already, it's helpful to have a quick kickoff meeting when you onboard your clients. This meeting establishes your future communication cadence and helps clients feel confident they made the right decision to hire you.
During your project kickoff meeting, make sure to review:
overall goals of the project
metrics for success
your strategies or approach
roles and expectation
information you need from them to get started, such as account logins or access to analytics platforms
next steps
This is also a great opportunity to schedule a check-in meeting down the line to touch base on the progress of the project.
How a Kickoff Meeting Improves Retention
An organized kickoff meeting sets a positive tone for your working relationships and ensures everyone is on the same page. This serves as the building block of a strong relationship and helps make sure customers are satisfied with your business. It can also be an opportunity to ensure buy-in, which can improve your project's overall success.
Client Onboarding Step 6: Create a "Welcome" Bundle
Consider sending a card, physical supplies, or swag when you onboard new clients. In an increasingly digital world, physical goods stand out far more. A fun welcome bundle establishes you care about them, value the relationship, and serves as a physical reminder of your brand.
AdOutreach used this strategy to wow a new customer by sending a swag gift with a coffee mug, pen, and notebook.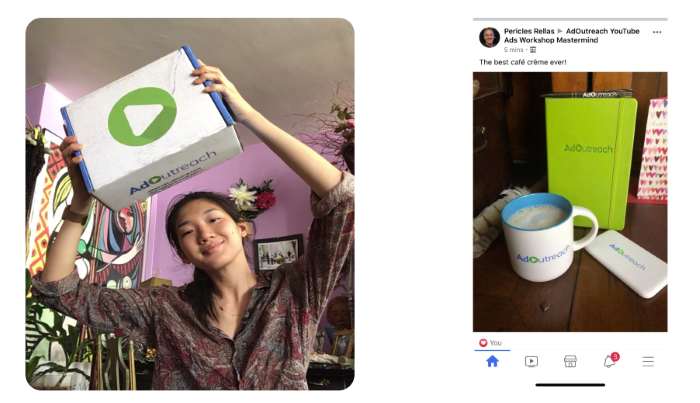 Here's what their client had to say:
[We had just] enrolled in two different things and received these packages. And we were so amazed by it.

The first thing we saw was the box [and it] was awesome. We had never seen a custom box before. And then the crinkle-cut filling and all the details and the branding and the obvious care that went into creating these packages.
That sounds like a happy customer to me.
How a Welcome Bundle Improves Customer Retention
A coffee mug or t-shirt might not seem like a huge brand opportunity, but it can be. When customers feel good about the relationship, they are more likely to refer your brand and might even give you a bit of leeway when small things go wrong.
Client Onboarding Step 7: Share Tracking Tools or Dashboards
When a customer doesn't understand what you do or can't immediately see its benefits, they are unlikely to continue to work with you. Data showcase how your efforts are improving their business and prove you are worth keeping around.
Depending on the industry you are in, the tools you already use might provide reports. For example, Semrush's My Reports Tool makes it easy to create custom, white-labeled reports for customers. Google's Data Studio can pull data from GA and Search Console to create reports or dashboards.
This may not be feasible for all companies, but if you're able, it can be crucial to the client relationship, so they can track progress.
How Tracking Tools and Dashboards Grow Customer Retention
Tracking tools or dashboards help hold your business accountable. Clients can see the benefits you are bringing to their business in real time, which improves trust and shows their investment is paying off.
Conclusion
You've turned a lead into a sale, but the work doesn't stop there.
The client onboarding process is crucial to establishing rapport with new clients and increasing overall customer retention—which boosts your bottom line.
Take the time to welcome new clients properly by outlining communication expectations, hosting a kickoff meeting, and using reports and dashboards to share data.
Your clients (and your bottom line) will be happier for it.
Have you tried any of the client onboarding tips above? Which has had the greatest impact on your business?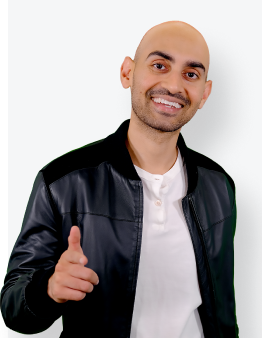 See How My Agency Can Drive More Traffic to Your Website
SEO - unlock more SEO traffic. See real results.
Content Marketing - our team creates epic content that will get shared, get links, and attract traffic.
Paid Media - effective paid strategies with clear ROI.
Are You Using Google Ads? Try Our FREE Ads Grader!
Stop wasting money and unlock the hidden potential of your advertising.
Discover the power of intentional advertising.
Reach your ideal target audience.
Maximize ad spend efficiency.