Lead magnets come in all shapes and sizes.
But only a few stand out from the rest.
It seems like every single website has a treasure trove of e-books, checklists, and email courses.
There are too many of these floating around now.
People don't want to opt-in and read an e-book. They want an instant solution to their problem.
The best lead magnet tools deliver on that promise. And that makes them irresistible to sign up for.
There's another added benefit with the best ones.
Instead of a one-time email trade for a piece of content, you hook them in with a tool that's so useful that they can't help but return.
Unfortunately, these tools are few and far between. And many marketers have trouble implementing them on their own sites.
Thankfully, I've been able to pull together six incredible lead-magnet tools.
This is the place to start if you're trying to increase your leads.
I'm going to show you exactly how to create your own high-converting lead magnet today.
But first, I'll walk you through these examples to analyze what they're doing right.
And by the end, you'll know exactly how to boost conversions.
1. Impact Branding's inbound marketing ROI calculator
Inbound marketing is 3x more likely to generate a high ROI than outbound.
You've heard that it's a proven ROI booster, regardless of industry.
Inbound marketing allows businesses to spend less on typical marketing tactics while still generating tons of new leads and sales.
Businesses that focus heavily on inbound efforts drive leads that cost 61% less than outbound leads.
And content marketing's ROI has risen 300% in the past couple years.
But here's the problem.
How does it do any of this?
Most companies still don't understand what it is, how it works, or why they should jump on the bandwagon.
They read all these same stats. However, when push comes to shove, the budget goes back into AdWords or billboards.
Thankfully, Impact Branding & Design's ROI Calculator gets us one step closer to solving this problem.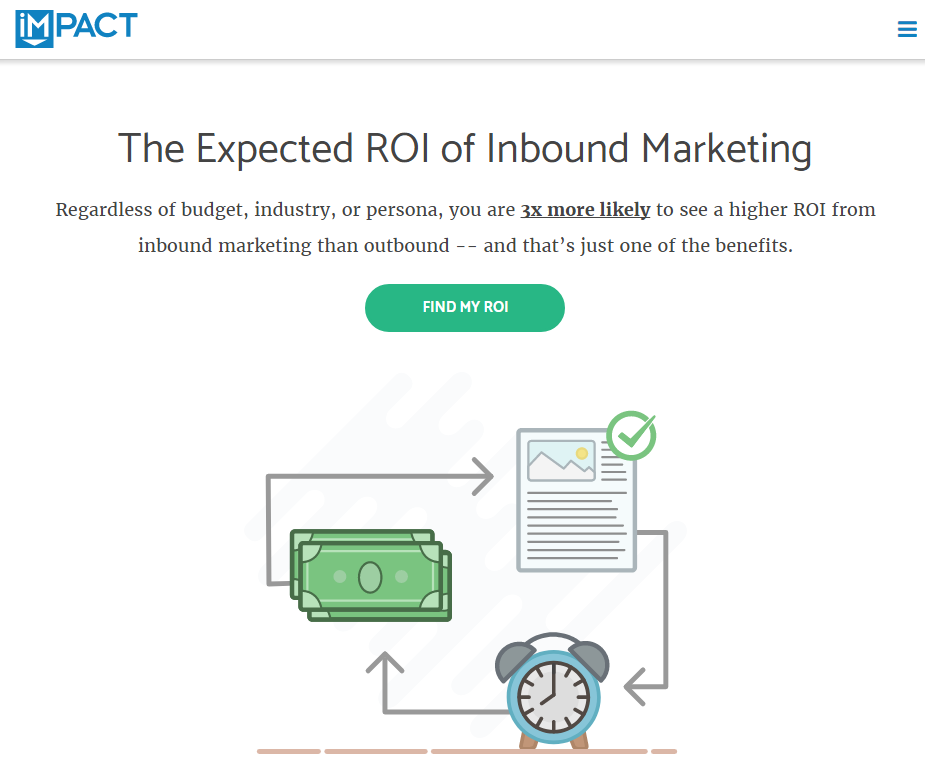 We've all heard about the amazing power of inbound marketing and how it can skyrocket your conversions and ROI.
Instead of another lecture on "why inbound marketing is important," they show you with cold, hard data.
Let me show you how it works and what you can learn from it.
You simply fill out the basic form sliders based on the following average data:
Monthly site visitors
Leads
Qualified leads
Close rate
Lifetime value
Now, the calculator will project your expected results.
It will forecast your average conversion rate, leads per month, customers, and ultimately profit.
Next, this lead magnet will set the hook using their "impact on your bottom line" section.
Here's why this works.
First, they're showing you how current results are falling short. You should be doing better than you are now.
Second, they're putting all of this into context with the "bottom line" estimate.
Let's say that you're considering investing $30,000 in inbound marketing.
If you can see that a 1% conversion increase and a 30% traffic increase will bring in $125,000, your next question is more likely, "Where do I sign up?"
Which is exactly the next question that their calculator leads you to after crunching these numbers:
Nice, right?
Most website visitors don't realize they need your widget just yet. And even if they do, the price will be one of their first objections.
This calculator effectively kills both of those problems before they actually become problems.
All while positioning their services as the investment or solution to someone's real problem of not having enough customers.
2. Quick Sprout SEO strategy
Free tools are one of the best ways to provide value to a potential customer and generate countless leads.
People are always searching for ways to solve their problems.
And "free" is always one of the most compelling value propositions you can use.
Take Quick Sprout for example.
You immediately see a free tool when you land on the homepage.
This tool is designed to do one thing: Get you more traffic.
It will quickly diagnose the biggest bottlenecks and website issues that are holding you back.
The goal isn't to just help you one time, though. Instead, the end goal is to help you fix all of these problems over time.
Here's how it works and what you can learn from it.
Simply plug in your URL, and real-site feedback will pop up within minutes.
Some of the first few sections will focus exclusively on SEO. You'll first get insight into basic meta tags like your title and description.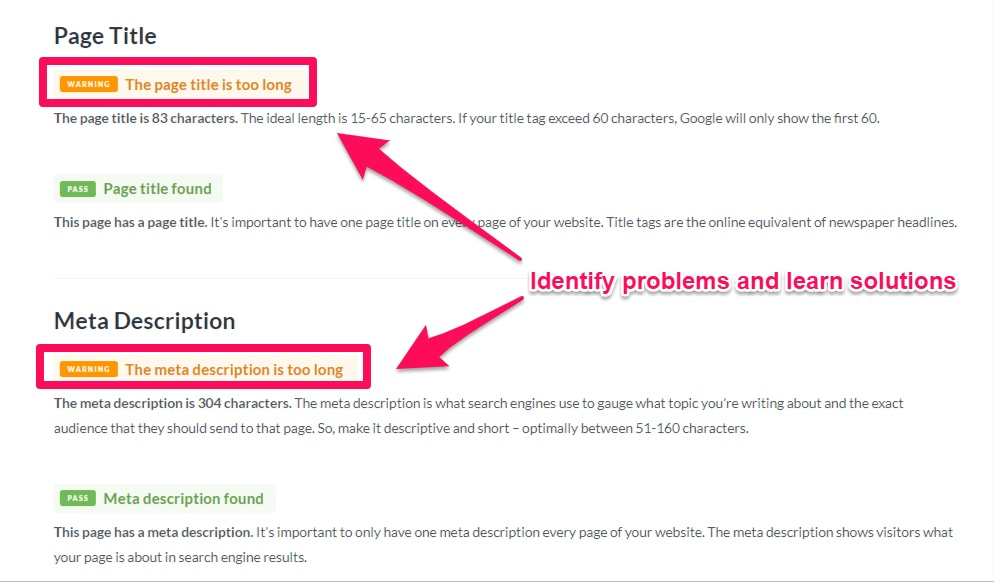 That information is helpful. But metadata is just one piece of the SEO puzzle.
So you'll also get insights into what content is working on your site and what isn't.
Once again, all of this information is completely free.
And so far, you haven't had to provide any other information, not even an email address. There's no hard-sell the minute you land on the site.
Beneath the website test, though, there is a CTA.
But this isn't just any old CTA. Take a look for yourself: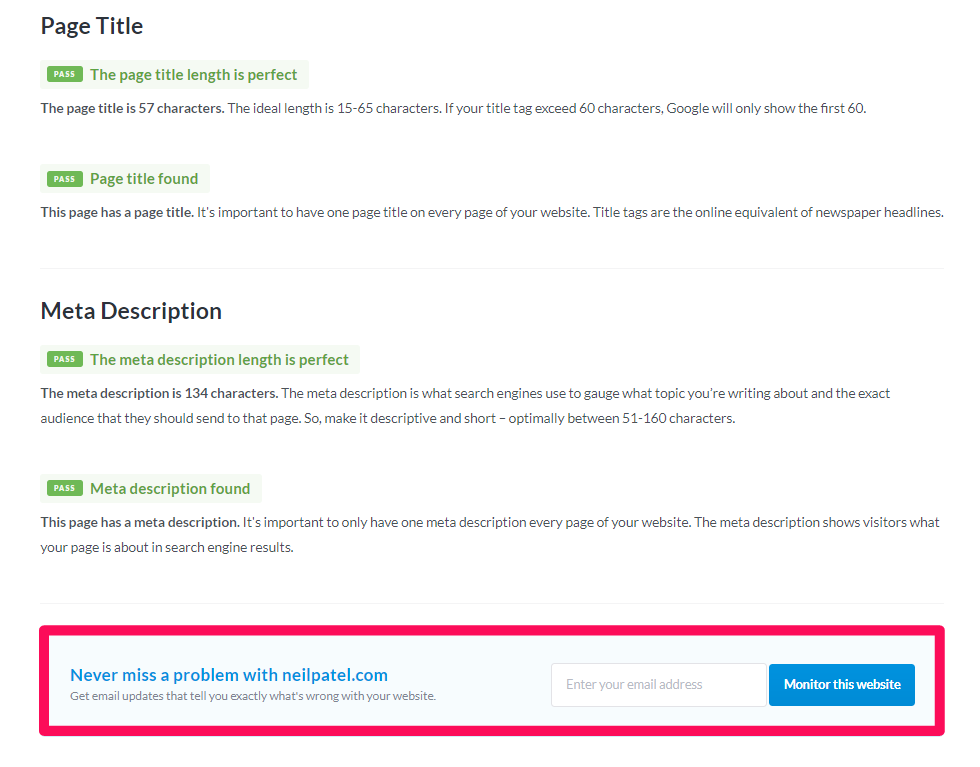 You're not being asked to enter your email address to "get updates" or "stay up-to-date."
Those are weak value propositions in comparison.
Instead, the idea is to stay with you. This tool is an asset that can help you find and fix problems as they pop up.
People get enough email newsletters as it is.
They want actionable insights on how to fix the lingering problems that are holding them back from reaching their goals!
3. Jon Loomer's Facebook Ads quiz
Quizzes are one of my favorite types of lead-magnet tools to use.
They're engaging and entertaining for the user.
They provide a tangible, concrete, end result when finished.
And they allow you, the company behind the quiz, to segment new leads without any extra work!
Each answer someone gives you can help you determine exactly where to 'bucket' or classify each lead.
You can match them up with your personas. And then you'll instantly know which products or services might be the best fit eventually.
Sounds like a win-win to me!
Jon Loomer's Facebook Ads quiz helps him gauge his audience's sophistication level.
Here's what I mean.
Jon has a few products and services for sale on his site.
Some target beginners. And the more expensive options target experts.
So Jon uses a quiz to help him understand where his visitors fall along that spectrum.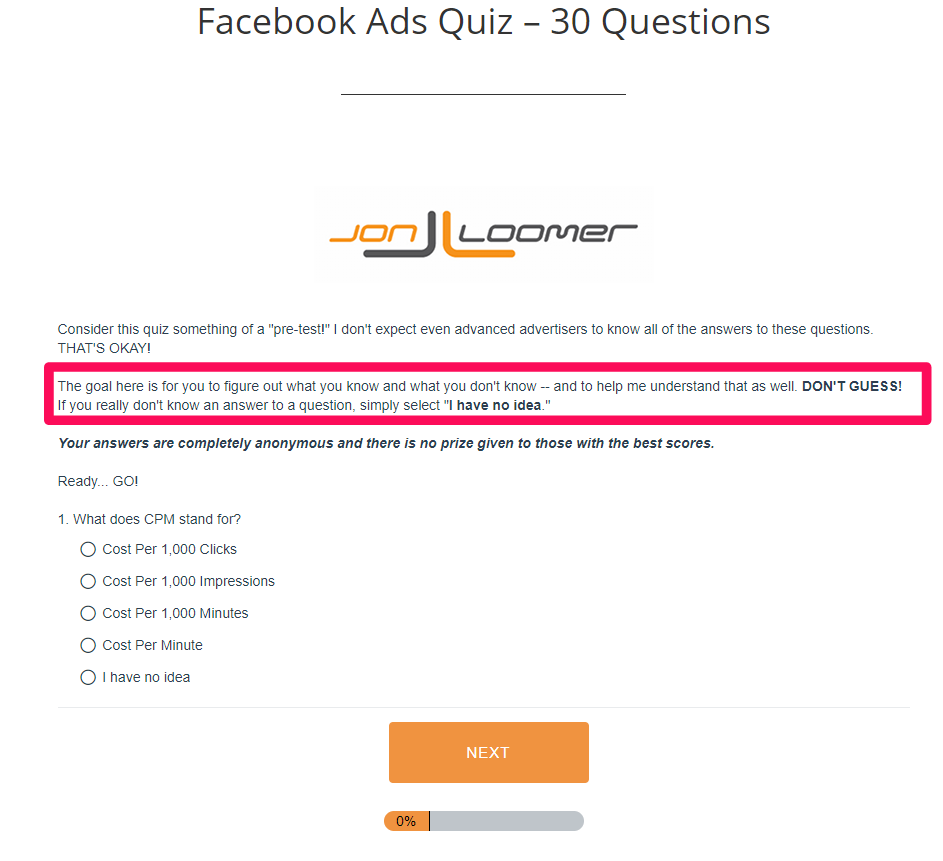 After completing the quiz, you'll find out how you stack up on Facebook ads and where to start learning more.
In return, Jon will get data on where you, specifically, fit into his conversion funnel.
LeadQuizzes is one my favorite tools to set something like this up.
The best part is that they have pre-made templates to choose from.
These allow you to track every step of the process from answers to segmentation. And then you can even import those leads to different email campaigns based on users' responses:
Once you've created a free account and set up a quiz, you can send it to your larger list or site traffic.
Responses will begin rolling in. And each lead will automatically be pulled into a new list.
That makes it easy to immediately use marketing automation that matches your products or services with your prospects' needs and expertise.
Next, consider promoting your quizzes with Facebook ads to create an interactive ad that people actually want to engage with: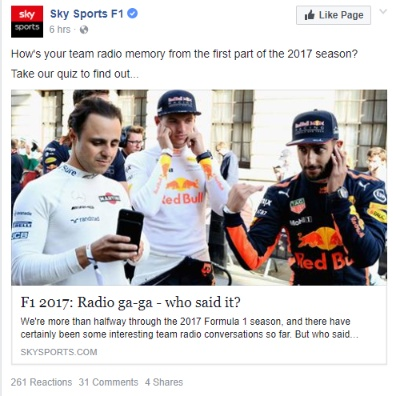 You can do countless lead-generation campaigns with a quiz.
For example, Ramit Sethi uses quizzes to group his audiences and provide personalized content to each segment: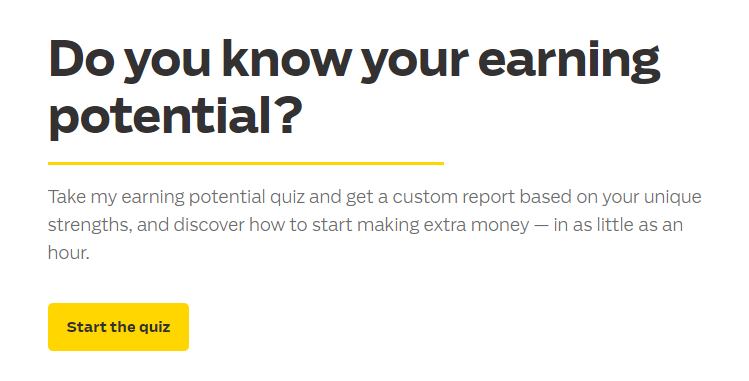 And once you've taken the quiz, you get placed into a grouping based on your answers: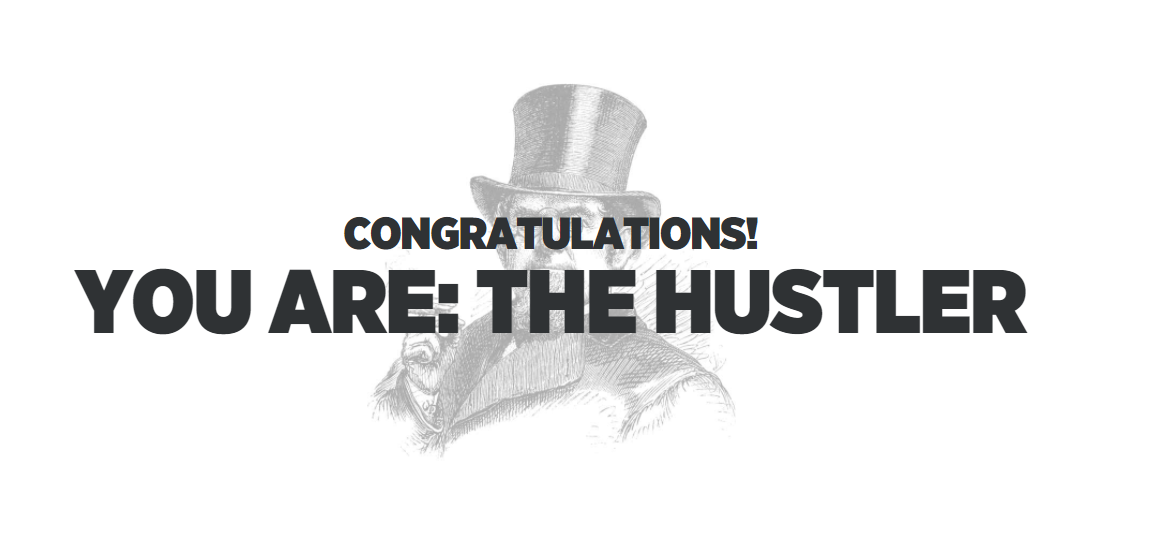 Then you'll receive personalized, relevant content in your inbox that relates to the goals you expressed during the quiz.
4. Personalized CTA lead magnets with HubSpot
HubSpot is the king when it comes to helping marketers create compelling lead-magnet CTAs.
If you've ever read articles on their blogs, you'll know what I'm talking about.
When you read through a post to the bottom, you're presented with a beautifully-designed CTA that relates to the content you're reading about.
Here's an example I found while reading about PR and branding:
It doesn't get much more personalized than that!
The content lines up perfectly with my expressed interest.
That means I'm more likely to click through to the e-book to opt-in.
The great thing about this HubSpot example is that you don't need any design experience to be able to replicate their lead-magnet strategy.
You can use HubSpot's CTA Builder to create perfect lead-magnet CTAs in just a few steps. This one is a "smart CTA":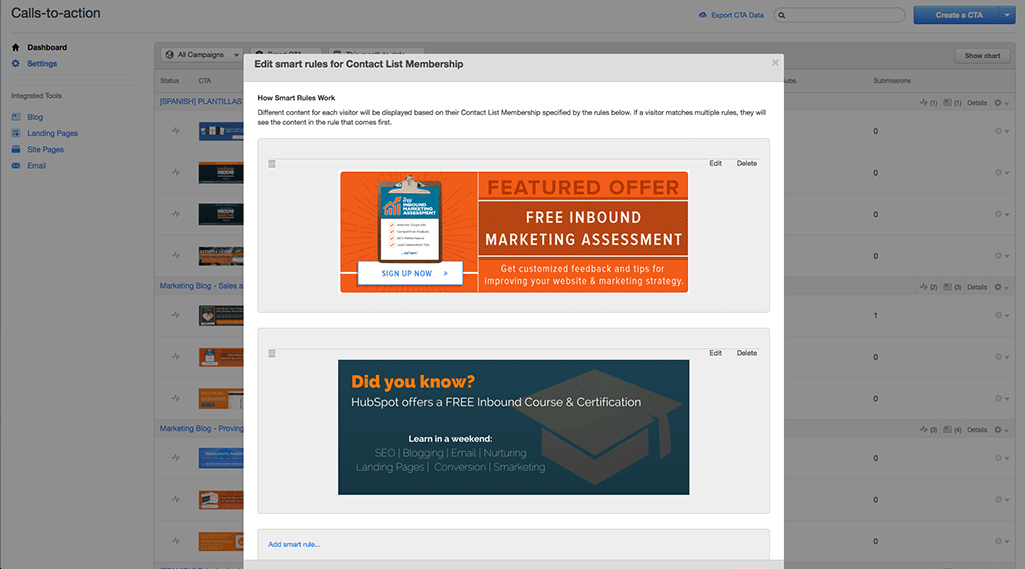 Basically, it will help you display different CTAs on your site depending on your funnel stage.
Let's say that a new visitor lands on your site and reads a blog post. They'll receive a basic lead-magnet CTA on the same exact topic for an e-book, email course, or tool.
However, if they come back to the site after already downloading one of those, they'll see a new CTA.
This time, it will be a more-involved "Marketing Assessment" or another lead magnet to get additional buy-in from the lead.
That means that you can place these CTAs anywhere and they'll automatically detect who someone is and what they should see next.
You can also personalize the CTAs by persona, industry, device, traffic medium, and whether or not they are a first-time visitor!
Plus you can set up A/B tests to compare multiple lead-magnet offers. Then you'll be able to analyze which audience likes which offer best.
HubSpot's lead magnets and CTAs work for a reason:
They utilize detailed targeting and precision offers to match each user's stage in the buyer's journey or their content preference.
HubSpot will never target you with irrelevant lead magnets. That way you never 'tune them out' or go banner blind on their site.
If there is only one takeaway from HubSpot's lead-magnet strategy, it's to make sure your lead magnet is personally relevant to every site visitor.
5. Grade PPC performance with the AdWords Grader
WordStream's AdWords Performance Grader is a free tool that provides an instant analysis of your AdWords performance.
You'll get data on everything from quality score optimization to wasted ad spend. And they'll even help you uncover actionable opportunities to capitalize on ASAP.
The lead-magnet tool uses an algorithm to scan your account and gives you grades based on more than 60 different metrics.
That's a ton of value in exchange for just your email address!
The lead magnet tool also reports on the potential you could be making if you used their software.
The result is similar to the Impact ROI calculator we saw a minute ago. It lets people know, ASAP, just how and where they're falling short.
It creates a need for your product.
According to this report, both items are losing you money and you're missing out on new revenue.
That's exactly how they personalized the CTAs to focus on these newfound needs:
Tons of lead magnets that I come across everyday lack the following principles that are proven to convert:
Address the problem for the user and create the need for a solution.
Provide your product as the solution with actionable instructions.
CLOSE the deal with an actionable CTA.
Here's how WordStream's AdWords Grader hits every single one of these perfectly.
6. Analyze your website performance with the Website Grader
Most B2B companies convert fewer than 2% of their leads.
But some can convert 5x that amount!
Why is there such a big gap, you ask?
Well, this statistic might help to give some context.
61% of B2B marketers say their biggest pain point is generating high-quality leads.
That's a massive pain point considering that B2B businesses depend on generating high-quality leads to keep business booming.
So they can't afford to keep converting just 2% of leads anymore.
Instead, we need to see what the "10%+" club is doing to drive that many leads and sales.
One way to find out is to pull up HubSpot's Website Grader.
HubSpot's site grader measures the strength and quality of your website from SEO to technical fixes.
It also gives you an inbound marketing score, pointing out the areas to improve.
The key factor in this lead-magnet tool is loss aversion.
Essentially, they say that you could have XX score if you did YY.
Your traffic will skyrocket, and you'll overflow with new leads.
On top of that, they give you detailed instructions on fixing your issues. This transparency builds up trust and credibility.
I'd be willing to bet they have a high conversion rate because they use a proven formula to drive conversions.
First, they present the problem to you: "Your website is weak in these areas."
Then, they agitate the issue: "These weak areas will slow down your site and decrease traffic."
And finally, they show you how to solve it to close the deal: "The solution to this is using our platform to increase your responsiveness and speed."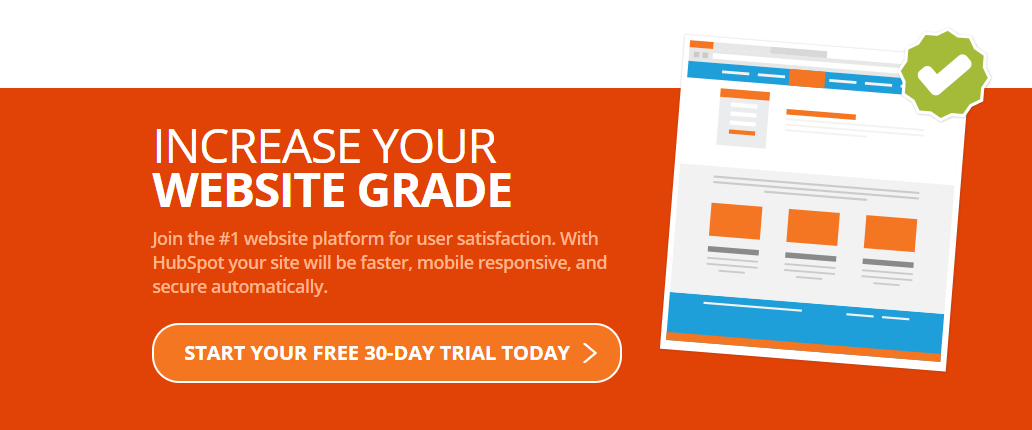 This lead magnet creates a need for a product that never existed in the first place.
That means that your lead magnet isn't just generating new email addresses.
It's greasing the wheels to eventually convert more users.
It's priming them for a future sale. So, by the time you're ready to introduce the sales offer, they're already on board.
Conclusion
Most lead magnets range from e-books and tools to checklists and webinars.
The goal is usually to get net you a few new email addresses.  You give up some exclusive content in exchange for the ability to continue following up with each person.
The problem is that today, our customers are overflowing with these offers.
There are too many similar options out there.
And if your lead magnet can't establish the problem in the first place, they have absolutely no reason to convert.
Even if they do become a lead, it's no guarantee they'll become a buyer.
So your pipeline gets filled with tire kickers.
They don't completely understand what you're offering. And they probably aren't ready to throw down a credit card anytime soon.
Simply offering content alone is no longer enough to convert strangers to customers.
Instead, you need to raise the bar. Provide an unexpected lead magnet that packs in the value.
You need to create a deep desire for the user to solve a burning, aching problem that won't go away.
You can do exactly that by analyzing the best lead magnet tools in the industry.
They're interactive, so they suck users in.
They point out where someone is to show them how much further they need to go.
And then they close the deal by positioning your products or services as the ultimate solution to the problem.
Next time you download a lead magnet or use a tool-based lead magnet, don't just look at what they're telling you.
Look deeper, behind why they're doing certain things, to analyze how you can adopt a similar approach.
What are the best lead magnets you've ever seen?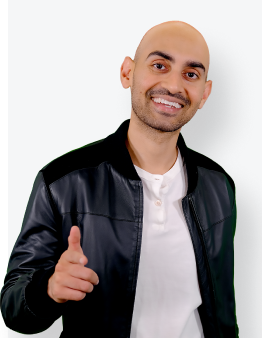 See How My Agency Can Drive More Traffic to Your Website
SEO - unlock more SEO traffic. See real results.
Content Marketing - our team creates epic content that will get shared, get links, and attract traffic.
Paid Media - effective paid strategies with clear ROI.
Are You Using Google Ads? Try Our FREE Ads Grader!
Stop wasting money and unlock the hidden potential of your advertising.
Discover the power of intentional advertising.
Reach your ideal target audience.
Maximize ad spend efficiency.