Today we're going to look at some of the little known details and services surrounding the world of behavioral advertising. And just in case the term "behavioral advertising" is confusing to you, let's define it real quick:
Behavioral advertising is a technique used by online advertisers to present targeted ads to consumers by collecting information about their browsing behavior.
Several pieces of data may be used, such as:
The pages browsed on a website
The time spent on the site
The clicks made
The recency of the visit
The overall interaction with the site
All this data creates a user persona or profile that can be used to segment the audience into certain types. People with similar online behavior can be grouped together into one segment. Then, these segments are shown ads that cater to their interests.
According to a survey by the Network Advertising Initiative, conducted with 12 advertising networks, targeted advertisements based on user behavior converted 6.8% compared with non-targeted ads at 2.8%.
How behavioral advertising works
Lots of platforms work by inserting a cookie into a visitor's hard drive. Advertising networks have a larger demographic of users at their disposal. Being able to serve different sites, they can easily divide the populace into segments.
The first step in serving behavioral ads is tracking who the users are and what they do online.
Tracking refers to the process of collecting and processing data, while targeting refers to using that data to offer personalized solutions or advertising.
In order to understand how tracking works, we need to define a few terms:
HTTP request: Generally a tracking pixel or JavaScript sends client information to the ad serving company.
The user is identified with the help of a cookie in which unique IDs are stored.
Furthermore, combining HTTP request headers with UserAgent strings can lead to even more precise User Identification.
Flash Cookies: Flash allows advertisers to place Flash cookies known as local shared objects with the ability to store client information. The information can range from preferred volume settings or even unique identifiers.
One of the notable advantages with Flash cookies is that they are outside the browser. They persist even when the user closes the browser, and they carry through when he/she opens another.
While standard HTML cookies store 4kb of data, Flash cookies can store up to 100kb.
There are mechanisms which keep track of the user even when he/she deletes the cookie. For example, say cookie named 144587 is attached to my IP. Imagine that I delete the cookie. The next time I log in, the server attaches a cookie with a different name, say 8654977, but the software knows that both cookies relate to the same person. This is called cookie respawning.
ETags: ETags are a feature of the browser cache. The cache saves a previously visited website in the memory, and if a visitor is inclined to visit the site again, the saved site is shown. Advertisers use the cache to store unique identifiers pertaining to the user.
ETags are difficult to remove because deleting the cache would make browsing slower.
HTML5: HTML5 makes use of a cookie called HTML5 local storage. Even if the user closes the browser, the cookie persists until deleted willfully. Compared with Flash and simple HTML cookies, HTML5 cookies can store data up to 5 Mb.
It is preferred because users don't need any plugins like Flash to run it.
The Evercookie: The Evercookie uses the combined features of HTML5 cookies, ETags, Flash cookie, etc. If a user deletes one identifier, say Flash cookie, then the other identifier, say ETags, is enough to activate the Evercookie.
AOL has explained it beautifully with images of a penguin. When you visit a sports site or gourmet site, for example, an ad company sends a cookie to your computer. Later, when you visit some other site, the ad company reads the cookie and displays an ad related to gourmet or sports.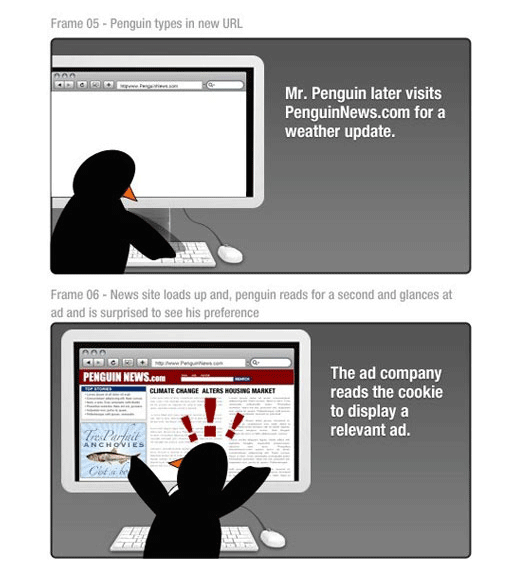 Online behaviors that advertisers use
Let's go into more detail on two pieces of data that advertisers use to create targeted ads:
IP address & geolocation: Targeting your audience by where they live is one of the most basic segmentations you can make. You can show discounts and sales targeted to a specific region. You also can blend urgency into the messages, such as: "This offer is only for Utah readers and expires in 10 hours."
There are even more metrics you can add, like the person's country, state, region, and city.
Studies have found that 70% of marketers use mobile location data to help engage their customers.
The recency of visits and whether repeat visitors or new visitors: A repeat visitor can be shown related content based on what they searched for in the past.
You might have seen yourself that when you visit some sites to search for certain things, you later see ads of those sites elsewhere.
Amazon does this. They even email users based on the products they browsed earlier.
Personyze is a platform that offers real-time personalization based on user data.
How does that happen? It's called retargeting, and we are going to learn a bit more about it.
How advertisers use retargeting
When a user visits a site, he/she is expressing interest in the site. Later, the user can be shown ads related to the site.
Let me clarify with an example. I was searching for a company called Ifeelgoods on Google. Minutes later, I logged into Facebook and found this ad from Ifeelgoods in my news feed.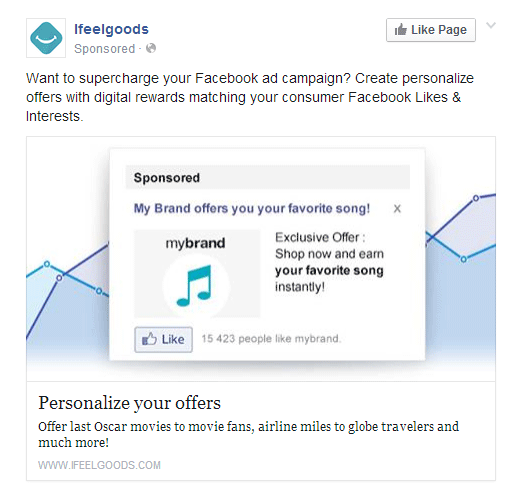 It doesn't end with that. Days later, when I am reading a random piece on Salon, right there before me is an AdSense ad of Ifeelgoods.
Here are a few articles that go over retargeting in detail:
Tools for e-commerce and SaaS businesses
Here are a few tools that e-commerce and SaaS businesses can use for behavioral targeting:
RichRelevance: RichRelevance has served more than 1 billion personalized product recommendations. It has delivered more than $10 billion in attributable sales to its retail partners like Walmart, Target, Sears, Best Buy, etc. It's the perfect solution for e-commerce site owners.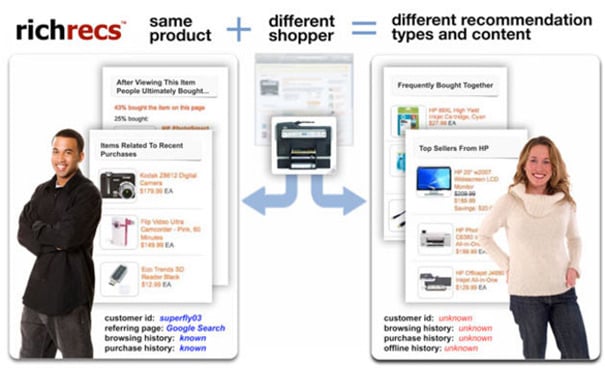 You can sign up for RichRelevance here.
Related Products Manager by CommerceStack: This is a Magento extension that integrates user data into the shopping experience by generating relevant up-sells, cross-sells, and down-sells. It's currently offering a free trial.
The below examples show you how the Products Manager can be used to add related products and manage them with a few clicks.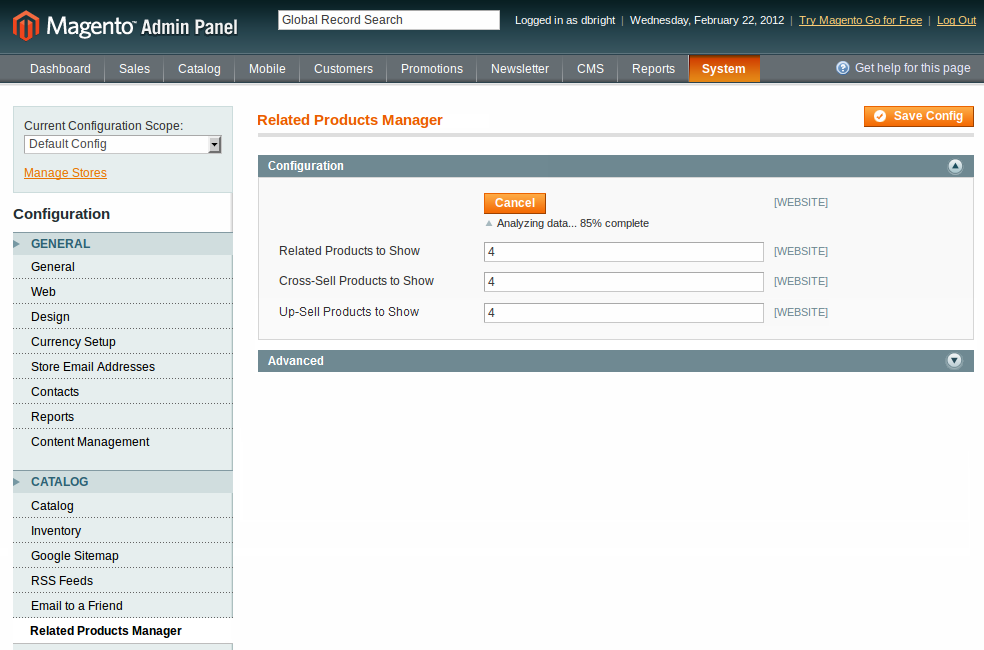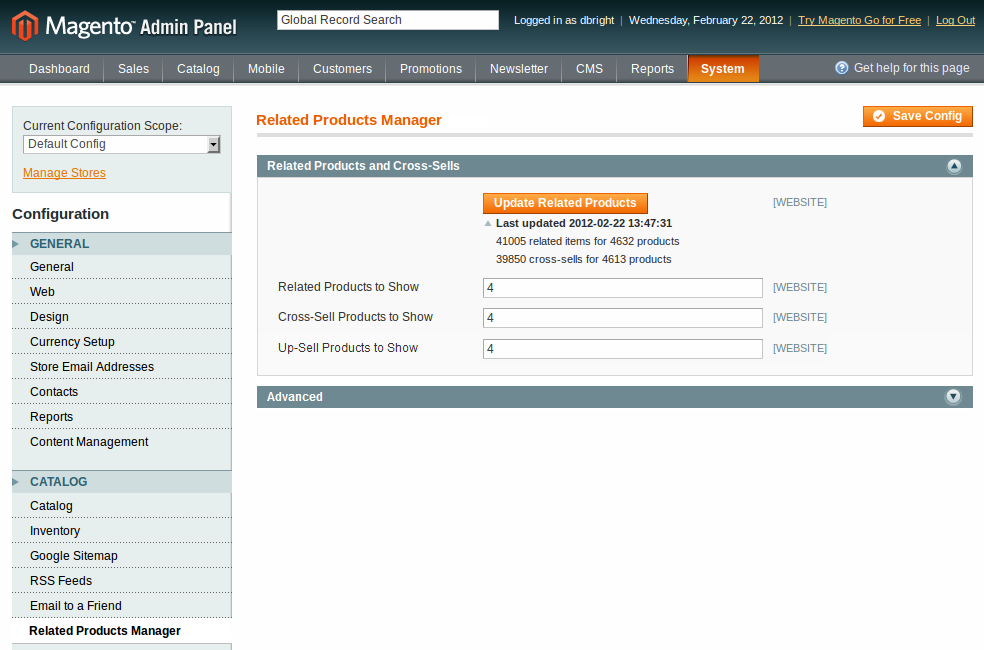 Visit the CommerceStack installation page here.
Personyze: Personyze is a behavioral targeting tool that collects and analyzes information on the user and makes real-time recommendations. It can display targeted banner ads from a range of data like the keywords used for search, click behavior, etc.
An example of a site offering personalized recommendations with Personyze is shown below.
Personyze personalizes the webpage for each user, as follows:
Greets the user with his/her name, " Welcome Brian," as you can see
Products are shown based on previous searches
Down-sells and cross-sells
Up-sells
User guides
Reduced prices to attract customers
You can sign up for Personyze here.
Intelligent Cross-Sell by CNET: This tool is a boon for those in the consumer electronics industry. CNET has partnered with RichRelevance to help merchants optimize their cross-sells. The tool taps into CNET's database of 5 million digital goods and comes up with relevant recommendations.
The example below shows a product comparison table powered with the rich database of electronic products on CNET.
Get started with Intelligent Cross-Sell here.
CoreMetrics Intelligent Offer by IBM: The tool generates product recommendations based on past purchases and business rules. It delivers smoothly across email, mobile, and web platforms.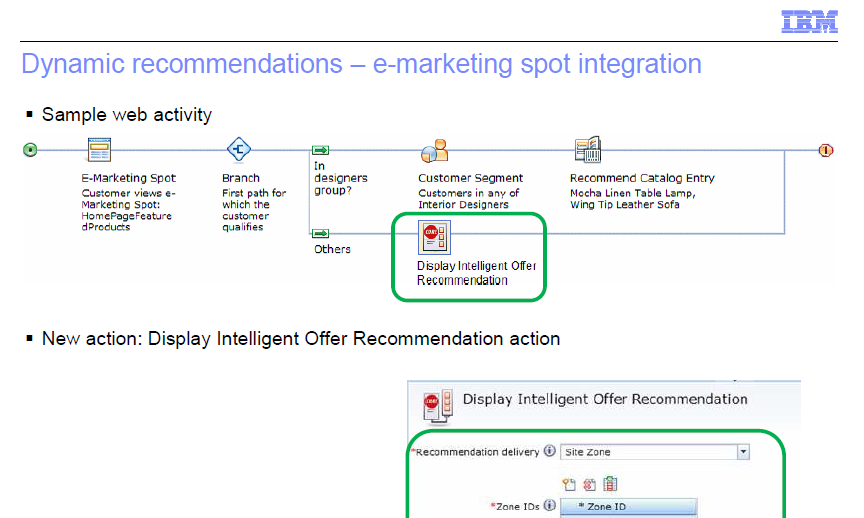 Get Started with CoreMetrics here.
Facebook interest based targeting: In a post here, Tommy Walker talks about how a True Value ad got into his news feed. In his own words: "Well … I'm 27, I'm married, I'm a male, I'm a father, and I've Liked the pages Saving Money, Super Coupon Lady, and DIY Network, among other things that would signal I'm a responsible adult living on a budget and like to take care of things around the house." He also suggests the perfect tag cloud to target people who'd be excited about a $5 True Value coupon.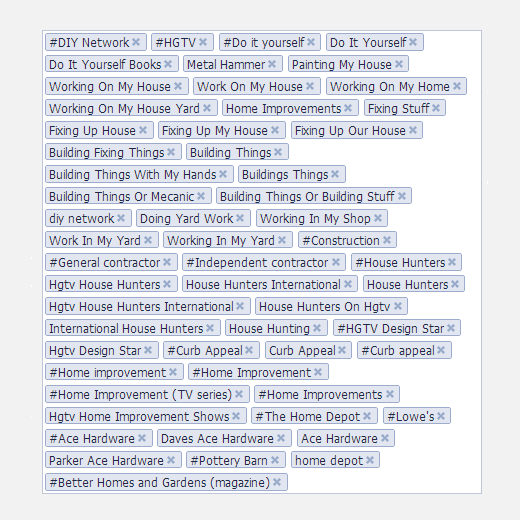 Get started with Facebook Advertising here.
On Facebook, people enter a lot of data that makes it easy to target them with highly personalized offers. They like pages, so that indicates their interest in certain products or businesses, they mention where they live, and so on.
Have you tried behavioral advertising?
As you can see, behavioral advertising helps you provide consumers more personalized offers. It helps you get into their shoes and understand what they need. You can use the tools to better serve your customers.
How have your experiences been with behavioral advertising?
About the Author: This article was written by George Mathew.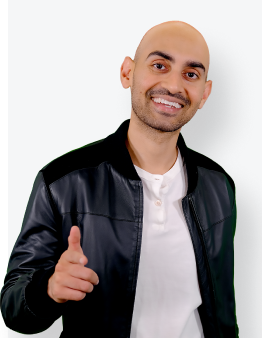 See How My Agency Can Drive More Traffic to Your Website
SEO - unlock more SEO traffic. See real results.
Content Marketing - our team creates epic content that will get shared, get links, and attract traffic.
Paid Media - effective paid strategies with clear ROI.
Are You Using Google Ads? Try Our FREE Ads Grader!
Stop wasting money and unlock the hidden potential of your advertising.
Discover the power of intentional advertising.
Reach your ideal target audience.
Maximize ad spend efficiency.