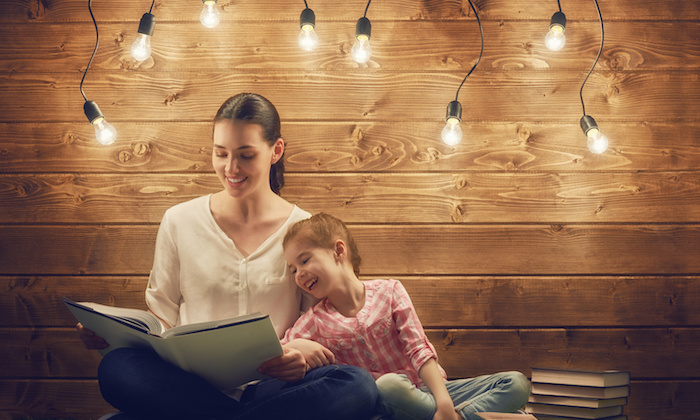 If your readers don't finish your posts, you're not alone. It's a huge challenge for bloggers, authors and content creators.
Jakob Nielson's seminal web usability study showed that 79% of web users scan rather than read online text.
And, according to the Nielsen Norman Group, the majority of your site visitors will read only about 20% of your content.
These are casual visitors, who don't care in any significant way about your brand or your content.
But, what about qualified site visitors and loyal readers – the users who want to consume more of your posts, perhaps finish them, but don't have the opportunity or conviction to do so?
Trust me, these are the people you should pay close attention to.
You want to create the right content that will engage these users. If your content is boring, then you're giving readers a reason to gloss over it.
A recent study shows that 55% of users who view a web page spend less than 15 seconds looking at it. Obviously, no one can finish a 1,000-word article in 15 seconds.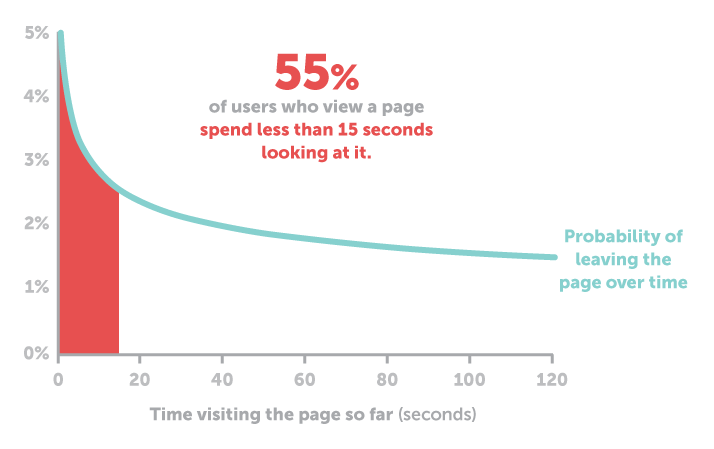 If you optimize your posts properly, you can increase the time readers spend on your page. And, to a large extent, more time equals more engagement.
You don't need 100% of your readers to finish your post and trying to achieve that goal is just wasted effort.
Instead, let's work on the 80% of readers who care deeply about your topic.
Here are 6 simple, but powerful steps to get the right people to dig into your blog post and keep them engaged until they finish it: 
Step 1: Entice readers with irresistible and curiosity-driven headlines.
Focus first on the headline, says Jane Heifetz.
Before you strive to convince your readers to completely read your post, grab them with your headline. It's estimated that 8 out of 10 people will read your headline.
I'm not here to lecture you on the importance of writing catchy headlines for your posts. I'm sure you already know that.
Sadly, most content gets lost online, because the headline is boring and doesn't convey a sense of urgency or pique a reader's curiosity.
Digital marketing experts believe that the headline is the most important element on a page. If you want to attract influencers and get them sharing your posts, then your headline has to be irresistible.
In a recent post at Harvard Business Review, titled "The Art of Evangelism," author Guy Kawasaki said that,
You should tempt with headlines.
As Guy states,
Whenever users come across posts titled "How to…," "Top 10 …," or "The Ultimate…" they often find those posts irresistible. These words communicate a sense that the post will be practical and useful.
I've shared practical tips for writing headlines before. Always remember that regardless of the immense value you provide inside your post, if the headline doesn't pique your reader's curiosity, you'll have wasted your own time and resources.
You can start by adding power words in your headlines. I do this in virtually all my posts on QuickSprout.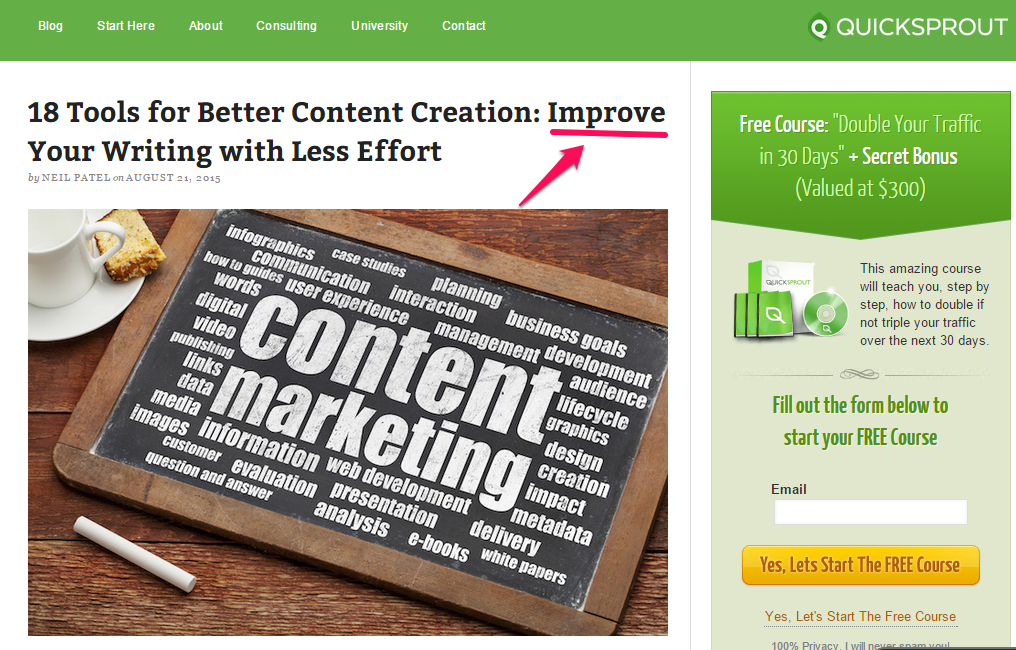 In addition to writing irresistible headlines, you can draw more attention by adding words that trigger curiosity and by structuring your headlines accordingly.
On the Unbounce's blog, you'll come across several post headlines that you just can't resist.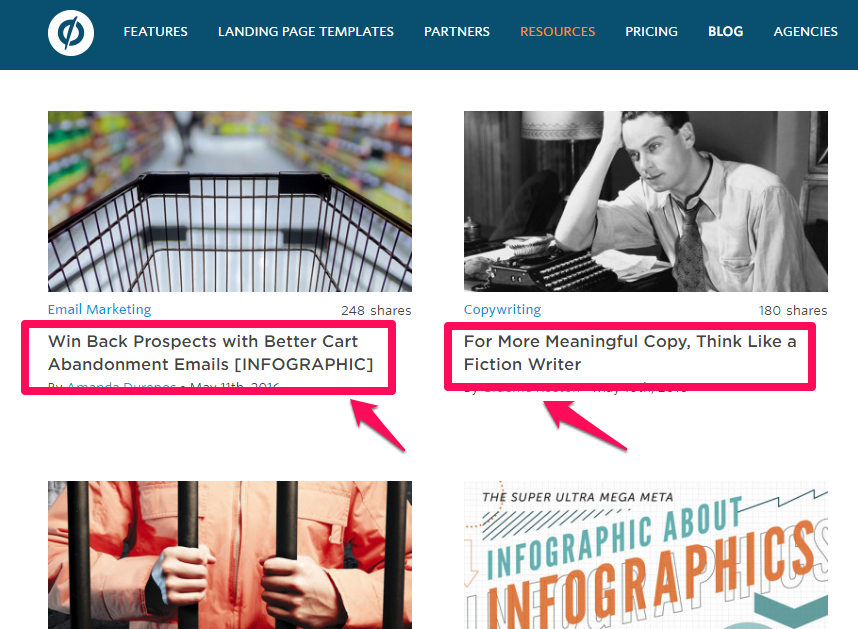 Step 2: Start the introduction with a sensational statement.
According to AdPushup, "your readers will form an instant impression of your content based on your introduction."
Whenever I'm looking to write a sensational introduction for my posts, Copyblogger is my first resource.
Here's one of their latest posts. Tell me: can you resist such an opener?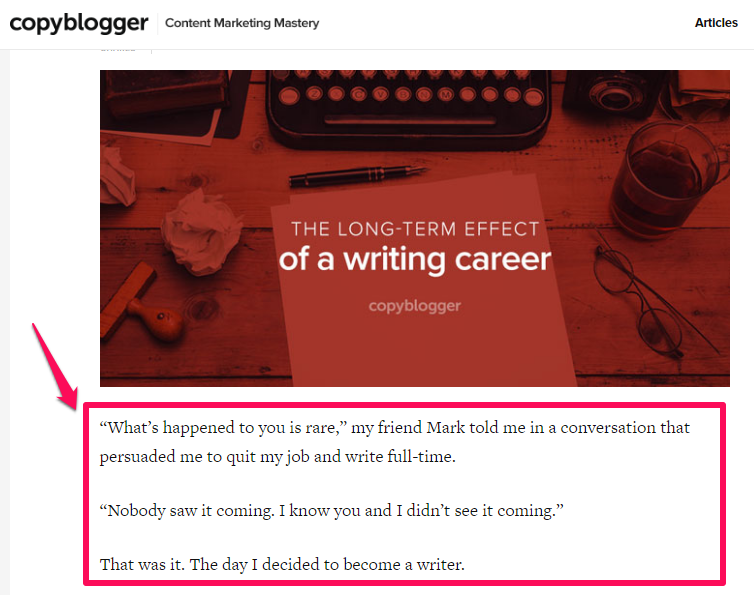 After you've attracted readers with your headline, don't leave them hanging without providing answers to their questions.
Remember that when people come to your page, they're still wondering what you have in store for them.
For example, if your headline promises to help people "increase your email list by 500 subscribers in 30 days," readers would like to be reassured that your content will support the headline.
That's where a blog post introduction comes in.
Brian Dean understands how important the blog post introduction is. That's why he pays more attention to it.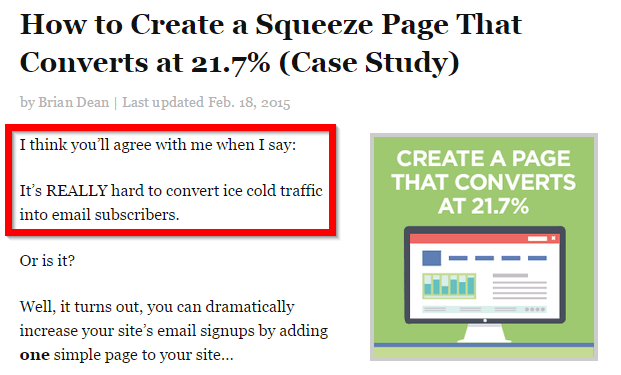 If you follow me closely, you know that I contribute content to various industry blogs. In my experience, my headlines attract readers, but it's my introductions that keep them reading.
A boring and generic blog post introduction will likely piss readers off and make them leave your page before reading the rest of your post.
To get you started, you can use one of these six simple ways to write your blog post introduction and you can rest assured that people will read the post.
Let's briefly look at them:
i).   Quote an interesting fact: You can enhance your expertise by backing up your post with interesting facts.
If you've just conducted a study or experiment, or you know a fact from a credible source, you should quote it.
In the screenshot below, observe closely how Ayaz Nanji from MarketingProfs quoted a fact in the opening. Note that he backs up the fact by referencing the source.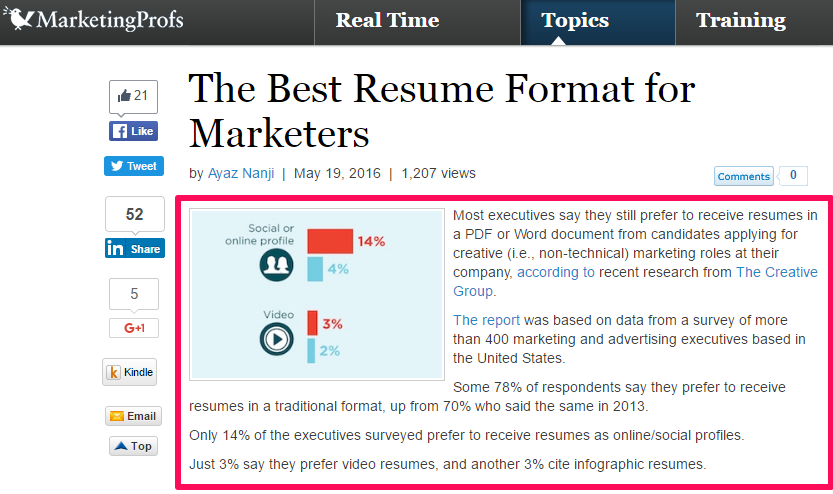 ii).   Start at the end: Tell readers what they stand to gain by reading your post. For example, if they'll save $45 on Zappos, tell them in the introduction – even before they read on.
Readers who have been looking for such an opportunity will choose to read the complete post, even if only to get the discount. Here's an example from SocialMouths.com:
Bear in mind, though, that some readers who don't care about saving or the promise you made will leave. That's fine. After all, you don't want or need everyone.
iii).   Be personal: Whether you're writing in the first or third person, you can always be personal in your blog post introductions. This works best when you have a compelling story to tell.
In other words, your personality can be woven into the story to give it a human touch that readers can't resist.
Here's an example from a recent Inc. post: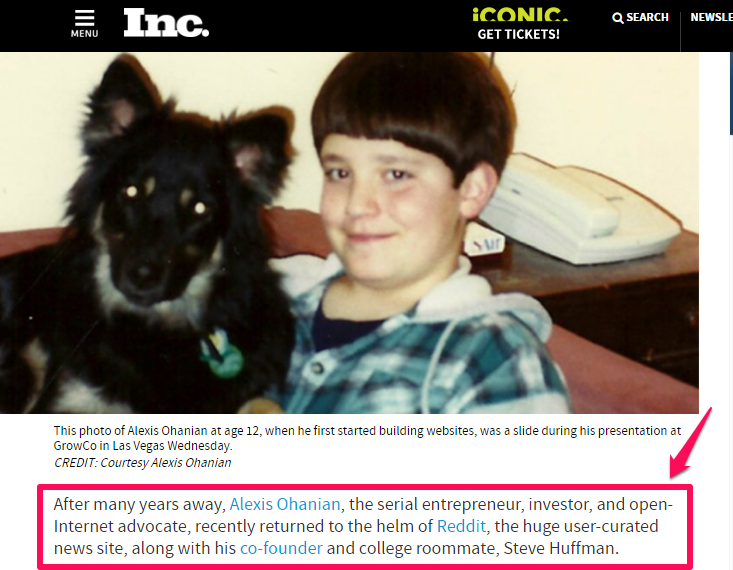 iv).   Ask questions: The right question usually attracts the right answers. I frequently pose questions in my blog post introductions. Over the years, I've noticed that engagement is usually high for those posts.
Why?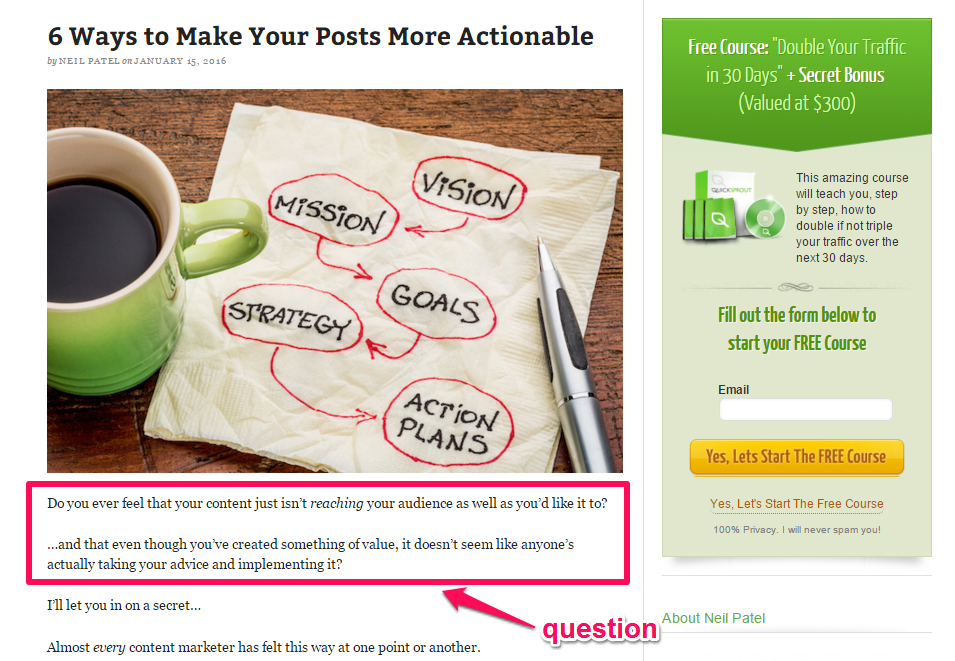 Perhaps it's because, by asking core questions that bug readers, I'm able to connect with them on a deeper level.
v).   Use cliffhangers: When you understand the power behind incorporating cliffhangers into your posts, you'll increase the reader's time on your page and drive a richer user experience.
Whether it's your headline, introduction, body or conclusion, cliffhangers have been proven to increase interest in readers.
Here's an example:
Cliffhangers draw attention and cause people to want to read what comes next.
Brian Dean is a master at this. In fact, he uses cliffhangers not only in his headlines, but also in his introductions and conclusions. Here's a quick example: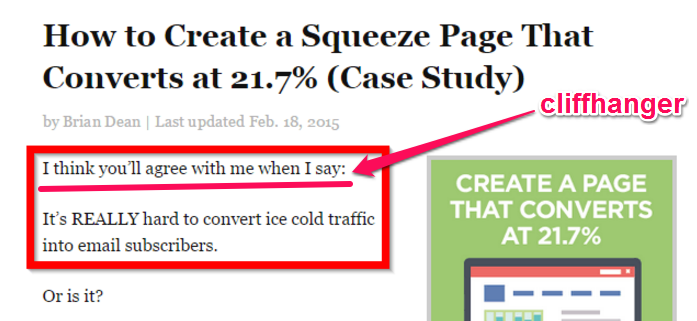 vi).   Controversy: If you use controversy correctly, your posts can actually go viral. However, be careful when writing about controversial topics so you don't dent your online reputation. That can persuade a lot of your fans and customers to switch from your blog to your competitors' site.
Step 3: Harness the power of numbers in your posts.
A study by Conductor shows that headlines with numbers perform better across all verticals. In fact, 36% of both male and female readers prefer "number" headlines.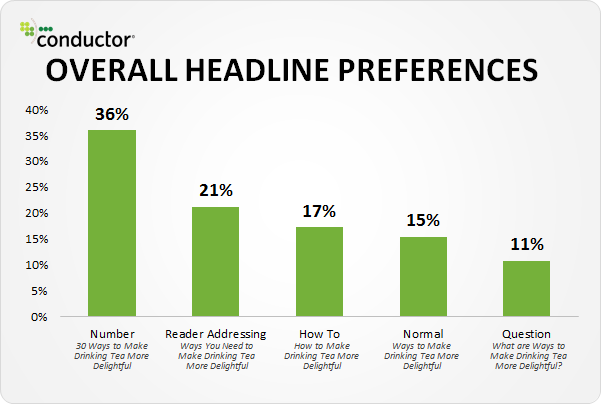 If you've been told that numbered list posts no longer work, you've been misled. I've proven it time and again:  people respond to listicles and numbered posts even more than their engagement with case studies.
Sure, case studies can get you clients (because clients want results and case studies prove that you can deliver them), but when it comes to creating engaging content that readers will gladly consume, numbered posts are a safe bet.
A quick analysis on Buzzsumo shows that on QuickSprout.com, posts with numbers in their headlines are the 2nd and 4th most shared posts in the past year.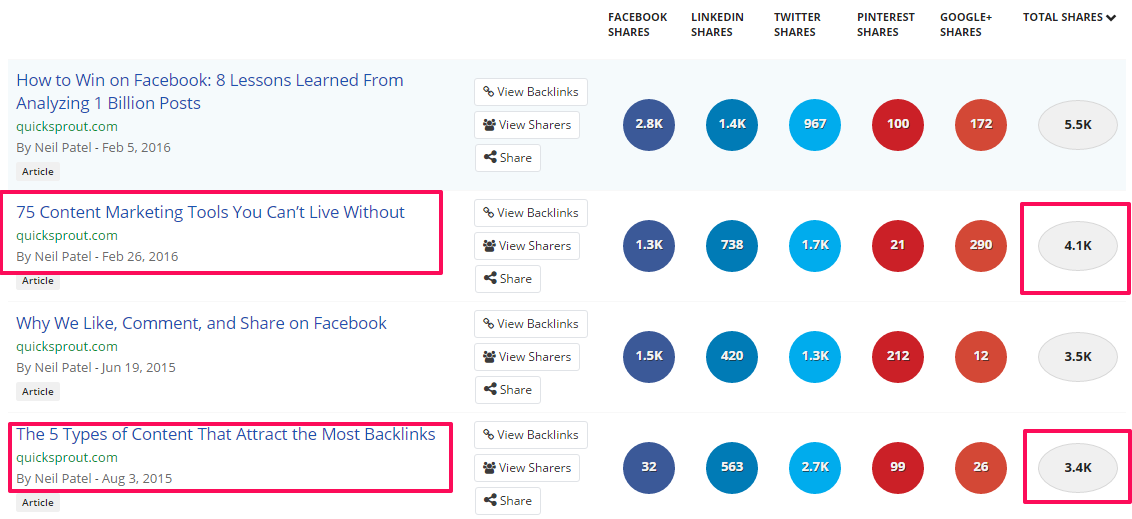 Stop writing generic headlines.
If you find a viral headline without a specific number or goal, try adding a number to it and create a better piece of content. If your upgraded content doesn't go viral, it'll at least generate a lot of traffic and leads for your business.
Instead of…
Simple Ways to Build an Email List
You should add a specific number. Here's a better headline:
7 Simple Ways to Build an Email List Quickly
Step 4: Break up your content with captivating subheadings.
The new digital economy has provided a unique opportunity for any brand or solopreneur to build a successful business through content marketing.
Once you're able to create a variety of engaging content types, you'll acquire leads and begin the process of turning them into customers.
But, how do you keep these people reading your posts, considering there are over 2 million blog posts published every day?
Break up your content with compelling subheadings.
Generally, subheadings are used by copywriters to explain or throw more light on the headline. At times, readers may not fully grasp what you're communicating with your headline.
But, when you include persuasive subheadings, you'll begin to clear things up for them and give them a reason to read on.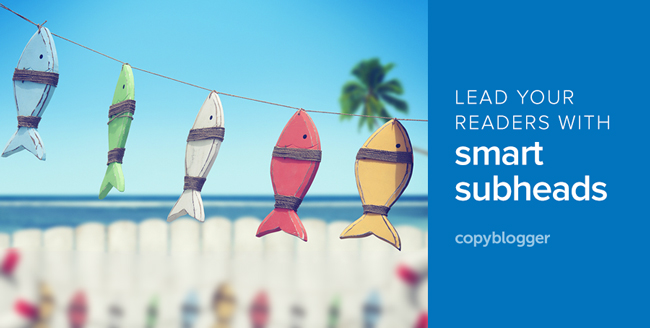 Writing compelling subheadings can help you to take a mediocre blog post that readers hitherto scanned and turn it into a post that people will not only read, but share.
Yes, many content creators use clickbait headlines to lure people in. But, they quickly lose them when readers move below-the-fold – the same section where you would have engaged them, since 65.7% of readers spend more time below-the-fold.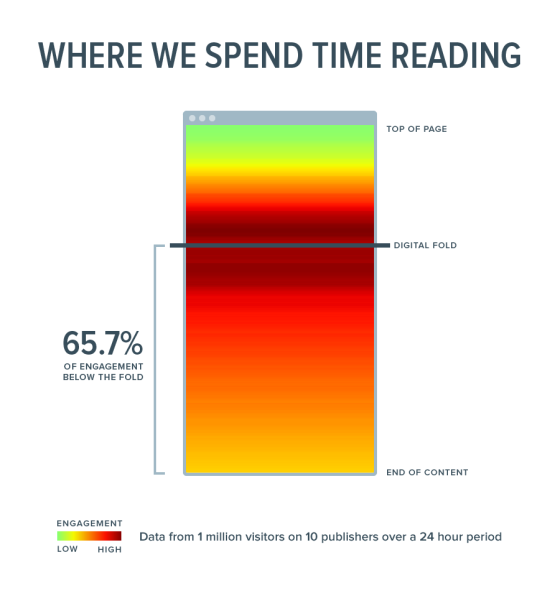 Since so many people scan a post before reading it, subheadings can act as a catalyst to increase their desire to read on.
According to Gary Korisko,
The only way to help readers consume your entire post instead of scanning it is to use subheadings.
I use subheadings to break up and draw attention to key sections of my posts.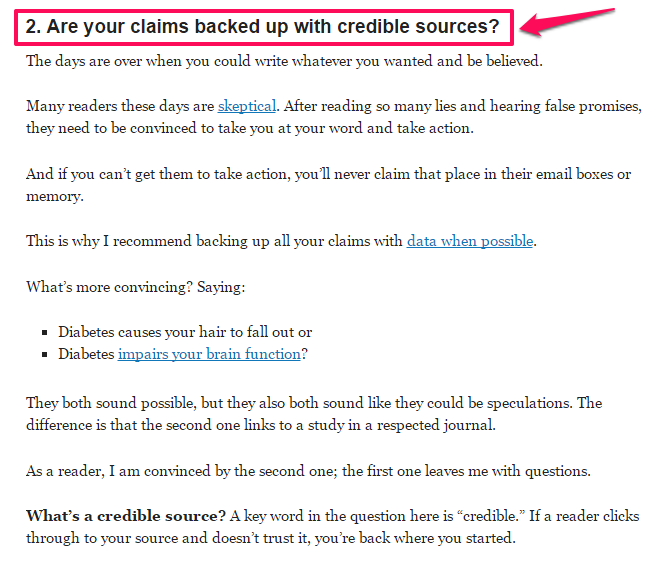 Step 5: Keep paragraphs and sentences short and to the point.
Readers don't want to read a large chunk of text.
Personally, whenever I come across a post where the author failed to keep paragraphs and sentences short and succinct, I'll click on the [x] and run.
Jonah Berger, a marketing professor at the Wharton School of Business and author of Contagious: Why Things Catch On, writes in short sentences. Take a look at his post: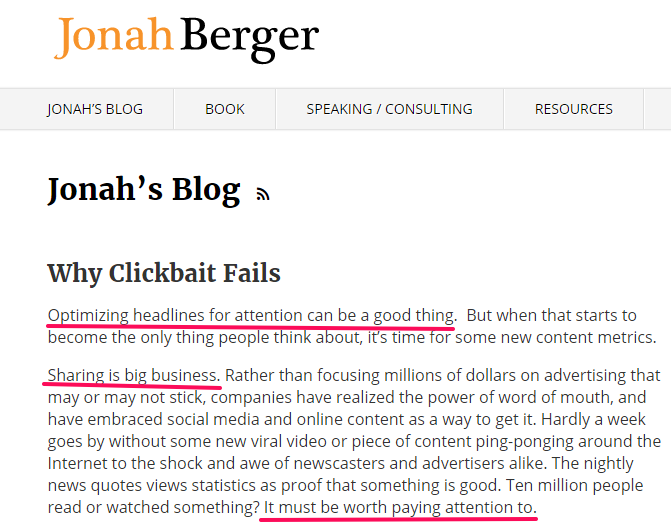 Is there an ideal paragraph length? I don't think so.
However, you can strike a balance by putting yourself in the reader's shoes. Would you feel more inclined to read a paragraph with 10 lines or with 5?
For me, I'd prefer the 5 lines. It makes reading a lot more fun and helps you to avoid overwhelming the reader.
According to Bob Brooke's Writer's Corner, 
You should try to limit your paragraph to five lines – not sentences. If it's too long, break it down into a series of paragraphs on subtopics.
Don't forget that, on the web, "5 lines" changes from device to device. On a device with a smaller display, the lines could increase.
On the flip side, the Yahoo! Style Guide says:
"Keep paragraphs short. Two to three sentences is often enough."
Whenever I write a new post, my paragraphs are typically not more than 4 lines. Sometimes, I even write a one or two-line paragraph.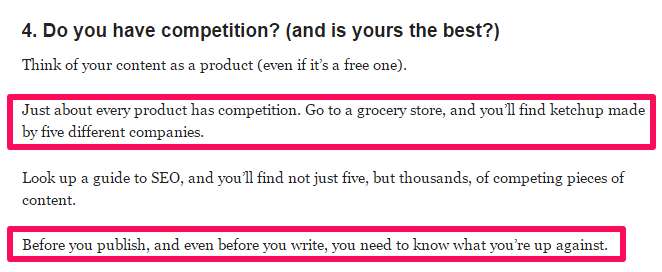 Step 6: Draw attention with relevant visuals and white space.
Visual assets, like photos, images, screenshots, charts, memes, infographics, and the like are great for drawing attention to your post.
In all of my posts, you'll see how I use visuals and white space to draw the reader's eye.
In fact, I'll bet you're still reading this post, in part, because of the visuals.
If I didn't add as many visuals as possible, I can bet that many of you would have already stopped reading. But, you're still here.
Readers love images. Data from a Pew Research study shows that 54% of all internet users have posted an original photo or video that they personally created.  
And, nearly half of all internet users have re-posted or shared a photo or video that they found online.
Here's a SlideShare presentation, showing some visual statistics you need to know:
White space is equally important. In website design, white space is empty or blank space surrounding other elements.
White space or negative space can be any color (e.g., red, blue, white, black). It doesn't have to be white.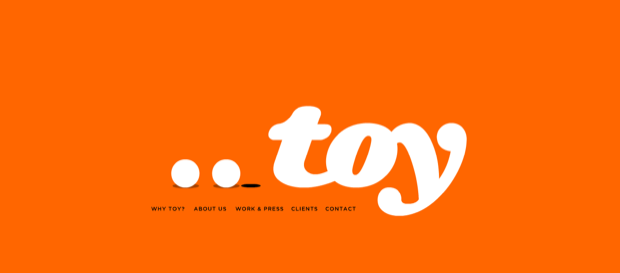 This is another reason why you should write short sentences and paragraphs. Whenever you include a line break, you're creating white space.
Conclusion
There you have it. By now, you're probably excited about your next post. I am, too.
In addition to these six steps, if you can afford it, get your posts professionally edited. It'll help increase the percentage of readers who finish your blog posts.  I guarantee it, because all of my blog posts are edited by professional editors.
It doesn't matter when you started blogging, or the trust that you've gained from readers, your content will stand out and make a difference.
Here's another thing that I didn't mention: There are more experts and influencers online these days. Consequently, readers are getting bored and are looking for something different – and authentic.
Content that resonates, adds value and brings results doesn't have to come from self-proclaimed "pro bloggers." The playing ground has been leveled for everyone.
If you study and understand your audience, work hard to create engaging content consistently and apply the 6 simple steps above, you'll build a loyal audience.
Which of these steps have you implemented into your blog posts, and what specific results did you see?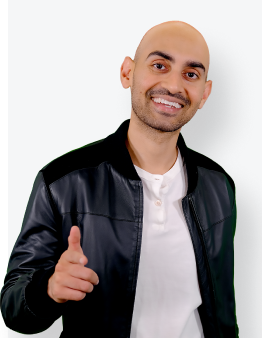 See How My Agency Can Drive More Traffic to Your Website
SEO - unlock more SEO traffic. See real results.
Content Marketing - our team creates epic content that will get shared, get links, and attract traffic.
Paid Media - effective paid strategies with clear ROI.
Are You Using Google Ads? Try Our FREE Ads Grader!
Stop wasting money and unlock the hidden potential of your advertising.
Discover the power of intentional advertising.
Reach your ideal target audience.
Maximize ad spend efficiency.