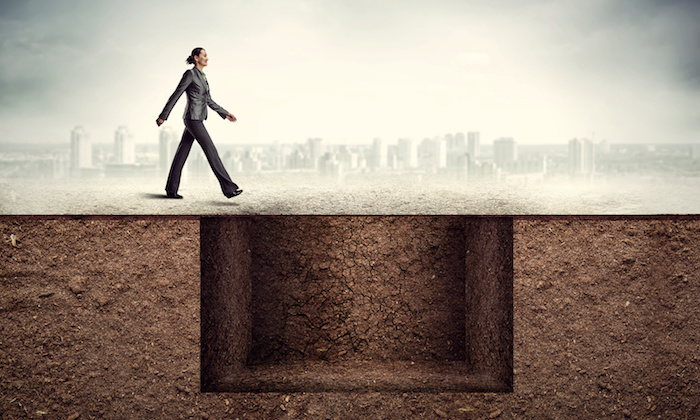 What is the cornerstone of any content/search engine optimization campaign?
Keyword Research.
It's the most fundamental aspect of online marketing. If you can latch onto the long-tail low-hanging phrases that aren't competitive in the search results, you can grow your website with much less effort. I showed you four such case studies in this article.
It's a cold hard truth:
Without finding the right keywords (or subjects) to write about on your website, all of your content efforts might fail.
It's a critical skill that you need to master, in order to achieve success with your online marketing efforts.
What's interesting is that the way of finding these keyword phrases that are being used by your target audience has dramatically changed over the years.
Instead of relying on the monthly search volume and exact-match keyword stuffing in the titles/body of your content, marketers are now required to primarily focus on contextual relevancy.
There are many ways to assess the competitiveness of keywords and perform research, from using a great keyword research tool to examining what negative keywords can do for your campaign. Every marketer seems to have found his own working way, which is often a mix of his intuition and the results from search engine optimization tools.
What I want to focus on in this article, though, are the limitations of keyword research.
Sure, you're performing market research that's helping you understand your customer and generating keyword phrase lists. But, you must understand the conditions under which your insights to your customers hold true-and how that will translate to improving your search engine rankings.
So, I'm presenting 5 limitations of keyword research that might mess with your marketing campaigns. Note that most of the data on keywords is derived from Google. So, most of the limitations also arise from studying the results inside the Google Keyword Planner. 
1. Keyword averages inside the Google Keyword Planner show you a skewed picture
You must have used the keyword planner on numerous occasions to come up with a keyword idea list for your campaign. It shows a neat little monthly keyword volume that many marketers rely on to decide whether or not they want to pursue a particular keyword.
But, have you ever pondered from where the search engine giant arrives at this average value?
Visit the Google Keyword Planner search volume statistics section and you'll find that the average is calculated over a 12-month period.

What does that mean for the accuracy of your research and the relevancy of your keyword list?
Well, the average of 10, 100 and 1000 is 366.67.
But 367 isn't a good representation of this wildly varying sample. So, if you're dealing with outliers, like 10 and 1000 in this example, the average number is extremely misleading.
If your niche has a seasonal spike in certain keywords, due to live events or festivities, then you can get fooled by the keyword planner and end up chasing keywords that don't give you consistent traffic.
The fix?
Go after the number in the middle of your sorted list…
It gives the most accurate representation of your sample.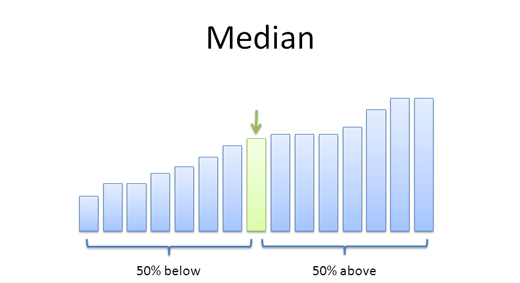 But, Google won't allow you to export individual month search volumes. And, it's a lot of effort to do it for every search term on your keyword list.
A better solution is to just hover over your keyword and look at the volume of searches over time.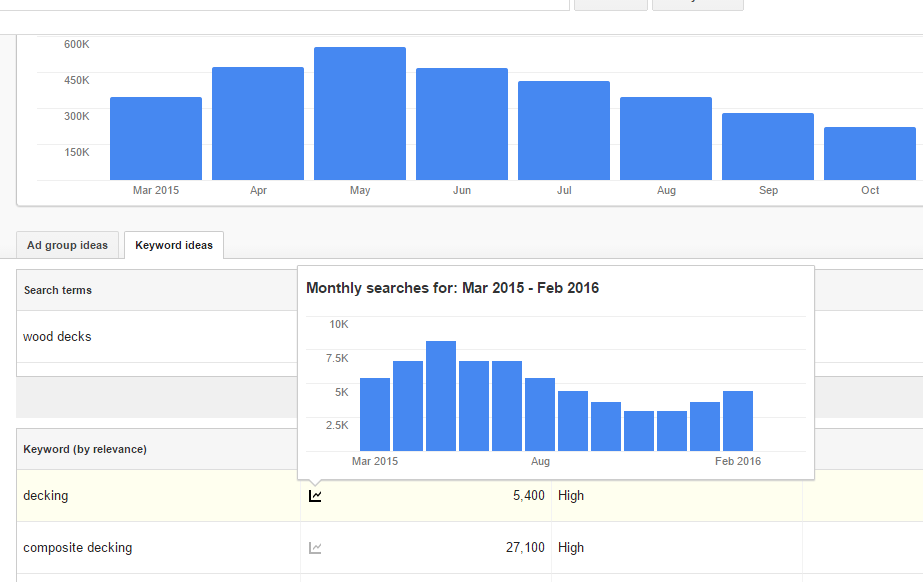 In the above case, the peak volume is around 8,000 and the minimum is around 3,000. So, even though your audience searches the keyword often during certain months, it can deliver good traffic year round.
But, what if the search pattern for your target keyword is highly variable?
For example, the average monthly search volume for 'snow shoveling' is 8,100.
If you dig down into the monthly volume variations of the keyword, you'll probably not be surprised.
The searches almost exponentially spike in winter months, but there's a huge summertime drought.
Are you willing to trade your content creation and promotion efforts to get traffic for a mere 3 months, especially given that you'll need at least a couple of weeks (or possibly 3 months) for your content focused on the keyword to even appear in search engine results?
Generally, you want to go after keywords that have fairly consistent keyword volume all year long.
Otherwise, you'll experience a traffic "hangover" and even face difficulty in performing A/B testing.
There's an exception to the rule – if you find that a keyword is picking up steam recently, then you must go after it. Its graph will look something like this.
These will sometimes be branded strategy keyword phrases, like "skyscraper technique" or "content shock". Sure, the websites that coined the term will rank at the top, but you can easily grab the spots below (until everyone in the industry writes about them and they become competitive).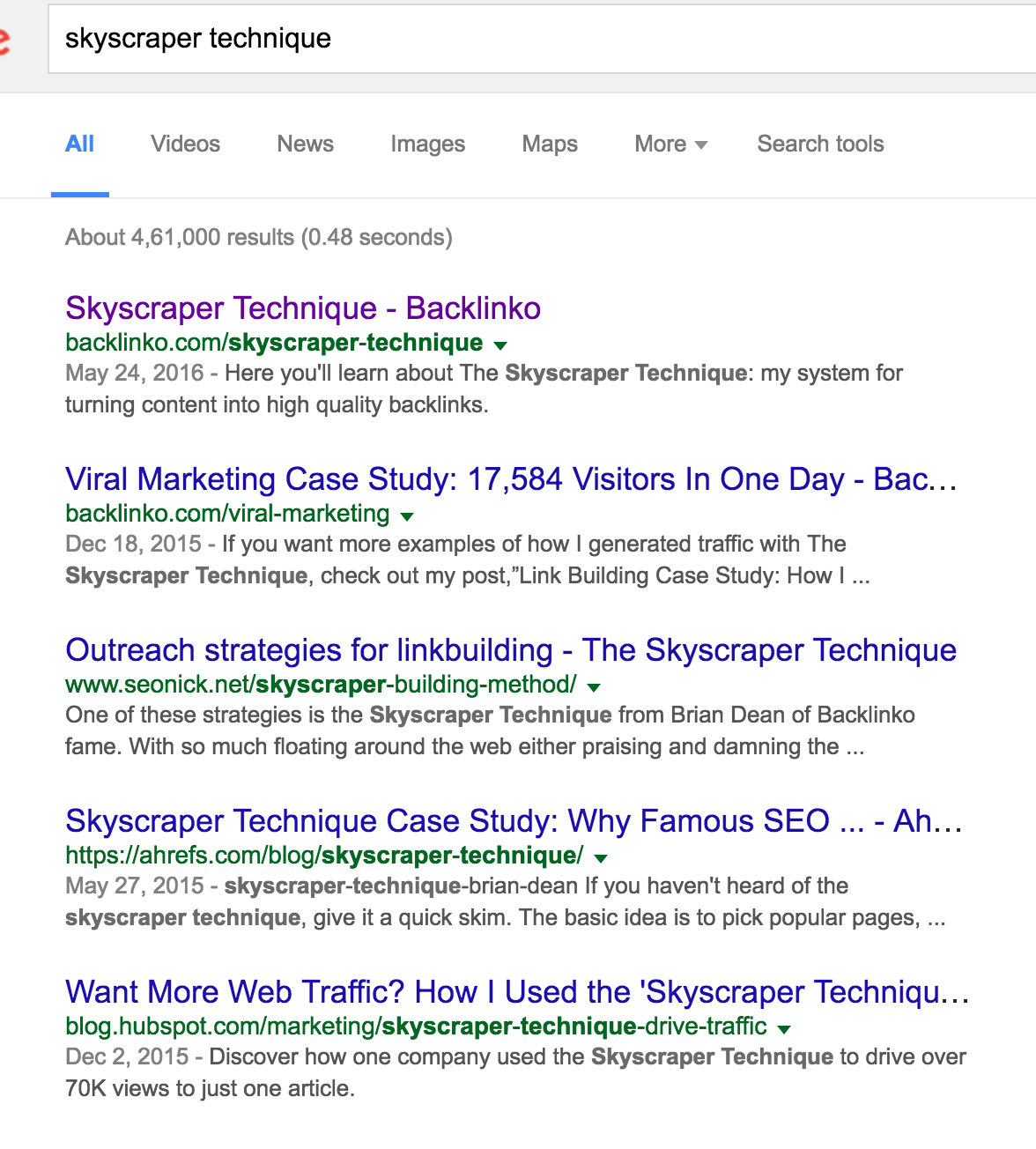 You can find such trending subjects from Google Trends. For example, the keyword phrase "how to paint a car" has had a relatively stable growth rate since 2011.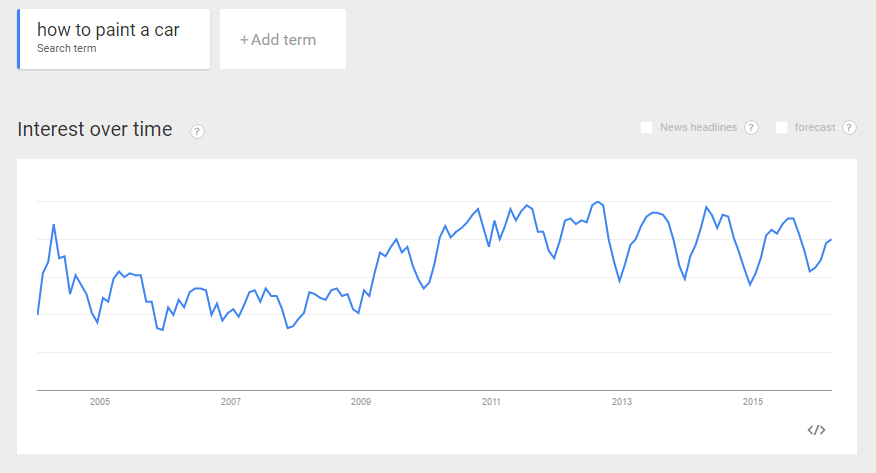 But, if I want to find a related emerging query, I can scroll to the bottom to see these "Related Stories:"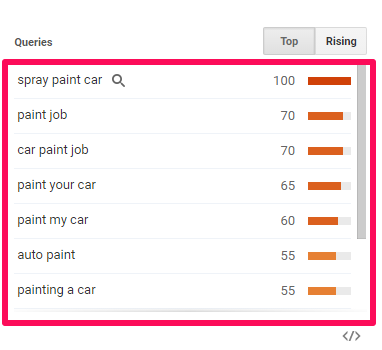 I can then extract long-tail keywords from these queries by plugging them into keywordtool.io. I show you the exact process in this article.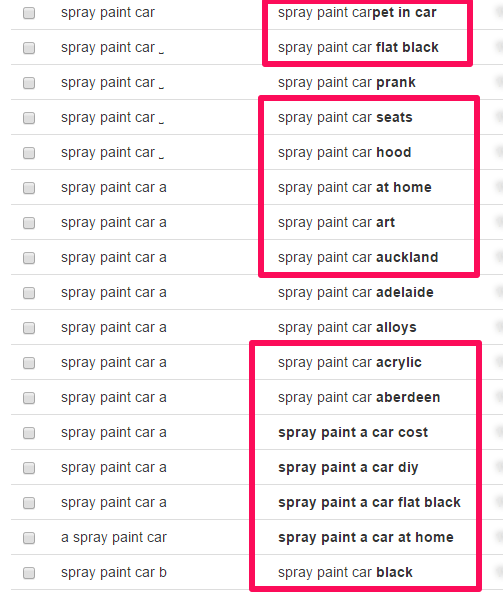 Google Trends also shows you the search queries that are rising with time.

If your website is temporal in nature and relies on news-type content, then you should definitely go after such seasonal keywords. I've also shown you how you can get your news website added to Google News and get real-time traffic from the 6 billion clicks that it sends to publishers every month.
2. Keyword volumes are not just averages. They are also rounded-off
The search volumes you see inside Keyword Planner won't always add up for different locations.
This happens because Google just throws similar keyword volumes into certain buckets for convenience in dealing with data. So, if you're targeting lesser searched long-tail keywords, you might only experience rounding up to the nearest 10.
But, at larger monthly search volumes (head keywords), this can potentially obscure differences of even 10,000 searches/month between keywords.
Here's an example of this anomaly for the keywords "basketball games" and "baseball scores." Note that the Keyword Planner shows an average keyword monthly volume of 210,000 for both keywords. Now, look at the actual difference.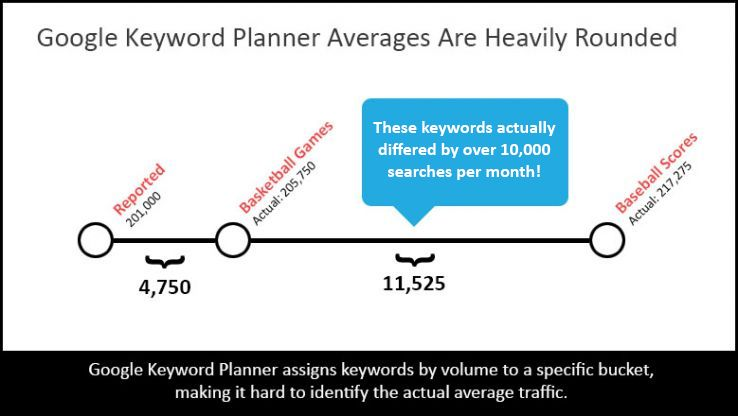 Research by Russ Jones and his team found that Google has 85 such traffic buckets that are logarithmically proportioned. So, the bigger the search volume, the less accurate and trusted the numbers can be. The largest buckets have a difference of up to a quarter of a million searches per month.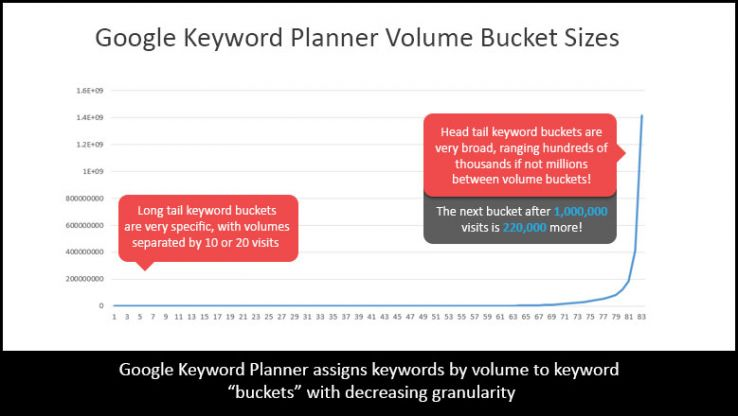 So, is there a way to resolve these inaccurate traffic estimates?
If you're going after long-tail keywords, you probably won't see a huge difference. But, to mitigate the risk, the solution is relying on your own real data from Google Analytics and Webmaster Tools and diversifying your traffic sources beyond Google.
3. Google Monopolizing search results: Showing lean SERP for certain keywords
Glen from Viper Chill recently performed a thorough research project, concluding that just 16 companies in the world dominate the Google search results.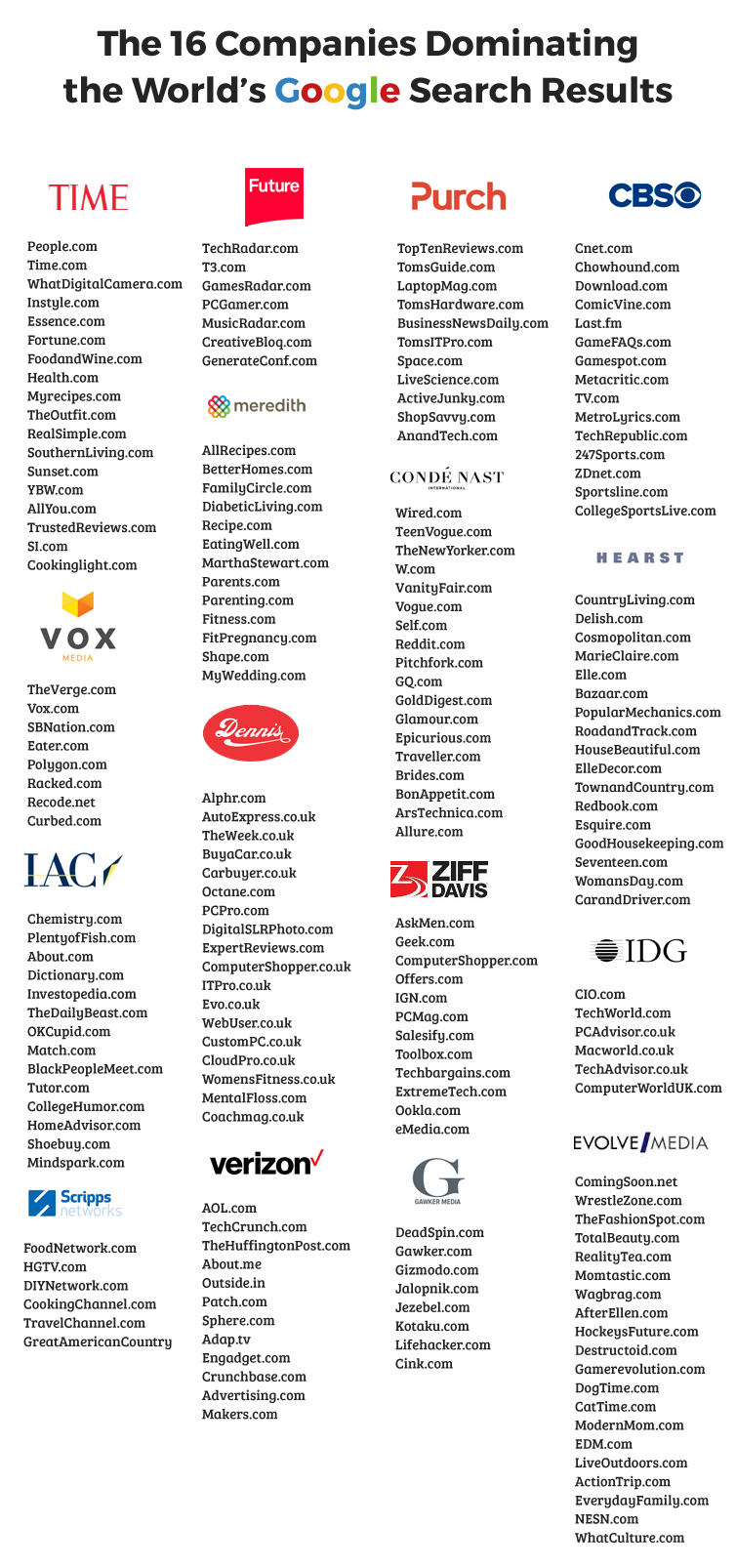 They have pretty much formed a magazine network and use their brand authority to gain huge traffic numbers for their new websites.
He even showed that for competitive keywords in most popular niches (including technology, food, travel and software) these companies have already gained complete control.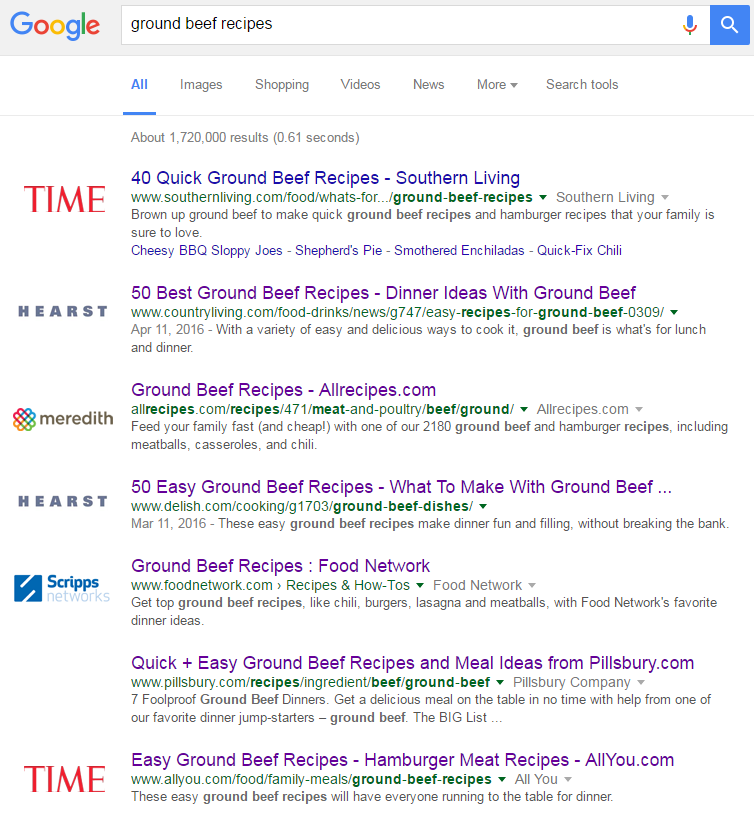 It's sad to see that the search engine giant prefers to see certain websites and brands in its search results.
But, how does it relate to your keyword research?
Some specific keywords will contain only certain types of websites in the results. Your website might not be able to compete with them – even if you find that the pages in the SERP aren't authoritative and are less competitive.
For example, certain commercial keywords, like "shirts for female" contain only eCommerce websites in the results. Good luck ranking for the keyword with your content website.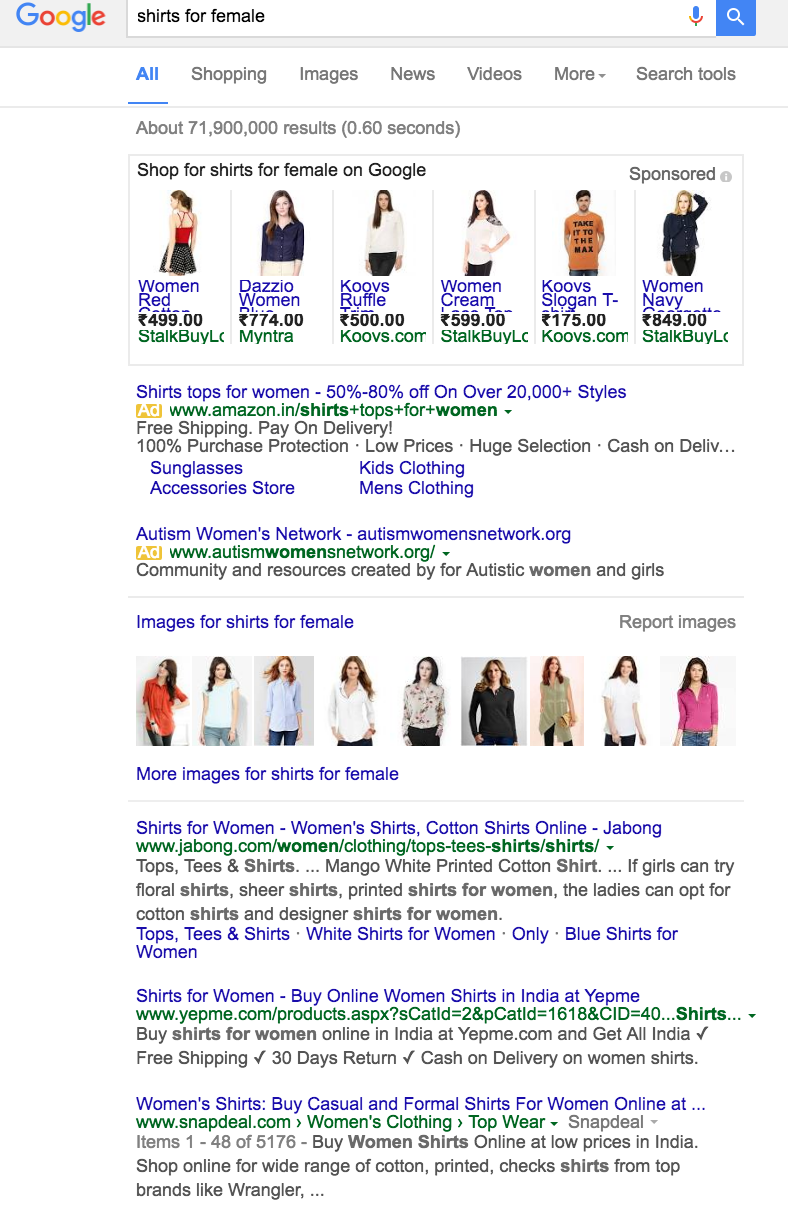 Similarly, you might see .edu domains or geography specific websites dominating the search results for specific keywords. Hayden coined the term 'lean SERP' for this monopolizing of search results by Google and he advises you to reconsider trying to compete with them.
My recommendation is also to skip such doubtful keywords, even though your intuition or the algorithm of a keyword research tool might deem them as low-competition.
4. Google isn't showing you the complete picture
Back in 2012, Rand pulled a report from the Moz blog with the keyword phrases that were sending traffic to it through their Google Analytics account.
Then, he performed a search for the main keyword phrase "blog traffic" in Google's keyword tool to compare the suggestions that it showed.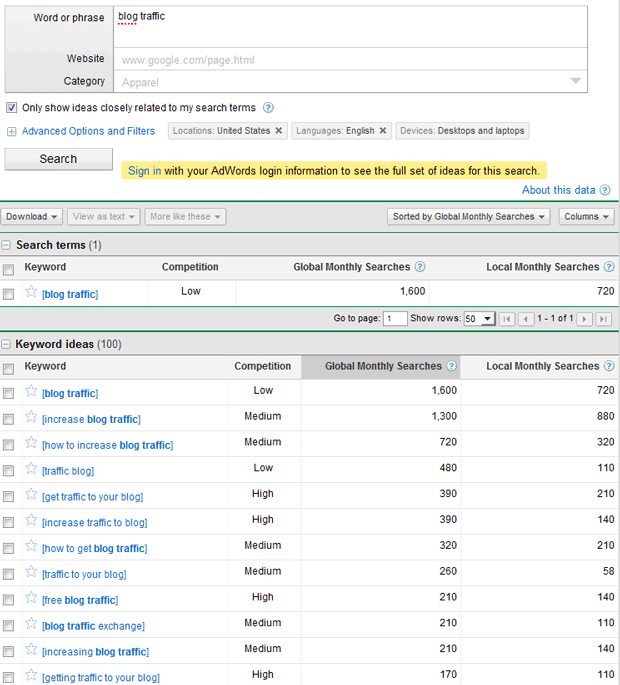 Rand was confused, because many terms that showed in his analytics weren't displayed in the planner. Then, he performed an exact search for these keywords and found that the tool does have data on these keywords, but that the search engine giant chose to hide keywords from the broad search.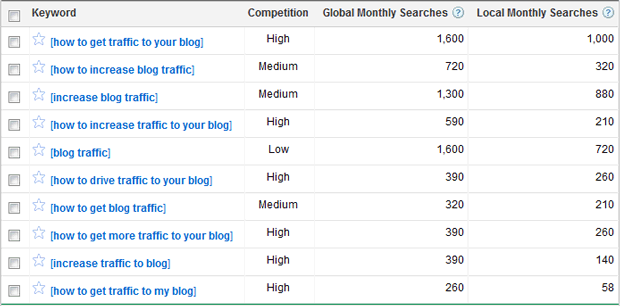 He found that 50% of the related terms weren't suggested by the keyword tool.

Which means there will be plenty of missed keyword targeting opportunities if you rely solely on Google Keyword Planner or another keyword research tool.
Unless you can't think of random keywords from thin air and enter them manually, you will miss many related keywords inside Google Keyword Planner.
Google has increasingly been hiding keyword data from webmasters. With the launch of the keyword planner, Google abandoned showing search volume data for different devices and global vs. local searches.
Similarly, in 2013, the increased encryption in Google search led to a spike in the "not provided" activity inside Google Analytics.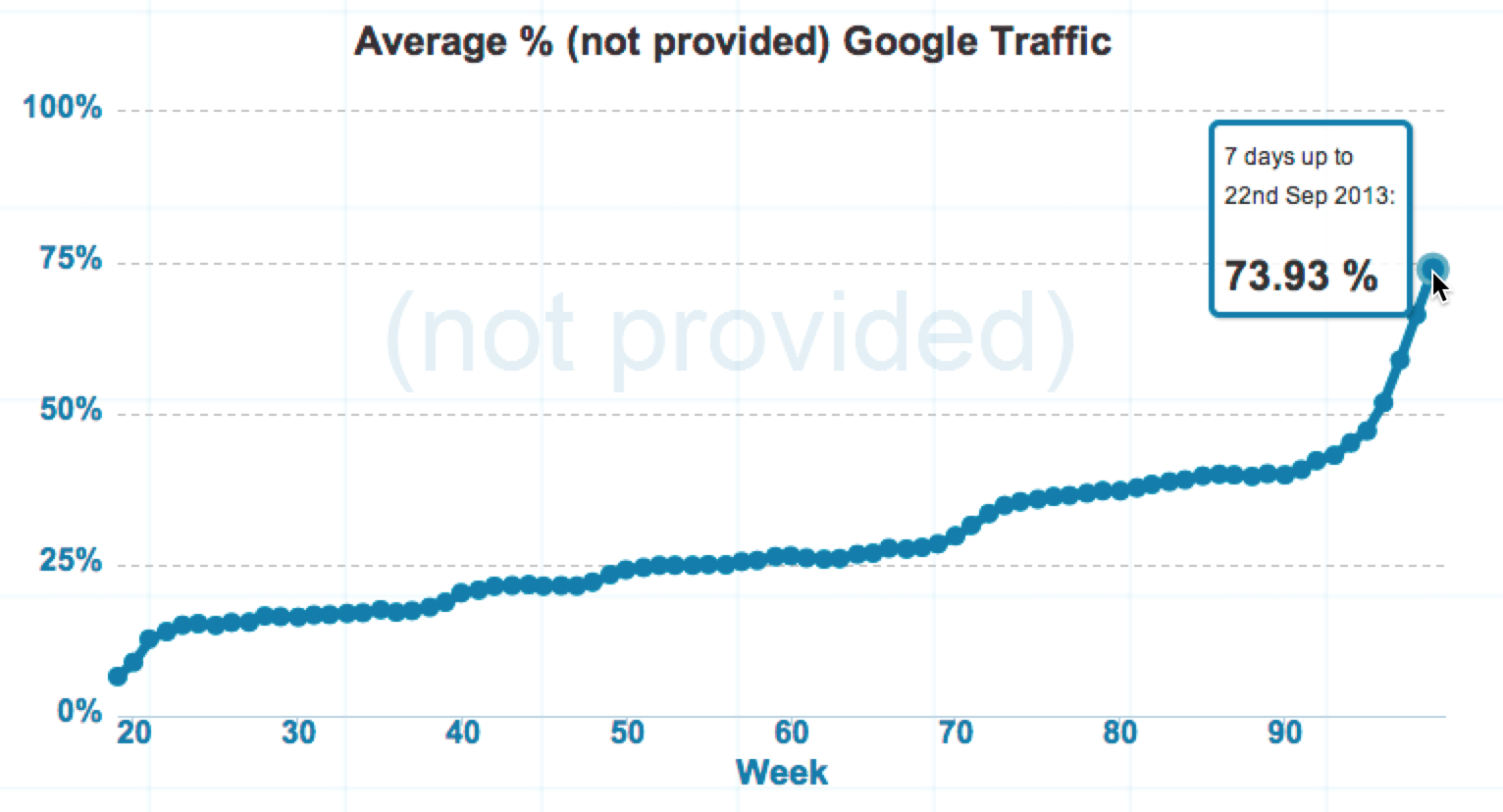 One way of discovering additional hidden keywords that you might target is by using Google's search suggest data.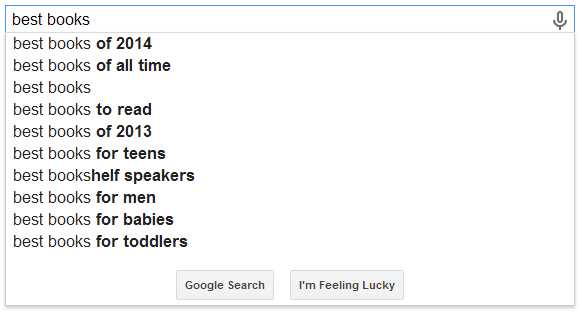 You can also use wildcards, like '_' at the start of your query to find more opportunities.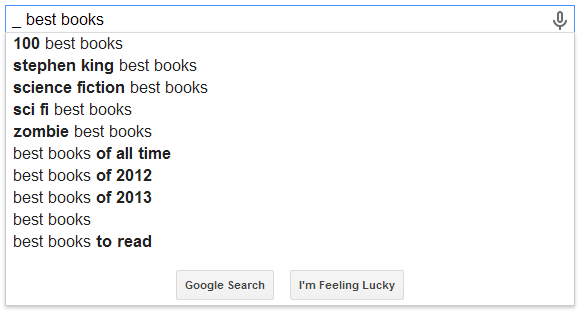 Or, even in between two words in your queries.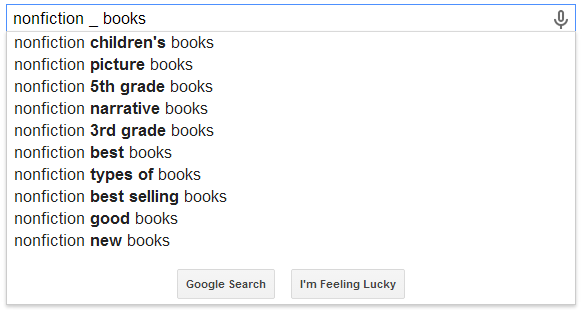 An even better solution is using additional tools, like Long Tail Pro for digging up long-tail keyword ideas and search engine optimization tools, like Ahrefs,to reverse engineer the keywords your competitors rank for with search engines.
I've listed 5 more keyword methods, including Udemy, Twitter and Quora in this article that you can add to your marketing arsenal.
5. Algorithm based keyword tools might sometimes misbehave
Perrin recently performed an extensive analysis on the best keyword research tools in the market. This included Ahrefs, SEMRush, Long Tail Pro and Moz's keyword research tool, Keyword Explorer.
If you're a seasoned marketer, you must have used at least one of the above tools in your campaigns at some point of time.
So, a major convenience that these keyword tools now provide to the marketers is a keyword difficulty score on the scale of 0 to 100.
It becomes so much easier and efficient to solely check a keyword's difficulty score inside the tool, rather than checking the backlinks and other aspects of all the top results in the SERPs.
Long Tail Pro clearly states that a keyword with a score of up to 30 can be deemed low competition.
All of the other tools also give you a score.
But, the funny part is that most of them don't understand what their keyword competition score means.
It seems like they have put out the score, just because everyone else in the market was offering it.

Bummer.
So, you should consider this score only as a relative qualitative metric, inside the ecosystem of the tool. But, you'll have to rely on your intuition and assess the SERP pages manually as well.
As per Perrin's interpretation of keyword difficulty scores for 13 keywords – Long Tail Pro and Moz were found to give the most accurate results.

Again, though, I would recommend that you use these results for reference purposes only. The final judgement call on targeting keywords is critical for the success of your campaigns and should also depend on your understanding of your niche/audience.
Conclusion
Keyword research is vital. It relies on a bunch of tools and data from Google. But, it's easy to overlook the limitations of keyword research tools and dedicate months of effort trying to rank with search engines for keywords that don't affect your bottom line.
I listed five constraints in this article, along with the possible actionable solutions that you can implement for mitigation of the negative effects. I hope you keep these in mind while performing keyword research in the future–and that the suggestions included here consistently help you create a keyword list that benefits each of your campaigns. 
Have you ever faced any of the above challenges in your keyword research? Or, are there any other limitations not listed here? And what's your favorite keyword research tool? I would love to hear your thoughts in the comments below.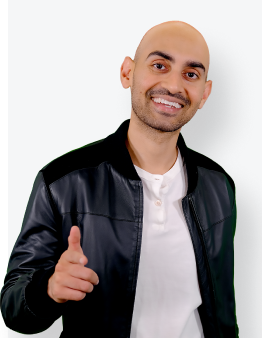 See How My Agency Can Drive More Traffic to Your Website
SEO - unlock more SEO traffic. See real results.
Content Marketing - our team creates epic content that will get shared, get links, and attract traffic.
Paid Media - effective paid strategies with clear ROI.