Did you know that WordPress websites powers more than 25% of the web? Or, how about the fact that there are approximately 44,000 different WordPress plugins that you can install?
When it comes to WordPress websites statistics go on and on, with each one proving that this content management system is the best of the best.
Even though you can do many things with a WordPress website, one thing it can't do for you is produce high quality content. You can explore the WordPress dashboard, the WordPress themes, the WordPress plugins -but it won't help with content.This remains a task you must tackle on your own.
With 80% of B2B marketers relying on a content marketing strategy, it's important that you do the same  when it comes to content management. This doesn't mean that you should spend all of your time creating blog content, but it's definitely one of the most effective content marketing techniques.
Maybe content creation rather than content management is your thing. Maybe you are a natural when it comes to this task of creating new posts. Conversely, this could be an area in which you struggle mightily.
With longer posts generating more traffic and higher rankings, it's important that you never skimp, when it comes to creating content and new posts for your WordPress site and social media. It's 2016 and "quality over quantity" is the right strategy.
The goal of this post is to help you create killer content through the help of various WordPress plugins. And, there is more to this than the words that you write.
I don't expect you to use each and every one of these WordPress plugins, but it's safe to say that a couple can improve your current approach. 
"A suite of word counters, keyword counters and readability analysis for your blog."
When you hear the phrase "linguistic diagnostics" what comes to mind? This may not mean much to you now, but this will all change, once you install the WordPress plugin -Word Stats
With this WP robot tool, you gain access to a variety of tools to help improve the quality of your WP content.
My favorite feature is the reports page, as this allows you to analyze content for a particular author. It provides the following information:
Word count.

Post types broken down by number and percentage.

Top 20 keywords.

A graph showing monthly word count per post type.
Best yet, there is a diagnostic table that links to old and new posts that need your attention as they reduce your chance of getting them shared on social media or attracting engagement from your audience. This includes those that are too short, too difficult for readers to understand or that include too many keywords.
The way your content reads is important to your overall success. Let the Word Stats plugin be your guide, as you attempt to create higher quality WP content.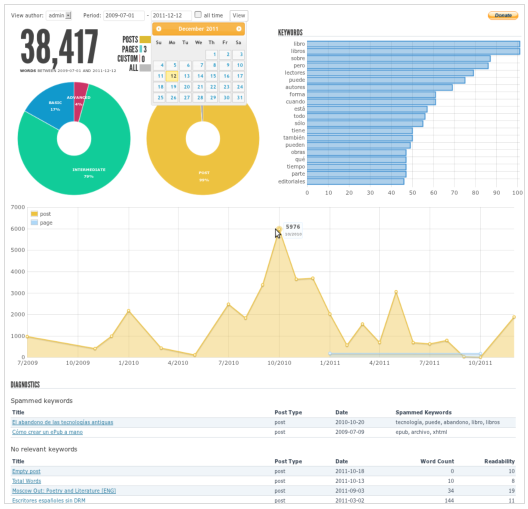 "WordPress SEO plugin: Check Plagiarism / Duplicate Content, Broken Links, Keyword density, content, meta tags, images optimization, etc."
When it comes to your content, there's not much that this WordPress plugin can't do. Are you worried about duplicate content on your WordPress site? You're covered. What about keyword density? Once again, PrePost SEO does all the work for you.
Some of the top features include:
Link counter.

Pinpoint any broken links in your text.

Calculate keyword density.

Analyze meta tags.

Suggestions on how to improve your content.

Post title optimization.
As you can see, the PrePost SEO plugin does it all. From the content itself to the Yoast SEO, you can rely on this tool to show you the way before you publish.
Tip: using this plugin will train you to become a better writer. Over time, you'll learn what your content should entail as well as what you need to avoid.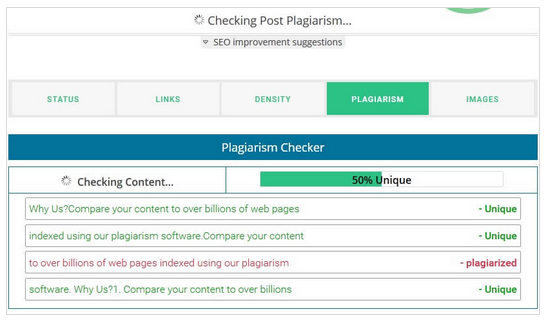 "The Editorial Calendar makes it possible to see all of your posts and drag and drop them to manage your blog."
It's easy to get so caught up in creating WP content that you overlook the importance of organization, scheduling and content management. In an overall sense, this is every bit as important as the words you write.
The Editorial Calendar plugin helps you to better manage your content, ensuring that you are always pushing out fresh content on a schedule that works for you and your audience.
Some of its top features include:
View all your posts, including when they are scheduled to be published.

Drag and drop capabilities.

Easy access to the status of each post.

Tools to manage posts from multiple authors.
Let's put it this way: high quality content doesn't do you any good if it's sitting in your WordPress dashboard as a draft.
Once you install this WordPress plugin, you'll find it easier to manage and organize your WordPress site. You want to create killer content. But, you also need to make sure it's shared with your audience at the right time, every time.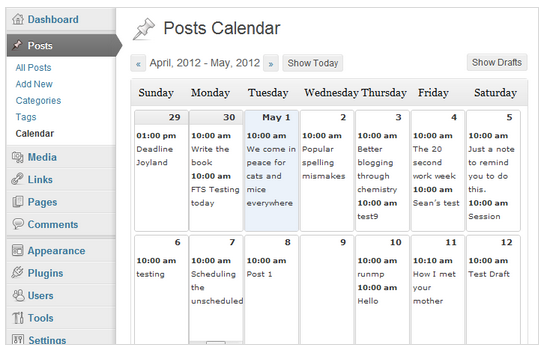 "This Yoast SEO WordPress plugin offers keyword suggestions, taken from autocomplete google, yahoo, bing… up to 250 keywords ideas."
One of the easiest-to-use WordPress site plugins on the list, this one helps you add the best keywords to your content. Thanks to the way it pulls information from Google, Yahoo and Bing, you never have to worry about finding the best keyword ideas for your next post.
Take, for example, a blog post based around the phrase "keyword research." You know what the primary keyword will be, but there are others that you can add to strengthen your content and improve your chance of generating long tail search traffic.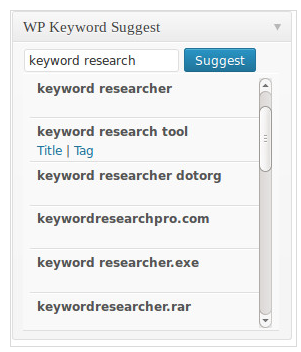 In this example, you are given a long list of suggestions related to your primary keyword. Some of them will work, while others won't make sense for the type of content you are creating. Either way, this plugin helps to get your mind working.
WP Keyword Suggest is not the most advanced Yoast SEO plugin, but when it comes to creating better content, it's definitely worth a second look.
"This WordPress plugin lets you define content templates to quickly and easily create new posts or pages."
No two pieces of content are identical, right? For this reason, there will be times when you want to display your content or custom post in a unique format on your WordPress site.
With the Easy Content Templates plugin, it's easy to create and define content templates for future use. You can keep these private or share them with other authors. Either way, you have the opportunity to display your custom post or content in a unique manner.
For example, you may have a template for basic blog posts. You may also have one for contest based posts. And, if you decide to add list posts to your blog, you may want a special template for this as well.
All in all, this plugin gives you the option to spice up your blog by varying the look and feel of each post.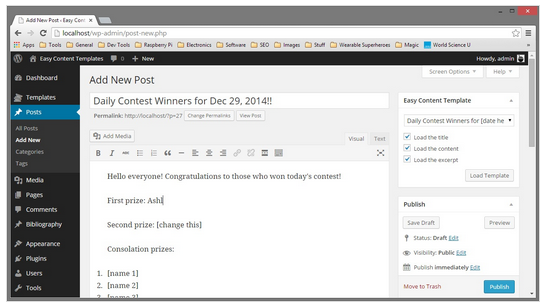 "Search Everything increases WordPress' default search functionality in three easy steps."
The bigger your blog gets, the more difficult it becomes to remember the posts that you have published in the past. This can make it a challenge to provide your audience with unique information and advice that they will want to click, devour, and share on social media.
The Search Everything plugin helps fight against this, allowing you to find what you are looking for as you create fresh content.
Taking this one step further, this WordPress site plugin now offers a "Research Everything" feature. According to the plugin, this "lets you search for your posts and link to them while writing."
Here is an example: you are creating a guide on SEO tools and are interested in linking to past posts on this subject matter. Rather than manually search for linking opportunities in your WordPress dashboard, this feature does the work for you.
Getting started is as simple as activating the plugin, configuring the options and running a search on your WordPress website.
Most people share the goal of building their blog into an industry authority. As you add more posts, it's plugins like this one that save you time while allowing you to keep up with the quality your audience expects.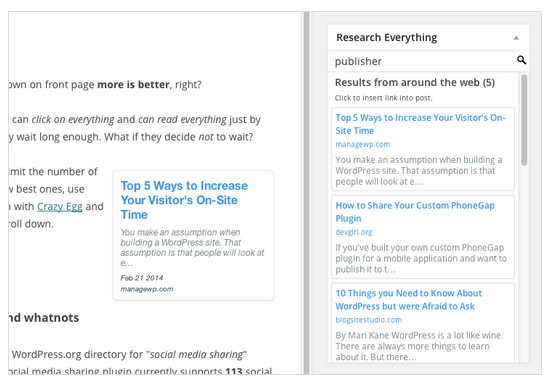 "Automatically add links to published posts to your Facebook pages, groups, etc."
Creating killer content is a good start, but there is more to success than this. Remember, if nobody knows about your content, it won't do you much good. You want to share it with your target audience in as many ways as possible and this is where social media can work wonders.
This is why the Add Link to Facebook plugin comes in handy for many marketers.
Setup is simple:
Once you are up and running, you can use the plugin to share content between your blog and Facebook, and vice versa.
There is nothing wrong with manually posting links to your content on social media sites like Facebook. In fact, there are times when this is preferred. But, there are also situations in which you may require a bit of automated assistance and that is where this plugin can really help.
It won't cost you a dime to experiment with this plugin. In the end, you may soon find that it's the best way to share your content on Facebook, thus increasing your reach.
Tip: this plugin can also help you better understand what types of content perform best on Facebook. As a result, there won't be as much guesswork as to the types of content you should create in the future.
"SEO Internal Links provides automatic SEO internal links for your site, keyword lists, nofollow and much more."
You understand the importance of creating unique content. You also understand the importance of creating content of the highest quality. You probably even know that long form posts have the best chance of reaching page one in Google.
Even with all this in mind, there are things that you can do to improve the reader's experience. For example, you should include internal links to other pieces of content that support your post.
The SEO Internal Links plugin makes this simple, as it automatically does this on your behalf.
As a fully customizable plugin, you don't have to concern yourself with doing something that will have a negative impact on the visitor experience or your WordPress website's search engine rankings.
A few other features you need to know about this plugin include:
Set up your own keywords and URLs.

Streamlined administration panel for ease of use.

Create a custom keywords list.
You can write the best blog post on a particular subject, but it's not 100% complete until you add in the appropriate internal links. You can use this plugin to save yourself time and protect against overlooking the importance of this strategy.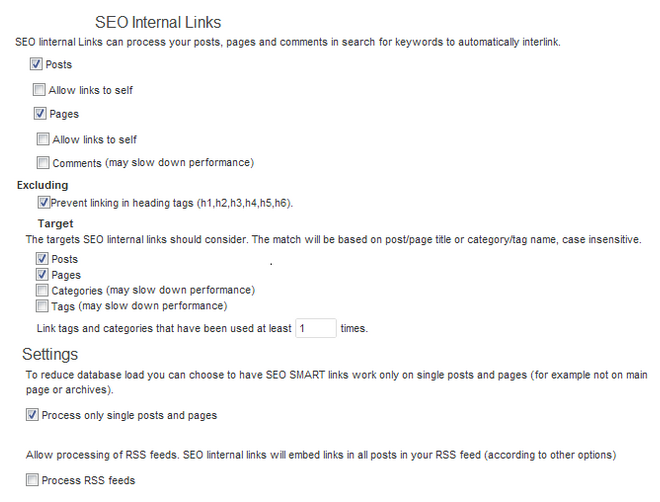 "Create posts and pages 100% visually, very easily, with professional results but no coding skills required!"
There is more to this plugin than an interesting name, as it's one of the best and easiest to use when it comes time to add unique designs and WordPress themes to your posts and pages.
Here is an inside look at the editor settings on the WordPress dashboard:
From there, you can add a variety of design elements, dragging them around the page until you get the perfect look. Here is an example:
There is no denying the fact that what you say and how you say it will have an impact on your traffic, brand building and search engine rankings, among other factors. But, this doesn't mean that your blog posts have to be boring.
Through the use of the Zedity plugin, you can alter the look and feel of any page without touching a single line of code.
With more flexibility than most design plugins, you owe it to yourself to spend some time with Zedity. Create a post, experiment with a few design elements to see how this tool can help you present your content in a more unique and interesting manner.
It only takes a few minutes to learn how this plugin works. Over time, as you gain more experience, you'll find that many of its features are exactly what you are looking for.
"Easily insert images and photos into your blog posts! ImageInject searches the huge Flickr database for creative commons photos related to any topic."
Who said "content" is restricted to the written word? When it comes to creating killer content for your blog, you need to think beyond the words that you write. You need to consider the images and photos that you use on your WordPress website.
There are many benefits of using images in your blog posts, including:
SEO benefits.

Ability to break up content for easier reading.

Add value to the content, such as by explaining a particular point.
Here is the big question: what is the best way to add images to your blog posts?
Since you probably don't have the time and resources to take your own photos, you need to rely on others. With the ImageInject plugin, you can pull a photo from the Flickr database that closely matches the content of your post.
Here is an example of a search:
You no longer have to worry about taking your own photos. You no longer have to spend time searching the internet, hoping to find an image you are allowed to use.
This plugin brings everything to your dashboard, making it simple to search for and insert an image within a matter of seconds.
In addition to Flickr and its database of more than 200 million creative commons images, the plugin also searches Pixabay, which provides another 150,000+ public domain photos.
You need to think about more than words when creating blog content. You also need to think about how you can use images to provide a better experience to your audience.
"Redefining your editorial workflow."
Talk about a tagline that gets to the point. With Edit Flow, you'll find yourself more efficiently managing your workflow.
You can customize the plugin to match your needs, taking advantage of tools such as:
Monthly calendar.

Editorial comments.

Notifications.

User groups.

Story budget.
With notifications, for example, it's easier to stay current with your team in regards to content production and publishing.
The monthly calendar is also a top feature, as it gives you an overview of your content, including what's been published and what you have in draft status.
You can't expect to create killer content when you are disorganized. Your workflow needs to be streamlined and efficient, as this will allow you to reach peak production. To reach this goal, take a strong look at the Edit Flow plugin.
Tip: this plugin is perfect for individual bloggers, as well as those who work with larger teams. It's not always simple to keep a large team of editors and authors on the same page, but Edit Flow definitely increases your likelihood of doing so.
Conclusion
Before I let you go, I want to share a few data points, published by HubSpot, that prove the importance of blogging:
B2B marketers who blog receive 67% more leads than those who avoid this strategy.

Blogging only costs you one thing: time.

Companies that blog receive 97% more links.
You don't have to use a WordPress website to power your blog, but it's the best solution in today's day and age. When you implement one or more of the WordPress plugins detailed above, you'll find it easier to create high quality content.
Would you add any other plugins to this list? Share your experiences and thoughts in the comment section below.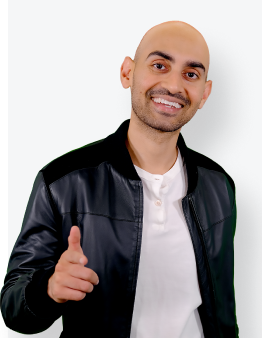 See How My Agency Can Drive More Traffic to Your Website
SEO - unlock more SEO traffic. See real results.
Content Marketing - our team creates epic content that will get shared, get links, and attract traffic.
Paid Media - effective paid strategies with clear ROI.
Are You Using Google Ads? Try Our FREE Ads Grader!
Stop wasting money and unlock the hidden potential of your advertising.
Discover the power of intentional advertising.
Reach your ideal target audience.
Maximize ad spend efficiency.