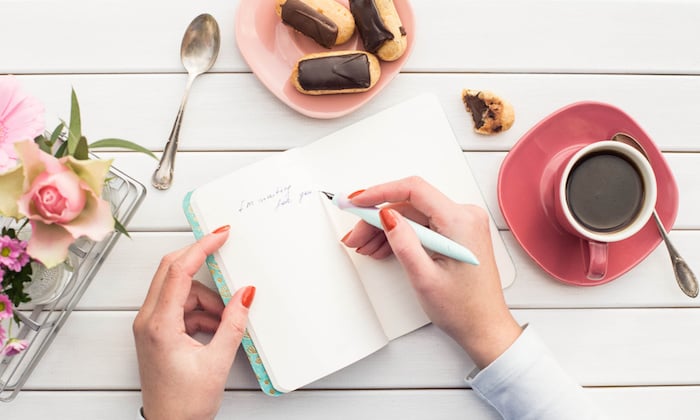 There's a tremendous amount of content out there offering advice on how to guest blog, what it can do for you, and the reasons behind it.
You've probably seen them before, including things like:
Build yourself up as an authority!
Build visibility for your brand!
Contribute to the community!
Provide more value!
That's all well and good, but it's not the truth about why people guest blog.
Not to say those things don't happen, but they're not the primary reason anyone is really guest blogging.
It all comes down to give-and-take, where both of the parties involved are getting something.
The blog host
The person providing the guest post (you)
As a person providing a guest post, you ultimately want a link.
You want that referral traffic funneling back to your site.
You want the organic search boost from building a natural link profile.
That's why a lot of marketers are doing it.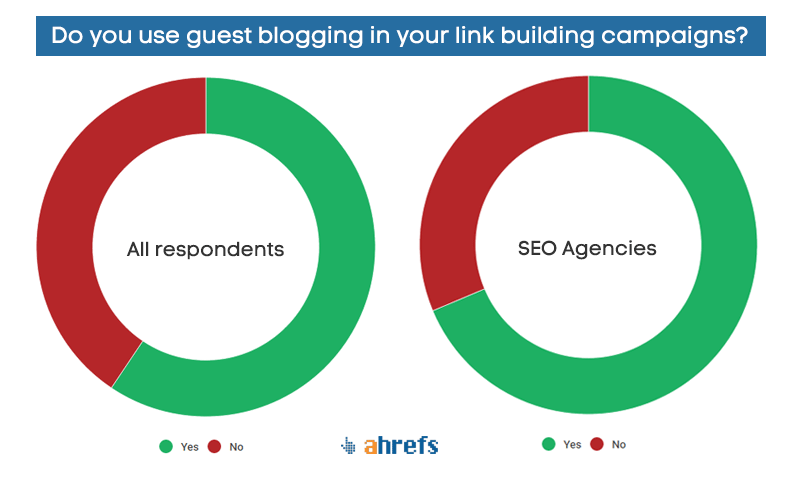 Here's an interesting and honest perspective on guest blogging:
I honestly believe that if there was some international law forbidding guest bloggers to link to their projects, we'd see at least a 90% drop (not that I've done any research) in the volume of guest posting done worldwide," says Karol K in a guest post for Jeff Bullas. "And I'm not trying to judge whether it's good or bad, that's just what would likely happen.
But just because you're out to get links and visibility (or get that free, authoritative content in our calendars as bloggers) doesn't mean you can discount the process or cut corners.
If you want the mutually beneficial payoff from guest blogging, you need to do some serious work.
Start with objectives and a strategy
Virtually everything you do in digital marketing can be planned and tracked.
And it should be.
That's the only way to cut a clear path to success and know full well what success looks like.
Problogger uses a template to help document their guest blog strategy.
Still, there's a startling number of marketers who are creating content and guest blogging "just because."
Meaning simply, they are guest blogging without any clear strategy.
Do you have a strategic reason for blogging?
Or are you just creating content because everyone else is, and you want your piece of that traffic?
According to Content Marketing Institute, only 46 percent of marketers said they worked with a documented strategy for managing content. 44 percent had no strategy for content marketing.
And 10 percent simply weren't sure.
So, more than half of marketers are creating content without a plan in the hopes of hitting their mark.
Those marketers understand that content is beneficial, and even that consistency is important. (60% of marketers create at least one piece of content each day.)
But heading into 2016, only 32% of marketers felt their content marketing approach was effective.
Ouch.
Without a strategy, you're just guessing at what makes you successful.
That leads bloggers to pay attention to things like social shares, comments, and traffic as the measure of success for a guest post.
Wrong.
Your strategy should be built around growing your own business, not necessarily the blog of another organization.
The only goal you should care about with guest blogging
All that extra traffic and visibility are nice, but they serve absolutely no purpose if you can't leverage that traffic.
And if you're just blogging to get more links, you're going up against the ever-changing landscape of organic search and algorithm updates.
You could wake up tomorrow after a Google update and find those links to be useless.
That leaves just one goal for guest blogging:
Building your subscriber base.
You need to capture your visitors.
You can't do anything with referral traffic that bounces and never returns, but with a smart blogging strategy you can capture those visitors and add them to your subscriber base.
Then you can start building stronger relationships.
And marketing to them on the regular.
And when you've got a new product, announcement, promotion, or some other juicy tidbit of information, you can slip it right into their inbox.
Lure them in to check out what you have going on.
Your strategy is more than just getting guest posts online anywhere.
You have to consider the entire process from finding and pitching the right blogs, to awesome content and building a funnel that will absolutely capture the subscribers you want.
It takes more than a good pitch
A well-crafted, high-value post and a perfect pitch can still fall on deaf ears and find its way into the rejection pile.
That's right.
Trashed.
It takes a lot more than a carefully crafted pitch to capture the attention of a high profile blogger or influencer.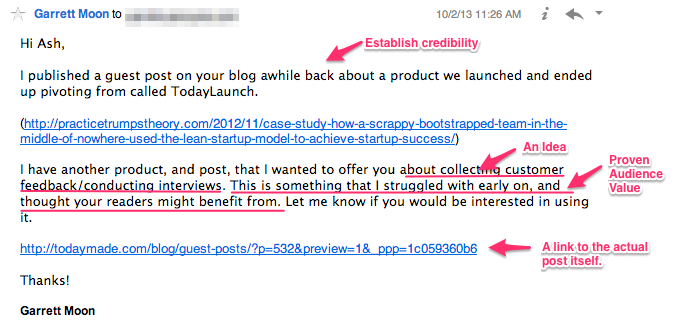 Even a well-written pitch like this from Garrett Moon could get snubbed.
You could get lucky and have them review your stuff in detail and agree.
But with the amount of requests the average influencer receives for guest posts, they're not likely to review each one closely.
This is why it helps to build a relationship and start engaging now.
This approach opens up a world of opportunities, and it's easy to do.
Share their content, and tag them when you do so.
Comment on their blogs and articles.
Engage in group discussions or social chats where they're active.
Cite them, and quote their ideas in your own posts.
In short, notice them. Then, get yourself noticed. It won't take long.
Forging strong connections now will make your pitches and 10x content ideas stick out in their inbox.

You'll also find it much easier to craft a personalized pitch email, like the above example from Glen Allsopp, when there is familiarity and a shared common connection.
While you're working on building your relationships, you'll get your hands dirty with the rest of the process.
Find the blogs with an engaging audience
Pump your brakes before you start rubbing elbows.
Just because they're perceived as an influencer doesn't mean that's where you want to focus your efforts.
A big social following with limited engagement won't help you.
Your goal isn't just to go after any content with some comments and social shares.
While this may translate into more referral traffic for you, you need to go beyond the average.
Target the sites, bloggers, and influencers with regular engagement in post comments and a higher volume of social shares.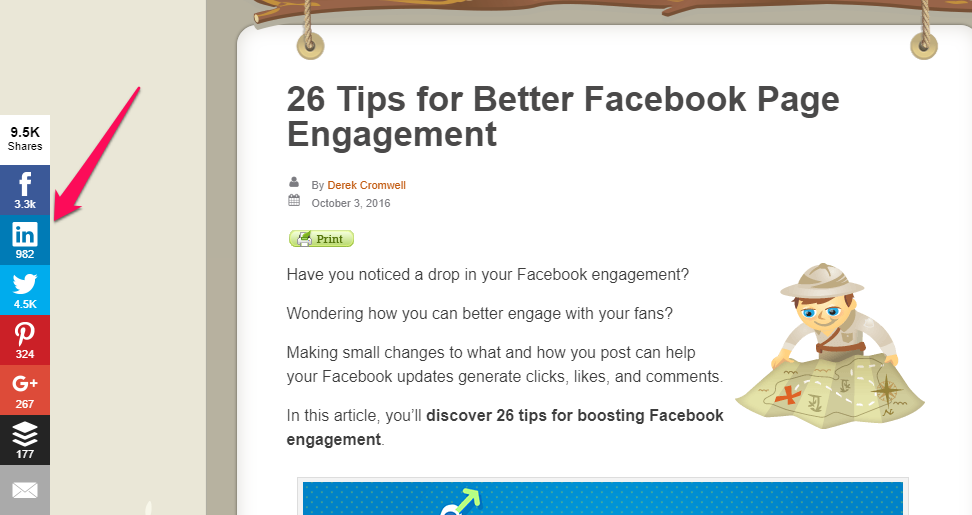 Bonus points if they have a large subscriber count and regularly update their followers with recent posts.
Research the audience
Let's say you've found few blogs to target that have great engagement, lots of traffic, and a well-received influencer behind them.
Is the audience right for you?
You might assume so if the blog is parallel to yours with the same industry.
But you can never assume when it comes to the audience.
You need to ask yourself, "Would the people reading this blog on the regular be interested in reading my blog?"
If the answer is no or questionable, then don't pitch that blog.
You might get a link, but you'll have a tough time gaining subscribers if there's a mismatch with the audience.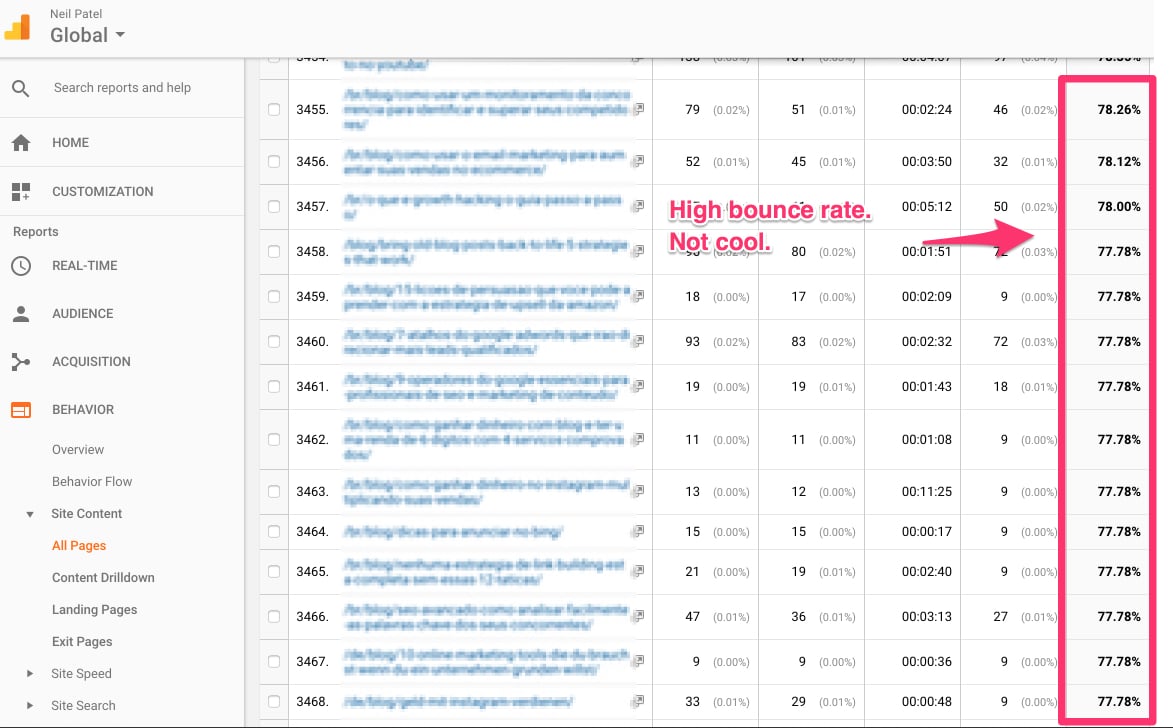 Things to consider and watch for:
Is it a B2C or B2B audience?
What's their experience level (beginner, intermediate, advanced)?
Is it primarily a DIY crowd?
Is the content serving a different sector of your industry?
Is the content so broad that your post would only attract a niche portion of the overall audience?
Research the published content
You'll be digging into the content when you're researching the audience, but don't just skim it.
Read the posts.
Check the most popular posts, make a note of popular topics, see what has been covered, and get familiar with the tone and voice of the blog.
Not only will this help you avoid writing and pitching an idea that's already been covered, but you can better personalize your pitch to offer topic angles more likely to catch the attention of the blogger.
Consider how many pitches they get on a daily basis.
It's pretty easy to spot someone who didn't do their research.
You benefit from the ability to say "I liked post A and post B for reasons XYZ, and it gave me an idea for a blog post on a parallel topic with this unique angle."
Skipping the research is a fast route to denial.
Be willing to bend your style
Every blogger and marketer has a certain style in which they write.
It's your natural tone of voice.
Be consistent with your tone and style across your properties, but be prepared to bend your style a little and go with the host blog.
Buffer shows a great example of how formatting style can also improve the content you're creating.
If they have a style guide, follow it.
If you discover during content research there are consistent elements that are recurring, try to mimic them.
If there are a lot of relevant videos embedded into posts, then do that.
Does there seem to be humor used more often in posts?
Is the writing more conversational or formal?
It's not always required to fit in perfectly, but if you change up your style then you won't stick out so oddly among the content the audience is used to.
Readers will be more open to engaging with you when your style feels more familiar.
Dive deep into a single topic (and make it killer)
There is a metric ton of content floating around the web.
And a lot of it is lower quality with minimal takeaways.
Standing out among all the other marketers trying to pitch posts means making your content absolutely stellar.
So choose a single topic and go WAY deep.
It will take you longer to craft the content – maybe even days instead of hours – but the payoff is worth it.
One triple-A, value-packed post will absolutely outperform a dozen lower quality posts month over month.
This is how Peep Laja built his brand with ConversionXL.
Peep creates content that deep dives into a specific content. Like me, he creates posts that are 2,000 to 4,000 words (or more).
His long form approach to content marketing is what earned him more than 100k monthly readers within the first year of his original blog.
Unless a blog specifies a word count cap, don't be afraid to pack your content full of value.
Just avoid the fluff, and make it the best guest post available for that topic and angle.
Guest blog for the right reasons
We already established that guest blogging is a thing.
You want traffic, you want links, you want a share of that audience.
The host wants great content that keeps their audience coming back.
It's a transaction, but you still have to be doing it (and writing the content) for the right reason.
I get that when you're launching something or want to boost your visibility and reputation. You try to connect with and publish on as many sites as possible.
That leads to half-hearted, cookie-cutter outreach, because you're trying to serve your own needs.
Want to get chosen by more high-profile sites for guest blogging?
This is the order your priorities should be in:
Deliver value to the host. Bbe able to clearly state to them the value you bring in your pitch.
Deliver value to the reader. Refer to the previous segment on deep diving into a topic.
Take care of your needs.
Always put yourself last.
It will be blatantly obvious to both your audience and the host if you're only trying to serve yourself.
Don't land visitor traffic in a dead zone
You'll get abysmal opt-in results if you're sending all that guest post traffic to a crappy landing page.
Or an irrelevant blog post.
All the work you put in researching, relationship building, writing, and pitching will be wasted if referral visitors walk away.
And if they do bounce then they likely won't be back.
You'll never get 100 percent of visitors to subscribe, but you can get half or more with a little strategic planning.
How do you maximize your opt-ins?
Make the landing page as relevant as possible. Create a custom "catcher's mitt" for handling the traffic.
For example, if you're guest posting on HubSpot then make a landing page that greets them with a "Hello HubSpot readers" type message.
Give them the right freebie with their opt-in, and consider recommended posts that fit the content they just finished reading.
Make a custom page for each place where you guest post to maximize the number of visitors who subscribe.
Create killer freebies
The relationship you have with your audience needs to be give and take.
Big emphasis on "give."
You aren't going to secure new subscribers (not the quantity you'd like) by just offering general updates.
They want something concrete in return.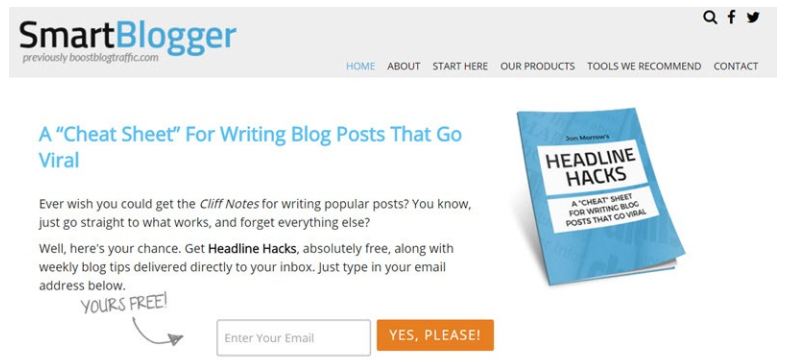 And it needs to be far more valuable than the high quality content that brought them to your site.
A great opt-in freebie gives those visitors a reason to act now and subscribe. They won't do that if what you have to offer sucks…or is nonexistent.
There's another dilemma you face though. Even if you have a great freebie, it might still not perform well.
Why?
Because you're bringing traffic in from different guest posts and different blogs. That means different audiences.
Those people won't be convinced to opt in unless the freebie is a solid fit.
That's where having that custom landing page and different freebie offers can help.
Just remember that your freebie doesn't have to match perfectly to the topic of your guest post. It just needs to be highly relevant to that specific audience.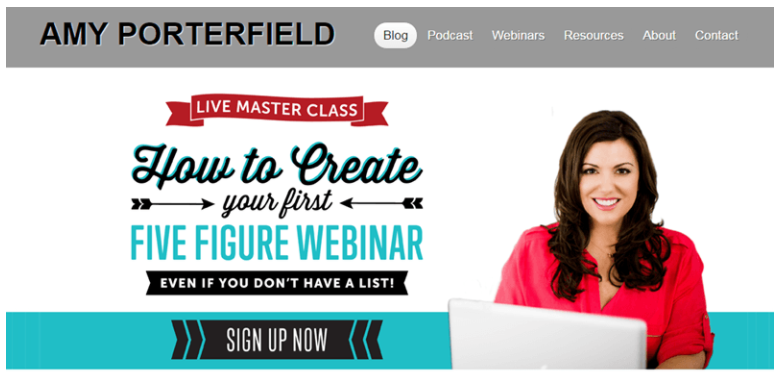 Your goal here should be to create an opt-in freebie that feels like the most natural next step action for them after reading your guest post.
Close your posts with style
When guest blogging is a big part of your inbound strategy, there's nothing worse than busting your hump on a killer post to have enthusiastic readers digest it all…and then ignore your byline!
That can happen when readers are so focused on their problem and your takeaways, that they don't stop to focus on who wrote it.
Gregory Ciotti calls it "Byline Blindness."
"On sites that regularly accept guest authors, this often leads to byline blindness, where readers will simply skip over your author byline." 
He writes in a post on his site about his experiences guest blogging.
"I've posted on some sites where people in the comments thanked the site owner for the great article instead of me (oh well)."
The only sure-fire way to fix that problem is to close your posts out with style. Lead your readers smack into a call to action that is certain to capture their attention.
A solid CTA isn't enough here.
The keyword is "lead."
Close your guest post out with a very specific strategy.
Conclude your article with a summary recap of your takeaways and information.
Add a point of engagement, like asking a question. Make them stop and think.
Slip in your call to action.
Essential elements to get your guest blogging pitch accepted
Even with covering all your bases from the tips above, there's still the chance a host will reject your guest post pitch. It could happen for any number of reasons.
In many cases, you simply won't hear back.
You can do your best to avoid that by creating proposals that incorporate some key elements.
1. Don't drone on.
Keep your email pitch concise, straightforward. Long-winded, rambling pitches are bad.
If you can't reach them via email and there's no guest post submission form, you can go for a social media outreach.
Just keep that equally short.
2. Make your email stand out.
Write a strong subject line that is professional, clear, and honest about your ask.
This is not the time to try and wow anyone with an attempt at click bait or to try and use curiosity in some form to get their attention.
They'll slide you right into the trash.
3. Know your recipient.
Personalize your pitch to open with the name of your recipient. A simple "Hi, Neil," works perfectly.
Don't ever address your email to "blog manager" or "editor".
And definitely avoid the impersonal "to whom it may concern."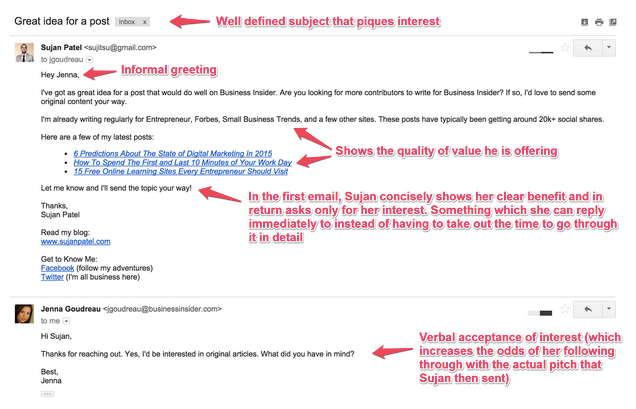 See how Sujan Patel uses a personal, informal greeting, and also hits on other key elements that emphasize his value and showcases his skillset.
4. Introduce yourself.  
State your name, especially if you're a stranger.
Use no more than two lines to identify who you are.
5. Validate who you are.
Tell them why you matter and why they should pay attention. This is the most important part.
Validate yourself.
It's as simple as telling them other places you have guest posted.
Or achievements you've made within the industry.
6. Why you're important
You're asking to get access to their audience, so you need to prove your place in the industry.
It only takes a line or two to explain how you're an active participate within the same niche.
7. You don't need to warm them up.
Flattery isn't necessary. It's useless fluff.
Site owners and bloggers get constant pitches that tell them how amazing and helpful their content is.
Everyone is a "lifelong reader" that's been "following them forever."
Focus on your pitch and the value, not on stroking their ego.
8. Proof your email. A lot.
Correct as you go. Then when you're done writing your pitch email, proofread it.
Then proofread it again.
Then do it one more time just to make sure there are zero errors.
Use a tool like the Hemingway Editor to help you craft a clean pitch.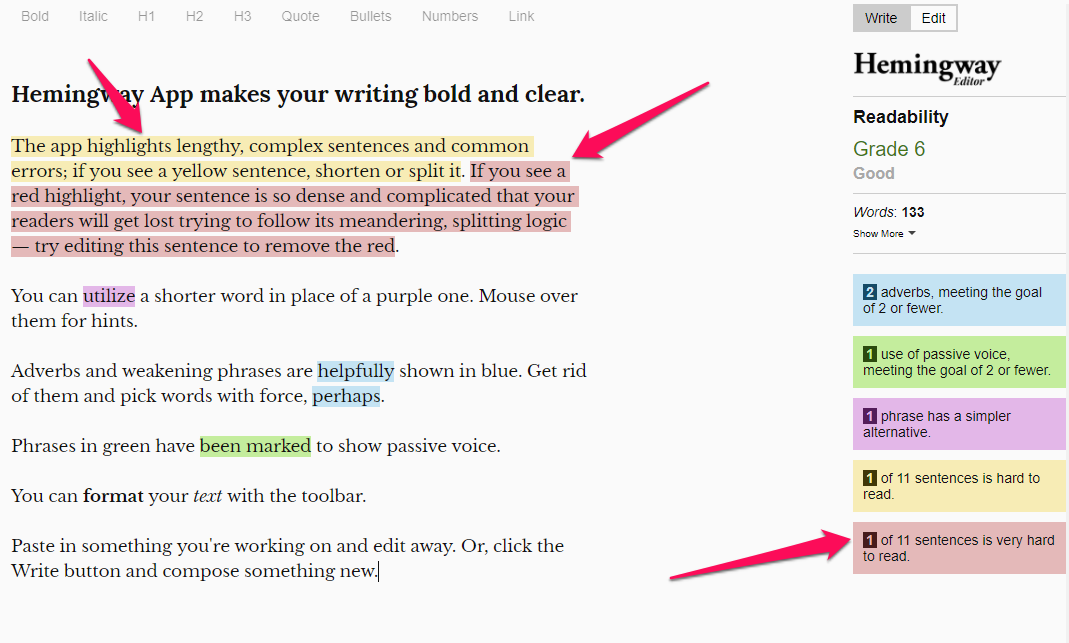 When a blog host or editor stumbles over an error or typo in your pitch, it sends a negative message: "This person has no idea how to spell."
Conclusion
Guest blogging is highly lucrative if you come at it strategically and for the right reasons.
Know your goals, and recognize that seeing results takes effort, relationship building, and the desire to provide readers with nothing but the best content you can produce.
Still, even with all that, be prepared to face rejection. It happens.
Pick back up, identify areas where you can improve, and keep working at it. That's how you'll get the approvals you want, and build up that coveted subscriber list.
What have been your experiences with guest blogging? Do you include it as part of your content marketing strategy?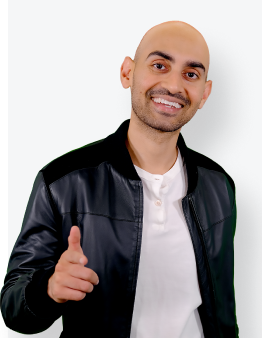 See How My Agency Can Drive More Traffic to Your Website
SEO - unlock more SEO traffic. See real results.
Content Marketing - our team creates epic content that will get shared, get links, and attract traffic.
Paid Media - effective paid strategies with clear ROI.
Are You Using Google Ads? Try Our FREE Ads Grader!
Stop wasting money and unlock the hidden potential of your advertising.
Discover the power of intentional advertising.
Reach your ideal target audience.
Maximize ad spend efficiency.