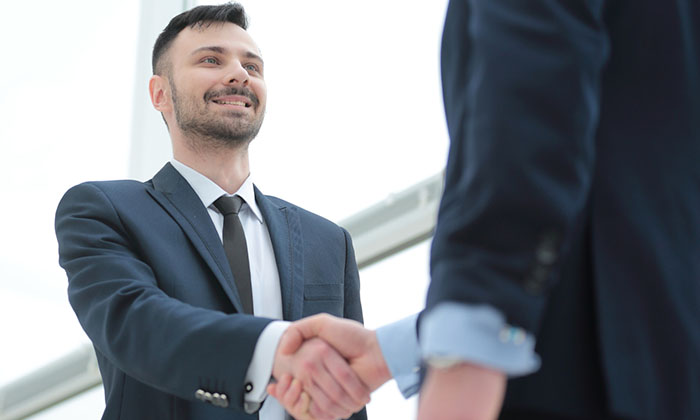 You already know the solution for great marketing results. Influencers.
The more relationships you have with leaders in your field, the more likely you are to get huge results from your marketing.
According to Sprout Social, influencers are critical for product launches, content promotion and distribution, and promoting events and webinars.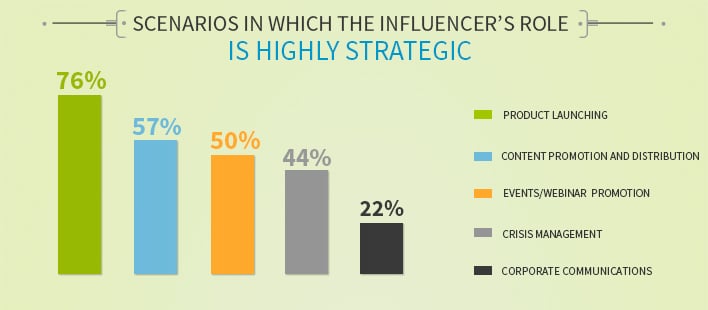 Since these are things most modern companies are doing all the time, it only makes sense that the more influencers you have on your side, the better off you are.
Even better, the money you invest in building relationships with influencers will pay huge dividends. It can have an ROI of nearly 1,900%.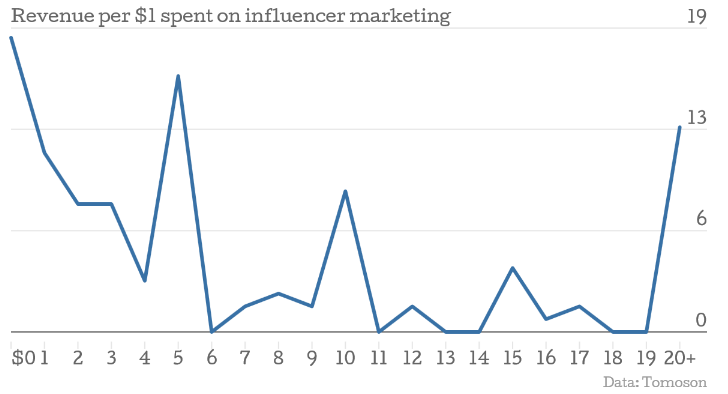 But as anyone who's tried an influencer marketing campaign knows, it's not particularly easy to get noticed by these individuals.
In fact, it can be downright difficult to get them to pay attention to you and actually deliver the results you're after.
So how can you create connections with these people in an authentic manner?
There are plenty of ways, but I think the following 24 are the best. I've seen them work, either because I used them myself, or because I saw someone else use them.
Follow these strategies and you're guaranteed to make huge strides in your influencer relationships.
1. Plan a strategy for who you want to connect with
To get things started, you need to have a clear idea of which influencers you want to target. It will only be a waste of your time if you try the "shotgun approach" of targeting everyone.
Instead, carefully consider who you want to reach out to first. According to webfluential, you should begin by conceptualizing your program.
What goals do you hope to achieve? What do you want to get out of the campaign?
Once you have a clear idea of your goals, you can work to discover which influencers will be best to help you reach those targets.
To move to the next step in the process, you'll need to decide exactly which influencers to reach out to. Thankfully, there are plenty of great tools that will allow you to do just that.
2. Find influencers on Buzzsumo
The best way I know to find influencers is by using Buzzsumo. If you're not familiar with the tool, it's typically used to find content that has gotten lots of shares.
But there's another feature that I like to use as well. It's a way to find influencers. Start by clicking on the "Search Influencers" tab.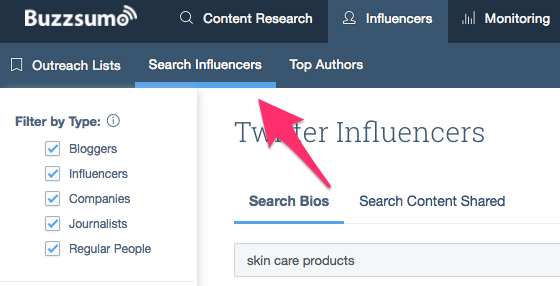 Type in your search query. It's a good idea to make this broad so you can get a lot of potential influencers. Look for a topic that encompasses your specific product or niche.
Once you've done that, click "Search."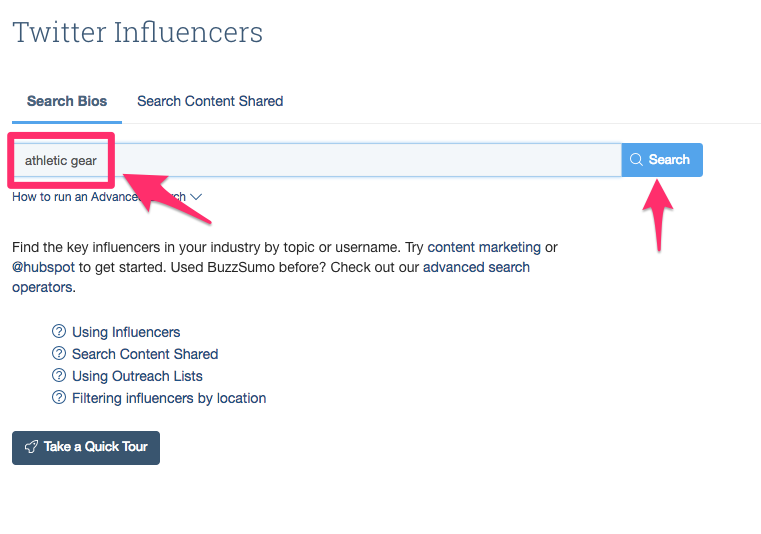 You'll be given a massive list of influencers you can reach out to. These are all great prospects.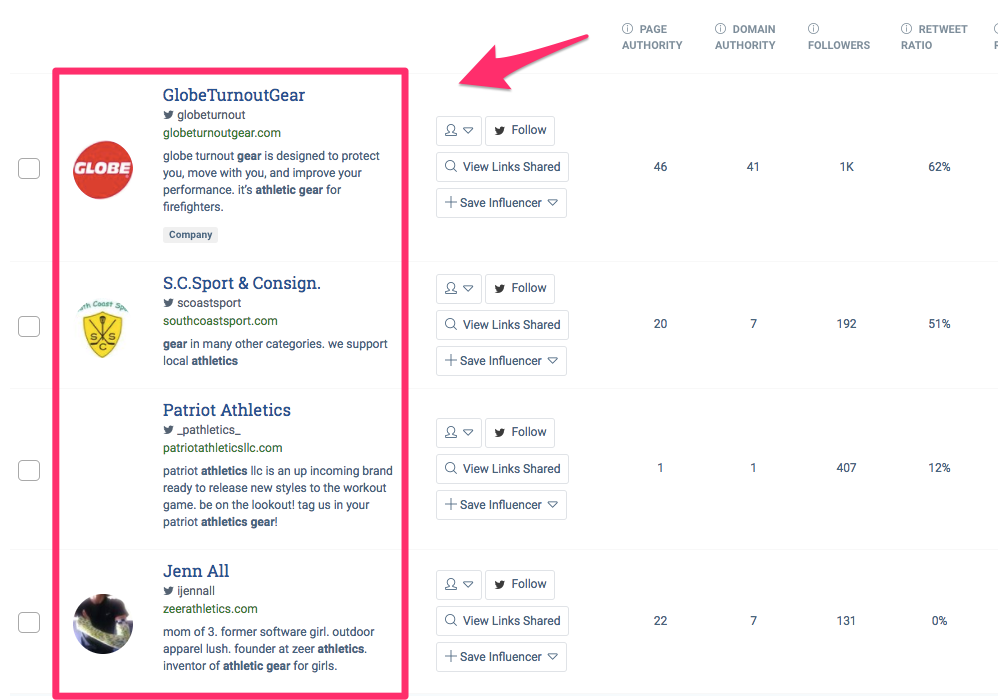 Carefully analyze the list to decide which ones will be the best for you to use in your marketing campaigns.
3. Test out their engagement
Before you start working with an influencer, you need to make sure that he or she really has the engagement they claim.
To do this, I recommend interacting with them online a little bit. See if you get a response, and make sure that response matches up with your brand message.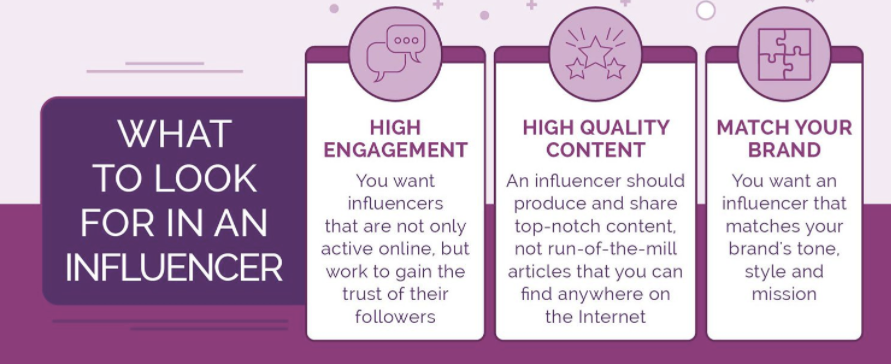 If you get a tepid reply (or worse, a response that turns you off), it's time to look elsewhere for influencers to represent your company.
Sometimes, the homework you do beforehand is the best way to ensure you use an influencer who makes a great impression on your target audience.
4. Create content about them specifically
If you want to really appeal to an influencer, you can create content about them directly. This is informally known as "ego bait," but it doesn't have to come across as slimy.
Instead, use the content of the influencer as a springboard for your own thoughts and ideas that will help your readers.
Benyamin Elias wrote an entire post about a recent topic by James Clear, as applied to fitness, to better appeal to his demographic of health enthusiasts.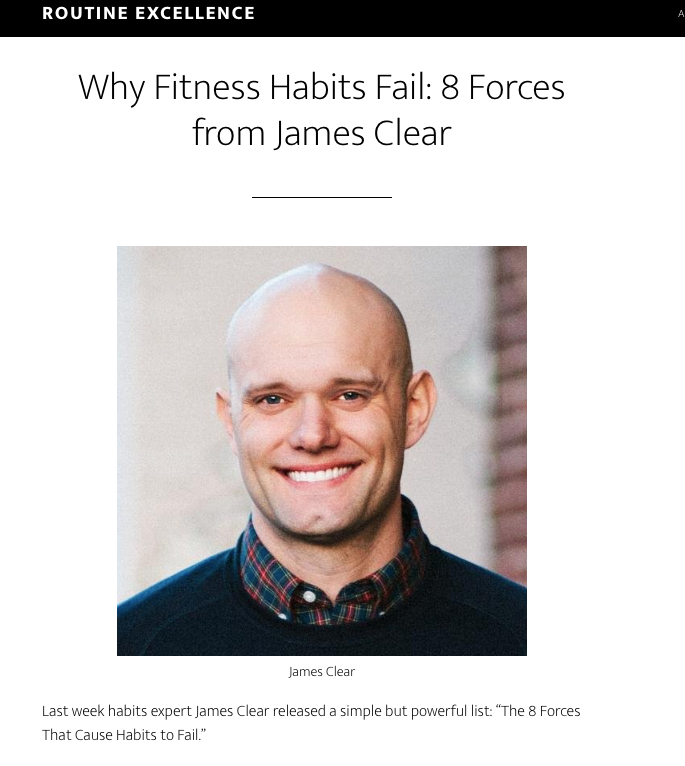 This is a solid way to show influencers that you appreciate their work, plus you can share it with your audience.
5. Include them in a roundup post
If you want a strategy to reach out to dozens of influencers in a way that's so easy it feels like cheating, you need to create a roundup post.
To make this work, reach out to each one personally and create a specific question. Include their answers to these questions on your site.
Tor Refsland included me in his roundup post on productivity tips, which became a great way for him to build relationships with me and other major influencers.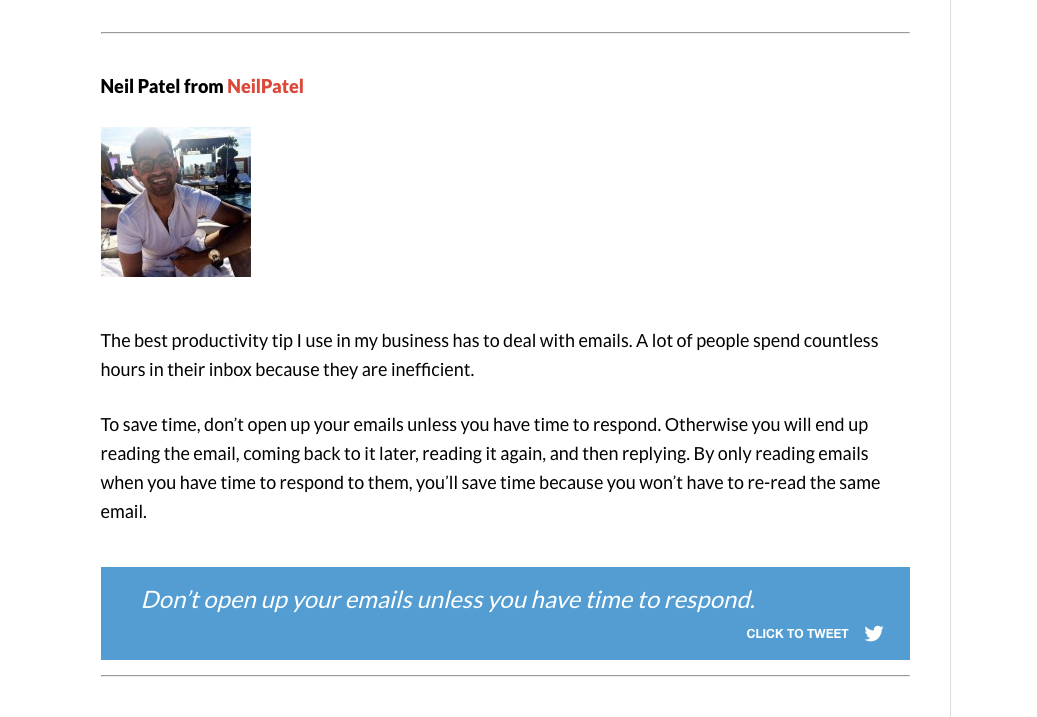 To get started with this technique, find out what your audience wants to learn more about. Then reach out to influencers personally and ask for their advice.
While this may sound like a big ask, you'd be amazed how many leaders will respond and give you their personal feedback.
6. Guest post on their site
To show an influencer the value you bring to the table, you should definitely consider reaching out to provide a guest post for them.
This is a simple way to show the quality of your work, while still doing a small favor for them. If your post is excellent, it's an easy way for them to save time on their work.
There are dozens of success stories of up-and-comers who made huge strides by guest posting.
One example is Tommy Walker, who has guest posted on a huge variety of blogs, including Crazy Egg.
If you're going to use this strategy, beware. There are lots of spammy guest posters always vying for the attention of influencers.
To stand apart from the crowd, you need to create quality content that blows them away.
7. Use their real email
Let's face it, you're never going to communicate effectively with an influencer if you only use the generic contact form on their website.
Instead, you need direct access to the email address that leads straight to their personal inbox.
Now, I don't recommend using a personal email, like a Gmail address. That can come across as creepy.
Instead, find a work address that belongs to them. If you use an email like [email protected], it's likely going to end up in the hands of an assistant, which won't help you reach the influencer.
Hunter is a great tool for finding email addresses of nearly anyone at any company. To make it work, you'll need to install the (free) Chrome app.
You can then navigate to a website and click on the orange Hunter fox icon in the menu bar.
This will bring up an email pattern (like first or last name order), as well as known addresses at that domain.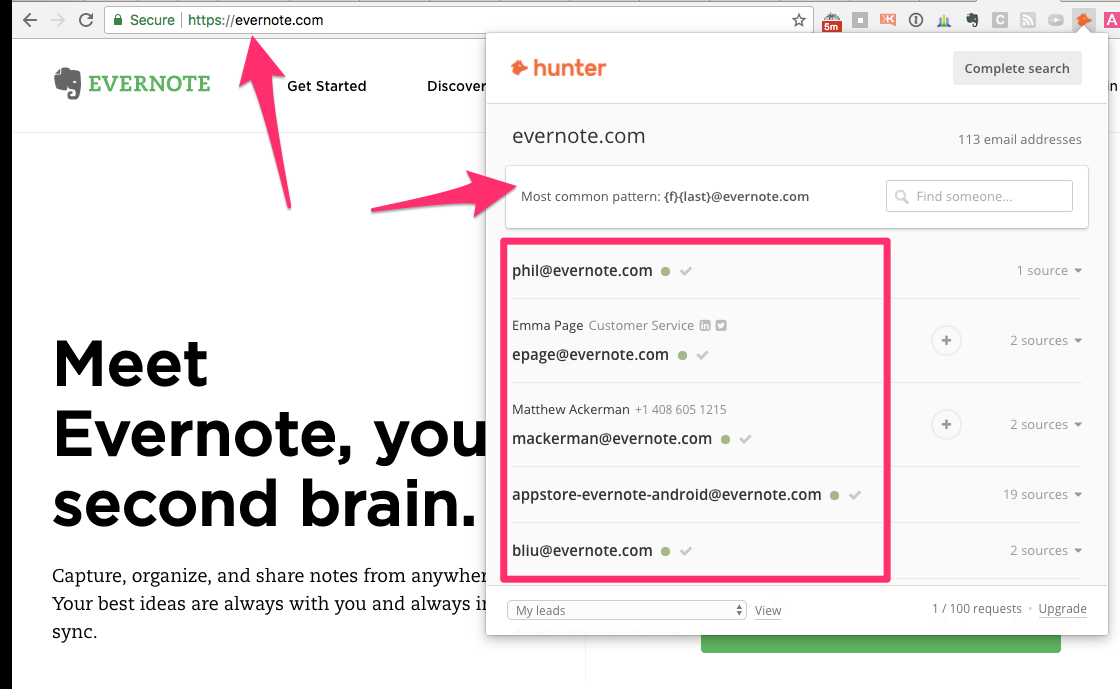 It's a guaranteed way to connect with the influencers you want to communicate with.
8. Directly ask to work with them
If you're not afraid of doing something scary, you should directly ask the influencers if you can work with them.
Just send an email and state that you'd like to work with them. It's more direct than using a meandering strategy, and it can often be the start of a great relationship.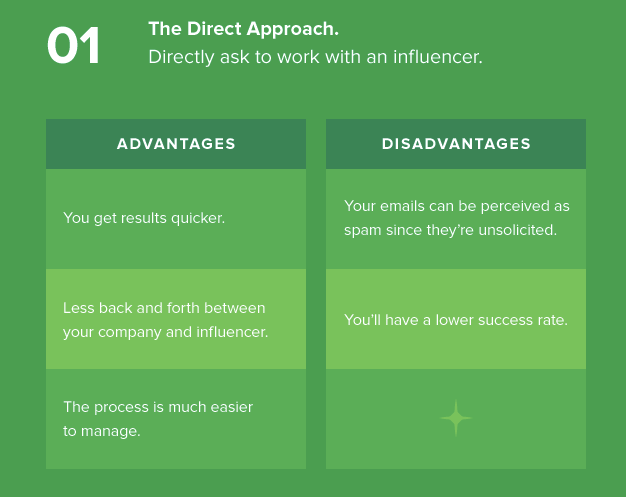 On the downside, however, you might be seen as a spammer, and you'll probably be ignored quite a bit.
But if you're willing to take the risk, this might be the best strategy for you to try.
9. Promote their new content
Most of the influencers you'd like to reach out to are authors in some capacity. Most of them are either in the process of producing new content, or they already have something created.
If this is the case, you need to promote that content for them. No matter the size of the influencer's audience, he or she knows the value of free promotion.
Even if you have a small audience, sending a tweet or email about their book release or product launch is a great way to draw their attention to your work.
A great example is Jordan Ring promoting Michal Stawicki's new book. It's a subtle move that helps get the attention of a large influencer.
This can be an easy way to share valuable content with your audience and develop a relationship at the same time.
10. Contact influencers who shared similar content
If you're always reaching out to new influencers, you're going to quickly wear them down.
Instead, you should reach out to people who are most likely to share the new content you produce. To do this, I like to use Buzzsumo, which I mentioned earlier.
Type in your topic and hit "Go!"
Look at the articles that have been shared the most. Click on the "View Sharers" button to see all the people who shared this content.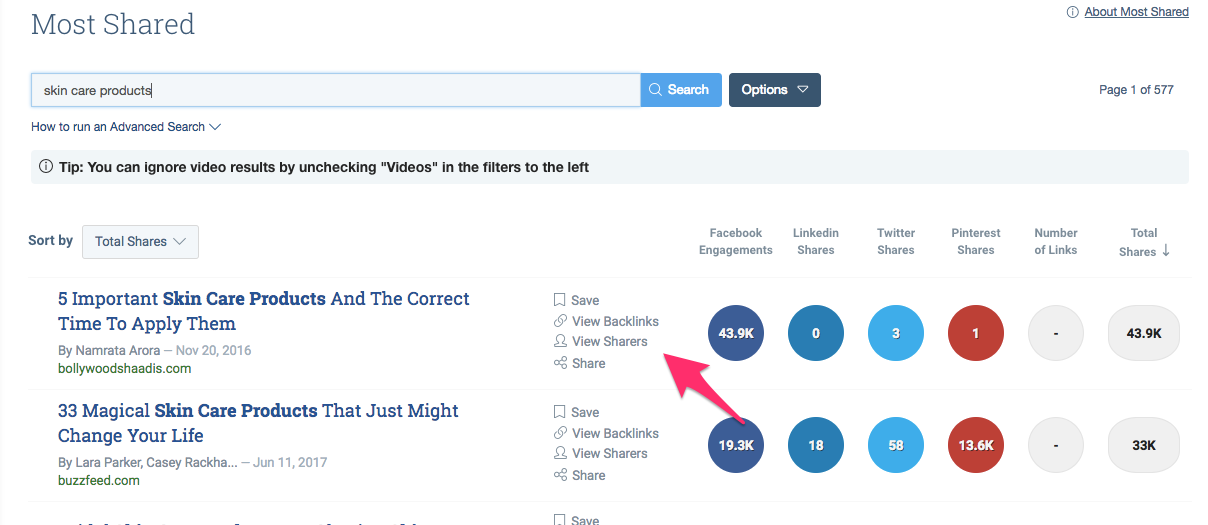 To do this, you'll need to sign up for a free trial of Buzzsumo or purchase it. It's not a cheap tool, but it's well worth it for the value it provides.
11. View profiles on LinkedIn
You probably already know that LinkedIn shows who's viewed your profile. You'll frequently get a notification telling you that someone else looked at your information.

This is a great way to reach out to smaller-level influencers in a manner that's authentic and doesn't come across as creepy.
Simply browse their profile to learn about what they share and have to say. They'll get a notification that you viewed their profile, which is another way to get on their radar.
12. Send engaging and personalized emails
Once you have the email address of an influencer, you need to make the best use of that information with a personalized message.
While a lot of other people simply promote their product, service, or content, you should always ask for permission.
When they launched an article series on their path to $100,000 in monthly revenue, Groove sent out this email.
It resulted in a massive 83% response rate.
This is how to promote your blog post through influencer marketing: you ask honest questions and look to provide value to the influencers.
13. Contact them regularly
If you want to make sure that your communication builds a solid relationship with the influencers you want to contact, you need to be consistent.
Just one short email or a quick mention on Twitter isn't enough to get the attention of anyone, much less an important leader in your industry.
To make a lasting impression, you should build relationships before you need them.
When they were promoting their article series, Groove used this checklist to boost their influencer connections.
For each influencer, they made sure to mention them in two tweets, two blog comments, two blog shares, and one personal email.

By following an engagement checklist like this, you can guarantee success with the influencers you'd like to reach out to.
14. Engage with them in blog comments
If you're not sure where to start the discussion with an influencer, a great place is on his or her blog.
You might not realize that an influencer has insecurities about his or her work. I'm pretty well known, but I'm still worried about the content I produce.
Will people like it? Will it work as well as I think it will? Will it be successful?
By providing encouragement (but not fanboy admiration), you can demonstrate that you care about what they create.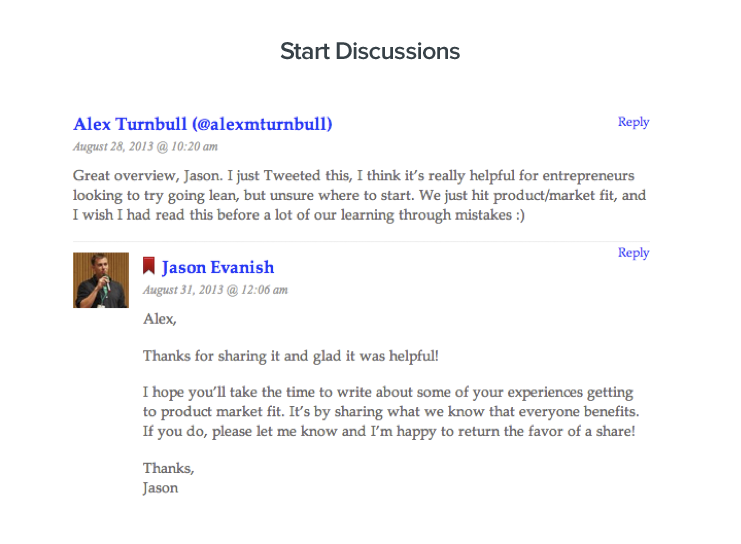 This shows that you're engaged with what they produce and that you actually care about the influencer as a person, not just because of what they can do for you.
15. Be a case study for them
If you've used a product from an influencer and received success from it, you can promote that product as a case study on their website.
They'll need to interview you and learn more about what your story is, and it can be a great way to grow closer and build a lasting connection with someone you admire.
Brian Harris at VideoFruit has used this method effectively. He calls it the "Poster Boy" formula.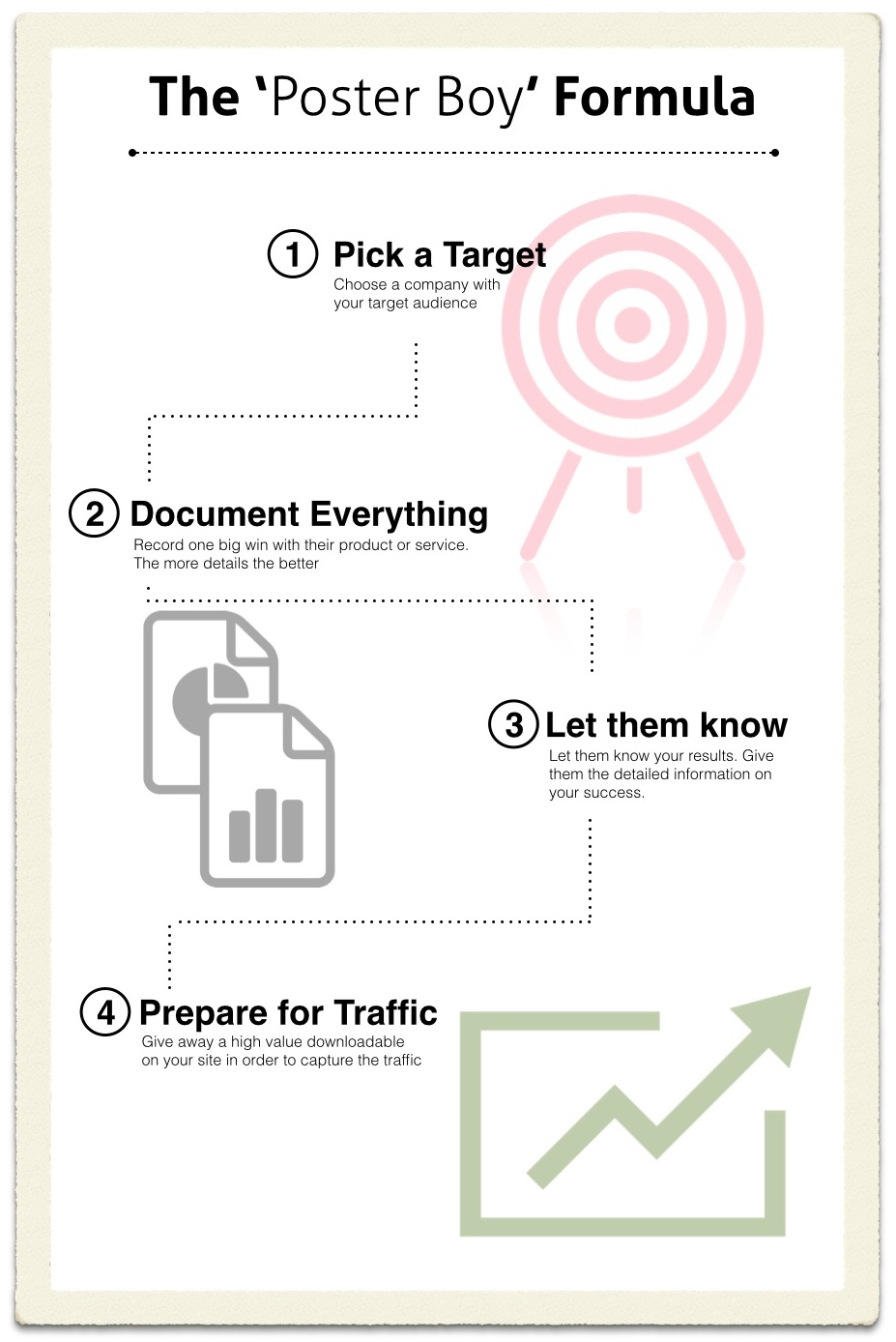 To make it work, you need to have had real success with their product or service. Once you've done this, they'll be happy to promote your success, since it reflects well on them.
16. Engage with smaller influencers on social platforms
While it's nice to appeal to influencers with giant audiences, a lot of the benefit actually comes from appealing to smaller influencers with higher engagement rates.
Information suggests that users on platforms like Instagram and Twitter actually get more engagement when they have fewer followers.
The effect is significant. Users with under 1,000 followers had nearly five times the engagement as those with more than 100,000 followers.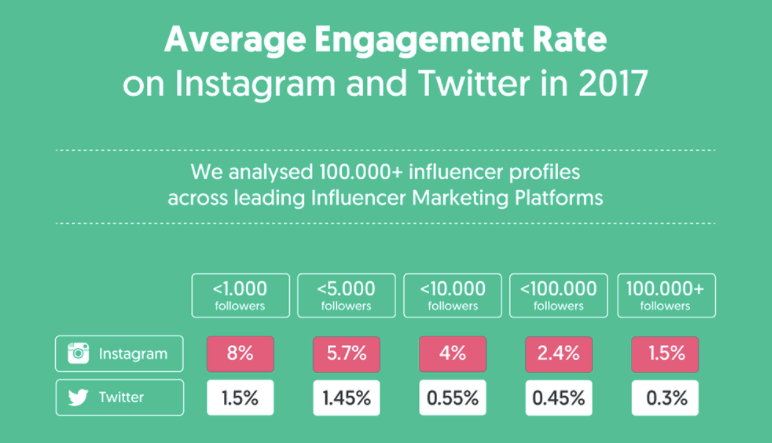 This effect is confirmed by Social Media Today, too. It's well known in the social media marketing world, and you should take it into consideration before launching a campaign.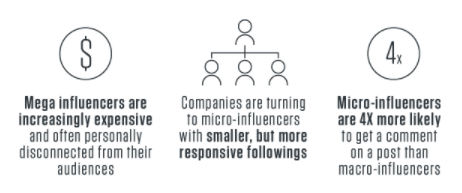 By reaching out to smaller influencers, you're more likely to get personalized help and build a deeper connection. This is a great way to get promoted by social media influencers.
17. Repost their Instagram photos
If you're going to be connecting with leaders on social media, you shouldn't ignore Instagram.
Instead, you need to promote heavily through influencers that are already on the platform. Of course, the degree to which you're successful is going to depend on your industry.
The top accounts with the most followers on Instagram are those in modeling and fitness. If you're in one of these industries, it's a great place to start.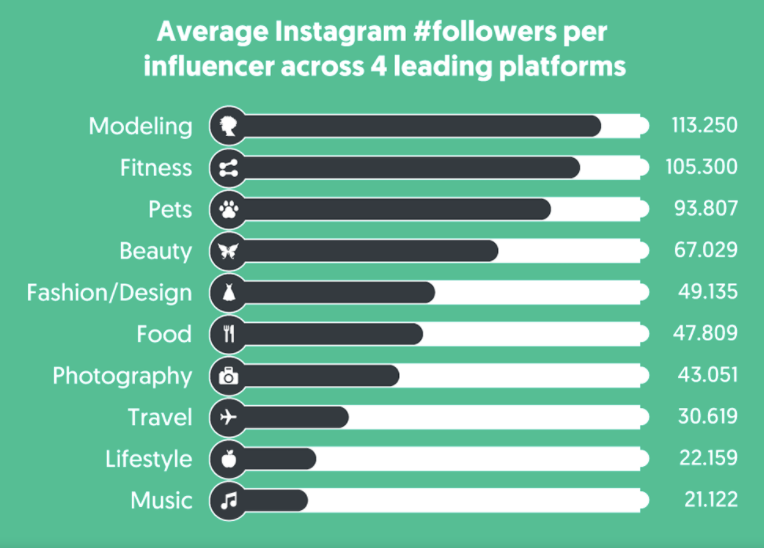 Many of these influencers will only promote your brand if you sponsor a post through them, but you can do other promotional strategies as well.I recommend reposting their photos to start drawing attention to yourself as soon as possible.
I recommend reposting their photos to start drawing attention to yourself as soon as possible.
Even if you end up with a paid partnership down the road, it's a good idea to build a relationship now rather than leaving it to chance.
18. Expand your reach and find new categories of influencers
If you're only focused on the same group of influencers, you're going to limit the total reach of your audience.
Instead, you need to reach out to different types of influencers with different appeal.
According to Izea, there are a variety of influencers, including experts, bloggers, activists, celebrities, and enthusiasts.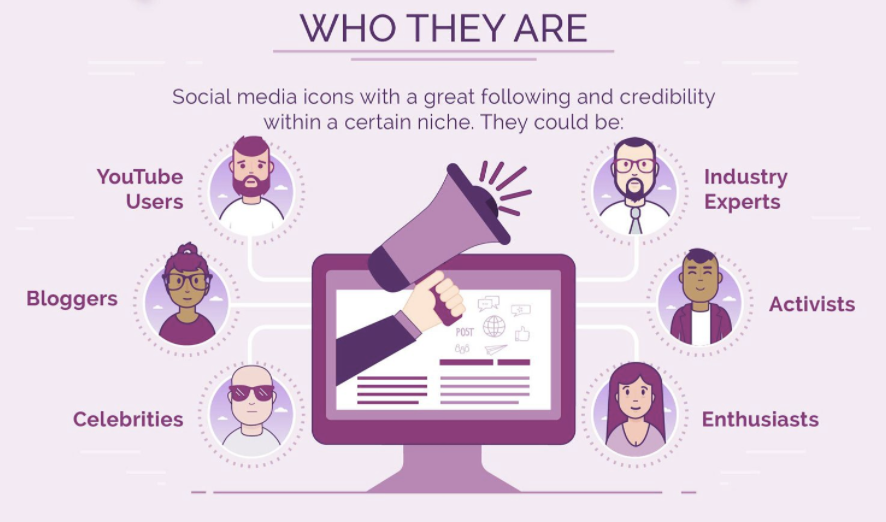 Look to expand the number of people you can contact by using different types of influencers to drive people to your product or website.
19. Leverage a great product
If you have something that an influencer would be interested in, it's worth experimenting to see if he or she would be willing to promote it on the basis of the product itself.
While it might sound a little bit too hopeful, there are influencers who are encouraged merely by the "cool factor" of what you have to offer.
Influencers are growing more and more likely to make authentic endorsements because of a product instead of compensation.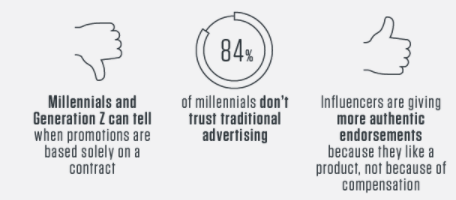 Look to make your product stand out, and you'll build more connections with leaders and influencers just through what you've created.
20. Tag influencers who inspired you
One of the best ways to get the attention of an influencer is by letting them know they inspired something you created.
Nils and Jonas Salzgeber mention Stoicism philosopher Don J. Robertson in their tweet about their latest post on stoicism.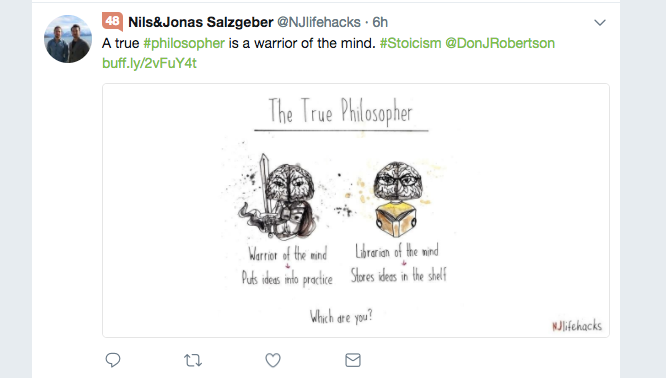 If you're creating content that influencers will link to, you need to let them know.
By sharing that they inspired you, you can show them respect and build an audience. It's a great way to promote your own content while building a relationship at the same time.
21. Pay to make a connection
I'll come right out and say it: some influencers can only be bought.
While this may sound like they're compromising their authority or only being greedy, the truth is that these major power players have constant demands on their time.
By charging to work with them, they effectively eliminate the people who aren't going to treat them seriously, and they ensure that they only do business with quality brands.
There are lots of ways to pay to work with an influencer, including a sponsored post, sponsored social message, influencer marketplace, or even an agency.
If you're looking to make the best use of influencer marketing, paying for the privilege of working with these people is often times worth it.
22. Give them VIP treatment
Sometimes, the people you want to work with aren't looking for huge paychecks, free products, or other expensive items.
Sometimes, all they want is a little recognition. These are often micro-influencers, but they can play a big role in how well your company does.
According to Mavrck, the best way to reach out to these micro-influencers is through providing them with a VIP experience.
By making influencers feel special, you can build a relationship with them and develop a mutual understanding.
23. Be in it for the long haul
If you're going to work to build relationships with influencers and leaders, you need to be patient.
It will likely take months for you to be noticed by major players in the field.
To get this kind of recognition, you need to be willing to stick it out longer than others who aren't willing to wait.
It's a more natural approach to wait it out, and you'll have a higher success rate as well.
24. Try a new tool
Every day, it seems there are new tools being created to help you build connections with influencers.
Why not use them?
According to Influencer Marketing Hub, over 230 new platforms and influencer marketing agencies have sprung up in the past two years.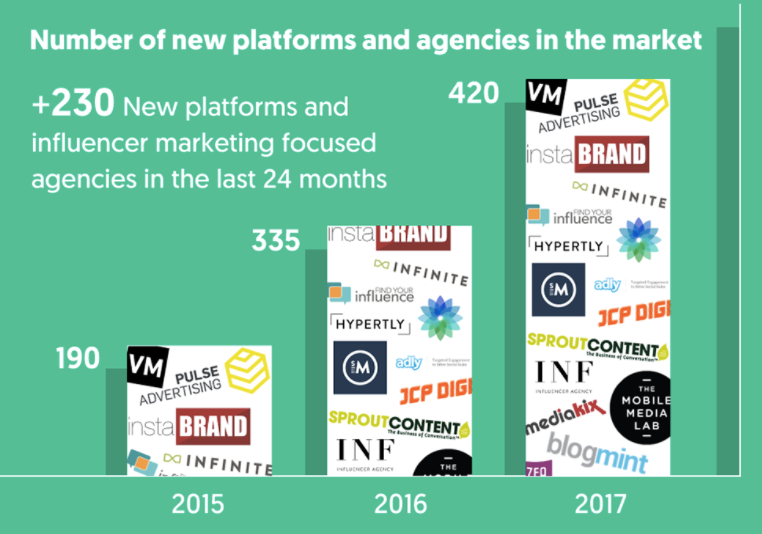 It's time to take advantage of the massive benefits that advanced software and specialized agencies can bring to your business as you work to expand your connections.
Building relationships with influencers shouldn't be a job you do all alone. Instead, you should work with the best technology and resources available to make it a success.
Conclusion
At its heart, the success of your marketing depends in large part on the influencers who are willing to share it and make your efforts successful.
But how do you create meaningful relationships with these influencers?
The secret is simple yet difficult. You're going to want to start by developing a strategy that will impact your outreach.
From there, you need to identify the right type of influencers.
Not all leaders are created equal, and you want to make sure you're appealing to people who can help you the most.
Look not only to large leaders with massive followings but also for smaller players in the market who are able to create authentic relationships with their fans and followers.
Make a point of regular contact with them, and be sure to reach out on a variety of channels. Keep them engaged, and be honest in your communication.
Finally, don't be afraid if it takes a while to work. Look to build relationships for the long term, and accept that your work may take months or even years to come to fruition.
What strategies will you use to connect with influencers in your field?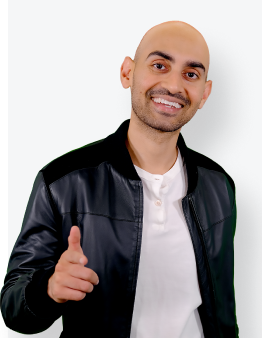 See How My Agency Can Drive More Traffic to Your Website
SEO - unlock more SEO traffic. See real results.
Content Marketing - our team creates epic content that will get shared, get links, and attract traffic.
Paid Media - effective paid strategies with clear ROI.