If you think you're in a 'dull' industry, you might have already dismissed the idea that content marketing can work for you.
However, you might want to rethink that choice.
Content marketing can work for nearly every, if not every industry and niche.
More often than not, the only thing that's stopping you are a few misguided beliefs about how content marketing works.
In this article, we're going to take a look at how you can implement a content marketing plan for a 'dull' industry.
We'll analyze a few of the key beliefs you should have when it comes to content marketing for 'dull' industries, but also the specific tactics that you can put into action in order to generate results.
By the end of this post, you should be able to create incredible content for any industry you want to tackle now or in the future.
Let's get started! 
Realize that your industry actually isn't dull
Before we discuss anything else, it's worth pointing out the fact that your industry probably isn't as dull as you think it is.
The truth of the matter is this — you're most likely creating content for a business, and businesses are designed to solve problems.
The people coming to your business, need solutions to these problems, and any content that can provide a solution to their challenges is highly interesting — for them.
I'm sure you've probably watched a video on YouTube, based on a really obscure topic that contains content you would never normally watch — ever.
However, because the video helped you solve a problem that has all of a sudden popped up in your life, it became interesting and you enjoyed watching it.
For instance, imagine the spark plugs on your car all of sudden stop performing as they need to.
Suddenly a video on 'how to clean spark plugs' becomes something that's really interesting and of value to you.
In fact, consider this — the marketing content you've read this week would be boring to those who don't care for this topic…would your Mom enjoy this kind of content?
Point being, interesting content is all subjective and it really depends on where you are in life and in your business.
One of the main aims of content marketing is to catch people at the moment in their life where they need some guidance.
What you need to do is to make sure that your content is ready to meet them when they're at this point.
Okay, so you might understand that, but now your next question might be:
'How do I get people interested in content, when they're not looking to solve a problem my business can help with?'
This is often the challenge that a lot of content marketers find themselves struggling with, especially when they're looking to improve brand awareness.
There are two things to keep in mind here.
The first, is that you can, in fact, create content that is engaging and will get industry outsiders interested in what you have to say.
Provided that the information you showcase is interesting, and is presented in an interesting way, the above can be achieved.
However, what's also important to realize is that just because people don't need your solution just yet doesn't mean that they never will.
And because of this, you need to pay attention to the following…
Understand what stage your customer is currently in
It is important that you understand the stages your customer goes through before they need your offering.
Creating content for people who need your offering right now might not work as well as you think because your offering has to be right in front of them at the exact moment when they are ready to buy.
If you create content for those who are just one step behind in the customer journey, in terms of when they will need an offering like yours, your content marketing efforts are likely to be more fruitful.
For instance, if you sell kitchen lights, you're probably dealing with a lot of customers who are moving to a new home or are looking to remodel their kitchen.
As a result, it might be better to create content that provides tips on 'how to remodel a kitchen,' or on 'how to move to a new home effectively,' as opposed to content that is specifically about lightbulbs.
This is a key point, because knowing this can make it easier to create content when you're trying to market a supposedly 'dull' industry.
At some point or another, those who are remodeling a kitchen will need kitchen lights, and it is at this point when you can and should position your product as the best option.
By this time, the person who has been reading your content has already begun to trust you and you've now also positioned yourself as an expert in this niche.
You hopefully also have their email address by now, so you can market to them using other channels which provide higher conversions.
There's also a lot more goodwill, so those who are on your email list or are frequent readers of your content will likely engage with any offerings you suggest. 
Tesco (A large food retailer) is a good example of a company that does this.
If I were to search 'Gluten Free Recipes,' I can see that they have a page dedicated to 'Gluten Free.'
If you click on this link you will see that they have a number of Gluten Free recipes on offer.
And then if you click on one of these links, you'll see that there is a full recipe available.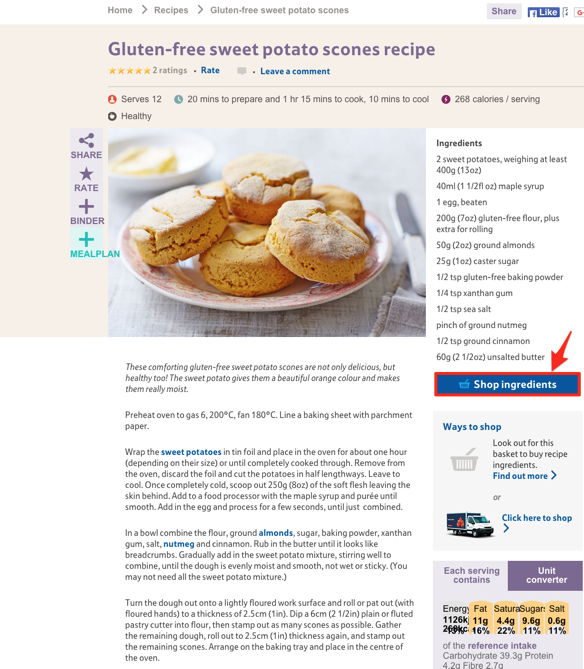 Now, Tesco, isn't a company dedicated to posting Gluten Free food recipes — they sell Gluten Free ingredients and foods (among others).
But, by understanding the stage in which their customers are in right before they buy something Gluten Free (working out how to make something Gluten Free), Tesco can meet them one step behind in the customer journey.
They can then gently guide them into taking advantage of their solution.
And if you look closely at the image above you'll notice that Tesco does this by making it it easy for people buy the actual ingredients listed, with just the click of a button.
So…before you consider creating content that is designed to solve problems, ask yourself what stage your customers are currently in.
And then, using the tips provided, question how you can create content for that specific stage.
Creating content for those who need solutions
As I mentioned, your content can often be classed as content that gets outsiders to engage with your industry or content that provides solutions for prospective customers.
Let's look at how we could create solution oriented content for the supposedly 'dull' industry of 'waste management.'
If we own a waste management company, we first need to question why a lot of our customers are coming to us already.
Have they just moved to a new home? (waste management providers can set up their service).
Are they looking to make their business more eco-friendly? (waste management providers can help in recycling).
Are they looking to reduce business cost? (waste management providers can help turn old old/damaged products into usable raw materials).
Are they looking for a new revenue source? (waste management providers can help monetize waste by turning it into fuel or a raw material that can be sold).
When we're aware of this kind of information, we can then think about how to create content for people in each stage of the customer journey.
By providing people with a solution, in terms of how they can get through that stage, you'll be able to position your business as the solution that can be used in the next stage.
An indirect way you can create content for those who are in the stage previous to the one you have an offering for is by creating a case study.
54% of marketers rate case studies as their most effective form of content marketing.
When creating a case study, you aren't just going to create something that presents information using a bunch of facts and figures.
Rather, you're going to approach the situation as if you were telling a story that your target audience can follow.
This is important, because the case study needs to be relatable.
Otherwise, readers won't be able to imagine themselves achieving similar results.
So how can this be done?
Well, for a start, you need to think about reaching out to customers you have dealt with in the past.
Question if there are any customers who have had astonishing results with your offering.
If there are any, talk to them and ask them if they'd be willing to share their story with you, in the form of a case study.
The way you present this case study can vary.
You may, for instance, decide that you want to conduct a video interview with the client.
Below is an example of such a case study, where a company that offers a 'business telephone system,' is showcasing the experience of one their clients.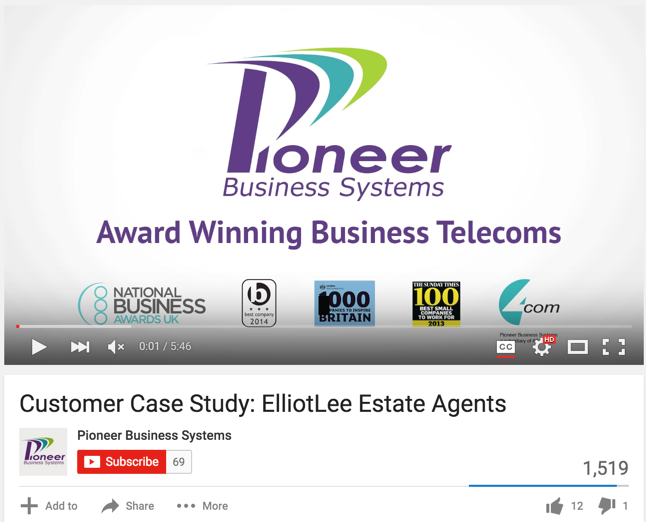 When creating a video case study, ensure that you can get the client to talk through the challenges they were facing, and how you helped them overcome the difficulties.
Alternatively, if they're willing to do so, you might want to conduct a long form interview with them, where you go through each of the roadblocks the client faced.
You then explain throughout the interview, how your business helped them to overcome such hurdles.
This can be done in the form of a Podcast, or even a webinar (more on this later).
It's worth pointing out that you could conduct an entire webinar that is based around the results you achieved for your clients.
You could do this by breaking up the webinar in to 3-5 main sections.
Each of these sections would represent a roadblock or challenge that your client faced.
Within each of these sections, you talk about what your client has tried previously.
You then discuss why the approach used by your client was not bringing results (or just common approaches to a specific challenge) and then why your approach lead to success.
When you're creating content for those who belong to an earlier stage within the customer journey, it is essential that you frame your content in the right way.
This can sound a little complicated, but let's consider the waste management example from above.
If we were creating content that taught a business how to be more eco-friendly, we wouldn't want to necessarily push the fact that we're a waste management company.
We would just want to discuss how the said result could be achieved, by adopting better waste management principles — not necessarily by hiring our company.
80% of the decision makers in a business, like to get information in a series of articles, as opposed to an advertisement.
And in 2014 (compared to 2013), 75% B2B buyers relied more on content to aid their research.
Educate people before you try and sell and don't make it so that your content reads like an advert.  
The job of your content is to get people to the next stage in the customer journey and you can't do that if you're showcasing to people that you have a sales-centric agenda.
Your content needs to act as a trojan horse of sorts, in the sense that it educates readers, while also positioning you as a solution provider.
More often than not, that's the difference between content that turns people off, and content that keeps people reading.
Getting people to engage with your industry
As mentioned above, content marketing can relate to the creation of content that is designed to solve problems.
Whether that be for those who don't need your offering just yet (but will soon), or those who need solutions that your offering can provide.
But it's also worth noting that content marketing can also relate to content that encourages people to engage with your industry — even when they're not looking to solve a problem.
82% of companies use content marketing to increase brand awareness, so the following tips can help you, if you're looking to achieve that goal.
You could argue that the 'Ice Bucket Challenge,' is a perfect example of content marketing, that educated people on a topic, even though they had no prior interest in it.
In fact, a lot of people probably wouldn't know (and never would know unless personally affected) what ALS is, if it wasn't for the Ice Bucket Challenge.
Sure, that example is somewhat on the extreme end of things, in terms of what can can be done to get people to engage with a certain topic/industry — though it does express what's possible.
That example, developed into a viral sensation, and creating a viral sensation is hard.
But that doesn't mean you can't create content that will encourage people to learn more about your industry.
Let's see how we can do some research, to discover great content marketing ideas for the waste management industry, when we're not particularly looking to create content that solves problems.
One strategy we can use is to explore Reddit.
This might sound like an unusual place to mine for ideas.
But it will give you a chance to work out what questions people are asking about the waste management industry and what they don't know.
You're also able to discover what misconceptions people might have about your industry (which you can turnaround and use to position your business in a positive light).
The first step, is to head over to Reddit, and type in a search term related to your industry, in the box on the top right hand side of the page.
Here are the results that came up for me.
So I've highlighted some potentially interesting topics above that you might be able to create content around if you're a waste management company.
Based on the first highlight, you could approach the topic of how your company is dealing with the challenge of waste and plastic getting into the oceans.
You could even discuss how your company is innovating, so that you don't contribute to this problem.
If you click on this thread, you'll see what people want to learn more about — providing potential content ideas.
The next highlight is particularly interesting, in that it makes a reference to 'Star Wars.'
We'll discuss this in more detail later, but if you can create quirky content based on a recent trend, or topic, you'll be able to improve interaction levels.
There's also a mention there of how 'Mealworms' can be used to deal with excess styrofoam by having them eat it.
You could create a piece of content based on entirely on this topic.
Or you could use it as a base idea to kick off a post that goes through really unusual, but effective ways of dealing with waste.
I've also highlighted some other threads below.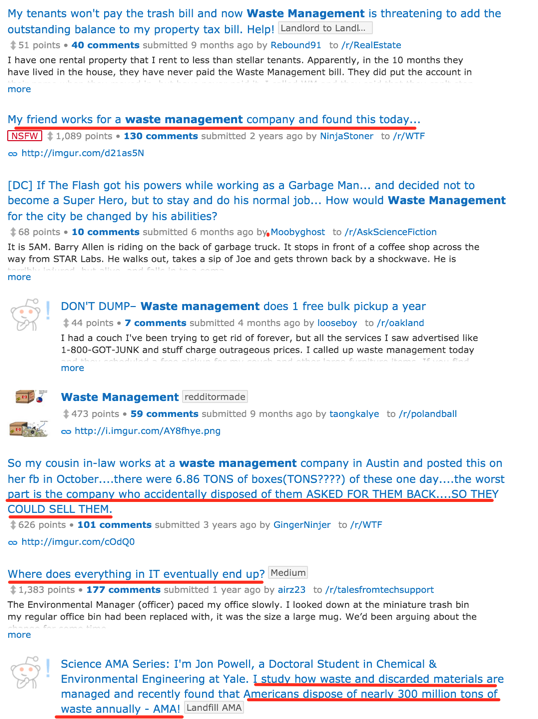 Here we can see that one of the posts, relates to something unusual that was found by an employee at a waste management company.
If your company has found some unusual items, whilst conducting waste management, then a post, pictures or a video that covers all of these items could gain a lot of traction.
There's also a mention of someone who worked at a waste management company and had an interesting client experience.
Of course, you don't want to speak about past clients in a negative manner.  However, if you have any interesting stories, sharing them can help your content marketing.
There's also a post that asks where IT equipment tends to 'end up.'
Using this concept, you could chart the journey of the items from a particular industry.
You could explain how each of the items are dealt with in an environmentally friendly way — when your business is handling the said items.
This could work well if you're targeting a B2B company in a certain niche.
The last post is based on someone who recently discovered an attention grabbing stat, related to the waste management industry.
You could create a graphic that details this stat and then explain how your company is going against the grain by implementing sustainable methods.
You can also come up with content ideas for the waste management world by looking at magazines that cater to this niche.
To find such magazines, do a quick Google Search of 'waste management magazines.'
(Or just 'your niche + magazine,' if you're promoting another industry.)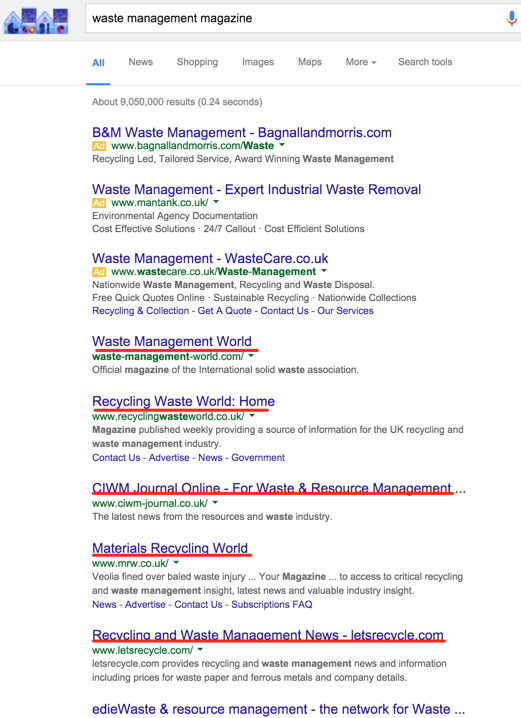 And there you have it- magazines dedicated to the waste management industry!
So, right away in one of the magazines, we're presented with a piece of content related to Christmas Trees and tips for dealing with them after the holidays.
On the next site, we can see that there is a post related to 'London Buses,' and how they're going to use 'waste fats and oils' as a source of energy.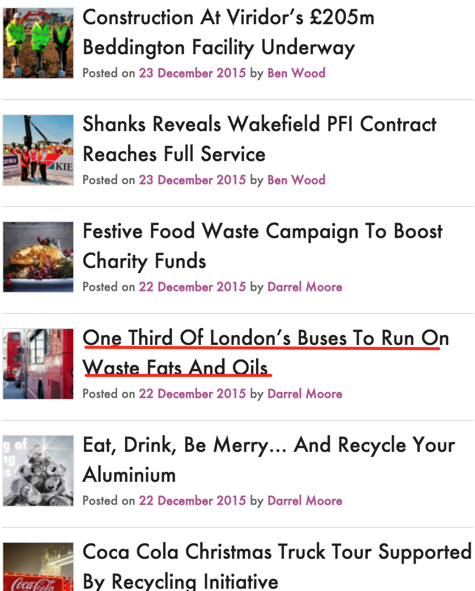 The kind of topics and stories you run with will depend on the kind of audience your waste management company caters to.
The examples above relate mainly to a B2C audience, and can lead to some possibly interesting pieces of content that people would like to engage with.
If we take a look at the next magazine, however, we're presented with a B2B idea.
There is a webinar that details how businesses can use recycling in order to boost revenues.
You could say that this relates heavily to the section discussed earlier where we covered how businesses can create content that solves problems.
You can also use Google Alerts to help you come up with interesting content ideas.
Using Google Alerts, you'll be able to quickly learn of recently published content related to your industry.
You'll also be able to use recent trends as part of your content marketing.
For instance, a company that deals with sanitation aligned with the medical advice related to the Ebola crisis and educated people on the importance of certain hygiene practices.
Here's how you can use Google Alerts.
Go to google.com/alerts.
You should then see the following.

As with Google Search, the trick here, is knowing what keyword to use and what to create an 'Alert' about.
Because you know your industry well, coming up with a number of relevant keywords should be a walk in the park.
The more keywords you can use for your Google Alerts, the more ideas you'll be able to gather for inspiration.
If you have just one keyword, however, you're not destined to fail.
You can multiply the results of one keyword by using a 'search operator,' when creating your alert.
One that works well in particular, is the '*' operator.
Using that operator, Google will return a number of phrases, that fit your keyword.
For instance, say we wanted to create an alert for the waste management industry, that returned some 'how to' information.
We would search "how to * waste management".
Here are some screenshots of the results that came up.

Do you see how Google took care of the words between 'How to' and 'waste management,' leading to a diverse range of results being returned?
This tactic can be used to come up with actionable content that is going to be of use to those who are looking for solutions.
But it can also be used to discover topics that could encourage people to engage with your industry.
Waste management being turned into a tourist attraction is a great example of this.
You can also use Buzzsumo to come up with, or at least contribute to, your existing content ideas.
Just head over to Buzzsumo, and type in a keyword that is based on the topic you're looking to get ideas for.
In accordance with the waste management topic from earlier, I'm going to use the keyword 'business waste management.'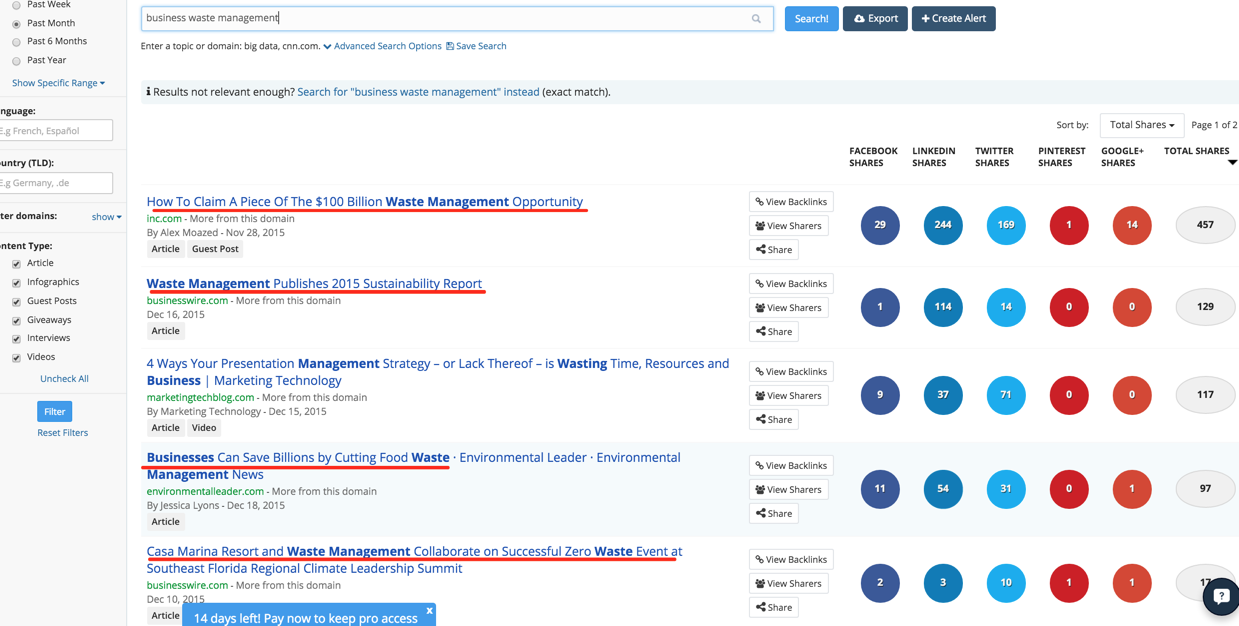 After entering that keyword, I am presented with some related content, based on that search term.
I then sort the content displayed by shares, so that I can see what resonates with this particular audience.
After all, if the content is being shared a lot – it means that people like it.
And if I can create content that touches on similar topics, there's an increased chance of my content doing well.
After sorting by shares, I can now see four pieces of content within Buzzsumo that can be used to inspire my own content marketing efforts.
I've underlined the ones that look interesting – let's examine each one and how it can be used to inspire our own forms of content.
The first post can be used inspire a piece of content that explains 'the other side of the story.'
The post in question mentions why waste management is a big opportunity. For it to be a big opportunity, there needs to be a lot of waste!
So the other side of the story, is possibly why homes and businesses are making waste management such a big opportunity.
Within that post, tips can then be provided, in terms of how to homes and businesses can deal with the challenge of excess waste.
The second post discusses a '2015 Sustainability Report' and could potentially be used to create an infographic that lists some interesting stats along with some context.
In the article I underlined, the information is presented in a long PDF.
So why not make these stats easier to digest?
Infographics are a perfect way to do that.
You could even create an explainer video that visually showcases the points made in the PDF.
The third article I highlighted mentions how businesses can save 'billions' by cutting food waste.
Here, you can create a tool that teaches businesses how much they can save by cutting food waste.
If done correctly, you could incentivize people into taking action when it comes to better waste management principles.
Alternatively, you can create a long and in-depth post that teaches businesses what they can do in order to reduce food waste.
As you can see, there are many options open to you when it comes to coming up with content ideas.
Yet, if you're still struggling, you can use the following approaches to guide your overall strategy.
The first approach you can adopt is to be transparent in your business.
This might include sharing data based on what your business has achieved.
When posting this data, it's important that you also provide some backing information in terms of why these numbers matter.
For instance, a 10% rise in conversions means very little to someone who doesn't know much about marketing.
But, if you take a moment to explain what conversions are and why 10% matters so much, suddenly industry outsiders begin to develop a respect for the numbers.  
If you want to be more transparent, there are other options other than providing the numbers behind your business.
One such option is to prove any claims you have made in your marketing.
For instance, Blendtec doesn't tell you that their blenders are the strongest in the world — they show you.
Their willingness to put their blenders to the test helps build trust while they're actually proving that the claims made on the packaging are in fact true!  And, it's really fun to watch.
If you have made any claims in your business or website, consider how you can put these claims to the test in a way that would abolish all doubts about your business.
It can be scary to do such a thing, but if you have a solid offering, this can be one of the best ways to prove that you can provide something of value.
The next approach you can use is to provide a behind the scenes look of how your business is operating.
If you're a manufacturing company, you could create a video that goes through the process behind everything you manufacture.
You could even turn it into a mini series, where you look at certain stages within the process and explain why each process matters so much.
Even Apple does this.
Here's a video related to the creation of their 'Apple Watch.'
As with the case studies that I mentioned before, it can be very helpful if you inject elements of story within these videos.
The videos below from Rolls Royce, are perfect examples of how you can get this done.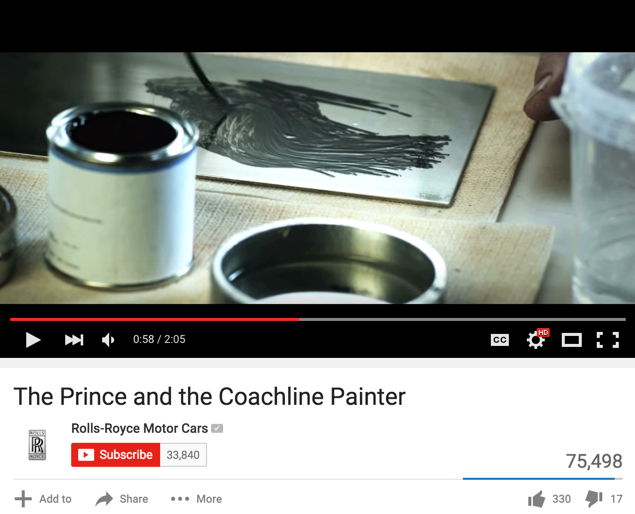 The video above, explains the story of the attention to detail paid to just one part of the car and of how a craftsman flew 3,500 miles, just to add a 'Coachline' to a Rolls Royce out in Dubai.
The video below, indirectly exemplifies the fact that Rolls Royce cars are heavily reliant on being handmade from start to finish and how this requires the work master craftsmen and craftswomen.
When it comes to a waste management company, you might want to create a video where you go through the process that is used in order to separate different items — like this company did.
As discussed here, this kind of information is important as it can provide reassurance for potential customers that you're dealing with their waste properly.
Remember, if you're struggling to create content that engages, you're not alone. 47% of companies struggle to create content that engages people.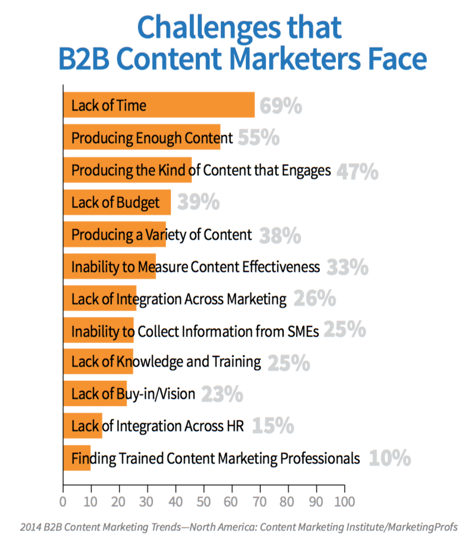 Using the tips above – you don't need to be one of them.
Create content that is easy to consume
If you're covering a topic that is quite in-depth and complex, it helps to figure out how you can present the content in a way that makes it 'easy to consume.'
That means you need to think of ways in which you can educate people while making it easy for them to learn.
There are a couple of things to keep in mind here.
The consideration is the actual medium that you're going to use to present the information.
However, what's also important is how you use the medium in question, to present the information.
Let's take the example of blog posts.
Blog posts are one of the top forms of content marketing — in fact 65% of B2B marketers use blog posts to drive their strategy.
Blog posts work well in the world of content marketing, and long form blog posts work even better.
Long form blog posts tend to do well for a number of reasons — not to mention that on average, the posts found within the top 10 listings of Google, contain 2,000 plus words on average.
So if you want to knock it out of the park, do what you can to create an in-depth post that's fairly long.
But just because you decide to create a 5000 word blog post doesn't entitle you to bundles of success.
Remember — people like to consume 5000 word blog posts that are easy to read and follow.
If you just write a huge wall of text, with little to no images — very few people will want to dive in and engage with your content.
After all, articles with images tend to get 94% more views than those that do not.
Because of this, let's go through a few of the tactics you can use in order to make your content easy to get through.
The first, is to use a 'Table of Contents' section at the top of your post.
If you use WordPress, you can use a plugin to help you create a contents section.
You can also write your text in a way that makes it easy for people to skim through it.
That includes writing short sentences, but also italicizing and bolding certain key phrases.
I'd also suggest that you use bullet points whenever possible too.
As mentioned above, it's also important that you use a lot of images within your post.
Generally, you will find that there are two kinds of images your blog posts are going to have.
Images that are screenshots, or images that show a graphical presentation of data.
I've mentioned here, how you can use Flickr to find images that are licensed for creative commons use.
However, if you do not find any images there, you can also use Google Image Search to find some images.
To do that, first search something in Google, and then select the 'Images' tab.
Then click on 'Usage rights.'

And then select 'Labeled for reuse with modification.'
You'll then be able to find some images that you can include within your blog post.
You can also use this strategy to find some stats for your blog post.
Let's say I was writing a blog post on 'Twitter,' I'd search 'Twitter Stats.'
And then I'd see the following.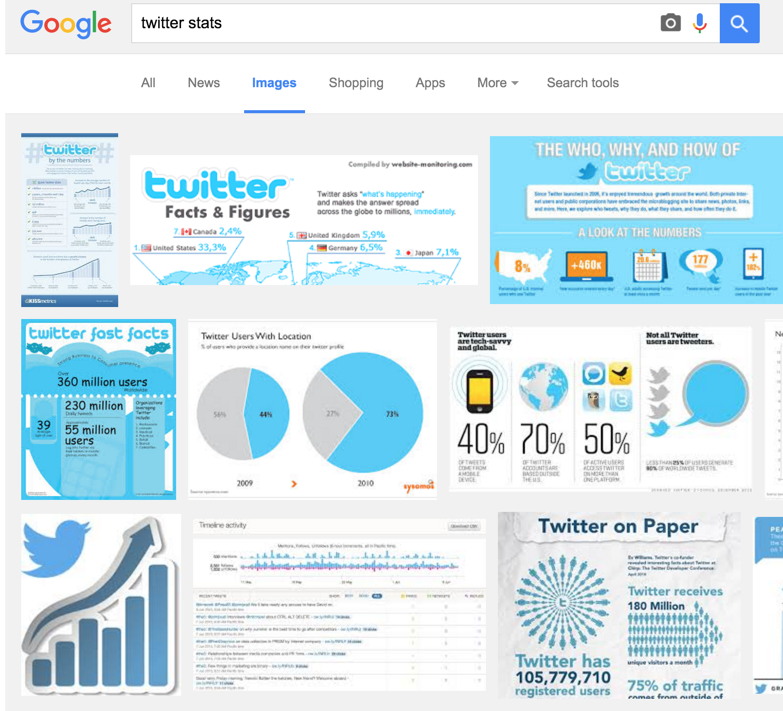 You don't have to use these images, but you can still use the stats within the images.
Just make sure you provide proper accreditation for the stats you use.
Of course blog posts aren't the only kind of content you can create.
You can also create videos.
60% of B2B marketers count videos as being effective as a means of content marketing, and 66% of marketers are looking to increase YouTube usage for the same purpose.
As you probably know, videos can come in many forms, and some of these forms can cost quite a bit of money to create.
I've listed here, how much you can expect to pay for each kind of video.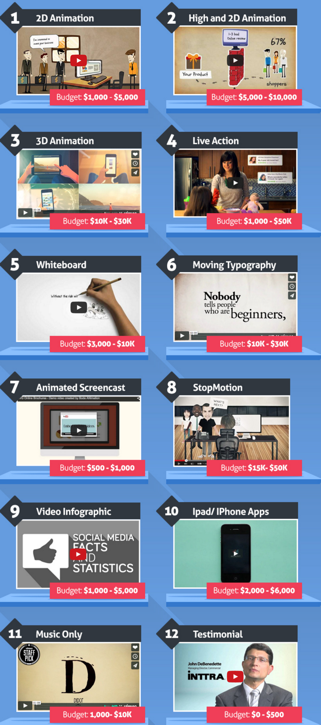 If you're a little low on budget, you can still hire someone like Sean Duran, who can help bring down the cost.
Creating explainer videos, or just effective videos in general, is an art in and of itself.
Sure you can try and do things yourself in order to bring the cost down.
And that can work well — if you're recording a testimonial or a video of your production process.
But if you're looking to create something that's quite creative and graphical, then it often works out better if you bring on someone who is a professional in this field.
Either way, content doesn't have to be a 5,000 word blog post.
I've said before how you can create a tool and use that as a piece of content instead.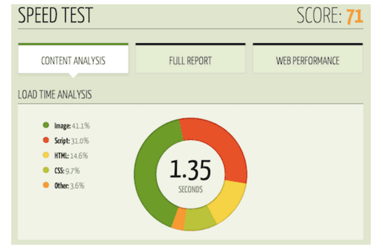 Hubspot, Moz and SEMRush have done this for their own businesses — even I have invested $45,000 on building a website analyzer tool.
So, yes, you will need a good bit of money to create a great tool. If your budget allows, then investing in a tool can be a great option.
Here are my tips when it comes to creating a tool —
If you're stuck, in terms of what your tool should do, consider using the same approach you would use for content creation.
If you see a lot of people asking a question related to your industry, consider how you could create a tool that will allow for them to work out the answer to this question.
Let's go back to the 'waste management' example from above.
There are probably businesses out there that want to find out how much money they can save as a result of adopting 'up-to-date' waste management strategies.
You can create a tool that allows for businesses to quickly work out this calculation.
Businesses can then use this tool.  If they're impressed by the answer, they may click through to your website, (using the tool) and get in touch.
Banks tend to use this strategy a lot with their mortgage calculator tools.
Alternatively, if you were looking to create a post that is supposed to teach people how to achieve a certain result — why not just create a tool that does all the hard work for them?
The Moz example from above is a perfect example of this.
Moz could have composed a 5000 word post on how people can find link opportunities (and they probably since have) — but they have instead provided a tool that does all of the hard work for people instead!
This quickly makes it easy for individuals to realize the opportunity that is present.
The Moz suite is presented as something that, essentially can be used to make the most out of the opportunities discovered by the tool — thereby making adoption of the Moz platform logical.
And of course, you can still go down the route of creating webinars too.
61% of B2B marketers in North America, use webinars.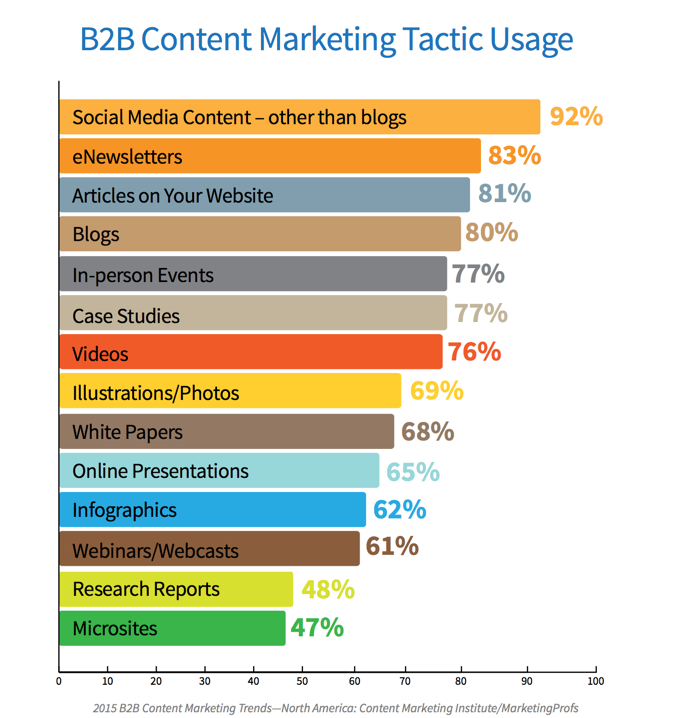 We covered earlier in the post, how you can go about crafting a webinar.
You don't have to stick to that model, though you do need to make sure that your webinar is 'entertaining' and educational too.  
The best way to do this is by making your slides relatively simple and with minimal text.
You must also ensure that you're accompanying your text with visually striking images.
On top of that, when presenting your webinar, ensure you deliver the information clearly.
48% of webinar attendees say tend to say a webinar is least enjoyable if the presenter is poor.
Don't let that stat intimidate you— just make sure you prepare properly ahead of time.
The ultimate way to keep people engaged in what you have to say is by providing value.
Therefore, when presenting your webinar, don't go off on any unneeded tangents.
Make sure that people actually learn something as a result of experiencing your content.
Webinars should be recorded, as you can still later drive traffic to them and use them for other purposes.
On top of that, those who signed up to the webinar, but didn't get round to seeing it live, will be able to watch the recorded version.
In fact, 16% of B2B consumers prefer live webinars.
There's also the option of creating a Podcast.
Podcasts give you a bit more freedom to create something long form.
Only 22% of marketers use Podcasts as a content marketing tactic — so there's some opportunity here for you.
There's a lot to say about creating effective Podcasts and I've covered the topic in detail here.
The main thing to keep in mind is that value should be prioritized above everything else.
If you're hosting an interview with someone in your niche in the hopes of creating a  Podcast, make sure you're asking questions that result in actionable insights for listeners.
Finally, you can also of create a Slideshare presentation.
49% of B2B marketers rate Slideshare as an effective means of content promotion.
When you are creating a Slideshare presentation, ensure that your slides are not heavy on text — make sure that each slides has no more than 25 words.
And as with webinar slides, ensure that your images are visually striking.  If you can use an image to replace a chunk of text, do it.
Conclusion
You may think that your job as a content marketer has been made even more challenging because you're dealing with a 'dull' industry.
However, as we've explored in this post, there isn't really any such a thing as a 'dull' industry.
The fact of the matter is this — if your business is providing solutions, the person the receiving end of those solutions, is highly interested in the content that you have to offer.
You need to understand where your customer is, in terms of their buying journey.
When you know where they are, you can create content that eventually leads them to see you as a solution for the next stage of the buyer's journey.
We also took a look at how you can create engaging content that aims to improve 'brand awareness' – and how you can source ideas for such content.
Whatever approach you decide to take, it is important that you do all that you can to provide value – or else none of your efforts will work out.
In any case, now that you know this information, you're ready to implement a content marketing plan of your own.
What have you found to work out best, when it comes to creating content for a 'dull' industry?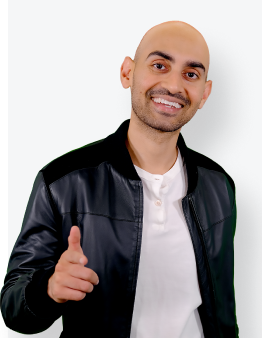 See How My Agency Can Drive More Traffic to Your Website
SEO - unlock more SEO traffic. See real results.
Content Marketing - our team creates epic content that will get shared, get links, and attract traffic.
Paid Media - effective paid strategies with clear ROI.