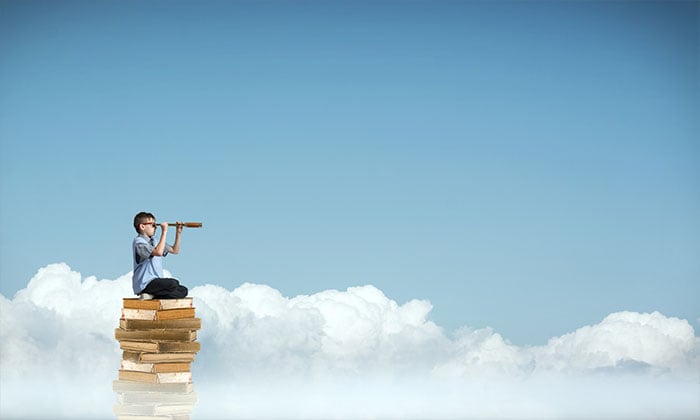 That was Jack London's target word count for each and every day. You've likely heard of many successful authors who set similar goals for themselves.
For them, it's not about a meaningless outpouring of information onto a page. By sticking to their goals, these authors keep their skills sharp and remain committed to their task.
I'd argue that the same is true for marketers.
Sure, your website is optimized for search with relevant keywords.
Yes, you have a team of writers creating content for you on a regular basis.
And, of course, your email campaigns and responses are fully automated.
But is that enough? Probably not.
If you want to grow your business — and fast — you need to reach more prospects. Every. Single. Day.
You are responsible for the heavy lifting.
This means that you need to work on reaching more prospects each day. You can even use the example of those famous authors.
They carve out a specific time each day and dedicate it solely to their work. Much like what you need to do with your own schedule.
Now, this won't be easy. It will require a strategic "attack" that will target prospects across all channels.
Prospects are expecting genuine, well-thought-out engagements.
You'll need dedicated time for this.
So, set aside 90 minutes every morning to:
Find prospects
Reach those prospects across a variety of channels
Nurture your prospects
The end goal: to do this regularly enough that your top-of-mind presence and valuable interactions convince them to convert.
Keep in mind that reaching prospects isn't about making a sale. This is about building relationships.
You have 90 minutes. Are you ready to make them count?
Then let's take a look at the seven ways to reach more prospects every day.
Automate (0 minutes)
Automation technology exists for a reason. It makes life better.
Better, at least, in the sense that it makes many everyday tasks quicker and easier to complete.
Just consider GrooveHQ marketer Len Markidan's question: "What if, by spending a few hours eliminating those tasks, you could save each agent more than 200 hours each year?"
Automating the day-to-day is key to streamlining your marketing strategy.
When those mind-numbing tasks aren't a part of your daily to-do list, you'll have more time to focus on the things that really matter.
Like reaching more prospects and connecting with each of them on a personal level.
You have the tools in your arsenal. Use them wisely every day.
You can use automation technology in:
Content marketing
Email marketing
Paid and organic search marketing
Press opportunities
Video
Long-form content
Outbound marketing
Plenty of other tasks can be automated, as well.
Before any of this can run on autopilot, though, you have to set it up.
During that initial process, there's a handful of things you should keep in mind.
When automating content marketing and content promotion, create a plan to share content strategically.
Fortunately, you don't have to be a master strategist to figure this out. All you really need to do is optimize your sharing schedule.
Make sure you're sharing your content more than once.
Kissmetrics recently posted about the ways double- or triple-posting really works.
Take a look at the findings of Garrett Moon, CEO and co-founder at CoSchedule:
In this example, scheduling second and third mentions didn't just add a few clicks. These mentions attracted even more clicks than the first message did on its own.
So why do people hesitate to post content more than once?
They don't want to drive fans away. And they worry that by posting the same thing over and over, fans will grow weary of the same-old-same-old.
However, just because you post something more than once doesn't mean your fans will see it more than once.
Thanks to Facebook's news feed algorithm, they may not even see it the first time.
But you can dramatically improve your chances by reposting.
Here's how I tackle this on my Twitter page. For some blog posts, I post the link multiple times a day.
I posted this to Twitter one morning. And two hours later, do you know what I posted?
This. It's the same article with the same information.
However, it received a different number of engagements than the first one did. And, of course, those engagements came from different followers, too.
That's because this post reached different followers the second time.
By reposting the same content, even on the same day, my content reached more followers and received more engagement.
If you follow me on social media, you know I like to post more than once a day. Like, a lot more than once.
But I don't have time to sift through content every two hours and fire off another post. I'm guessing you don't have that kind of time, either.
This is where automation tools like SocialOomph come in handy.
With this tool, you can set up a queue of posts. Each will be published after a certain amount of time has passed.
And as Thats Journal points out, when you run out of posts in your lineup, SocialOomph can bring your past posts front and center again.
Now, your social media accounts are properly automated and raring to go. That means it's time to automate your email marketing campaign.
At each stage of the buyer's journey, you have the opportunity to give your leads a guiding nudge in the right direction. You just need to get your message to them.
There's no better way to do that than sending automated emails.
Use automation software to set up triggers on your site that will automatically send visitors an email when they complete an action.
Did someone opt into your email list? Send an email.
Did someone download your resource? Send an email.
Did someone share your blog post? Send an email.
You can even set up triggers that recognize lead sources. If someone comes to your site from a link on your Facebook page, work that into your automated email copy.
Mentioning information like this is a quick but meaningful way to establish a personal connection with your leads.
Not to mention the fact that tailoring your message to your audience drives conversions.
Your messages will be sure to resonate when you write different emails for every stage of the marketing automation funnel.
Apart from what your visitors do, send automated emails based on your actions, too. For example, give subscribers a heads-up when you publish a new blog post.
All set with your initial setup? Sit back and relax! From now on, this step won't take you any time at all.
And that means you've still got 90 minutes every day to grow your online community.
Find out what's happening in the news (10 minutes )
As a web developer or entrepreneur, it's important to stay on top of what's going on in the world.
Read news and industry publications so you know what's going on in your sector. Your content will be the better for it.
Your content will be more valuable and you'll establish your authority when you publish about trending topics.
All you've got to do is get your reading list in order. Google Alerts can help you out with that.
And you can create an alert for anything: industries, brand names, job titles, the list goes on and on.
Every time your chosen keyword is mentioned, Google will alert you. Follow the links provided to read up on the latest about your interest.
If you have an account on Buzzsumo, you'll have the option to receive alerts from them, too.
Here's what an alert for your brand might look like:
Not only will these alerts give you something to read, but they'll also provide you with the chance to combat any negative mentions of your brand.
So you've built your reading list. The beginning of your list, anyway.
But if you're hyped to read, chances are good that you'll want some more material.
I recommend signing up for Feedly RSS. With this tool, you can collect the most relevant articles in your industry every day from the sources you select.
Soon enough, you'll have quite a bit of reading on your plate:
Scan your inbox for the headlines that stick out.
If the article lives up to the headline hype, consider sharing it with the world. Post it to your social media or forward the link to your VA before you forget about it.
Reading up on your industry will never be a waste of your time. So add a reading regimen to your morning routine.
Whether you learn about a new trending topic or find a great article to link to in your next post, your new knowledge will be instrumental in building your online community.
Brush up on your traffic stats (10 minutes)
Google Analytics is a web developer's best friend.
And how could it not be? With the right knowledge, you can pull actionable data from GA in no time at all.
Whether your business is brand new or older than the Internet itself, web traffic data is always useful.
Spend a few minutes every morning using GA to learn a little bit more about your visitors.
You don't need to labor over every stat here, but keep an eye out for anything new.
See a new lead source? A new popular time? Make a note to yourself.
A big change could be a sign that something old isn't working anymore or that something new is. So track these patterns and adjust your strategies as you see fit.
The most important thing to look for: When and where do your customers like to engage?
Figuring these things out is a major step toward figuring out who your target customer is.
And when it comes to that, you want to know as much as you can. As technology advances, customers will start expecting more personalized and engaging experiences.
The best way to adapt is to know as much about your customer as possible.
That's why 62% of companies recently surveyed by Walker say that, by 2020, they will invest in understanding individual customer characteristics.
You can continue to learn about your customers by tracking your email campaigns.
Who opened your emails? Who clicked your links? Who made it to your website?
There are a whole bunch of email tracking tools out there. If you're just starting out, you can't go wrong with MailChimp.
Your MailChimp report will tell you everything you ever needed to know about your email campaign.
Learn what you can from these stats to write better subject lines, send emails at better times, and tweak your segments to perfection.
Sometimes, that's easier said than done. Try reviewing these content marketing best practices to spot the weak spots in your copy.
Shoot off some personalized responses to qualified leads (15 minutes)
Your leads matter to you. Not just as leads, but as people.
But for many businesses, it can be extremely difficult to communicate that message.
But it doesn't have to be.
Sending personalized responses to customers will go a long way with your fan base.
You should always take some time out of your day to respond to leads who have reached out to you.
At first glance, this probably sounds a little daunting. The 15-minute time frame might sound a little unrealistic.
But it's nothing you can't handle. There are plenty of things you can do to make the most of this window.
Have some friendly canned messages on file to send out when you're in a time crunch. Or delegate the message to someone else on your team.
As long as you aren't ignoring your leads, you're doing things right.
That said, there are a few hacks to keep in mind to help you handle email even better.
For example, sending your message on the right day can really drive your success.
And, according to the research of Dr. James Oldroyd and CEO of InsideSales.com David Elkington, that day is Thursday:
Do your best to reach leads during regular working hours. If you're qualifying prospects in the morning, get started right away at 8 o'clock sharp:
Overall, the point of these 15 minutes is to provide great customer service to your most qualified leads. Just by doing that, you'll get ahead of the competition.
In its 2017 Benchmark Report, SuperOffice found that the vast majority of companies did not respond when a customer reached out to them.
94% of companies didn't even acknowledge that a request had been sent — let alone help the customer solve their problem.
Don't let your leads' emails get buried in your inbox. Even if you don't know the answer right away, acknowledge their email with a canned message like this one: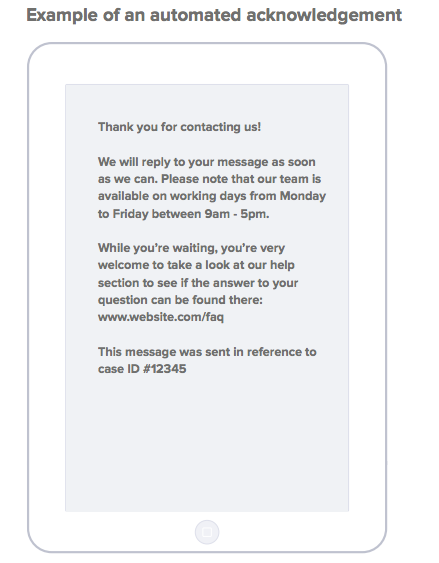 And after responding to your new leads, check back with your old ones. Remind former customers of their previous experience with your company.
Encourage customers to buy from you again by being one of the 0.6% of companies that sends follow-up messages. Try sending something like this:
Customers will appreciate the chance to give you feedback. And they'll be more likely to remember you next time they have to purchase from someone in your industry.
Respond all over the web (30 minutes)
Your correspondence crusade is far from over.
You've covered emails. But that was the easy part.
Next, you'll spend half an hour tackling social media comments.
30% of Millennials interact with a brand on social media at least one time a month.
However, 89% of social media messages don't get answered.
This is a big mistake.
According to the Walker study, customers in 2020 will expect businesses to interact with them on their favorite platforms. No exceptions.
Start planning for that shift now by engaging on social media sites that are primed for business.
If you're running a B2B company, LinkedIn is a great place to start.
With all of LinkedIn's great new features, it's the perfect platform for B2B companies to reach anyone — whether those people have heard of them or not.
Make sure to keep the message consistent and prioritize engagement with the company leader.
According to Edelman's 2017 Trust Barometer, the public trusts high-ranking executives more than company spokespeople when it comes to industry issues.
You don't need to post about all these topics. You probably don't even have time to do so.
But when duty calls, communicate your views from your executive social account. Then, share that post on your business account to make sure it reaches your most dedicated followers.
Respond on forums, blogs, and even on your site's live chat. The point here is to make sure none of your potential leads are left in the lurch.
Finally, reverse the roles a little and leave a comment or two on someone else's blog. Even one comment a day can make a huge impact on your revenue stream.
I generated $25,000 when I left 249 comments on other blogs, and you can, too.
Start by leaving valuable comments on other blogs.
A few tips to get going:
Read the whole blog post before you comment.
Use your full name when you comment.
Add to the discussion instead of paraphrasing what was said in the blog.
Here's an example that does all three:
When you comment on other blogs, you create endless opportunities for both the blogger and his or her followers to reach out to you.
Become a star on social media (10 minutes)
Congratulations! You're finally done responding to your leads.
There are only 25 minutes to go and you're going to spend 10 of them increasing your followers.
No matter the platforms you're using, you have options when it comes to optimizing your social media accounts.
Search posts about topics you're an expert on, then provide help to the people who are asking for it.
It's another two-birds, one-stone situation.
You'll raise awareness about your brand by participating in these exchanges. And you'll do a great deed by helping someone troubleshoot their latest technical difficulty.
Here's how this works on Twitter. Just search a hashtag for a topic you're an expert on, like  #GoogleAnalytics.
You'll quickly find a variety of people you can reach out to. Some may just want feedback on their latest project:

While others will be looking for a solution to a problem:
Take a few minutes every day to respond to a handful of these posts. By joining the discussion, you'll boost your online presence and your online following before you know it.
And since you're reaching out to potential customers, make sure to optimize the content on your page.
You've probably heard that only about 20% of your social media content should be promotional. The rest of your posts should be just another way to connect with your audience.
Take this opportunity to brainstorm ideas for those kinds of posts.
But make them fun! Make them engaging. Get people talking.
Here's an example from my Facebook account:
When you pour your heart and soul into your content, it pays off. 80% of your leads will come from the top 20% of your content.
So stay on top of what resonates with your fanbase. Track engagement on your promotional posts so you can quickly learn what works and what doesn't.
You can easily create engaging content just by asking a question.
Not just any question, though.
Ask a question that begs for a response and your followers will come through.
MarketingExperiments recently analyzed a great example of this from The Veggie Bin:
When you genuinely seem like you want your followers' input, they'll talk to you and talk to each other.
And best of all, you'll wind up with a handful of workable suggestions to apply to your business strategy!
As you continue to improve your social media account, consider creating and managing Twitter lists.
This is an easy way to send relevant tweets to different segments of your audience. The smaller your lists, the more specific your tweets for that list can get.
If you have Post Planner, you can manage your Twitter Lists right from your account.
At the end of the day, you're on social media to get people engaged with your brand. And the best way to do that is a little bit at a time.
Create new opportunities (15 minutes)
Finally, it's time to find fun, new ways in which you can get your name out there.
There's no shortage of opportunities to help you raise awareness about your brand. Don't limit yourself to just one.
Reach out to other sites to ask if you can be a guest blogger. If they say yes, you'll make a near-instant connection with another person in your industry.
Meanwhile, you'll have the chance to publish content that will reach far beyond your own audience.
Just make sure to do your research before sending your email. Try taking a few of these daily time slots to study up on the blog you want to contribute to.
And as long as you're trying to build your network, consider attending an industry event.
Attending the event will probably take more than 15 minutes.
But finding the event will probably take far less. Just use Meetup to find new opportunities near you.
And don't forget to put a webinar together at some point. These days, webinars are kind of a huge deal.
According to Content Marketing Institute and Marketing Profs, 61% of B2B marketers say that webinars are the most effective content marketing strategy.
And with the right tactics, your webinars will convert.
Conclusion
Reaching out to prospects should never be an afterthought. You need a detailed plan and plenty of time to get it right.
But once you do, you'll never abandon your 90-minute regimen.
Create a consistent schedule for yourself. Every day, set aside this time to reach new prospects before continuing with your workday.
Start by automating daily menial tasks. With that taken care of, you can spend this time connecting with leads and getting a leg up on your competition.
Generate new content ideas by reading industry news and reviewing your traffic stats. Grow your online community by responding on all platforms.
And most importantly, always stick to the plan! When you stay consistent, your growth will stay consistent, too.
What else do you do to reach out to new prospects?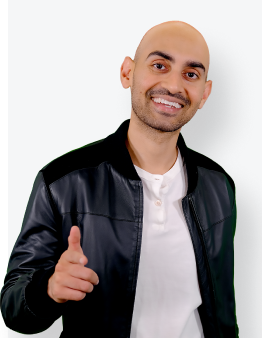 See How My Agency Can Drive More Traffic to Your Website
SEO - unlock more SEO traffic. See real results.
Content Marketing - our team creates epic content that will get shared, get links, and attract traffic.
Paid Media - effective paid strategies with clear ROI.
Are You Using Google Ads? Try Our FREE Ads Grader!
Stop wasting money and unlock the hidden potential of your advertising.
Discover the power of intentional advertising.
Reach your ideal target audience.
Maximize ad spend efficiency.