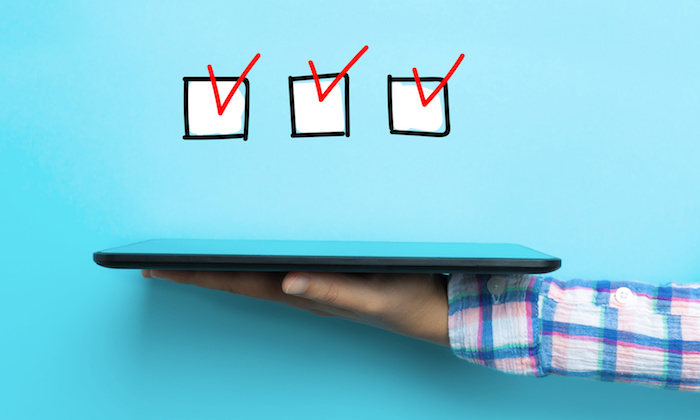 What does success look like in a content marketer's world?
There isn't an easy answer to this question.
Since it's a question I hear a lot, I'll tell you something.
Tracking your performance is critical to a successful content marketing strategy.
I've heard this statement countless times: "Content marketing isn't measurable."
This is a big misunderstanding. You absolutely can measure the ROI of your content.
Why do most marketers neglect this?
Content Marketing Institute revealed that more than 50% of marketers either have zero clarity or are unsure of how effective their content marketing is.
That's kind of disturbing.
However, I'm not entirely surprised.
It's easy to get fixated on metrics like social shares and comments on a piece of content.
Of course, it is useful to measure the success of content on an individual post level.
But it's not enough. You only get a small piece of the puzzle.
Content marketing is a big picture strategy.
If you don't track performance on many levels and across multiple channels, there's no way you'll get a holistic view.
In this article, I'll show you exactly how to measure your content marketing performance in a quantifiable way.
First, let's talk about what success might look like for you.
What makes a successful content marketing strategy?
There are several variables that you need to consider.
But there is one overarching theme in every successful content marketing strategy.
Some marketers will tell you it boils down to sales or conversions.
But what if you have no desire to monetize your content?
Sure, lead generation tops the list of content marketing goals, but nearly as many marketers simply want brand awareness!  
What's the key to success?
I'm not trying to sidestep the question, but it depends.
Depends on what?
It depends entirely on your business, your audience, and your objectives.
With that in mind, let's get into how you can measure your content marketing performance based on these business goals.
Part One: Get clear on the mission statement of your content marketing
In simple terms, if you want to know whether or not your content marketing is working, you need first to define what "working" means for your business.
Before you start thinking about what metrics to track, ask yourself the following questions.
What type of person gravitates to your content?
How will your readers be moved by your content? What will they feel?
What actions will these feelings lead to?
What transformation will the reader experience upon taking action?
How will these actions influence your business objectives?
These questions will set the overall direction of your content marketing strategy and will guide your entire content creation process.
Whatever direction you go, your audience will be the driving force. Eventually, the actions that they take will move important growth needles for your business.
But it all begins with committing to an audience-centric narrative. In fact, 71% of companies who surpass their revenue goals use audience personas.
How can you use your mission statement to attract a targeted audience?
1. Place your mission statement front and center. Your mission statement should serve as a gateway for all the channels where you distribute content. This includes your social media channels, your website, and every other customer touchpoint.
2. Your mission statement should be aligned with your core objectives. Your audience's actions will be connected to your marketing funnels. Audience engagement at the top of the funnel should eventually lead to some conversions.
3. Put your mission statement to action. There's no point in having a mission statement if you don't use it. Whatever your ultimate goal is, commit to it. If it no longer reflects your business, change it.
Part Two: Analyze your traffic sources
You may have heard the idea that traffic is a vanity metric that shouldn't be given much attention.
I disagree.
Although you're not creating content for traffic alone, keeping tabs on your traffic sources is a critical step.
Why?
No matter what your ultimate business objective is, you first need to get eyes on your content.
Your traffic breakdown at each audience touchpoint gives a broad indicator of how your content is performing.
Content performance on this broad level may have an impact on your performance across the board.
First, you need to measure your traffic across several channels and see how that traffic relates to your core product or service.
With Google Analytics, this is easy.
Alternatively, you can use a premium tool like Ahrefs, but we'll focus on using the free option.
Here are six different channels that you should pay attention to.
Social traffic – Visitors who come to your website via social networks
Organic search traffic – Visitors who come to your website by Google search or other search engines
Direct traffic – Visitors who come to your website by typing in your URL
Email traffic – Visitors who come to your website via your email list
Referral traffic – Visitors who come to your website via referring websites
Paid traffic – Visitors who come to your website from paid search campaigns
Let's get into how you can find this data.
Step #1: Go to Google Analytics to find out where your traffic originates.
You'll find this information by clicking on the tab labeled "Acquisition."
First, get an overview of your traffic.
You'll see a pie chart displaying your top referring channels.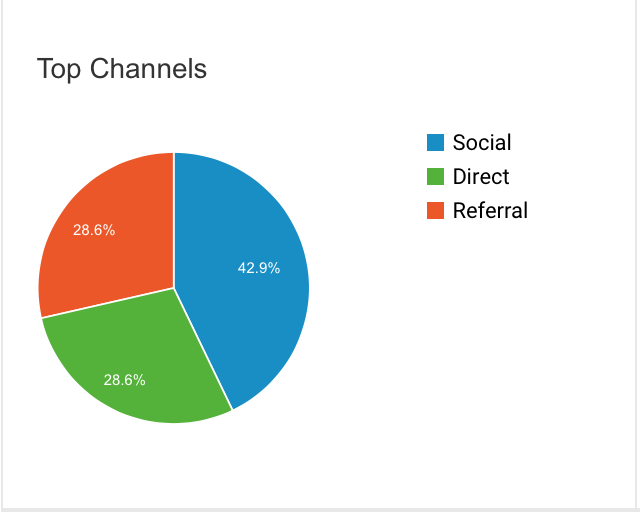 After you have an accurate overview, click on the individual channels to view the traffic breakdown for each one.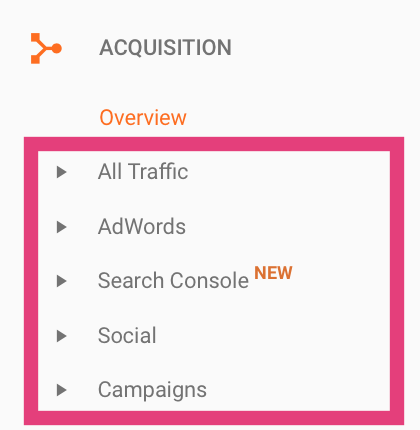 Create a spreadsheet to track the breakdown of traffic for each channel.
Pay attention to the "Acquisition," "Behavior," and "Conversions" metrics for each channel.
You can either export this data from Google Analytics or create a spreadsheet of your own.
Step #2: Tag your email links to get your email traffic data.
The links from your email need to be labeled and tagged.
Some email management systems integrate seamlessly with Google Analytics, so you may not have to do this manually.
If you choose to set it up manually, here's how.
Go to Google's URL Builder to set specific parameters for the links in your email campaigns.
Your medium should be set to "email" to match your custom segment.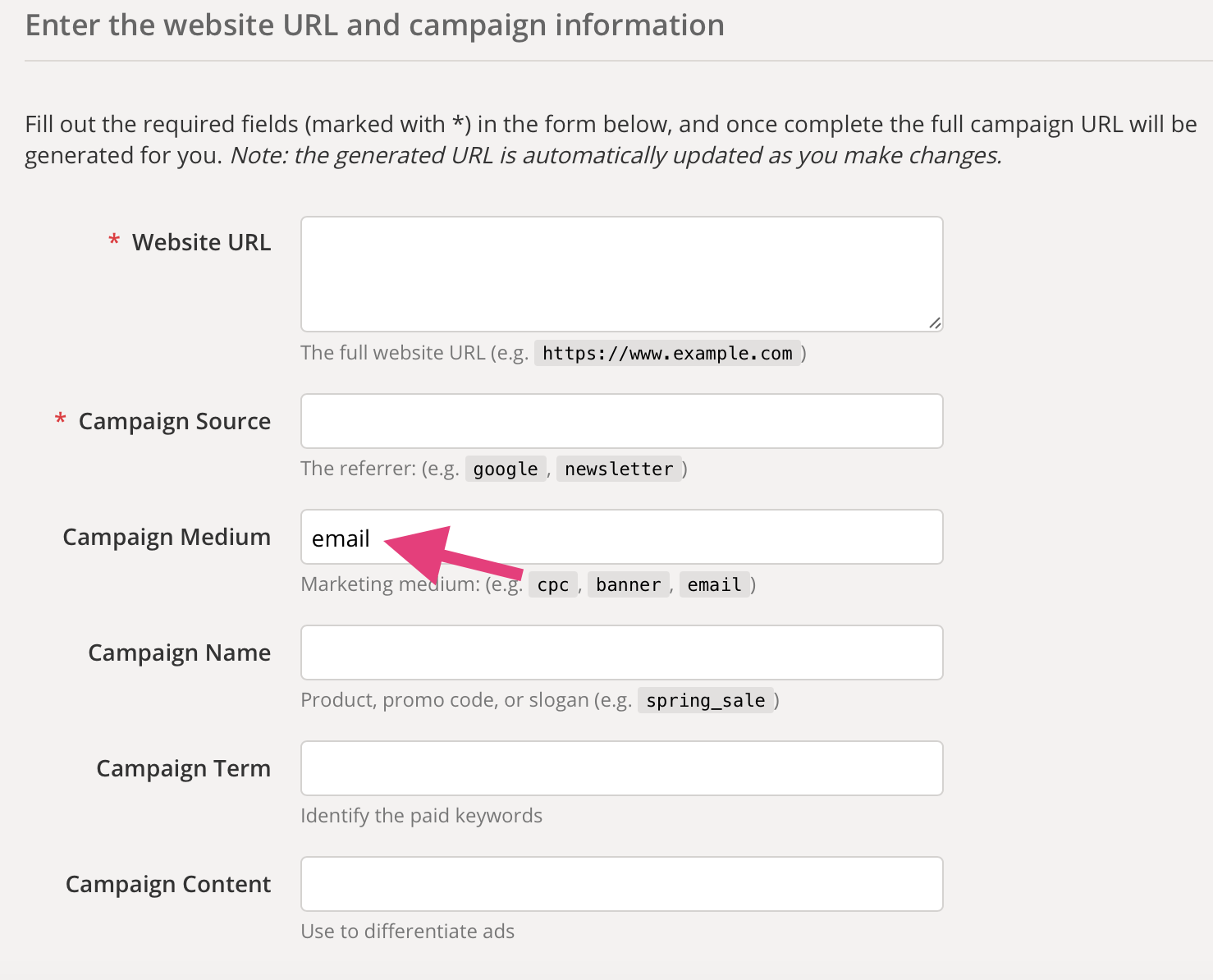 From the information that you type in, you will receive a correctly formatted URL.

Step #3: Create custom advanced segments to track your email traffic.
Find the tab that says "Personal Tools and Assets." Click on "Segments."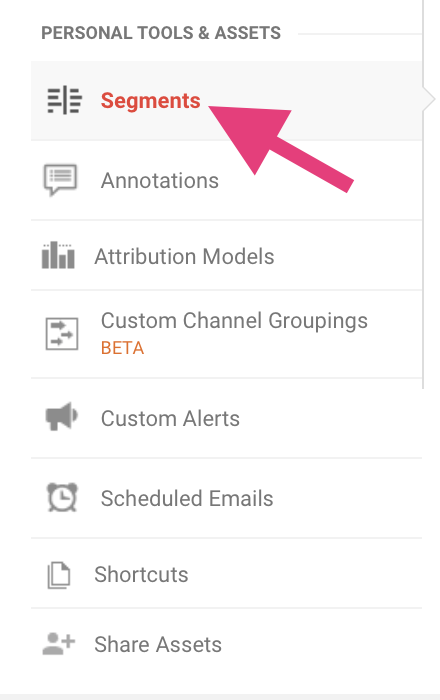 Create a new segment.
Name your segment. Set the medium to "Email."
Now, you're all set to track the post-click performance of your emails.
Navigate to "Acquisition" as you did in the first step. You'll be able to see pageviews, bounce rates, and new users under the email medium.
Add this data to your spreadsheet.
Step #4: Track the impact of your offline content marketing efforts on your online traffic.
Now that you have an overview of the traffic for your online channels, what about the offline ones?
Why track offline campaigns at all?
Here's the thing. Your offline content marketing efforts can funnel into your online traffic stream.
Offline campaigns like in-person events are proven to be one of the most effective marketing channels.
Just take a look at these survey results from Content Marketing Institute.
75% of content marketers say that in-person events are among their most effective B2B marketing tactics!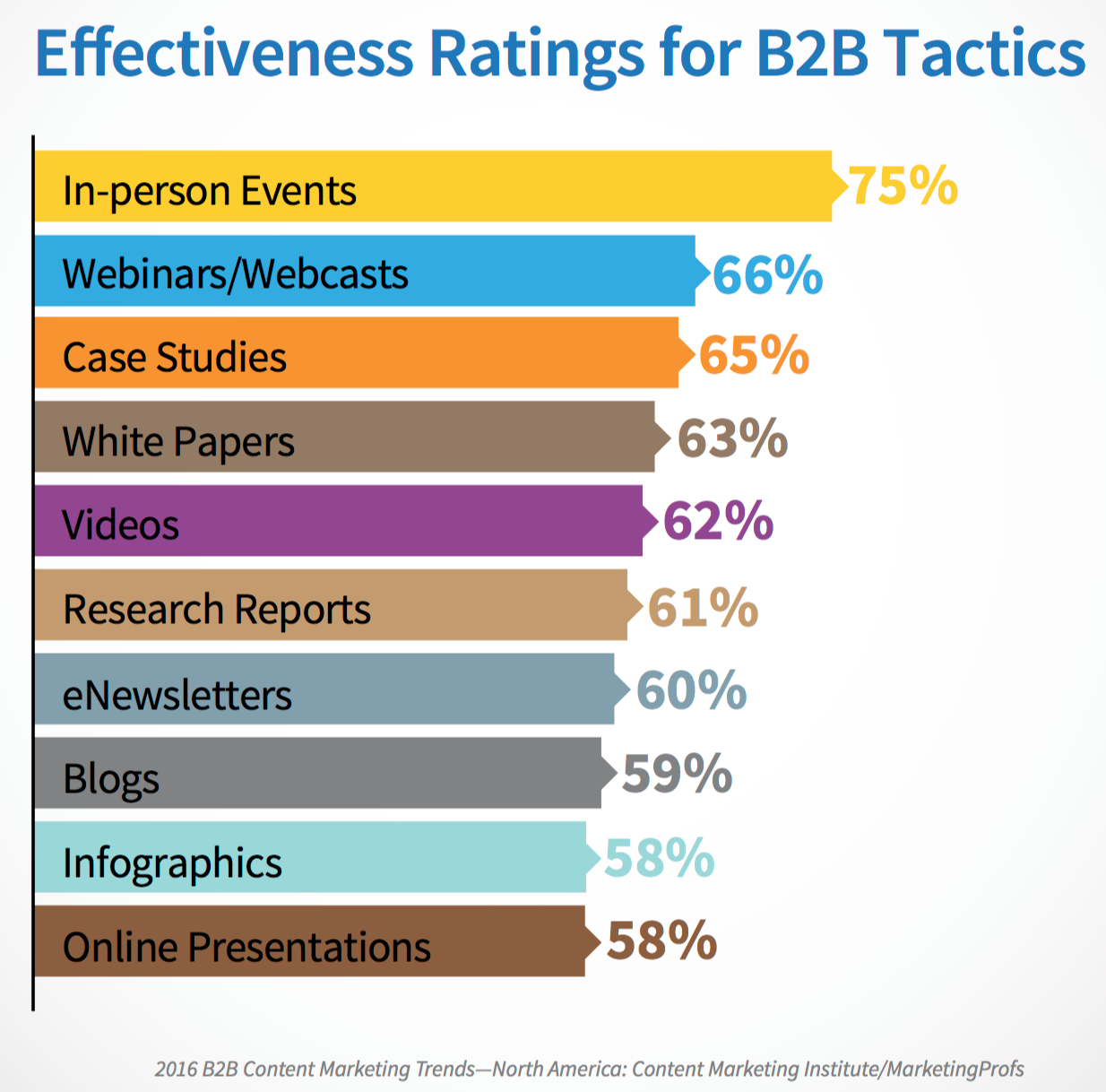 You want your data to tell the whole story, so it would be a mistake to leave out this information.
Here are some tips for measuring the impact of offline channels.
Redirect your URLs to make them trackable. Whether it's a magazine, business card, or video ad, simply attach a tracking code to your call to action links. You can use a platform like bit.ly to do so. This will allow you to segment out visits for that particular channel.
Use unique coupon and offer codes for your offline channels. You can track users who make purchases after being served content from offline channels.
Map your traffic patterns onto your offline content distribution times or PR campaigns. Of course, this isn't an exact science and won't be possible for every offline channel. However, you may see certain spikes in online traffic after some offline campaigns.
Part Three: Track engagement metrics that correspond to your business objectives
By this point, you have a surface view of your content marketing performance.
Let's take it deeper.
I'll give you several options for figuring out the ROI of your content marketing efforts.
The path that you take will depend on the mission statement that you've set for your content and business goals.
Here's what you may decide to focus on.
Building brand awareness
Generating and nurturing quality leads
Increasing customer acquisition and sales
Improving customer retention and loyalty
Let's get into the metrics that correspond to each of these goals.
Building brand awareness
Content marketing is ideal for creating brand awareness.
This business objective is about connecting with your ideal audience, exposing them to your "why," and fostering engagement.
You can use content that focuses on your brand story, core values, and company culture.
Content like this produces brand awareness.
And brand awareness is super valuable.
This is likely why 74% of B2C marketers say that brand awareness is their primary goal.

A successful brand awareness campaign gives you ultimate recognition.
When customers hear your brand name, they should be able to understand what you represent.
To measure your success in this endeavor, you should track "consumption metrics."
What are some common consumption metrics?
Social reach
Ungated downloads
Mobile readership
Document views
Time on site
Pageviews
Video views
Inbound links
Blog comments
Generating and nurturing quality leads
If you want your content marketing to influence sales, generating and nurturing quality leads is a critical step.
This process is about getting your customer through a permission marketing funnel, so you can build trust and nurture a relationship.
Companies that excel at lead nurturing generate 50% more sales ready leads at a 33% lower cost.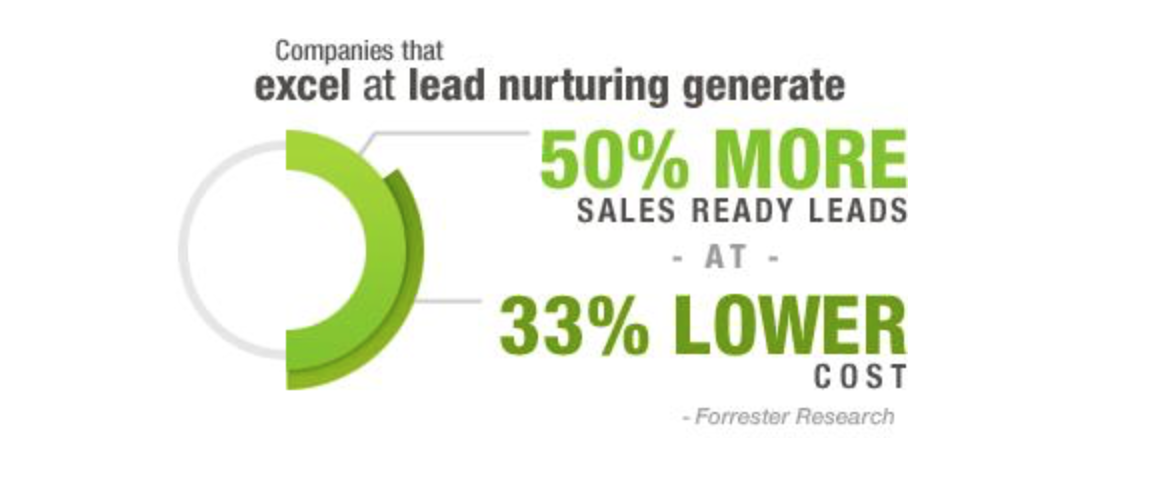 It usually starts with businesses providing quality content for free. Prospects submit their email addresses or other personal information to get the content.
Here are the KPIs that you can measure.
Gated content downloads or form completions
Email subscriptions
Event registrations
Demo sign ups
Webinar registrations
Conversion rates
Increasing customer acquisition and sales
For many businesses, the bottom line is generating sales.
This is one of the few business objectives that allows you to concretely measure the results of your content marketing.
You can leverage content marketing to acquire new customers at a low customer acquisition cost.
You can also use content assets like high-converting product pages to influence sales.
Here are the KPIs that you can track.
New customers
Top-converting pages
Online sales
Offline sales
Length of sales cycle
Conversion rates
Customer acquisition cost
Improving customer retention and loyalty
Your work does not stop with a sale.
It's also important to provide a great experience for existing customers.
When considering this objective, ask yourself a few questions.
How can you help customers get better use out of your products and services?
How will you help them troubleshoot and solve their problems?
What can you do to get them to a transformation as quickly and as easily as possible?
Here are the metrics that you can measure.
Now that you know what to measure, here's what to do next.
Step #1 – Track these metrics on a program level for each stage of the buyer's journey.
All your content is not tied to the same goal.
This means that every content asset cannot be held accountable to the same performance metrics.
The best solution is to track these metrics on a program level across each stage of the marketing funnel.
What do I mean by a "program level?"
Each content marketing initiative qualifies as a separate program.
For example, the metrics you track for your podcast are different from the metrics you track for your blog.
After you've gathered data for each program, you should then assess what all the data sets mean for your overall content marketing performance.
How do you tie your metrics to the buyer's journey?
It's simple.
All the goals that we discussed can easily be mapped onto the customer journey.
Here's an illustration:
For each program, you simply have to track the metrics from the top of the funnel to the bottom.
This allows you to trace new customers back to where they first came into contact with your business.
You can create a spreadsheet to serve as your performance scorecard.
Step #2 – Track engagement and conversion metrics on your content.
At this point, you've tracked your content marketing performance on several levels.
It's also important that you monitor the performance of individual content pieces.
But that's not all.
You need to connect different types of content to each stage of the customer journey.
Why?
Like I mentioned above, you can't expect all your content to produce the same outcome. Every piece has to do its part.
By segmenting your content performance according to each stage of the customer journey, you ensure that you don't assign performance goals where they don't belong.
Here are some of the types of content that you'll use to drive each business goal.
Building brand awareness
Guest articles
SlideShare presentations
Case studies
Podcasts
Videos
Third party reviews
Social media posts
Generating and nurturing quality leads
Speaking events
Whitepapers and guides
Ebooks
Landing pages for gated content
Free online courses
Webinars
Email campaigns
Quizzes
Increasing customer acquisition and sales
Buyer guides
Product pages
Product case studies and testimonials
Blog posts optimized for the conversion stage of the buyer's journey
Email sales sequences
Increasing customer loyalty and retention
Frequently Asked Question (FAQ) pages
User-generated content
Polls and surveys
Step #3 – Calculate your Return on Investment
Have you ever wondered whether or not you can connect your content marketing performance to an actual monetary figure?
You can!
Jay Baer provides a three-step process for calculating ROI for individual content marketing initiatives. I've adapted his process here.
1. First, work out your content marketing spend.
Here's what you need to calculate content marketing spend.
How much you've invested in content creators for the month
Your overhead costs
Additional costs like tools and software used to power your content marketing for each initiative
The formula:

2. Next, calculate your return.
Here's what you need to calculate your return.
Leads per month
Lead conversion rate
Average customer lifetime value
Average profit margin percentage
The formula:

3. Lastly, calculate your ROI.
Here's what you need to calculate your ROI.
The formula:
Part Four: Consider the intangibles
No matter how sophisticated your tracking systems, numbers never tell the complete story.
Each customer has a unique journey through your marketing funnels.
Data simply can't highlight these nuances.
The best way to know if your efforts are working is to engage with your audience.
What conversations are happening around your business? What are your customers saying?
Here's how you can find out.
1. Ask users where they first came into contact with your business. When website visitors fill out contact forms, you can easily add an option to ask, "Where did you hear about me?"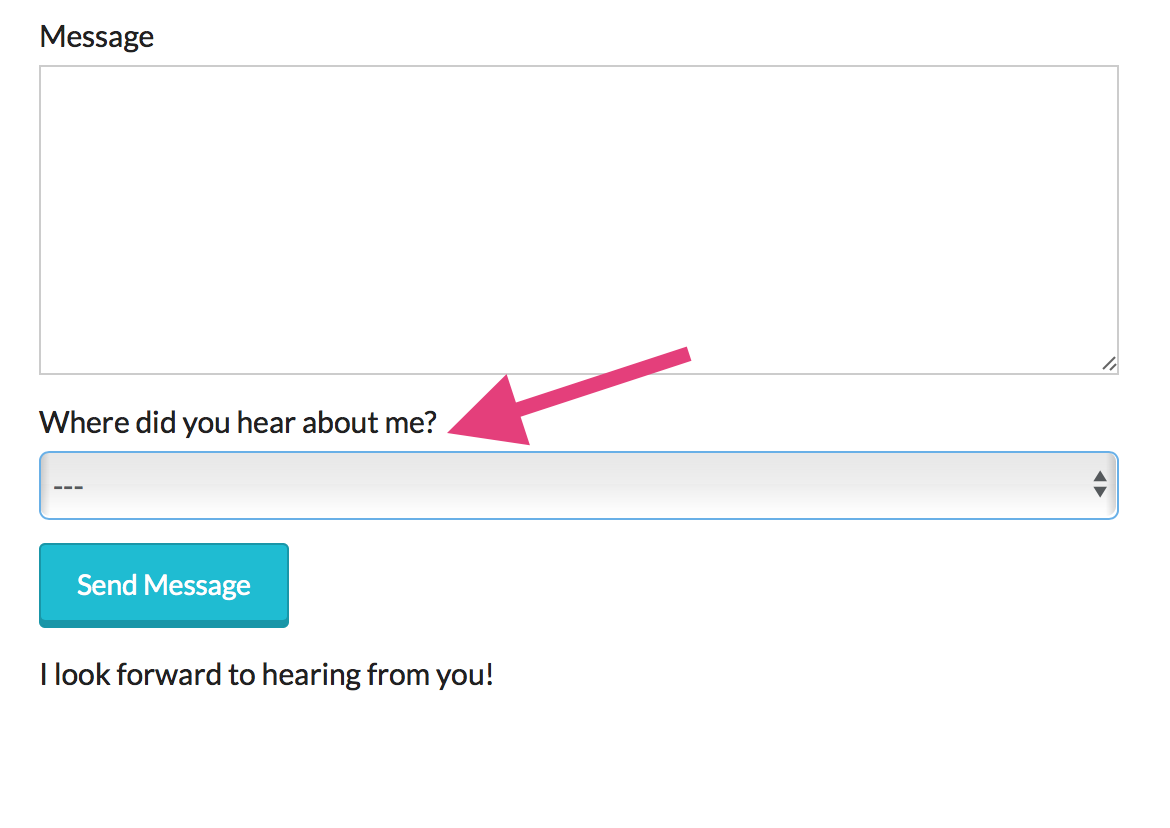 2. Use surveys and social media polls to get feedback from your audience. Ask them what content they'd like to see more of.
3. Start user-generated content campaigns on social media. There's no better way to know what content your audience likes than to have them create it.
4. Monitor social media platforms and forums to find out what people are saying about your business.
For social, you can search for your branded hashtags or sift through the comment section of your posts to listen in on the conversations.
Forums like Quora are also great for keeping an eye on your audience.
Type your business name into the search bar.

You'll see all the discussions. They may not all be useful, but you will find some golden nuggets.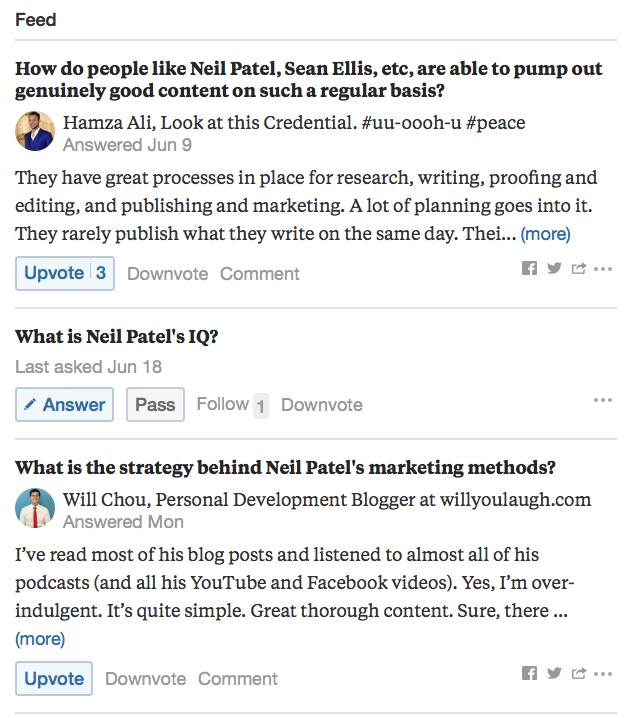 Conclusion
The premise of content marketing is simple.
Create exceptional content, attract a clearly defined audience, and inspire users to take action.
If you can influence the sort of actions that will positively impact your business goals, you've won.
Not only will you be able to amplify your content marketing performance, but you'll also be able to track your success in a quantifiable way.
Be mindful that content marketing is an organic strategy. Results take time to develop.
Set your business objectives, align your content creation process with these goals, and hold your content accountable to performance goals.
How has content marketing been working for your business? Have you been able to track your results?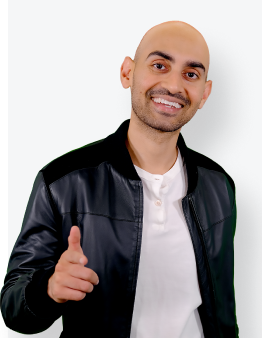 See How My Agency Can Drive More Traffic to Your Website
SEO - unlock more SEO traffic. See real results.
Content Marketing - our team creates epic content that will get shared, get links, and attract traffic.
Paid Media - effective paid strategies with clear ROI.
Are You Using Google Ads? Try Our FREE Ads Grader!
Stop wasting money and unlock the hidden potential of your advertising.
Discover the power of intentional advertising.
Reach your ideal target audience.
Maximize ad spend efficiency.