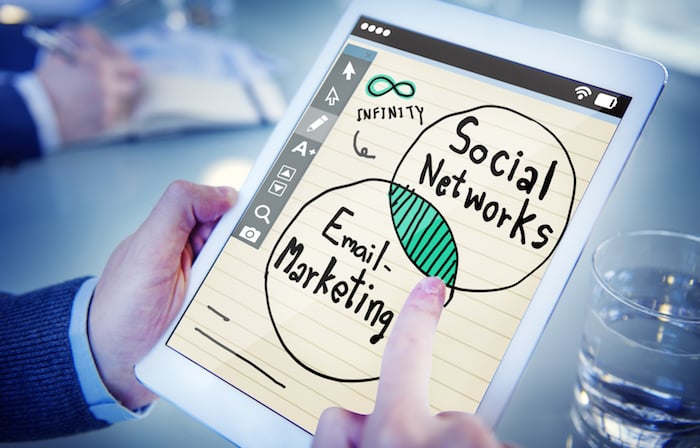 "It's dead," they said. "You have to replace it with this 'new kid'," they also said.
But, then the new kid got chaotic and didn't deliver expected results. And people fell back to the dead entity.
Are you confused as to what I am talking about?
The 'new kid' is social media. And the dead entity is email.
If you don't already know, email is still the most effective tactic for marketers. It's far from being outdated.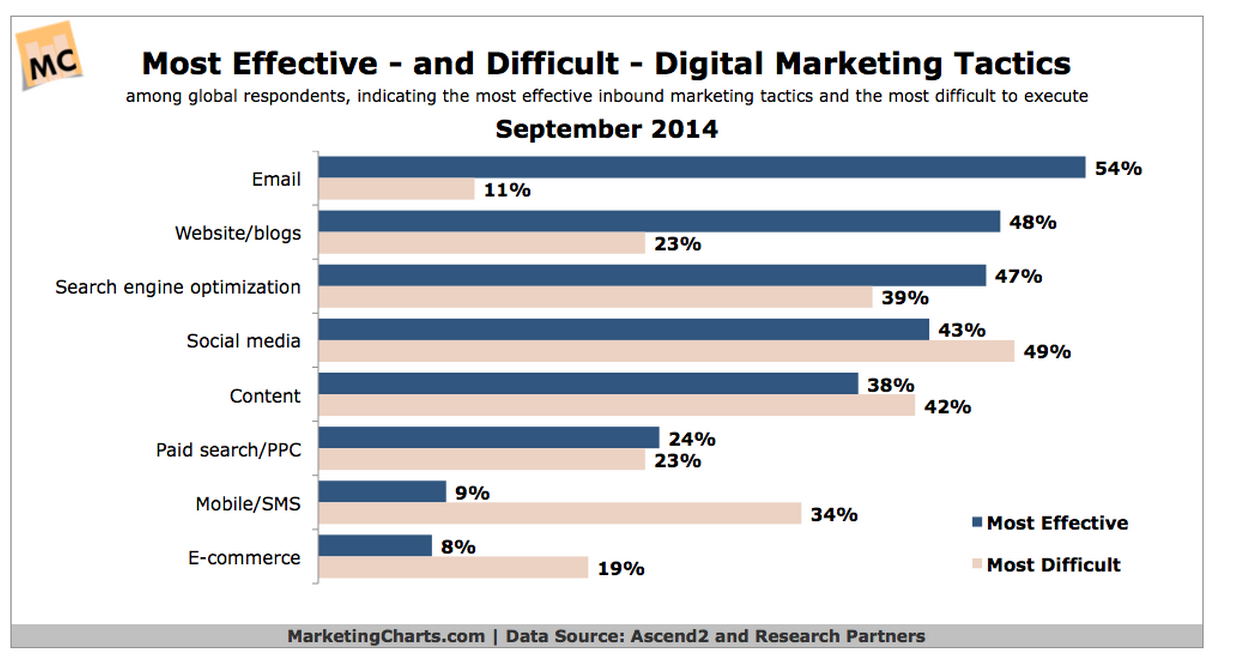 That doesn't mean you can focus all of your marketing efforts on an email campaign and completely write off social media. It also deserves your attention, because it's all grown up now.
As per Shareaholic, Facebook is the number one referral traffic source for websites. New media websites like BuzzFeed derive a majority of their traffic from social media.
Rather than turning this into an email vs social media marketing debate, I want to help you to integrate them.
The two channels are just different ways of reaching your customers. Right? And both are a boon for digital marketing pros. 
You should aim at combining your efforts for both of these channels to shape your overall marketing strategy.
Still held up on using either one of these two channels? Or is it the concerns you have with email marketing, from writing a magnetic subject line to actually getting people on your email sign up list?
Let me share a case study to show you that combing social network marketing and an email marketing campaign can be a great well, marketing strategy. 
Sony Vaio launched their new VAIO summer line-up and included "Pin It" buttons in their emails. This is a simple example of how social media can be combined with email marketing efforts.
So did these buttons improve their results?
They got 3,000 additional clicks and beat their "revenue by email" goal by 172%.
Do you think that you would see such an incredible CTR for your normal emails?   Are you wondering how both of these channels complement each other?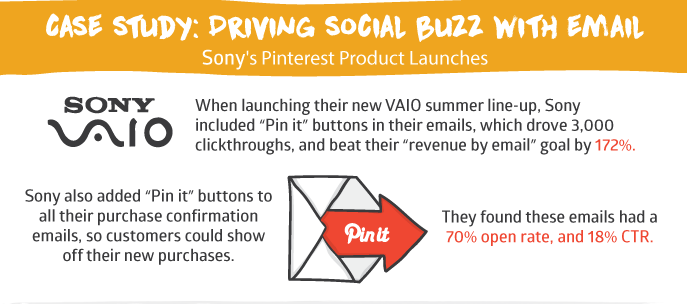 They grow each other's reach because they serve different contexts to different sections of your target audience.
Are you ready to design a digital marketing campaign that leverages the strength of both of these channels?
If so, then I've compiled four methods for you. 
4 methods of integrating social media with your email marketing
Would you like to extend the reach of your emails and grow your email sign up list at a quicker pace?
Well, who doesn't?  Email still converts much better than social media.
But what about the younger generation that might only be hanging out on social media? You want to interact with them as well, right? 
Let's look at how you can use these two massive marketing channels in tandem to grow your business and build your brand authority.
1. Put faces to your email subscribers and retarget them
All the major social media platforms have an option to upload your list of contacts.
This can be really effective for putting faces to names of people who are already aware of your brand and like you (because they're subscribed to your email list).
But why should you put in the effort of giving a face to your email subscribers?
Because you can deepen your relationship with them by connecting and engaging with them on social media. Also, their social network feeds will give you more data about their needs and that will help you in designing products (or blog posts) that touch their pain points.
Example – Look at the conversation between HubSpot and Jeanne Ehinger below. Since HubSpot helped its customer on Twitter, wouldn't it increase the trust of its follower?
Want me to show you how to upload your data from your email service provider (or your personal email account) to Twitter and Facebook?
Let's start with how you can upload emails from your personal email account to the microblogging network and then run retargeting advertising campaigns.
Go to your Twitter account and look for the "Find people you know" link in the sidebar. It's located right below the who to follow section.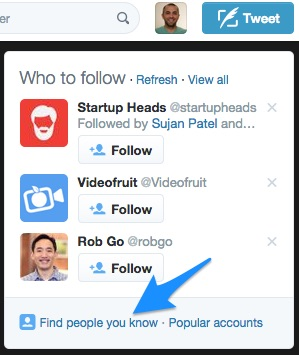 You can connect your address book from Gmail, Outlook, AOL and Yahoo.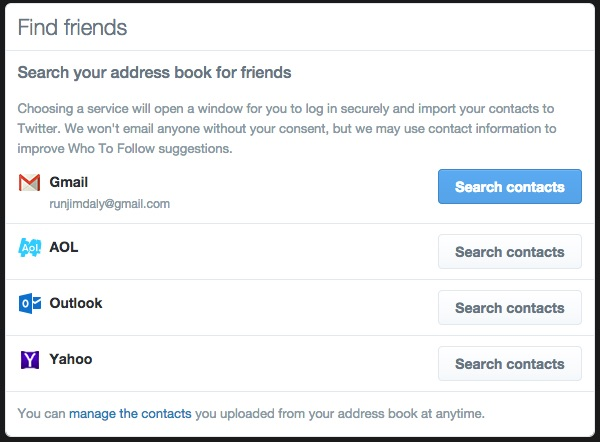 Once you choose a contact book, you'll be asked to give permission for accessing it.
After you give permission, you'll be presented with a list of your contacts and an option to follow them. Based on your imported contact list, you'll even be presented with new "Who to follow" suggestions as well.
Next, let's look at how you can import your contacts from an email service provider to Twitter.
The first step is to export your CSV list of contacts from your email service provider.
If you're using Aweber, you'll first need to head to "Manage Subscribers".
If you want to work with only a subset, you can search for a subset using the drop down menu.

Finally scroll to the bottom left corner of results and click on the "Export CSV" button.

If you're using MailChimp, you'll need to go to the "Lists" page. Click on "Export List".
And once the list exporting is finished, you can click on the "Export as CSV" button.
If you aren't using Aweber or MailChimp, you can check for similar tutorials on exporting your email list on your email service provider's website.
After you have a CSV file of your email contacts, you can create an audience list of Twitter.
Here are the 3 steps to do it.
i. Go to ads.twitter.com >> Tools >> Audience manager.
ii. Next choose a name for your list and specify the type of data you're uploading (email addresses in case you're importing your email list).
iii. Upload your CSV file and allow Twitter a few hours to process your list. Make sure you don't click on the checkbox below the uploading option ("The records in this data file are already normalized and hashed using SHA256").
Unchecking it will permit Twitter to rehash your data and make it more secure.
Once you've uploaded the list, you can create Twitter ads to create personalized offers for your list.
Let's specifically look at how you can create retargeting campaigns on Twitter.
Note: I am stressing retargeting advertising in particular because it targets those customers that have already shown some interest in you and your products. It can get really cheap and drive great business results (when done right).
i. Head over to ads.twitter.com >> Create new campaign.
ii. Scroll down to "Add tailored audiences" and upload your email list.
iii. You can monitor this custom audience's activity by using a tracking code (or a tag). You can also create retargeting ads exclusively for the people who clicked through in your email newsletter.
Here is an example infographic by Twitter explaining how a surf shop can use a website tag to retarget its website visitors.
BetaBrand found a 63% decrease in cost per acquisition and a 130% higher conversion rate with tailored audiences on Twitter.
Let's also look at how you can run import your email list to create a custom audience and launch retargeting campaigns on Facebook.
i. Go to Ads Manager.
And click on the "Audiences" link.
ii. Now click the green button that says "Create Audience". Then choose "Custom Audience".
Then choose the "Customer List" option.
iii. You'll be presented with this tab and from here you can upload a CSV or TXT file. You can also drag and drop your file to the Custom Audience box.
In about 30 minutes, your custom audience will be ready.
With your custom audience you can create better targeted ads.
Want to expand the reach of custom audience?
Then you can create a lookalike audience so that your adverts reach a new audience that's similar to your best customers.
You can also invite your email subscribers to like your Facebook Page.  Just Click on the "…" button from your page and click on "Invite Email Contacts".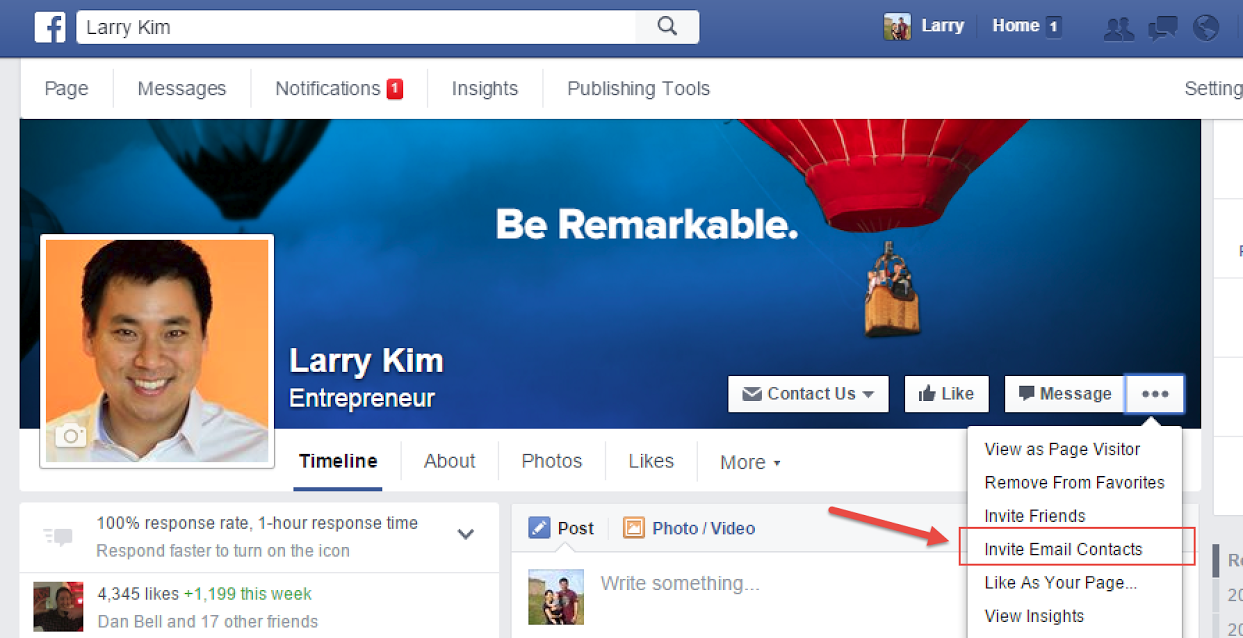 You'll see this popup with different integration options like MailChimp, Vertical Response and Outlook. Choose your address book and click on "Invite Contacts".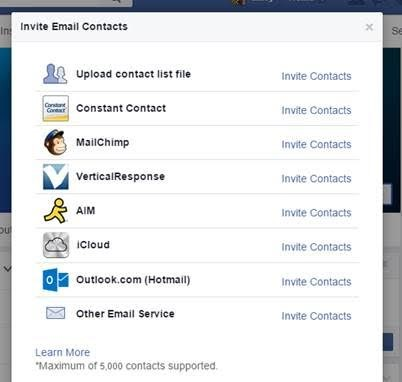 There is a limit on uploading and sending email invites. You can only import 5,000 contacts per day using this feature.
Retargeting advertising campaigns from your email list on Facebook is similar to creating a custom audience.
i. Head over to Adverts Manager >> Audiences.
ii. Click on the green "Create Audience" button. You'll see a popup to choose the type of audience you want to create.
You can import contacts from Mailchimp directly. Once you login to your MailChimp account, your audience on Facebook will be synced and automatically updated every time you add a new email subscriber.
Otherwise, you'll first need to export your list as CSV and upload it under Facebook Ads manager.
You can also use Perfect Audience for creating your Facebook Retargeting campaign.
Once you create your account (14 day free-trial), you'll need to navigate to Manage >> Retargeting lists and click the green "Create new list" button on the right side of the page.
Then you need to enter your list name, duration for running your ad and choose your retargeting type.
If you are tracking your email campaigns using URL querystring, then you can use them as your Retargeting Type in Perfect Audience as well. You'll need to append parameters in your email links.
You can read this article on how to use Google Analytics URL builder to track campaigns and decide on your parameters.
You can watch this video tutorial for a quick recap of the steps to create a retargeting list.
Finally, for creating an ad, navigate to Manage >> Create Ads.
Want some tips on creating effective retargeting ads?
Then start with Noah's article on how to spend your first $100 on retargeting ads.
And if you are new to Facebook Advertising, I would recommend that you read my beginner's guide on running successful Facebook Ads.
2. Invite your social media fans and followers to your tightly knit email community
Measuring results from social media marketing can get tricky. The traffic from social generally has lower engagement and a typically high bounce rate.
Moreover, you don't have control over your social network properties. One fine day, Facebook may decide to shut down your page since you violated its guidelines (and that email marketing campaign will suddenly start looking mighty delicious).
And the deletion might occur after you had put the effort in to engage with your fans on Facebook and built several thousand fans.
The same is true for Twitter or any other social network. It's because Facebook (or any other social media platform) cares about its users more than your business.
Does that mean that you should kill your Facebook Page like Copyblogger and exclusively pursue email marketing?
Not necessarily.
Social media platforms can create a huge impact for your business by generating leads and building brand awareness.
But, since your customer's email remains the most prized business driving weapon:
How about collecting the email addresses of your social media fans and followers?
This will deepen your bond with your social media advocates because email is a more personal medium. And, having connected with them on social media, it'll increase your email opt-in numbers. 
It will also increase your bottom line because email has a higher customer lifetime value (CLV) than social media platforms.
So let's start with a couple of ways to collect emails on Twitter.
i. Create a lead generation card – This is a frictionless and secure tool for people to express their interest in your business. A Twitter user can share their email with you without typing a single character or leaving the microblogging platform.
At the click of a couple of buttons, you'll have a user's name, email address and their twitter handle.
Here's an example Twitter lead generation card.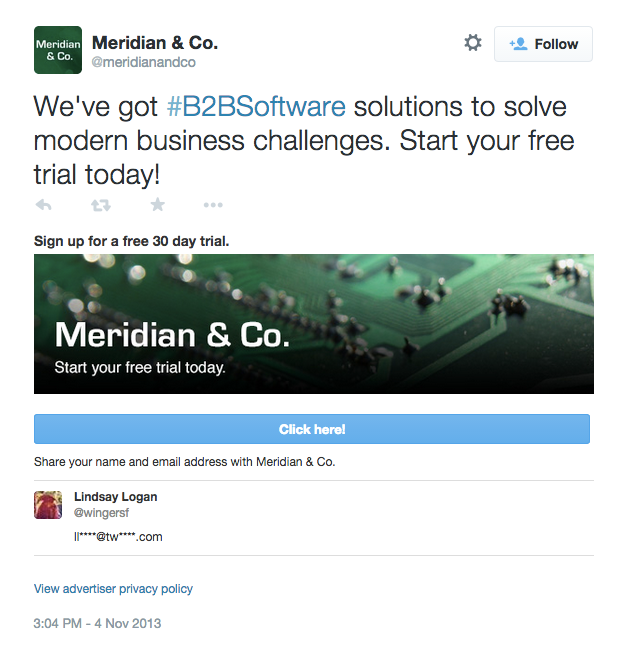 Here is the list of requirements for using this lead generation tool.
a. You'll need to enter your credit card details before using the tool, whether you plan to run Twitter Ads or not.  You also need a Twitter Ads account, but that's already been created along with your personal Twitter account.
b. You'll also want to offer a free gift like a pre-recorded webinar, eBook, email course or a free trial. This is the bait that will lure a user to give you their contact information.
c. Finally, you'll need to develop a privacy policy explaining to the microblogging platform and its users about how you plan to use the sensitive contact data.
Once you're ready with this list of items, here's the step-by-step method to create your first lead generation card.
Navigate to ads.twitter.com. Then click on Creatives >>Cards.
Now click on the blue "Create Lead Generation card" button.

You'll meet an editor requesting a headline, a 600 x 150 pixels image, a small description and CTA button copy.
You need to get creative to achieve good results under the constraints set by Twitter.
The short description has a limit of 50 characters. Make sure you write compelling copy that demonstrates the value of your offer. As always, testing different descriptions will help you in increasing your conversions.
The next element is your card image. As the section mentions you shouldn't use stock images. A tool like Canva can help you in designing elegant designs that grab attention.
Don't settle for anything less than a remarkable image because visuals can have a huge impact on your conversions. Tweets with images get 18% more clicks, 89% more favorites and 150% more retweets. Also, choose your colors carefully because they also psychologically impact users.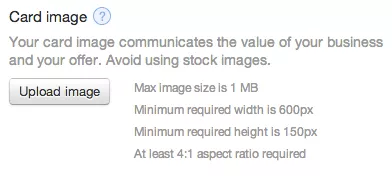 The following image by Vero is a great example of a lead gen image.

The next is the most important element of the card – the CTA. The field is limited to 20 characters. You need to craft an actionable message presenting users with the benefits they receive for clicking on the CTA button.
"Sign up" is bad CTA copy. "Learn More" or "Get the Guide" are much better.
You'll also need to submit the link to your 'Privacy Policy' page.

And a fallback URL (landing page with your same lead gen card offer) in case a user is browsing Twitter from a non-supported platform.
Finally you have the option (highly recommended) to redirect the users who submit their information to a destination URL. It's like a "Thank You" Page.
You can also enter a post-submit message within the 100 character limit. Using this optional element will ensure a smooth onboarding experience for your new subscribers.
Finally you need to name your card to easily identify it on your Cards Manager page.
Once you've created your card, you can preview it from the card manager.
A great example of a lead gen card is by ExactTarget. They promise 140 Twitter Marketing tips within 140 characters. As a Twitter user, I am convinced to click on such a card.
So how can you put a lead gen card to use in your tweets?
The first option is to simply tweet it to your followers (using hashtags, links and images). Make sure that the cards.twitter.com link is intact in your tweet.
You need to click on "Compose Tweet with this card" when you see the above screen.
You can later pin this lead gen card tweet to the top of your feed. By doing this, anyone who visits your profile will see the lead gen card and is more likely to submit their emails to you.
Buffer has reported to have success with this pinning strategy.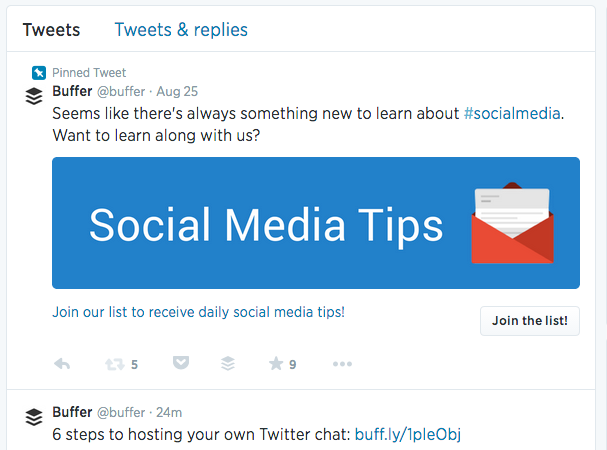 The other more interesting approach is to use Twitter Ads for targeting your users based on their gender, likes/dislikes, geography, etc.
By offering personalized offers to your users, you can achieve better conversions.
David Di Prossimo reported a greater than 30% conversion rate for email subscribers.
Pro Tip: Your card has high chances of getting compressed in the Twitter stream of users as it gets retweeted. Hence your copy has to be compelling so that users want to click and expand your card. Or you can include "a click to expand" note in your tweet itself.
As an example look at this Huffington Post tweet. A user will have to click on "View Summary" to see the card.
And the card that Huff Po wanted you to see was actually this one.
ii. Directly ask your followers to subscribe.  In a tweet, you can also ask your users to sign up for your newsletter.
Look at the CC Champan tweet below.
Next let's look at how you can collect emails on Facebook.
i. Create an email sign up tab and change your cover photo – You can create a tab directly on your Facebook Page by using tools like Shortstack or Tabsite.
This is probably the easiest way to collect emails.
I would recommend that you offer a gift (like a free guide) to those who sign up for your email list. Mari Smith does this.
You can even promote your gift on your Facebook Page's cover photo. When you change your cover picture, Facebook will also post an update in your fans' news feeds.
Look at how Post Planner offers a free guide on visual marketing for Facebook in their cover photo.
This type of Facebook cover will prompt you to click on the cover photo, where you'll see the link to the email list sign-up form to claim your free guide.
ii. Create a newsletter subscription CTA button – Facebook has a CTA button that you can use to link to your newsletter landing page.
There are many CTA button options available in the drop down menu. But for collecting emails, you need to choose "Sign Up".
Then enter the address of your landing page.
Facebook has rich analytics that will show you the number of CTA clicks, so you can optimize your CTA and landing page by measuring your results.
You can also use the CTA button to attract sign-ups in your Facebook updates. You should occasionally also share your newsletter sign up as an update.
iii. Launch a contest – 35% of Facebook Fans like a page so they can participate in contests.  A promotional campaign offering prizes in exchange for the contact details of your fans is a great strategy.
You'll need to use third-party apps like Wishpond to run campaigns that collect emails.
While running a contest, research shows that multiple smaller-value prizes attract more consumers, because people look at the probability of their winning before signing up.
To improve the reach of your social network campaign, you can offer bonus points to the participants who share the contest with their friends.
You can conduct contests successfully on Twitter as well. Diamond Candles received over 8,000 contestants for their popular free candle giveaway below.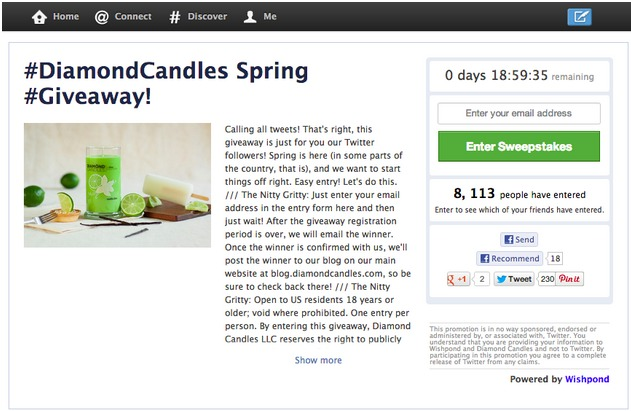 3. Create an exclusive social community for your special customers
This is a strategy Noah Kagan used to create a 5000+ member Facebook group for his email list course – Email 1K.
The course was free, containing material from experts like Andrew Chen, Brian Dean and many more. They had grown their email lists to over 10 million subscribers.
So how can you access the private Facebook group?
It was given only to those privileged subscribers that emailed two of their friends about the course.
Remember I told you about creating a similar invite-only Facebook group in my organic reach article?
Sarah from UniversityParent.com also created a private invite-only Facebook group. It has now grown to over 800 people and attracts great engagement on the posts.
Your email subscribers are the most loyal members of your audience and there is a high probability that they'll want to join a special VIP group like the ones above.
But, you've got to moderate the group and ensure that the group remains spam free (and even self-promotion free, if possible).
Useful content will create an active and engaged audience like the Email1K Facebook group whose posts often get 20 comments or more.
You can also start a group on LinkedIn, inviting your email list. Lewis Howes believes groups are the most powerful feature on LinkedIn to help you to build your business.
One of his groups has 20,000+ members and five other groups have 5,000+ members. Every group features Lewis Howes as the owner and one of his websites as a featured site.
Wouldn't you love that kind of exposure?
4. Open doors to social sharing on your emails and generate more traffic on your website
If you're reading this article, you're probably sending out periodic email newsletters. But have you ever tried to increase the social reach of your email content?
Maybe not.
You can increase your email content exposure by including social share icons inside your emails. As per Get Response, social sharing boosts email CTR by 158%.
Look at Wine Anthology. They ask readers to share the email by providing Twitter, Facebook and LinkedIn share icons.

Wondering how to get these social icons in your emails?
First you'll need to create an HTML webpage version of your email content. Then create a custom code.  
Some email providers may not display social icon images. So you should fill in the alt text for all of them.
To get optimum results, I would recommend you to test adding a couple of social networking sharing buttons (where your target audience primarily hangs out) and various placements of buttons.
You can also use click to tweet text snippets for making social sharing of your email content easier.
When you press the "Click To Tweet" above, you're met with the following option to tweet/buffer. Doesn't that remove the friction in sharing?
If building your social following is your current business goal, you can include a CTA to social media platforms in your newsletter confirmation mail.
As with other channels, incentivizing your customers to share your email can improve your results.
Look at how Chris Penn does it below. He offered to randomly feature two of his subscribers in his newsletter read by 7,600 awesome people. To qualify, his subscribers just needed to share his email on social media.
Losing your email subscribers is painful, right?
Maybe your customer's inbox was getting cluttered, so he bid your newsletter goodbye.
But you can still offer the unsubscribed people from your email newsletter a chance to reconnect with you. Just provide them links to your social media presence.
In the example below, SmartBrief offers the unsubscribed people a chance to download their app. Pretty smart, huh?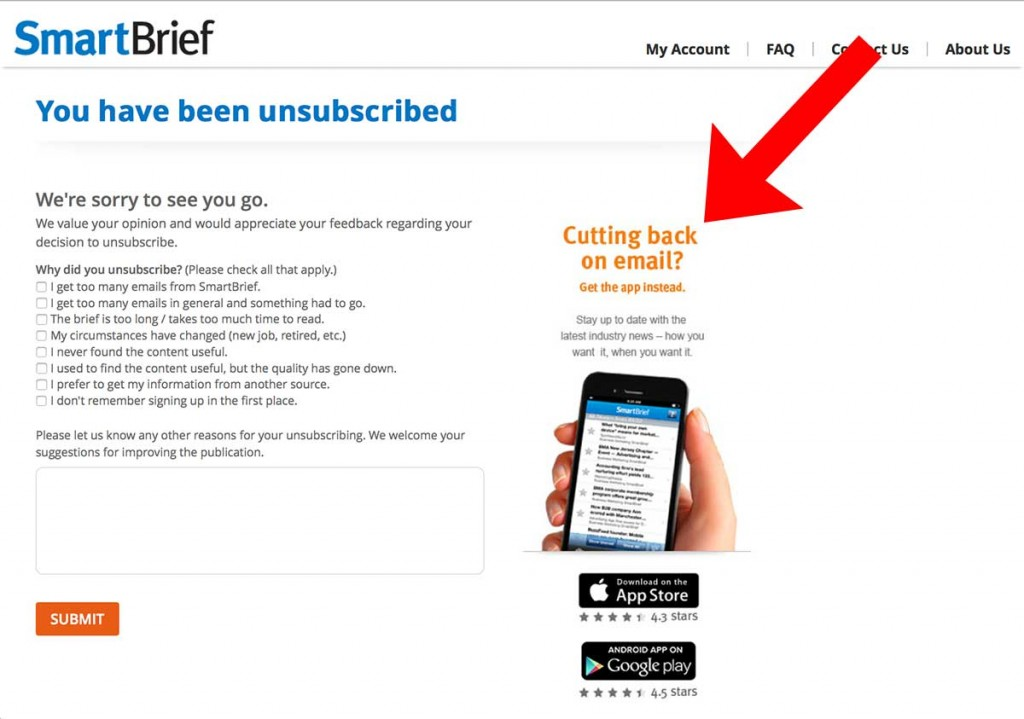 HubSpot takes it a step further. Dan Sally, HubSpot's inbound marketing specialist personally talks to you in a comical yet nostalgic tone in a YouTube video. And he offers you to give them a second chance by following HubSpot on other social media networks.
You can watch the unsubscribe video below.
You can also invite your YouTube subscribers to join your email list using associated website annotation. You'll first need to verify your YouTube account and be in good standing to access it.
Once you qualify, you can send your YouTube viewers to a landing page on your website.
Are you suffering from organic reach decline on Facebook?
Then, you might want to consider engaging your email list on your Facebook Page with a poll like John Haydon.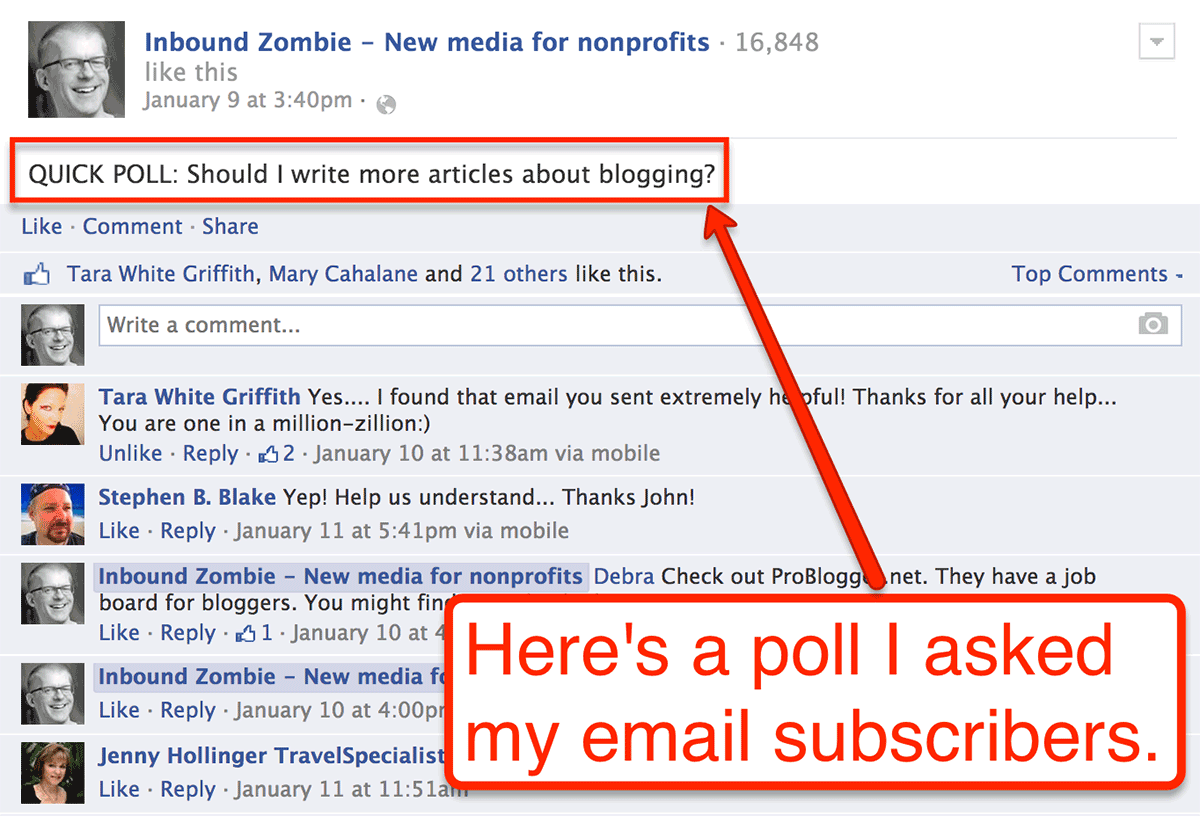 Sending out your popular status updates from the day to your email list can also help you in increasing engagement on your Facebook Page.
You can also highlight popular Twitter updates (or any other social media updates) in your email campaign. For example – Look at the Re-TweetThis snippet in Marketing Profs email below.
I want to end with a case study to show you the importance of social media and email marketing integration.
Fast food restaurant Chik-Fil-A received incredible results in their direct mail coupon campaign.
Their secret recipe (besides offering free delicious sandwiches) was to let the mail recipients share the offer on Facebook, Twitter, SMS and email.
Here is a detailed description of the campaign.
So, do you think the social sharing options helped?
Well the campaign reached 3 times the number of people as on the initial direct mail list. And it generated a 279% increase in response rate.
Conclusion
As per a Marketing Charts Survey, businesses are spending most of their marketing cash on social media and email marketing.
But integrating social media and email marketing will take your customer relationship to the next level. Social media can help you to craft a friendly and approachable brand image. It's a great platform to enable you to interact with your audience quickly.
Email remains the most profitable marketing channels. AppSumo is a 7-figure business and it derives 90% of its revenue from email.  I'd call that pretty far from dead.
But, for the best of all outcomes, I recommend that you let both of these channels work in tandem. Your email subscribers' data can help you offer personalized recommendations to your customers on social media.
There's no limit to getting creative with cross-channel social network/email marketing campaigns. As an example, look how SouthWest Airlines uses text messages to lure their customers to their email signup list.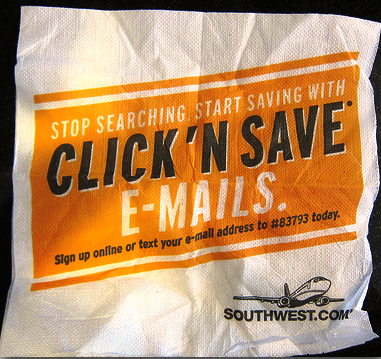 Start with incorporating a couple of methods that I shared in the article to build your integrated social network/email campaign. It'll open doors and lead to higher engagement and higher sales. 
How do you integrate your social media and email marketing campaigns into your overarching digital marketing strategy? Would you like to share your results from a cross-channel marketing campaign you ran?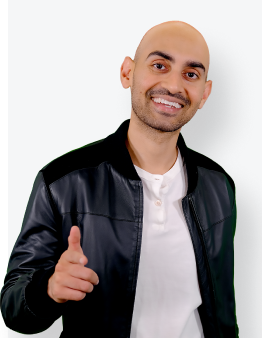 See How My Agency Can Drive More Traffic to Your Website
SEO - unlock more SEO traffic. See real results.
Content Marketing - our team creates epic content that will get shared, get links, and attract traffic.
Paid Media - effective paid strategies with clear ROI.
Are You Using Google Ads? Try Our FREE Ads Grader!
Stop wasting money and unlock the hidden potential of your advertising.
Discover the power of intentional advertising.
Reach your ideal target audience.
Maximize ad spend efficiency.