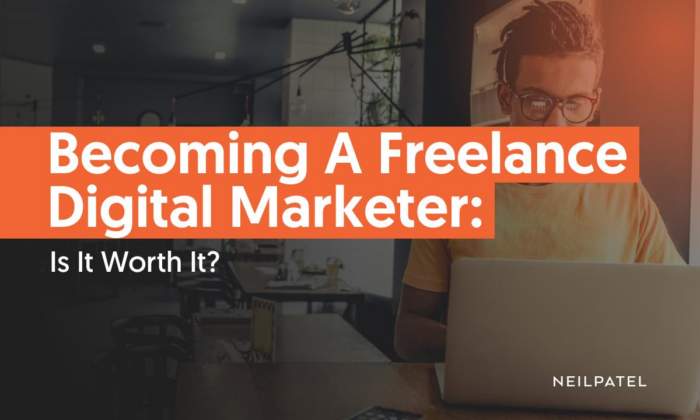 While freelancing as we know it today has been around before the internet, there's no doubt that it has only gotten easier and more common in this digital age.
This is especially true for those who are already in the digital marketing realm.
With more and more freelance roles open in the market, you may be asking yourself if it's worth it to make the move from in-house or agency to freelance. You may even be wondering; is freelance digital marketing legit?
In this post, we'll explore why people become freelance digital marketers. We'll then explore the reasons why some companies prefer freelancers when making hiring decisions. We'll dive into the data behind those hiring decisions, so you know what companies are looking for. Finally, we'll answer the question as to whether you should take the plunge and become a digital freelance marketer.
So, let's get started!
Why Do People Become Digital Freelance Marketers?
There's no doubt a lot of appeal to "being your own boss." Obviously, there is a lot of hard work involved, as well. However, many people feel the benefits outweigh the drawbacks.
Just a few perks that freelancers can expect include:
Unlimited earning potential: Freelancers can set their own prices and work as little or as much as they want, both of which contribute to an unlimited earning potential.
Flexible schedule: Freelancers can set their own hours, which means much greater flexibility than one would find as an employee.
Specialization: Freelancers can take on any clients, industries, or assignments that they want. They can specialize in their work, whether that's on a digital marketing niche (e.g., SEO) or specific tasks (e.g., writing white papers).
Location independence: Freelancers can work from anywhere in the world. As long as one has a laptop and internet connection, a freelancer can make it work.
The flexibility and independence of freelancing can be a huge appeal to many people from all walks of life.
Why Do Companies Hire Freelance Digital Marketers?
You may believe that companies prefer to hire part-time or full-time employees. The truth is that freelancers can be attractive to companies for many reasons. In fact, many companies prefer to hire freelancers when possible as they see it as an effective way of outsourcing work.
Here are a few more reasons why companies prefer freelancers:
Lower overhead costs: While freelancers may charge more per hour or project, there are fewer overhead costs associated with freelancers. The company doesn't need to provide office space, in-office perks, or pay payroll taxes or their part of employee benefits (e.g., health insurance, paid time off, etc.).
Larger talent pool: If you have a specialized task that needs to be done, would you rather limit your talent pool to just your city or metro area? Say a company is in need of an SEO professional. When they consider hiring SEO freelancers, they have a substantially larger talent pool to choose from since they can hire freelancers from anywhere in the world.
More specialized talent: Freelancers often have a broader range of experience within their field, and many freelancers are specialized within a certain niche. This combination means that freelancers can provide more specialized work than most employees.
No long-term commitment: If things don't work out with an employee, it can take months for the company to fire them. If things don't work out with a freelancer, though, a company can cut their losses as soon as the contract allows (often 30 days or less).
As you can see, there are a lot of benefits to companies when they add freelancers to their workforce. That's not to say that all companies prefer freelancers, but freelancers have just as much of a chance to be hired when applying for the right jobs.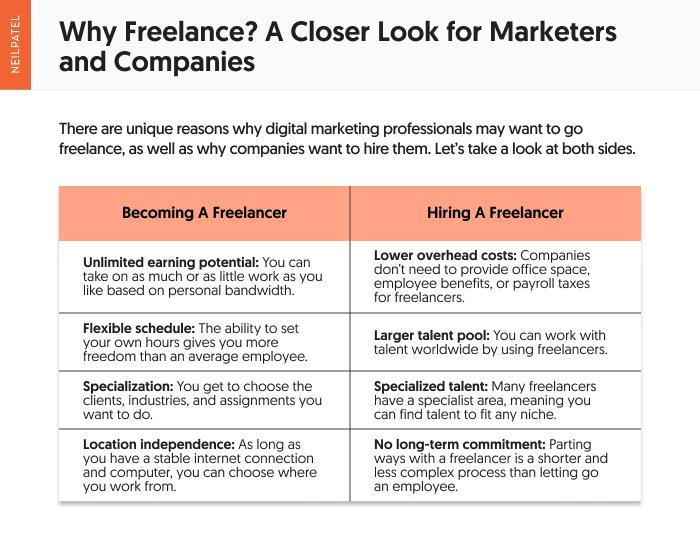 What Our Data Shows Us About Freelance Digital Marketers
If you're interested in becoming a digital freelance marketer, you may want to understand your prospects. We surveyed 1,000 people in charge of hiring decisions (i.e., recruiters, marketing managers, and art directors). The survey concluded at the end of December 2022.
Here's what we found.
Freelancer vs Employee
Freelancers are almost as likely to get hired as their full-time counterparts.
We asked our group of hiring decision makers if they were more likely to hire a freelancer. 438 of those people, or near 44%, answered "yes." In addition, 32 people answered that they would maybe hire a freelancer and would need to see the creative/idea first.
That means freelancers have close to a 50/50 shot at getting hired, which puts them on par with their non-freelancer counterparts.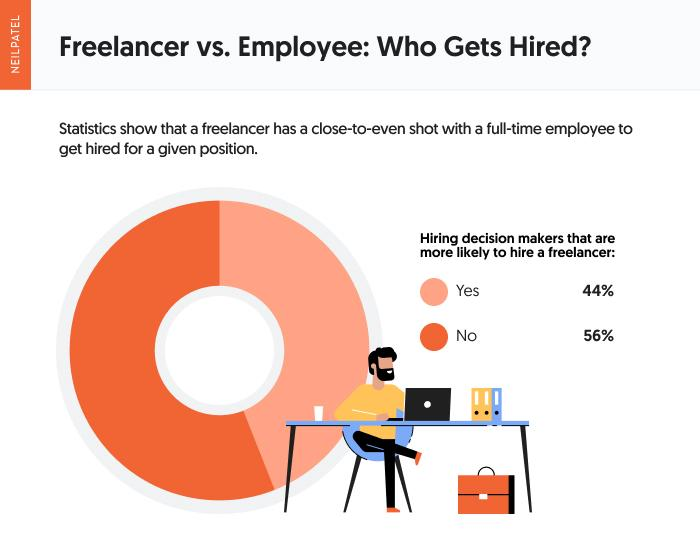 References vs Experience
The surveyed individuals were presented with two candidates:
Candidate A: A freelancer that has three glowing references; and
Candidate B: A freelancer with more experience than candidate A.
Of the hiring professionals asked, 50.2% indicated they would hire candidate A over candidate B. This percentage increases to 50.6% when we narrow the focus of our survey results to marketing/sales.
What does this mean for freelance candidates?
Experience may not be the be-all and end-all when companies or businesses are looking to hire freelancers. Of course, it doesn't hurt to have reviews and references from previous clients to make up for any lack of experience.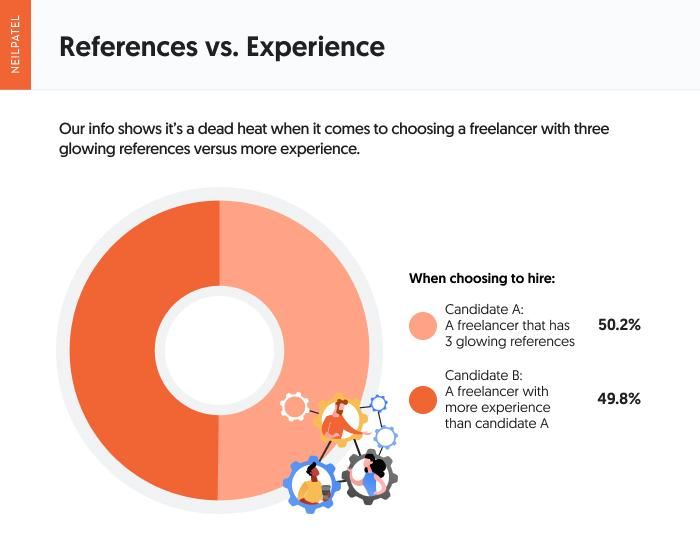 Certifications vs Experience
The next question we asked hiring professionals was whether having a certification would make them more likely to hire a candidate with less experience.
Of the 1,000 respondents, 66.6% said they would hire the person with more experience over the person with less experience but with a certification.
It's pretty clear here that certifications don't make up for lack of experience. So, if you need to put your efforts into something, you may want to consider putting more effort into collecting good references from previous clients over a certification program.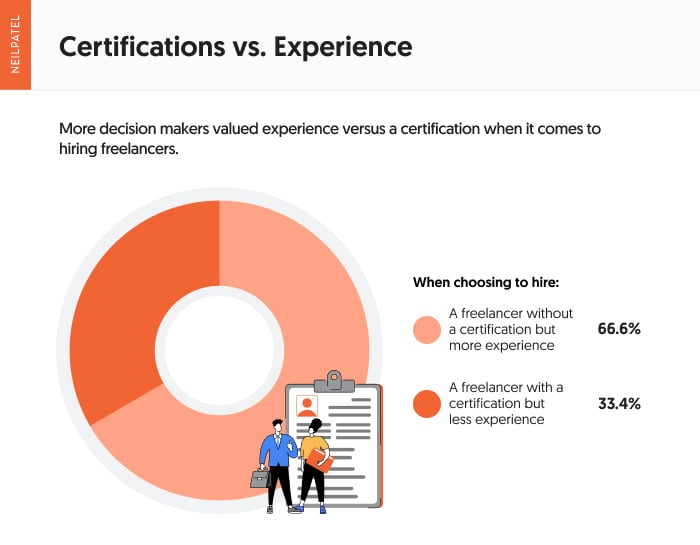 Cultural Fit vs. Experience
In the last of our questions regarding experience, we asked hiring professionals if a candidate being a better cultural fit would win over a candidate with more experience.
Of those surveyed, 63.3% said they would hire the candidate with more experience over the candidate who was a better cultural fit. When we pruned our results down to only those respondents in the marketing field, this percentage increases to 67.4%.
This means that freelance professionals, and especially those looking for marketing positions, should work on increasing their experience over emphasizing their fit within the company.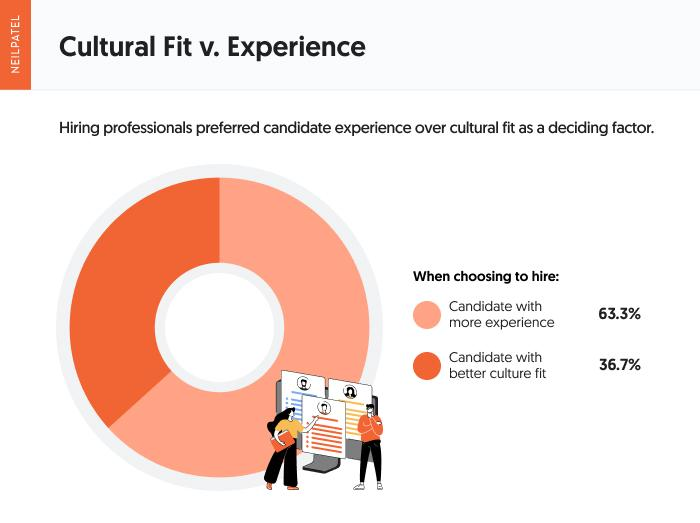 Resume vs Portfolio
Last but not least, we asked our group of hiring professionals how the following two candidates would stand up.
Candidate A: A creative freelancer that has a great resume but an okay portfolio; or
Candidate B: A creative freelancer that has an okay resume but a better portfolio.
In 54.1% of cases, the hiring professionals would choose candidate A, the candidate with the better resume.
This number shifts to 58.6% when we narrow it down to marketing/sales.
This just goes to show that it's important to make a good first impression with a solid resume, even if you're a freelancer who is looking for a creative role. While a portfolio may be useful, it's only one part of your appearance as a candidate.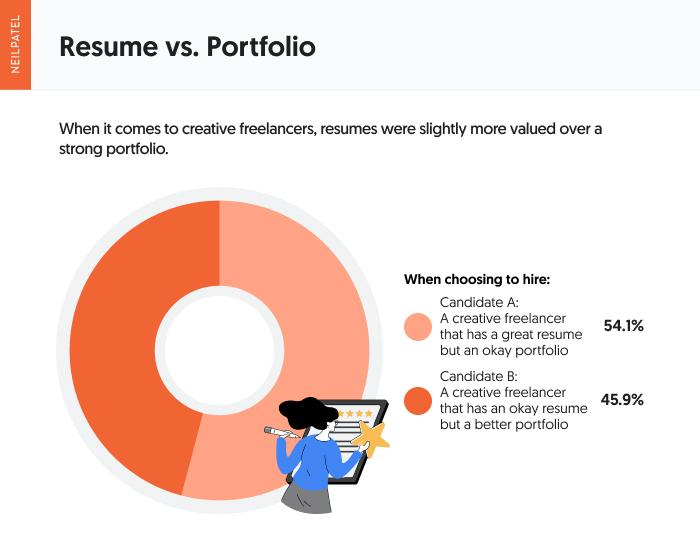 What We Learned From Our Data
We learned a few things about hiring decisions from our data. Some of these relates to freelance candidates only, while other learnings apply to all candidates.
First and foremost, experience is an important indicator of success for candidates. It's not the only factor that hiring managers consider, but it's more important than, say, a credential.
If you feel like you're lacking in experience, don't worry. The best way to make up for this, especially as a freelancer, is with glowing references and/or client testimonials. The split between hiring managers who will hire for experience vs glowing references is almost split 50/50. So, if you feel like you need a boost, then focus on collecting those testimonials from the clients who have been happiest with your work.
Overall, freelance candidates stand a good chance in the job market. That includes candidates with a variety of experience levels and portfolio strengths.
Should You Become A Freelance Digital Marketer?
You are the only person who can really answer this question.
If your concern is that you won't be competitive in the job market, though, then let our data from above guide you on your journey.
Freelancers can be just as competitive as non-freelancers in the job market. In some cases, they're even preferred. So if you're worried that you won't land a job simply because you're a freelance candidate and you're letting that hold you back, think again.
In fact, many freelancers find so much success within their niche that they find themselves needing to hire their own employees (or freelance workers) just to keep their business running.
FAQs
Do you have more questions about becoming a freelance digital marketer? We have answers to some of the most frequently asked questions on the topic.
Should I become a freelancer?
There are benefits and drawbacks to becoming a freelancer. Only you can decide whether the benefits (e.g., unlimited earning potential, flexible schedule, location independence) outweigh the drawbacks (e.g., no employment benefits, higher tax liability, up-front business costs).
How to become a freelance digital marketer?
If you're new to the world of digital marketing, then you'll need to pick your niche (e.g., content marketing, social media), create your personal brand, and learn how to create top-notch proposals to land clientele. If you're stepping out of the corporate world, you should leverage your network to build out your initial clientele. You will also want to create a portfolio showcasing your expertise.
What do freelance marketers do?
The job role of marketer varies from company to company. This is also true in the freelance world. A freelance marketer can specialize in many areas, including content and copywriting, social media, search engine optimization, and digital advertising. 
Conclusion
There's good news for those looking to break into the world of freelance digital marketing: your odds of being hired as a freelancer are just about as good as if you were a traditional candidate.
With a combination of experience and good client references, you have just as much of a shot as landing work with an agency or company as those on the other side of the employment fence. That's not to say that breaking into the industry isn't difficult. However, perseverance and resourcefulness are the name of the game whether you're a digital marketing freelancer or employee.
Are you looking to take the plunge into the world of freelance digital marketing? Leave your questions below.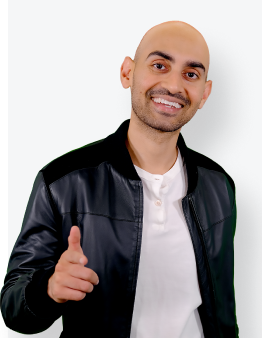 See How My Agency Can Drive More Traffic to Your Website
SEO - unlock more SEO traffic. See real results.
Content Marketing - our team creates epic content that will get shared, get links, and attract traffic.
Paid Media - effective paid strategies with clear ROI.
Are You Using Google Ads? Try Our FREE Ads Grader!
Stop wasting money and unlock the hidden potential of your advertising.
Discover the power of intentional advertising.
Reach your ideal target audience.
Maximize ad spend efficiency.