By now, it's a well-known cautionary tale: a startup builds the best, most innovative, most cost-effective tool on the market, but then can't find anyone to buy it. It's a problem every entrepreneur will face if they aren't willing to test their ideas with actual customers before launching.
However, many entrepreneurs have good reasons for not taking the time and effort to do so. Customer phone calls, surveys, meetings, and interviews all get tedious, and they are not necessarily productive, either. Customers can't always tell you exactly what their pain point is, or – more often – they don't know exactly what they would need to cure it.
So how can you build up an audience and validate customers without building a product, releasing it, and just hoping people like it?
The answer is content.
Why a Good Content Strategy Is Crucial to Your New Business
Building a product takes huge amounts of time and resources. Don't you want to make sure you're building something people will buy before you make that investment?
A blog is an incredible secret weapon for startup founders. Not only is it a place where you can begin to grow a following without having a completed product to offer, but it's also a place where you can build your brand, test ideas, get user feedback, and engage your future customers in a conversation that will get them invested in your brand and help you create a better product for them.
A blog builds credibility
People are more willing to buy a product when it comes from someone they already know and trust, so why not establish yourself as a trusted source before you have something to sell? A blog is an amazing platform for you to establish yourself as a leader in the community and the market you hope to penetrate. An excellent pre-product blog will have thought leadership, industry news and analysis, and insights from experts in your field.
Building credibility doesn't have to take a lot of time, either. One or two posts a week, with really high-value content or news, is often enough to stand out from the crowd of "Top 10" lists and fluffier business blogging pieces out there. Define your values and your audience, and write content that those people would find worthy of sharing on their Twitter feeds.
A blog builds an audience
The company that focuses on building an audience first and building a product second will find that a captive audience is more willing to work with you on products that don't quite hit the mark.
Think about it: if a friend you've known for a year shows you their new product and you don't like it, you're likely to help them improve it because you like them and are at least a little bit invested in their happiness and success.
But if a stranger on the street shows you a product and you don't like it… Well, who cares? This person and their product don't really mean anything to you, so you can basically just take it or leave it.
Moz (formerly SEOmoz) started as a blog and built up a huge following of readers before ever launching their main product. They found that their loyal readers were willing to stick with them through product iterations because Moz already was giving them such valuable content on their blog.
It's the idea of reciprocity: if you create a valuable resource for people and invest in their success, they will feel loyal to you and return the favor by supporting you down the road.
A blog builds innovation
Once you have established yourself as a credible source with a loyal following, you can start using the blog to validate your product ideas. (By the way, your following can be 15 people to start with. Don't think a good blog has to have 10,000 views a month to matter.)
Danielle Morrill used her blog to build up credibility as a startup business analyst. She published posts ranking and analyzing startups from different portfolios, and – based on the success of those posts – launched her actual product, a startup analysis index.
Plenty of other businesses have followed similar strategies, using their blogs as platforms to share previews of the products they were building and to get feedback from their potential users.
Groupon began as a blog where the founders manually updated the site with daily deals on restaurants and movie tickets. Once they saw that people were interested in the product they had to offer, they built it into the site you'd recognize today.
Zen Habits began as a highly trafficked blog about living mindfully in a busy world. Eventually, it grew into courses, books, and a growing business, once the founder, Leo Babauta, validated his concept for the kinds of products his readers would be willing to pay for.
By building up an audience with a blog, you give yourself a huge resource you can leverage at any time. If you engage with your readers (and don't just market yourself), you can start fascinating conversations where you learn details and touches your product needs that you never would have thought of.
You save time and money by getting to bounce ideas off of actual customers (instead of investors or product developers who won't be buying your product). You also get future customers further invested in your success. The more your audience feels they were involved in the development of the product you release, the more likely they are to stick around and buy.
How Can You Develop an Effective Pre-Product Content Strategy?
Building a content strategy before you have a product isn't easy, but the benefits of spending time building up that content strategy vastly outweigh the drawbacks of spending that time building a product with no audience or market to launch it to.
So, as a founder with limited time and resources, what can you do?
Create a modest content calendar.
How often can you realistically post? Once a week, twice a week? Whatever you can reasonably do, create a simple spreadsheet with dates, and lay out a few topics for the first few weeks.
At popforms, we sat down and came up with 100 blog post ideas during one long brainstorming session. Now, we just pick and choose from that list as necessary, adding in new ideas when they fit better. This makes writing a post every week super simple, because we don't have to start from scratch every time.
Define your audience and brand.
Who do you think your future customers are? You know the industry/field you want to operate in, but who exactly are you trying to reach? Managers? Moms? Pet owners? Residents of a specific town?
Don't branch out too broadly in an attempt to grow an enormous following. That strategy almost always backfires. Why? Because people can get general information anywhere. General information often isn't helpful and usually doesn't solve the kinds of problems people go to business blogs for.
Focus on your niche, and the things that you are an expert on. Speak to the people you want to convert into customers, and forget the rest.
Create a mailing list.
Tools like MailChimp make this really simple. Even if you have only a few followers, put a sign-up form on every page of your website to make it really easy for new followers to give you their email addresses. Send a regular update to your list, sharing content from your blog and any other news that will keep your followers engaged with your journey.
Communicate with your followers.
It's great to have 1,000 email addresses in your mailing list; it's better to have 1,000 customers that you have communicated with directly and formed a connection with. The power of your audience increases directly based on how much you interact with that audience.
You should ask for feedback, and then respond to feedback emails personally. Ask lots of questions. Ask people what they want to read, bounce ideas for products off of them, and ask them about their own personal pain points. You won't believe what you will learn.
Your startup's blog should be its secret weapon. It has the power to turn visitors into customers and so-so product ideas into million-dollar launches.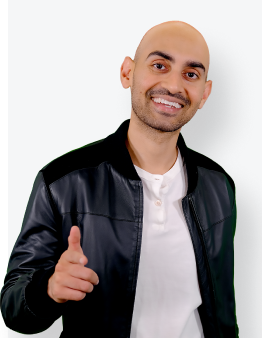 See How My Agency Can Drive More Traffic to Your Website
SEO - unlock more SEO traffic. See real results.
Content Marketing - our team creates epic content that will get shared, get links, and attract traffic.
Paid Media - effective paid strategies with clear ROI.