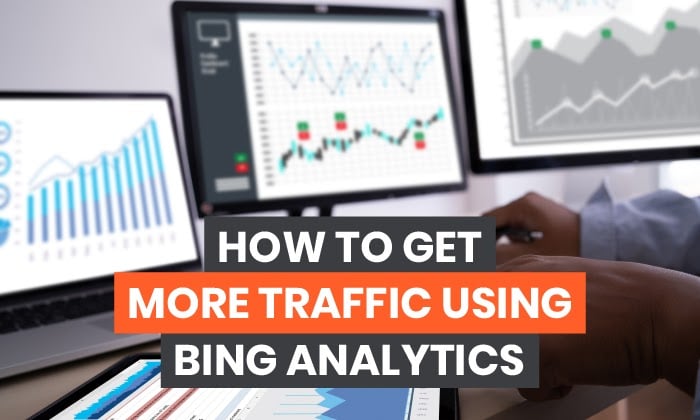 It's easy to forget that Google isn't the only search engine. And that leads to a lot of marketers ignoring Bing Analytics.
Sure, Google dominates the market. In the time it's taken you to read these two and a half sentences, Google has processed about 280,000 searches.
But you should also look beyond Google when it comes to driving traffic to your site.
Bing has a 2.83% share of the global search market. Its search engine powers Yahoo, which holds 1.65% of the market share. Combined, that's just shy of 5%. Do you want to miss out on 5% of the global search market?
If not, you should be focusing on Bing and Bing Analytics to boost your web traffic.
What is Bing Analytics?
We all know about Google Analytics. It's the tool we rely on to track and analyze our traffic. So you'd assume Bing would have a direct equivalent, but that's not the case.
Bing Analytics technically doesn't exist (although Bing itself returns almost 40 million results for the phrase "Bing Analytics").
What does exist is Bing Webmaster Tools, a dashboard with a bunch of Google Analytics-like features. But, it is more like Google Search Console.
So when I say "Bing analytics" in this article, I'm referring to all the stuff within Bing Webmaster Tools.
Why You Need to Review Bing Analytics
If Bing is a significant source of traffic for your site, or you hope it'll become one, the site's analytics tools will help maximize your search performance.
Bing Webmaster Tools offers plenty of features to improve your rankings and grab more traffic from Bing.
I won't give you an exhaustive guide to the Webmaster Tools feature set here, but we'll review Bing analytics' most critical aspects and show you how they work.
Glean Insights From Bing & Yahoo
With Google Search Console, you're limited to exploring your search performance within Google. Sure, that's a lot of data. But it's not the whole story.
Bing analytics in Webmaster Tools helps fill in some of the blanks by combining data from Bing and Yahoo. That means you can see the impressions, clicks, rankings, and the specific keywords that bring users to your site (plus a whole lot more) from two different search engines.
Submit Your Sitemap
By submitting your sitemap to Bing, you make it easier for the search engine to crawl and index your site. That makes it more likely that searchers will find your content and services.

You can see all the sitemaps you've submitted to Bing via Webmaster Tools. And it's simple to submit a new sitemap from the Webmaster dashboard.
Control Bing's Crawl Speed
Does your site get a ton of traffic at specific times? For example, if your site gets a ton of traffic on weekday mornings, you don't want search crawlers putting your servers under even more strain.
That's why the Crawl Control feature within Bing analytics is so useful. It lets you tell Bing when you're busiest, so it's like asking a cold caller to call you back later when you're off work. It's worth noting that you can't do this within the new Google Search Console.
Demote Sitelinks
Sitelinks, or "deep links" to use Bing's terminology, are those links that show up just below a site's main listing on the search engine results page (SERP).
Here's how they look on Bing: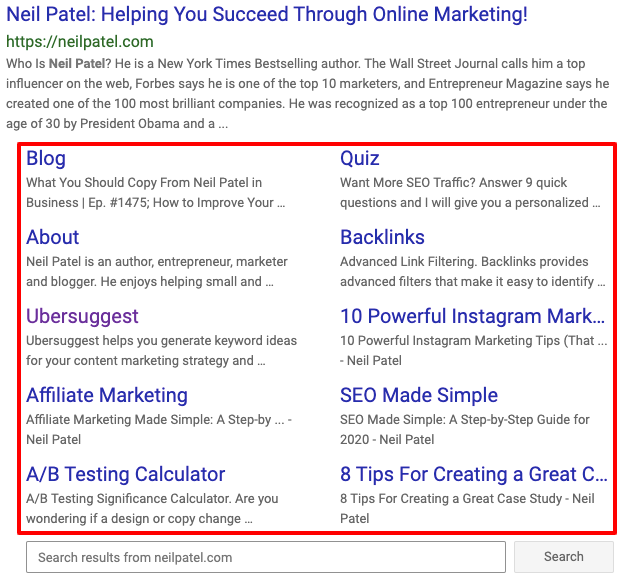 Google doesn't give you any control over the sitelinks it displays. Bing does. Specifically, Webmaster lets you block individual pages, so they don't show up as sitelinks.
Let's say I don't want my article 10 Powerful Instagram Marketing Tips to appear on a sitelink any more. Maybe it's not relevant to my current strategy, and it doesn't make sense for it to be displayed so prominently within SERPs. With Bing, I can control that.
Set up Geo-Targeting
You can't do good local SEO without geo-targeting. It's the feature that lets you tell search engines which parts of your site should be shown to users in different locations.
Webmaster Tools is the home of all your Bing geo-targeting needs. Whether for a whole domain, a subdomain, a directory, or an individual page, just enter the URL and choose your desired target country or region.
Of course, you can do the same with Google Search Console, but it's much more fiddly. It's important to geo-target on Google and Bing.
Connect Social Accounts & App Stores
Chances are, your online presence doesn't start and end with your website.
You've probably got several social profiles, or your products are on all the big app stores.
Those pages are a big part of your brand. So wouldn't it be great if there was an easy way to see how many impressions and clicks you're getting from them?
You can, thanks to Bing analytics. By linking your social and app profiles, you can get a whole extra level of insight into how people are finding you online.
Understand How Bing Sees Your Site
The world of search algorithms and ranking factors can be pretty impenetrable. At times, the search engines seem to be going out of their way to make life more confusing.
Wouldn't it be great if you could lift the lid on a search engine and see what it sees?
The Bing analytics Index Explorer allows you to do exactly that. It shows you how Bing sees your site, laid out in a Windows Explorer-style series of folders and files.
This feature makes it simple to find all the data Bing has collected while crawling your site, so you can identify what needs fixing. If Bing's crawlers are stumbling across a bunch of redirects, blocked URLs, or pages infected by malware, you'll find out with Index Explorer.
How to Add Bing Analytics to Your Website
Adding Bing analytics verification to your site is an easy process. Head to the Webmaster Tools site, sign up with a Microsoft, Google, or Facebook account, and then you'll be given two options:
Import from Google Search Console: If your site's already verified by Search Console, you can skip any extra verification with Bing.
Add your site manually: You'll need to make detectable changes to your site so Bing can verify you.

Bing offers four ways to verify your site:
Log into your hosting provider account for automatic verification
Upload the XML file on your webserver
Add a custom meta tag to your site's homepage
Edit your site's CNAME record with a custom verification code
Boosting Your Traffic With Bing Analytics
Here are some of my favorite tips for using the Bing analytics Webmaster Tools features to increase your organic traffic.
Find Low-Hanging Fruit With SEO Reports
Google Analytics and Search Console are great, but it can be hard to tell what changes impact your search rankings.
In contrast, Bing analytics runs automated reports that flag areas on your site that don't follow Bing SEO best practices.
Better still, the SEO reports feature ranks issues by severity (either Low, Moderate, or High). It will tell you how frequently the error occurs on your site, and how many pages are affected.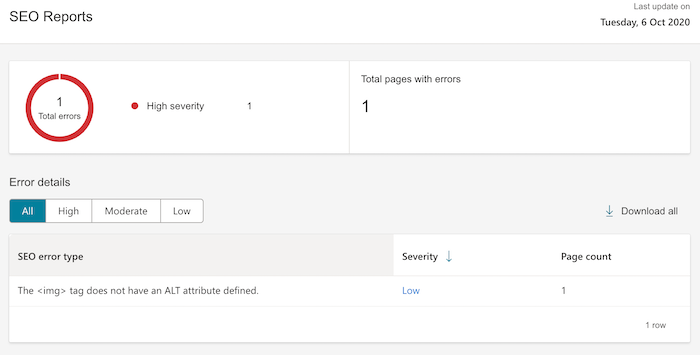 But remember, it won't do all your SEO legwork for you. Even if you make every change Bing recommends, you won't automatically rocket to the top of the rankings.
For example, it won't tell you if your backlink profile is weaker than your rivals' or targeting the wrong keywords.
But it's fantastic for identifying common issues that can harm your search performance, like missing title tags or multiple H1s on the same page.
View Page-by-Page SEO Improvements
But you don't just have to seek out SEO improvements at the site-level. Bing analytics also offers a page-level tool called SEO Analyzer. Enter a URL from your site, and Bing will check it against approximately 15 SEO best practices.
Interestingly, you can even use it on pages that aren't indexed. So if you're building a new campaign landing page but don't want it to be crawled yet, you can still check that it's ticking all the right SEO boxes.
Assess Your Mobile-Friendliness
Around half of all web traffic is on mobile devices. That's been the case for the last three years, so there's no excuse for your site not to be mobile-friendly by now.
Like Google, Bing offers a mobile-friendliness test in Webmaster that analyzes how well your site performs on mobile. You can use it to analyze any site, not just your properties, so it's useful for checking in on competitors, too.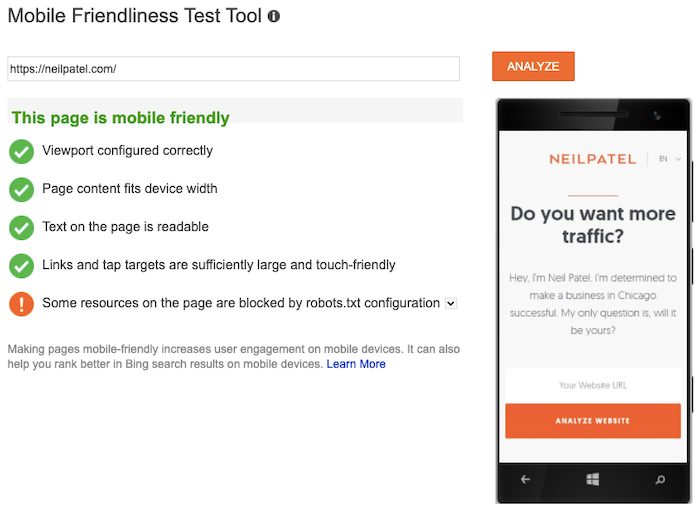 Now, it's worth noting here that Bing doesn't place quite as much value on mobile-friendliness as Google. Whereas Google has switched to mobile-first indexing for all websites, Bing isn't planning to follow suit.
On the flip side, Bing does treat user experience as a ranking factor, unlike Google. If mobile users are having a horrible time on your site and are bouncing straight off, your rankings will likely suffer.
Find Page Two Keywords
An SEO's job is to make the most significant impact on a site's organic traffic with the time and resources available.
With Bing analytics, you can use the Search Keywords tool to identify terms you're ranking just off page one of SERPs (i.e., in positions 11-20).
Those keywords are probably generating very little organic traffic for you at the moment because few searchers make it past page one. But they're not far off, and a little tweaking could make all the difference.
Analyze the pages where those terms appear, look at the sites ranking above you, and figure out how to leapfrog them.
Maybe you need a few more quality backlinks, or perhaps you need to optimize your content.
Do Keyword Research
Once you've grabbed all the low-hanging fruit by fixing simple errors and optimizing page two keywords, it's time to explore new opportunities.
To do that, you'll need to start with some keyword research. And did you know Bing is the only search engine to offer a keyword research tool based on organic data?
Even better, that data comes from searches on both Bing and Yahoo.
Bing's keyword research tool has a few useful features. It shows you:
Organic search volumes for any given keyword: Helps identify if a given keyword has sufficient search volume to make it worth targeting.
Related keywords: Bing uses your "seed keyword" to provide suggestions for other relevant terms and their search volumes.
Results filtered by country, region, or language: You can even select multiple countries using the same language, such as the US, UK, and Australia.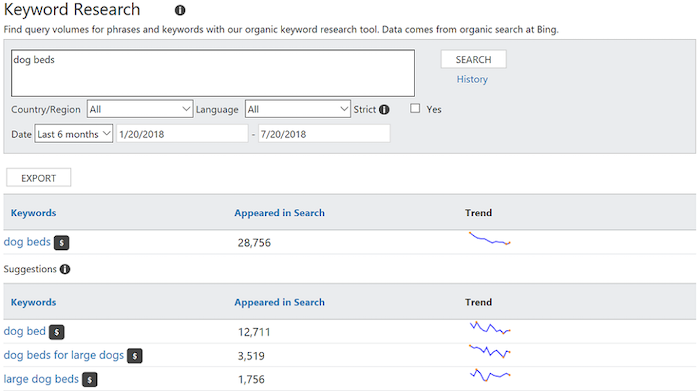 As search engine keyword tools go, Bing's is one of the more powerful, although it doesn't offer advanced insights of a dedicated tool like Ubersuggest.
Conclusion
Ask 100 people in the street to name a search engine, and chances are they'll all say "Google."
Just because Bing isn't a frontrunner doesn't mean website owners can afford to ignore it. It still processes billions of searches a month, so you must include it in your ongoing SEO analysis.
If you're serious about generating traffic from Bing, you need to be using Bing analytics.
Which of the Bing analytics features and tips are you most excited about using?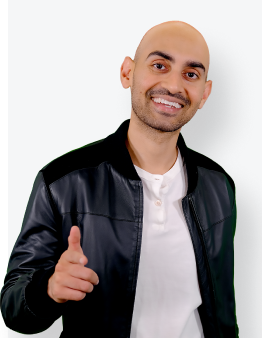 See How My Agency Can Drive More Traffic to Your Website
SEO - unlock more SEO traffic. See real results.
Content Marketing - our team creates epic content that will get shared, get links, and attract traffic.
Paid Media - effective paid strategies with clear ROI.
Are You Using Google Ads? Try Our FREE Ads Grader!
Stop wasting money and unlock the hidden potential of your advertising.
Discover the power of intentional advertising.
Reach your ideal target audience.
Maximize ad spend efficiency.