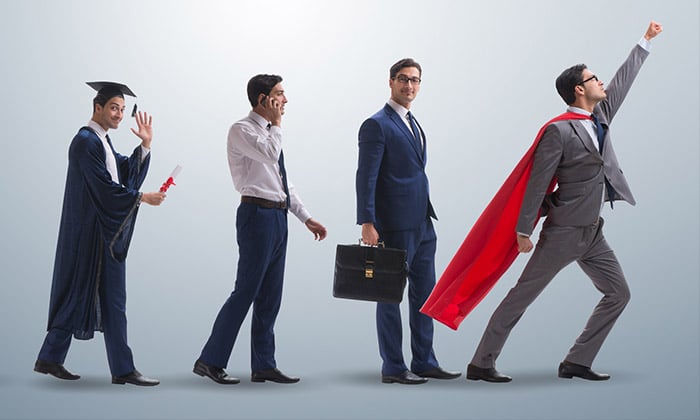 The number of blog posts written daily is astoundingly high.
It's becoming significantly harder to become a trusted expert with millions of content-marketing pieces published every day.
But there's also no doubt that content marketing works when it's done correctly.
Content marketing can quickly turn you from a nobody to a trusted expert in your niche.
And if you want to sell your product or service, you need to become a thought leader.
Many people who buy goods or services online read reviews before making a purchase decision.
That means that people are going to do their research about you, your product, and — most importantly — your credibility.
You can't afford to throw up two blog posts a month and expect the sales to come flooding in.
You need to go out and grab those sales yourself.
Here's how to transform your brand from a stranger to a trusted expert using content marketing.
Why content marketing works
When you hear someone say that "content marketing is the future of online marketing," do you believe them?
Well, you should.
Here's why.
The latest data says that in 2015, 200 million people were using ad-blocking technology.
People are sick of seeing intrusive popups. They're tired of being bombarded by ads on their YouTube videos.
Consumers are now even considering them spam.
And so the number of people using ad-blocking technology continues to grow exponentially.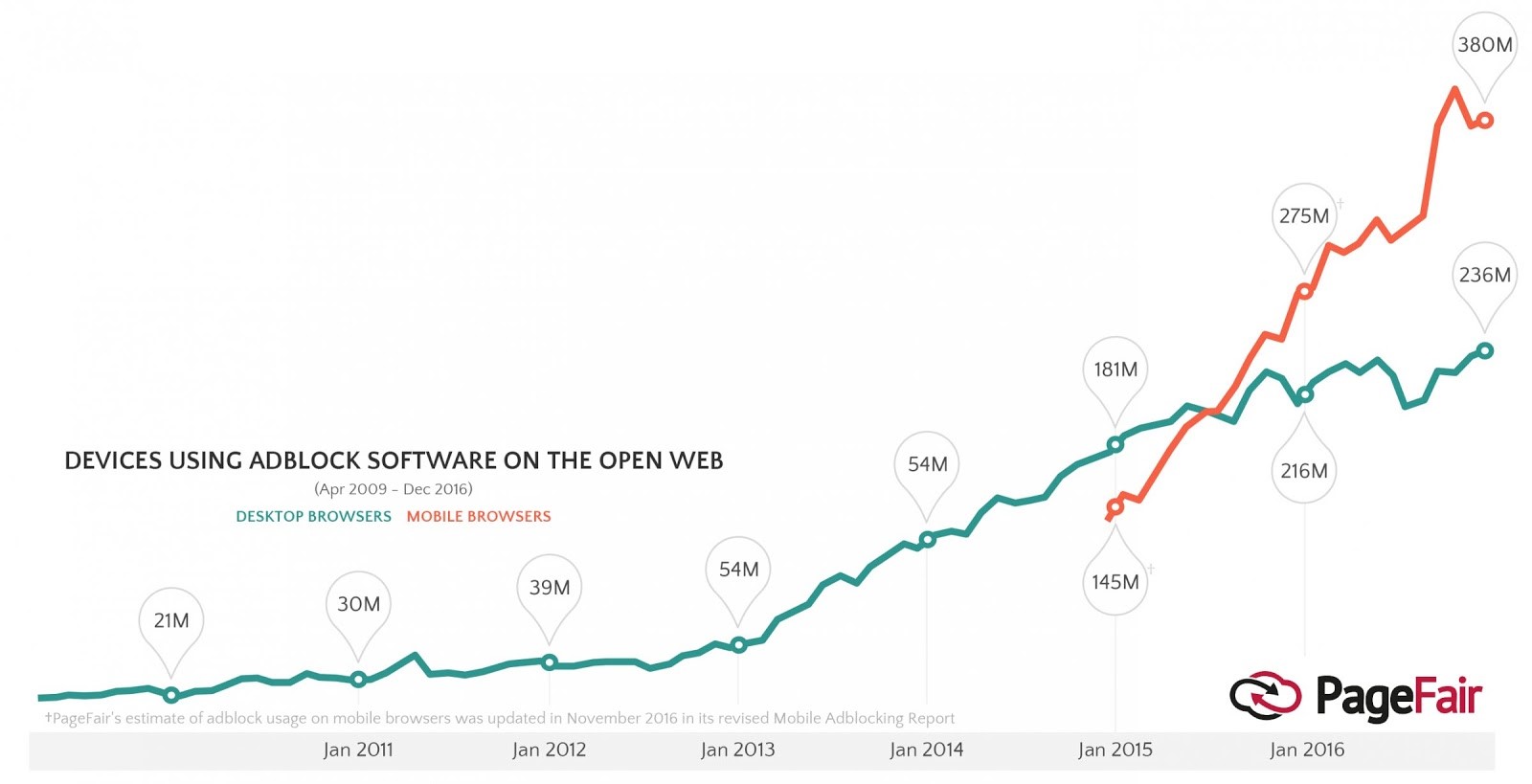 That means it's getting harder and harder for you to reach potential customers.
The go-to is typically display ads and other forms of brand-awareness advertising.
But people are now actively ignoring these ads. We're at risk of wasting our money on them.
Fewer people seeing our ads equates to fewer leads and sales. The entire sales funnel is now constricting to allow only a slow trickle.
Here's what people think of display banner ads:
People just tune out ads. They are simply not paying attention.
Ad-blocking technology is one issue. But the other is that most people are subconsciously blocking out what does show up.
That's why marketers and advertisers need alternatives.
We need new ways to get on our customers' radars.
And that's where content marketing comes into play. For starters, its growth is almost unparalleled: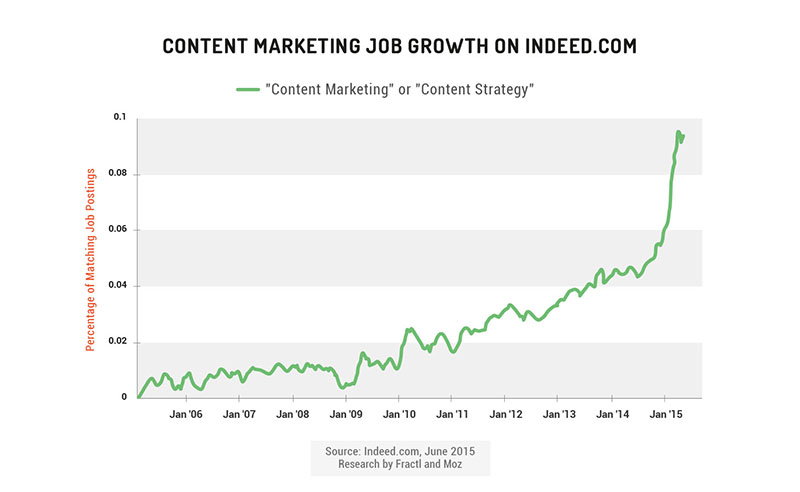 Job growth for content marketing is growing because 88% of B2B marketers are using a content-marketing strategy.
And creating more engaging, effective content isn't just a B2B thing.
It's tempting to dismiss trends like this because "companies outside of the marketing industry" aren't doing it.
In fact, B2C content creators focus on creating high-quality content-marketing pieces, too:
And it's all for a good reason.
Content marketing is proven to have an incredibly high return on investment.
It costs 62% less than traditional-marketing efforts. That means content marketing generates 3x as many leads when you compare the same dollars spent on each.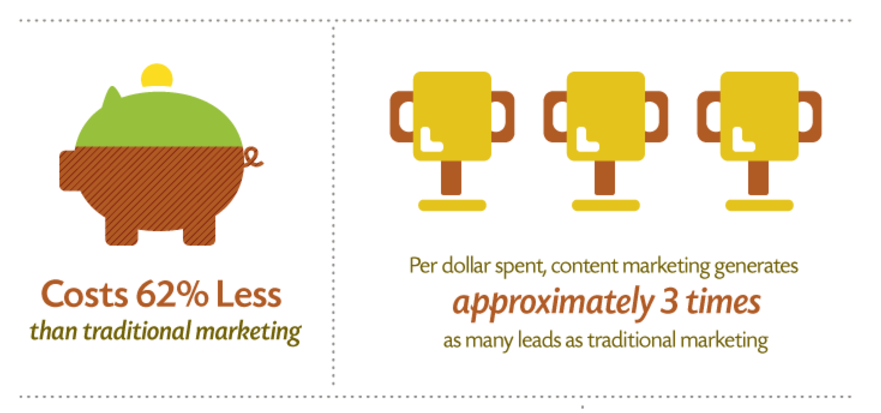 Luckily for us, people are actively seeking out content-marketing pieces to help solve their pain points.
On top of that, 60% of people go to check out a product or service after reading that company's content.
So, if you're writing quality, engaging content that helps solve a user's problems, you're going to drive traffic to your products simultaneously.
Content marketing works.
Just think of a simple problem that you're having and you'll see what I mean.
Here's a perfect example.
I want to learn how to produce better content. My pain point is not being able to convert visitors to services.
I keep losing them after 30 seconds. They're gone forever, and I lose out on another lead.
So I search in Google: "improve content marketing," and here's what I get: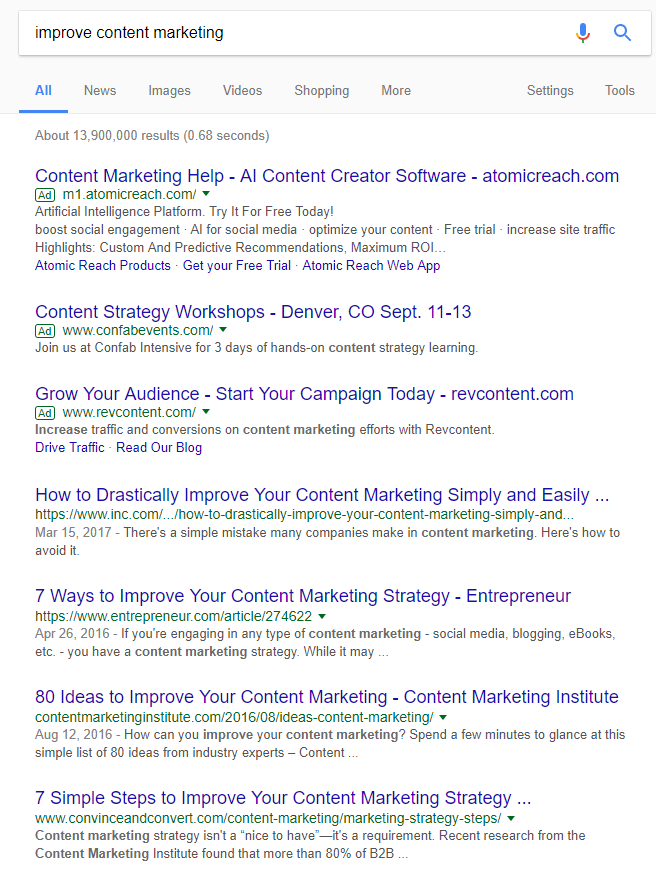 There are countless articles to help me do just that. Almost every pain point is being solved through content now.
The results here are smart. They're not just pushing products or services down your throat.
If you want to establish yourself as a trusted expert, you need to write content that helps people solve their problems.
Here's how you can start doing that.
Why you need to become a trusted expert
Becoming an industry expert or a thought leader is a common goal.
Most people strive for it and put all their efforts into becoming one.
Why? Because being a thought leader or industry expert gets you credibility and trust.
Both elements are massively important when trying to sell products or services.
Investing time into content marketing is one of the best ways to become an industry expert.
61% of consumers buy based on the influence of custom content: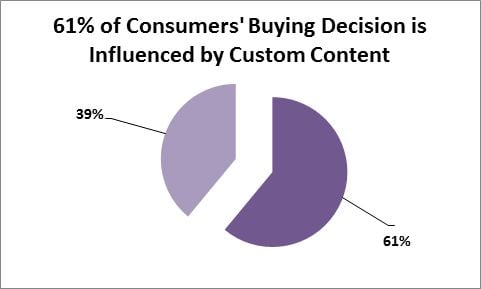 And the majority of people are reading online reviews to learn about companies and their credibility before making a purchase decision: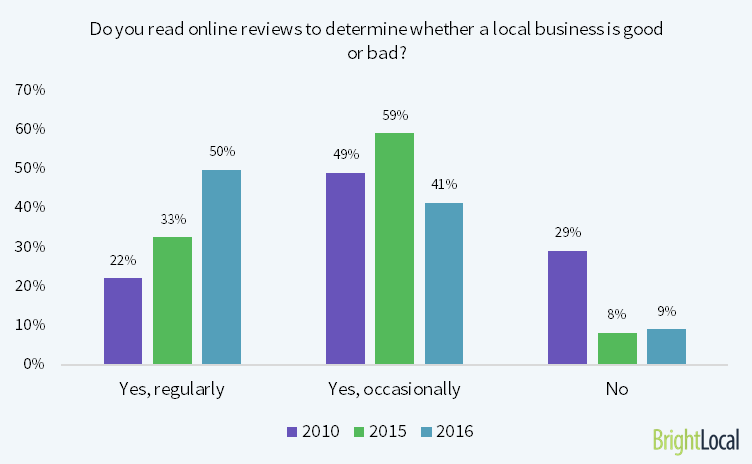 Becoming an industry expert brands you as "the go-to" person in your niche.
That means people are much more likely to take your word at face value.
They're going to buy your products over your as a trusted expert.
Instead of talking about your brand and how great it is, you're going to provide the best content marketing you can.
Remember, the goal is to help solve the user's problem. You want to give them valuable, actionable information.
Ready to get started?
Here, I'll teach you how to start building and branding yourself as a trusted expert in content marketing.
Get started by guest blogging
This might sound counterintuitive at first.
But you shouldn't spend all of your time cranking out content on your site if nobody knows who you are.
Instead, you need to go out and publish on other places.
You need to get the attention you deserve. And that only happens by posting on other sites that already have all of the eyeballs you need.
People don't read your blog daily for inspiration yet. They're too busy reading sites like HubSpot, Forbes, and Entrepreneur.
They read credible, trustworthy sites that create amazing content.
That means they'll also trust the writers on those sites!
For example, I started to build a big following and establish myself as a trusted expert on sites like Entrepreneur: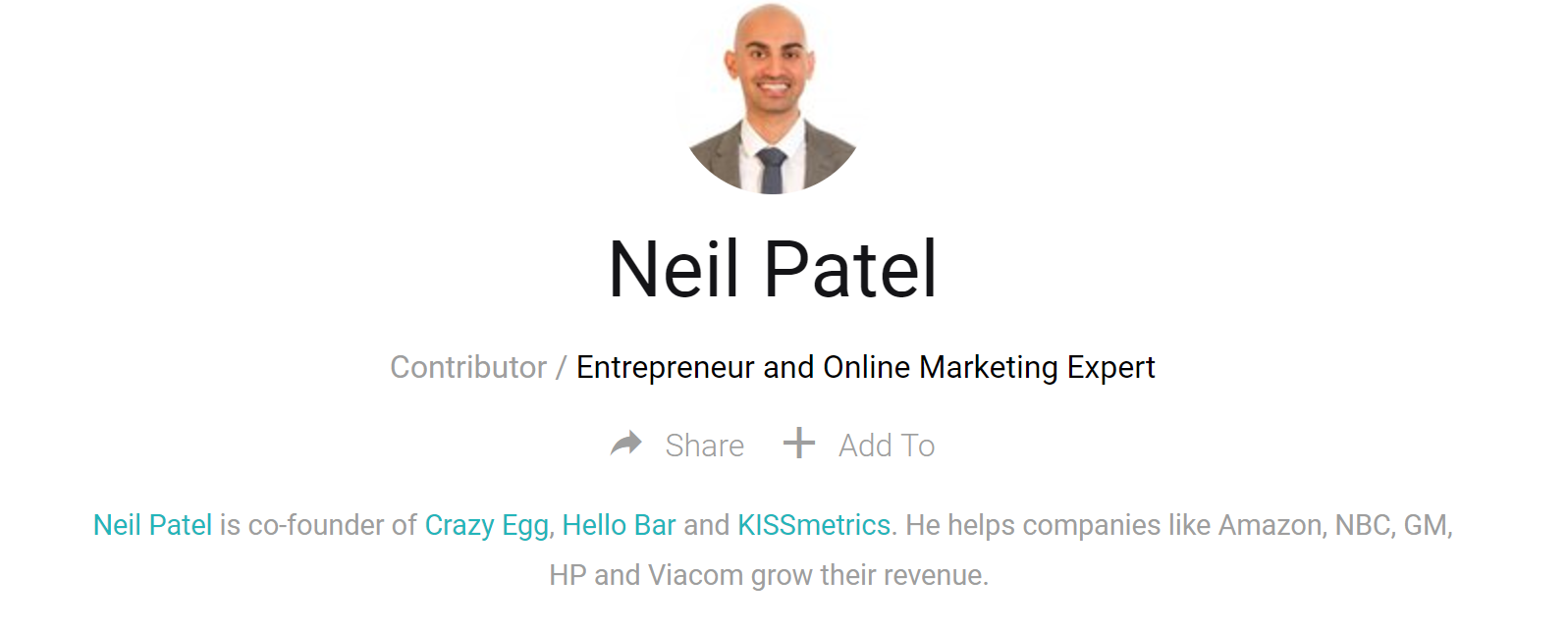 Guest blogging is a powerful tool when you're relatively unknown in your industry.
It allows you to get your name, face, and accomplishments in front of a huge audience of people who are constantly looking for new content.
And then you can leverage that new guest post to show other sites that you are credible, creating more opportunities for more guest blogging.
But don't just take my word for it.
Gregory Ciotti used guest blogging to generate 36,773 more email subscribers for his list.
He went from zero to hero after implementing an all-out guest-post strategy.
And he grew HelpScout's blog to millions of readers in the process.
Now, he guest-posts for countless big-name industry sites and continues to share his expertise through newsletters to his email list.
He established himself as a trusted expert by creating credibility through guest posts.
One of his best tips was to provide an action-oriented CTA at the end of his guest posts.
Instead of just hoping that people would click his byline, he wanted to grab their attention and get them back to his site immediately.
Here's an example of one of his bylines on CopyBlogger: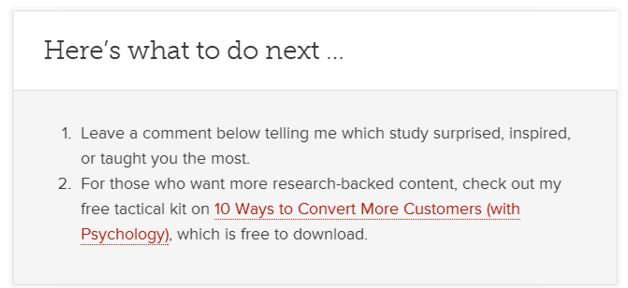 Instead of the typical byline that boasts about your accomplishments and likely drives fewer clicks, he used a strategy that helped him drive traffic back to his site and grow his business.
Want to get started with guest blogging as soon as possible?
Here's how.
First, research sites in your niche.
If you're skilled in PPC, you don't want to be writing for an SEO-focused blog.
And if you're a genius at SEO, you don't want to be writing for a Facebook Ad-focused blog, either.
Start by searching Google. Ideally, you want to find 'lists of lists' to different articles. Here's what those look like:
People out there have already done all the hard work for you.
You should get tons of results with curated posts talking about the top blogs in your selected niche.
Simply click on one of those posts and throw the list of PPC blogs into a spreadsheet for later.
Then, search those blogs for guest-posting opportunities.
The next step is to see whether these places accept guest submissions already.
The time-consuming approach is to visit each website individually. You can hunt and peck, searching each site for ten minutes.
Or you can use a quick parameter like a site search to pull up results.
For example, typing in "site:youdomain.com" will limit searches to show pages on that site only.
Then you can look for queries like "write for" to find out if they already have pages on their site geared toward new writers.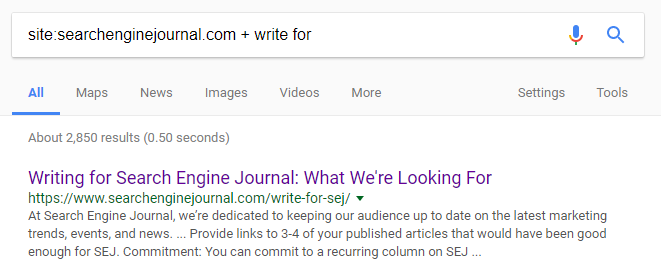 You can also use basic searches like:
"Search engine journal write for us"
Or
"Search engine journal guest blog"
If nothing shows up, move on to the next site for now.
It's far easier to publish on a site that already has a process for submitting guest content.
Most of these sites that are open to guest blogging will have online forms that you can fill out just like Search Engine Journal does: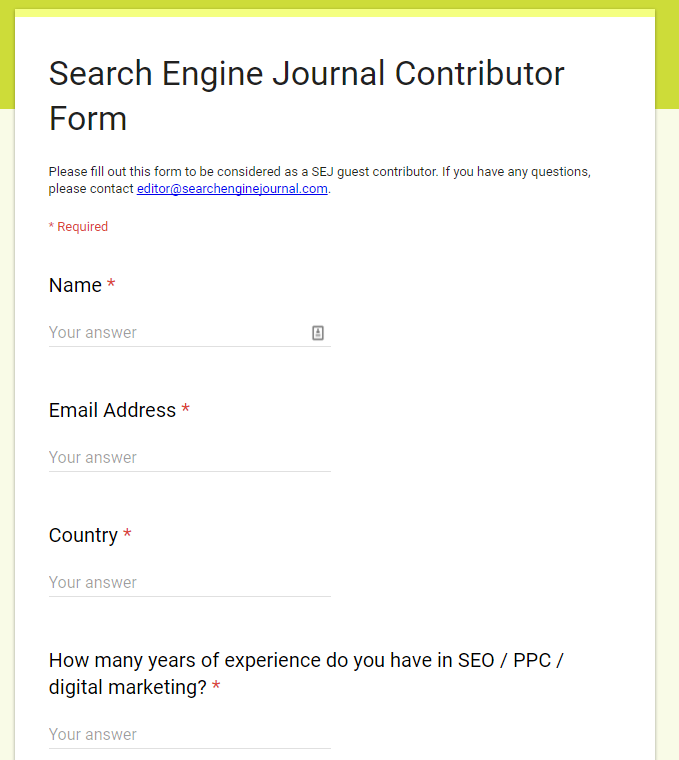 Now, just fill out your basic contact information and some detailed questions asking for topics, sources, and published examples.
It's incredibly easy to apply and start building your guest-posting list.
Pro tip: Make sure only to send in your best content. If you submit subpar work, you won't be accepted, and people won't think that you're an industry expert.
You don't want to burn a bridge with each site before you even get a chance to prove your worth.
That's why I like to pitch topics or stories that I know for sure will work.
For example, you can test new ideas on your blog and use visits or social shares to get a sense of how people like it.
Then you can pull storylines from the best stuff to submit to each editor of a new site.
Make your prime content free
One big mistake I see with marketers is having their most-coveted content locked behind a form.
They post five blog posts a month that are 1,000 words each and then they wonder why their leads are down.
Then, they write an incredible, 10,000-word lead magnet on a newsworthy topic, only to lock it away behind a gated form.
And in the end, hardly anyone sees it.
Nobody reads it, and they just wasted all that time and effort creating it.
For example, you're browsing online for lead-generation tactics. You Google it and click on the first result, only to land on a form.
Chances are, there's no way you're going to fill out a long, tedious form to get that information.
Why? There are hundreds, if not thousands, of competitors with the same great content.
All the user has to do is click the back button and select the second result!
It's hindering your ability to drive quality traffic.
Some of my best blog posts are my 30,000-word guides on QuickSprout:
I spent $30,000 crafting these guides, yet I give them out for free.
Instead of forcing people to give me their information and causing friction, I let them have access to everything.
Why? It establishes me as an industry expert.
I drive much more traffic, people stay and read longer, and they consume the content.
Lastly, they come back for more.
It's my best content. The content I spent months building. I need to get that in front of as many people as I can.
If you're still worried about collecting leads, you shouldn't. I simply placed multiple CTAs throughout my guide to gather leads:
So instead of forcing someone to give me their information up front and likely driving them away, I hook them in with incredibly valuable, free content.
Then I ask them to convert only when they're ready.
Instead of saving your best content for a minority of leads, expose it for free to any visitor and watch as your credibility skyrockets.
Post better content more often
It's no secret that blogging more often brings in more traffic.
If you post twice a month, you won't see significant returns on it.
It will only get lost in the shuffle with the millions of other posts being created every single day.
According to HubSpot, posting 16 or more blog posts per month got companies 3.5x more traffic than those who published 0-4 per month:
On top of traffic, companies that posted more monthly blog posts saw a correlating increase in leads: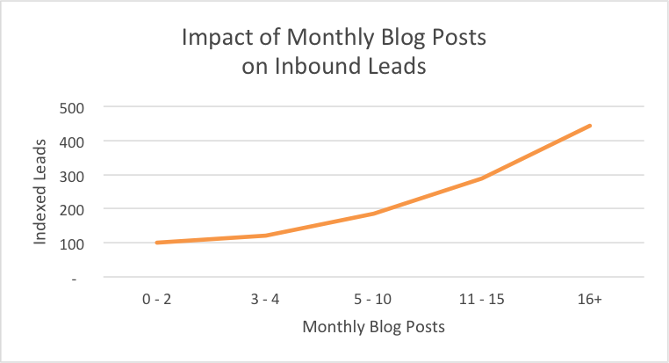 The takeaway here is this:
Publishing more posts each month results in dramatic increases in traffic and leads.
If you want to establish yourself as an industry expert, you have to post great content consistently.
You need to be posting 16+ times each month if you want to be and remain relevant.
But it's more than just throwing together a few 1,000-word posts and calling it a day.
The top content on Google is thousands of words long.
Top content also includes multiple images and other media sources in each article.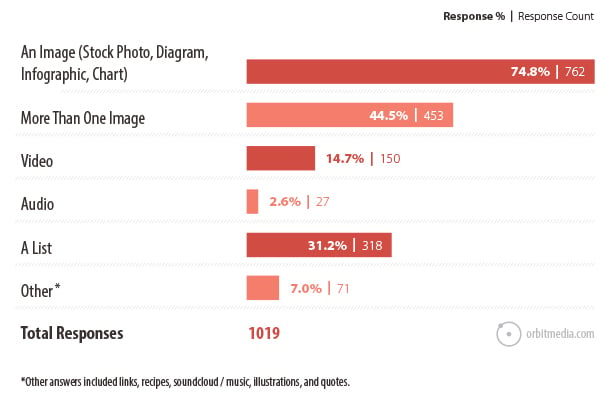 So invest a lot of time into content marketing.
If you're pumping out 16+ actionable, long-form posts in your relative niche, you'll quickly define yourself as an expert.
Just remember to produce high-quality content that is actionable for your audience.
Chances are, they don't want to simply read something interesting. They want to learn something and be able to apply it to get some result.
My favorite technique is to scout popular industry content. 
Before you spend countless hours and money on building your content strategy, you need to know what to create.
You shouldn't just assume that people care about every topic idea you think of.
Use the tool Contentstudio.io to get started. You can use it to search for trending keywords to help find the most shared content around that keyword.
For example, I used it to search for "PPC strategy":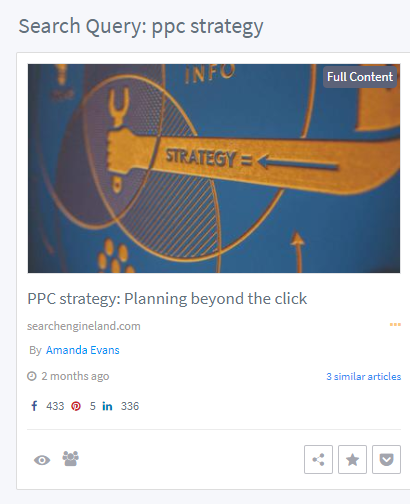 Then, the tool gave me the most-shared and engaged-with content that ranks for that keyword.
It tells you the author, the site, the share-count, and even related posts.
You can then use this to scout those popular posts and see what ideas they've used to generate such a popular post!
It's that simple. You just need to scout the current best content and use it to inform your own.
Conclusion
There's an incredible amount of content published every single day.
And that's because content marketing works.
It helps bring people from no revenue to explosive growth.
It's becoming the wave of the future for online marketing.
If you want to hop aboard that train and become an industry expert, you need to implement a strong content-marketing strategy.
People buy based on trusted, credible reviews. You need to establish your credibility to make an impact on sales.
Thankfully, you can do all of that with content marketing.
Start by guest blogging to drive new, relevant traffic that resonates with your content.
Then make your best content free.
Giving away top-quality content for free shows that you're trustworthy and simply want to help. This is as opposed to just trying to collect information to spam your audience.
Lastly, publish more often than your competitors.
The top blogs post 16+ times per month. If you're publishing less often, you aren't going to become a trusted expert.
However, if you take the time to make content marketing a priority, you can become a trusted expert in the eyes of your target audience.
What content-marketing strategies have you used to become a trusted expert?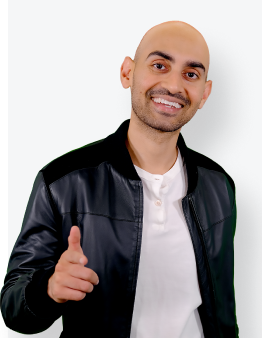 See How My Agency Can Drive More Traffic to Your Website
SEO - unlock more SEO traffic. See real results.
Content Marketing - our team creates epic content that will get shared, get links, and attract traffic.
Paid Media - effective paid strategies with clear ROI.
Are You Using Google Ads? Try Our FREE Ads Grader!
Stop wasting money and unlock the hidden potential of your advertising.
Discover the power of intentional advertising.
Reach your ideal target audience.
Maximize ad spend efficiency.