It's not often that you hear of a blog outside of the B2B marketing space making it big.
You hear of companies like HubSpot, Kissmetrics, and Quick Sprout growing at massive rates.
But when do you hear about a baby clothes blog growing rapidly? That's practically unheard of, right?
Well, it happened.
Shari Lott started Spearmint LOVE, which began in 2013 as an infant clothing and accessories blog.
She quickly became a rising star in the "mommy blogging" world, sharing her ideas and products with the world.
Unable to find the right cross blanket product for her daughter, she let her entrepreneurial mind go to work.
Before long, she had developed her own product, launching it using a free trial on BigCommerce.
It only took her one week to land her first sale online, and since then, she's grown one of the most infamous e-commerce stores in the baby and children's clothes space.
Just four years after its inception, Facebook's 2017 Small Business Council invited her to join them.
Currently, Spearmint LOVE is generating 991% YoY growth with a 38% conversion increase YoY as well.
Their Facebook remarketing is almost unparalleled. Currently, they're generating a 14.2x return on ad spend from Facebook and are seeing 12x YoY growth.
And the best part is:
Their average cost per conversion is $0.11.
Here's how they've grown their blog and company 991% year over year and how you can follow in their footsteps.
Have a multi-channel approach for sales and content
Nowadays, simply posting content on your blog isn't enough.
Keywords are too hard to rank for, and you need too many backlinks to your content.
Top-performing sites dominate all of the major SERPs for virtually any given keyword.
You need your brand and content plastered on every channel imaginable.
Multi-channel marketing is just that:
Being available to the consumer on every channel they are likely to touch:
Do they browse on social platforms? Do they use Facebook specifically? If so, then you have to be on that channel.
If they aren't there, don't waste your time.
It's all about being on every channel that your ideal target market is going to be on.
John Lott, CFO/COO of Spearmint LOVE and Sheri's husband, had this to say about their multi-channel approach:
"We feel really good about how we're positioned in the market. We've given our customers nearly every conceivable way to buy from us. They can do Buyable pins. They can buy on a Facebook page. They can buy on their mobile phone. They can use their computer. They can buy however they want to."
And by using this multi-channel strategy, they've been able to grow their blog and sales dramatically.
They've placed themselves on almost all possible consumer touchpoints, making it easier than ever for users to engage with their business and buy their products.
Using buyable pins, they've been able to stand out on a platform that people generally don't think of as a sales-driving tool.
Clicking on any of the results for their content on Pinterest will allow you to buy their products and see pricing:
Using this multi-channel approach, they can reach more customers than ever before.
Investing in Pinterest has become a viable strategy for businesses. You can use it promote blog content and drive sales.
Personally, I've seen massive growth of my own business by using buyable pins. I drove 328% more e-commerce sales using it.
If you want to start setting up buyable pins today, follow my buyable pins guide to get them up and running in just minutes.
Spearmint LOVE also takes advantage of Facebook to post organic, blog-related content about their business: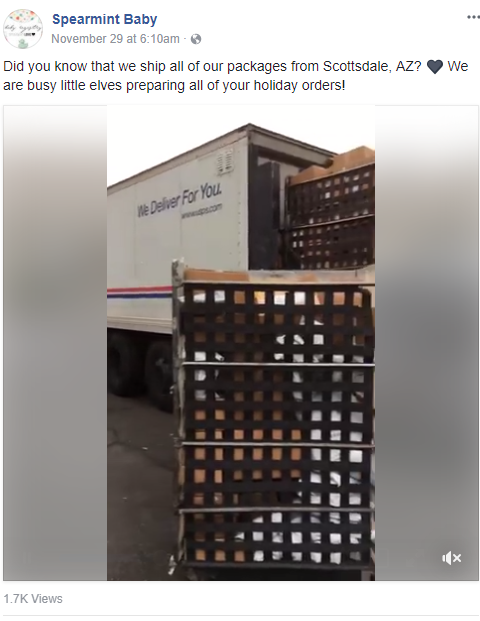 On top of that, they have directly integrated their store into Facebook, making it easier than ever before for someone to buy their products:
This multi-channel approach also ties into blog growth through one of my favorite tactics:
LinkedIn articles.
Posting your blog content solely on your blog sometimes isn't enough.
And regular social posts on LinkedIn, Facebook or Twitter aren't great for captivating interest.
Instead, use a multi-channel approach where you're actually posting article content on LinkedIn.
Let me show you how to do it.
First, head to LinkedIn. Then, instead of posting a status update with your latest blog post that links to your website, click the "Write an article" button:
This will take you to LinkedIn's Publishing platform, which works just like a typical blog post:
You can write a headline, enter your body text, format it, add any links, and even add your featured image.
But the trick here is to use this secondary channel as another way to promote your content and drive traffic to your site.
To do this, take your latest blog post and add the featured image and headline.
Now, copy the first, introductory paragraph from your blog post.
It should look something like this: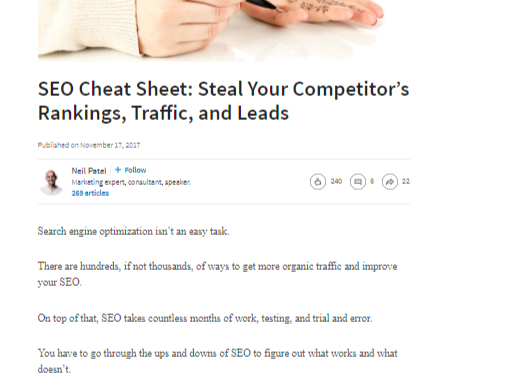 Keep the formatting the same, but be sure to remove any extra links from your introductory paragraph.
That way you can drive the focus of any link traffic back to your blog by adding a hyperlinked phrase to the end of your introduction:
[click to continue reading…]
The final product should contain the link to your full blog post like this: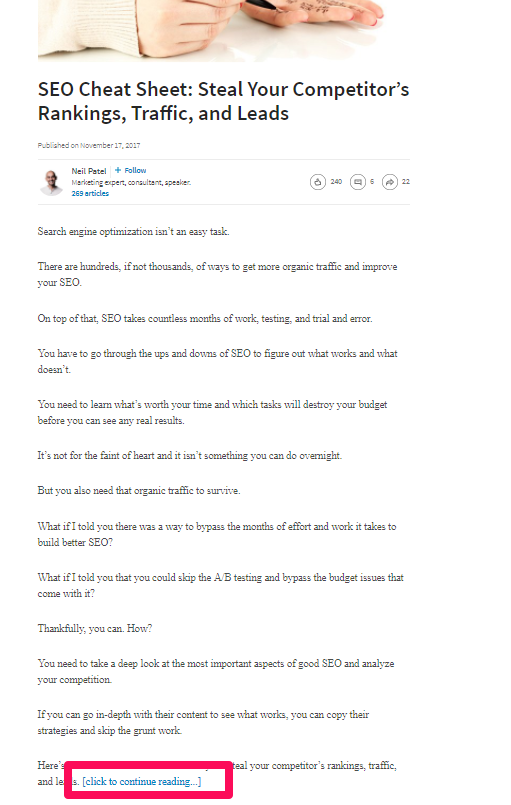 By doing this, you're generating tons of interest in your blog post.
You're building up massive amounts of suspense and intrigue, practically forcing the reader to click back to your blog to finish the post.
On top of that, every time you publish a LinkedIn article, all of your connections and followers will get a notification about it.
So instead of posting your latest blog post link as a status update or social share, publish it as a LinkedIn article. Or do both.
You can effectively drive more traffic and engagement to grow your blog with a multi-channel approach.
Focus on increasing the LTV of current customers
Inbound marketing with blogs and content is amazing for business growth.
It can help you educate customers and drive sales fast.
But it also causes marketers to only focus on one goal:
Bringing in more traffic.
It becomes all about getting more and more customers and sales.
This sounds great, but it's problematic.
We start to ignore our most precious commodity:
Our current, loyal customers who are helping our businesses thrive.
Spearmint LOVE started analyzing their most loyal customers using a vintage analysis, which is useful for comparing buying performance across different groups:
This customer lifetime value chart helps them analyze what segments of their current customers are buying the most.
It helps them see which ones are the most profitable so they can nurture them to keep customers for life.
This is key to uncharted growth.
It costs companies five times more to acquire a new customer than to keep an existing one.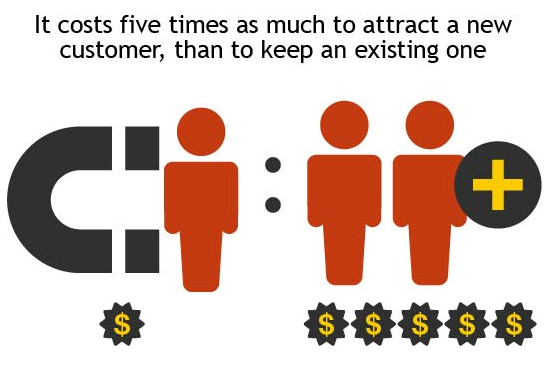 But most companies focus more heavily on acquiring more customers rather than retaining existing ones:
You're much more likely to close a deal with an existing customer than you are with a potential one, too:
The fact of the matter is, selling to existing customers is easier, faster, and more profitable for your business.
Try pivoting away from the standard ideas of acquisition and focus on retention.
Spearmint LOVE did exactly that, and they've experienced unparalleled growth.
Take the time to analyze your best customers right now. Who are your biggest clients and your top spenders?
Can you nurture them to ensure they'll stay with you longer or buy more from you?
Focus on building your existing customers up as titans for your business before bringing in more sales.
Create a Facebook funnel with custom audiences
One of the biggest platforms for success for Spearmint LOVE was Facebook.
Their organic reach was almost unparalleled despite reports and studies that show a massive decline in organic reach over time.
But that wasn't enough.
For them to keep visitors coming back to their blog and online shop to buy, they needed more than just organic posts.
Organic content was great for bringing in new users and first-time, unique visits, but it wasn't driving sales in mass.
Quickly, they pivoted to Facebook Ads and started seeing incredible results.
They are generating 14.2x returns on their ad spend and seeing an overall 12x YoY growth in revenue.
John Lott said this about their Facebook Ads strategy:
"Our early Facebook Ads were complete game changers for us. In 2016, we grew 1110% over 2015, fueled almost entirely by Facebook Ads. Facebook advertising continues to be the cornerstone of our ad strategy."
But all of this amazing success wasn't there at the beginning of their Facebook Ads strategy.
When they started, their Facebook Ads mirrored the typical setup that many companies use to try and generate sales and traffic:
Basic remarketing list to bring back those who didn't convert
Social remarketing to bring back interested visitors
That's not a bad strategy, but it's not foolproof.
It's not going to get you a 14.2x return on ad spend.
It's too basic and neglects one fundamental factor in buying and selling online:
Funnel-based offers and the standard buying journey.
The buyer's journey is alive and well on sites like Facebook.
Let me explain:
When you advertise on a site like the Google AdWords Search Network, you don't really need a funnel.
Why? The searches are all keyword-based and are backed by powerful intent. For example, look at this search: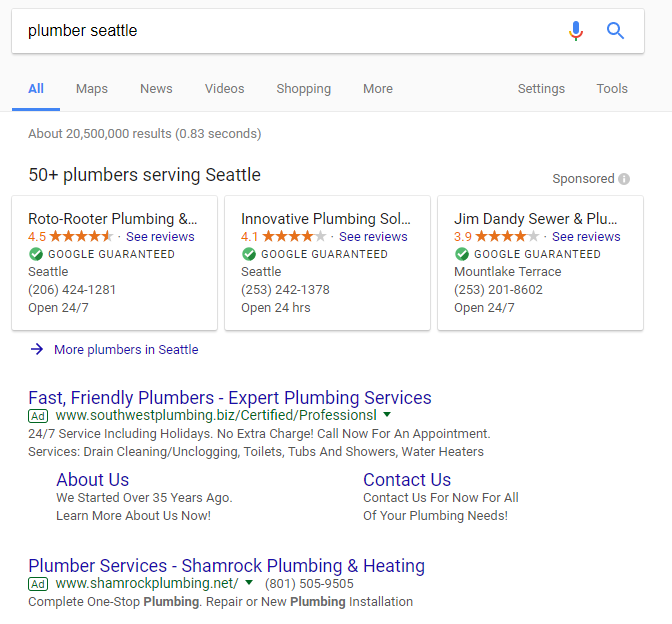 When someone searches for "plumber seattle" on Google, they're looking for that service ASAP.
They aren't searching for articles about plumbing or ways to fix a drain. They searched directly for a plumber.
That means that they are already at the bottom of the funnel, waiting to convert on your offer.
But Facebook is vastly different. You head to Facebook and check out what your friends are doing.
You see recent photos or maybe post a status update for friends or followers:

The key point here is:
You aren't actively searching for products and services on Facebook!
There is no intent. That means that new, non-brand-aware users are always going to be at the top of your funnel.
They can't (and don't) use keyword searches to find services or products they need.
John Lott actually realized this problem when their Facebook Ad performance started to decline.
People were simply moving in and out of their funnel. And they lacked the proper ads for each funnel stage to capture users.
For example, you wouldn't find any success targeting a direct product offer to non-brand-aware users who've never heard of you, right?
They don't know you, so what makes you think they'll dump their hard-earned dollars on your product without research?
They simply won't.
You need a funnel on Facebook for 14.2x growth.
Let's get started.
Step 1.  Warm up colder audiences with your blog content.
The first phase of your Facebook funnel will focus on content promotion to colder audiences.
Since these audiences aren't fully brand-aware, you can't expect them to buy just yet.
They need to learn more about your business and the content you produce.
But they aren't ice cold. Remarketing is all about targeting visitors who've engaged with you previously.
This first step will help you bypass Facebook's declining organic reach to deliver valuable content to people who have only engaged with your business once.
To get started, head to Facebook's Business Manager and create a new custom audience based on social media engagement:
Next, select the "Facebook Page" engagement option:

Now it's time for the audience customization.
Here, we want to weed out users who have visited or engaged heavily with your brand before.
You can do this by simply remarketing basic page visits and then excluding more engaged audiences:
Let me break it down:
You are including anyone who visited your page in the last year.
But then, you're excluding people who saved your page or any post, anyone who messaged you, and anyone who engaged with your content.
This means you're only targeting basic visits but making sure to exclude people who are coming back for a second or third time.
That means your audience will be relatively cold users who have barely engaged with you.
The key here is to deliver ads based on your blog content to get them back to your site and push them down the funnel.
To give you an idea, here's an example of an ad I ran for this purpose:
Hook colder users in with your blog content to grow your blog and your traffic while also filling out your acquisition funnel.
Step 2.  Turn them into a lead with exclusive content.
Once you've grabbed users from your blog content promotion and remarketing audience, it's time to turn them into leads.
A great way to do this is by simply creating a new remarketing custom audience that targets more engaged users from your latest campaign.
The trick here is to use the blog content links from your first campaign in your second one.
For example, if your ads in step 1 directed users to X SEO Tips, write that link down and use it for this next step.
Create a new custom audience based on website visits this time: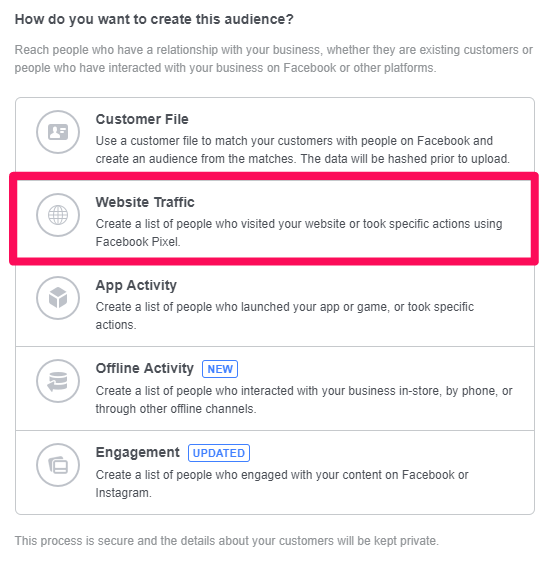 Be sure to select the "People who visited specific web pages" option, and then paste those links into your URL bar:
This will create a custom audience of users who read your blog posts from the previous campaign.
Now, it's your job to turn them into qualified leads.
I suggest running a campaign based off of a lead magnet where you offer exclusive content that users can only access by providing information.
For example, I ran a webinar campaign to capture tons of leads:
Using a campaign like this, you provide tons of value without making it seem obvious that you're after emails to build your lead list.
Step 3. Go for the sale.

Lastly, it's time to turn those leads into sales.
Target those interested users who've read your posts and interacted with your exclusive content.
Create one more new custom audience on Facebook. This time, though, place your exclusive content or lead magnet URL thank-you page as the link:
This will ensure that you're targeting only the most engaged users who signed up for your webinar or downloaded your lead magnet.
You know that those who will see this ad are interested in your content, your brand, and more than likely, your services.
Close the deal and go for the sale with a light offer, like a free trial:
Spearmint LOVE used this strategy to grow their blog and business 991% YoY.
They mastered the Facebook funnel by creating audiences for each stage.
Conclusion
Taking your blog from zero to hero is no easy feat.
But it isn't out of reach and it's not a pipedream.
Sure, it's cliche to say, "You can do anything you put your mind to."
But it's true!
Sheri Lott took herself from popular mommy blogger to a business titan in just four years.
Using a multi-channel approach and Facebook Ads, she was able to create sustainable, 991% YoY growth.
In 2016, Spearmint LOVE did over $1.5 million in sales.
Mimic their success by focusing on increasing the LTV of your current customers rather than gaining new ones for higher costs per acquisition.
Then, create a Facebook funnel for content that ends up driving sales.
Sheri Lott made her dreams a reality by putting her nose to the grindstone. She turned a simple product idea into a company that's doing millions in sales.
What are some inspiring case studies you've read lately about small business growth?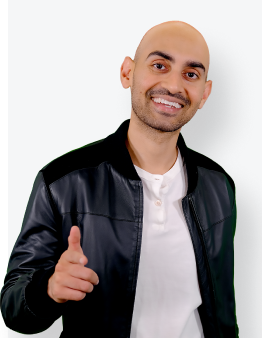 See How My Agency Can Drive More Traffic to Your Website
SEO - unlock more SEO traffic. See real results.
Content Marketing - our team creates epic content that will get shared, get links, and attract traffic.
Paid Media - effective paid strategies with clear ROI.
Are You Using Google Ads? Try Our FREE Ads Grader!
Stop wasting money and unlock the hidden potential of your advertising.
Discover the power of intentional advertising.
Reach your ideal target audience.
Maximize ad spend efficiency.