Do you feel overwhelmed by how quickly your competition moves through Google's rankings?
It can be easy to compare yourself to your competitors but don't despair.
There are ways to learn from what your competition is getting right, especially when it comes to receiving more search traffic.
Take a page from their playbooks, and you will start ranking in no time.
Remember, your competitors once stood where you are now. By figuring out where they had success, and stealing borrowing their top campaigns, you can achieve similar results.
The best part is that stepping up your game doesn't have to cost a ton of money. All it takes is implementing a few key strategies from winning competitor campaigns.
Let's take a look at five SEO campaigns your competition is probably using that you need to steal.
1. Northmill amped up their search traffic by defining their brand to their followers.
Crafting the right content strategy is important to improving your search engine results.
For a while, no one knew about Northmill. They only had around 100 followers on Facebook.
But then they got smart with their marketing strategy. Northmill found a way to provide the right value in their content to their customers.
Soon enough, Northmill increased their search traffic from just 126 unique visitors to 121,883 in six months.
Would you like an extra 121,757 visitors? Here's how Northmill got that much traffic.
First, they found what their competitors were doing right using Ahrefs.
Ahrefs allowed them to analyze what keywords and content delivered the best search traffic.
Next, Northmill took a list of keywords they found in Ahrefs and used Ubersuggest to find even more keywords ideas to target.
Then, once they finished their research, they focused on writing the best content they could.
To feature their new content, they created an entirely new page. By doing this, Northmill could group all of the same content topics in one place.
They added valuable tax information that their customers could use and included images and an easy-to-navigate page.
Unless you can read Swedish, you probably won't understand the content, but this was their newly-updated page.
Then, they pivoted toward monitoring and optimizing their page.
Their new content went live on November 2nd. The marketing team began to analyze their results at the end of January the following year.
To do that, they used Google Analytics. Unfortunately, they saw that there was a very high bounce rate (94.8%). There was also a 94.14% exit frequency.
Although a lot of their traffic was probably visiting the site to find out when they'd get their tax refund, the Northmill team began to test how they could increase visitor engagement.
One of the biggest differences was making the site more user-friendly by adding a top bar to the page. This would help potential customers get the answers they were looking for faster.
After all that work, the results paid off. Northmill gained 121,883 unique visitors, which led to 287 new customers.
2. Leadmasher generated organic backlinks with infographics.
No matter how boring you think your industry is, there is always a way to create interesting content that gets links. And more links means more search traffic.
I've seen infographics double search traffic for my websites. And I know that with the right strategy, infographics can double your traffic too.
So, how can you create valuable infographics for your site?
Let's take a look at what Mike Bonadio of Leadsmasher did to grow organic traffic for FCE Pest Control.
Yes, he was able to improve organic traffic for a business in the pest-control industry.
Using infographics, Mike began to get more than 1,000 shares on social media, 12 quality backlinks, placement in a respectable publication, and 15.15% more organic traffic!
The shares for the infographic led to a ton of referral traffic.
Why are infographics so powerful? You can take useful information and make it easy to read and simple to share.
One way you can make infographics simple to share is by using an embed code to share the infographic on other websites.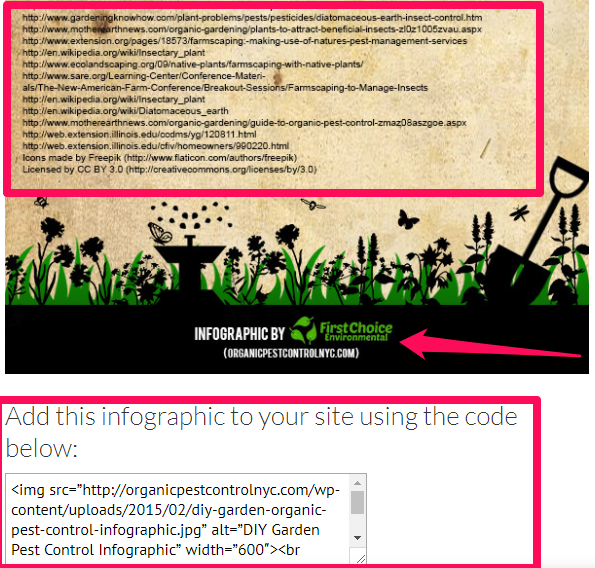 The infographic wasn't just to give their customers useful information. It was to encourage visitors to share it with a wider audience.
Here are some good tools to help you expand your reach and get your brand out there, too.
BuzzSumo
First, take a look at sites in your niche with the largest number of shares on social media.
To do this, check out BuzzSumo to determine which sites have the authority to drive quality traffic to your website.
Simply type your topic or niche into the search bar for related site results.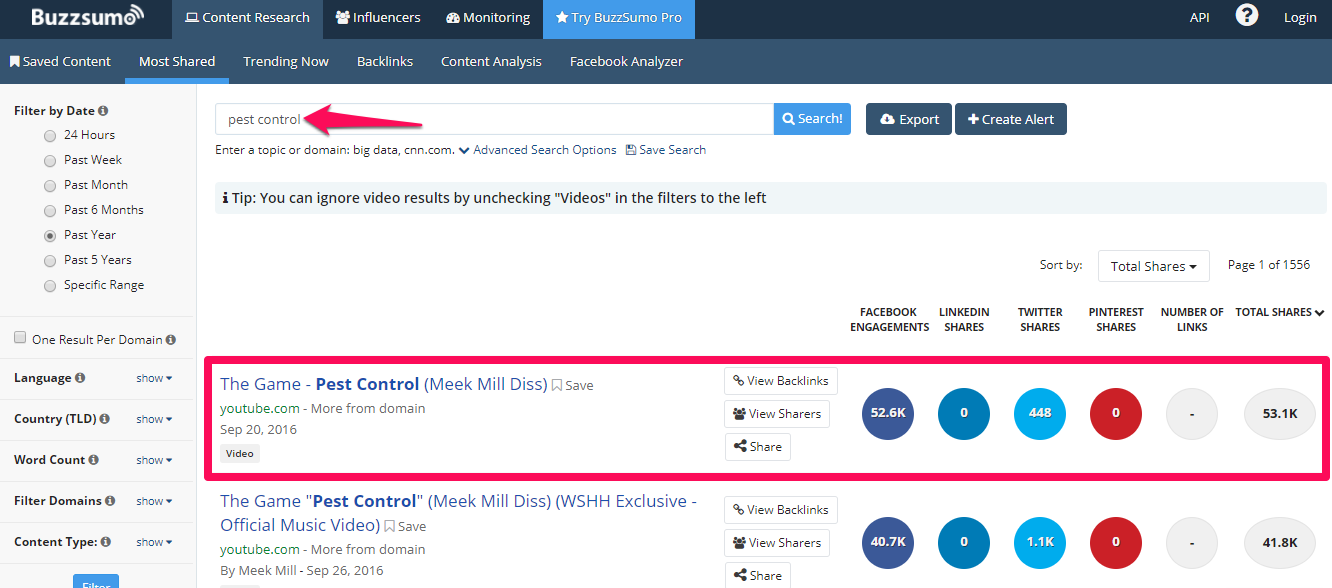 Google News
After using BuzzSumo, you can get more ideas by reviewing Google News sites.
You can also target the best publishers to share your content.
Again, type in your topic into the search to find news sites with similar content.
Google will also suggest alternative, "related" searches that you can check out, too.
Alltop
Finally, you can find the top websites in your niche by looking on Alltop.
Alltop makes the process of finding quality topics easier since everything is in one place.
Type your niche into the search bar, and you'll receive the most popular stories by subtopic.
Once Leadsmasher found enough targeted websites to connect with, they sent this email out to encourage websites to share their Infographic: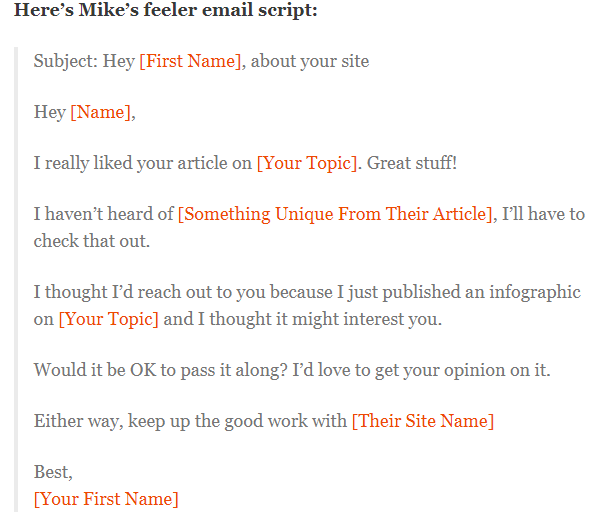 Again, the campaign boosted their organic search by 15.15%. I think it stands to reason that you should give infographics a try, too.
3. Body Applicator Wraps lifted search traffic by fixing website errors.
Optimizing your site for search traffic takes time even with the best strategies.
But it can work.
And sometimes, it can work with really, really great results.
Body Applicator Wraps experienced this firsthand. After a year of improving their SEO process, they received an 18,867.14% lift in organic search traffic.
I'm guessing that you would love to increase your organic search by 18,867.14%, so here's how they did it.
It all came down to fixing some critical website errors. This is important. A bad website is bad for business.
Body Wrap Applicators focused on fixing structured data errors, 404 pages, and fatal errors, along with other high-visibility problems on their site.
For one, they found that their site had a lot of unnecessary white space and no real call to action.
Without a call to action, viewers won't feel compelled to learn more, buy, or sign up.
One of my favorite CTAs is a free trial.
Insightly offers one for their CRM services.
Free trials are no-risk for the customer, but allow you to get them hooked on your product.
Or, appeal to their sense of "need it now."
You can also offer a freebie that they can have right away, like an e-book.
Jon Loomer does this for his potential customers.
Body Applicator Wraps got wise and added a highly-visible CTA to their landing page.
Then, they noticed that their site pages had an average load time of 3.13 seconds.
That may not seem like a lot of time, but for every one second a customer has to wait, you'll see a 7% dip in conversions.
Luckily, there are some easy steps to take to up your site speed, like:
Optimizing your images by making them the right size and format
Keeping plugins to a minimum
Streamlining your page and doing away with unnecessary Flash, scripts, and image elements
Using free plugins to increase speed (more on that below)
Body Applicator Wraps was able to reduce their load times, getting most pages under 2 seconds, by compressing images and optimizing images.
You can check your website speed using Google's PageSpeed Insights and GTmetrix. These free tools will test your site and mobile speeds.
When I ran NeilPatel.com through PageSpeed Insights it showed my score for desktop and mobile viewing.
Run your site through the PageSpeed Tool to get its score. Focus on the "possible optimizations" if your site is too slow.
If you have a WordPress website, there are also some plugins to improve your speed. Here are a few plugins you can start using.
WP Smush
Images use a large amount of memory, which slows down your website.
WP Smush shrinks your images without risking their quality, so your pages load faster.
WP Super Cache
WP Super Cache creates a static image of your website so that your web host doesn't need to send so much information.
It may seem like a small detail, but the less information your site uses, the faster it loads.
Amazon did a recent study of their site. And they found that every extra second of load time decreases their revenue by $1.6 billion.
You may not be Amazon, but that's exactly why you need a plugin like WP Super Cache.
Google AMP Plugin
The Google AMP Plugin is Google's newest site structure for mobile websites.
It now powers more than 2 billion mobile pages because of the speed it provides to mobile websites.
Once Body Applicator Wraps applied these changes, they saw continual growth on their website over the next six months.
Before initiating the changes, they had 1,205 total site sessions per month. 30 days later, they had a 723.57% gain in organic traffic.
First, they conducted SEO research on their competition.
Then, Body Applicator Wraps kept their focus on how to get more traffic by tweaking the content they already had on their website.
4. Siege Media reached 100,000 visitors per month in one year.
You do not have to be an established player to get massive search traffic. Yes, it definitely helps. However, you can build significant traffic over the course of your first year.
Siege Media helped their customers compete in the very competitive life and pet insurance industry using a simple strategy.
What was it? They beat their competition by putting out highly-engaging images that their audience loved.
This content was key for them to grow from 0 to 100,000 visitors in just one year.
I know it sounds simple and unimpressive. But then again, how many sites use this strategy?
Siege's images were so good that Creative Commons websites picked them up for other website admins to use.
These Creative Commons images were a boon to their SEO campaign.
For example, Siege received a backlink from Ars Technica when they used an image from their website.
Imagine every time another site like Ars Technica wants to use Siege's images. As you can see, this is a very scalable link-building strategy for websites.
Want to put this strategy into play? Start by creating high-end visual content and sharing your images on Creative Commons websites.
5. Ask Yoast helped increase search traffic with local SEO.
Although I wasn't able to find you a case study with hard stats and figures on local SEO, I wanted to make sure to add it here.
Why? Because you'll get a lot more local customers coming to your business than you would expect.
And I did see some trends from the Ask Yoast case study for Seattle Town Car Best Ride Service that can be applied to a lot of other websites.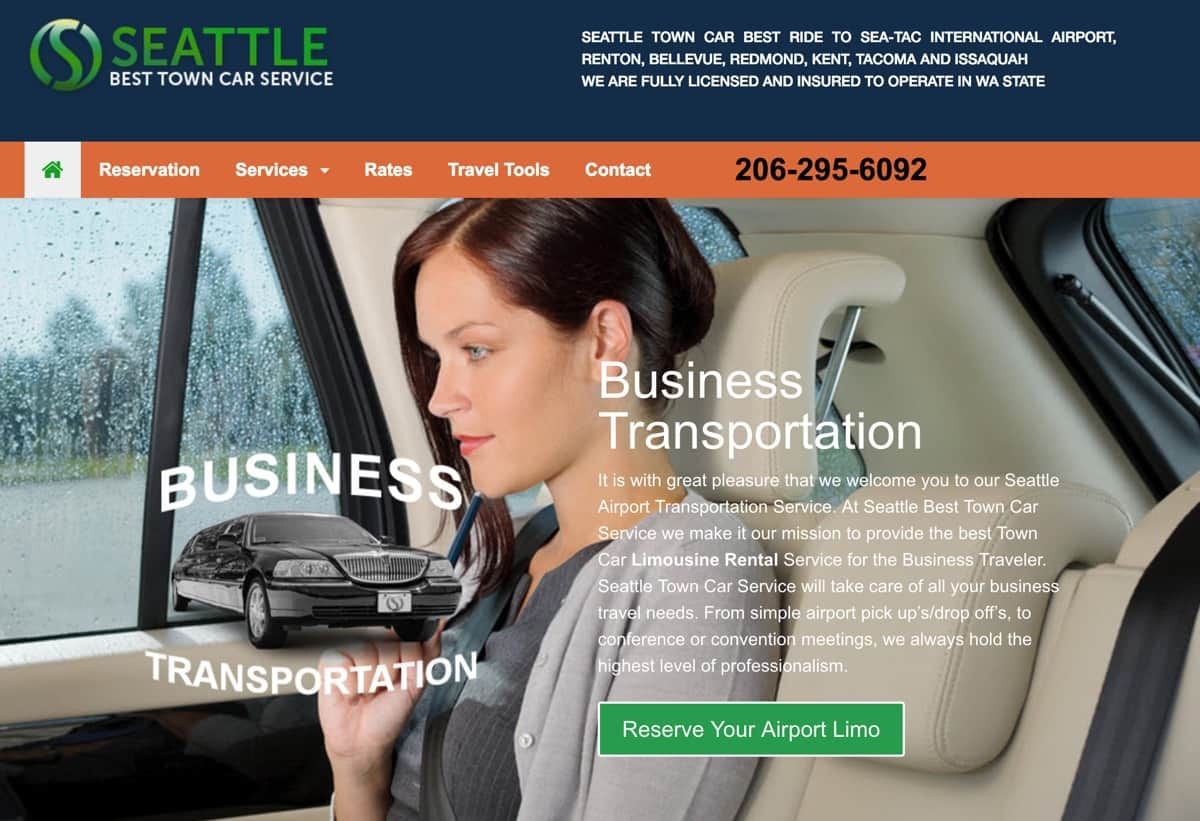 Yoast suggests focusing first on getting your structured data, setting up a Google Business account, and adding ratings and reviews to your website.
They also suggest that marketers pay attention to their mobile site because Google will be switching to a mobile-first index in 2018.
This means you'll rank in Google based on how well your mobile site does, not the desktop version.
And this makes sense. 60% of searches happen on a mobile device.
Nowhere is this more prevalent than with local search.
Often users rely on mobile devices to get to their destinations through Google Maps.
Google takes visitors to local establishments when they use local keywords like "pizza" or "shoe store."
So first, set up a Google My Business account. The account is the first step to attracting visitors on Google search and Google Map listings.
When you sign up, make sure your name, address, and phone number (NAP) are correct.
Google uses your NAP information to match it with citations from other websites. It will direct more targeted traffic to your site through your Google My Business listing.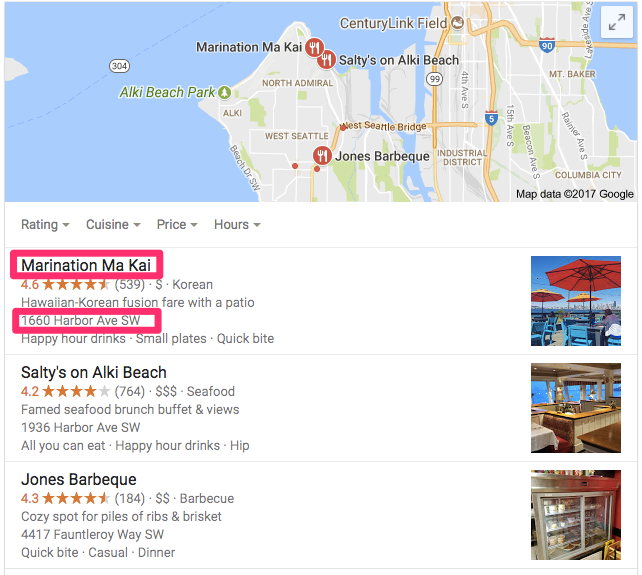 Second, you want quality citations from directories. Whenever a directory or relevant local website lists a local establishment, it can increase your rankings.
Again, consistency is vital when it comes to citations. Misspelled names or incorrect addresses create duplicate businesses.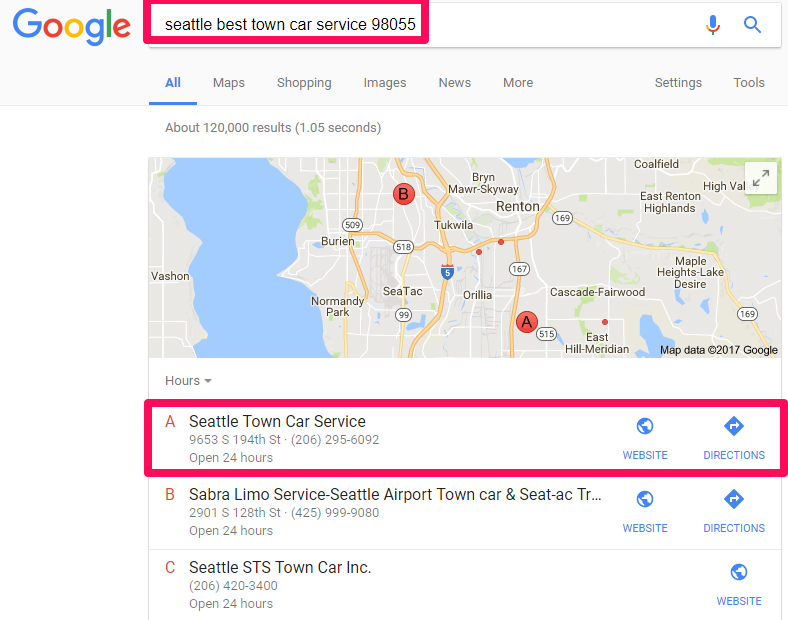 For example, Seattle Town Car Service's challenge is that they use the word Best on their website URL and logo. But, Google lists them as Seattle Town Car Service.
This slight distinction makes it difficult to find them without including their zip code.
Can you imagine a regular searcher typing in a zip code to find a location? Neither can I. Which is why businesses need to have their name match exactly to get better traffic.
Keep your information consistent with high-quality citations from places like Yelp and Bing Places.
Get as many reviews from customers as possible for your Google My Business Page.
Google measures trust, authority, and expertise to determine the rank for local establishments.
That is because 87% of consumers trust online reviews as much as they trust reviews from people in their network.
Thus, it pays well to get as many customer reviews on Google as possible.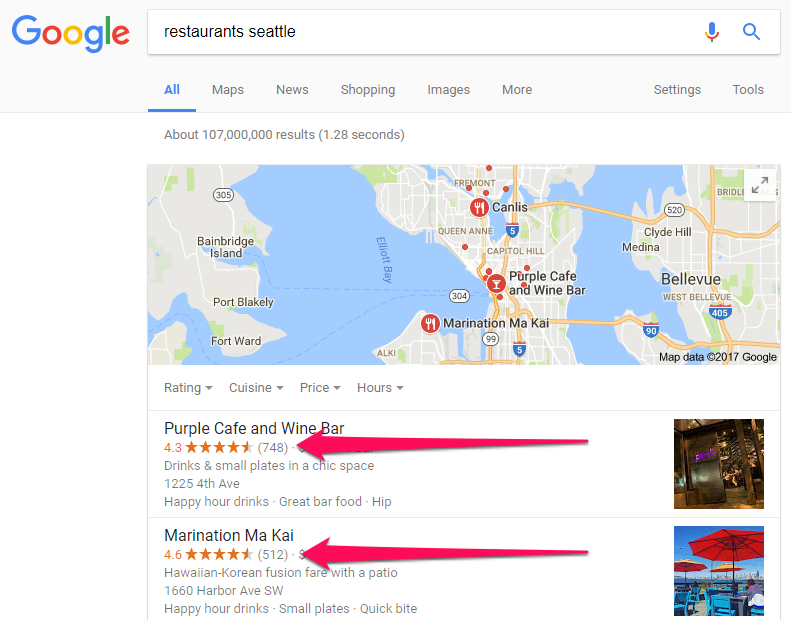 Conclusion
While there are many different ways to improve your SEO strategy, there seem to be a lot of common denominators in case studies on successful SEO.
First, you need to do your research before you start. Every company highlighted above did significant research before executing their search strategy.
Second, have a mobile-responsive website. Mobile traffic accounts for nearly 60% of all searches on Google. Mobile site design affects almost every aspect of search.
Third, your content needs to stand out, and that means people need to want to read it, and they need to want to tell all of their friends about it.
This content will not only drive your search engine strategy but your conversion strategy as well.
Spend as much time as you can improving your content, both written and visual. No content will ever be perfect, but creating high-quality content can only benefit your company and yourself.
Before parting, I want to discuss one more item. The key to any SEO campaign is to remain consistent.
That is why the research is so important. Stick to your plan, and then spend the next 6-12 months executing that plan so you can see success.
Your competitors had to go through the same process. But at least you aren't starting with a blank slate to fill.
The best part about this is that they provide you with the game plan to reach your goals faster.
What strategies have you used from your competitors to improve your SEO campaigns?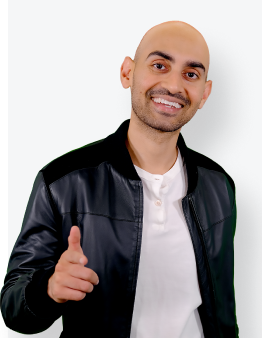 See How My Agency Can Drive More Traffic to Your Website
SEO - unlock more SEO traffic. See real results.
Content Marketing - our team creates epic content that will get shared, get links, and attract traffic.
Paid Media - effective paid strategies with clear ROI.