Customer loyalty programs are crucial.
The goal of loyalty initiatives is to engage, not pander more products to frequent buyers.
But how do you determine if your loyalty program is working well?
Use data to steer your customer loyalty program in the right direction.
McKinsey found that "executive teams that make extensive use of customer data analytics across all business decisions see a 126% profit improvement over companies that don't."
"By instituting a loyalty program, you not only improve customer appreciation of your business, but you also increase the chances that existing clients will share this joy with those close to them," says Steve Olenski, a senior creative content strategist at Oracle Responsys.
Upgrade your loyalty program. Let's explore how.
Focusing on Retention
One primary mission of loyalty programs is to increase customer retention. You want buyers to remain with your brand after they make a purchase.
For your business, higher retention means a steady flow of revenue. And it cuts down on your costs to constantly acquire new customers.
Therefore, your loyalty programs must be effective. They need to serve a real purpose for the consumer, not just your bottom line.
To provide the best customer experience, fuse data into your retention strategies. It will impact how your team approaches the buyer.
"Influencing customer loyalty in this way doesn't require magic, it requires data – usually data that you already have but aren't using to full advantage. Regardless of industry, most organizations today generate mountains of data," writes Mike Flannagan, vice president and general manager of Cisco.
Uncover the correlation between customer characteristics and purchasing behavior. Assign your team to analyze the current data of your most valuable customers. And learn which characteristics these customers have in common and which traits are dissimilar.
Consider data an ongoing process of observing, acting, and learning. Improve your loyalty programs by taking action on your insights. Measure success by monitoring your customer lifetime value, loyal customer rate, and redemption rate.
Start with retention. And let the data guide you to customer loyalty.
Targeted Product Recommendations
Research shows that "customers that are actively engaged with brands and their loyalty programs make 90% more frequent purchases, spend 60% more in each transaction and are five times more likely to choose the brand in the future."
Sending targeted product recommendations is one way to keep customers engaged. Because if they are not receptive to certain products, consumers will feel more inclined to take their business elsewhere.
Integrate real-time purchase data with historical purchase data to make specific recommendations. For example, if a small business bought payroll software from you, their team might be interested in purchasing your series of on-demand accounting webinars.
"Consumer data must be analyzed to create highly targeted product recommendation offers. Analyze consumer data such as demographics, lifestyle, products purchased by category and type, frequency of purchase, and purchase value," states Larisa Bedgood, director of marketing at DataMentors.
It's key not to draw wild conclusions from one piece of data. Just because a Florida resident buys a winter coat doesn't mean he wants to be flooded with similar recommendations. The consumer might have bought it as a gift for a friend living in Michigan.
So, gather multiple data points in order to make intelligent recommendations. You don't want to frustrate loyal customers.
Your brand also can take a different approach. Use social proof to your advantage. If consumers are hesitant about particular products, remind them that other people are buying the product, too.
Home Depot uses this tactic by displaying a list of bestselling inventory. It persuades the customer to join the crowd.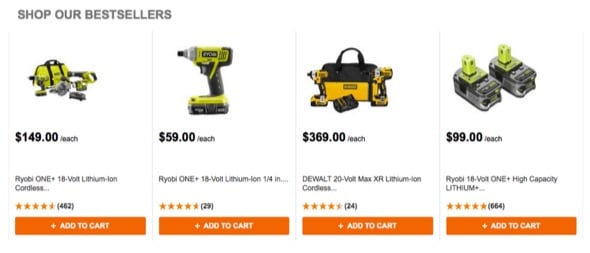 Sift through your analysis reports. Uncover the best product recommendations for your customers.
Timely Promotions
For customers, loyalty takes effort. They receive lots of promotional ads everyday to try products from other brands. Appreciating your consumer's urge to resist the hype is important.
Mobile phone carriers lead the way in baiting consumers to switch their services. AT&T offers cell phone users up to $650 in credit just to say bye to T-Mobile, Sprint, or Verizon.
To keep their loyalty, customers will hold your team accountable. They expect timely promotions that not only fit their buying habits but also their lifestyles.
At the end of the day, you want to deliver the right offer at the right time. This will increase the likelihood of the promotion redemption.
Monitor the sales data to learn when promotional codes are redeemed. Do your consumers use promotions more often in the morning? Right after a sales announcement? Or during summer months?
"By creating a time-sensitive sales promotion and having a good grasp on your target customer demographic, you'll be able to incentivize the right actions, get them to respond, and grow your business in the process," states Humayun Khan, former content marketer at Shopify.
Moreover, analyze your reports to discover the best product promotions. A timely discount matched with the wrong product won't be useful for the consumer or your company.
Segment your customers to offer relevant discounts for multiple channels—in-store, online, and mobile. Every loyalty member doesn't have to receive the same offer.
For instance, Starbucks offers its Gold members the opportunity to earn double stars. The coffee company surprises its loyal consumers on a different day each month. This technique increases the excitement and prepares customers to spend more money on a particular day.

Don't wait for your competitor to offer your customers a good deal. Start creating your own timely promotions.
Personalized Rewards
Everyone likes to be rewarded. It signifies that you've done something commendable. And incentives compel you to continue the rewarded behavior.
Recognize the value of your customer's actions. Because that's what you're rewarding.
You can offer perks based on monetary transactions, shopping frequency, or even survey responses. It's all about showing appreciation for consumers' actions.
But it's your team's job to appropriately reward customers. Don't expect people to buy $1000 worth of services in one month if your highest service retails at $10.
In addition, manage your loyalty members' expectations. They shouldn't expect your brand to give away free Beyonce tickets every day.
Personalized rewards ensure you're giving your customers what they desire. It also shows that you are truly invested in the customer experience.
Send a simple email survey asking consumers what types of incentives excite them. Or conduct social media listening to identify useful prizes that can make your customers' lives better.
Dick's Sporting Goods sends emails asking customers for their opinions. The company uses the information to improve its inventory and customer service.
Remember to focus on maintaining positive relationships with your consumers. Because that's the ultimate goal for loyalty initiatives.
You want people to feel comfortable with your brand. Aim to offer rewards that bridge the gap between the consumer-brand relationship.
"A significant aspect of customer loyalty comes down to your likability. People will almost always remain committed to a brand if they believe they've developed a genuine and mutually beneficial relationship," says Entrepreneur contributor Dave Thompson.
Tailor your rewards to satisfy your customers. Offer them something special.
Analyze Customer Loyalty
Customer loyalty can lead to retention. That's why your team must use data to drive your loyalty programs.
Give consumers targeted product recommendations they can't resist. Send promotions at the right time. And personalize rewards so the customer feels part of the brand.
Look at the data. Improve customer loyalty programs.
About the Author: Shayla Price lives at the intersection of digital marketing, technology and social responsibility. Connect with her on Twitter @shaylaprice.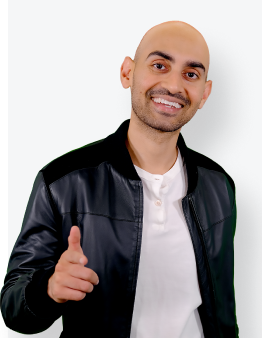 See How My Agency Can Drive More Traffic to Your Website
SEO - unlock more SEO traffic. See real results.
Content Marketing - our team creates epic content that will get shared, get links, and attract traffic.
Paid Media - effective paid strategies with clear ROI.
Are You Using Google Ads? Try Our FREE Ads Grader!
Stop wasting money and unlock the hidden potential of your advertising.
Discover the power of intentional advertising.
Reach your ideal target audience.
Maximize ad spend efficiency.