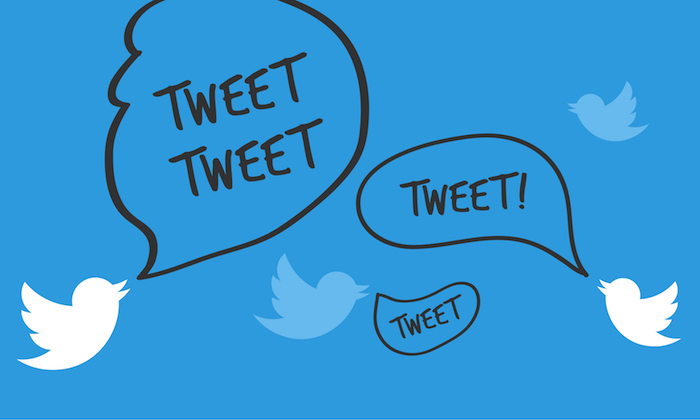 Once you get on the paid advertising train, you'll soon realize that to generate a better ROI, it's essential to target the right people. Since you're spending hard cash, you need to craft a compelling ad and ensure that it reaches appropriate members of your audience.
In this post, I want to discuss advertising on social networks, particularly one that you might be marketing on already…
Twitter.
The microblogging platform is a preferred social media marketing platform by many businesses, because:
It has 310 million monthly active users (with 83% active users on the smaller screen).
The twitter advertising revenue growth rate continues to climb each year and it has 130,000 active advertisers, proving its effectiveness (with 86% of revenue accounted for by mobile).
The platform's ad interface is easy to work with and scale to your available resources.
I've already written strategies for improving your Twitter ad quality score and shared advertising guides for generating more revenue in a Twitter campaign.
But, in this article, I want to share 5 strategies that will help you improve your efforts at effectively targeting your followers.
1. Create a Twitter list
I repeatedly remind bloggers and content marketers to keep growing their email list. It turns out to be one of the most lucrative resources for businesses reaching their target audience regularly.
A similar feature, on the microblogging platform, is creating a Twitter list.
It's a terrific way to purposefully sort and cluster your followers into relevant groups, then engage with them more efficiently. It's a custom audience ready to engage.
You can get a Twitter list of target people up and running in minutes.
Here's how:
Navigate to 'Lists' from your Twitter profile.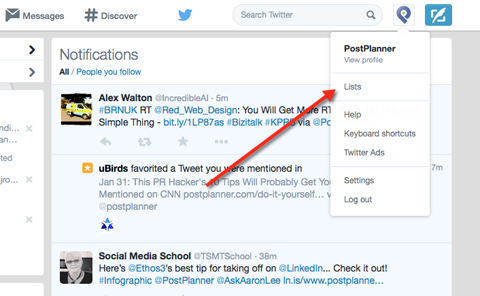 You'll find the option to 'create a new list' in the right sidebar.
You'll need to specify a name and description for your list. Then, either create a public list and let other users subscribe to the updates from your list.  Or, you can create a private list.
If you want to add people to your list, you'll need to head over to their Twitter user profile. Click on the gear icon and then on the "Add or remove from lists…" option.
You'll be presented with a popup that shows all of the lists that you can add the Twitter user to.
You're allowed to add up to 5000 users to a list and create a maximum of 1000 Twitter lists.
Here are 4 ideas for creating your own list:
1. Create a list of your office staff, like Buffer has done. You can retweet relevant content for your audience and even encourage your business network to follow your employees. With some ground work, this becomes a foundation for your ad campaign.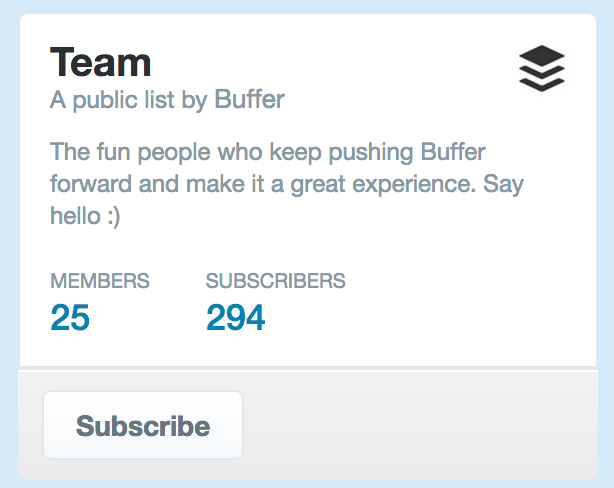 2. Create an authoritative list for engaging and staying in touch with industry influencers. You can closely monitor their updates, be the first to respond to their tweets and consistently engage with them.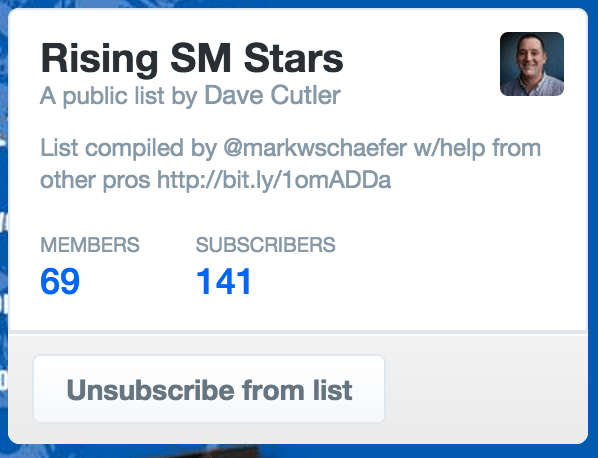 3. You can create a private list of your competitors, to stay updated with their latest tweets, events and offers. This will help you gain insights into what's working for them.
4. You can also create a list based on your interests, an event you're conducting or newsmakers.
Finally, you can upload a list (based on shared interests) onto Flipboard – a content discovery app. Then, follow Flipboard conversations, along with tweets.
Aaron Lee used to rely on lists to engage, retweet and reply to his 120,000 followers on Twitter (currently he has amassed 484K followers on 37 lists).
Overall, these lists can organize your engagement efforts with followers and ensure that you don't come across as a stranger, when you send an advertised tweet in their feeds. Remember its social networks don't reward overt selling.
When you launch an ad campaign, the Twitter user lists that you create can come in handy for targeting users that tweet, search and engage with specific keywords (or have specific interests). I'll share the specifics in strategy #3.
2. Execute a Direct Message (DM) campaign
While sending messages directly to users can be incredibly effective, you'll need to tread with caution. Otherwise, you might end up annoying Twitter users or getting blocked for spamming hurting lead generation.
Twitter allows you to send 1000 DMs in a day. But, you shouldn't send thousands of such messages for several days in a row (the microblogging platform can suspend your account).
Also, leave some room for replies to your DMs and choose a realistic limit for the number of messages that you send. Engagement must be part of your Twitter campaign. Like all social networks, you can't just start and ad campaign for lead generation and forget about it.
I would say that about 100 direct messages per day is fine.
And, Twitter guidelines state that you can send automated DMs with expressed user consent. The platform also discourages sending links in the body of DMs and can deny sending them, with error code 226.
Alright, now that you're aware of the limitations, let me show you the right way to conduct a DM campaign.
How to send hyper-targeted direct messages on Twitter
If you're willing to invest time in targeting a specific audience with your 1:1 messages and you make a relevant offer, then a DM campaign can work for you.
You want to send direct messages to only a sub-section of your followers, based on set criteria like their geographic location and language. Focus on your target audience.
Unless you know the current position of your customer in the funnel or similar information about them, you shouldn't try to leverage this strategy.
Moreover, you need to personalize the content for every Twitter user, to ensure they are pleased and don't view your DM as generic, automated spam. Your tone of voice must be informal and down to earth.
Truffle Social has devised a nifty strategy for timing their direct messages, appropriately, after a user follows them.
Truffle Social saw that their audience was generally active at 7 in the morning and at about 10 at night. So, they deliberately send their messages (using audiense) between midnight and 3 am.
How does that help?
"By the time they see the message, we will have added more content to the home feed and they don't feel like we've spammed. And, we also have the opportunity to monitor and respond to any messages that we receive from them."
If you want to execute a personalized DM campaign, then a tool like Audiense can be useful. It allows you to add merge tags in your message and customize the message to a user's location and name.
For example, the following message template contains two tags with a link to a Twitter status (targeted to a follower that retweeted the brand).
These are app install options to help you properly mine your target audience.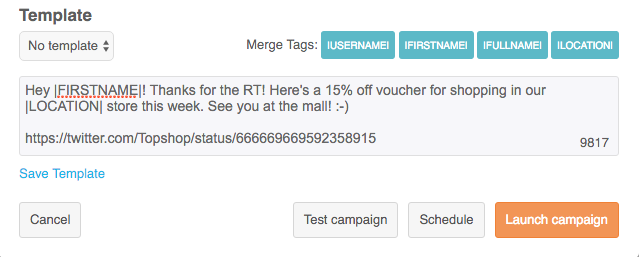 And, it generates the following direct message.
See how it's done?
Here are 4 other tips for extracting better results from Twitter DM campaigns:
Try to avoid the typical spammy words, like 'buy', 'free', 'win' and 'discount.' Also, be careful with your exclamation marks and ALL CAPS usage.
Since links are discouraged inside DMs, use the Google Analytics URL builder to create custom URLs for every DM campaign.
Monitor the response rate, clicks, sales and unfollows, to measure the effectiveness of your DM campaign. If you can invest more time, it's advisable to create two campaigns and test their performance on a small sample of users before scaling.
Experiment with the 20 people direct message group chat. Adidas saw great success with it.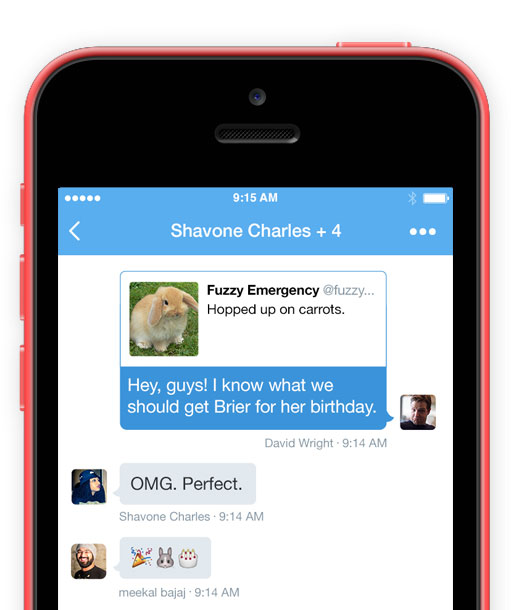 3. Upload your own audience list: Leverage tailored audiences to scale your campaign
Remember those interest, geography and other lists that you created in strategy #1?
They can come in handy now.
If you send your tweet in the feeds of a segmented audience, then they have a higher chance of receiving engagement, due to increased relevancy to your custom audience.
Larry Kim saw triple engagement when he geo-targeted Twitter users for a local event.

Higher engagement is also a great way to increase your Twitter quality score and make your ads more profitable.
When you create a new ad campaign, you're presented with the option to 'select your audience.' Ideally, you don't want your audience size to exceed 100,000 users.
In the example below, setting the country to United States narrowed the audience size in the right sidebar to 66M.

You'll also get additional targeting criteria for relevant lead generation.
You can target followers by relevant hashtags, keyword searches, interests, behaviors and a lot more. Right now, though, we're discussing tailored audiences in your Twitter campaign. When you click on this fourth selection, you'll be presented with the following two options.
If you find that the engagement from a particular Twitter list is huge, then you can export the list to launch a tailored Twitter ads campaign (using Social Bro).
If you have an existing list of email subscribers, then you can also upload a spreadsheet containing their details and target them if they are a Twitter user.
Since these users are already aware of your brand, they have a higher chance of engaging with your company. And, remarketing can increase your conversions even more.
You can scan your backlink profile and extract the twitter accounts of those that have linked to your website. Then, upload this list for a tailored audience campaign. Patrick shows you the exact method, in this article.
4. Leverage the Account Comparison tool by SocialBro to see what's working for your competitors
Many times, you might be scratching your head, searching for the next step to scale your ad campaign…and not realizing that the opportunity lies right in front of you. I've found that one simple way of finding such opportunities is by reverse engineering competitors.
Whether you're coming up with content ideas, writing blog posts, looking for backlinking avenues or performing social media marketing: it works.
In strategy #1, I briefly mentioned monitoring your competitors by creating a private list. But, SocialBro has a nifty tool for conveniently gaining insights about your Twitter competitors (up to three accounts).
To compare the stats of your Twitter account with competitors:
Navigate to Analytics >> Account Comparison >> New Comparison.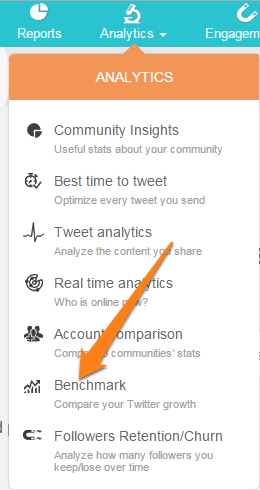 You'll then need to choose the accounts that you want to compare, from the drop-down menus.

And, you can view a report by choosing a date.
First, you'll get an overall comparison summary of all accounts.

You'll need to dig deeper to find valuable insights about your competitors and how they utilize social networks effectively. Mimic what works and build on it.
For example, the bio tag cloud compares the interests (taken from Twitter bios) of the compared accounts. From here, You can pick popular industry subjects to add in your Twitter advertising armory and ensure that you're targeting the right people.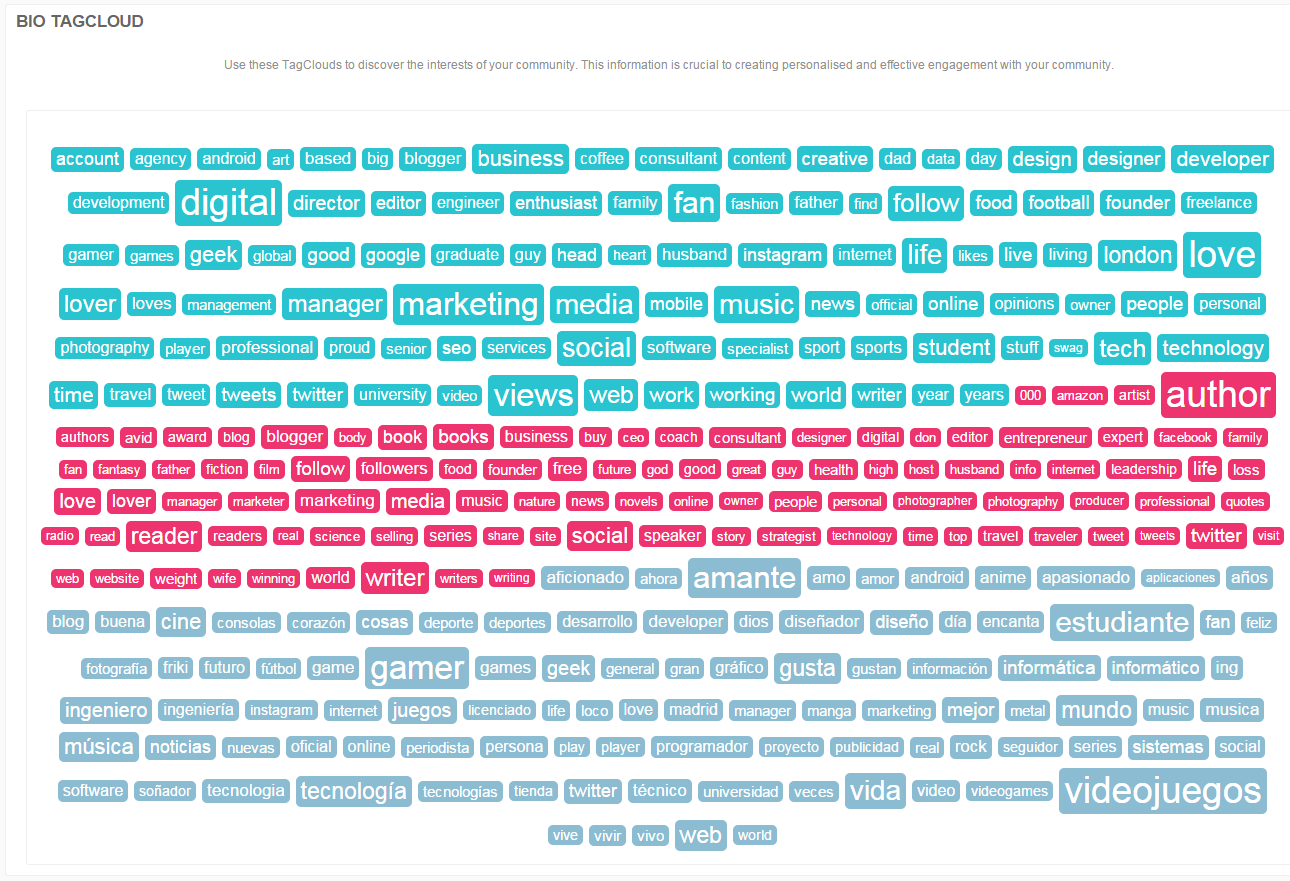 Similarly, you can find the location and language diagrams of the compared accounts, to see if you're missing out on a prominent market segment (where your competitors are winning).

And, you can compare the follower growth rate of the compared accounts, to dissect the kind of tweets that engage your industry. Adjust the ad campaign accordingly.

Similarly, you can also use the benchmark tool for comparing your growth with industry peers.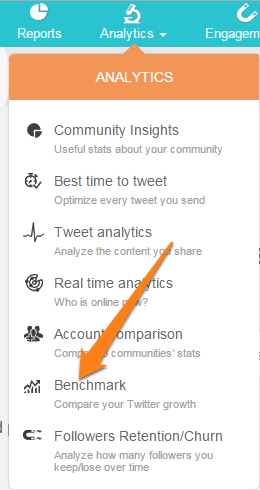 It shows your performance, in comparison with similar accounts.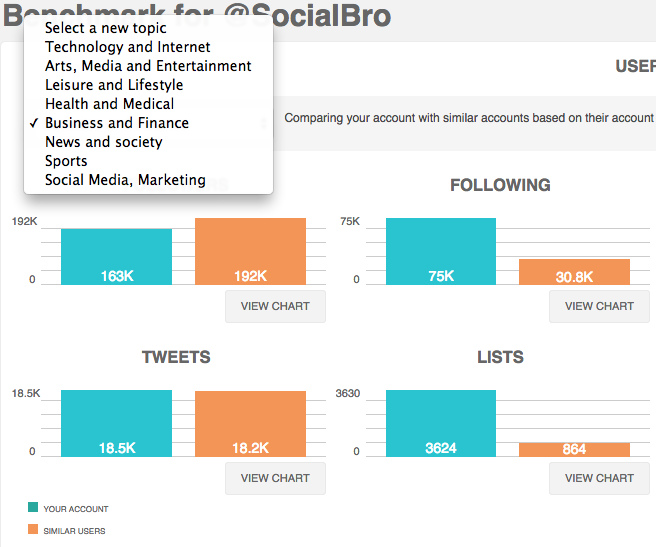 You can target individual members of your audience conventionally.
Or, you can rely on influencers to amplify the reach of your brand to millions of prospects in minutes. Attentive.ly describes the power of top influencers in this way.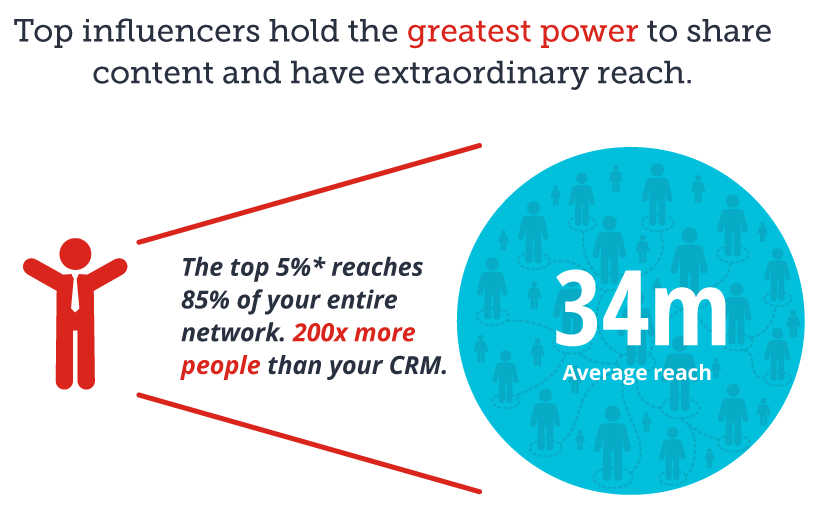 And, if you're confused about whether or not the Twitter audience is receptive to influencer recommendations, then here's an infographic, based on Twitter's recent research.
So, can you target influencers through paid advertising on Twitter?
Yep.  A custom audiences (discussed in strategy #3) is the way to go for lead generation.
Larry Kim created a list of esteemed journalists and influential people that are a Twitter user.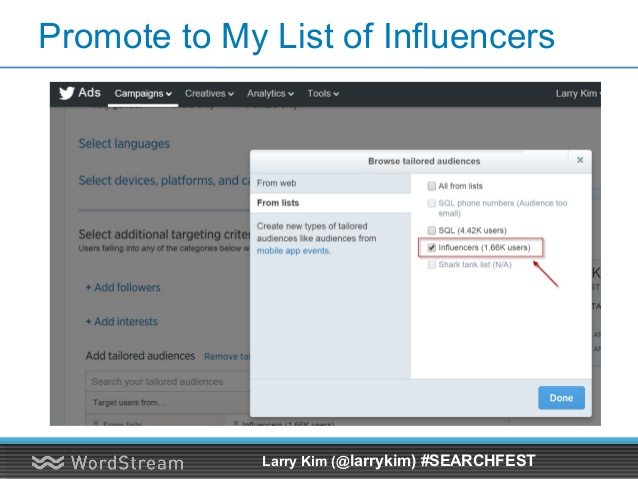 And, he advertised this article to his list.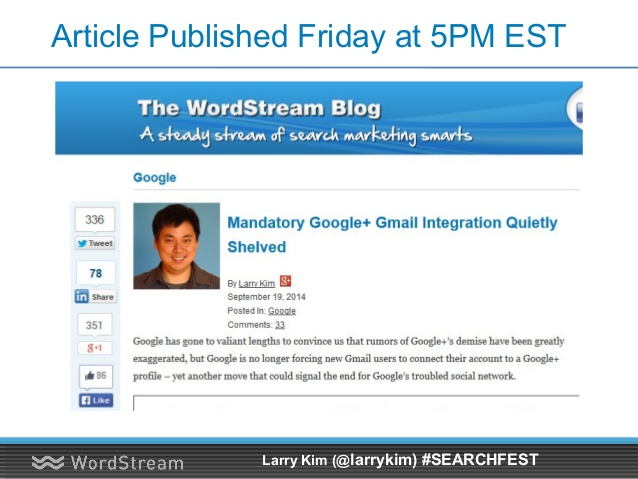 Since it was an interesting story and Larry was the first one to break it, it did great for his brand. Besides getting links and mentions by esteemed online publications, he was even called for TV interviews.
With a cost of under $300, the influencer campaign was well worth it for Larry.
Conclusion
It's marketing 101 – Your message needs to appear in front of the right audience for it to work. Targeting your Twitter campaign can be incredibly helpful in getting more engagement, a higher quality score and, ultimately, greater ROI.
I showed you 5 strategies for effective targeting in this post. Further, if you're serious about paid advertising on Twitter, then I encourage you to buy a professional tool, like Audiense.
It's your turn now. What are the targeting strategies that you use in your Twitter advertising campaigns?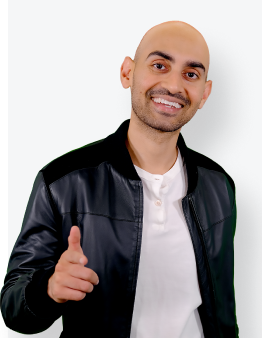 See How My Agency Can Drive More Traffic to Your Website
SEO - unlock more SEO traffic. See real results.
Content Marketing - our team creates epic content that will get shared, get links, and attract traffic.
Paid Media - effective paid strategies with clear ROI.
Are You Using Google Ads? Try Our FREE Ads Grader!
Stop wasting money and unlock the hidden potential of your advertising.
Discover the power of intentional advertising.
Reach your ideal target audience.
Maximize ad spend efficiency.